The Stamina Avari Programmable Magnetic Rower with model no. A 350-700A is a home aerobic machine that provides a wide range of low-impact challenging workouts for weight loss, cardio health improvement, and muscle toning.
It is integrated with workout programs that help you to diversify your workouts and to push yourself to the limit.
The inclined extruded aluminum rail provides a smooth recovery drive that strengthens and tones the leg muscle groups. The heart rate-enabled console features a backlit LCD monitor that motivates and keeps you focused by tracking your workout progress.
It is not only integrated with other fancy features but it's built to last and to provide a user-friendly experience. In other words, it is one of the best rowing machines to consider.
Click right here to have a peek at the price and of of the Stamina Avari Programmable Magnetic Rower on Amazon.
The Frame and Construction
The Stamina Avari Programmable Magnetic Rower is built with a heavy-duty steel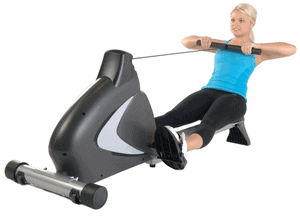 frame and a wide aluminum rowing beam, while the drive casings are made of durable plastic.
Hence, it supports a maximum user weight capacity of 275 lbs./124.7 kg.
Its stability is well-established due to the robust base framework that features a front steel stabilizer with nonslip end caps. Thus, it doesn't slip or wobble during a vigorous workout and neither does it damage the floor.
Moreover, even though the rower only weighs 75 lbs./34 kg, it at least optimizes its stability.
The rower is foldable and it integrates transport wheels at the front base for easy relocation for workouts and storage.
This unit is not compact, but it is not as large as the Concept2 D Rowing Machine. The assembled dimensions are 81" long by 20" wide by 24.5" high. Differently put, this means it needs a workout area with the measurements of 6'8" length by 1'7" width.
In addition to that, an extra clearance of 2′ on each side of it is necessary for easy access and safe workout experience.
Users that are up to 6'7" tall can utilize this rowing machine.
The Seat of the Stamina Avari Programmable Magnetic Rower
The Stamina Programmable Rower is equipped with a large, padded, ribbed and contoured seat.
It provides decent comfort; however, some users have complained about how it becomes discomforting after a few minutes into workouts. However, if you feel that way, it could be mitigated by the use of a gel seat cover.
The seat integrates a durable concealed ball-bearing roller system that is attached to the wide aluminum rail. Thus, its gliding motion is smooth and quiet.
The Handlebar
The Stamina Avari Programmable Magnetic Rower has a vertical handlebar that is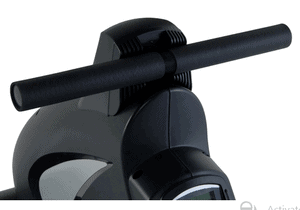 nicely coated with anti-slip soft rubber foam. It is attached to a 1" nylon strap and connected to the recoiling system.
It provides comfortable and secure grips that could last throughout a workout session. The nylon strap is durable and won't snap in the middle of a workout.
The Pedals
The rower is equipped with a set of pivoting anti-skid pedals with adjustable safety straps. This means they provide secure footing stability that won't give way to vigorous workouts.
Since the pedals pivot, the ankles won't be stressed as they adhere to the movement of the feet during a workout.
They are designed to be used with gym shoes and can accommodate different foot sizes.
The Resistance
The Stamina Avari Programmable Magnetic Rower is incorporated with an eddy current resistance system that consists of a 1" nylon strap, a recoil system, an 8.8 lbs./4 kg flywheel and magnetics.
This means upon adjustment of the resistance, the magnetics are activated to emit magnetic fields around the flywheel causing a drag that generates resistance. The intensity of the resistance depends on the level of magnetic fields emitted.
There are multiple resistance levels available and can be adjusted via the console.
The rower needs to be plugged into a power outlet for the resistance to be functional. Otherwise, you won't be able to workout with the resistance working. Hence, it comes with an Output 6V DC, 1000mA power adapter.
The operation of the rower is smooth and quiet. You can work out with it at any time of the day without disturbing anyone around you.
The Console
The console of the Stamina Programmable Rower features a backlit LCD monitor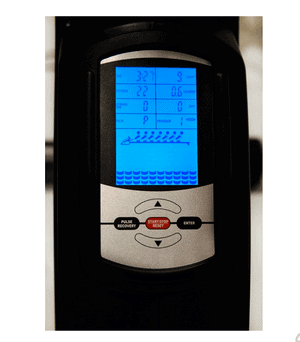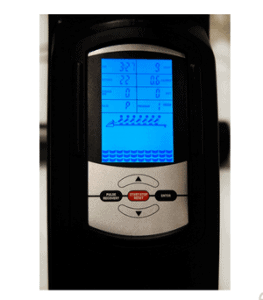 that tracks workout progress by displaying stats such as Time, Distance, Speed, Calories, Watts, and Heart Rate.
These values are displayed simultaneously with good readability that cannot be compromised even when viewed in a poorly-lit room.
The console is telemetry-enabled, meaning it connects to a wireless 5khz heart rate strap (included) for heart rate reading. Therefore, you can work out and be able to maintain your target heart rate zone at all times.
12 workout programs that include 6 Cardio Profiles, 1 Manual, 4 Custom User Programs, and 1 Heart Rate Program are available. 7 of those are preset programs that automatically engage a certain resistance level when selected.
For instance, the heart rate program automatically selects a resistance level based on your heart rate.
The Manual program allows you to select a resistance level you desire by using the up/down buttons on the console.
It is also possible to set up a goal for Time, Stroke Per Minute, and Calories.
As aforementioned, the rower needs to be plugged into a power source for the resistance and the console to work.
Accessory
The Stamina rowing machine comes with a 5khz wireless heart rate chest strap for monitoring your pulse rate during a workout.
Apart from that, it doesn't have a tablet or water bottle holder. You need to improvise to keep yourself well hydrated and entertained during a workout session.
Storage
The Stamina Avari Programmable Magnetic Rower is relatively large but foldable. Its length size reduces significantly when folded (36" L x 20" W x 53.5"), thus, it requires a storage area with measurements of 3′ length by 1'7" width.
It is a lightweight rower that only weighs 75 lbs./34 kg and it integrates transport wheels that facilitate the relocation process for storage.
Approval Rating
The Stamina Avari A 350-700A is quite popular among Amazon customers. Independent review sites also have a favorable view of it as well.
Overall, its approval rating is positive.
Pros/Features Overview
It is sturdy and stable
It is foldable and portable
Supports a maximum user weight capacity of 275 lbs./124.7 kg
LCD Monitor keeps you motivated by displaying all your workout data such as Distance, Strokes per minute, Calorie Burned, Time, Pulse, and Watt
12 Workout programs include 6 cardio profiles, 1 manual, 4 custom user programs, and 1 heart rate program for workout diversity
Extruded aluminum rowing beam ensures a smooth rowing motion
The contoured, padded, and large seat is ergonomically designed to fit
The foam-padded rowing handle offers comfortable and secure grips
The console is telemetry-enabled (wireless heart rate strap included)
The eddy current resistance system provides a range of workout intensities that target weight loss, improvement of strength and endurance, and more
The large, textured footplates with adjustable safety straps accommodate and secure different foot sizes
A power adapter included
Requires little maintenance
Easy to assemble
Cons
The seat is not very comfortable (gel seat cover could be used to improve it)
The console & the resistance doesn't work if the machine is not plugged into a power source
Warranty
3 Years for the Frame
90 Days for Parts & Labor
Product Dimensions & Specifications
Length 81"
Width 20"
Height 24.5"
Folded dimensions: 36" L x 20" W x 53.5" H
Shipping dimensions: 44" L x 30" W x 11" H
Net weight: 75 lbs./34 kg
Gross weight: 90 lbs./40.8 kg
Maximum user weight capacity: 275 lbs./124.7 kg
Seat: Padded and contoured
Handlebar: Foam-coated
Pedals: Pivotal, large, and anti-skid designed with adjustable safety straps
Frame: Steel
Rail/beam: Aluminum
Resistance: Eddy current magnetic
Flywheel: 8.8 lbs./4 kg
Pull-cord: 1" Nylon
Transport wheels included
Heart rate monitoring function: Wireless HR chest strap
Monitor: Backlit LCD monitor
Water bottle holder: No
Tablet holder: No
Shipping
The Stamina Avari Programmable Magnetic Rower is shipped out in a box that weighs 90 lbs./40.8 kg with dimensions of 44" L x 30" W x 11" H.
Amazon provides free shipping and makes the delivery in a few days.
Assembly
This rowing machine is not difficult to assemble. It is delivered with the major components already preassembled.
You only need to attach the two separate frames, then add the front and the stabilizers, the seat, the rail, and the pedals.
An instruction manual and tools needed for the assembly are included in the package.
Maintenance
Make sure to keep the unit clean, especially the rail of the seat. Do not expose the monitor to liquid, moisture, or direct sunlight.
Inspect it for a loose or broken part before use, and act accordingly if there is a problem.
Conclusion
The Stamina Avari Programmable Magnetic Rower provides you the opportunity to experience productive low-impact and total body workouts in the comfort of your home.
You can begin the journey of weight loss, heart, and lungs' health improvement and muscle toning with this companion.
It doesn't get any better as far as rowers in this category are concerned.
[rank_math_rich_snippet]