Keiser M3 Plus Indoor Cycle is regarded as the leader of the pack! It is an Award-winning machine and one of the most recommendable spinning bikes of all time.
Its unique design and advanced features are not common in most spin bikes. The integrated LCD monitor tracks workout progress including the heart rate. Users between the heights of 4'10"-7′ can conveniently be accommodated due to its micro-adjustability.
It is equipped and ready to be a companion to anyone that wishes to achieve their fitness goals.
Click right here to have a peek at the price of the Keiser M3 Plus Indoor Cycle on Amazon.
The Frame and Construction
The Keiser M3 Plus Indoor Cycle has a distinguished heavy-duty V-shaped steel frame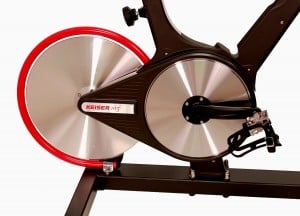 that is coated with anti-corrosion paint. It is built in the U.S, something that is rarely the case with the majority of the indoor fitness equipment.
It supports a maximum user weight capacity of 300 lbs./136 kg.
The base framework has front and rear steel stabilizer bars that provide optimum stability. There are also adjustable levelers underneath them that enable users to balance the bike on a surface that is not even.
Its stability is further enhanced by its overall assembled weight of 85 lbs./38.5 kg.
The bike is not foldable neither is it large. Its overall assembled dimensions are 45" long by 26" wide by 49" high. In other words, a workout area with the perimeters of 3'8" length by 2'2" width should be enough for it.
Although, it is recommended to consider adding a clearance of at least 1′ around it for comfortable and secure workout experience.
Users, including those that are physically impaired, will have no difficulty mounting and dismounting the bike due to its easy step-thru design.
The Seat of the Keiser M3 Plus Indoor Cycle
The Keiser M3 has a seat that is similar to the one on a bicycle. It is long, slim, with a groove in the middle of it, thus, it is comfortable.
However, you can use a gel seat cover to enhance it if you do feel the need.
Also, it can be swapped for other racing seats that are available on Keiser's website or use a regular large seat because its connection mechanism is standard.
The seat is 4-way adjustable; meaning, it can be adjusted vertically (upward/downward) and horizontally (fore/aft).
The horizontal adjustment has a few inches while the vertical adjustment has ample positions that allow users of different heights and sizes to adjust to a suitable position.
Handlebar
The multi-grip handlebar of the Keiser M3i Plus Indoor Cycle is ergonomically designed to suit most users.
It has different grip positions that include overhand grip, middle grip, extended grip, and time trailing grip. Therefore, you can train in different workout postures
It is generously coated with a soft rubber foam material for comfortable and secure workouts. In other words, you won't experience slippage or blisters in the palms as a result of frequent and prolonged training.
Just as the seat, the handlebar is also 4-way adjustable, and this is the reason the bike is customizable enough to accommodate users up to 7′ tall.
The adjustment of the seat and the handlebar is pretty easy and they only take a minute to accomplish.
The Pedals
The Keiser M3 Bike is equipped with a set of dual-sided pedals that comprise of toe cages and SPD. This means you can train with a pair of gym sneakers or clip-in spin shoes.
The Q-Factor of the pedals is 197mm/7.8". In case you don't know what this is, it is the distance between the pedals.
An average road bikes' Q-Factor is 160mm/6.2" or less, which means the Keiser's Q-Factor is slightly wider and maybe a problem to those with an existing knee problem.
The Life Fitness GX has a better and narrow Q-Factor, you may check it out if you have to.
The Drive
The Keiser M3i Plus Indoor Cycle is a rear belt-driven bike that consists of a durable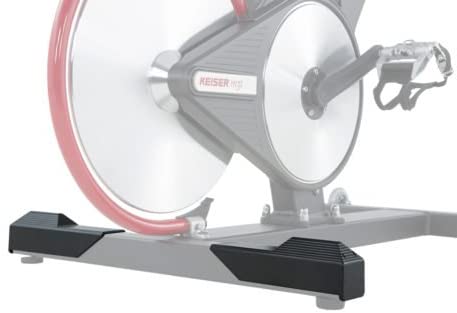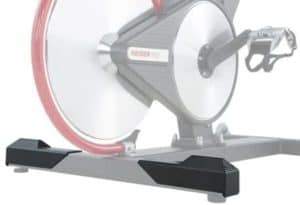 poly v-belt, pulleys, a 3-piece-crankset, curved crank arms, and the pedals.
The drive's operation is environmentally friendly because it's smooth and quiet. Therefore, you can work out at any time of the day without having to worry that people around you may be disturbed.
Moreover, it doesn't need to be lubricated or adjusted periodically as the case with a chain drive system.
The 8 lbs./3.6 kg high inertia flywheel provides a non-vibration and consistent motion that helps to engage the hamstring and glute muscle groups during workouts.
The Resistance System
The Keiser M3 Plus Indoor Cycle is equipped with an eddy current magnetic resistance system with 24 gear resistance levels.
No friction occurs when resistance is generated because there are 2 magnetic brake pads on each side of the flywheel that emit magnetic fields in its premise to generate resistance.
The closer the magnetic brake pads are to the flywheel the higher the resistance intensity and vice versa.
The resistance shifter lever at the top of the handlebar allows you to increase or decrease the resistance intensity by moving it forward or backward, respectively. Also, push it all the way forward to apply the emergency brake whenever you wish to stop pedaling.
When a resistance level is selected during a workout it shows up on the monitor.
The system provides a wide range of workout challenges that are suitable for achieving fitness goals. It is so unique that the bike is used at home, and for group training at the fitness club, and more.
Since it is a frictionless resistance system, no wear and tear occur, thus, no part replacement or maintenance is required. On top of that, the bike's operation remains smooth, quiet, and vibration-free even when the resistance is engaged.
The Console
The Keiser M3 Plus Indoor Cycle has a backlit LCD monitor that tracks workout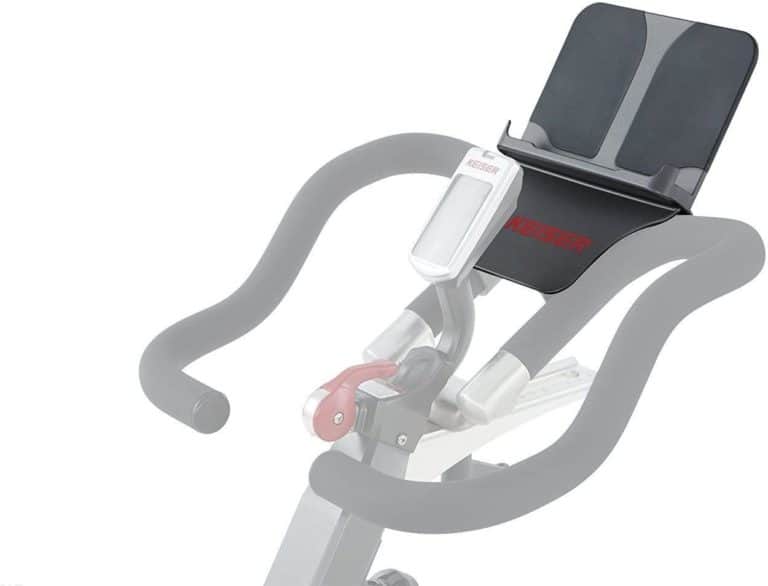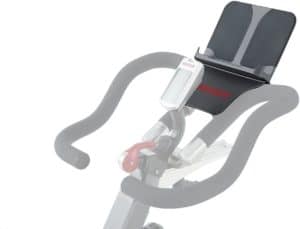 stats such as Time, Odometer/Trip, Watts, RPM, Heart Rate, and Gear/Resistance Level.
These metrics are displayed with high readability that cannot be diminished even when viewed in a poorly-lit room. There is a sensor that automatically detects the ambient light level in the room and accordingly turns on the backlit when needed.
The console features a responsive Bluetooth technology that connects to any Bluetooth enabled device. It connects to the Keiser M series app so that you can train with real-time graphs for power and heart rate, FTP zones, cadence range dials, and more.
Other compatible apps include Heart Zones Training, BKool, GOInd, imPowered Be Trained, and Spivi.
A Polar-brand Bluetooth HR chest strap (not included) can be used for tracking your pulse rate.
Interestingly, its connectivity is easy and can connect to multiple devices at a time.
Due to the consistent high-degree accuracy of the monitor, Keiser M3+ received certification for passing the EN ISO 20957-1 Accuracy Test.
The monitor is power by the included 2 AA batteries.
Accessory
The unit has an adaptable tablet holder that can securely accommodate different sizes of smartphones/tablets.
Therefore, you can view entertainment videos or access training apps.
There is also a water bottled holder at the neck of the bike for maintaining proper hydration during workouts.
Storage
The Keiser M3 Cycle Bike is not a very large machine that could overwhelm your space. A storage area with the perimeters of 3'8" (45") length by 2'2" (26") width will suffice.
The lifting handle at the rear base and the front-mounted transport wheels help in the relocation process.
Approval Rating
This cycling bike has been around for years and as a result, it has garnered a lot of reviews on Amazon and by independent review sites, most of which are positive.
Thus, its overall approval rating is recommendable.
Features/Pros Overview
Durable and stable
Supports a maximum user weight capacity of 300 lbs./136 kg
Micro-adjustability allows users between 4'10" to 7′ tall to be accommodated
Calibrated 24-gear Eddy Current Magnetic Resistance system provides a range of workout intensities suitable for weight loss, muscle toning, heart and lungs' health improvement, and more
Multi-grip handlebar provides different workout postures
The belt drive system is smooth and whisper-quiet
Dual-sided pedals for standard gym shoes and clip-in spin shoes
The backlit LCD monitor tracks workout stats such as Time, Odometer/Trip, Watts, RPM, Heart Rate, and Gear/Resistance Level
Bluetooth-enabled;
The console is compatible with Polar-brand Bluetooth HR chest strap
The bike connects to online apps such as the Keiser M series app, Heart Zones Training, BKool, GOInd, imPowered Be Trained, and Spiv
Maintenance-free
Assembly not difficult
Water bottle holder included
Tablet holder included
Transport wheels included
Cons
HR chest strap not included
Warranty
3 Years; all-inclusive (excluding wearable Parts and Labor)
90 Days for T" Handles, Pedal Cage, Pedal Strap, and Seat Upholstery
Product Dimensions and Specifications
Length 45"
Width 26"
Height 49"
Shipping dimensions: 41" L x 40" W x 10" H
Net weight: 85 lbs./38.5 kg
Gross weight: 113 lbs./51.2 kg
Maximum user weight capacity: 300 lbs./136 kg
Drive: Belt
Resistance: 24-gear eddy current magnetic resistance system
Seat: 4-way adjustable
Handlebar: 4-way adjustable
Frame: Steel
User height: 4'10"-7′
Monitor: Backlit LCD
Bluetooth technology
Heart rate monitoring: Wireless HR chest strap (Polar-brand HR Bluetooth compatible chest strap)
Tablet holder: Yes
Water bottle holder: Yes
Transport wheels: Yes
Shipping
The Keiser M3 Plus Indoor Cycle is shipped out in a single box that weighs 113 lbs./51.2 kg with dimensions of 41" L x 40" W x 10" H.
Amazon offers free shipping and makes the delivery in a couple of days upon purchase.
Assembly
The assembly of this cycling bike is not difficult.
It comes with the complicated parts preassembled. You are only required to attach a couple of components such as the flywheel, the base, the handlebar, the seat, the pedals, the console, and other smaller parts to the main core unit.
An instruction manual and the tools needed for successful assembly are included in the package.
This task takes only about half an hour, more or less, depending on your assembling prowess.
Maintenance
No serious maintenance is required.
Simply ensure that the bike is kept clean at all times. Keep it in a dry and cool place and avoid exposing the console to liquid, moisture, and direct sunlight.
Inspect it before use for any part that may have loosened or broken to avoid an accident and further damage to the bike.
Conclusion
The Keiser M3 Plus Indoor Cycle may be pricey but most users agree it worth every penny. It is very durable with a unique design and features that allow users to train and achieve their fitness goals.
Keiser M3 Plus Indoor Cycle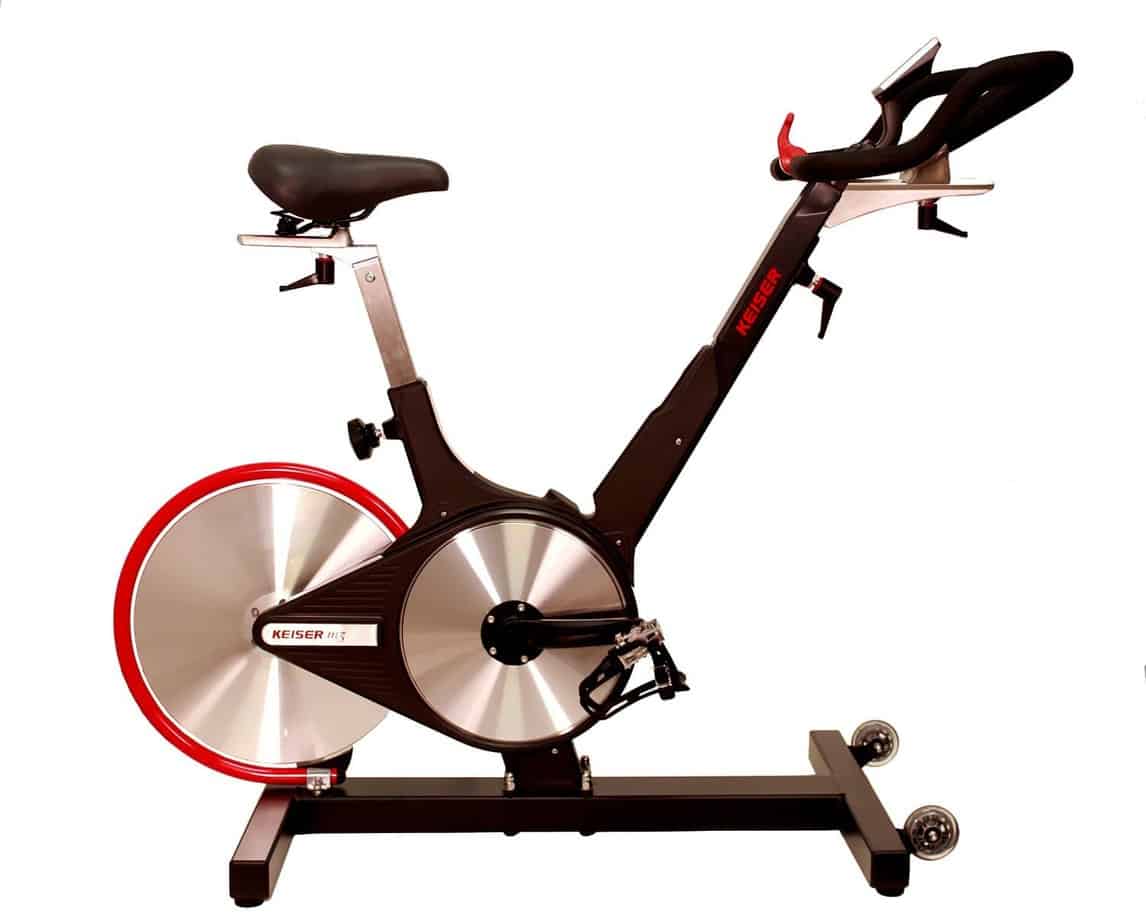 Keiser M3 Plus Indoor Cycle is regarded as the leader of the pack! It is an Award-winning machine and one of the most recommendable spinning bikes of all time.
Product Brand: Keiser
Product In-Stock: https://schema.org/InStock