The Sunny Health and Fitness SF-RW5515 Magnetic Rowing machine is an entry-level machine that provides full-body and low-impact cardio workouts. It is built to support 250 lbs./113 kg maximum user weight capacity.
It is a budget-friendly rower that enables you to experience rowing activities in the comfort of your home. Its smooth and quiet glide motion and operation make it, even more, user and home-friendly.
Thus, it makes it on our best indoor rowing machines list.
Click right here to have a peek at the price and of of the Sunny Health and Fitness SF-RW5515 Magnetic Rowing Machine on Amazon.
Frame and Construction
The Sunny Health and Fitness SF-RW5515 Rowing Machine features a quality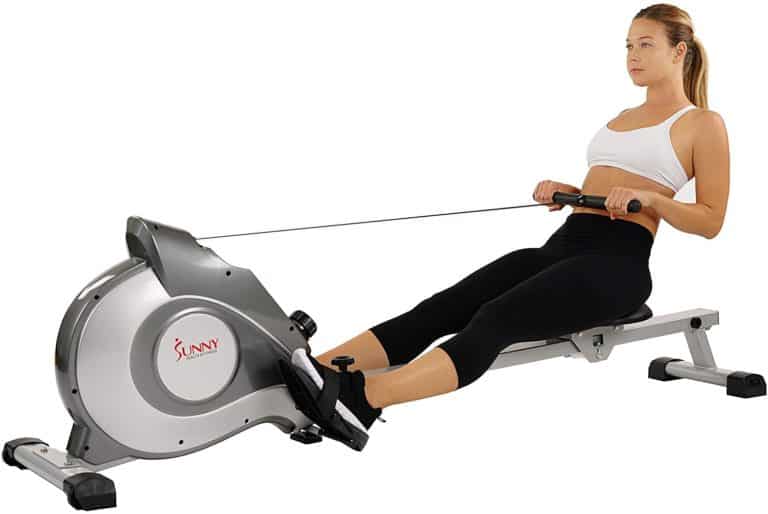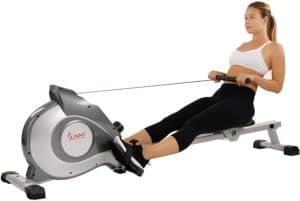 heavy-duty steel frame that is fortified with anti-corrosion paint, while the drive casing is made of ABS material.
The 48" slide steel rail supports an inseam (a measurement of the inner thigh to the ankle) of up to 44". Therefore, users, of different heights can utilize the rowing machine.
It will require a little bit of space for workouts but much less for storage because it is foldable.
When fully assembled, its overall dimensions become 82" long by 19" wide by 23" high. Differently put, it's going to need a workout area with perimeters of 6'9" length by 1'6" width.
Moreover, it's recommended to have an additional clearance of 1-2′ at the rear and on each side of it for easy access and safety during workouts.
When folded, its length reduces significantly by more than half its fully assembled length size. The folded dimensions are 37" long by 19" wide by 53.5" high.
The rowing machine has a base that features adjustable levelers at the rear stabilizer. Therefore, it is stable on most surfaces, and its overall assembled weight of 59 lbs./26.7 kg enhances its overall stability.
You can easily fold and move the machine for storage via the integrated transport wheels at the front base.
The Seat of the Sunny Health and Fitness SF-RW5515 Magnetic Rowing machine
The rowing machine is equipped with a large, contoured, and cushioned seat that provides comfort and safety during workouts.
It is designed to prevent slippage and promote good blood circulation instead.
The seat is integrated with concealed rollers and attached to the 48" slide rail for smooth and quiet gliding motion.
As aforementioned, users with inseams up to 44" can workout with the rower comfortably.
The seat's dimensions are 11" L x 14" W x 2" T.
The Handlebar
The Sunny Health and Fitness SF-RW5515 Magnetic Rowing machine has a straight soft foamed grip handlebar with a metallic core. It is anti-slip designed to allow you to work out longer without experiencing slippage or blisters in the palms.
The handlebar is attached to a 1" durable nylon cord that is connected to the drive system. Hence, the chances of being interrupted by a broken cord in the middle of a workout are pretty slim.
The Pedals
The unit features large and anti-skid pedals with adjustable safety straps. They can accommodate different foot sizes and standard gym shoes.
They secure the feet comfortably during intense workouts, and they also pivot for best foot adherence that reduces ankle stress and promotes lasting comfort.
The Resistance
This rower is incorporated with a magnetic resistance system with 8 adjustable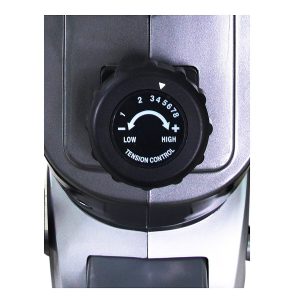 levels.
It comprises a magnetic brake and a flywheel that is estimated to be around 25 lbs./11.3 kg.
Resistance is generated when the magnetic brake emits a magnetic field in the premise of the flywheel, and it becomes intense or less intense when the proximity between them is close or farther, respectively.
In other words, the resistance system is frictionless and doesn't require any part replacement or maintenance. Its operation is smooth, effective, and vibration-free.
The tension knob is used to increase or decrease the resistance intensity by turning it clockwise or counterclockwise.
Working out with this rower impacts over 80% of the body muscle groups and the resistance system provides different workout challenges that help you to achieve weight loss, improved heart and lungs' health, and toned muscles.
The Console
The rower has a basic console that features an LCD nonbacklit monitor that tracks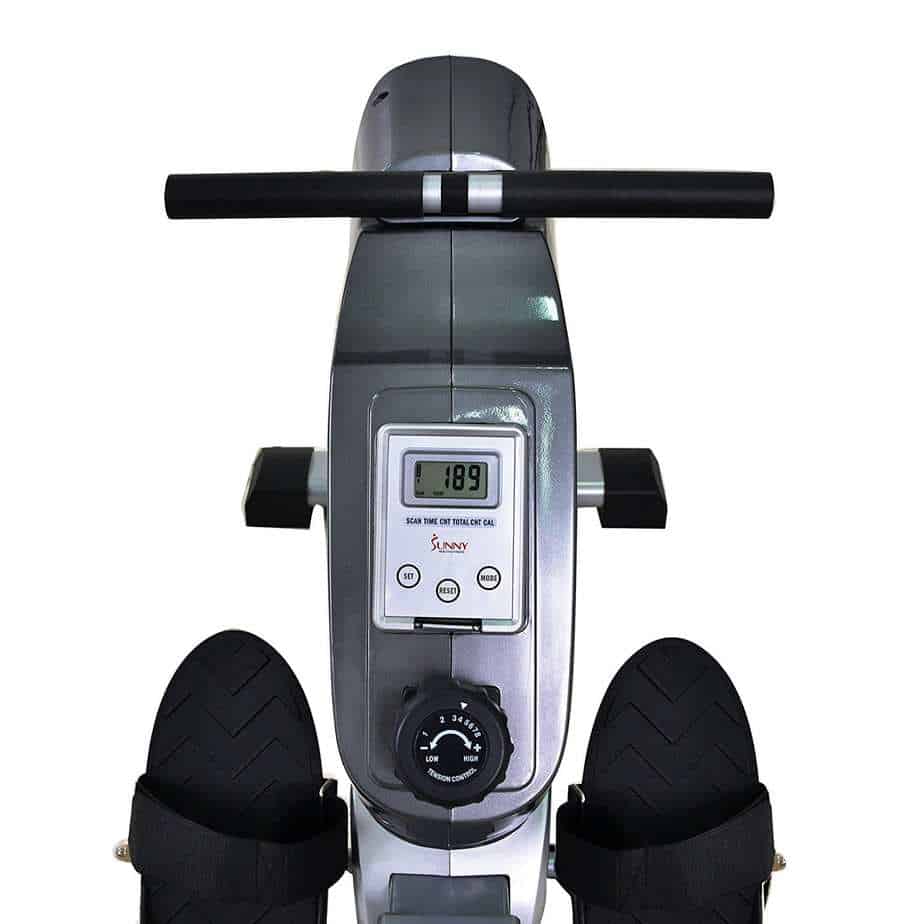 Time, Counts, Total Counts, and Calories. Since it has a small screen and cannot display all the workout stats simultaneously, its SCAN function rotationally displays them one at a time after every few seconds.
Although, you can override this if you want, to instead set a certain preferred workout stat to display constantly.
The monitor has good readability as long as it's being viewed in a well-lit room, otherwise, it's going to be compromised.
2 AA batteries powers it, and they are included in the package.
The navigation buttons include Set, Reset, and Mode.
Accessory
There is no tablet or water bottle holder on this unit, and most rowing machines don't.
You can always improvise to maintain proper hydration during a workout session.
Storage
The rowing machine is foldable and portable with transport wheels. It becomes less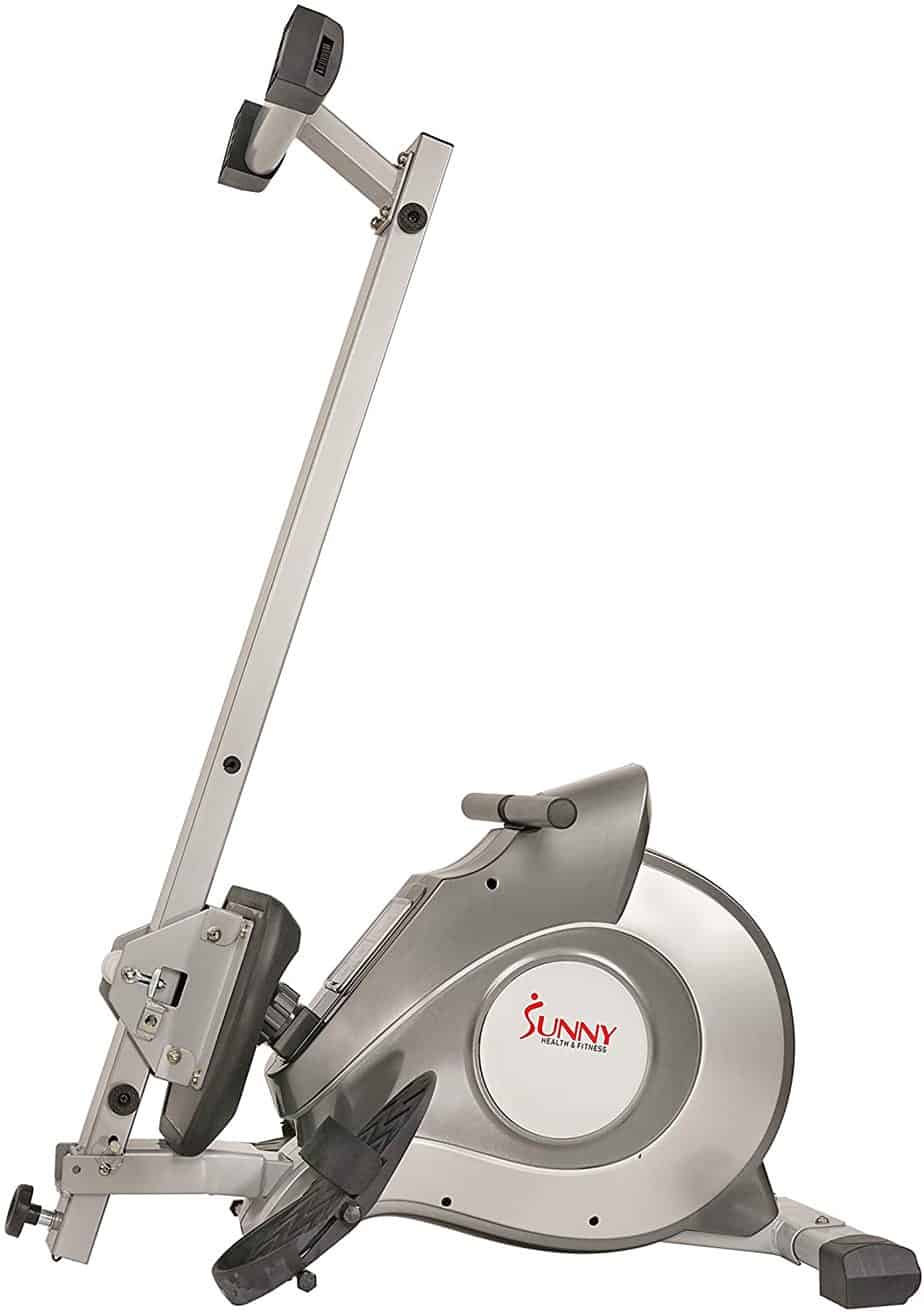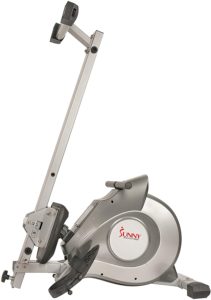 than half its fully assembled length size when folded. Thus, it takes less storage space than it would when being used for a workout.
The folded dimensions are 37" L x  19" W x 53.5" H.
Approval Rating
The Sunny Health and Fitness SF-RW5515 Magnetic Rowing machine has a tremendous favorable reviews on Amazon and other independent review sites.
As a result, its approval rating is positive.
Features/Pros
Durably and sturdily built
It is affordable
Its stability is optimal
Supports a maximum user weight capacity of 250 lbs./113 kg
It accommodates users with inseams of up to 44" and less
Its operation is smooth and quiet
It is portable and foldable for easy storage
The magnetic resistance system features 8 adjustable levels that provide a range of workout challenges that are suitable for most users
The seat is large and contoured to convey sustainable comfort during a prolonged workout
The handlebar is generously coated with soft anti-sweat foam for secure and comfortable grips
An LCD monitor tracks Time, Counts, Total Counts, and Calories
The rower offers full-body & low-impact cardio workouts that also target the back, arms, chest, glutes, thighs, legs, and more
Low maintenance
Easy to assemble
Cons
The monitor is nonbacklit
No heart rate monitoring function
No water or tablet holder
It needs a substantial amount of space for a workout
Warranty
90 Days for the Frame
90 Days for the Parts
Product Dimensions
82'' Length
19'' Width
23'' Height
Shipping dimensions: 10" L x 25.6" W x 50.5"
Supports 250 pounds maximum user weight
Net weight: 59 lbs./26.7 kg
Gross weight: 70 lbs./31.7 kg
Frame: Steel
Seat: Large & contoured with dimensions of 11" L x 14" W x 2" T
Handlebar: Coated with non-slip foam
Pedals: Large, anti-skid and pivoting with adjustable safety straps
Console/Monitor: Basic non-backlit LCD monitor
Rail length: 48"
Inseam: Up to 44"
Shipping
The cost of shipping the Sunny Health and Fitness SF-RW5515 Rowing Machine depends on where you are purchasing it from. For instance, Amazon ships it for free but that may not be the case with other retailers.
Assembly
The rowing machine is not complicated to assemble because the difficult part has been done by the manufacturer.
You can completely assemble it within 30 minutes, more or less, if you follow the instructions on the manual. The tools needed for the assembly are also included in the package.
Maintenance
Maintaining the rowing machine includes doing the basics, such as keeping it clean at all times, and making sure that the console is not exposed to liquid, moisture, or direct sunlight.
Also, inspect it before use for any loose or broken part and ensure to fix any problem that may arise.
Conclusion
The Sunny Health and Fitness SF-RW5515 Rowing Machine is a recommendable rower, especially if you are looking for something that is within the budget.
It offers the opportunity to perform cardio workouts that improve the overall physical fitness in the comfort of your home.
Nnamdi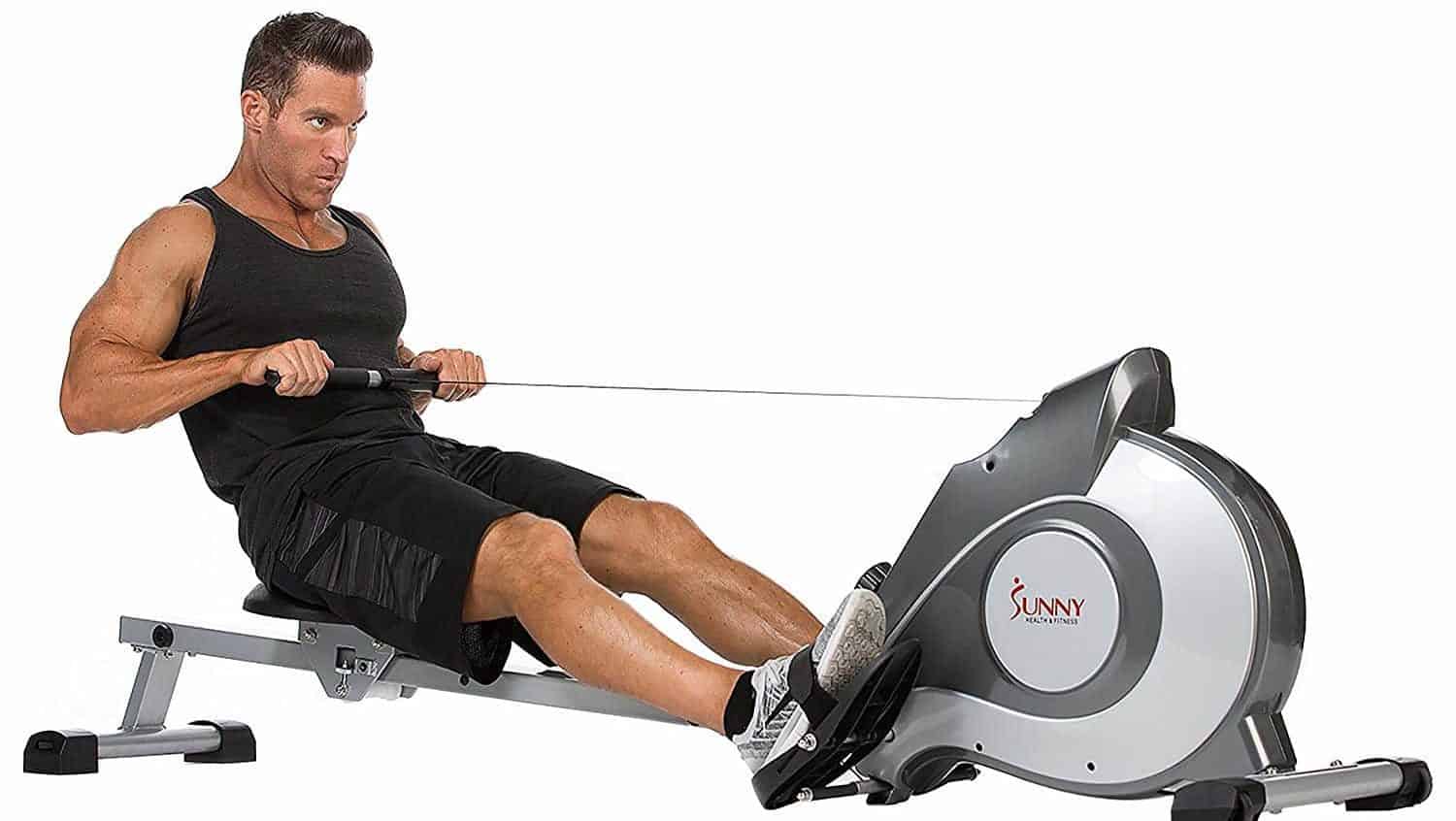 The Sunny Health and Fitness SF-RW5515 Rowing Machine is a recommendable rower especially if you are looking for something that is within the budget
Product Brand: Sunny Health & Fitness
Product In-Stock: https://schema.org/InStock