The Concept2 Model D Indoor Rowing Machine with PM5 Monitor Performance is the rowers' choice. Both beginners and professionals alike will appreciate its build, design, and innovations.
It is massive in size, just like the upgraded version Model E.
An American made rower with a unique air resistance system that provides dynamic workout challenges that could push anyone to the limit. The console features a tracking system (PM5 monitor) that provides several accurate workout data.
It has workout programs and the ability to connect to a wide range of online apps including Concept2 ErgData.
The manufacturer has been around since 1976 and has built a reputation for producing innovative fitness equipment such as this.
Click right here to have a peek at the price of the Concept2 Model D Indoor Rowing Machine PM3 on Amazon.
The Frame and Construction
The Concept2 Model D Indoor Rowing Machine PM5 simulates a real rowing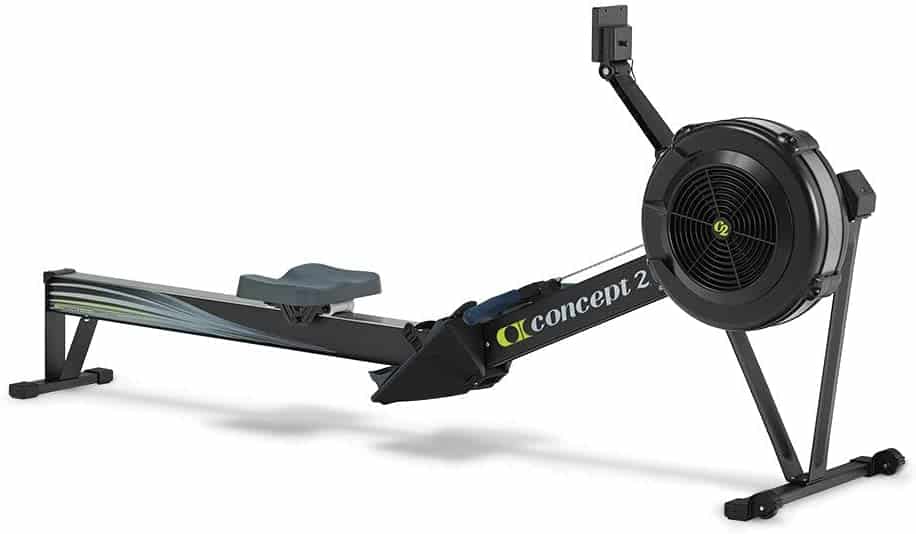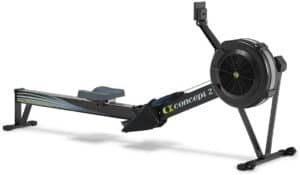 boat. It is available in 2 distinct colors, black and light gray.
The construction includes heavy-duty commercial-grade steel/aluminum, and durable hard plastic.
The frame is made of steel, the front legs are made of aluminum, while the shrouds for the drive/resistance system and the smartphone cradle (not included) are made of ABS material.
Thus, it supports a maximum user weight capacity of 500 lbs./226.7 kg.
Its stability is awesome due to the anti-skid base that features front and rear stabilizers. The front-mounted transport wheels make the relocation process for storage pretty easy.
Even though this is a very massive rowing machine, it could easily be separated into 2 parts within seconds for storage.
The folded dimensions are 33" long by 25" wide by 54" high. Differently put, it requires a storage area with the perimeters of 2'8" length by 2'1′ width.
While the fully assembled dimensions are 96" long by 24" wide. So, a workout area with the perimeters of 8′ length by 2′ width will be needed; and an extra clearance of 1-2′ around it for safety and easy access reasons especially if it's to be used in a congested area.
The rowing machine accommodates users that have an inseam of 37" or less, but anyone that is above that will have to purchase an extra-long monorail.
If you need any help with this or anything else, Concept2 could be contacted via phone call; 800 245 5676 or email at [email protected].
The Seat of the Concept2 Model D Indoor Rowing Machine
The Concept2 Model D integrates a large, padded, and contoured seat. Its contoured surface prevents you from slipping off while working out.
However, it may not be very comfortable because it lacks cushion, but a gel seat cover could be used to improve its comfortability.
The seat and the durable roller system are attached firmly to the slide rail for smooth and quiet glide. The floor to seat height is 14", hence most people can easily mount and dismount it.
The Handlebar
The Concept2 Model D Rower has an ergonomically designed handlebar that is coated with anti-slip rubber foam to provide comfortable and secure grips.
It has a metallic core, and wide enough to offer a variety of hand positions.
The Footrests
The rowing machine has large footrests with adjustable nylon safety straps. They also have heel guards that further boost the footing stability.
Thus, users of different foot sizes can be accommodated and also workout intensively without experiencing foot slippage.
The pedals are to be used with only standard gym shoes.
The Drive
The Concept2 Model D Indoor Rowing Machine has a nickel-plated steel chain drive that is smooth and considerably quiet. This means the handlebar has a chain anchor instead of a nylon belt that is widely used on most indoor rowers.
It is required to be lubricated after 40 hours of use to keep it functioning properly. A belt nylon drive may be quieter than this but it is very durable and could last a lifetime.
Resistance
The rower has a dynamic air resistance system that utilizes the power of the air to generate resistance and it comprises a fan flywheel and a damper.
It is dynamic because your rowing activity determines the level of intensity you get. When you exercise harder the intensity becomes more challenging and when you slow down the intensity reduces.
Therefore, safe to say that you will experience the intensity level that is proportionate to your fitness level.
Hence, the resistance system is suitable for everyone regardless of the individual's physical fitness.
The damper lever is located on the right side of the flywheel's cage and could be adjusted from 1 to 10 levels to increase or decrease the airflow that goes into the cage.
The more air is allowed into the cage the more difficult your every stroke becomes and vice versa. So you can set the damper to any value of 1-10 as it pleases you.
Now, some people think that the damper is the resistance level but that is not necessarily correct because it is your ability of getting the flywheel spin faster that determines your workout intensity.
Hence, the resistance level is infinity.
You may want to know if the fan makes an unbearable noise. Well, it depends on your definition of noise.
However, the fan does make a whoosh-whoosh sound that does not invade other people's privacy or prevent you from watching a TV.
The Console
The Concept2 Model D Indoor Rowing Machine incorporates an adjustable console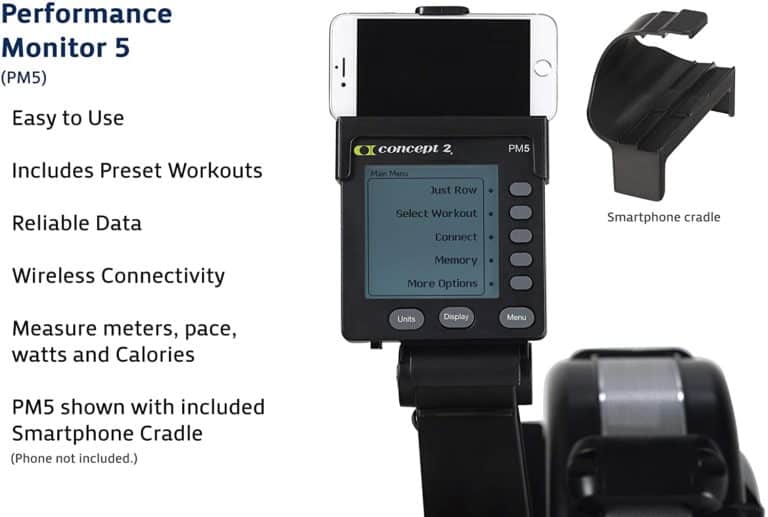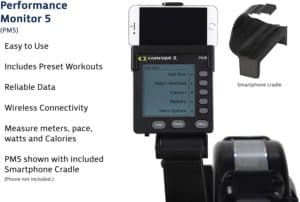 that is upgraded from MP3 to MP5 (monitor performance) with Bluetooth technology.
There is a whole lot the console offers. It features a backlit LCD monitor that tracks Meters, Pace, Pulse Rate, Calories Burned, and Watts. These values are displayed simultaneously with great readability that cannot be diminished even when viewed in a poorly-lit room.
The console also features 4 rowing games and 10 workout programs that are divided into 2; 5 preset workout programs and 5 custom workout programs.
You can manually customize your workout program, or you may choose to exercise with any of the preset workout programs that include 30-Minute Rowing, Interval Rowing, 2000, 5000, and 10000-Meter Distance Rowing.
The High-Intensity Interval Training (HIIT) preset programs are 500 meters workouts that are followed by a minute rest.
The monitor is powered by 2 D batteries. However, it draws its power from the flywheel when you are actively working out with rowers but uses the batteries when you are not.
Wireless Connectivity & Apps
The console connects wirelessly to online apps via Bluetooth and the HR chest strap connects through Bluetooth or ANT+ connection. The HR chest strap belt is not included in the package and the compatible types are HR Polar H7 or H10, and the Garmin HRM-Dual HR transmitter.
You can easily connect to a smartphone/tablet that has been downloaded with one of the many free compatible apps such as the Concept2 ErgData, BoatCoach, ErgMate, Erg IQ, Ergometer Space, Float, RowPro, LiveRowing, HOLOFIT, and more.
This enables you to save your workout data, compare your workout progress at every end of the month, and compete with real users online.
USP Port
There is a USB port that enables you to use a flash drive to create a user profile, store daily workout data, and update the PM5 firmware.
However, Concept2 Model D also has an internal memory that allows a user to store workout data.
Accessory
This rower doesn't come with a cradle needed for 2.5-3.5" smartphone placement. Although, it is optional and can be purchased separately from Concept2.
No water bottle holder either, you will have to improvise to maintain proper hydration.
Storage
The storage of the Concept2 Model D Indoor Rowing Machine is easy even though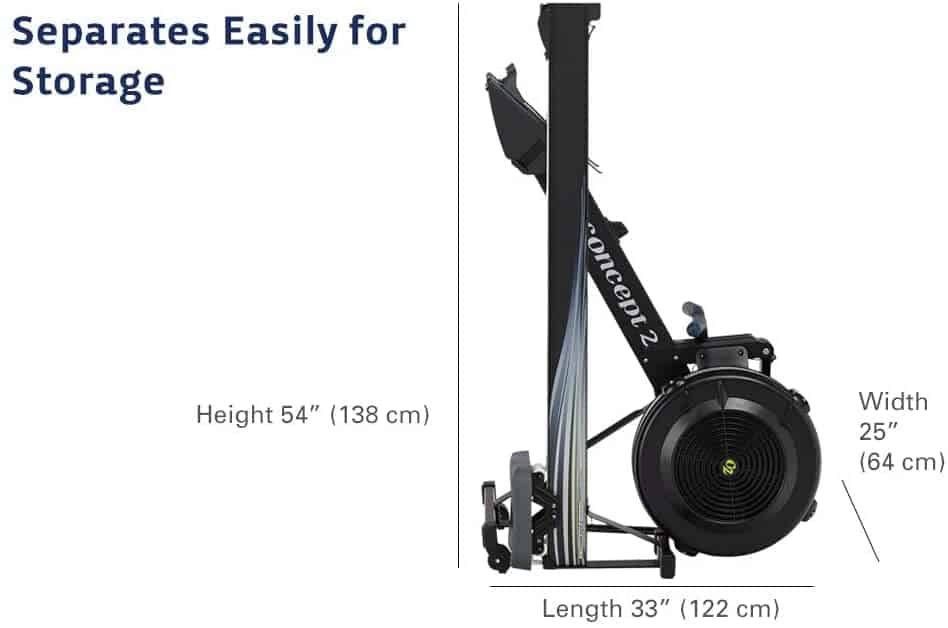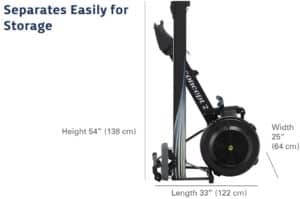 it is seemingly large.
It could be moved via the integrated transport wheels and be separated into 2 parts within seconds for easy storage.
The storage area perimeters needed are 2'8" length by 2'1" width.
Approval Rating
This is one of the world's most popular rowers. The reason is that it has a quality build and a resistance system that pushes everyone to the limit.
Amazon users overwhelmingly have a favorable view of it, and so do independent review sites.
Pros/Features Overview
The flywheel provides consistent momentum and has a low noise
The air resistance system is dynamic and suitable for everyone, including advanced athletes
Supports up to 500 lbs./226.7 kg maximum user weight capacity
Can be separated into two pieces for storage
The PM5 monitor tracks workout progress such as Meters, Pace, Calories, Watts, and Pulse
10 workout programs (5 preset for HIIT and 5 custom)
Console is telemetry-enabled
Bluetooth technology
Supports users with the inseam of 37" or less
The console connects to a variety of free compatible online apps for workout storage, to compete with real rowers, and more
A USB port for the storage of workout data via the use of a flash drive
It has an internal memory for workout storage (for one user)
Seat height is 14"
The rower provides total body and low-impact workouts
It offers the ability to burn calories twice as much than other rowing machines
It has caster wheels that make it mobile
Nickel-plated chain is very durable and requires low lubrication
Adjustable pedals secure the feet comfortable and accommodate different foot sizes
Ergonomic handlebar offers a range of different hand positions
Easy to assemble
Low maintenance
Cons
HR chest strap not included
Cradle for a smartphone not included
Needs large space for workouts
The seat not very comfortable
Warranty
5 Years for the Frame
2 Years for the Part
Product Dimensions & Specifications
Length 96"
Width 24"
Folded dimensions: 33" L x 25" W x 54" H
Shipping Dimensions: 15" x 21.5" x 56"
Net weight: 57 lbs./26 kg
Gross weight: 70 lbs./32 kg
Maximum user weight capacity: 500 lbs./226.7 kg
Drive: Nickle-Plated chain
Resistance: Air with damper setting 1-10
Seat: Large, padded, and contoured
Seat height: 14"
Handlebar: Ergonomically designed and coated with soft rubber foam
Pedals: Adjustable and large
Frame: Steel and aluminum
Programs: 10
Bluetooth and ANT+ connectivity
Heart rate monitoring: Wireless HR chest strap
Monitor: Backlit tracks Meters, Pace, Watts, Calories, and Heart Rate
USB port for workout data transfer
Internal memory
Compatible with several free online apps including Concept2 ErgData, and more
Shipping
The Model D Rower is shipped out in a package that weighs 70 lbs./32 kg with the dimensions of 15" x 21.5" x 56".
Retailers have different shipping policies, however, Amazon provides free shipping and delivers the product within a couple of days upon purchase.
Assembly
One would think that assembling this rowing machine would be complicated but it is not.
It takes about 30 minutes or little more to completely assemble the rower.
An instruction manual and the tools needed for the assembly are all included in the package.
Maintenance
The Concept2 Model D Rower needs to be kept clean at all times. Make sure to clean the rollers and the rails periodically and lubricate the nickle-plated chain after every 40 hours of use.
Inspect the machine before use for a loose or broken part to avoid an accident and further damage.
Conclusion
The Concept2 Model D Indoor Rowing Machine is a commercial-grade world-class rower that is suitable for everyone.
It is built to last like a tank and has several features that are designed to help you easily transit to a more healthy body.