The Weider Home Gym could get you started with your strength training workout. This is yet another home gym that has great features and affordability with a good customer approval rating.
It has six building stations that include preacher curl, low pulley, high pulley, chest press, chest fly, and leg developer station.  With Weider Home Gym, you have got everything you need to sculpt the entire body.
It is worthy to also mention that it has a workout chart that gives you the necessary orientation and bearing on how to utilize your time working out properly with the unit.
Click right here to have a peek at the price and of of the Weider Home Gym on Amazon.
The Frame
This unit is sturdy and durable, thanks to the frame that is well constructed with steel tubing. The steel is further fortified with anti-corrosive paint that prevents rust.
It weighs about 175 pounds when fully assembled and not heavy for a typical home gym system. However, it grounds and stabilizes the home gym during a workout.
It supports a 300 pounds maximum user weight capacity.
The home gym should be assembled at the spot it is intended to be used so that you don't have to move it later. Also, cushion pads are recommended to be placed underneath the home gym's base to prevent floor damage.
The Weider Home Gym is not extremely large. Its assembled dimensions are 65'' L x 37'' W x 76'' H.  This is not the very best choice for users that are more than 6'3'' tall because of its height (6'4'').
Make sure that the room you intend to assemble and use the machine has at least 7 feet ceiling height to accommodate the height.
The Resistance System
This machine has a weight stack resistance system that uses weight made from cement encased in a vinyl plate. It is considered to be very strong and durable with a very low possibility of cracking.
The resistance weight cannot be upgraded because the system only has room for 6 plates of 12.5 pounds weight. There is no higher weight plate available than the one that is supplied with the home gym. Therefore, you can only replace any bad weight plate but cannot upgrade.
The resistance weight system consists of 6 plates of 12.5 and 1 small plate of 6 pounds. These plates generate 81 pounds but when stacked on the pulley system they generate a total of 214 pounds.
The Pulleys
The pulleys are part of the vital parts of this machine and they are made of heavy-duty nylon material with highly industrial sealed ball bearings that can last for a very long time.
The Cables
The cables are also made of strong steel ropes that have tested against heavyweight hence they can withstand the total weight resistance that is coming from the machine itself. Moreover, no need to relocate the cables each time you intend to increase the resistance level or you wish to perform a different workout.
You only need to change handles and the lat bar. However, the lat bar is not included in the package. It is optional; therefore, you may purchase it separately if you need it.
The fly lateral bars and the leg attachment are cushioned with 3 cm thick form pads to improve comfort during exercises.
The Seat
The machine has a vinyl seat that is 2'' padded along with the backrest and the curl pad attachment to convey maximum comfort during workouts. The curl pad can be adjusted to 3 positions while the seat and the backrest are not adjustable.
Workouts
Just as aforementioned, the Weider Home Gym has six workout stations which include:
High Pulley station, which requires a lat bar to perform. This exercise targets the shoulders, back, and triceps muscles.
Low Pulley Station, essentially works on the lower body and the biceps
Chest Press Station, just as the name implies; it works the chest (pectorals and deltoids)
Chest Fly Station, also targets the chest
Curl Pad attachment targets the biceps by performing curl exercises in a seated position
Leg attachment targets the leg muscles by performing leg extensions; nevertheless, it does not offer the opportunity to do leg presses though.
Specifications
Standard resistance system: Weight stack and pulleys
Assembled Weight: 173 pounds
Assembled dimensions: 65'' L x 37'' W x 76'' H / 165 cm L x 94 cm W x 193 cm H
Standard weight resistance: 81 pounds/ 36 kg
Maximum weight resistance: 214 pounds/ 97 kg
Features/Pros Overview
It is sturdy and innovatively built with steel tubing that guarantees durability
It has got 6 workout stations that are designed to work on the entire muscle groups of the body. These include the preacher curl, low pulley, high pulley, chest press, chest fly, and leg developer station.
The fly bars and leg attachments are well padded with thick forms
An exercise chart is included workout orientation
It has a quality and upholstery seat that can maximize comfort
Relatively easy to assemble
Very little maintenance is required
It is very affordable
Cons
The resistance weight/stack cannot be upgraded
Warranty
90 Days for Parts
90 Days for Labor
Shipping, Assembly, and Maintenance
The shipping weight of the Weider Home Gym is about 78 pounds. The cost of shipping depends on the retailer you are purchasing from. However, Amazon usually provides free shipping.
Assembling the machine has been reported to be straight and simple but may require time. It will take time depending on your dexterity and if you have got help.
Instruction manual accompanies it; this makes assembly a lot easier as it walks you through the process of setting it up. Some of the required tools for assembly are included but you may need your tools to augment the ones included to be able to successfully assemble it.
Maintenance is, cleaning the unit, greasing the pulleys, check and re-tight any loosen parts from time to time. This way your machine stands a chance of lasing for a long time without a breakdown.
Conclusion
This home gym is cost-effective. It is one of the most sought-after home gyms because of its useful features and affordable price. It is one of the home gyms with great value and price.
Weider Home Gym Review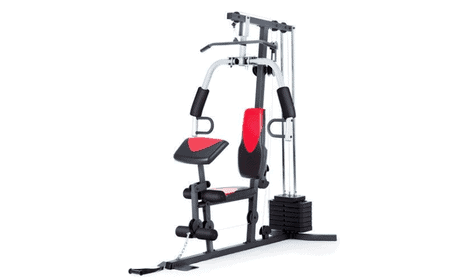 The Weider Home Gym could get you started with your strength training workout. This is yet another home gym that has great features and affordability with a good customer approval rating.
Product Brand: Weider
Product In-Stock: InStock