The Sunny Health and Fitness Pro B901 Indoor Cycling Bike has been around for a while and it's patronized by many. Its quality construction, decent features, and its price tag put it on a pedestal of popularity.
It is a chain-driven bike with a friction resistance system that offers infinite resistance levels. The 40 lbs./18 kg high inertia flywheel provides consistent momentum for a smooth ride. It could be customized to accommodate up to 6'5" users.
If a list of best cycling bikes is made this unit will be on it.
Click right here to have a peek at the best price of the Sunny Health and Fitness Pro B901 Indoor Cycling Bike on Amazon.
The Frame and Construction
As aforementioned, the Sunny Health and Fitness Pro B901 Indoor Cycling Bike is a sturdy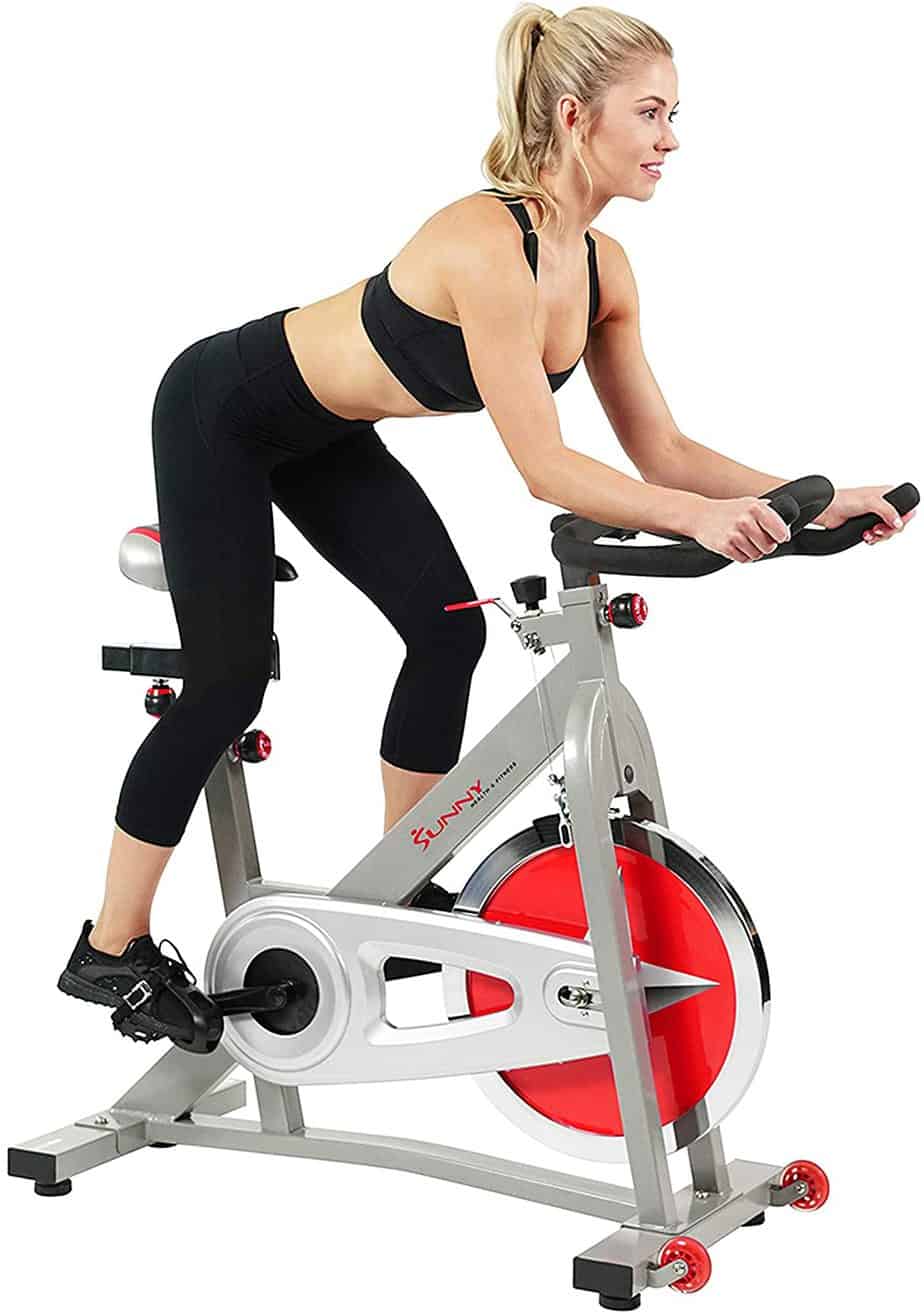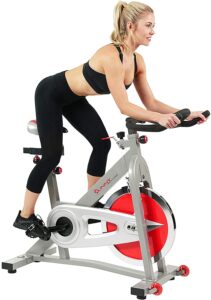 piece of equipment that features an anti-corrosion painted heavy-duty steel frame. It is mostly constructed of steel parts except for the chain guard that is made of ABS.
Thus, it supports a maximum user weight capacity of 275 lbs./124.7b kg.
Its stability is well established due to the base framework that integrates front and rear steel stabilizers and adjustable levelers. So, it remains stable on different types of surfaces including crooked ones.
Moreover, its assembled weight of 97 lbs./44 kg advances its overall stability, while the front-mounted transport wheels help in relocating the bike from one room to another without hassles.
The Pro B901 isn't overly large; its assembled dimensions are 46.5" long by 18" wide by 46" high. Simply put, the bike requires a workout area with perimeters of 3'9" length by 1'5" width, plus additional extra clearance of 2′ at the front, rear, and on each side of it for safety and easy access.
A room with a ceiling height of 8′ should be suitable for most users to use this bike.
The Seat of the Sunny Health and Fitness Pro B901 Indoor Cycling Bike
The seat on this bike is versatile in the sense that it could be adjusted vertically (upward/down)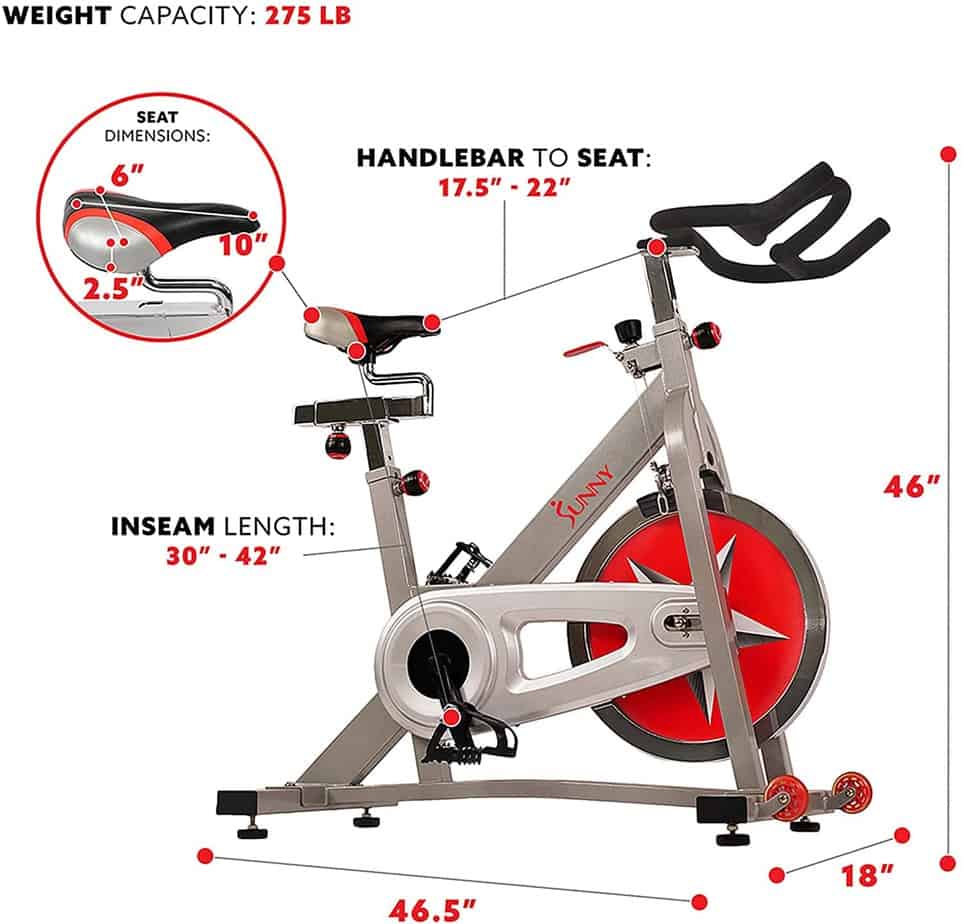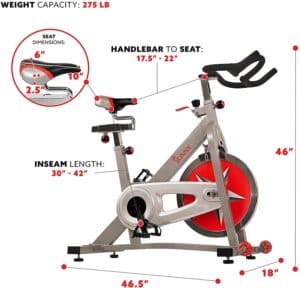 and horizontally (fore/aft). Hence, the bike supports inseam heights (the measurement of inner thigh to the ankles) of 30" min. – 42" max.
In other words, users between 5′-6'5" tall can utilize the bike, and the space between the seat and the handlebar spans between 17.5" – 22".
The seat's design is more of a traditional bicycle saddle with dimensions of 10" L x 6" W x 2.5" thick. It is adequately cushioned to provide lasting comfort that enables users to workout longer.
However, if for whatever reason you wish to improve on it, you may use a gel seat cover, or even have it replaced entirely with another saddle of your choice. Its connection mechanism is standard, thus, options are widely available online or at the local bicycle shop.
The Handlebar
The soft rubber-coated multi-grip handlebar provides a range of comfortable and secure grip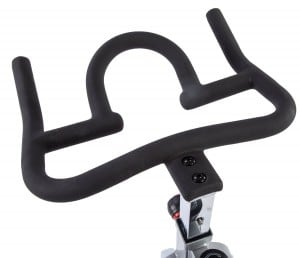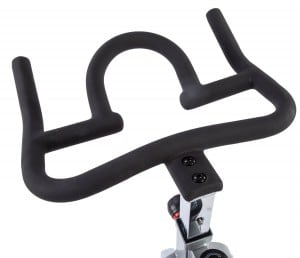 positions that include overhand grips, hook grips, extension grips, and aero grips. So, you can train while leaning-forward, sitting almost uprightly, and pedaling in a standing position.
It is 2-way adjustable, meaning it could be adjusted vertically to complement the bike's overall customizability.
That said, the handlebar doesn't integrate a console or heart rate sensors. So, if you must track your workout progress, then you will have to use an external monitoring device.
The Pedals
The Sunny Health and Fitness Pro B901 Indoor Cycling Bike features toe caged self-leveling pedals that accommodate standard gyms shoes and most foot sizes comfortably and securely.
They are anti-skid designed and have adjustable safety straps for added footing stability. Therefore, you can pedal vigorously without worrying that your foot may slip.
You can swap the toe caged pedals for SPD because they have 9/16" standard threads.
The Q-Factor (distance between the pedals) is about 7.5" which might be problematic for those with an existing knee injury.
The Drive
The B901 Indoor bike has a chain drive system that comprises a chain, sprockets, a durable 3-piece crankset, crank-arms, and the 40 lbs./18 kg chromed perimeter weighted flywheel.
The advantage of this drive system is the fact that it mimics the operation of a real road bicycle which is accentuated by the heavy flywheel. Secondly, the chain lasts a lifetime without the need for a replacement, if it is maintained by lubricating it as it should.
Its operation is smooth and decently quiet, thus, it doesn't distract or disturb the people around you during a workout.
You can watch a movie or listen to your favorite music without noise interference from the bike.
It is possible to pedal in reverse because the drive is bidirectional and you can also perform a stand-up pedaling if you want.
The Resistance
The Sunny Health and Fitness Pro B901 Indoor Cycling Bike is equipped with a friction resistance system that mainly consists of felt brake pads, a control knob, and the chromed flywheel.
Resistance is generated when the felt brake pads come in direct contact with the flywheel. While the control knob is used to increase or decrease the intensity by simply turning it clockwise or counterclockwise, respectively.
The adjustment is infinite with no predefined resistance levels as opposed to an adjustable magnetic resistance on the  ASUNA Lancer.
The resistance system offers light to highly challenging workouts that are suitable for beginners, intermediaries, and advanced athletes.
However, the felt brake pads tend to wear out at some point in time and will need to be replaced.
But you can do one thing to prolong the lifespan and this involves saturating them with lubricant oil when necessary. Squeeze them once every week to know if they still have oil on them and act accordingly.
There is an emergency brake lever that enables you to abruptly stop the flywheel from spinning whenever you wish to take a break from pedaling. This is a safety measure that is put in place to avoid an injury.
Console
This bike doesn't have a console; you will have to use an external device if you must track your workout progress or choose another spin bike that has one.
Accessory
The Sunny Health and Fitness Pro B901 Indoor Cycling Bike doesn't have a tablet, or a water bottle holders either. You will have to either improvise or purchase them separately to keep proper hydration and a smartphone within reach for entertainment purposes during workouts.
Storage
The unit is compact and portable, therefore, it can easily be stored away.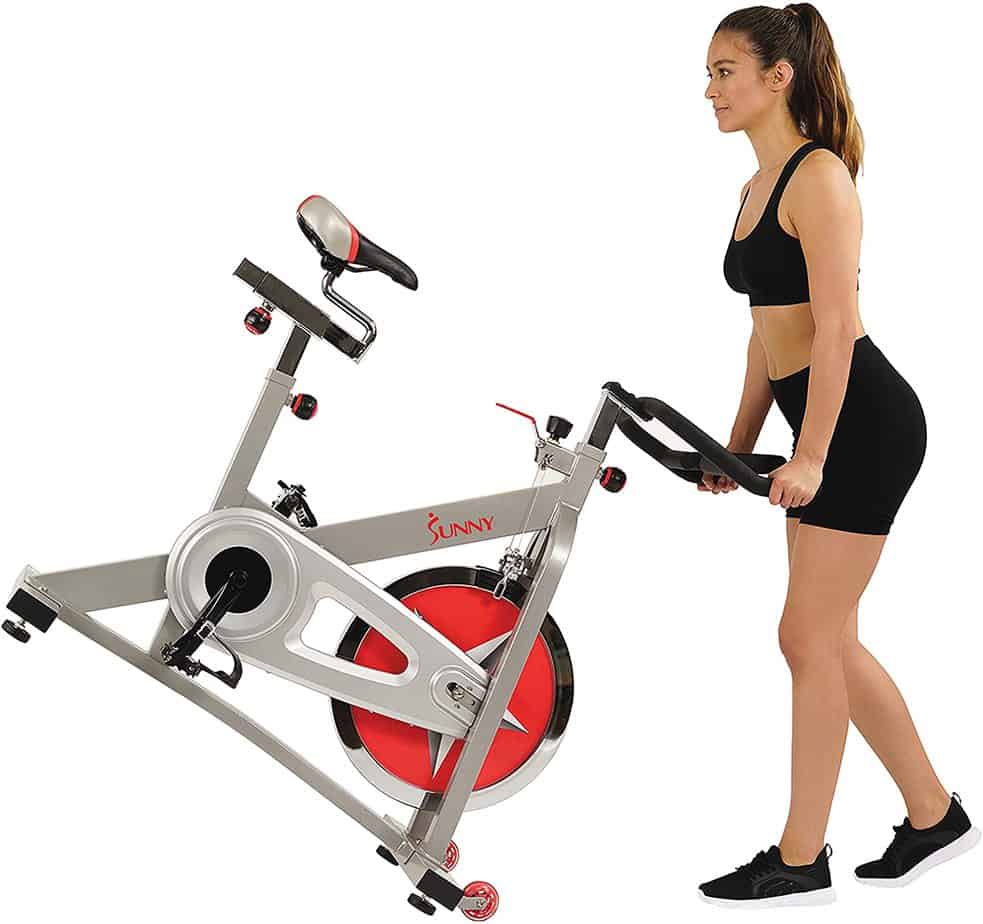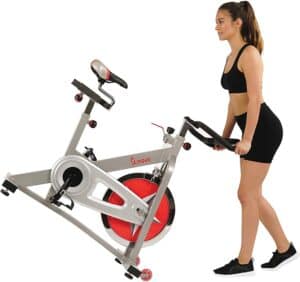 A storage area with perimeters of 3'9" length by 1'5" width will suffice. Ideal places for storage include the garage, under the staircase, or next to a wall. Better still, it can be left on a dedicated workout area if you can afford it.
Approval Rating
This bike has thousands of Amazon customer reviews that are mostly positive, hence, it has a recommendable approval rating. Moreover, independent review sites have a similar view of it as well.
Pros/Features Overview
Durably and sturdily built
Compact, portable, and stable
Supports a maximum user weight capacity of 275 lbs./124.7 kg
Due to its customizability, users between the heights of 5′-6'5" can utilize it
It mimics the operation of a real road bike
The 40 lbs./18 kg flywheel provides consistent momentum that ultimately makes its motion vibration-free
The toe caged pedals securely accommodate different foot sizes and standard gym shoes
The comfortable seat allows you to train longer
The generously soft rubber foam coated handlebar offers multiple grips that are comfortable and secure
Both the seat and the pedals can be replaced with another because options are widely available
The maintenance requirement is low
Assembly is easy
Cons
It doesn't have a monitor
No water bottle and tablet holders
Warranty
3 Years for the Frame
180 Days for the Parts and Components
Product Dimensions & Specifications
Length 46.5"
Width 18"
Height 46"
Shipping dimensions: 41" L x 10" W x 35" H
Net weight: 97 lbs./44 kg
Gross weight: 115 lbs./52 kg
Maximum user weight capacity: 275 lbs./124.7 kg
Drive: Chain
Resistance: Friction
Seat: 4-way adjustable
Handlebar: Multi-grip, 2-way adjustable
Pedals: Toe cages with adjustable safety straps
Inseam heights: 30" min – 42" max
Flywheel: 40 lbs./18 kg
Q-Factor: 7.5"
Frame: Steel
Monitor: No
Water bottle and tablet holders: No
Transport wheels: Yes
Shipping
The Sunny Health and Fitness Pro B901 Indoor Cycling Bike is shipped in a box that weighs 115 lbs./52 kg with dimensions of 41" L by 10" W by 35" H.
Delivery is made in a couple of days free of charge by Amazon.
Assembly
The assembly is a walk in the park. This means it is simple to put together since the complicated parts are already assembled by the manufacturer.
You are only required to attach the front and the rear stabilizers, the pedals, the seat, and the handlebar posts, the seat, and the handlebar.
This takes about 30 minutes, more or less.
An instruction manual and the assembly tools accompany the package.
Maintenance
The brake pads and the chain might need to be lubricated periodically for proper function.
Inspect the bike before use to ensure that the brake pads are still well lubricated, and the parts are tight and in good condition.
Act accordingly if there is any loose or broken part.
Conclusion
The Sunny Health and Fitness Pro B901 Indoor Cycling Bike is for home use. It is a basic, entry-level bike that provides you the opportunity to ride in the comfort of your home for overall physical wellness.