The Stamina ATS 35-1405 Air Rower could be the right choice for those seeking to improve and maintain their physical fitness. After all, rowing machines, in general, are low-impact, and full-body cardiovascular machines that are widely recommended by physical trainers.
They engage the major muscle groups in the body and help you to lose weight as quickly as possible without feeling the stress on the joints.
That said, the ATS 35-1405 is the upgraded model of the Stamina ATS 35-1399, 35-1402, 35-1403, and 35-1404 Rowers. The difference between them mainly has to do with their structural design and color.
Although its LCD monitor screen and the fan are bigger than the ones on the previous models, and it possesses a chain drive system instead.
Thus, you can view multiple workout stats simultaneously, and experience tougher resistance.
The rower is also foldable with a design that looks much like the smaller version of the Concept2 Model D and Model E Rowing machines. It is neatly, nicely, and sturdily built to support a maximum user weight capacity of 250 lbs./113 kg.
However, it's going to require a little bit of space for workouts but less for storage.
It only weighs about 63 lbs./25.5 kg, and you can easily move it via the front-mounted transports wheels.
Click right here to have a peek at the Stamina ATS 35-1405 Air Rower.
The Frame and Construction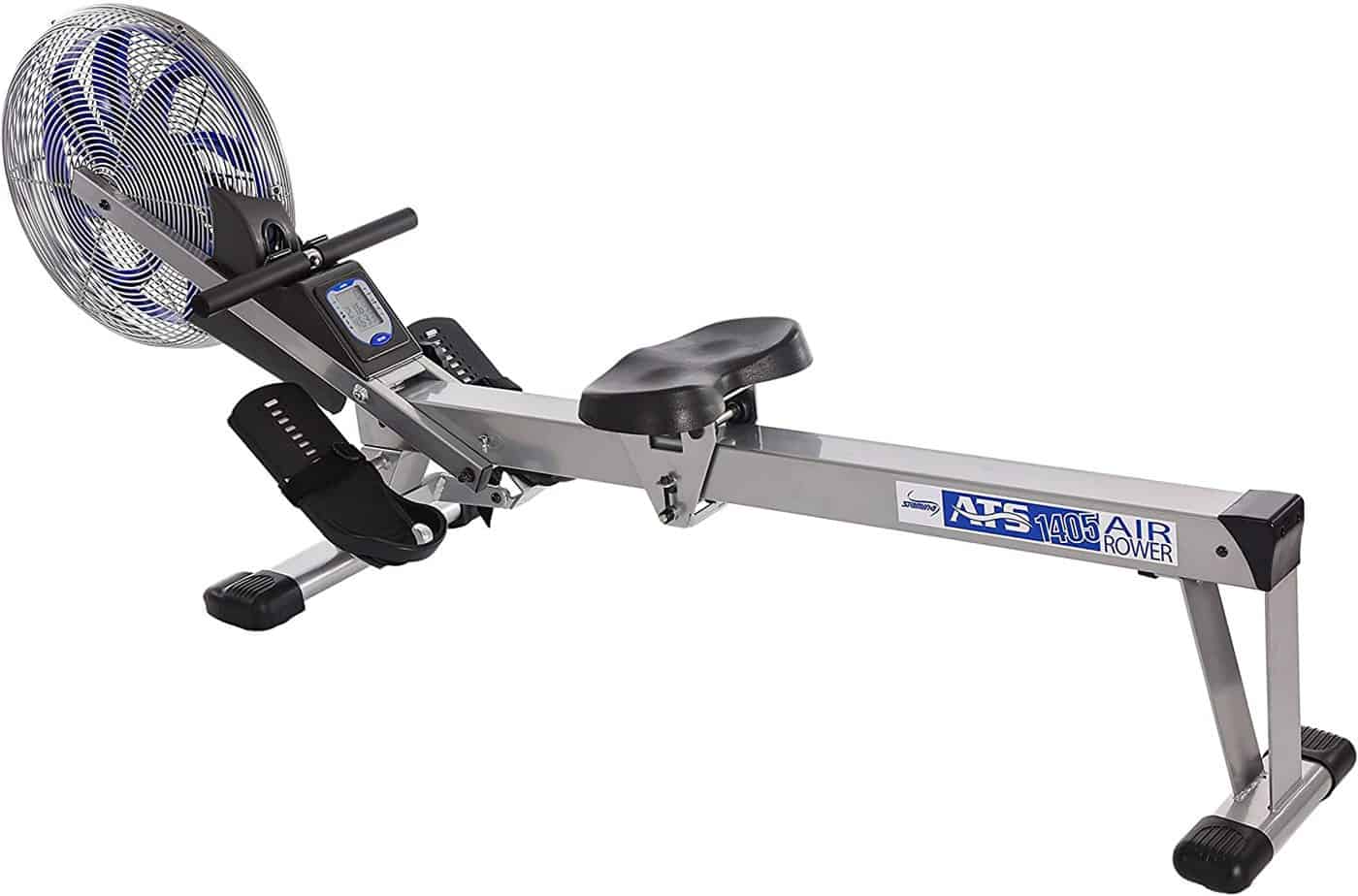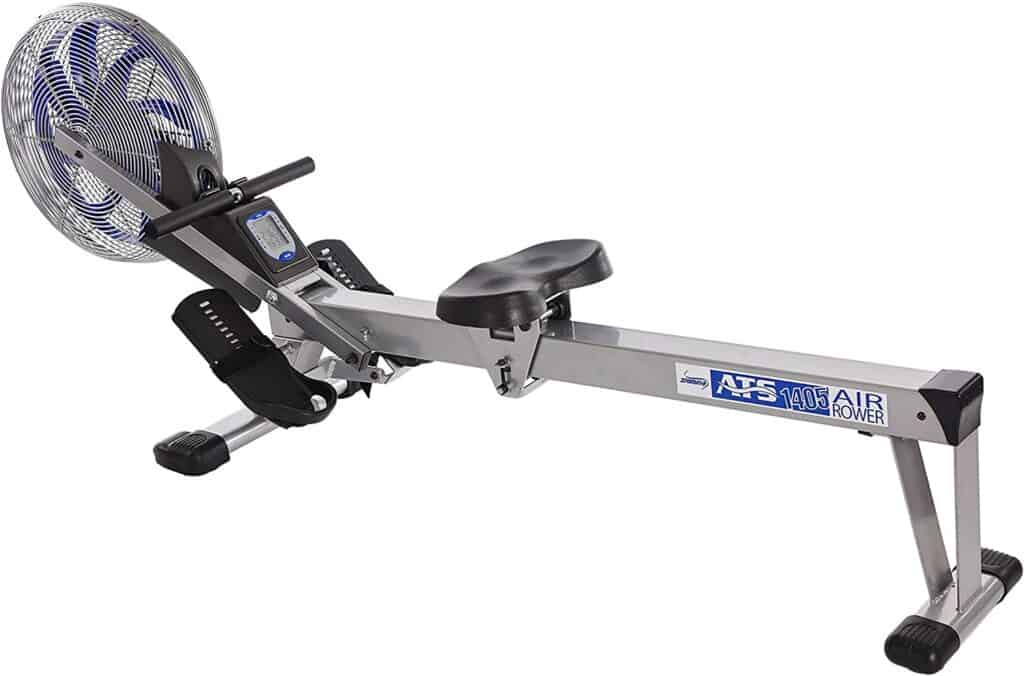 This rowing machine possesses a steel silver painted frame that is anti-corrosive, and it has an ABS-made console and chain casings.
The robust base framework features steel stabilizers with anti-skid pads that promote stability and floor protection.
Since the rower's dimensions are 79'' long by 18'' wide by 32'' high, it's going to need a workout area with perimeters of 6'6'' length by 1'5'' width with an additional clearance of 2' around it for safety and easy access purposes.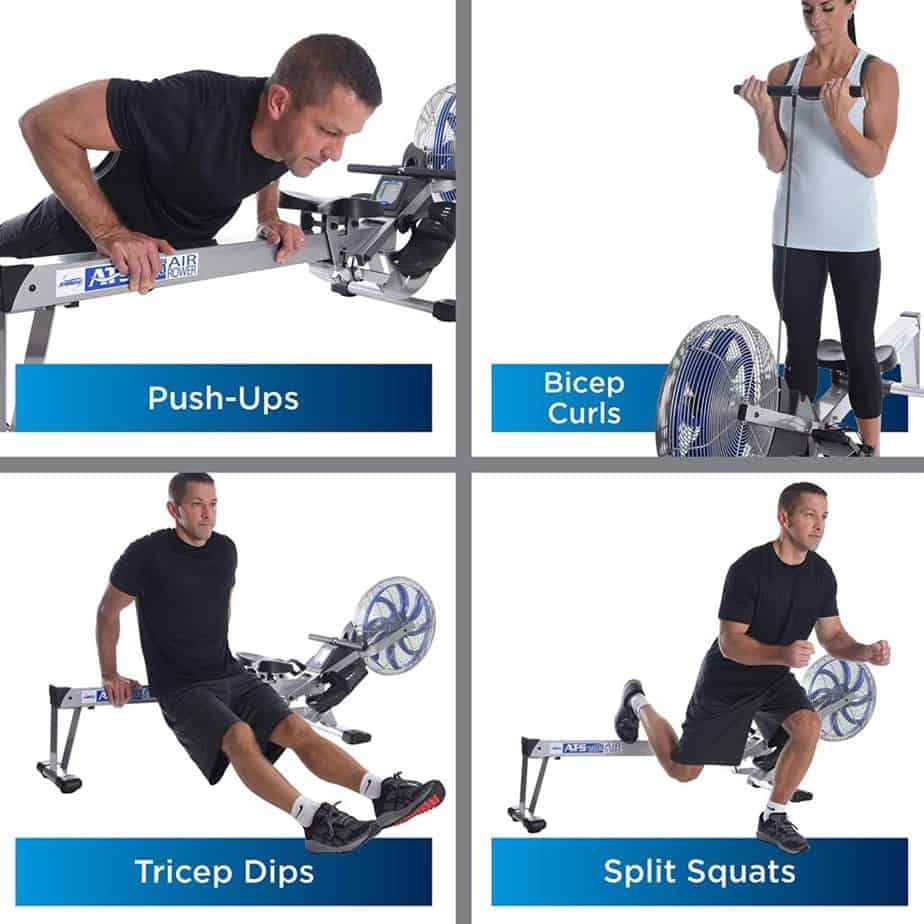 As aforementioned, the rower is foldable; it could be folded by unlocking and raising the fan over to the steel rail, thereby reducing the fully assembled length size to an extent. Hence, the folded dimensions are 54'' in length by 18'' in width.
The rowing machine allows users that are up to 6'4'' tall to conveniently utilize it, and they can also perform additional workouts outside of the rowing activities, such as bicep curls, push-ups, triceps dips, and split squats.
The Seat of the Stamina ATS 35-1405 Air Rower
The seat on this rower is foam-padded and molded to convey a comfortable lasting feeling to the butt during a prolonged workout.
However, few users have complained that it is too small for their size and they feel sore after a few minutes into workouts. But they were able to make it work by using additional padding such as placing a folded towel on it.
The seat integrates sliding ball bearing rollers and it's attached to an angled, oversized steel rail. Thus, its gliding motion is smooth, and it easily returns for effective workouts.
The floor to seat height is 18''. So, users with joint problems will be able to mount and dismount the machine without hassles.
The Handlebar/Drive
The Stamina ATS 35-1405 Air Rower is equipped with a chain drive system that consists of a bicycle-like chain, a straight foam-coated handlebar, a sprocket, and a recoil system. Together, these elements provide smooth operation.
Also, users can experience secure and comfortable grips. In other words, no slippage or blisters will be experienced as a result of frequent and prolonged workouts.
The durable chain doesn't break no matter how intense your workouts get, but instead, it lasts as long as it's being maintained adequately.
The length of the handlebar is enough to suit wide-shouldered users.
The Pedals
The ATS 35-1405 Air Rower has a pair of large, textured, and flexible pedals with adjustable safety straps that provide optimal footing stability. They can securely accommodate most foot sizes and standard gym shoes.
So, users can train with little or no stress on the ankles no matter how long their exercise lasts.
The Resistance
This rowing machine incorporates a wind resistance system that provides tougher workout intensities than the previous models. This means, when the fan is set into motion, the air generates dynamic resistance.
Hence, it is your workout activity and tempo that determines the level of challenge you experience.
The harder you pull on the handlebar the more intense the resistance becomes, and when you slow down, the intensity reduces. Therefore, the resistance system is suitable for everyone at any fitness level.
The noise level of the fan is considered bearable. It is on par with the one made by an oscillation fan. However, it could be low, medium, or high, depending on the speed of your stroke.
But even at its highest, it doesn't become a problem for those around you, nor does it prevent your ability to watch your favorite TV show or listen to music while exercising.
The Console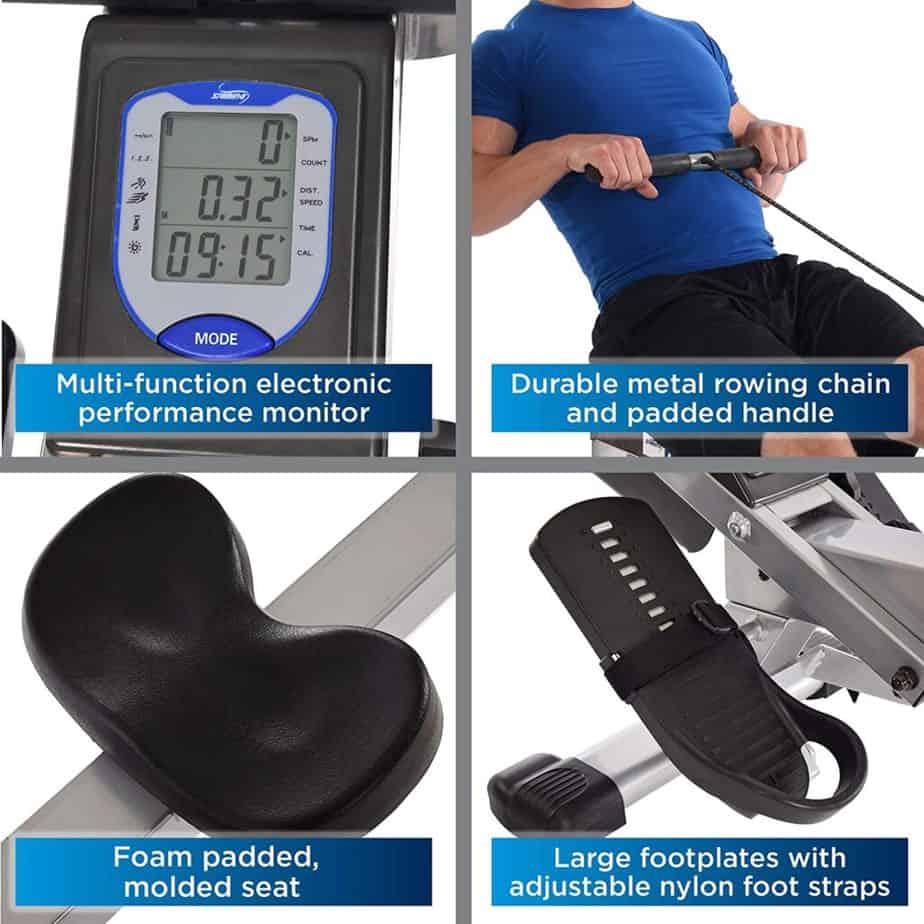 The Stamina ATS 35-1405 Air Rower features a console that has an LCD monitor for tracking workout progress. It displays metrics such as Time, Distance, Speed, Stroke Per Minute (SPM), Calories, and Count with high readability.
However, its clarity diminishes when viewed in a poorly lit room because the monitor is not backlit.
The Distance and Speed are measured in mile and mph, respectively.
The monitor displays multiple metrics simultaneously as opposed to some basic monitors that display and switch values one at a time rotationally. That said, the console is not telemetric, meaning it is not compatible with any wireless HR chest strap, neither does it have EKG sensors. Therefore, if you wish to keep track of your heart rate you must use an external HR device.
The monitor is powered by 2 AA batteries, and it automatically shuts down after 4 minutes of inactivity and turns back on when the activity returns.
Storage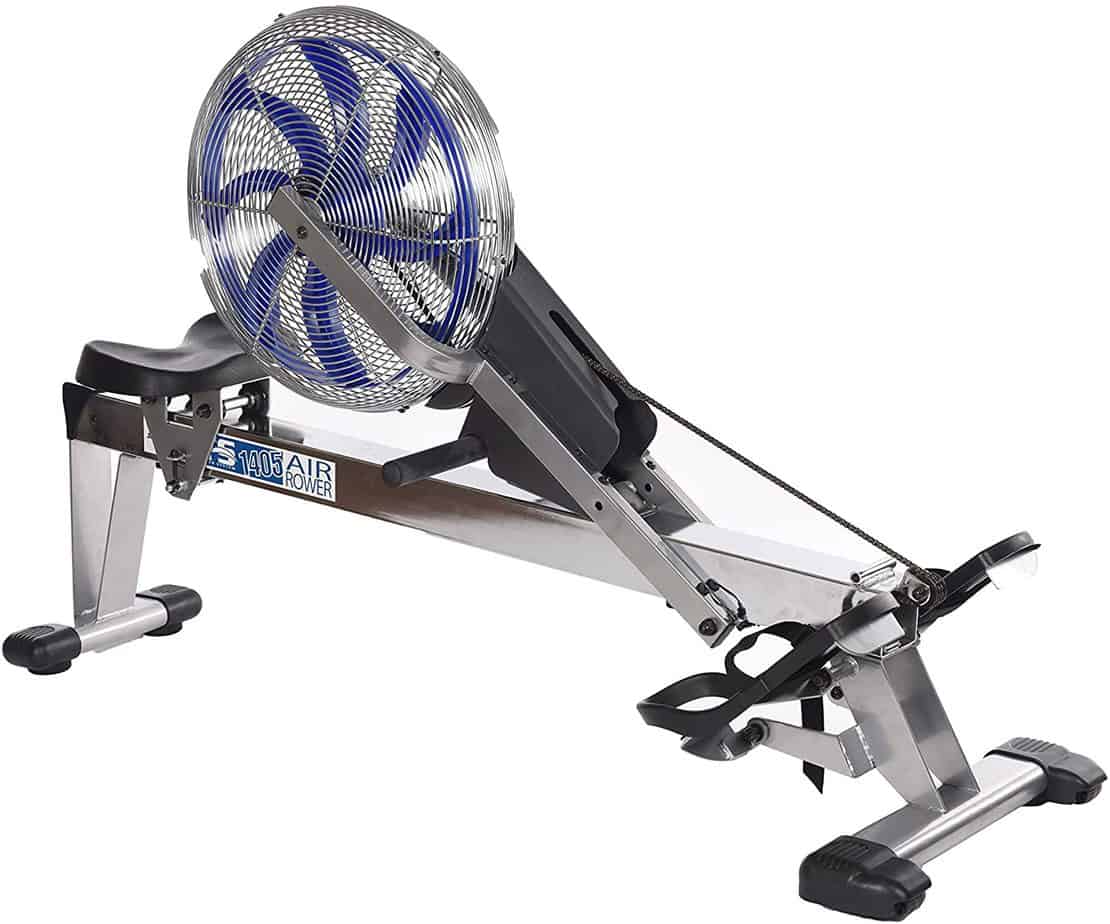 The storage of this rower is not difficult because it is portable and foldable. It doesn't require too much space and it could be moved via the integrated transport wheels at the front base.
When it's time to store it away, simply unlock the frame to raise the fan, and fold it over the rail.
A storage area with perimeters of 4'5'' length by 1'5'' width will be enough for it.
Approval Rating
The Stamina ATS 35-1405 Air Rower has several reviews on Amazon with an approval rating that is positive. This suggests it is a recommendable rower that most users appreciate.
Pros/Features Overview
Silver painted and durable steel frame
Floor friendly and robust base provides optimum stability
Supports a maximum user weight capacity of 250 lbs./113 kg
Transport wheels integrated for easy relocation process
Comfortable foam, molded, and padded seat with smooth-sliding ball bearing rollers
Oversized steel rail supports smooth movement of the seat
Users up to 6'4'' tall can be accommodated
It has a durable rowing chain
The dynamic air resistance system provides challenging workouts that are suitable for everyone
The angled seat rail offers easy motion recovery and increased resistance to the leg muscle groups
The machine could be used for strength training that involves push-ups, biceps curls, triceps dips, and split squat
The large, textured, and flexible pedals with adjustable safety straps accommodate different foot sizes comfortably with high footing stability
The LCD monitor tracks workout progress by displaying values such as Time, Distance, Stroke Per Minute (SPM), Speed, Counts, and Calories
Easy to assemble
Maintenance requirement is low
Cons
Monitor is not telemetric and no EKG sensors
Monitor is not backlit
Warranty
3 Years for the Frame
90 Days for the Part
Product Dimensions and Specifications
Length 79''
Width 18''
Height 32''
Folded dimensions: 54'' L x 18'' W x 32'' H
Shipping dimensions: 53'' L x 27'' W x 9'' H
Net weight: 63 lbs./28.5 kg
Gross weight: 74 lbs./33.5 kg
Maximum user weight capacity: 250 lbs./113 kg
Cord: Chain
Resistance: Air, dynamic
Frame: Silver steel
Seat: Molded, foamed, and padded with ball bearing rollers
Pedals: Large, textured, flexible with adjustable safety straps
Monitor: Non-backlit LCD
Floor to seat height: 18''
Transport wheels: Yes
Shipping
The Stamina ATS 35-1405 Air Rower is shipped in a box that weighs 74 lbs./33.5 kg with dimensions of 53'' long by 27'' wide by 9'' high.
Amazon provides free shipping for this product and delivers it in a couple of days.
Assembly
The assembly is not complicated due to the fact that the major components are preassembled.
You only need to attach the back end of the left and right pedal support to the front stand, and attach the front stand to the rail, then slide in the seat on the rail and attach the rear stabilizer.
An instruction manual and the tools needed for a successful assembly are included in the package. It takes about 30 minutes, more or less to completely put it together.
Maintenance
The rowing machine needs to be inspected before use to ensure that every part is tight and in good condition. Ensure to keep it clean at all times, especially the roller's tracks on the rail.
Do not expose the console to liquid, moisture, or direct sunlight, and always use and store the machine in a clean, dry place.
Conclusion
The Stamina ATS 35-1405 Air Rower is an affordable, low-impact, and full-body cardiovascular machine that is designed for home use.
It is suitable for everyone since the resistance generated is proportionate to the user's rowing ability.
It accommodates most users of different heights and sizes.