The handcrafted WaterRower Natural Rowing Machine with S4 Monitor simulates real outdoor rowing experience.
It is durable and could test the strength of different users, and that includes beginners to professionals. They can challenge themselves and workout within the confines of their fitness ability.
Click right here to have a peek at the price and of of the WaterRower Natural Rowing Machine with S4 Monitor on Amazon.
The Frame and Construction
The WaterRower Natural Rowing Machine with S4 Monitor frame is made of pure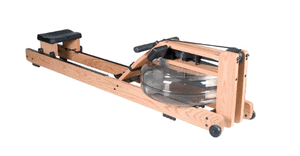 solid ash and stained honey oak wood. In other words, it won't be susceptible to decay and degradation.
Hence, it lasts like forever, and supports a maximum user weight capacity of 1000 lbs./453.5 kg. It doesn't make any creaking sound while working out on it no matter the weight of the user. Instead, it absorbs it and prevents vibration.
The base framework features 4 anti-slip rubber pads that ensure the unit is floor-friendly and stable. Its overall assembled weight (with water) of 117 lbs./53 kg further grounds and improves its stability.
The rowing machine is considerably large, but not as bulky as the Concept2 Rower. Its overall assembled dimensions are 83" long by 22" wide by 21" high. In other words, it's going to need a workout area with perimeters of 7′ length by 1'9" width.
An additional extra clearance of 0.5′ at the front/rear, and 1′-2′ on each side of it will be necessary for safety and easy access purposes. Especially, if it's going to be used in a congested area.
That said, it is easy to roll away and it doesn't require too much space for storage. There are transport wheels at the front base and it can be stored vertically. Thus, its storage area perimeters are only 1'8" (21") length by 1'9" (22") width by 7′ (83") height.
The Seat of the WaterRower Natural Rowing Machine
The seat on this rowing machine is large, padded, and contoured. It provides comfort and good blood circulation that prevents numbness in the butt. It also prevents slippage during workouts.
It is ergonomically designed with dual rails that promote safety, smooth, and quiet gliding motion.
The seat's height from the floor is 12". This might be too low for some users but they can always improvise by keeping a chair beside it to help them get up easily.
Users with inseams of 38" or less should be able to utilize the rower comfortably. However, those that are more than 6'7" tall may not be conveniently accommodated.
So, if you fall in this category and still want to get the rower, verify if it can accommodate you by checking it out at the gym or local fitness store.
The Handlebar
The handlebar is ergonomically designed with an aluminum core and an outer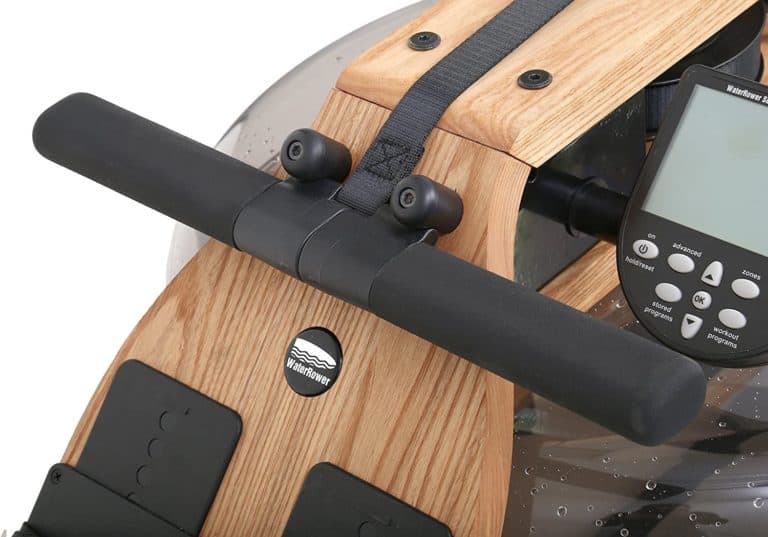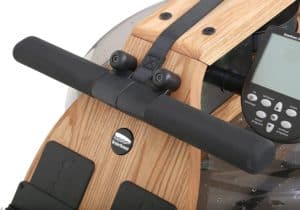 layer that is made of soft rubber foam for comfort. It is about 15" in length which should be fine for most users.
It offers comfortable and secure grips that enable you to pull harder and longer during a workout session.
However, if it is not long enough for you, you may request for the optional 17" handle.
The Pedals
The pedals are attached to a reclined footboard close to the water tank.
They are simply designed with safety straps that ensure that the feet are secure and comfortable.
The pedals can accommodate most foot sizes and standard gym shoes.
The Resistance System
The WaterRower Natural Rowing Machine with S4 Monitor is equipped with a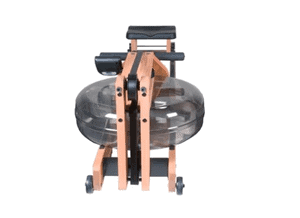 water resistance system. This is a dynamic resistance system that comprises a handle, 1" durable nylon strap, pulleys, a recoil system, and a water tank with a paddle (flywheel) inside.
These mechanisms work together to provide a workout experience that replicates rowing on the water.
The water tank is made of polycarbonate and it contains up to 4 gallons of distilled water. It can be maintained by dropping a chlorine tablet inside every 6 months.
There are no predefined resistance levels because it's infinite. It is determined by the aggressive level of your workout. The harder and faster you pull the handle the more challenging your workout gets, otherwise, the resistance becomes less.
The water level in the tank also determines how intense your workout gets. The more water in the tank the more resistance intensity you will likely experience.
Therefore, have the tank filled with water to its recommended capacity to experience extremely difficult workouts.
Nevertheless, your workout tempo, in most part, still determines your workout intensity.
Finally, the sound the rowing machine makes during a workout is not annoying at all. Instead, it brings the experience of rowing in the open water into the comfort of your home.
We gathered its highest noise level is 76 dB.
The Console
The WaterRower Natural Rowing Machine has a console that features an S4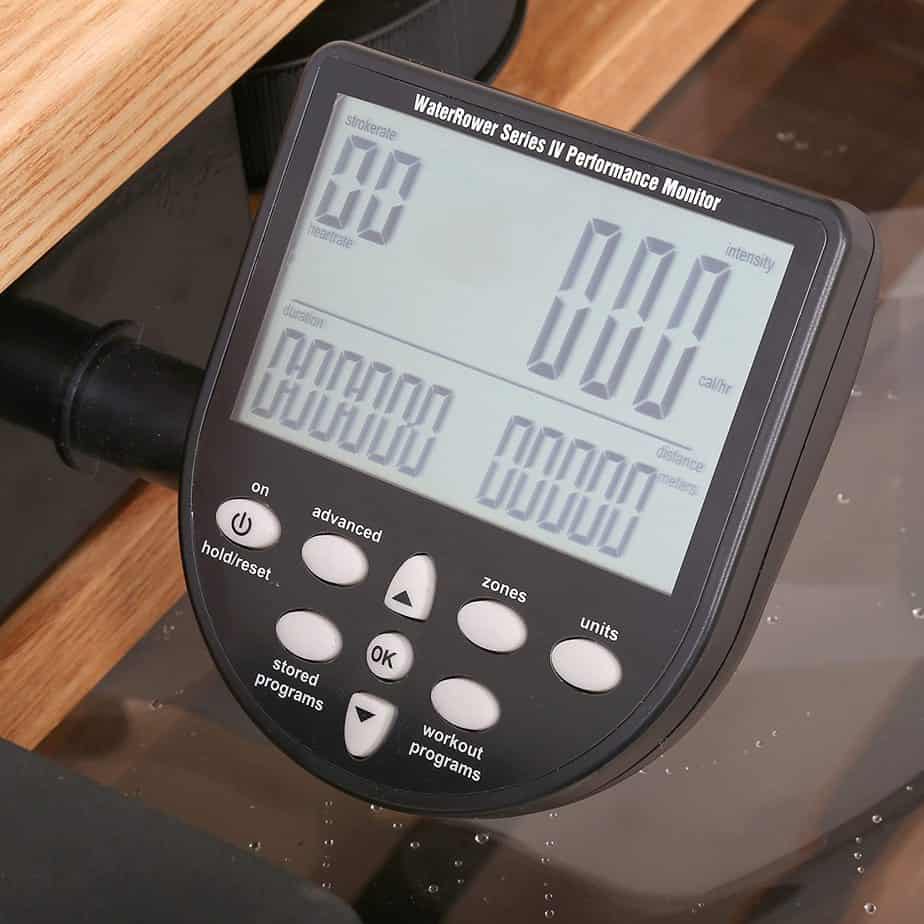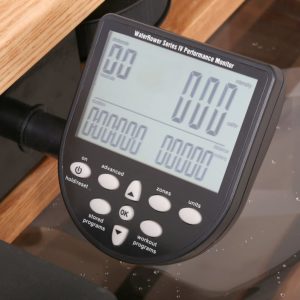 performance motor that keeps you focused and motivated. It tracks workout stats such as Time, Distance in meter, Intensity, Strokes Rate per Minute, Calories, and Heart Rate.
It does display these values simultaneously with good readability as long as the room is well-lit, otherwise, it will be compromised because it's not backlit.
To view the heart rate, you must use a compatible (Polar or ANT+ wireless technology) heart rate chest strap.
The monitor is one of the series that have advanced features.
There are 9 keys on the console which include 6 QuickSelect keys for On/Reset, Advanced, Stored Programs, Zones, Units, and Workout Programs, and then 3 navigation keys for OK, UP, and Down.
These keys allow you to set the stored programs and navigate through the functions of the monitor. You can also set up a countdown workout goal for Time, and Distance.
The S4 monitor has a computer software called We-Row, and it is compatible with other software such as NetActhlon, UltraCoach, and Rowyo. It can be connected to a PC to view a virtual boat moving on the water, race against your previous training stored session, store your workouts, and more.
The monitor is power by 4 AA batteries which come with the package.
More details on how to use the monitor are outlined in detail in the owner's manual.
Storage
The WaterRower Natural Rowing Machine Ash Wood with S4 Monitor can be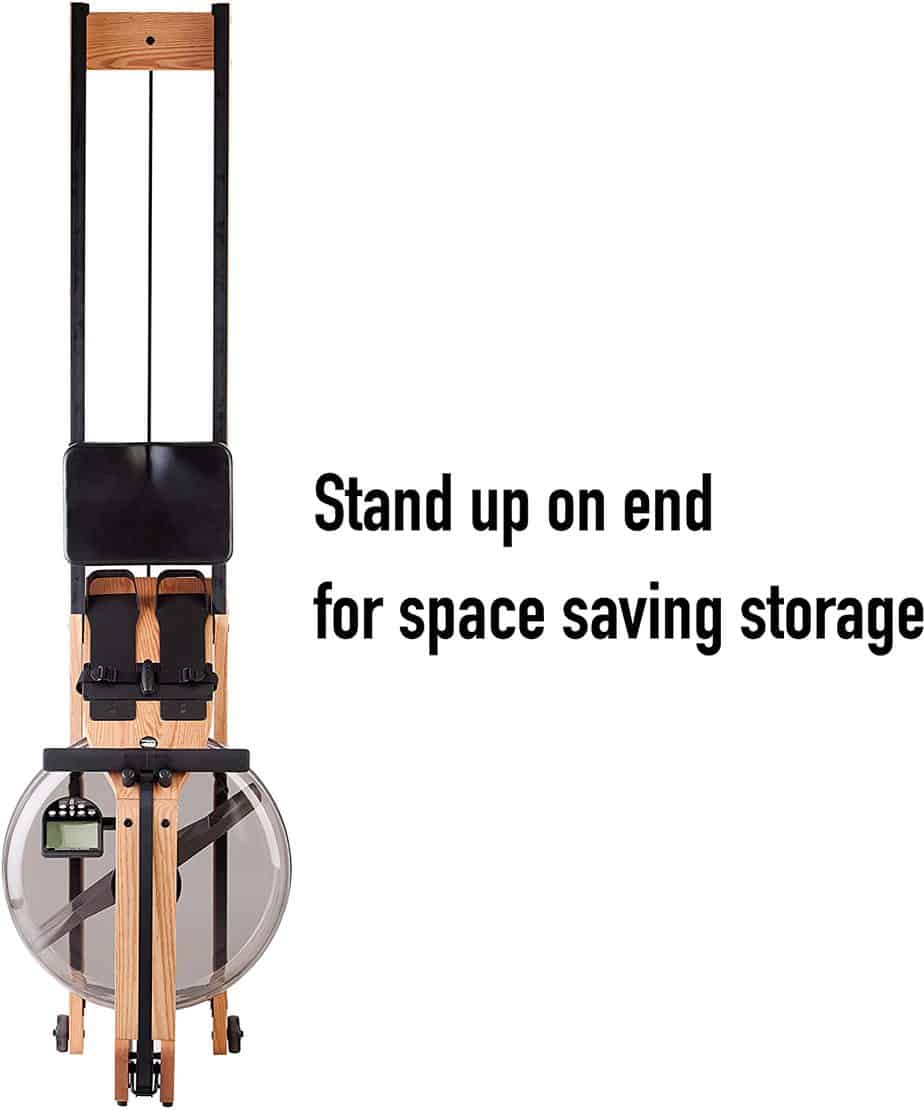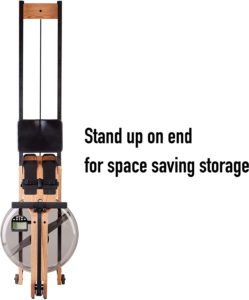 stored vertically. Therefore, it will require much less space for storage.
The unit needs to be stored in an area with the perimeters of 1'8" (21") L by 1'9" (22) by 7′ (84") H. The transport wheels at the front base assist in rolling the machine to and from storage. It rolls easily on a carpet, tile, and wooden floors.
It could be stored next to a wall and the water in the tank doesn't leak.
Approval Rating
This rowing machine has a lot of positive reviews by Amazon customers and independent review sites.
Thus, its overall approval rating is good and recommendable.
Pros/Features Overview
It is highly durable and stable
It supports a maximum user weight capacity of 1000 lbs./453.5 kg
It accommodates users as tall as 6'7"
Operation is smooth and it mimics outdoor rowing activity
Resistance system provides challenging workouts that are suitable for everyone
It offers low-impact and total body cardiovascular workouts for weight loss, muscle toning, injury recovery, and more
The large, contoured, and padded seat provides comfort that endures through a prolong workout
The handlebar is coated with anti-slip rubber foam that ensures your grips are secure and comfortable
Advanced S4 LCD monitor keeps you focused and motivated by tracking workout stats such as Time, Distance in meter, Intensity, Strokes Rate per Minute, Calories, and Heart Rate
Goal settings for Time, Distance, and more
Easy to assemble
Low maintenance
Cons
The monitor is not backlit
The HR chest strap is not included
Warranty
5 Years for Frame
3 Years for Parts
Product Dimensions and Specifications
Length 83"
Width 22"
Height 21"
Upright dimensions: 21" L x 22" W x 84" H
Shipping dimensions box one: 28.5" L x 24.5" W x 23.5" H
Shipping dimensions box two: 83" L x 6" W x 3.25" H
Net weight with water in the tank: 117 lbs./53 kg
Net weight workout water in the tank: 73 lbs./33 kg
Shipping weight box one: 52 lbs./23.5 kg
Shipping weight box two: 33 lbs./15 kg
Maximum user weight capacity: 1000 lbs./453.5 kg
Pulling Cord: 1" Nylon
Seat: Large, contoured, and padded
Handlebar: Anti-slip rubber foam coated
Pedals: Textured with adjustable safety straps
Water tank: Polycarbonate
Console/monitor: Nonbacklit S4 LCD
Heart rate monitoring: Polar or ANT+ HR chest strap
Frame: Ashwood
Transport wheels: Yes
Shipping
The WaterRower Natural Rowing Machine Ash Wood with S4 Monitor is shipped out in 2 separate boxes. One contains the water tank while the other contains everything else.
Amazon provides free shipping and delivers the product in a couple of days.
Assembly
The unit is not difficult to assemble because it comes partially preassembled.
However, you are required to attach the dual rails with the rear spacer, then attach other parts such as the tank assembly with the S4 monitor, the seat, and the footboard to it.
An illustrative instruction manual and tools are included in the package for easy assembly. It takes about 30-45 minutes to fully assemble the rower.
Maintenance
The water rowing machine needs to be kept clean always. Inspect it before use for any loose or broken part to avoid further damage to it or an accident.
Purify the water in the tank periodically by dropping in one of the chlorine tablets included in the package.
Remove water from the tank if it is not going to be used for up to a month.
Conclusion
The WaterRower Natural Rowing Machine Ash Wood with S4 Monitor is a durable and beautifully designed rower. Hence, it is unarguably one of the best water rowing machines that could provide a real rowing and productive workout experience.
It enables you to get in shape by losing weight, improving heart and lungs' health, and muscle toning.
WaterRower Natural Rowing Machine Ash Wood S4 Monitor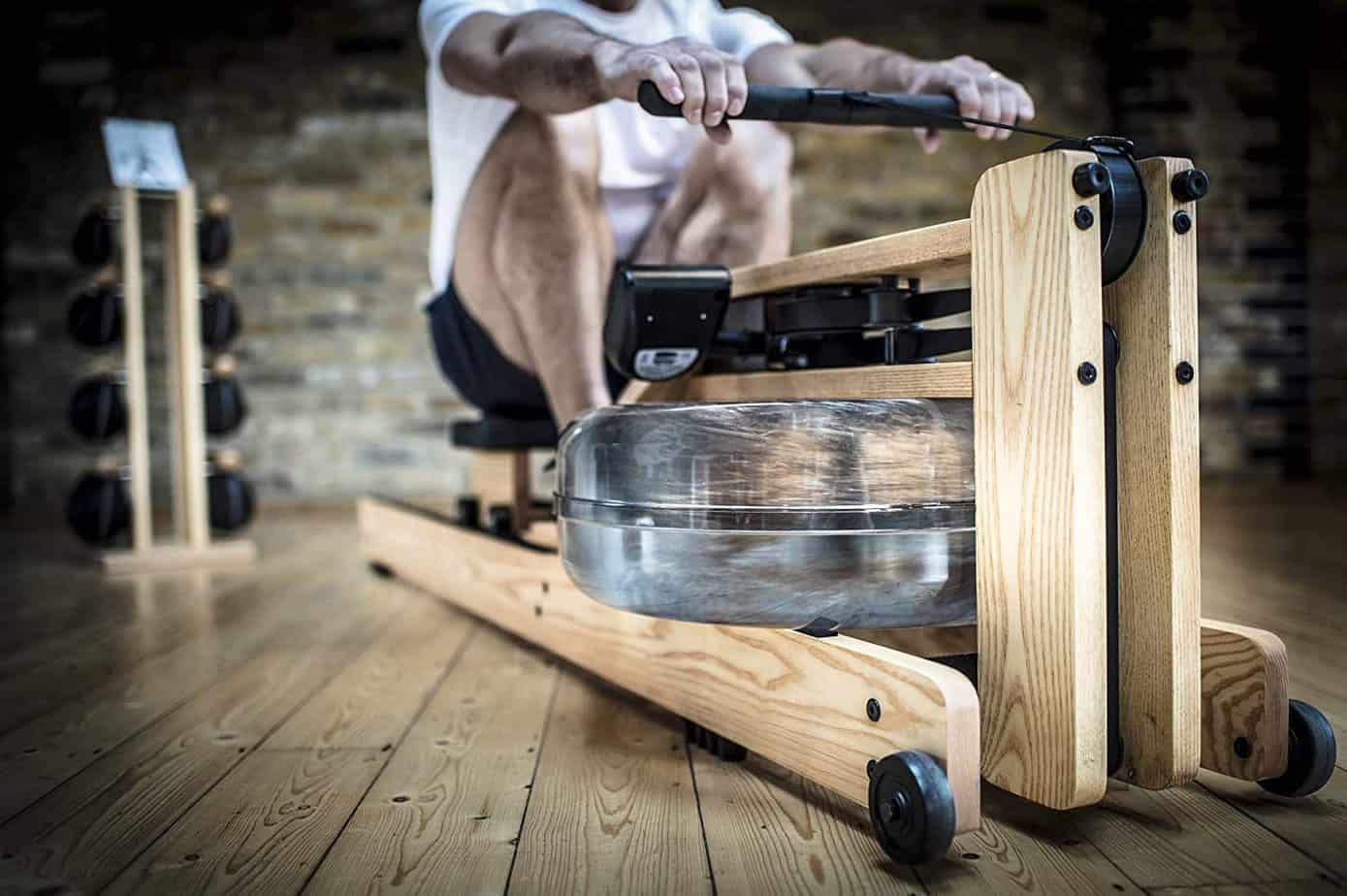 Why would anyone opt for this rower? Simple; it has a handcrafted frame out of ash wood with this water drum that bellies the flywheel which provides the
Product Brand: WaterRower
Product In-Stock: https://schema.org/InStock