The Concept2 Model E Indoor Rowing Machine has always been appreciated by commercial gym owners and home users alike.
It has a near-perfection construction and design that make it stand out from the rest.
This is the upgraded version of the  Concept2 Model D Rowing Machine.
If you are a professional athlete, an amateur, or just a beginner that wishes to get in shape and lose tons of calories, this machine is perfect for you.
Concept2 has been known for producing quality equipment. They are based in Vermont, USA, and are behind the manufacturing of the Concept2 Model E Rowing Machine making sure they rub off their trademark of quality and innovation on it.
The rower is available in black or light gray color.
Click right here to have a peek at the price of the Concept2 Model E Indoor Rowing Machine on Amazon.
The Frame & Construction
The Concept2 Model E has a commercial-grade construction that features a heavy-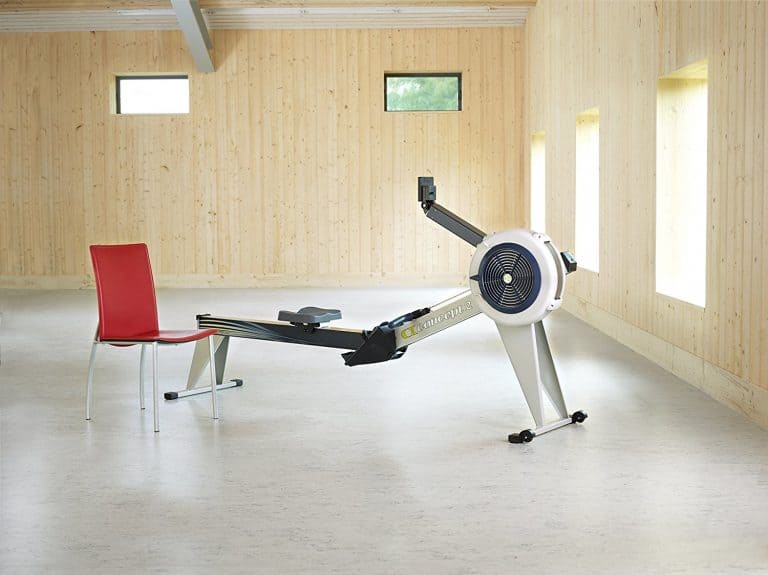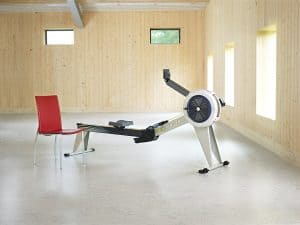 duty welded steel frame that is coated with a glossy anti-corrosion finish.
Thus, it supports a maximum user weight capacity of 500 lbs./226.7 kg.
The robust base provides superlative stability that holds up even during intense workouts.
Its 65 lbs./29.5 kg weight further boosts its overall stability and the front-mounted caster wheels facilitate its relocation process.
The overall assembled dimensions are 96" long by 24" wide. Simply put, it requires a workout area with the perimeters of 8′ length by 2′ width and an extra clearance of 1′ around it for safety, comfort, and easy access.
The machine doesn't take as much space for storage because it could be separated into 2 pieces and within seconds. Its folded dimensions are 47" long by 27" wide by 54" high. In other words, an area with the perimeters of 4′ length by 2'3" width will suffice for storage.
The rower accommodates users with an inseam of 38" or less comfortably. However, if your inseam is more than 38" you could order an extra monorail.
The Seat of the Concept2 Model E Indoor Rowing Machine
The seat is large, contoured, and padded to provide comfort and to prevent the user from slipping during workouts. It integrates 2 large durable rollers that run on the monorail.
Therefore, the seat glides back and forth smoothly and quietly.
That said, the seat might not be as comfortable as one would expect but a gel seat cover could be used to improve its comfort level.
The seat's height is 20". This means that users, including those with disabilities will be able to get on and off the rower easily.
The Handlebar
The handlebar is ergonomically designed and coated with soft rubber foam to provide comfortable and secure grips.
Users won't experience slippage or blisters in the palms due to a prolonged workout.
Although it might be a good idea to use gloves to further protect your hands.
Finally, the handlebar is attached to a Nickel-plated steel chain cord that could last forever. It needs to be lubricated after every 40 hours of use to ensure it works properly.
Footrests
The footrests are large, textured, and have adjustable safety straps that secure the feet in place.
They accommodate different foot sizes with optimum footing stability.
The Flywheel and Damper
The rower responds to every effort you make on every stroke.
This is so because the spiral damper enables you to quickly adjust the airflow to the flywheel so that your every stroke becomes easy or difficult.
The overall design of the flywheel also overwhelmingly reduces noise while it increases the smoothness of your workout.
The Resistance
The Concept2 Model E Indoor Rowing Machine is equipped with a dynamic air resistance system.
It doesn't have predefined resistance levels as the case with other magnetic rowing machines. The resistance is infinite and it's determined by the tempo of your workout.
For instance, the faster you exercise, the more challenging it gets, and when you slow down the resistance decreases. Therefore, the resistance generated is always proportionate to your workout ability and activity.
Hence, it is suitable for beginners, intermediaries, and advanced athletes whose desire is to lose weight and improve overall physical fitness. Even folks that are recovering from an injury will find it to be the best therapeutic equipment to be used.
Its noise level is bearable and unintrusive. Users can workout with the rower without violating other people's privacy and they should be able to watch a TV show or listen to music.
The Monitor
The Concept2 Model E Rowing Machine comes with an advanced adjustable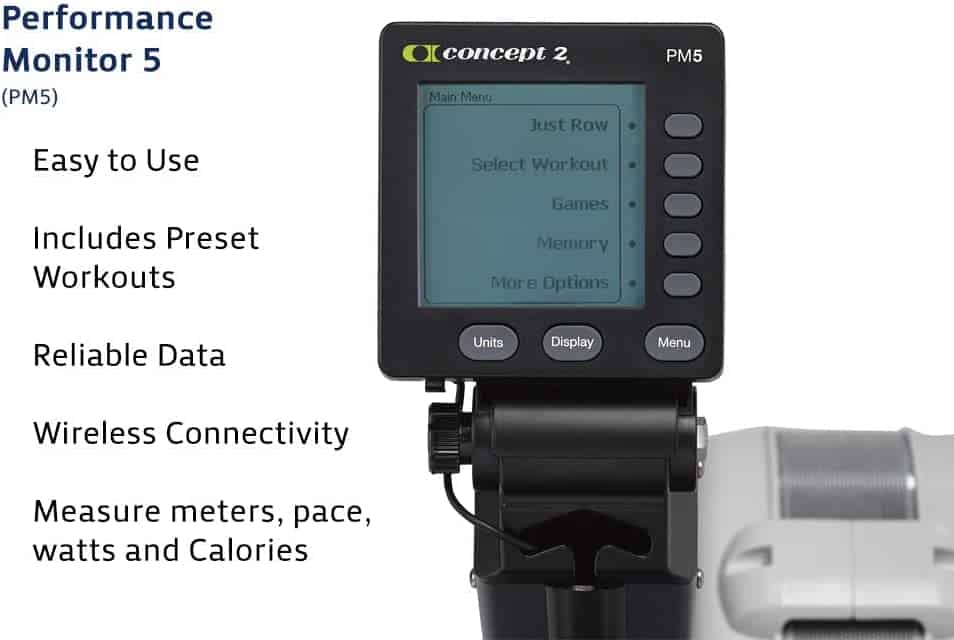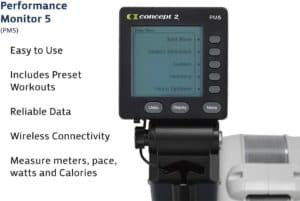 console that features a PM5 monitor. The monitor is backlit, telemetry, and Bluetooth enabled.
This means the monitor connects wirelessly to a Garmin HR chest strap (included) via ANT+ connection or Bluetooth.
It could also connect via Bluetooth to a wide range of online apps such as Concept2Data, BoatCoach, ErgMate, Erg IQ, Ergometer Space, Float, RowPro, and more to enable you to store workout data, compare your workout progress, and to compete with real rowers.
There is a ''select workout'' button that enables you to choose a preset program from the different built-in workout options available or you can use the ''just row'' option to launch a workout session that is without any training specifications or parameters.
4 games that include target training, darts, fishing, and biathlon are available.
Storage
The Concept2 Model E Rowing Machine is pretty easy to store despite the fact it is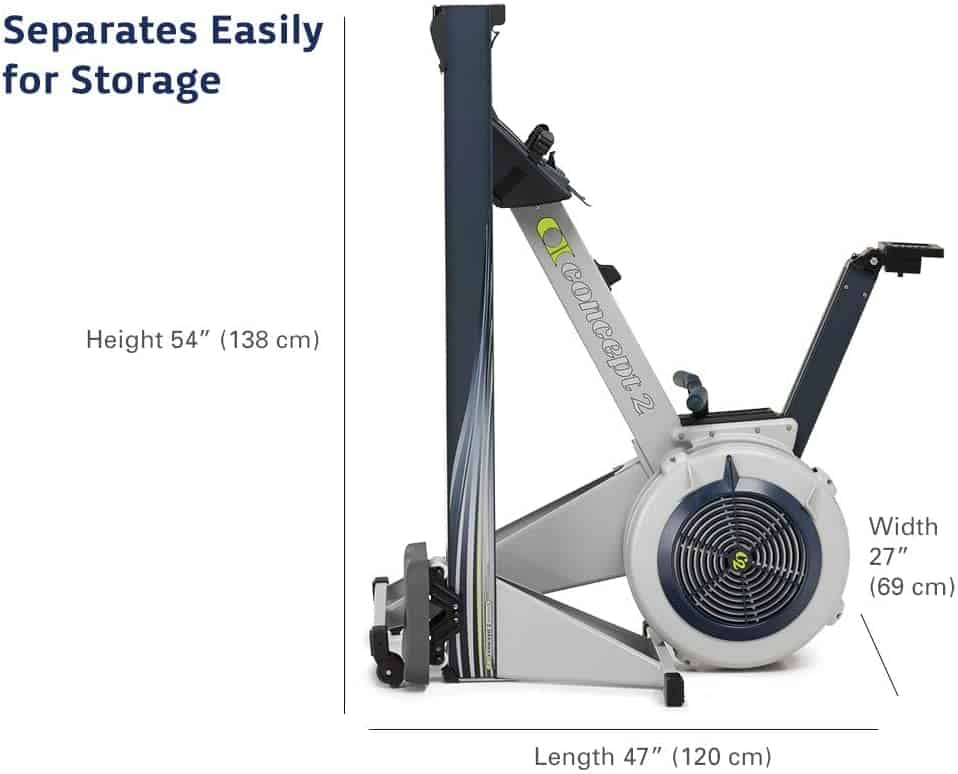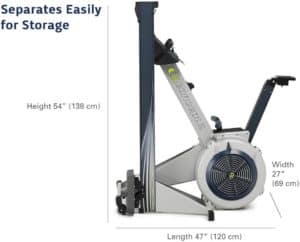 large. The reason is that it can be folded in two and thereby reducing the assembled size by half.
The front-mounted caster wheels facilitate the relocation process for storage.
It needs a storage area with the perimeters of 4′ length by 2'3" width.
Approval Rating
This unit has received several positive reviews from Amazon customers and independent review sites suggesting it is highly recommendable.
Features/Pros Overview
Quality and highly sturdy rowing machine
Supports a maximum user weight capacity of 500 lbs./226.7 kg
It is foldable with transport wheels for easy storage
Advanced performance monitor 5 (PM5) tracks workout progress
Uses durable nickel-plated chain and enclosed chain house protects internal mechanisms and reduces maintenance
Preset workout programs for High-Intensity Interval Training (HIIT) and custom workouts
Adjustable footrest and ergonomic handlebar
USB compatible for workout data storage and transfer
Provides full body and low-impact cardiovascular workouts that target weight loss, heart and lungs' health improvement, and muscle groups toning
20" seat height allows users to easily mount and dismount
4 games and multiple language settings
Bluetooth technology and ANT+ connection
Connection to multiple online apps such as Concept2 ErgData, and more for workout data storage, comparison of workout progress, and online competition with real rowers
Easy assembly
Maintenance is very low
Cons
It is expensive but worth the price
It is bulky and large
The seat may not be very comfortable
Warranty
5 Years on Frame
2 Years on Parts
Plus 30-day money-back guarantee
Product Specifications
96'' Length
24' Width
Folded dimensions: 47" L x 27" W x 54" H
Shipping dimensions (box 1): 15" x 22" x 56"
Shipping dimensions (box 2): 13" x 25" x 28"
Net weight: 65 lbs./29.4 kg
Gross weight (box 1): 58 lbs./26.3 kg
Gross weight (box 2): 27 lbs./12.2 kg
Maximum user weight capacity: 500 lbs./226.7 kg
Pulling cord: Nickle plated steel chain
Resistance system: Air with a damper
Seat: Large, contoured, and padded
Seat height: 20"
Handlebar: Ergonomically designed and cushioned
Pedals: Adjustable, large, with adjustable safety straps
Monitor: MP5, backlit, tracks Meters, Pace, Watts, Calories, and Pulse Rate
Heart rate monitoring: Wireless (Bluetooth & ANT+)
Garmin HR chest strap included
Programs: 10
Games: 4
Multiple apps compatible
Shipping
The Concept2 Model E Rowing Machine is shipped out in 2 different boxes and the delivery is free by Amazon.
Assembly
The assembly of this rowing machine is easy. It comes with an instruction manual that walks you through the process of assembly.
It takes less than an hour to fully assemble.
Maintenance
The nickel-plated chain needs to be lubricated after every 40 hours of use. Always keep the rowing machine clean, especially the rail and the rollers.
Inspect it before use for a loose or broken part as a safety measure.
Conclusion
The Concept2 Model E Indoor Rowing Machine has a commercial-grade construction that supports gym and home use.
It is for everyone that wishes to engage in serious rowing, weight loss, and the attainment of overall physical fitness.