The Stamina 1215 Orbital Rowing Machine Free Motion Arms is a compact and affordable hydraulic resistance rower. It simulates rowing on the water even though it isn't a water rowing machine.
It is a cardiovascular fitness machine that helps to rave-up metabolism for more calories and fat burning. It also targets and engages most of the muscle groups in the body such as the back, legs, arms, glutes, abdomen, and more.
The rower is lightweight and space-friendly; it doesn't need a large space for workouts or storage. This is a perfect fit for office or home use.
Click right here to have a peek at the price of the Stamina 1215 Orbital Rowing Machine Free Motion Arms on Amazon.
The Frame and Construction
The Stamina 1215 Orbital Rowing Machine Free Motion Arms frame is made of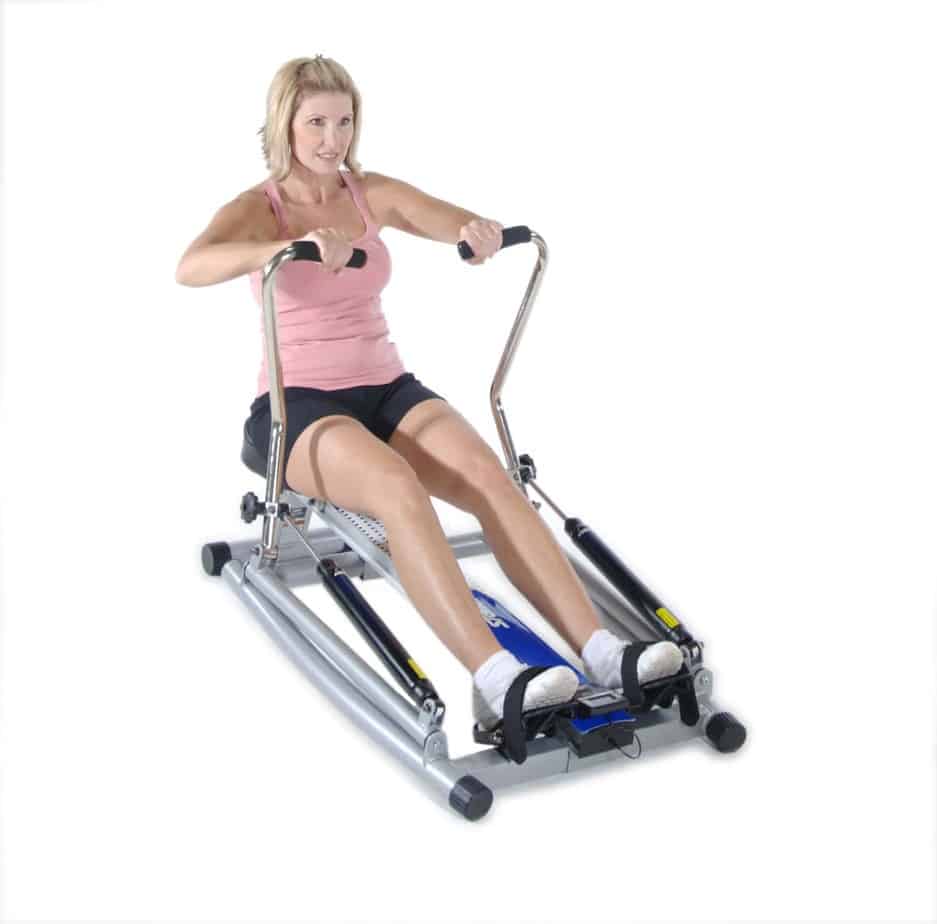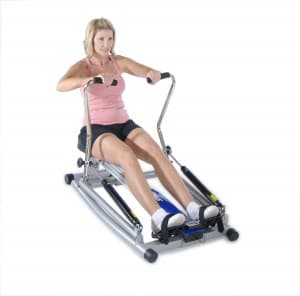 steel and aluminum. In other words, the frame is steel while the rowing beam is made of extruded aluminum.
Hence, it supports a maximum user weight capacity of 250 lbs./113 kg.
The fully assembled dimensions of the rower are 48" long by 32.5" wide by 27.7" high. Differently put, the workout area measurements needed are 4′ length by 2'8" width. You will need an extra clearance of 1′ at the front and the rear, and 2′ on each side of it for safety and easy access.
When the arms are folded, the height becomes 10", meaning it can be stored under a bed that has enough clearance underneath or better still have it leaned against the wall.
Despite having a small footprint, its stability is robust and floor-friendly, thanks to its base framework. The base is rubberized to prevent any damage to the floor, while the rear stabilizer is adjustable to increase the beam incline for a more intense and challenging workout.
Although, using a protective rubber mat underneath could further stabilize it and provide a better user experience.
The Seat of the Stamina 1215 Orbital Rowing Machine
This hydraulic resistance rowing machine integrates a seat that is large, cushioned,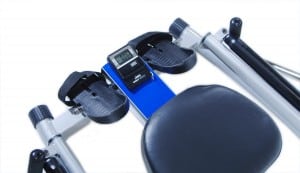 and covered with vinyl material. It has a deluxe ball-bearing roller system that is attached to the aluminum rail (beam).
Therefore, its gliding operation is smooth and quiet, and it is guaranteed to remain like that for a very long time.
The seat provides lasting comfort that could endure throughout a prolonged workout without hurting your tailbone.
The floor to seat height is about 8-10", and could be lower when the rear base is not adjusted.
The Handlebars
The handlebars of the Stamina 1215 Orbital Rowing Machine are responsible for the rower's ability to mimic rowing on the water.
Your arms close and open as you row back and forth on the rowing machine.
They are well cushioned with a soft anti-skid rubber foam that prevents slippage and promotes firm and comfortable grips.
The Pedals
This hydraulic rowing machine has large, and textured pedals with adjustable safety nylon straps that ensure secured footing stability. Also, the 1" protective heel border further guarantee that your feet do not slip during an intense workout.
They are pivotal for ankles' flexibility which reduces stress on them no matter how long you exercise with the rower.
Different foot sizes and standard gyms shoes can be accommodated by the pedals.
The Resistance System
The Stamina 1215 Orbital Rowing Machine Free Motion Arms incorporates a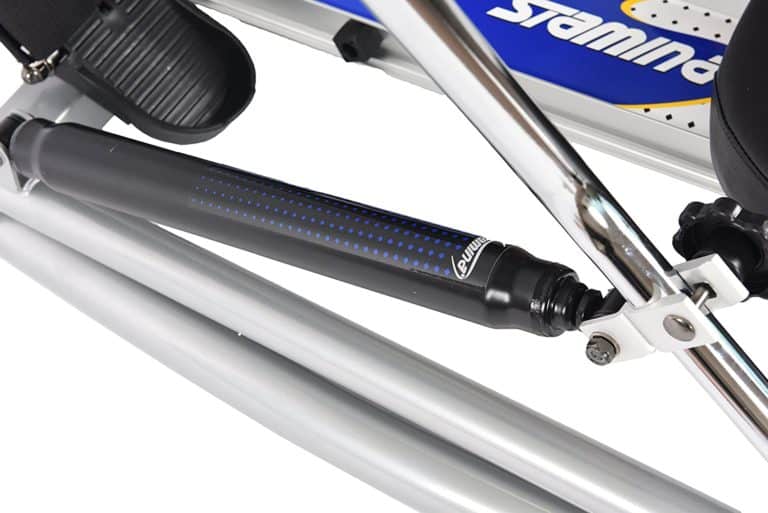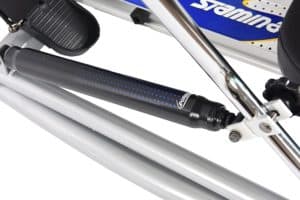 hydraulic resistance system. It has double hydraulic cylinders that are connected to each of the handlebars.
The resistance system is adjustable; you can significantly change your workout intensity by raising or lowering the resistance locking knobs on each side of the handlebars. Make sure that both sides are adjusted evenly to prevent having one side harder or difficult than the other.
The overall operation of the rowing machine is still quiet and smooth regardless of the resistance level it operates with. Hence, you can work out any time of the day and watch your favorite TV show, or movie without any interference from the rower.
No maintenance is required, however, the hydraulic cylinders may need to be replaced at some point if they become weak. Nothing lasts forever, right?
That said, it doesn't happen overnight, it does take some time of frequent use. A call to the manufacturer gets things resolved.
The Console
The hydraulic rowing machine has a basic console that features a decent LCD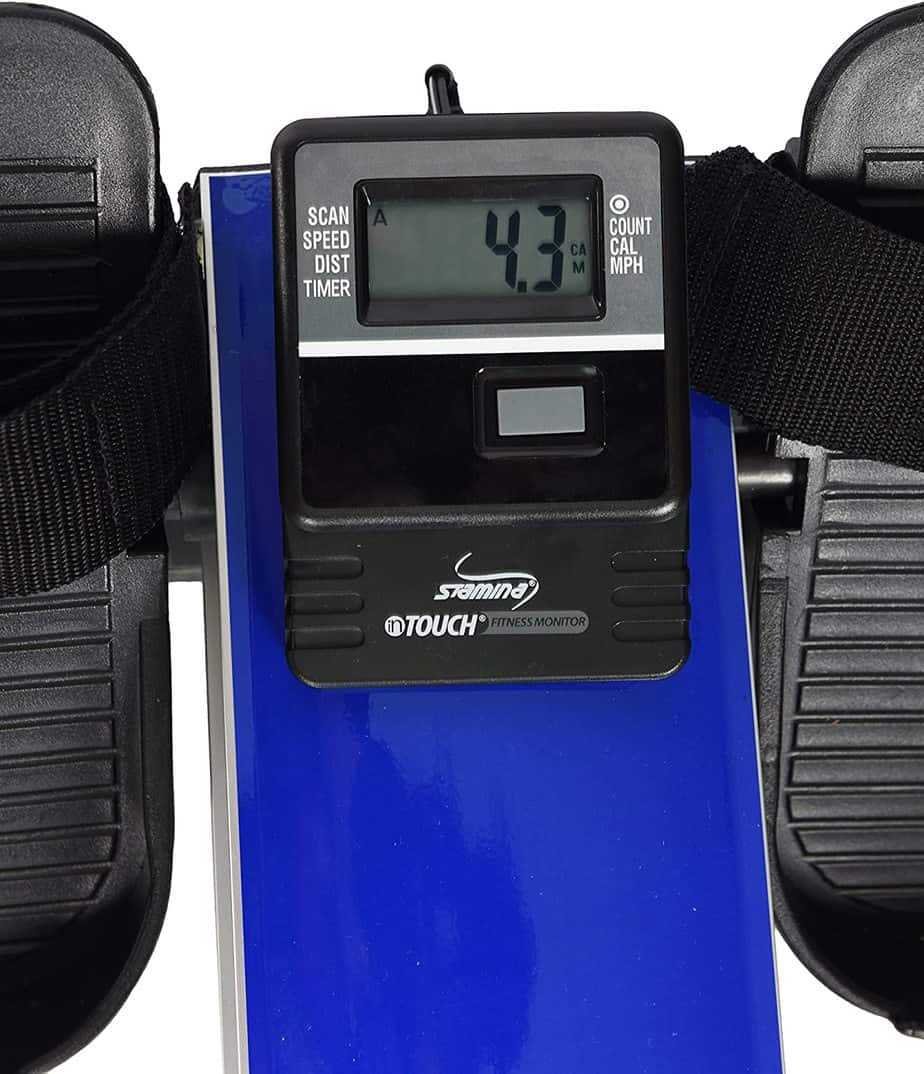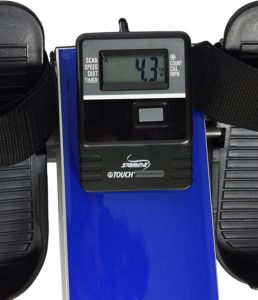 monitor that tracks workout stats such as Time, Distance, Speed, Calories Burned, Row Count, and Miles Rowed.
The display is easy to read as long as it is viewed in a room with good illumination, otherwise, it will be hard to view because it isn't backlit.
The metrics are displayed rotationally one at a time after every few seconds by the SCAN function because they can't be shown all at once. It is possible to also disable the SCAN function and instead set a certain workout value you wish to view constantly.
The monitor is powered by 1 AA battery (not included). It powers ON when the seat moves or the button on the console is pressed.
To save the battery's power, the monitor automatically shuts down after 4 minutes of inactivity on the rower, and it automatically turns ON when activity returns.
Accessory
There is no water bottle or tablet holder on this rowing machine. Most indoor rowing machines don't have them either.
Therefore, you will have to improvise to maintain proper hydration and to entertain yourself during workout sessions.
Storage
The Stamina 1215 Orbital Rowing Machine Free Motion Arms is a lightweight, and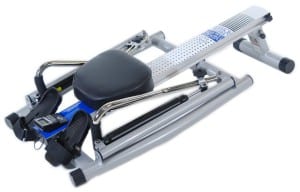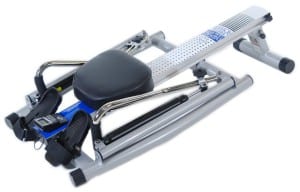 compact machine that is very easy to store away.
It weighs only 52 lbs./23.5 kg, and its folded dimensions are 48" long by 45.5" wide by 10" high. Once the arms are folded, it could be stored under a bed that has more than 10" clearance, or better still be leaned on the wall.
Approval Rating
This unit has been around for a while and it has garnered a lot of reviews (most are positive) from Amazon customers and independent review sites.
Hence, as at the time of this review, it has an approval rating that suggests it is recommendable.
Pros/Features Overview
Very compact, lightweight and durable
Its stability is good regardless of its small footprint
Supports a maximum user weight capacity of 250 lbs./113 kg
Handlebars have comfortable grips and mimic actual boat rowing
The seat is large and well-padded for lasting comfort
It integrates aluminum rail beam and deluxe ball-bearing roller system that provide smooth and quiet glide
The rear base is adjustable; it inclines the rail beam for an increased workout challenge
The adjustable hydraulic resistance system provides a range of workout difficulties that burn tons of calories and tone most of the major muscle groups in the body
The large, textured, footplates with safety nylon straps securely accommodate different foot sizes and gym shoes
The LCD monitor tracks workout stats such as Time, Distance, Speed, Calories Burned, Row Count, and Miles Rowed
Maintenance-free
Assembly is straightforward
Cons
The hydraulic cylinders become weak at some point
The monitor is not backlit
Warranty
5 Years for the Frame
90 Days for the Parts
Product Dimensions and Specifications
Length 48"
Width 32.5"
Height 27.7"
Folded dimensions: 48" L x 45.5" W x 10" H
Shipping dimensions: 49" L x 18.8"' W x 7" H
Net weight: 52 lbs./23.5 kg
Gross weight: 54.85 lbs./24.8 kg
Maximum user weight capacity: 250 lbs./113 kg
Frame: Steel
Resistance: Double Hydraulic cylinder and adjustable
Seat: Large and padded
Handlebars: Dual-action foamed grips
Pedals: Pivotal, large, anti-skid, with adjustable safety nylon straps
Monitor: LCD monitor tracks workout progress
Heart rate monitoring: No
Water bottle holder: No
Tablet holder: No
Shipping
The Stamina 1215 Orbital Rowing Machine is shipped in a box that weighs 54.85 lbs./24.8 kg with dimensions of 49" L x 18.8"' W x 7" H.
It takes a couple of days to be delivered by Amazon, and shipping is free.
Assembly
This rower is not difficult to assemble. It is accompanied by a graphic illustrative manual that guides you through the process.
Tools needed for the assembly are included in the package as well.
It will take about an hour, more or less to fully assemble it, depending on the level of your dexterity.
Maintenance
Simply keep the unit clean at all times, especially the rollers' track. Inspect it before use for any loose or broken part, and fix any issue that may arise accordingly.
Conclusion
The Stamina 1215 Orbital Rowing Machine Free Motion Arms is a handy, lightweight, and compact aerobic machine that is ideal for home and office use. Easy to move in and out of storage, and it doesn't overwhelm your space.
There are no bells and whistles but it does provide effective cardio workouts that shed calories, and tone muscle groups.
[rank_math_rich_snippet]