The Schwinn Crewmaster Magnetic Rowing Machine is the first rowing machine Schwinn has ever manufactured. This was introduced to the market sometime in 2017 and it is kind of interesting because Schwinn has always been known for manufacturing bicycle, upright bike, elliptical trainer and recumbent bike, but they have taken the bold step of diversifying into other types of indoor exercise equipment such as the treadmills and now the Schwinn Crewmaster Magnetic Rowing Machine.
Schwinn has been delivering strong and comfortable cardio fitness equipment over the years and one can only expect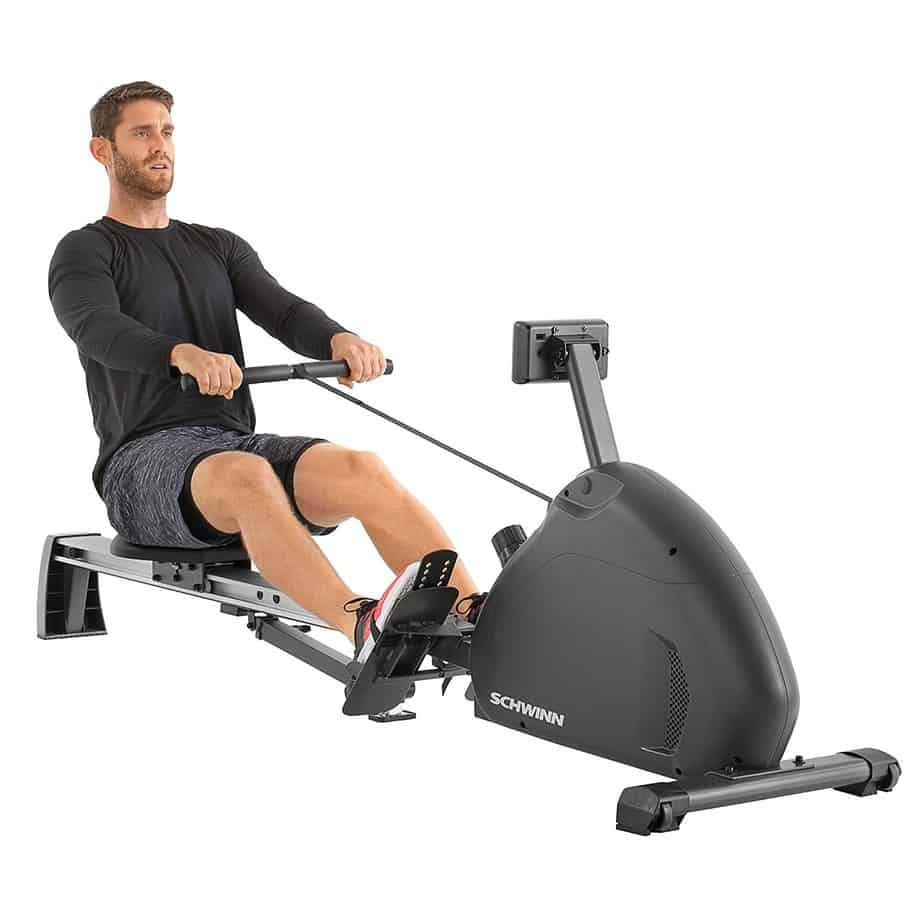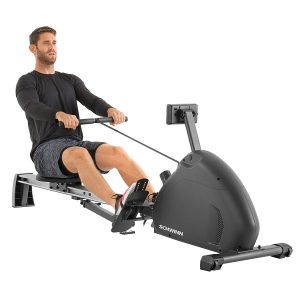 to see the same quality passed onto this new cardio machine. And often time than not, this has always been the case; we see the manufacturer trying to deliver without jeopardizing their reputation they have worked so hard to build.
This rower might be the clear choice for rowing enthusiast who loves to row to stay physically fit.
We hope they will exhibit their expertise and prowess in this new fitness equipment as well. But there is no way to find out but to look at the machine closely and also find out what other users are saying about their experience with it.
But according to the information we already have, the Schwinn Crewmaster Magnetic Rowing Machine is a mid-range rower that has sturdier construction than most other rowers in the same category.
<<<Click right here to find out the best price for the Schwinn Crewmaster Magnetic Rowing Machine>>>
The Frame
The Schwinn Crewmaster Magnetic Rowing Machine's frame is made of steel and that is including the rail that is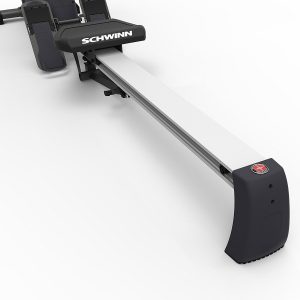 often aluminum in other rowing machines.
Most parts of the rower, namely, the frame, the stabilizer bar, and the footrest are finished with dark gray paint, while the rail has light gray paint. Both paints are anti-corrosion and scratch resistant which means rust cannot have a hold on it neither can it be easily scratched.
That being said, it doesn't mean it should be used outdoors since it features anti-rust paint, no, it is designed to be used indoors and avoid rains and water from touching it especially the console that is vulnerable and can easily be damaged by exposing it to water.
It is a fairly large and heavier rowing machine when compared to other rowers such as the Sunny Health & Fitness SF-RW5515 Magnetic Rower, but when it is folded it becomes a compact rower that could easily be stored away.
The fully assembled dimensions are 93.1 inches long by 21.1 inches wide by 31.7 inches tall and weigh about 90 pounds weight. If you are allocating a workout space for this unit it is recommended that you add an extra 2 feet clearance on each side of it to have a safe and comfortable workout environment.
Considering the size and the extra space it requires on each side and the rear end, it is unarguably a large machine that may not fit in some small rooms.
However, when folded it dimensions become 51 inches long by 21.1 inches wide by 61 inches tall. The length reduces significantly by almost half of the full assembled length dimension. This helps you to store it away by not taking up much space as it does when in use.
Now, anyone that intends to purchase this rower may worry about moving it due to its weight but do not despair because it is equipped with two transport wheels at the front base that is designed to help in the relocation process.
The overall construction of the Schwinn Crewmaster Magnetic Rower is very sturdy and supports up to 300 pounds/ 136 kg.  The length of the rail is about 60 inches long/ 5 feet, which can conveniently accommodate most different users of different sizes without compromising the full leg extension during workouts. Moreover, the rail is wider in design which improves the stability of the seat.
The Seat
Speaking of the seat, which is one of the key elements that make rowers comfortable or horrible depending on the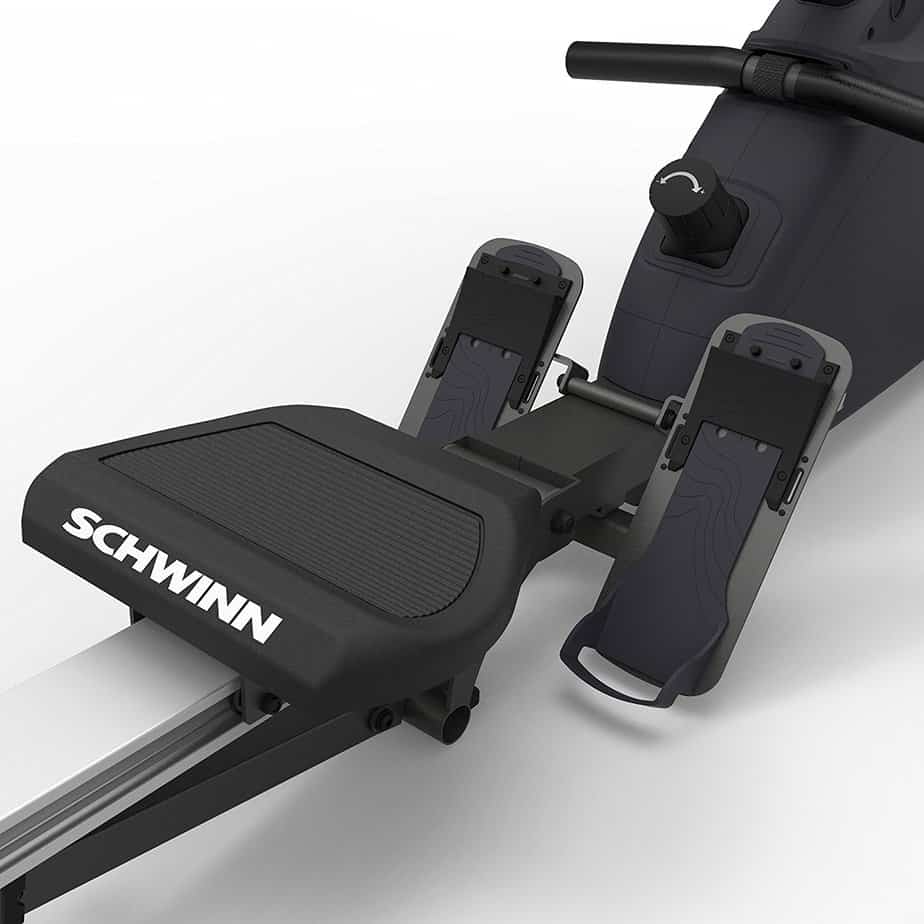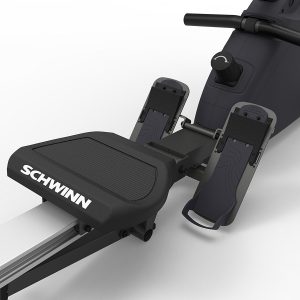 design.
The Schwinn Crewmaster Magnetic Rowing Machine's seat is relatively large and well-cushioned. It is also well contoured to fit the butt comfortably and covered with an easy to clean vinyl material. Its exceptional design will also provide support and protection to the lower back due to the way it is contoured.
Because the rail is fairly large, so are the two sets of wheels with a high quality concealed steel ball bearings, providing smooth and quiet glide during workouts.
The footrests are large and metallic and can conveniently fit and accommodate any athletic shoes. It has straps that are designed to secure your feet and prevent slippage and accidents during exercises with heel guards.
The footrests' positioning provides comfort and reduces stress in the joints even though they don't pivot as the case with some other rowers.
Interestingly, it features an ergonomic handle that provides a smooth and comfortable grip. It possesses a slightly curved handle that increases the chance of comfortable positioning during workouts. This often reduces the stress on the wrists.
It is further coated with a rubber material to guarantee a secure and comfortable grip throughout the entire workout session.
The rowing handle is also attached with a heavy-duty nylon strap that is designed to last for many years of use and does not need any sort of lubrication as opposed to some rowers that feature chain drive.
Fortunately, the console is telemetry enabled which means you can monitor your heart rate, but it does not have the sensors on the handlebar which is common with most rowers.  However, the HR chest strap accessory is not included; you have to purchase a polar branded uncoded heart rate chest strap separately if you wish to monitor your pulse.
The Resistance
The Schwinn Crewmaster Magnetic Rowing Machine features a manual magnetic resistance system that could be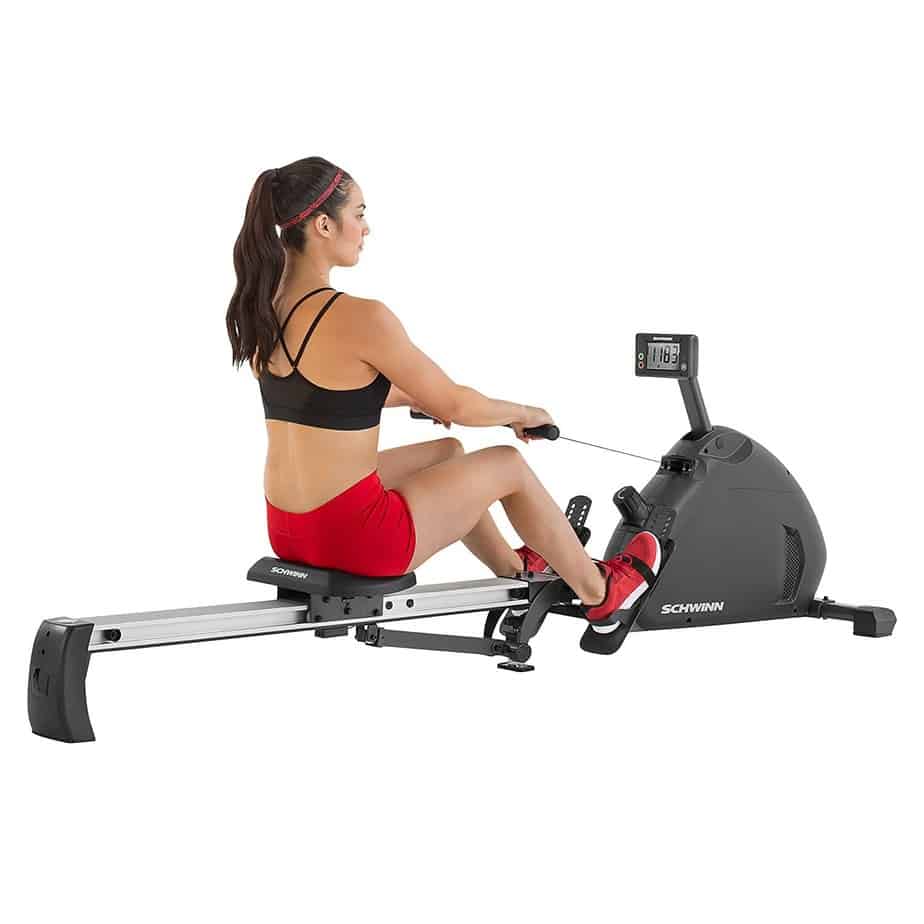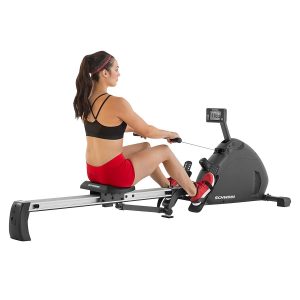 easily adjusted via a knob. The magnetic resistance system consists of a little magnetic brake that is connected to the tension knob via a steel wire so that when you twist the knob clockwise the resistance increases as a result of the brake coming closer to the flywheel while it decreases in resistance when the knob is twisted anti-clockwise.
It is important to note that the resistance does not require electricity to function since it is not automatic neither does it have anything to do with the console as well.
Magnetic resistance system such as this is very quiet and does not make noise while working out as opposed to air or water resistance system.  Therefore, you can work out without having to worry about disturbing the family or the neighbors.
However, it is not as dynamic and challenging as the rower with water or air resistance system because its resistance comes to the effect according to the level you have adjusted it. But the air or water resistance system rower has infinite levels because its resistance does not have adjustment or setting but it is affected or increased by the speed of your rowing.
The Schwinn Crewmaster Magnetic Rowing Machine has 10 levels of magnetic resistance with the first 3 levels offering light resistance which could be suitable for a beginner. Whereas the rest of the levels offer some level of challenging resistance/workout that can help you burn tons of calories.
That being said, this rowing machine may not be the right choice for an advanced user who wishes to experience tough and natural rowing feel, but in general, it is still good for anyone that just wants to do a full-body workout.
The Console
The Schwinn Crewmaster rower features a large LCD monitor that helps you to track workout progress by displaying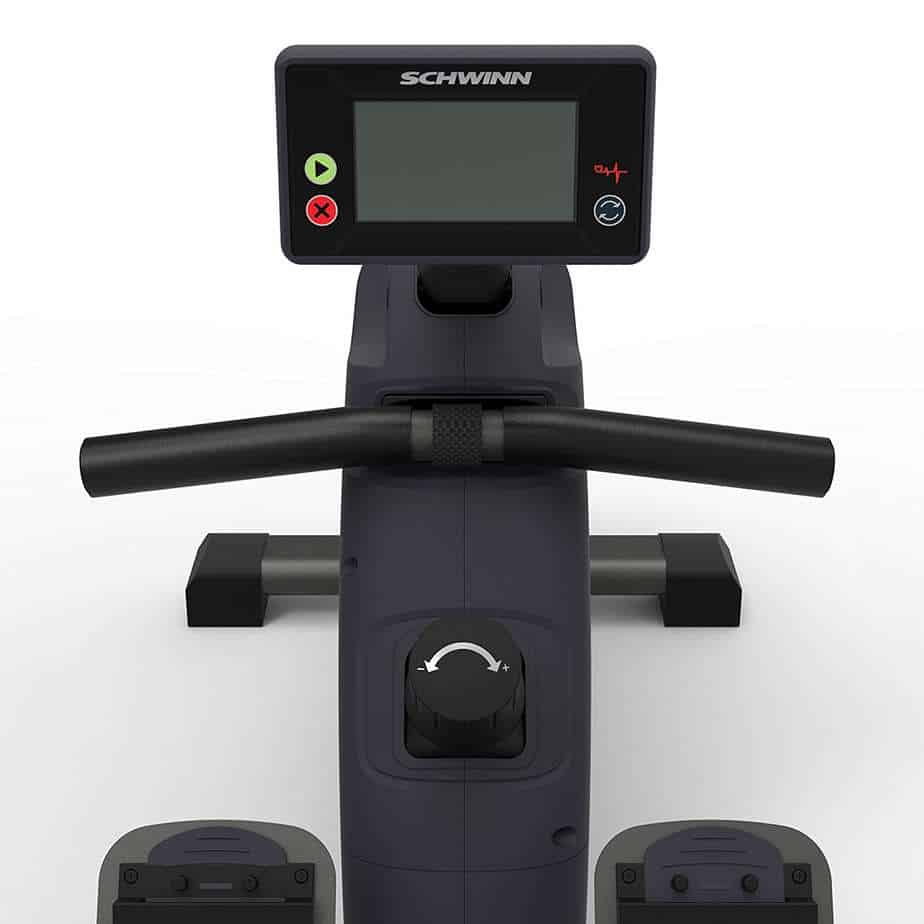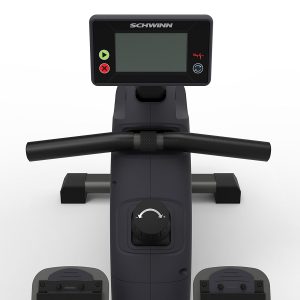 data such as time, count, distance, stroke, calories, recovery, and of course pulse.
Just as aforementioned, it is telemetry enabled which means you will be able to observe your heart rate by using a compatible polar uncoded heart rate chest strap, although this accessory is not included.
The console is not powered by electricity but with two AA batteries.
On the console, there are three buttons one of which is the SCAN function that allows you to set your workout values to display rotationally every 6 seconds and can also toggle it by pressing it to just display the value of your choice steadily.
The second button is the SET button that offers you the opportunity to set up countdown values for time, distance, calories, and stroke.
Then the third button is the RESET button that allows you to reset or clear all values to zero.
The console can also hibernate after four minutes of inactivity on the rower; this is to save the batteries' power and prolong the lifespan.
Approval Rating
The approval rating of the Schwinn Crewmaster Magnetic Rowing Machine is positive, except there are users that rated it low because of issues that are related to payment, incomplete and late delivery of the unit.
But in the aspect of the machine's overall performance, most of the users are impressed.
Pros/Features Overview
It is sturdy and durable
It supports up to 300 pounds maximum user weight capacity
It has a foldable design
Features transport wheels that assist in the relocation process
It has a stabilizer bar at the front base that ensures stability
It can accommodate most users of different sizes (up to 6 feet 6 inches)
It is integrated with large row pedals with straps and heel guards for optimal comfort and strength leverage
The seat is well contoured and padded to provide comfort to the butt and supports the lower back as well
Has a manual magnetic resistance system with 10 distinct levels
The console is telemetry enabled, although the HR chest strap is not included
Can track workout progress by viewing data such as the time, calories, distance, stroke, recovery, and pulse
Easy to assemble
Impressive warranty
Cons
The heart rate chest strap is not included
The monitor is not backlit
The foot pedals cannot be adjusted to different angles but it is not a problem though.
Product Dimensions and Specifications
93'' Length
21'' Width
37'' Height
51'' Length (folded)
21'' Width (folded)
61'' Height (folded)
Weighs 90 pounds/ 41 kg
Support up to 300 pounds /136 kg maximum user weight capacity
The frame is made of steel
LCD monitor that tracks time, stroke, distance, calories, recovery, and pulse
Warranty
10 Years on Frame
3 Years on Mechanical Parts
3 Years on Electronics
6 Months on Wear Parts
1 Year on Labor
Shipping, Assembly, and Maintenance
Shipping
The shipping cost of the Schwinn Crewmaster Magnetic Rowing Machine depends on your retailer; however, Amazon usually provides free shipping.
Assembly
The assembly of this unit is pretty easy as the machine's major component such as the resistance unit comes preassembled with the machine.
You are only required to attach the transport wheels, footrests, front base stabilizer bar, the seat onto the rail, then the rail on the frame, and then the console.
All of these will not take up to an hour to fully assemble and the tools needed are included as well and the instruction manual is there to guide through the process of assembly.
Maintenance
The rowing machine does not require any serious maintenance because of the type of resistance system it possesses.
However, you should always examine the machine for a loosed, worn, or broken part, and replace or repair accordingly if there is any. Also, try to always keep the unit clean from dust and sweat.
Conclusion
The Schwinn Crewmaster Magnetic Rowing Machine is the first (actually the Schwinn Windrigger Rowing machine was the first but has been discontinued) and the only rowing machine manufactured by Schwinn at the time this review was written.
Indeed, we observed that Schwinn tried to exhibit their trademark on this machine which is quality and user-friendliness.
They may not have succeeded in satisfying everyone 100% but they have impressed the majority even though we still have very few users' feedback.
Honestly, in our opinion, this rowing machine is great for the price it is been sold at and can help you to achieve your fitness goals and experience outstanding cardio workouts.
Except if you are an advanced rower who wishes to experience the natural and challenging rowing feel then you might want to look up the Concept2 Model E, but we have to warn you, this is a high-end rower.
Schwinn Crewmaster Magnetic Rowing Machine Review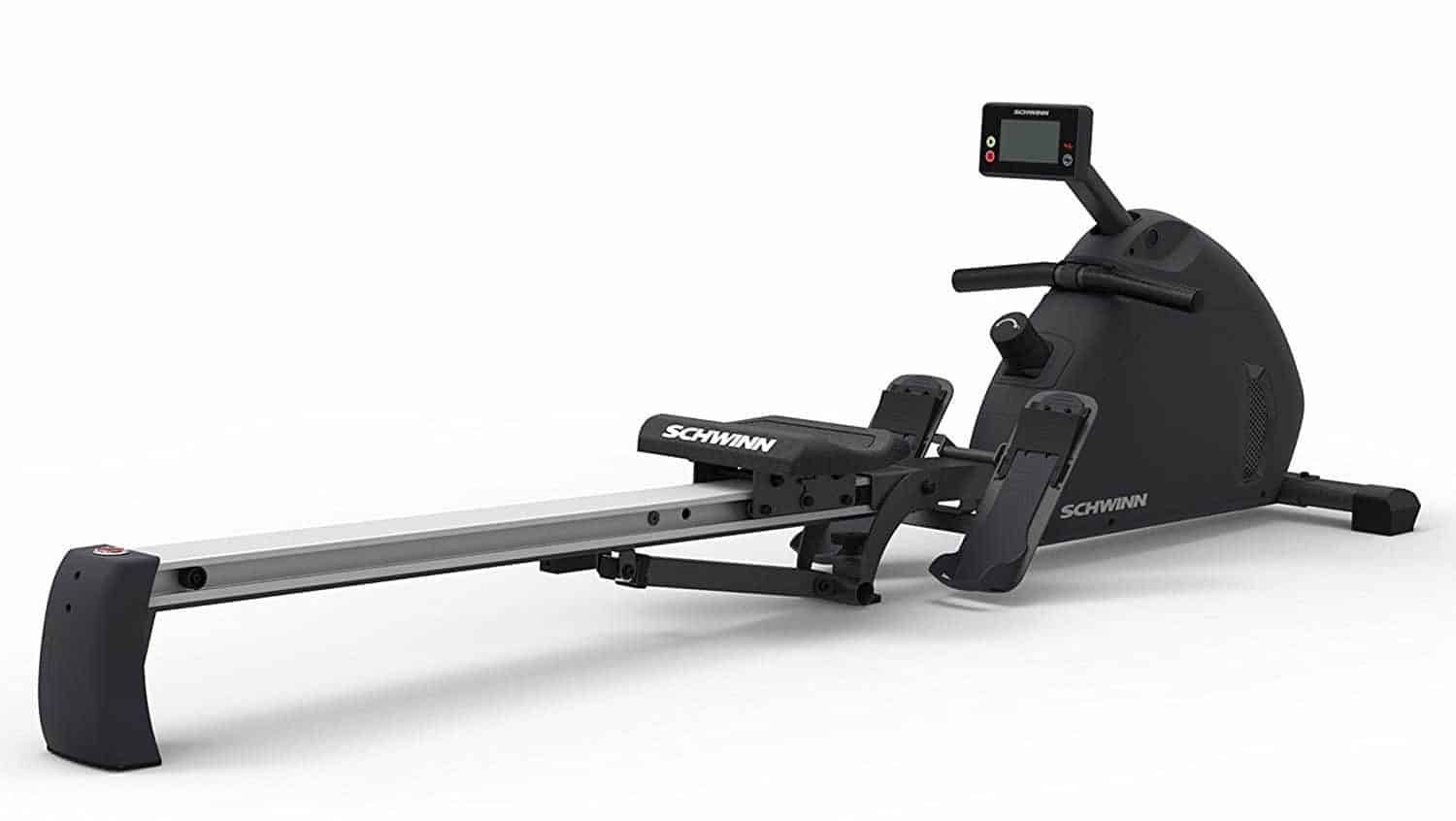 The Schwinn Crewmaster Magnetic Rowing Machine's frame is made of steel and that is including the rail that is often aluminum in other rowing machines
Product Brand: Schwinn
Product In-Stock: InStock