What the Goplus Magnetic Folding Rowing Machine does is to help you avoid that expensive gym membership fee and the inconvenience of having to travel to the gym, which most times have to incur gas expenses at a very affordable price that is value-oriented.
Not only that, as the name suggests, it is also a foldable machine, which means it saves space as well during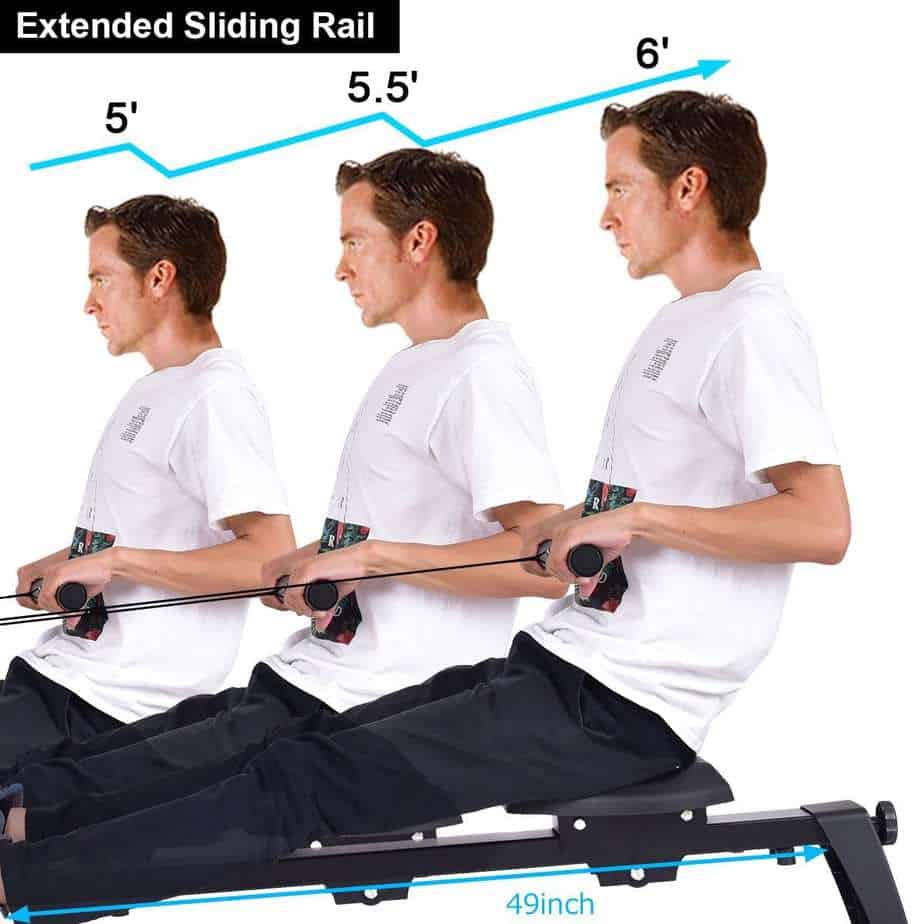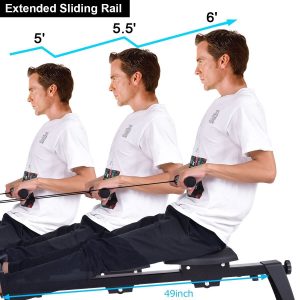 storage.
Goplus Magnetic Folding Machine is an entry-level rowing machine that is great for home use and for those that are on a budget but still wish to add a rower to their home gym.
This unit is relatively new since it was introduced to the fitness market in 2017 but has already gathered momentum in terms of popularity at the time this review was written. It has very good feedback and an approval rating that suggests that almost all its users are impressed and satisfied with what they got.
What more could you ask for when you got a rowing machine that offers you the value and quality workouts at a very cheap price, we guess nothing.
Nevertheless, we shall look at the Goplus Magnetic Folding Rowing Machine closely and highlight the upsides and the downside as well so that you can eventually make a smart purchasing decision.
By the way, Goplus products include treadmills and recumbent bikes which are just as recommendable and affordable as well.
<<<Click right here to see the Goplus Magnetic Folding Rowing Machine latest best price available>>>
The Frame and Construction
The Goplus Magnetic Folding Rowing Machine is a lightweight rower that weighs just about 49 pounds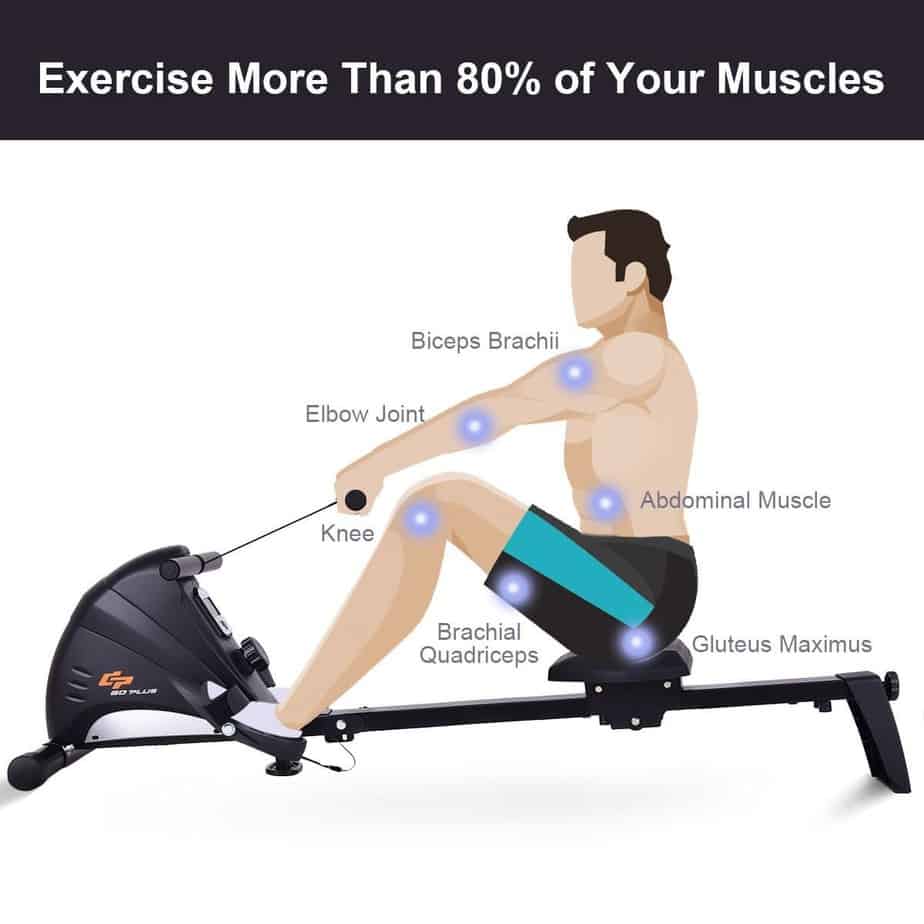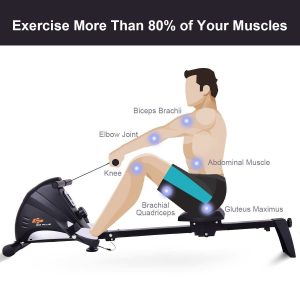 approximately 22 kg and can be handled and conveniently carried by one person.
Interestingly, the frame is made of steel and some parts are made of plastic such as the shrouds and other protective parts.
It is finished with black anti-corrosion and scratch-resistant paint which means it is protected from rusts and scratches but that doesn't make it an outdoor rower that could be used outside because rains and water may not affect the frame but the console and the other parts are susceptible to water or rains and therefore could be damaged if exposed to those.
It is sturdy enough to support up to 220 pounds / 99.7 kg maximum user weight capacity. It has a stabilizer bar at the front base with a plastic capping and transport wheel at each side of it which will stabilize the unit without scratching the floor and also facilitate relocation as well.  So, moving the rower will never be a problem because it is lightweight with transport wheels integrated to further make relocation easier.
Generally, it has a very appealing and compact look, as the fully assembled dimensions are 70 inches long (app. 6 feet) by 21 inches wide (app. 2 feet) by 19 inches (app. 2 feet).  However, you are expected to leave at least 2 feet clearance on both sides, and the rear end of the machine for safe and unrestricted workout experience.
It has a folding ability which when folded has the dimensions of 23 inches long (app. 2 feet) by 21 inches wide (app. 2 feet) by 49 inches tall (app. 4 feet). This has reduced the length of the unit by more than half its original size (fully assembled) thus saves a lot of space during storage.
Even though it appears to be a compact rower it can accommodate different sizes of users, up to 6 feet 5 inches tall.
The rail of the unit is not entirely horizontal but is slightly slanted down toward the front base which could be an added advantage as it positively impacts the legs muscles by the body resistance while pushing backward with legs and recovering faster.
This is a cool rower that can benefit a lot of rowing enthusiasts that wish to work out in the comfort of their home. Another rowing machine to consider buying if your budget is within the range is the Schwinn Crewmaster Magnetic Rowing Machine.
Finally, the Goplus Rower does not need to be plugged into a power outlet for it to be functional. The console is powered by batteries and they are included.
The Seat, Pedals, and Handles
The Goplus Magnetic Folding Rowing Machine features an ergonomically designed seat that offers support to the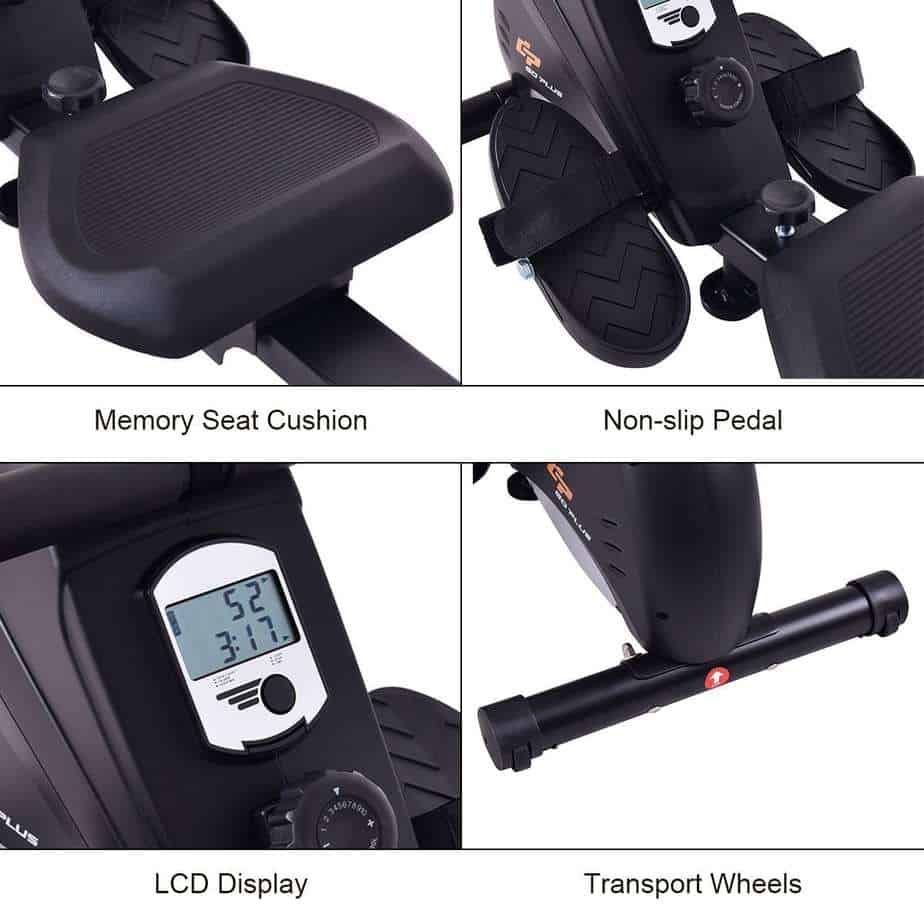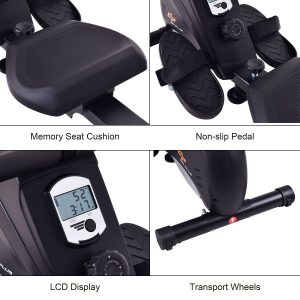 lower back.
The overall design of any fitness equipment seat is very important because it is one of the elements that ensure users feel comfortable while working out and this unit's seat offers that possibility.
It is contoured to fit the butt, padded with high-density foam that is covered with non-slippery material. It is also a fairly large seat with dimensions of 10 inches long by 14 inches wide that is appropriate for comfortable workout experience.
On the other hand, the pedals are adjustable in the sense that you can adjust the position of your feet even in the middle of a workout. They can pivot thereby offering the possibility to adjust when necessary and this consequently reduces the stress on the ankles.
The pedals are made of ABS material that is comfy and durable equipped with straps that are adjustable to secure the feet and ensure stability during workouts.
The handle is the other part of the elements that provide a comfortable workout.
The handle is not ergonomically designed to slightly curve just as with the Schwinn Crewmaster Magnetic Rowing Machine but is covered with thick foam to provide the best possible comfortable grip during workouts.
This prevents slippery and blisters in the palms. The handle is attached to a non-maintenance heavy-duty nylon strap that could last for a very long time and generates minimal noise as well during a workout as opposed to rowers that use chain.
The Resistance
The Goplus Magnetic Rowing Machine features a magnetic resistance system just as the name suggests.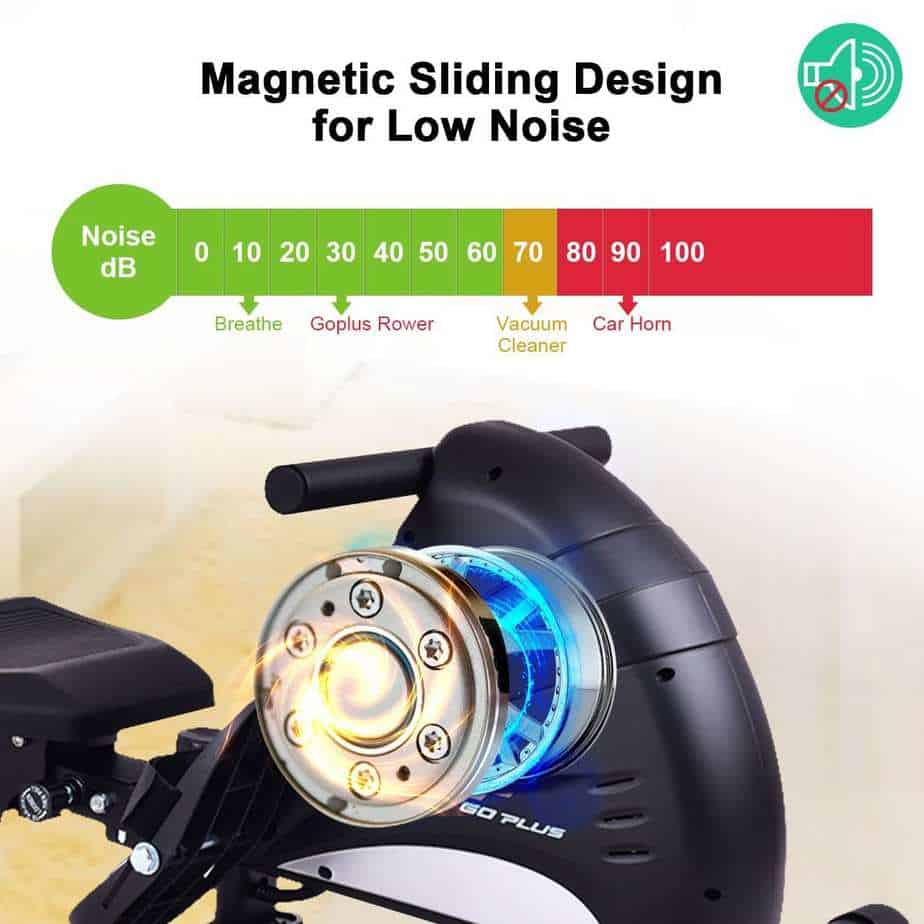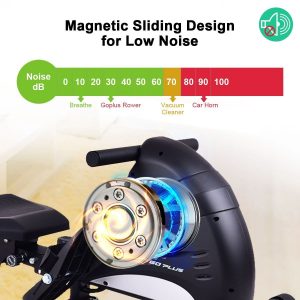 The good thing about the magnetic resistance system is the fact that it generates a very minimal noise while in use.
This unit's resistance system has a tension knob that controls the resistance level with the levels distinctly indicated on it.
It also means you don't need electricity to have it functional just as aforementioned because it is a manual magnetic resistance system and the console does not also have any control over the resistance system.
The resistance system consists of 6.6 pounds flywheel, a small magnetic brake that is attached to the resistance knob which comes in contact with the flywheel when the resistance is applied via the knob.
There are 10 resistance levels available which are indicated on the tension knob. You simply twist the knob clockwise to choose your preferred resistance level and anti-clockwise to reverse or reduce the resistance level and it is as simple as that.
Often with most magnetic resistance system rowers, the first 3 levels happen to be light resistance levels that could be suitable for beginners. You can go all the way to 8, 9, and 10 levels if you wish to experience a challenging or difficult workout and most especially you are an advanced user.
Nevertheless, this rower does not offer the extremely challenging workouts some advanced users may want to experience. This is the reason experienced and advanced users opt for rowers that feature water or a fan resistance system because of their dynamic nature in offering extremely difficult workouts but in most cases, they are a lot more expensive than the magnetic resistance system rowers.
But overall, the Goplus Magnetic Folding Rowing Machine is ideal for most users that feel the need for overall body cardio.
The Console
This unit comes with a basic console which does not surprise us at all due to the rower's price range. It has an LCD monitor with readable metrics that are easy to see or viewed by the user. But again, being a basic console, the monitor is not backlit therefore may not be readable in a poorly lit room.
The console is about 3.5 inches in size with a single button. The LCD monitor allows you to track your workout progress by displaying data such as the total counts, calories, count per min, time, and SCAN function. Unfortunately, you cannot monitor your heart rate as the console is not telemetry enabled neither does it have heart rate sensors in the handle.
No possibility to customize your workouts, no preset program, it is simply basic. And the calories burned are determined by the stroke count which isn't accurate.
That being said, the data displayed gives you a sense of direction and helps you to remain focused on achieving your fitness goals.
The console does not need the electricity to function properly but can be powered by batteries which are included.
The console automatically comes on when there is an activity on the rowing machine and also hibernates when it is idle with the absence of activity for a couple of minutes.
Approval Rating
The approval rating of the Goplus Magnetic Folding Rowing Machine is positive and impressive.
The users' feedback indicates that this rower is worth adding to the home gym.
Despite the fact this rower is relatively new on the fitness market it has already generated popularity that is amazing and a lot more people are gunning for it.
You may read the Amazon customer reviews right here to see for yourself.
Pros/Features Overview
The frame is made of steel and supports up to 220 pounds maximum user weight
It has a folding ability that reduces the fully assembled length dimension to more than half the size thereby saving storage space
It features a magnetic resistance system that offers smooth and quiet workout
It is built with a stabilizer bar at the front base with transport wheels that ensure stability and easy relocation process
10 levels of magnetic resistance available
It is very affordable
It comes with a console that allows you to keep track of your workout progress but it is rather basic
The seat is well-padded and designed to provide comfort during workouts
It has a set of pivoting pedals that allow you to adjust the position of your feet during workout thus reduces stress on the ankles
The handle is covered with high-density foam that provides a comfortable grip and prevents blisters in the palms and sweat that may cause slippage.
Cons
The console is not backlit and it is completely basic with no preset program or the ability to store information
You cannot observe your heart rate because the console is not telemetry enabled neither are there heart rate sensors present in the handle.
Not ideal rower for professional users
Product Dimensions and Specifications
70'' Length
21'' Width
19'' Height
23'' Length (folded)
21'' Width (folded)
49'' Height (folded)
The flywheel weighs 6.6 pounds
Weighs 49 pounds
Supports up to 220 pounds maximum user weight capacity
Sliding distance is 100''
Made of steel & plastic
5'' basic console
Warranty
Shipping, Assembly, and Maintenance
Shipping
The shipping cost of the Goplus Magnetic Folding Rowing Machine varies because retailers have different shipping policies; nonetheless, Amazon provides free shipping.
Assembly
This rowing machine is reportedly very easy to assemble as the major components are preassembled by the manufacturer.
So, upon delivery, you are expected to attach the seat, the rail, the back, and front stabilizers, the console, and of course the pedals. It should take about 45 minutes or less to be fully assembled, depending on how good you are with your hands.
The basic tools required and the instruction manual is also included to facilitate the assembling process.
Maintenance
Since the Goplus Magnetic Rower comes with a magnetic resistance system it does not need any serious maintenance but except to always keep it clean from dust and sweat.
Also, ensure that you frequently examine the machine for any loose, worn, or broken part; and do repair or replace accordingly if there is any such case before use.
Conclusion
The Goplus Magnetic Folding Rowing Machine is popular simply because it delivers full-body workout at a value-oriented price, it is as simple as that.
It is an ideal rower for home use and great for beginners and intermediaries.
Goplus Magnetic Folding Rowing Machine Review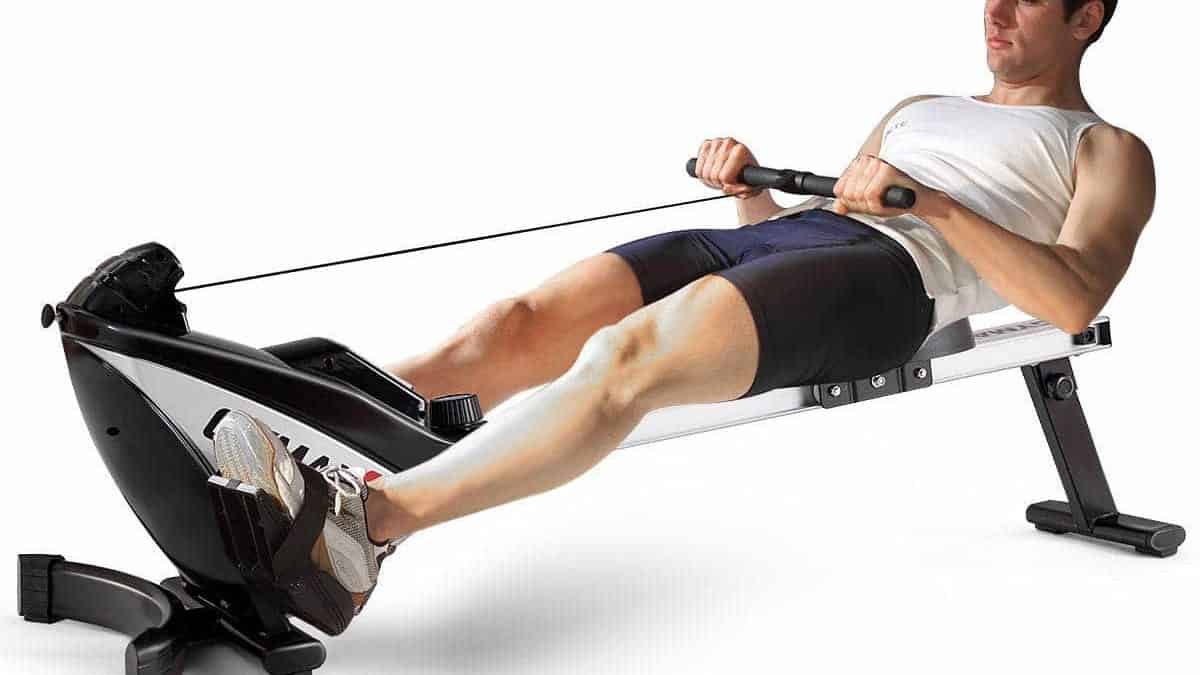 The Goplus Magnetic Folding Rowing Machine is a lightweight rower that weighs just about 49 pounds approximately 22 kg and can be handled and conveniently
Product Brand: Goplus
Product In-Stock: InStock