The Spinner L3 Bike unarguably has this appealing look that is naturally inviting. This is an important aspect because you will be compelled to use it frequently and that can help you in your quest to attain physical fitness.
However, looks alone does not necessarily make it the ideal spin bike for you, and so in this review, we are going to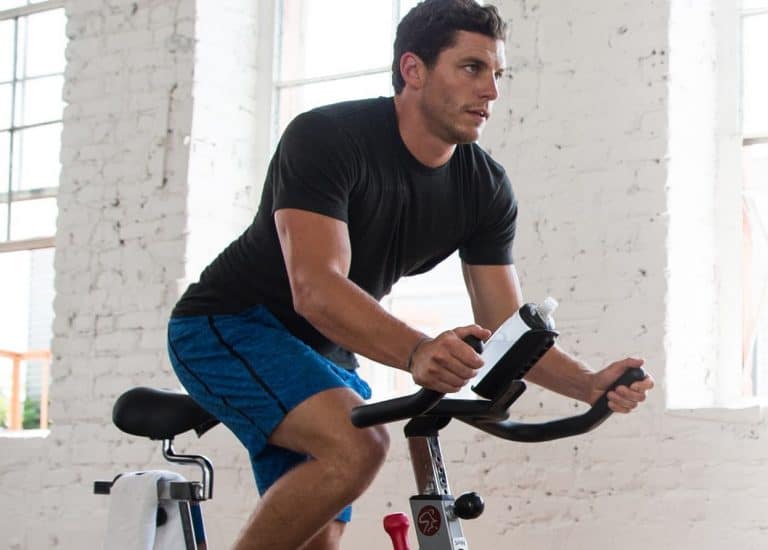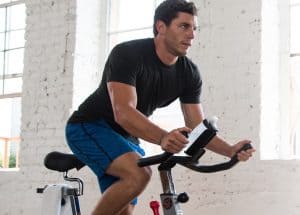 look at this unit to know what actually makes it tick.
It is also important to note that this bike is one of the Mad Dogg Athletics's spin bikes. The company has been in the business of inventing and manufacturing fitness equipment for over 2 decades especially cycling bikes that are particularly known as the spinning bikes.
The company's specialty is the manufacturing of exceptional spin bikes and they have shown or rather exhibited their prowess in Spinner L3 Bike and many other indoor cycling bikes on their stables.
First of all, we found out that this bike is sturdy and stable because of its overall design. It is the perfect alternative indoor cycling bike for those that love cycling outdoors and for some reason will not be able to do so anymore.
The bike is said to be perfect for beginners but we have seen a feedback from an advanced user that that says he finds it great and suitable.
<<<Click right here to see the best price available on Amazon>>>
The Frame/Construction
The Spinner L3 Spin Bike has a compact heavy-duty steel frame that is meant to last forever and supports up to 250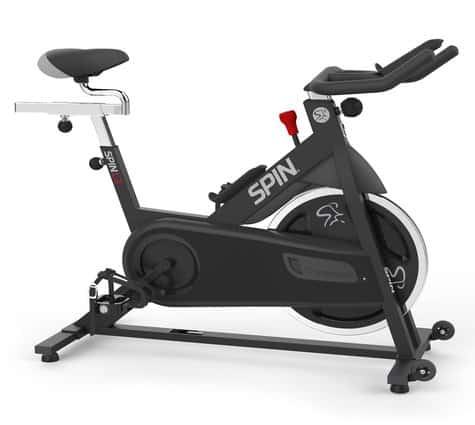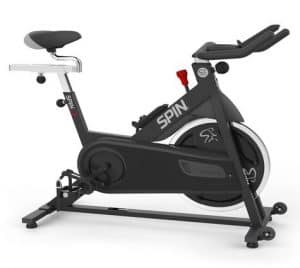 pounds maximum weight capacity.
It is finished with anti-scratch and corrosion paint that can prevent rusts and scratches. The SPIN LOGO and the bike's model name are conspicuously printed on several parts of the frame, the flywheel, and the chain guard.
The seat slider and the post feature chrome finish and so is the handlebar post as well. The prevalent and prominent color of the spin bike is black which features white paint with the name and logo.
It has two stabilizer bars one at the front base and the other at the rear base with four adjustable levelers that are situated underneath the bars for the purpose of leveling up the bike on an uneven floor. The stabilizer bars ensure and guarantee that the bike does not wobble or move during high-intensity workouts.
However, it is recommended to place the bike on a rubber mat to further solidify its stability.
The front stabilizer bar features two transport wheels that are designed to aid with the relocation process.
It is a compact and portable bike because it has a footprint of 48 inches long by 18 inches wide and therefore can fit in very well in most small rooms. Although, it is advisable to consider adding 2 feet clearance on each side of the bike's workout area for safe and comfortable workout experience.  The height is 47.5 inches tall which is approximately 4 feet. This means that a room with a ceiling height of at least 6 feet will just be fine.
It weighs about 96 pounds, approximately 44 kg, a lightweight machine, however, this adds to its stability.
Interestingly, this bike features a heavy-duty 31 pounds weighted flywheel that provides smooth and consistent workouts.
This is an indeed a sturdy, stable, and compact spin bike for home use.
The Seat and Handlebars
These are the elements that are mostly responsible for suitable and comfortable workouts. If these elements are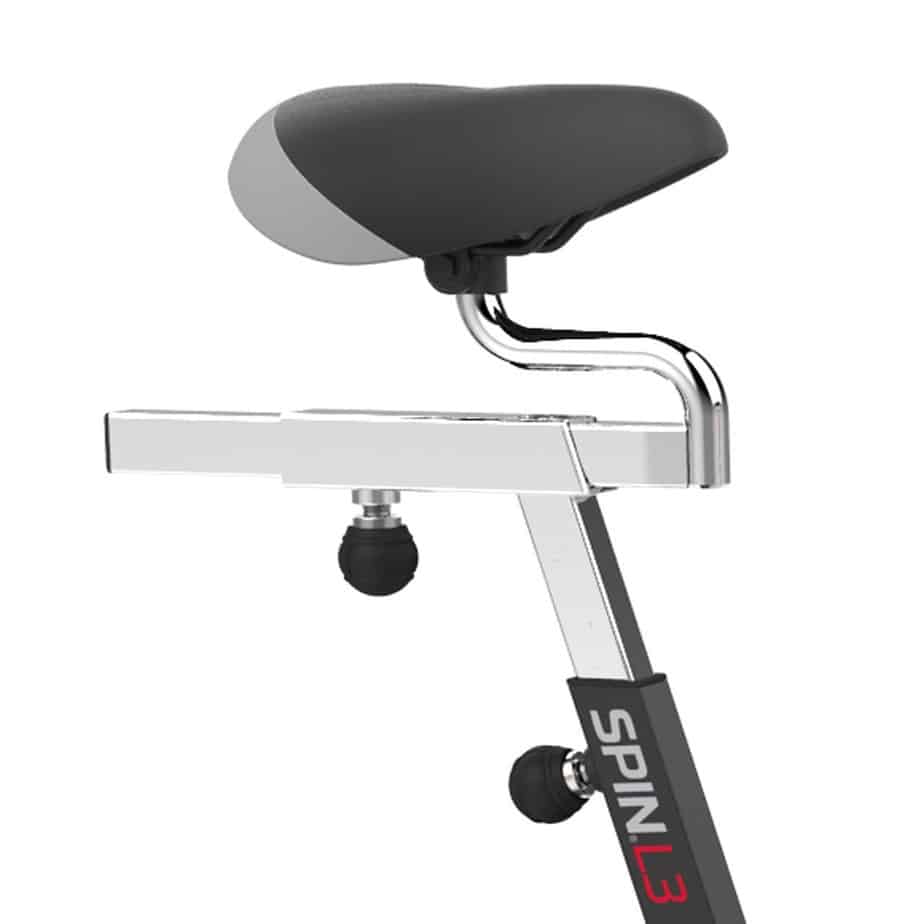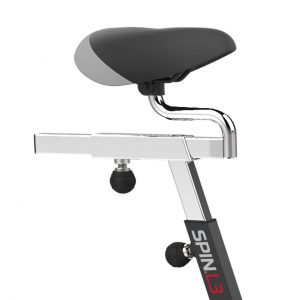 designed correctly then chances are users will have less to complain about in terms of accommodation and optimal comfort.
That being said, let's look at the seat's design of the Spinner L3 Spin Bike.
The seat, fortunately, features a 4-way adjustment which means you can adjust it vertically and horizontally, very important in ensuring that this bike accommodates you comfortably.
Both the horizontal and the vertical adjustments are very simple and easy to do and won't take a minute to fully adjust to your preferred workout positions.
The saddle features a standard design that can be replaced easily but does not provide outstanding comfort to the butt. However, you can always try to upgrade it by using a gel seat cover or a padded short to improve the comfort it provides or better still replace the entire saddle with a more comfortable one.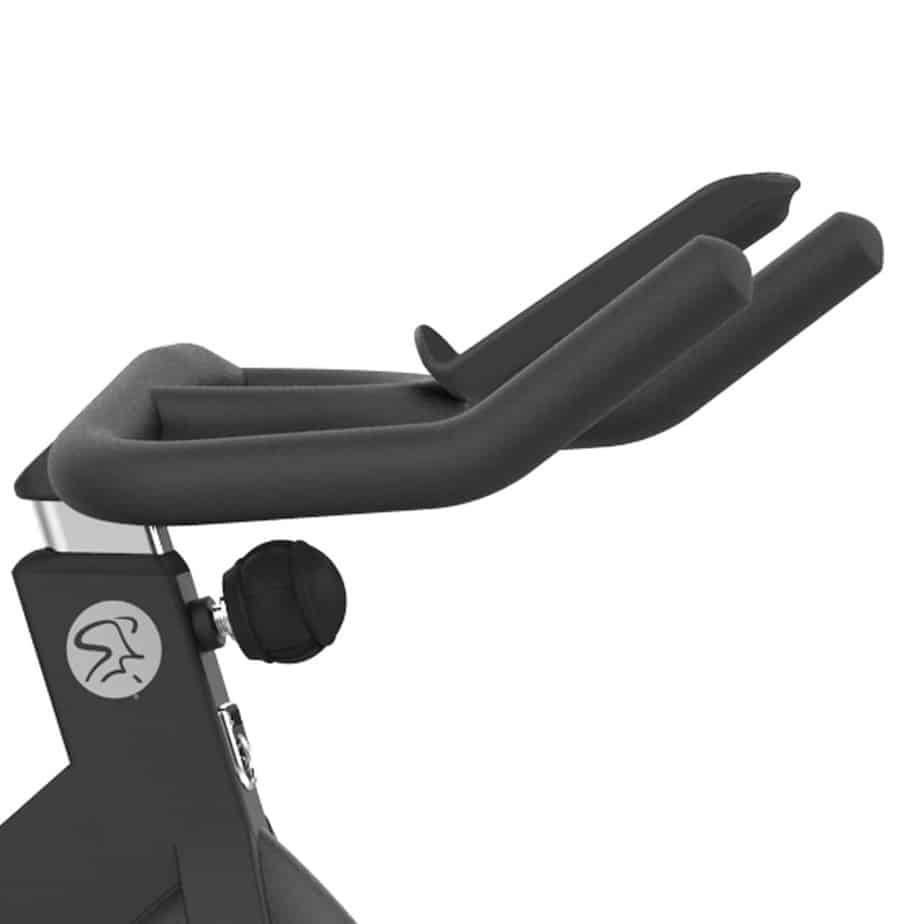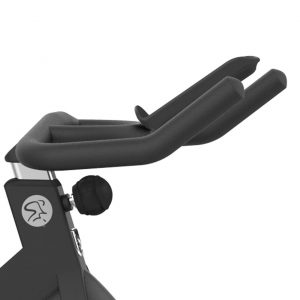 On the other hand, the handlebar features only 2-way adjustability that allows you to only adjust vertically. It could have been an added advantage if it had the ability to adjust horizontally too because that will increase its chances of accommodating taller individuals.
As it is now, it can accommodate users that are 6 feet tall and below comfortably but we are afraid that taller individuals above 6 feet may have difficulty fitting in comfortably.
The handlebar features multiple grips that are well coated with rubber foam for optimal grip that prevents blister in the palm and slippage as a result of sweaty palms. The multi-grip design provides you with a variety of workout options.
There is a plastic water bottle holder integrated on the handlebar that also doubles as a tablet and phone accessory holder.
Yet, there is one other water bottle holder on the frame as well.
The Drive System
The Spinning Spinner L3 Spin Lifestyle Series Indoor Cycling Bike features a chain drive system. The positive side of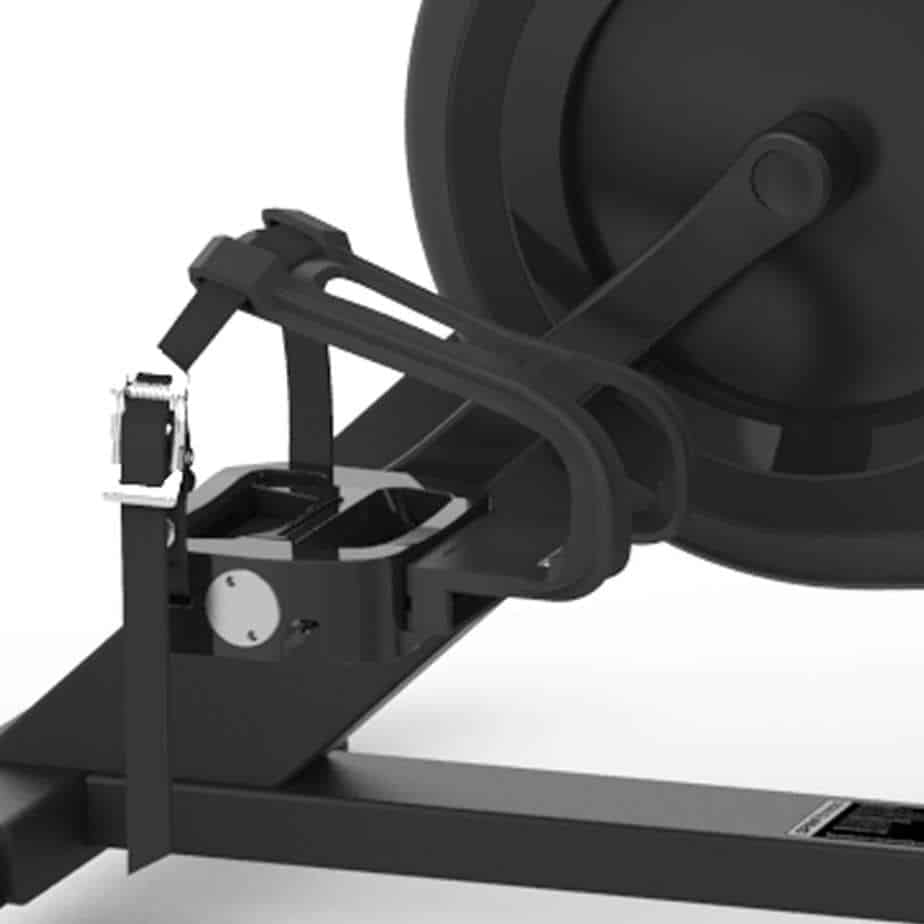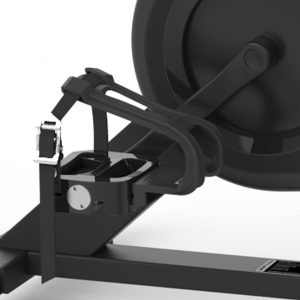 the drive system is the fact that it mimics the road bike and provides the feeling of riding outdoors. It is also very durable but requires some level of maintenance. It can last longer when maintained adequately.
Moreover, it can easily be replaced if peradventure the chain goes bad or damaged because it is a standard chain that is available at any local bike shop.
The bike comes with a 3-piece crankset with steel arms that allow you to perform even stand up pedaling.
The pedal is bidirectional, which means you can also pedal in reverse, although, while pedaling in reverse the resistance will remain constant. And you cannot coast as you could with the road bike because it possesses a fixed drive system.
It has a narrow Q Factor of 150 mm which improves the natural positioning of the feet on the pedals which as a result tremendously reduces the stress that is often felt in the joints.
The pedals are highly solid as they are metallic and dual-sided with toe cages and SPD clips that allow you to use athletic or cycling shoes, something that is often absent in spin bikes of the same price range.  The thread is the standard 9/16 that is common and available in local bike stores.
The Resistance
The Spinner L3 Indoor Cycling Bike has a friction resistance system that is controlled manually. It does not have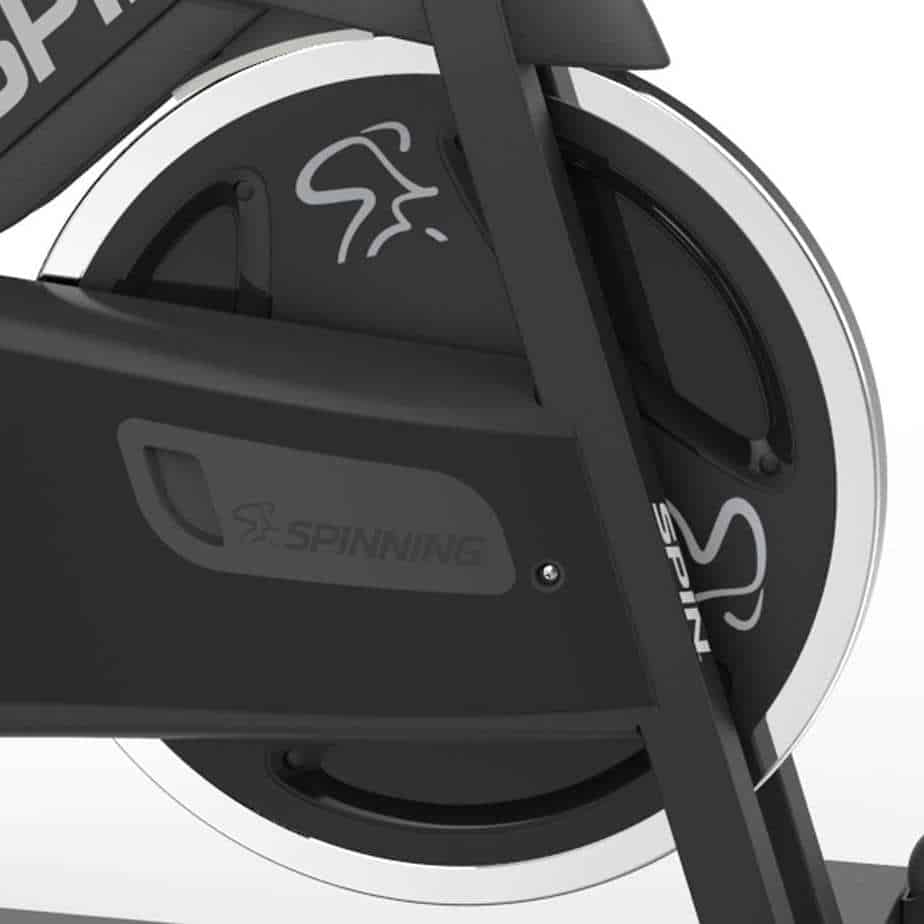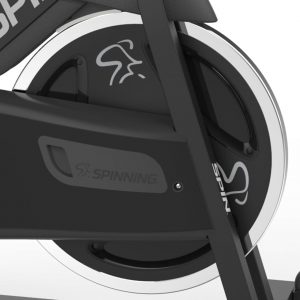 resistance levels or setting indicated on the tension knob.
This resistance system consists of a 31 pounds weighted flywheel and the felt pad that is attached to the mainframe tube with the tension knob at the top. When the tension knob is adjusted to increase resistance the felt pad gets in contact with the flywheel depending on the level of twist you gave to the tension knob.
This resistance system is formidable and provides fairly challenging and difficult workouts. The tension knob also doubles as the emergency brake. You can use the tension knob to stop the flywheel from spinning whenever you feel like taking a break or stopping.
This is important because you can't coast, and if you can't coast that means both the flywheel and the pedals will be spinning simultaneously and therefore can't stop cycling abruptly otherwise you may sustain an injury due to the flywheel's momentum.
The felt pad may require replacement after a year or so of usage because it wears out. Its longevity depends on how often you use it and therefore the lifespan defers.
Accessory
The Spinner L3 Bike comes with two water bottle holders, one on the handlebar and the other at the frame tubing. Other than these water bottle holders it doesn't have any other accessory.
It doesn't come with a heart rate monitor or MP3 feature that allows you to entertain yourself.
However, it is accompanied by four workout DVDs that are designed to provide workout orientation to you.  These workout DVDs are motivational and entertaining, and you will be tutored on how to use the bike optimally.
Storage
Just as aforementioned, this is a very compact and portable bike you may love to use at home in your room. Its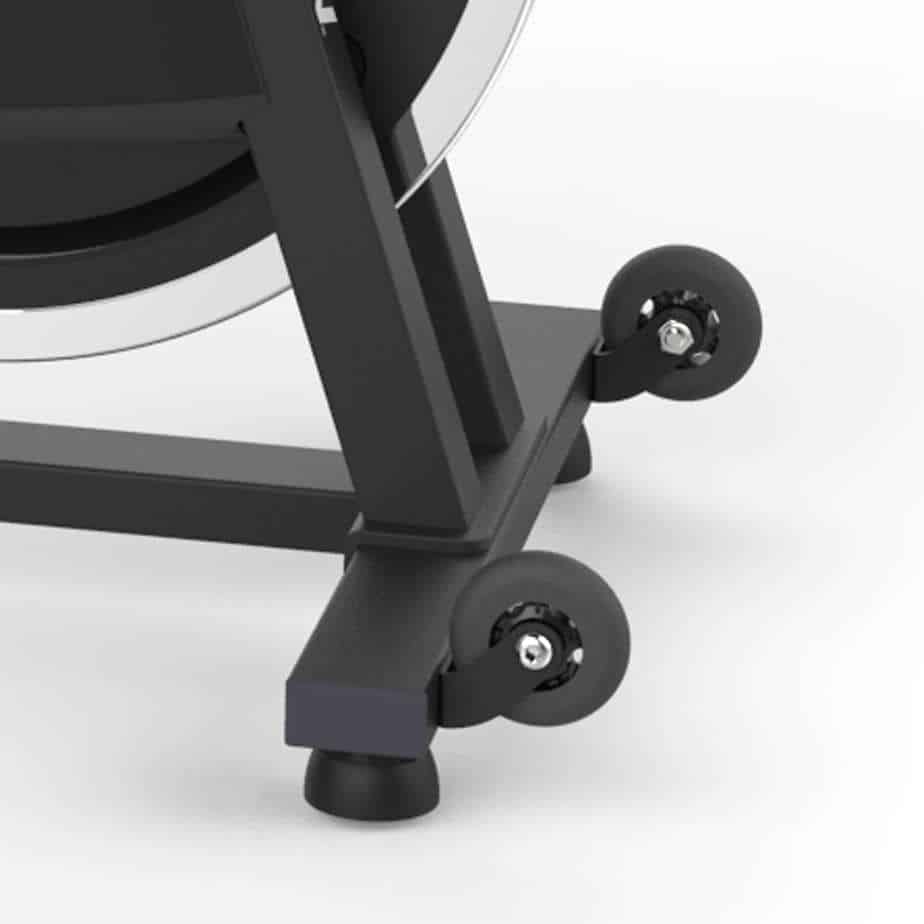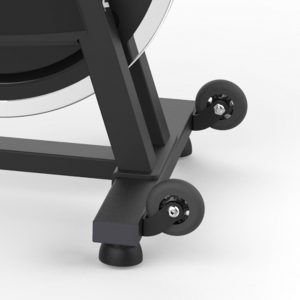 dimensions are 48 inches long by 18 inches wide by 48 inches tall, and it weighs about 96 pounds that is approximately 44 kg.
The integrated transport wheels at the front base will highly assist you during the relocation process. You can move the bike by tilting it toward the front base by raising it by the rear base. It doesn't require two people to move it.
Approval Rating
The Spinner L3 Spin Bike is relatively a new bike on the market and so does not have many users' feedback but the one we saw on Amazon is positive and recommending.
Pros/Features Overview
A solid and sturdy frame that supports up to 250 pounds maximum user weight capacity
It has a 31 pounds weighted flywheel that provides smooth and consistent momentum during workouts
Transport wheels are included for easy relocation
Integrated with stabilizer bars for optimal stability
Rubber levelers integrated to level up the bike on an uneven floor (use of rubber mat recommended)
2-way adjustable handlebar
4-way adjustable seat
It has narrow Q Factor that provides comfortable pedaling that reduces stress on the joints
It has dual-sided SPD compatible pedals that allow you to workout with cycling shoes
The chain drive system that provides the road bike riding experience
Comes with 4 workout DVDs
Easy to assemble
Water bottle holders
Cons
It does not have a monitor that allows you to track your workout progress
The seat does not provide optimal comfort but can always improve with the gel seat cover or padded short or better still use both or replace the entire seat with a better one.
May not comfortably accommodate taller individuals of above 6 feet
Product Dimensions and Specifications
48'' Length
18'' Width
48'' Height
Supports up to 250 pounds maximum user weight capacity
Weighs about 96 pounds/44 kg
Dual-sided SPD compatible pedals
31 Pounds weighted flywheel
Warranty
Shipping, Assembling, and Maintenance
Shipping
The shipping cost of any product purchased online is often determined by the retailer that is selling, however, Amazon usually provides free shipping.
Assembling
The Assembling of the Spinner L3 Spin Bike is very easy and can be done within a couple of minutes. The reason is that it comes with most of the major components preassembled.
Basically, you are only required to attach the seat post, the seat, stabilizer bars, the handlebar post, and the handlebar.
Moreover, it comes with a clear instruction manual that walks you through the assembly process.
Maintenance
This unit requires little maintenance due to the chain drive. The chain needs to be lubricated periodically so that it doesn't get rusted and affect the link. You may also have to adjust it when there is the need to do so.
Aside from this, you have to always and routinely examine the bike for any loose, broken, or worn parts and repair or replace accordingly. Always keep it clean from dust and sweat.
Conclusion
In our opinion, this is a recommendable bike partly because of the overall design and the price. But if you can afford to purchase a higher range of spin bike then we will recommend Keiser M3 Plus Indoor Cycling Bike or you could look up our best spin bikes review with a price range.
That being, this is still a bike that could provide you with the opportunity to burn tons of calories at the comfort of your home. It all depends on what you need on a spin bike after all.
Spinner L3 Bike Review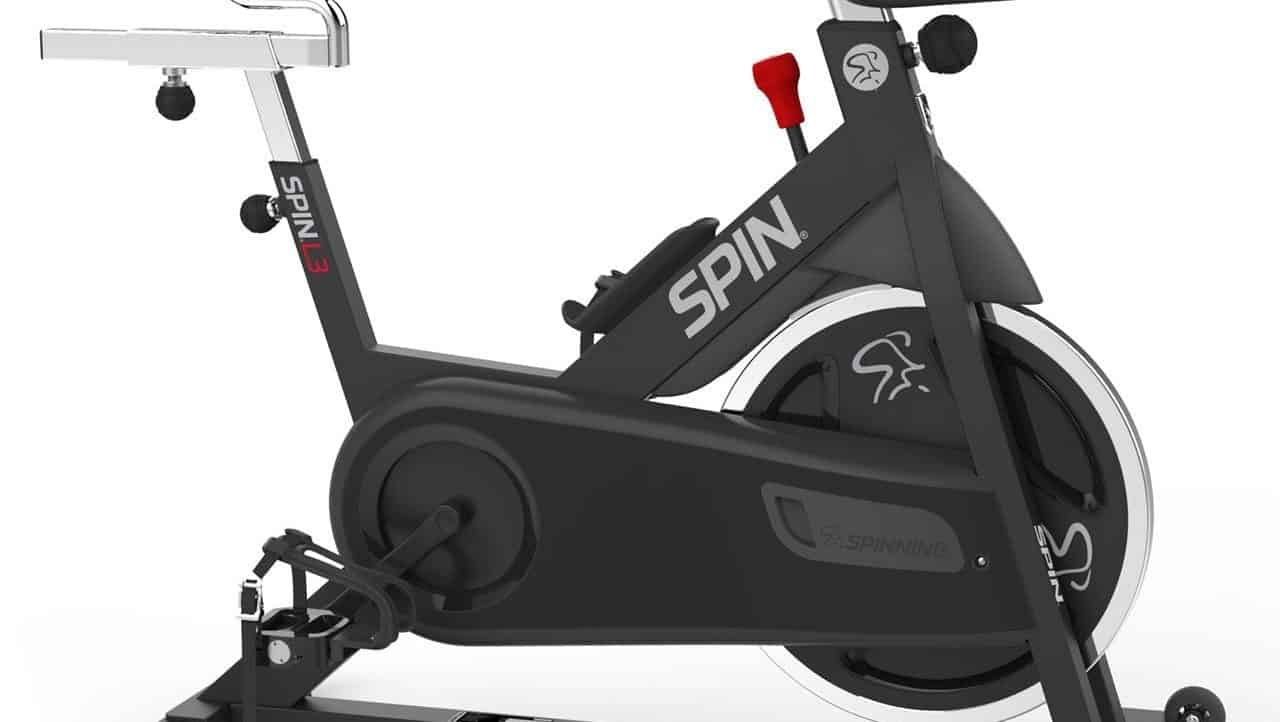 The Spinner L3 Spin Bike has a compact heavy-duty steel frame that is meant to last forever and supports up to 250 pounds maximum weight capacity.
Product Brand: Spinner
Product In-Stock: InStock