The Schwinn AD7 Airdyne Bike is yet another outstanding exercise bike from the stables of one of the most reputable fitness manufacturing firms. They have built trust as a result of consistently inventing quality fitness equipment. The name Schwinn will ring a bell to so many fitness enthusiasts, and the reason for their popularity is obvious; because they have been in this business of manufacturing fitness equipment for over a century and that is a great feat that cannot be taken away from their resume.
They are especially known for producing innovative exercise bikes, but they have diversified by also manufacturing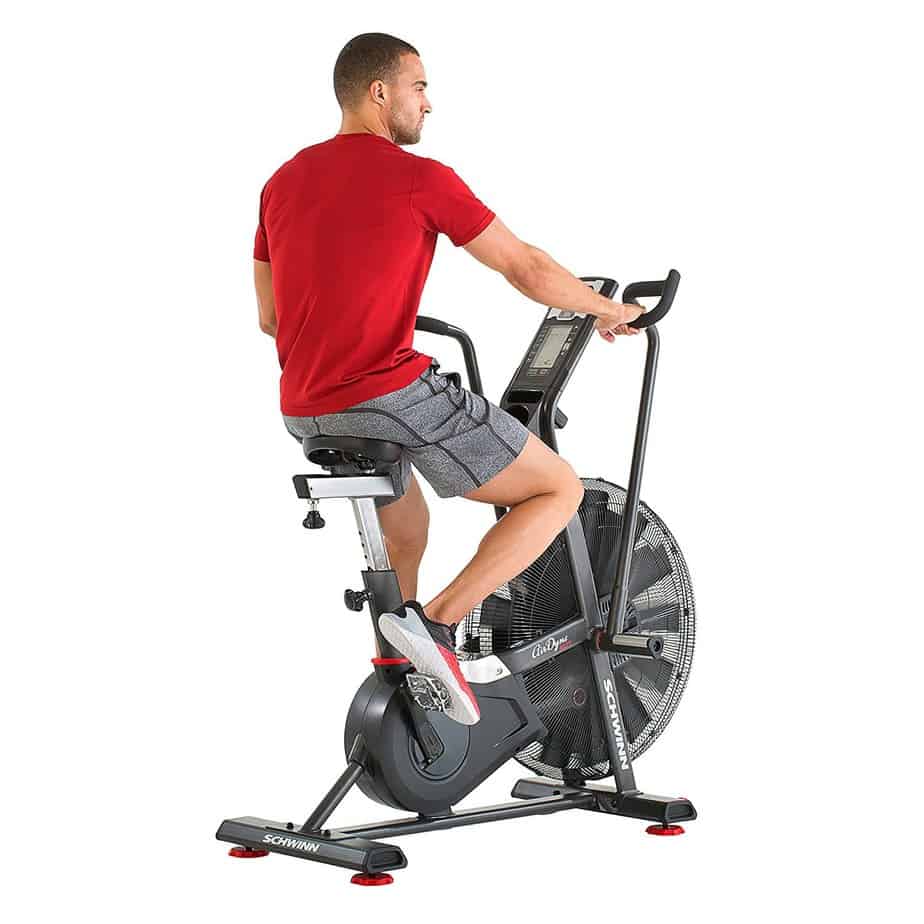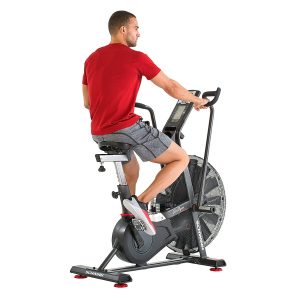 outstanding treadmills as well.
That being said, the Schwinn AD7 Airdyne Exercise Bike has a lot of features that were designed to help you achieve your fitness goals. Its resistance system is such that is suitable for everyone regardless of their fitness levels. Beginners and advanced users will surely find the resistance challenging because it has an air resistance system that engages users according to their workout ability.
Interestingly, this bike provides overall body workout something that is not that common with typical indoor exercise bikes. Its resistance system makes the bike the perfect tool for high-intensity interval training.
This is no doubt one of the best exercise bikes, especially bikes with air resistance system and mobile handlebars.
<<<Click right here to purchase the Schwinn AD7 Airdyne Exercise Bike at the best price available>>>
The Frame and Design
The Schwinn AD7 Airdyne Bike is one of the sturdiest indoor exercise bikes because the frame is made of steel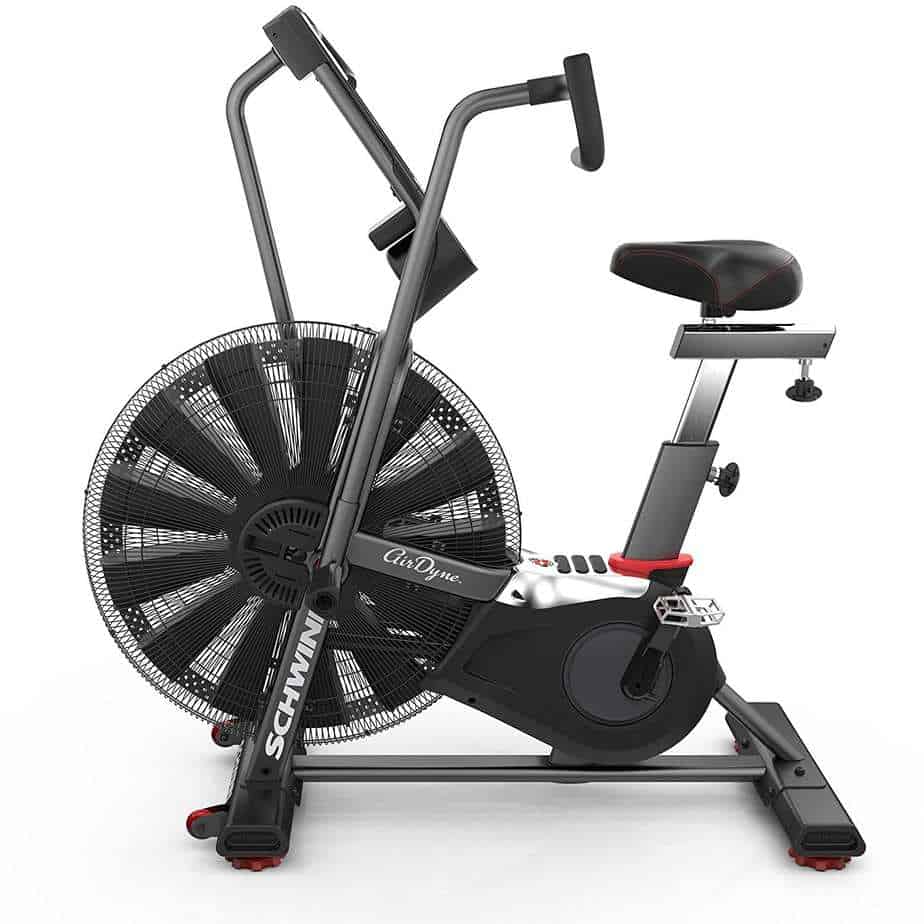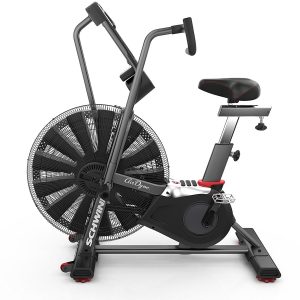 material. This bike is very similar to the Schwinn Airdyne Pro Exercise Bike with almost no difference yet they have different names. What we understand is that the Schwinn pro is designed for home use and as well as for commercial use while the Schwinn AD7 is only designed for home use.
Another recommendable air bike is the LifeCore Fitness Assault Air Bike. But the only problem is that it is louder than the Schwinn AD7 Airdyne Exercise Bike.
The Schwinn AD7 supports up to 350 pounds maximum user weight capacity and weighs about 113 pounds weight which is approximately 51 kg. This also adds to its stability aside from the stabilizer bars that are situated at the front and rear bases primarily for stability. It also has adjustable rubber levelers on each side of the stabilizers to level up the machine on an uneven floor.
Being that the levelers are made of rubber material you will not have to worry about the machine damaging your floor. However, it is recommended to use a heavy-duty PVC mat for cardio products underneath the machine for high optimal stability.
It also features two transport wheels designed to make relocation of the machine easy. One person can move the machine by tipping it toward the front base where the transport wheels are.
All the steel parts are finished with anti-corrosion resistant paint that could make it last a lifetime without rust effect. However, this is an indoor exercise bike that must not be exposed to rains or water so that the console will not be damaged.
Just like the Schwinn Airdyne Pro, this also has a small footprint of 40 inches long by 16 inches wide which appears to be compact. Although, its real dimensions are slightly different and more because of the handles that spread out at the top and the air fan that protruded to the front, as a result, increased the dimensions of the length and the width. So, the overall dimensions are 55 inches long by 26 inches wide by 53 inches tall.
At least 6 feet by 3 feet workout space will be needed for the bike for better experience and safety, whereas a room with a ceiling height of 7 feet will be just fine as well.
It does have footpegs that are designed to allow you to rest your feet any time you feel like exercising the upper-body alone with the movable handles.
The Seat and Handlebars
The Schwinn AD7 Airdyne Exercise Bike is integrated with a fairly large contoured seat that is designed to offer the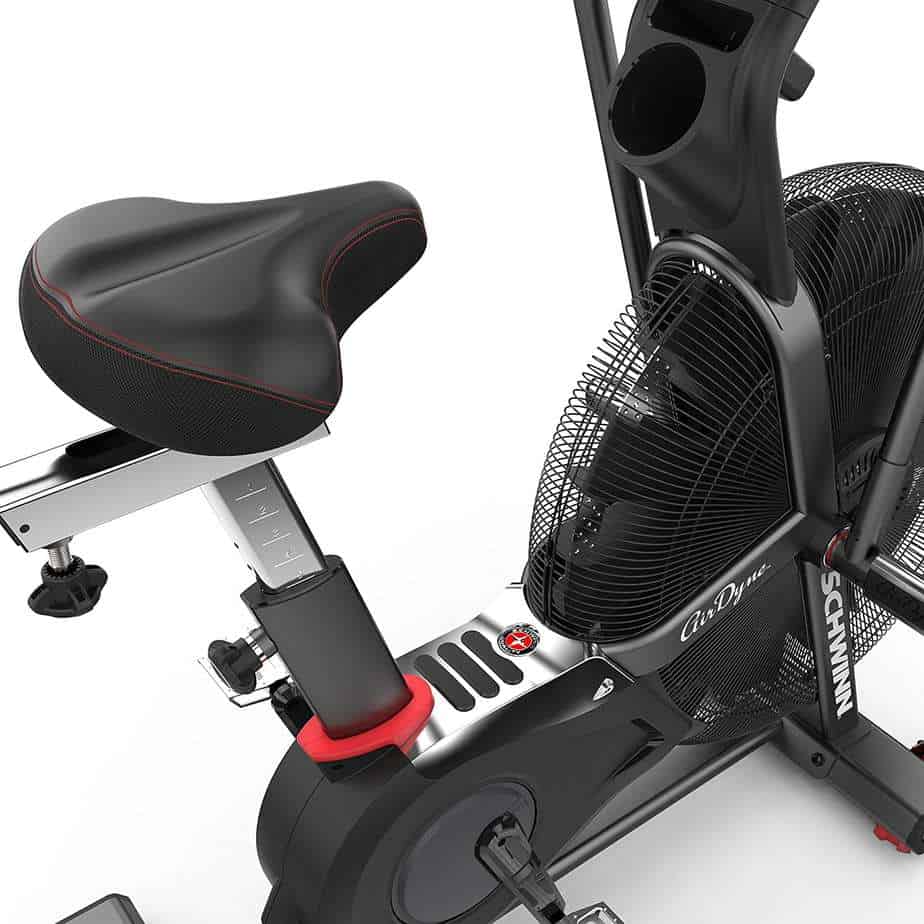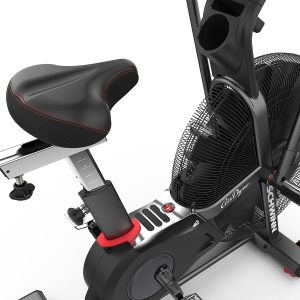 optimal comfort required. It is duly cushioned and covered with a highly durable vinyl material that promotes comfort and longevity.
The exercise bike's seat is hardly 100% great in terms of providing comfort to the butt but this seat is a lot better than what is obtainable from most other indoor exercise bikes.
That being said, you can tweak the seat by using a gel seat cover to improve the comfort if you think it doesn't offer enough or you might as well use a padded short.
The seat is also 4-way adjustable which means you can adjust it upward/downward or forward/backward. This helps you to find the right workout position that is suitable for you and it allows different sizes of individuals to be accommodated.
Importantly, and very interestingly, it has 10 holes on the seat post with vivid markings that allow you to easily and quickly find your seat setting even when someone has altered it. In other words, it could be used conveniently by multiple members of the family without hassle.
The horizontal setting is also very easy to perform because it has holes where you can easily insert the adjustment knob and tighten up.
The seat does not wobble in any way during a workout.
Due to the seat's adjustability, users of 5 feet to 6 feet 7 inches height can be accommodated comfortably.
The handlebars of this bike have multi-position handgrips that offer a variety of workout options. The handlebars are also movable which means you can exercise both the upper and the lower body at the same time.
Although, the handles cannot be locked so that it doesn't move while you pedal but you can only fold your arms across your body or let them be beside you as you continue to pedal.
It is so because the handles are connected to the main pulley such that neither the handles nor the pedals are independent of the other. In other words, they both work together; if the handles move the pedals do as well.
So, if you wish to work out without pedaling then you have to rest your feet on the footpegs made available as you only use the movable handles, we guess that Schwinn took care of this problem one way or the other.
The handlebars are coated with high-density foam that provides comfort and prevents slippage and blisters on the palms.
 The Resistance
The Schwinn AD7 Bike possesses an air resistance system with a 26 blade fan. It provides infinite resistance without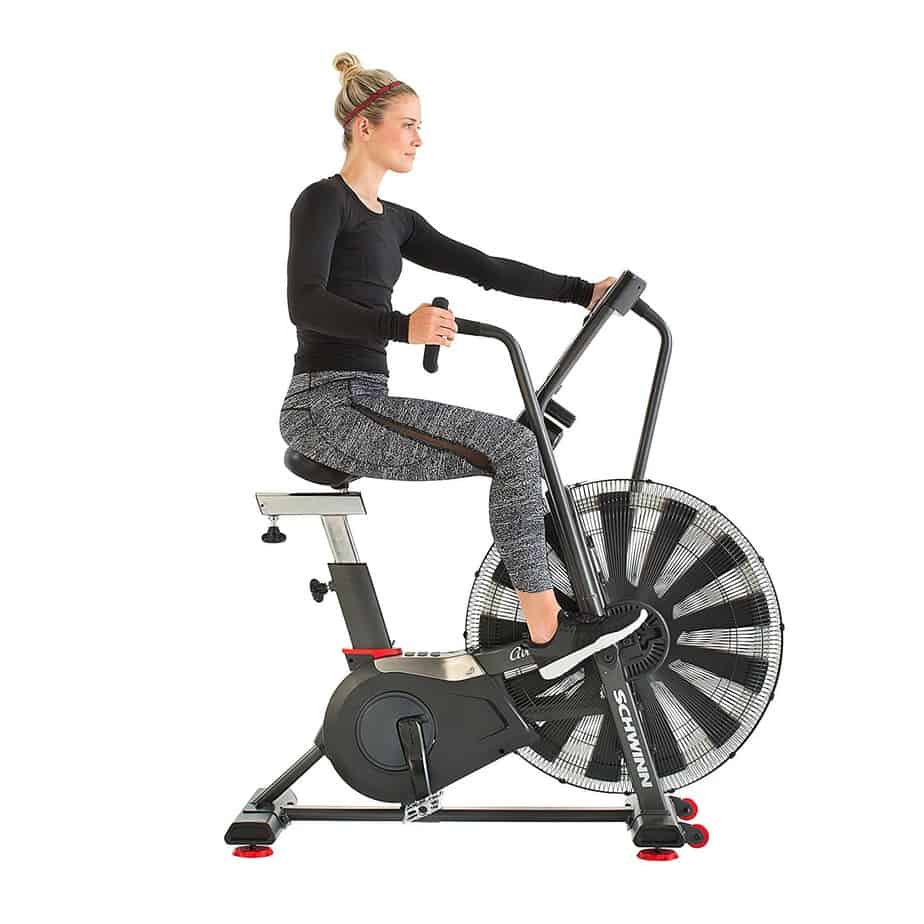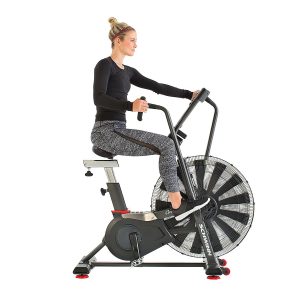 defined levels. This is the reason why it suits everyone at any fitness level. It doesn't matter if you are an advanced athlete, an intermediary, or a beginner.
The resistance kicks in when you pedal, and it becomes challenging when you do so faster and less challenging when you slow down your tempo.
So, you will get the resistance that is proportionate to your fitness level, it is as simple as that.
It does not have any resistance adjustment knob because its resistance is infinite. You can experience the hardest and most challenging workout ever if you pedal faster.
The Drive
This bike has a belt drive system with a single belt.
It has two crank links with each on either side of the main crank arms.
If you wish to perform stand up exercises you can because the crank arms are made of steel and can support what you throw at them, while the pedals are made of a metallic alloy that is highly durable.
The pedals that come with the bike do not have toe cages or adjustable straps, however, they can easily be replaced if you so desire because there are compatible ones available.
The Console/Monitor
The Schwinn AD7 Airdyne Bike possesses one of the most advanced consoles that feature two window displays.
The LCD monitor screens have high readability and allow you to observe and track your workout progress. They display metrics such as time, distance, RPM, watts, pulse, and speed.
Three main interval programs are also provided and these are 20/10 interval, 30/90 interval, and custom interval. The custom interval allows you to create your custom interval exercise.
You can set three targets which are time, distance, and calories. This feature creates the opportunity for you to challenge yourself as you set targets that must be accomplished.
The console is telemetry enable which means you can use HR chest strap to monitor your heart rate. Unfortunately, you have to purchase this accessory separately as it does not come with the machine.
The bike can be powered by 120v 60H input, 9Vdc, and 1500A AC adapter or by 2 D-type batteries that come with the machine.
Approval Rating
Just like the Schwinn Airdyne Pro, this has very positive feedback from real users.
This is a very strong indication that this bike is worth the investment and you will not be disappointed if you do invest and purchase it.
Pros/Features Overview
Solid and sturdy with steel frame
It has an advanced console with an LCD monitor that has two window screens
It has 9 workout programs
The console is telemetry enabled but the HR chest strap is not included in the package, has to be purchased separately.
It possesses a dynamic air resistance system that is infinite
It supports up to 350 pounds maximum user weight capacity
It weighs about 113 pounds, approximately 51 kg
It has transport wheels for easy relocation
It is a very stable bike because of the stabilizer bars at the front and rear bases
The machine is suitable for everyone and all fitness levels
A 4-way adjustable seat that makes it possible for users of different sizes to be accommodated; users of different heights of 5 feet to up to 6 feet 7 inches can be accommodated
The seat post has adjustment markings that allow you to quickly and easily adjust the seat
This bike offers full and overall body workout
It offers you the opportunity to perform HIIT, high-intensity interval training that ultimately expedites weight loss and improves your overall physical health
It provides a variety of workout options due to the multi-position hand grips
The frame is finished with anti-corrosion paint
There are foot pegs for resting the feet and allowing you to exercise the upper body in isolation
The console is powered by power outlet or by 2-D type batteries that are also included
The assembly is relatively easy
There are accessories such as the water bottle and smartphone holders
Very impressive warranty
Cons
The HR chest strap is not included
The pedals do not have toe cages and straps
Product Dimensions and Specifications
55'' Length
26'' Width
53'' Height
Weighs about 113 pounds, approximately 51 kg
Supports up to 350 maximum user weight
4-way adjustable seat
Movable handles
Air resistance system
Belt drive
Advanced console
Warranty
10 Years on Frame
2 Years on Parts
6 Months on Labor
Shipping, Assembly, and Maintenance
Shipping
The shipping cost of the Schwinn AD7 Airdyne Bike depends on the shipping policy of the vendor you are purchasing from, nevertheless, Amazon provides free shipping and usually delivers within days from the day of order.
Assembly
The bike comes partially assembled because the major components are preassembled. However, it is recommended to be assembled by two persons though.
Assembling tools and instruction manual are included to help you to successfully assemble the unit.
It could take about an hour, more or less to get the bike fully assembled.
Maintenance
Being that this bike features a belt drive system, it does not require any sort of adjustment or lubrication.
However, you have to always examine the machine for any part(s) that might have broken, worn out, or loosened, if that is the case repair or replace accordingly.
Conclusion
The Schwinn AD7 Airdyne Exercise Bike is one bike that is recommendable if you are looking for an air resistance system bike.
It is professionally and solidly built to stand any sort of hard use and on top of that has got a lot of features that are designed to help you realize your fitness goals.
Its dynamic resistance system can kick your butt by providing an outstanding challenging workout that matches your fitness level.
Schwinn AD7 Airdyne Excercise Bike Review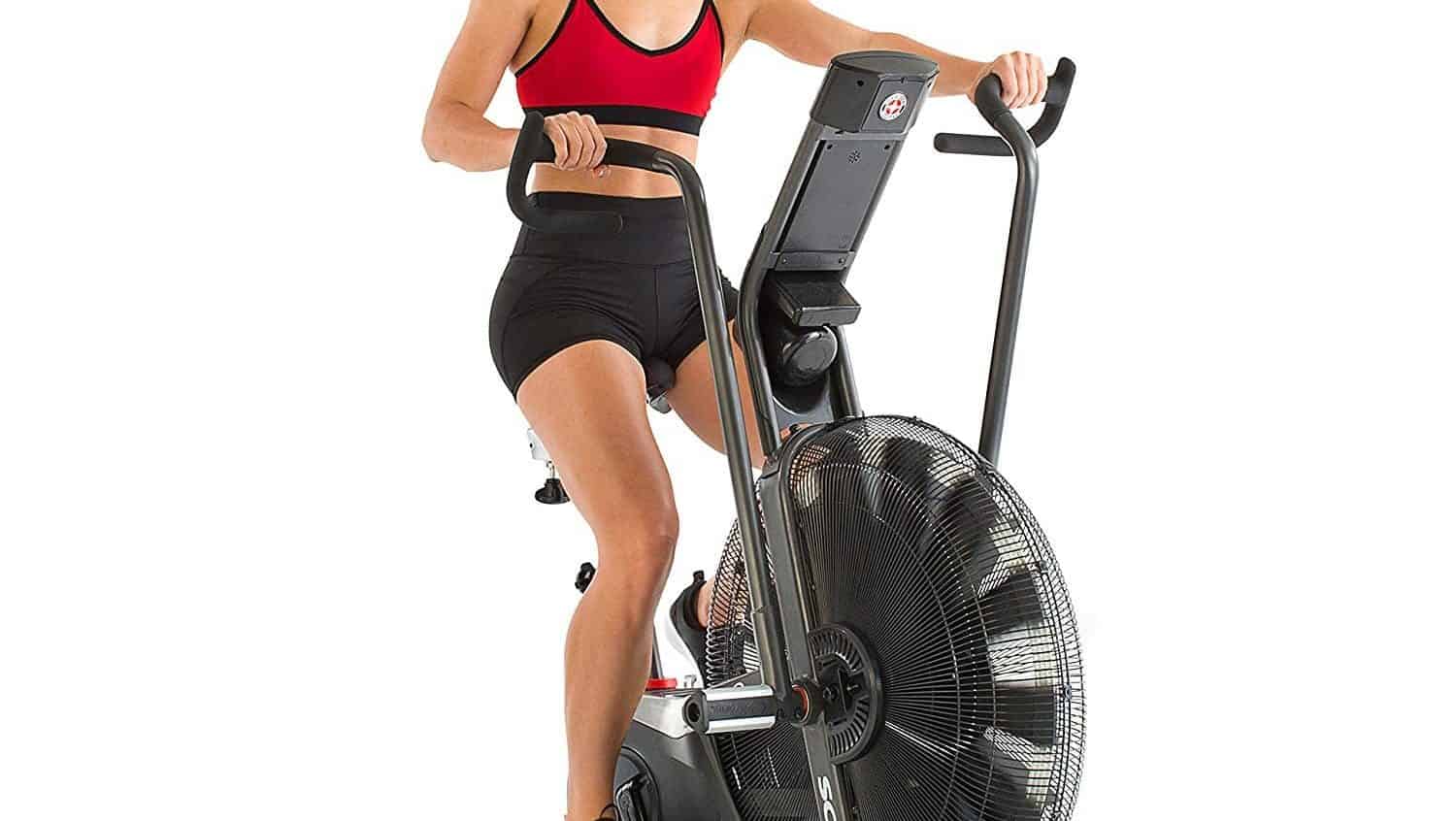 The Schwinn AD7 Airdyne Bike is yet another outstanding exercise bike from the stables of one of the most reputable fitness manufacturing firms.
Product Brand: Schwinn
Product In-Stock: InStock