The Schwinn 430 Elliptical Machine (2016) has some great features that make it stand out from its contemporaries.
For a long time now, people that were hoping to improve their physical health status have come to trust Schwinn Fitness for the unique, quality, and affordable fitness equipment they produce.
Schwinn 430 Elliptical is one of the best there is on their shelf. Its design and features make it a perfect choice for those that wish to lose weight and stay physically fit.
It integrates advanced console that features a dual display screen, pre-programmed workouts, heart rate data, the ability to upload workout results to Schwinn ConnectTM, or MyFitnessPal for viewing and tracking workout progress. 
Click right here to have a peek at the price and of of the Schwinn 430 Elliptical Machine (2016) on Amazon.
Frame and Construction
The Schwinn 430 Elliptical Machine (2016) Model 100516 is the upgraded version of the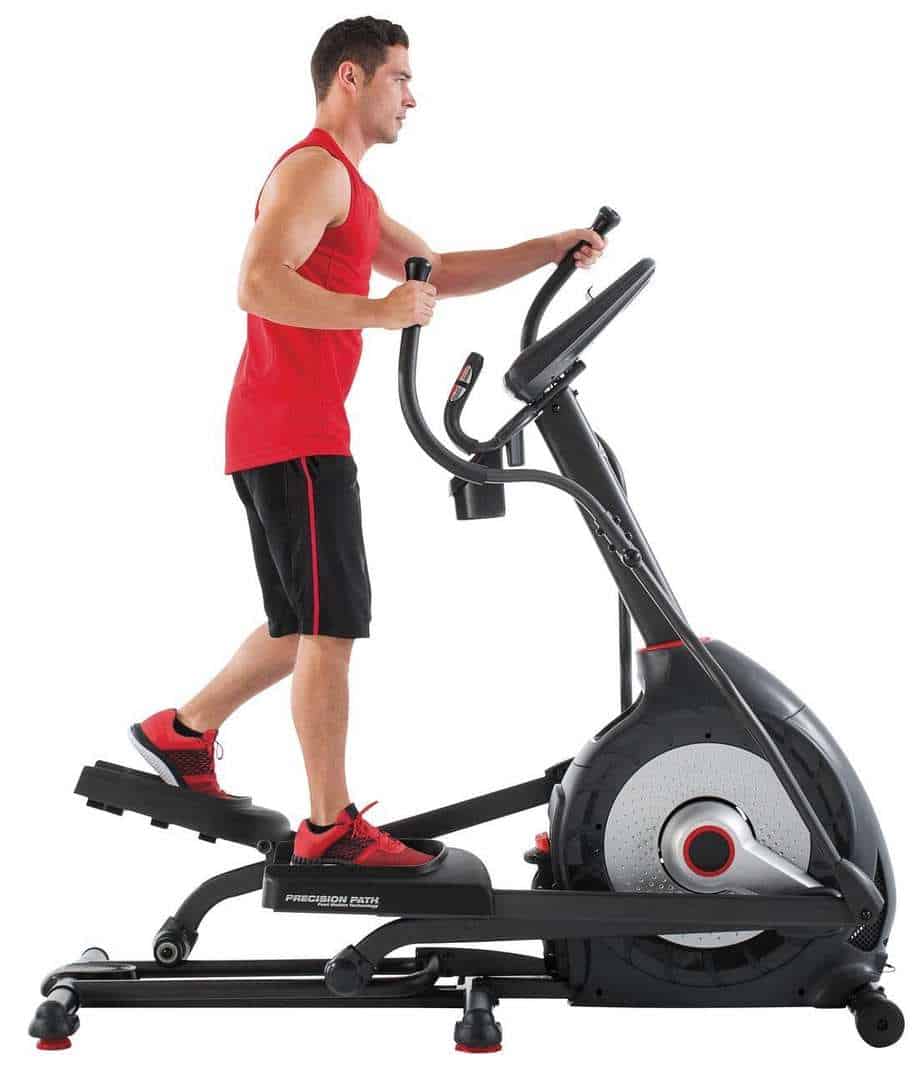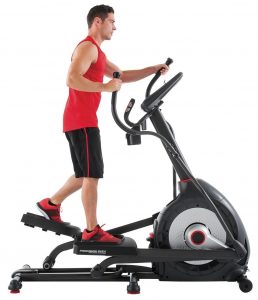 Schwinn A40 Elliptical.
It is built with a heavy-duty steel frame that is coated with anti-corrosion paint, while the covers for the drive, crank-arms, and the pedals are made of ABS material.
Hence, it is safe, elegant and supports a maximum user weight capacity of 300 lbs./136 kg
The base framework features 3 steel stabilizer bars, each of which is positioned at the front, the middle, and the rear. They all integrate rubber end caps with the rear and the middle stabilizers also integrating adjustable levelers.
Therefore, the base is robust enough to hold up without wobbling during intense workouts. Users can simply adjust the levelers, if need be, to balance the machine on a surface that is not even.
Its assembled weight is 168.7 lbs./76.5 kg which further optimizes its overall stability. That said, the unit is also portable because it integrates transport wheels that help to easily relocate it from one room to another.
The overall assembled dimensions of the elliptical machine are 70.1" long by 28.2" wide by 63.2" high. In other words, it will need a workout area with the perimeters of 5'9" length by 2'4" width.
Additional clearance of 1-2′ around the machine becomes imperative if it's going to be used in a congested or confined area for safety and easy access reasons.
A room with a ceiling height of at least 8′ should be fine for most users, especially those that are 6′ tall or less, otherwise, the ceiling needs to be higher.
The Handlebars of the Schwinn 430 Elliptical Machine (2016) Model 100516
This elliptical machine has 2 sets of nonadjustable handlebars that include fixed and dual-action.
The fixed handlebars incorporate HR sensors and they are attached to the console mast. When they are held during a workout, the heart rate is read and transmitted to the monitor (display screen).
While the dual-action handlebars do not integrate the heart rate sensors, but they are moveable, thus, users can exercise the upper-body. They are attached to the mast and connected to the pedals such that they are not independently operable.
This means when the pedals move so do the mobile (dual-action) handlebars, regardless if they are held or not during a workout.
Both the fixed and the mobile handlebars are adequately cushioned to provide lasting comfort and safety. Therefore, you can work out longer without experiencing blisters in the palms or slippage.
The Pedals
The pedals are large and ribbed for stable footing. They have a U-shaped protective guard that further ensures that the foot is secure and does not slip during workouts.
They can accommodate different foot sizes comfortably.
The articulating pedals have precision path foot motion technology that adjusts to the user's stride and posture. As a result, they eliminate the stress that is usually felt on the back, hips, knees, and ankles.
This makes the elliptical machine suitable for everyone especially those that undergo physical recovery therapy.
The pedals are not adjustable, but they have 20" stride length and they are 5.5" apart. The step-up height is 12" and the highest pedal position without incline is 14", while at a maximum incline is more than 20".
Thus, as aforementioned, you must determine and make sure that the ceiling height where the machine is going to be used is high enough.
The Drive
The Schwinn 430 Elliptical Machine (2016) is equipped with a belt drive system. This consists of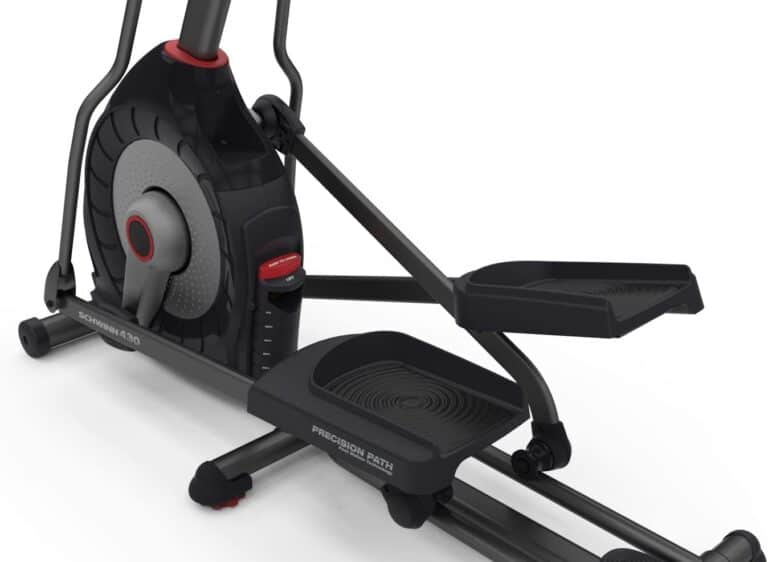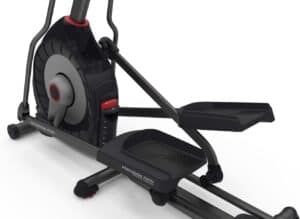 a durable anti-stretch belt, solid cranks, pulleys, and the 20 lbs./9 kg high inertia flywheel.
The drive is designated at the front part of the elliptical trainer and its operation is smooth and quiet. It doesn't require periodic lubrication as opposed to a chain drive system.
Users can pedal forward and backward to diversify and tone more muscle groups.
The Resistance System
This unit features an eddy current resistance system with 20 adjustable levels. This means the adjustment is done via the console and thus, the elliptical trainer needs to be plugged into a power outlet for the resistance to work.
The unit comes with the required 120V 60 Hz input, 9VDC, 1500mA output AC adapter.
Resistance is generated when the servo motor moves the magnetic brake pads close to the flywheel and emit magnetic fields around it without actual contact. Thus, no part wears out and no part requires to be replaced after some time.
The ranges of resistance intensity generated are suitable for weight loss, improvement of heart and lungs' health, muscle groups toning, and overall physical fitness improvement.
There are 1, 3, 5, 7, 9, 12, 14, 16, 18, 20 quick keys for resistance adjustments on the console and gradual Up/Down keys that enable you to increase or decrease resistance 1 level at a time from 1-20.
Incline
This machine has a manual incline system that can be adjusted to 6 different positions that are equivalent to 0%-10% incline levels.
Being a manual incline system means it can't be adjusted on the go via the console but will require you to get down and do the adjustment and get back up again.
However, it's still an advantage because it enables you to diversify your workouts and challenge yourself to burn more calories and tone muscle groups.
Again, ensure that the ceiling height where this unit is going to be used has enough clearance because the floor to the highest pedal incline setting is over 20". Therefore, add your height and 25" clearance to determine the suitable ceiling height.
The Console
The Schwinn 430 Elliptical Trainer features a console with a dual monitoring system that tracks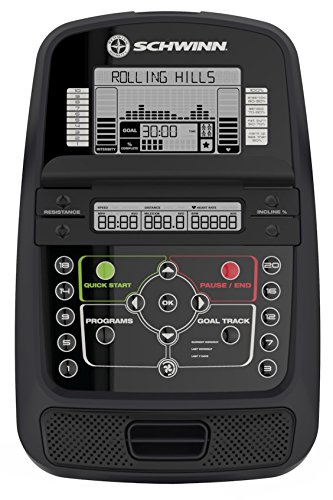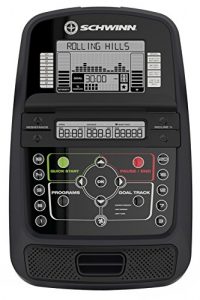 13 workout stats such as Time, Distance, Speed, Calories Burned, Heart Rate, Revolution Per Minute (RPM), Resistance Level, and more.
Its readability is great as long as it's being viewed in a room with adequate illumination, otherwise, it will be compromised because it is not backlit.
The workout metrics can be transferred to a USB flash drive and uploaded to SchwinnConnect, or MyFitnessPal to be stored, track workout progress, and share with others.
22 workout programs include 9 Profiles, 8 Heart Rate (4 for advanced users, and 4 for beginners), 2 Fitness Test, 2 Custom User Defined Profiles ( enable a user to create custom workouts, save and re-use as many times as possible), and 1 QuickStart.
When any of the preset workout programs is selected the resistance is automatically engaged on your behalf.
The 2 User Profiles allow 2 different users to store their personal information for accurate workout data output. The set up requires the user to enter age, weight, height, gender, and preferred workout values.
Aside from the resistance keys aforementioned, the console also features other keys such as Quick Start key, Pause/End key, Programs key, Goal Track key, Fan key, and more.
Accessory
The console integrates extras that are designed to make your workout fun-filled and comfortable. These involve acoustic chamber speakers, UBS charging port, a tablet holder, and a 3-speed cooling fan.
A water bottle holder is also attached to the mast right below the console for keeping proper hydration during a workout session.
However, any device that is placed on the tablet holder will block the view of the upper screen monitor.
Storage
The Schwinn 430 Elliptical Machine is not foldable, but it is not overly large to overwhelm your space. It is portable with transport wheels at the front base for easy relocation process.
It needs a storage space with the perimeters of 5'9" (70.1") length by 2'4" (28.2") width.
Pros/Features Overview
Sturdily built and stable
It has got 22 workout programs
It has DualTrack two LCD screen system that offers distinct readability of programs and goal tracking which includes Time, Distance, Pulse, Speed, Calories, and Revolutions Per Minute
It has got 20 levels of computer resistance for a variety of workout intensity options that speed up achieving your goals, plus 10 quick keys for adjustments of the intensity on the go
It has got a 10-degree manual ramp range with 6 positions for challenging workouts
It has a 3-speed cooling fan designed to keep the user cool through the entire workout session 
It has got a SchwinnConnet goal tracking and data export 
Its acoustic chamber speakers provide quality sound output
It has got a 20'' precision path stride length that most users will be comfortable with
It has got large cushioned footplates that would offer comfort and low impact workouts.
The high speed, high inertia perimeter weighted flywheel ensures that workout is smooth and vibration-free
It has got a USB charging port that keeps a phone, tablet or even a music player battery at full charge
The ergonomic static handlebars provide comfortable grips and also transmit the heart rate data to the monitor
It has got two integrated levelers and center frame support for a solid workout platform
The oversized crossbar tubing ensures stability during a vigorous workout
The unit supports a maximum user weight capacity of 300 lbs./136 kg
Cons
The monitor is not backlit
The console is not telemetry-enabled
The pedals' rollers are plastic instead of durable metal 
A device that is placed on the tablet holder blocks the view of the upper display screen
Warranty
10 Years for Frame
2 Years for Mechanical
1 Year for Electrical
90 Days for Labor
Product Dimensions and Specifications
Length 70.1"
Width 28.2"
Height 63.2"
Shipping dimensions: 22" L x 34" W x 51.5" H
Net weight: 168.7 lbs./76.5 kg
Gross weight: 189.2 lbs./85.8 kg
Maximum user weight capacity: 300 lbs./136 kg
Frame: Steel
Flywheel: 20 lbs./9 kg
Handlebars: Fixed & mobile
Pedals: Non-adjustable, large and textured
Stride length path: 20" 
Drive: Belt
Resistance: Eddy current magnetic, 20 adjustable levels
Step-up height: 12"
Max. pedal height: 14" with zero incline
Incline: Manual, 0-10%
Monitor: Nonbacklit LCD DualTrack 
Programs: 22 (9 Profiles, 8 Heart Rate, 2 Fitness Tests, 2 Custom, 1 Quick Start)
2 user profiles
Heart rate monitoring: EKG contact grips
Dual acoustic chamber speakers
Online app: SchwinnConnect, and MyFitnessPal
UBS charging port
3-speed cooling fan
Tablet and water bottle holders
Shipping and Assembly
The shipping cost of the Schwinn 430 Elliptical Trainer 2016 depends on where you are buying from. If purchased from Amazon, there is no shipping cost. 
As for assembly, it could take up to an hour or more. It comes with a step by step instruction manual and tools that enable the user to assemble without difficulty.
Maintenance
The basic maintenance would be to ensure that the elliptical trainer is kept clean at all times. Do not expose the console to liquid, moisture, direct sunlight. Inspect the machine before use to ensure that every part is tight and in good condition.
However, do act accordingly should there be any problem. 
Conclusion
The Schwinn 430 Elliptical Machine (2016) is a quality and cost-effective machine. Even though it has its fair share of imperfections, it does have the features that ensure you get across the finish line of achieving the fitness goals you have always desired. 
Schwinn 430 Elliptical Machine (2016) Review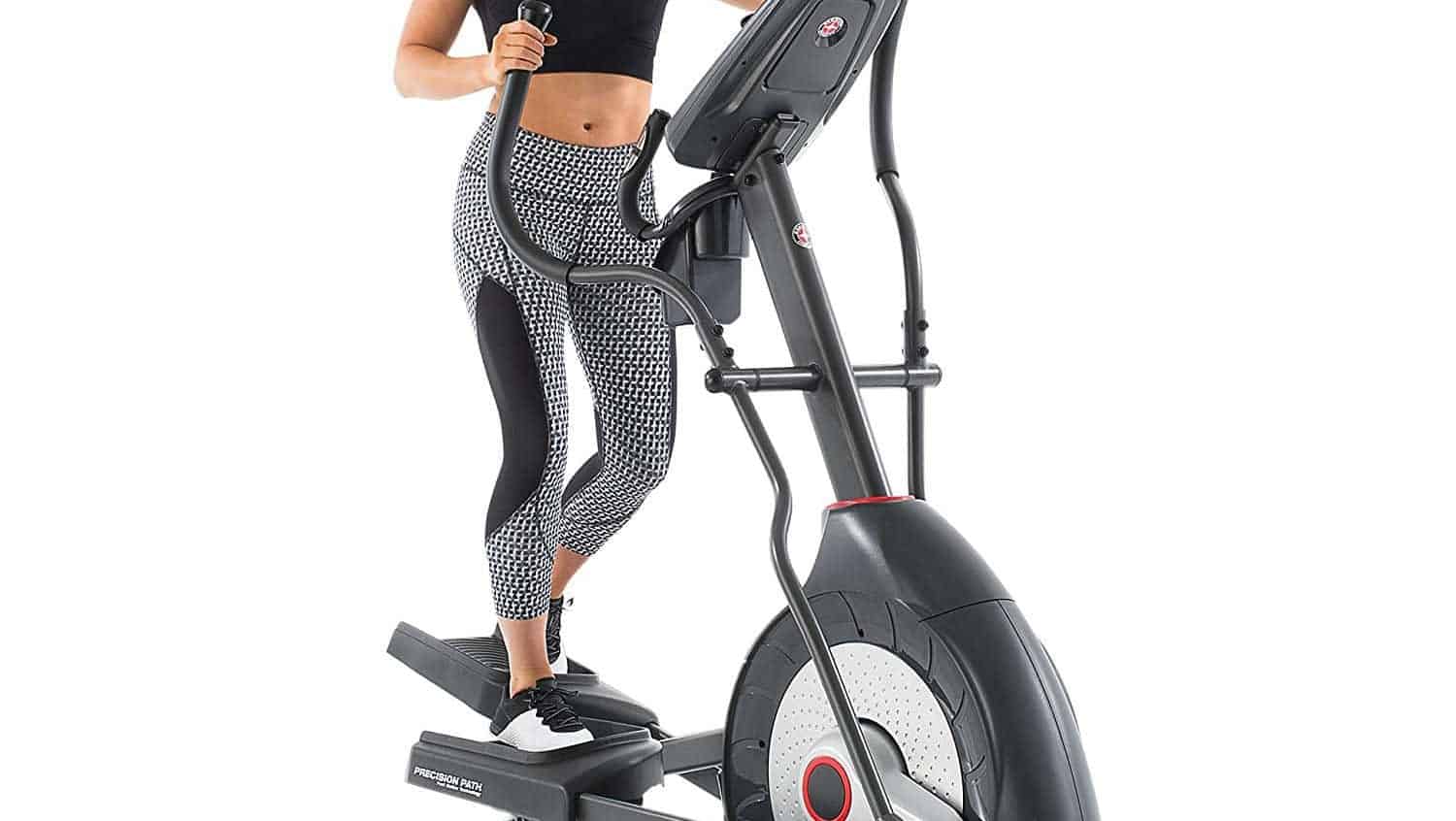 The Schwinn 430 Elliptical Machine (2016) has some great features that make it an outstanding bike from its contemporaries.
Product Brand: Schwinn
Product In-Stock: InStock