The selling point of the Sunny Health & Fitness SF-RW5623 Air Rowing Machine Rower is the dual resistance system that it possesses which is very dynamic and on top of that, it is a budget-friendly unit as well.
This is interesting because other rowing machines with dual resistance systems such as this are more expensive, but now you can have a taste of what this type of machine is like if you are looking for something like it.
Sunny Health & Fitness has been at the forefront of manufacturing good and quality rowers, and they have also integrated innovations that could help users to achieve their fitness goals expeditiously and conveniently in the comfort of their homes.
Another rowing machine from the stables of Sunny Health & Fitness that is also worth looking at is the Sunny Health & Fitness SF-RW5515 Magnetic Rowing Machine.  But if you are looking for something innovatively out of the box and still affordable then you may want to look up the ProGear 750 Rower with Additional Multi Exercise Workout Capability.
That being said, the Sunny Health & Fitness SF-RW5623 Air Rowing Machine Rower is widely received by its users and they have nothing but praises for it. However, there are the disgruntled few that were not entirely satisfied because of one malfunction problem or the other. But we wish to look at every aspect of the rower in this review and present both the good and the bad aspect of it to enable you to make a smart purchasing decision because we know how tedious and tiresome it can get when trying to figure out the right rower for home use.
If you wish to have a quick peek at the price of the Sunny Health & Fitness SF-RW5623 Air Rower click right here.
The Frame and Construction
The frame structure of the Sunny Health & Fitness SF-RW5623 Air Rower is made of high-quality steel while the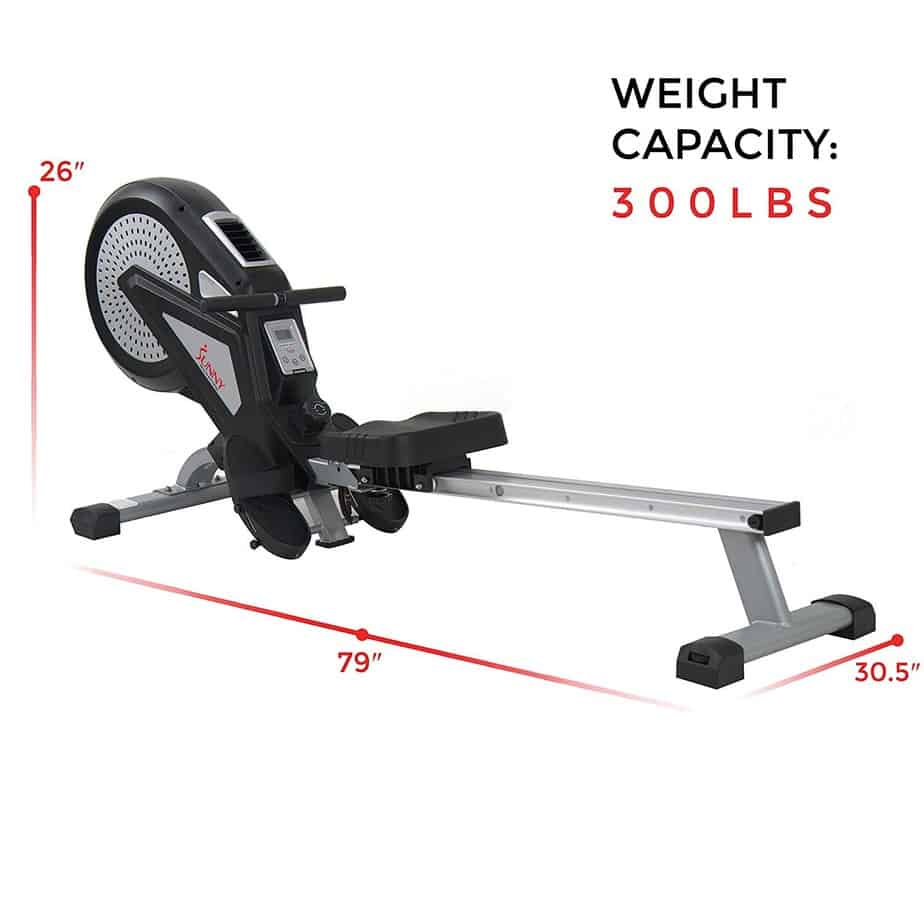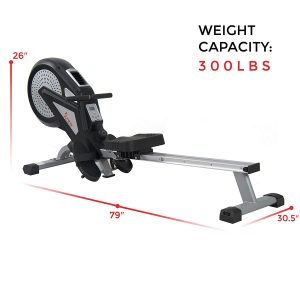 slide rail is made out of aluminum. It is designed to support up to 300 pounds/136 kg maximum user weight capacity.
This machine could take a little bit of space because of its lengthy frame and its decent size of slide rail could also accommodate taller individuals conveniently. The overall assembled dimensions are 79 inches long by 30.5 inches wide by 26 inches tall, which means a workout area of 6 feet 6 inches long by 2 feet 5 inches wide will be required and you have to consider adding extra clearance of at least 2 feet on each side of the machine and the rear as well for safe and comfortable workout experience.
The stabilizer bars at the front and the rear end of the rower are equipped with rubber capping that could improve the stability of the machine and also prevent any damage to the floor. Although, the rower is often sold with a rubber mat that guarantees stability especially if you are to use it on a wooden or tiled floor. Moreover,  it weighs about 59.5 pounds/27 kg which could not be much but surely adds to its stability.
For easy portability and storage, it is integrated with transport wheels at the front base. You can easily fold up the rower by raising the slide rail together with the rear stabilizer bar up and lock it into place with a pin. By so doing, the size of the machine is significantly reduced; especially the length and less space will be required for storage. The dimensions of the rower when folded are 36.5 inches long by 30.3 inches wide by 53.1 inches tall.
The slide rail of the Sunny Health & Fitness SF-RW5623 Air Rower is not entirely horizontal because it is a little bit slanted to the front just like the Goplus Magnetic Folding Rowing Machine. This also means that your workouts will be challenging as the recovering motion is faster and this impacts the legs positively than the rowers with a completely horizontal sliding rail.
The rail size is about 37.5 inches, which is approximately 3 feet long; therefore users as tall as 6 feet 5 inches could be accommodated without restrictions because they should be able to exercise with full leg extension.
The Seat, Handle, and the Pedals
The seat, the handle, and the pedals are the crucial elements that ensure comfort while working out with a rower. If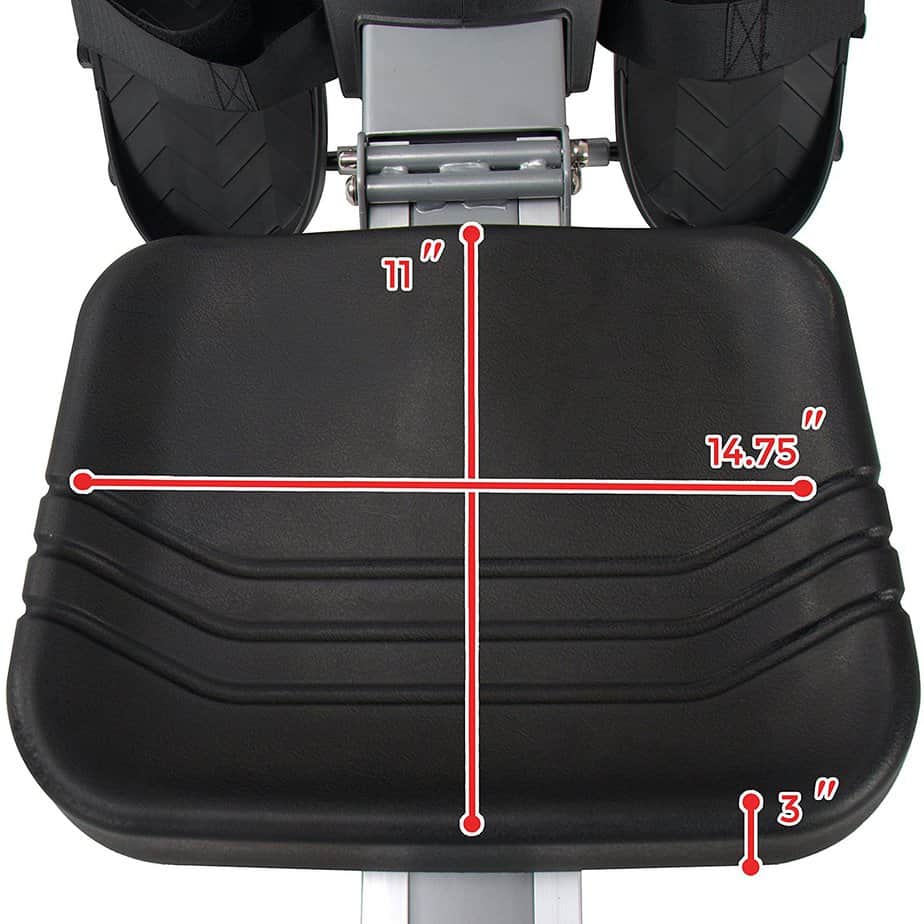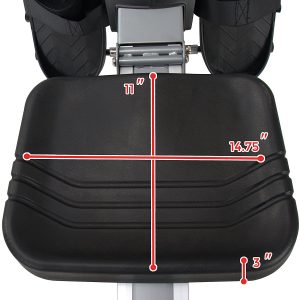 these elements are ergonomically and well designed on any rowing machine chances are you should be able to exercise longer while you enjoy every bit of it.
First of all, let's look at the seat of the Sunny Health & Fitness SF-RW5623 Air Rower.
The rower has an ergonomically designed seat that is contoured and padded with the right curves to fit the butt. This to an extent provides a decent comfort while working out even though it is not integrated with soft cushioning.
At least, we haven't found any user complained about the seat's discomfort except for one or two users on Amazon that complained about the seat scratching on the rail which has to do with the rollers and the user's weight. However, as we said, the complaint is not consistent but we just felt you should just know about that.
Speaking of the rollers, the seat sits on 4 heavy-duty rollers made of hard plastic with sealed ball bearings that provide smooth and hitch-free glide during exercises.
And the seat is about 15 inches from the floor.
While on the other hand, the machine is integrated with a non-slippery and sweat-resistant handlebar that provides firm and comfortable grips. The rubber foam covering on the handlebar also prevents blisters in the palm in the course of a prolonged workout session.
Attached to the handlebar is a heavy-duty nylon strap that is connected to the resistance system which could serve as many years as possible without snapping.
Then, finally, the rower features large anti-slip pedals with adjustable foot straps that were designed to secure the feet even in a high intensity and vigorous workout. The pedals are made of heavy-duty nylon materials and they could pivot a little bit.
The pedals' ability to pivot could be a great advantage as it reduces the stress in the ankles while some might see it as a disadvantage that is preventing support under the toes during workouts.
The Resistance
The Sunny Health & Fitness SF-RW5623 Air Rowing machine has a resistance system that is not common with many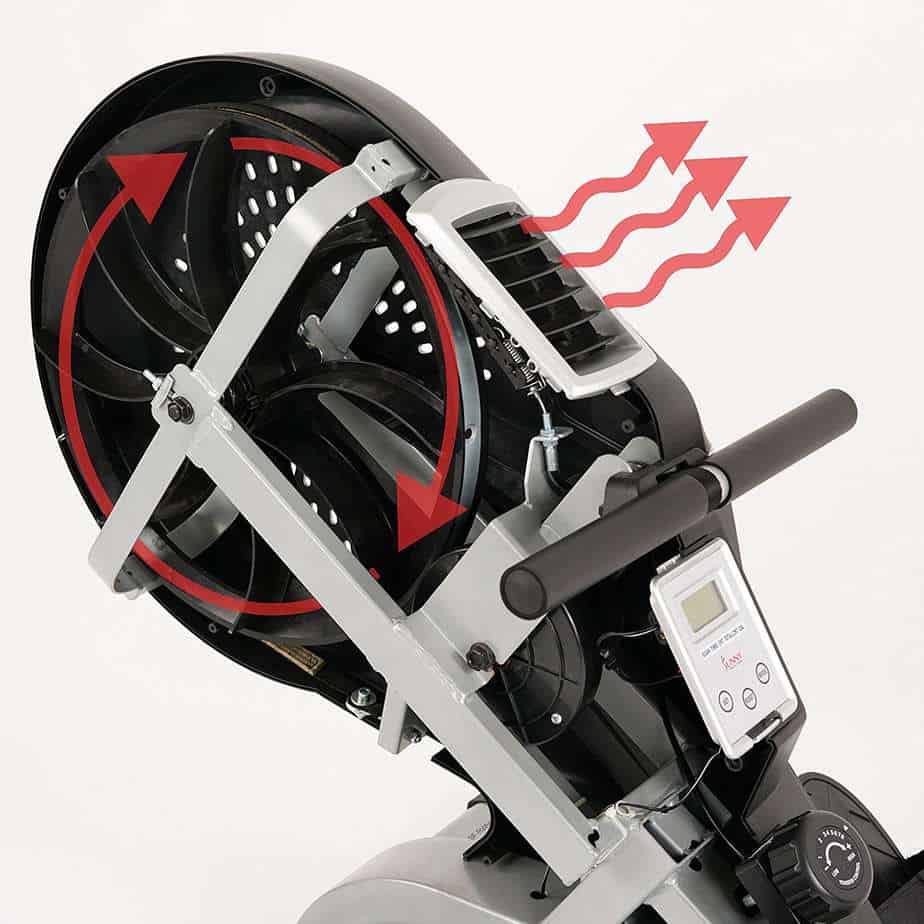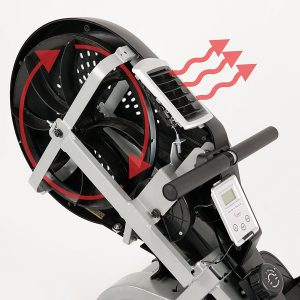 rowers. It has a dynamic resistance system that employs the magnetic and air resistance mechanisms to generate resistance.
Being that this type of resistance system is not common and it is becoming increasingly popular.
The magnetic resistance system usually consists of a magnet that is placed close to a metal body such as a flywheel to generate resistance. The closer the magnet to the flywheel the resistance will be increased also when the magnet gets farther away from the magnet the resistance reduces.
While the air resistance is often considered as the variable resistance due to how it generates resistance. The air resistance consists of a spinning fan that spins when you row. The faster you row the resistance becomes more challenging.
So, the Sunny Health & Fitness SF-RW5623 Air Rower features a fan flywheel that enables it to utilize the magnetic and air resistance systems as one formidable resistance generator.
It also has about 8 resistance levels because of the magnetic element it has otherwise, air resistance system rarely has adjustable resistance because its resistance level is determined by how hard or how slow your row, while the magnetic resistance system usually comes with a tension knob that makes it possible to adjust the resistance level.
Therefore, this rower has the tension knob that allows you to adjust the resistance levels from 1 to 8. However, the resistance generated is unique and a lot more challenging than those from only a magnetic or air resistance system.
The rower also generates a certain level of noise due to the fan, but not loud enough to stop you from watching your favorite TV show or listening to good music, however, you may have to turn the volume up a bit more than usual.
The fan also directs its air to the user via the air vent at the top of the PVC casing which serves as a cooling fan.
If you are wondering if this rowing machine could be ideal for a professional rower, the answer is no, but it provides adequate resistance for beginners and intermediaries who wish to improve their overall health at home.
Although, one downside of this type of resistance system that combines air and magnetic resistance is that it does not provide the real feeling of rowing on water. This may be a minor downside as long as it provides the much needed challenging workouts.  However, if you are concerned about that then you will have to get a rowing machine that uses only a water resistance system to enjoy the real rowboat simulation.
The Console/Monitor
The Sunny Health & Fitness SF-RW5623 Air Rowing Machine features a basic monitor with multi-function. You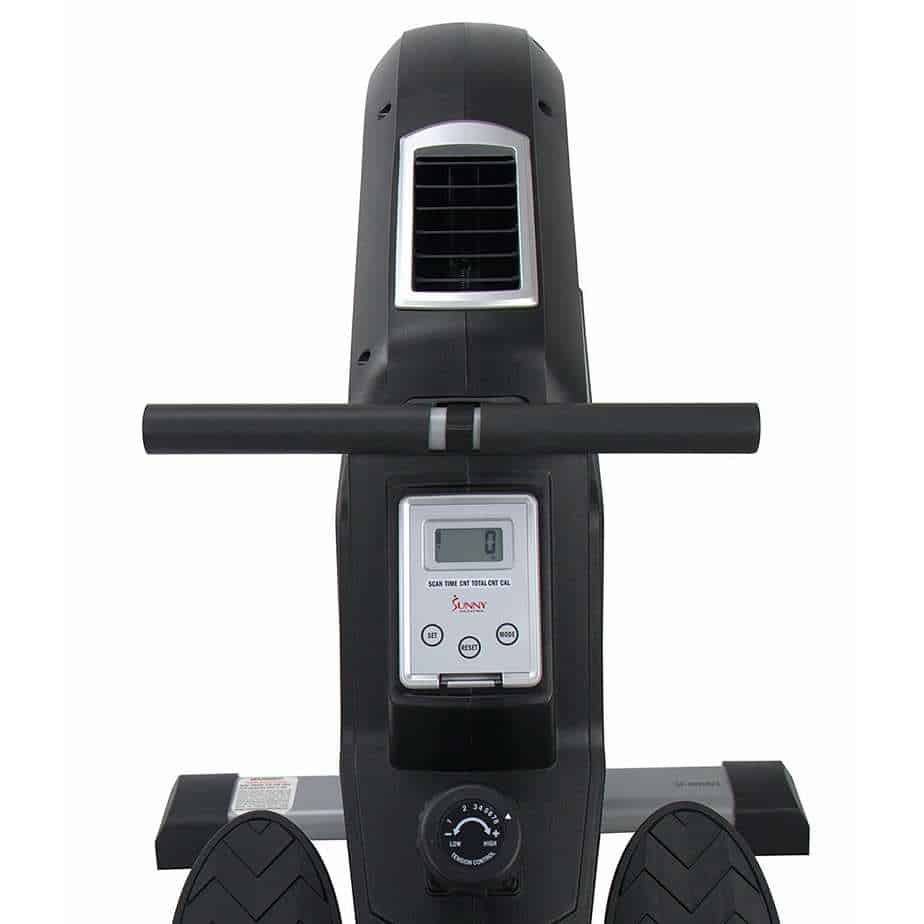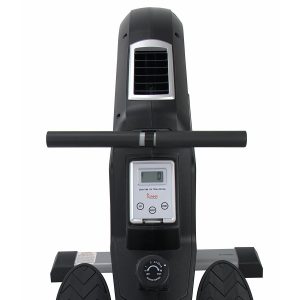 should be able to keep track of your workout progress such as time, count (current workout's number of strokes), total count (all-time number of strokes), calories burned, and Scan.
The monitor displays metrics that are highly readable but could be compromised when used in a poorly lit room because it is not backlit.
We noticed that the unavailability of the distance metric on the monitor draws concern and left some users unimpressed. However, it is agreed that a stroke is equal to 1.5 meters, and so you could use that to calculate your distance at the end of the day.
In general, basic monitors are often not very accurate in displaying workout data but if you are very concerned about the workout progress data then a higher model should be considered but they are always more expensive though.
The SCAN function rotates the values on the monitor by displaying one at a time for a couple of seconds then to another and so it goes. However, you may choose to turn it off and set your preferred value to display constantly on the monitor.
The monitor turns off or rather hibernates when there is no activity on the rower for a few minutes and automatically turns on when rowing resumes and the console uses 2 AA batteries to power on which are included.
Storage
The Sunny Health & Fitness SF-RW5623 Air Rowing Machine could take a little bit of space when in use but takes less for storage because it is foldable. The length is significantly reduced when folded up and it is also portable because of the transport wheels that are integrated on the front base.
Approval Rating
What are the users of the Sunny Health & Fitness SF-RW5623 Air Rowing Machine saying about its quality and functionality? Well, the vast majority of Amazon customer reviews are positive about the machine especially because of its unique resistance system and its affordability.
Its overall rating is good.
Pros/Features Overview
It is a sturdy and stable rowing machine that supports up to 300 pounds/136 kg maximum user weight capacity
The seat is well contoured and padded for comfort
The length of the glide rail is about 37.5 inches/ 3.1 feet, which is suitable for taller individuals of 6 feet 5 inches
It is foldable and significantly reduces the length for storage
It is integrated with transport wheels for easy portability.
Its resistance is the combination of air and magnetic resistance system which make it dynamic
It has 8 levels of resistance
It operates smoothly and nearly quietly; you can watch TV or listen to good music while working out
Easy to assemble
You should be able to keep track of your workout progress via the monitor; although it comes with a console
Cons
No heart rate
The length of the machine is long thus will take a little bit of space
Product Dimensions and Specifications
79'' Length
31'' Width
26'' Height
37'' Length (folded)
30'' Width (folded)
53'' Height (folded)
Resistance system: Air and Magnetic
8 levels of resistance
Frame is foldable
Weighs 60 pounds/27 kg
Pivoting footrest with straps
Monitor: Time, count, total count, calories burned, and SCAN
Warranty
1 Year on Frame
90 Days on Parts
Shipping, Assembly, and Maintenance
Shipping
The Sunny Health & Fitness SF-RW5623 Air Rowing Machine usually comes in a box that weighs about 69.4 pounds/31.4 kg.
The shipping cost depends on the retailer you are buying from; however, some vendors such as Amazon provides free shipping.
Assembly
To assemble the SF-RW5623 Air rower is very easy and doesn't take time as well. It takes less than an hour to completely put together because the major components are preassembled.
You only need to attach the rail, the seat, the footrests, and the rear stabilizer bar to the frame. The tools needed to get the job done are included and a detailed instruction manual that could walk you through the process of assembly is also included too.
Maintenance
The rower does not need any serious maintenance that could require taking the parts apart because it is pre-lubricated from the manufacturer and will remain like that for a very long time.
The gliding rail will need your attention to maintain its function and longevity. Try to always examine and remove any dirt or foreign body that might be in the gliding rail for smooth operations.
Conclusion
The Sunny Health & Fitness SF-RW5623 Rower is interestingly appealing because of its dual resistance system and its affordability. This has made it popular, and users don't have to complain about some of its downsides because they know they got it at a very value-oriented price.
As aforementioned, this is a suitable rowing machine for beginners and intermediaries. It will provide them with the opportunity to experience outstanding cardio workouts that could ultimately result in achieving their fitness goals.
We hope that the Sunny Health& Fitness SF-RW5623 Air Rowing Machine Rower review helps you to make that critical decision of purchasing the right rower.
Sunny Health & Fitness SF-RW5623 Air Rowing Machine Rower Review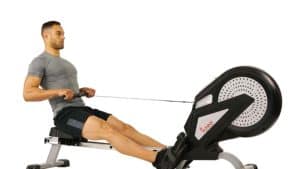 The selling point of the Sunny Health & Fitness SF-RW5623 Air Rowing Machine Rower is the dual resistance system that it possesses which is very dynamic and
Product Brand: Sunny Health & Fitness
Product In-Stock: InStock