The Sunny Health & Fitness SF-RW5606 Elastic Cord Rowing Machine Rower is an entry-level rowing machine that could catch the interest of anyone on a budget who wishes to acquire a decent indoor rower for home use. Aside from its affordability, it has a very distinctive and unique resistant system that consists of an elastic cord. But just so you know, the resistance is not very challenging, and many users have complained about not being able to tell the difference between the resistance levels.
This means if you are hoping to engage in challenging workouts you will not be able to do that because the resistance system simply does not provide enough resistance.
Although, there are areas where the rower makes up for the lack of challenging resistance, such as the ergonomic, and overall design, and of course you cannot rule out the fact that it is also very affordable.
It will suffice to say that you don't have to spend a lot of money on an expensive or high-end rowing machine to attain your fitness goals.
However, we are not saying that the more expensive rowing machines do not have their advantages but when you are on a budget and all you wish to do is to lose weight and be in shape then rowers such as the Sunny Health & Fitness SF-RW5606 Elastic Cord Rowing Machine Rower becomes an option and an ideal option.
It is a compact machine that is not as large as the Sunny Health & Fitness SF-RW5623 Air Rowing Machine but still accommodates taller individuals conveniently. It is also foldable which makes storage convenient for individuals with space problems.
Do click right here if you wish to have an early peek at the price of the Sunny Health & Fitness SF-RW5606 Elastic Cord Rowing Machine Rower or if you are concerned about the resistance not being difficult, then you may want to look up the Sunny Health & Fitness SF-RW5623 Air Rowing Machine. This is slightly expensive than the SF-5606 but affordable.
The Frame and Construction
The frame of the Sunny Health & Fitness SF-RW5606 Elastic Cord Rowing Machine Rower is made from top-grade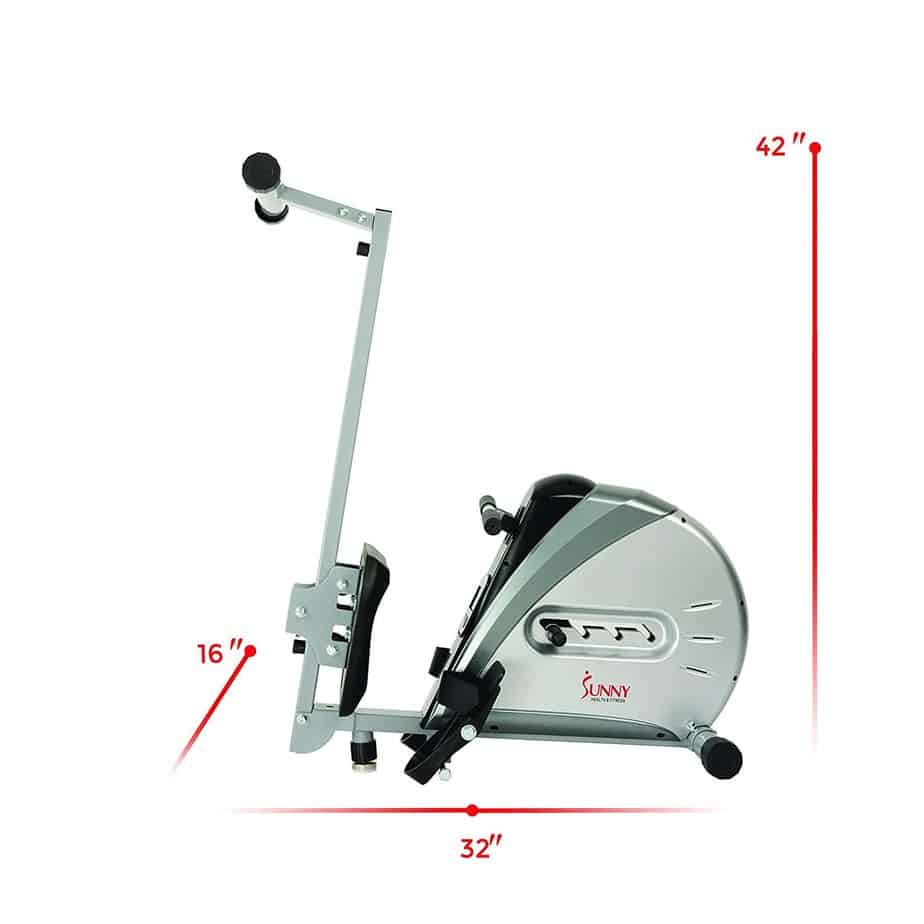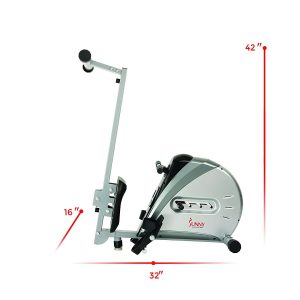 steel and this includes the gliding rail as well, although, the resistance mechanism is shrouded in plastic material. Even though it is an entry-level rower it still supports up to 220 pounds/100 kg maximum user weight capacity.
The gliding rail is slightly slanted and not completely horizontal like many other rowing machines. This is similar to the Goplus Magnetic Folding Rowing Machine's slanted gliding rail which is an advantage because it provides a better workout challenge for the legs as a faster recovery motion occurs.
The frame is finished with a gray anti-corrosion and scratch-resistant paint, thus prevents rusts from affecting it.
It is not a very heavy rower as it weighs between 37.5 to 42 pounds/19 kg. This, however, adds to its stability coupled with the fact that it has stabilizer bars at the front and the rear bases with rubber caps on each end.
Just about anyone that is an adult can move or relocate the rower because it is a lightweight machine.
Underneath the gliding rail, just close to the resistance mechanism is an adjustable support stabilizer that is designed to level up the rower with the floor by simply turning the leveler to adjust. This takes care of wobbling that is caused by an uneven floor.
As aforementioned, the Sunny Health & Fitness SF-RW5606 does not take up space like many other rowing machines out there. When fully assembled, it has dimensions of 68 inches long by 14 inches wide by 21 inches tall. In other words, a workout area of 5 feet 7 inches long by 1 foot 2 inches will be needed; although an additional clearance of 2 feet on each side and the rear of the rowing machine will also be required for safe and comfortable workout experience.
The gliding rail size is about 37 inches/3 feet, long enough to accommodate tall individuals of up to 6 feet 3 inches without restrictions.
Moreover, it can easily be folded up for easy storage; the folded dimensions are 32 inches long by 16 inches wide by 42 inches tall. The length of the rower is reduced by more than 50 percent which makes a difference in terms of storage space.
The Seat, Handle, and the Pedals
The elements responsible for comfort in fitness equipment are the seat, handle, and the pedals; most especially the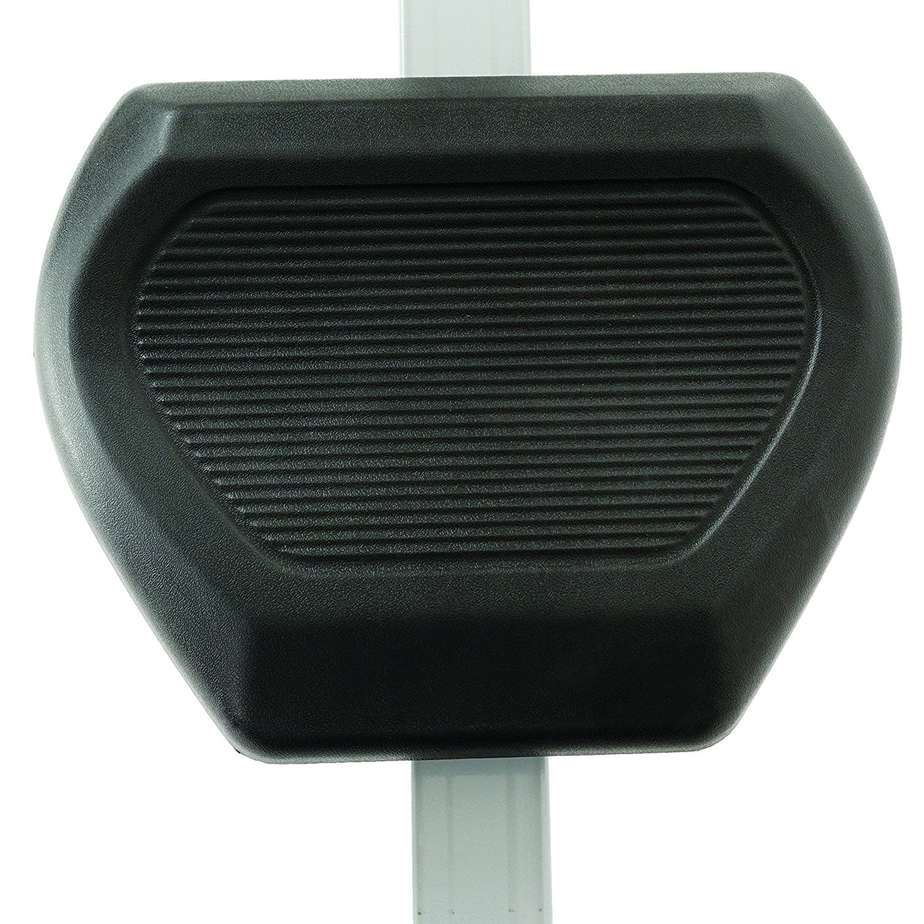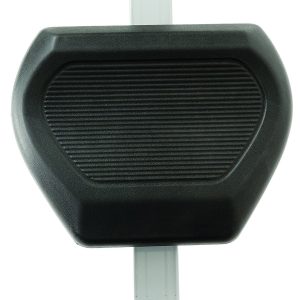 spin bike and the rowing machine are typically affected because without the right ergonomics, features, and design a spin bike or a rowing machine could be very terrible to ride or row on it.
Therefore, we take these aspects seriously and try to analyze them as best as we can so that you can determine if they are something you could work out with.
That said, the seat of the Sunny Health & Fitness SF-RW5606 is indeed well-padded and contoured. Again, we wish to say that being a cheap rowing machine doesn't necessarily mean that it is also cheaply made even though we do agree that it cannot be compared to most expensive rowers in terms of features and quality but then it is made and sold at a value-oriented price.
The seat is designed such that your butt settles in the curved shape so that you don't move or slide away from it while working out vigorously.  It is considerably large enough to provide the comfort you need, although, you can always use an additional seat cover that could enhance the comfort that it provides. The seat's dimensions are 14 inches wide by 9 inches long by 2.25 inches thick.
The seat is on top of high-grade steel rollers with sealed ball bearings that enable it to glide smoothly through the rail to and fro when you row without any noise or bumps.
The rower is also equipped with a soft, non-slippery handlebar that provides the comfort you need especially in terms of firm grip and prevention of blisters that could be caused by prolonged workout sessions.
The high-quality elastic bungee cord is attached to it and to the resistance mechanism which operates smoothly and quietly without any noise and the size of the handlebar is 14 inches.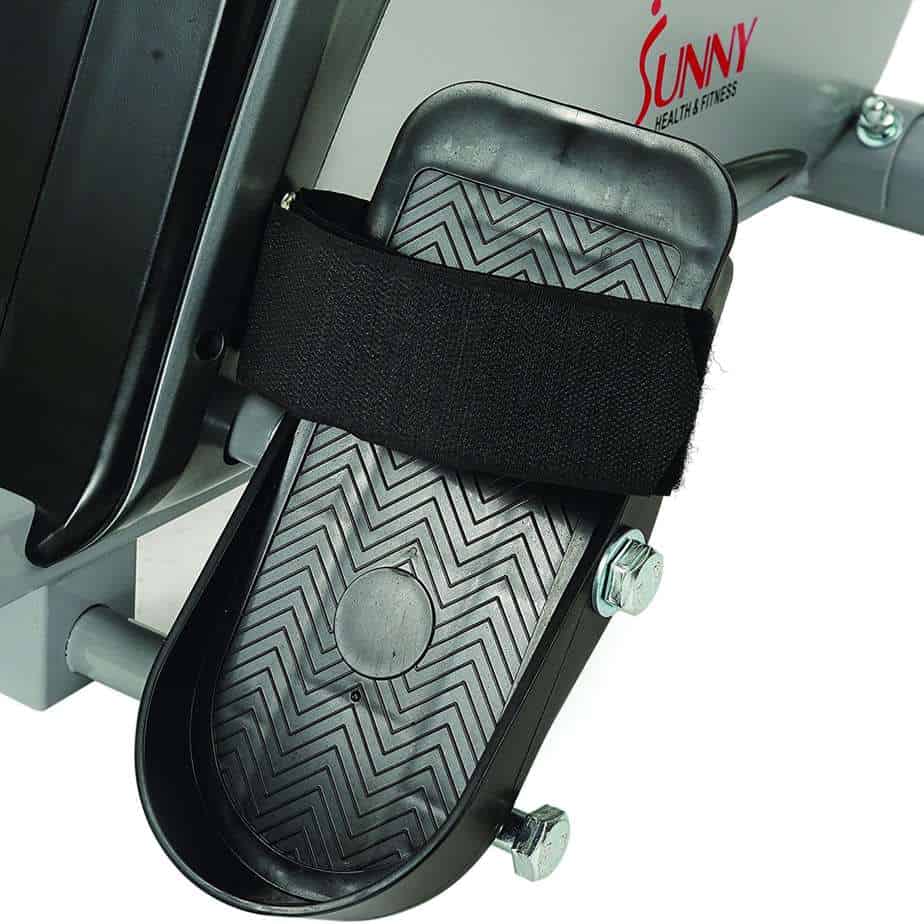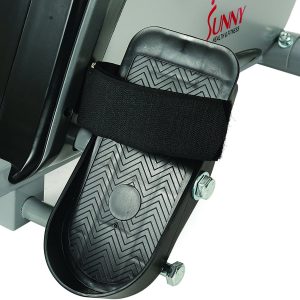 Finally, the rower is integrated with a large set of pedals that pivot. These can accommodate and fit any shoe size and also provide the leverage for the leg and the feet to operate or move naturally while working out. This, of course, reduces the stress in the ankles because the feet can always find a natural position due to the pivoting pedals.
Your feet will also be secure even in a high intensity and vigorous workout because the pedals also have strong Velcro straps with rimmed edges.
The Resistance
The resistance system of the Sunny Health & Fitness SF-RW5606 Elastic Cord Rowing Machine Rower is not very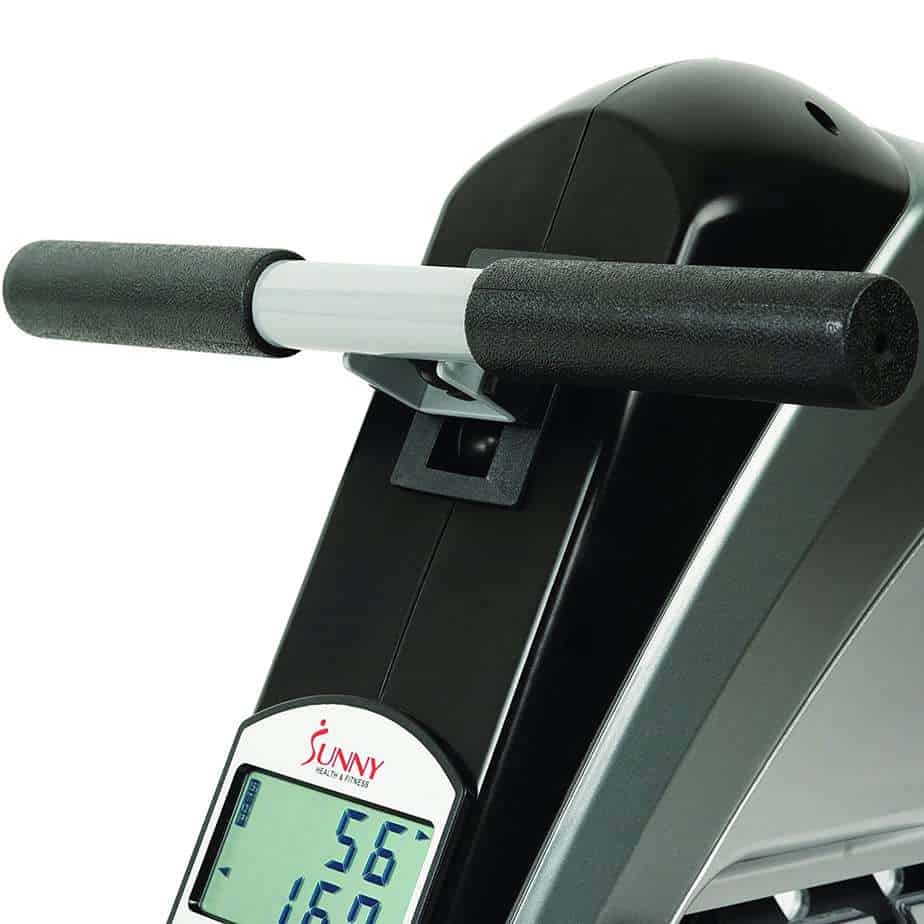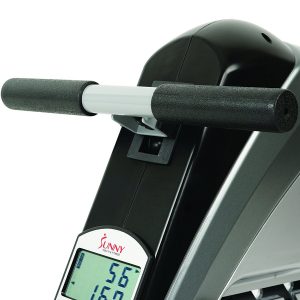 common as very few rowing machines have it.
This rower's resistance system is not magnetic, hydraulic, air, water, or even the combination of air and magnetic but elastic cord resistance system that consists of an elastic bungee cord and a wheel.  The elastic cord is coiled up on a wheel so that when you pull the cord it generates resistance.
There are 4 levels of resistance you could adjust to while working out. The resistance adjustment either positions the wheel in the mechanism farther or closer to the user. The resistance supposedly gets challenging when the wheel is positioned farther from the user which should be level 4.
But just as aforementioned, the resistance is said to be not so great especially for professional athletes or folks that wish to take rowing seriously. A user on Amazon says that he could not tell the difference between the resistance levels because they feel the same to him.
Therefore, is it good for every fitness level? Not quite, this is good for those that are just starting and folks that wish to get the rowing experience and achieve fitness. Don't expect to burn tons of calories with it in a very short period because it does not offer that challenging workout that could make that happen.
Someone suggests that this is best for seniors or folks without strength and we understand because the resistance is not top-notch.
Again consider looking up the Sunny Health & Fitness SF-5623 if you are concerned about the resistance.
The Console/Monitor
The Sunny Health & Fitness SF-RW5606 Elastic Cord Rowing Machine Rower features a simple and basic digital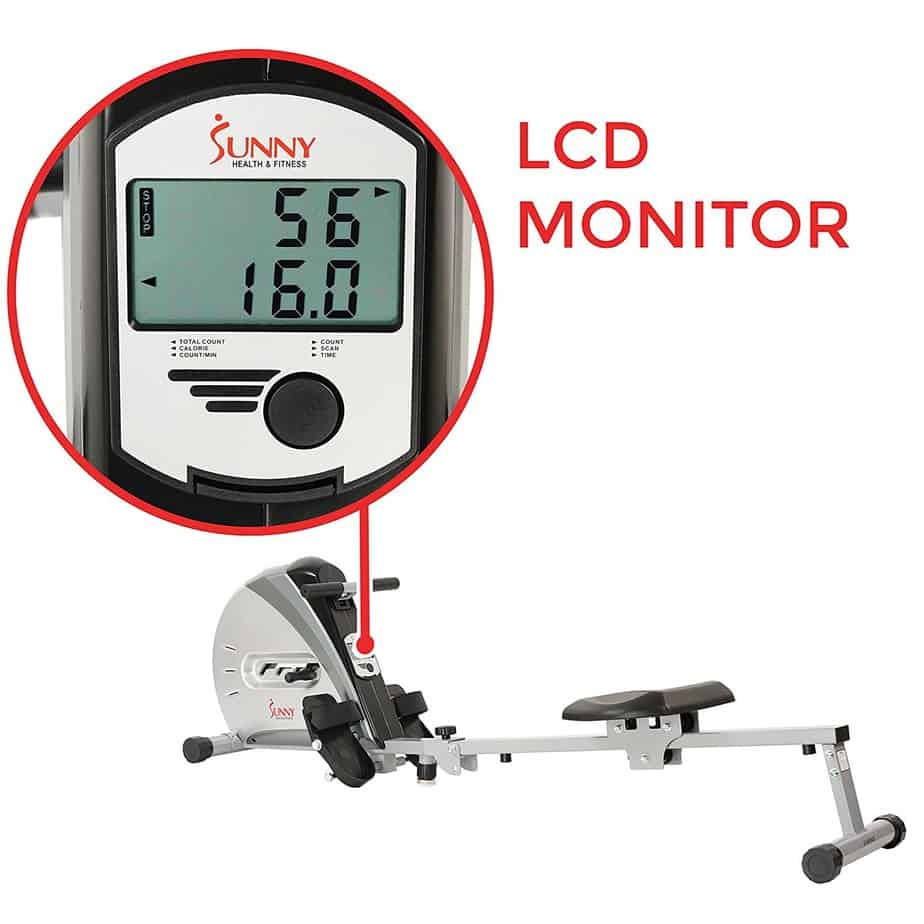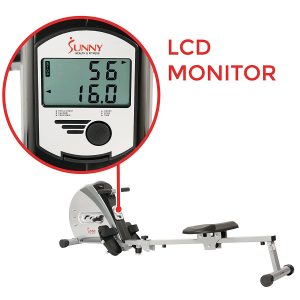 monitor. This is embedded inside the plastic casing of the resistance mechanism.
The 3.5 inches monitor is very easy to operate and the metrics on the screen could be viewed without any problem but could be compromised when used in a poorly lit room because it is not backlit.
Even though this is a basic monitor, you should be able to track your workout progress to an extent because it displays time, count (current session's strokes), total count (all-time total stroke), calories burned, and a SCAN function that automatically rotates data every 6 seconds.
The monitor features a single button for control such as to navigate from one data to another.
Overall, users do not have any objection regarding the console given the price of the rowing machine.
It is powered by 2 AA batteries which are also included.
Storage
The storage of the Sunny Health & Fitness SF-RW5606 won't take up space because it is a compact unit that is also foldable.
Therefore, you can easily fold it up and drastically reduce the length of the fully assembled size of up to 50%. The folded dimensions are 32 inches long by 16 inches wide by 42 inches tall. It is a lightweight rower because It weighs about 37.5 to 42 pounds/19 kg, thus moving will not be difficult.
Approval Rating
This review was partly written based on the users' sentiments and we had to consider their views because they have walked down that road by using the Sunny Health & Fitness SF-RW5606 Elastic Cord Rowing Machine Rower and no one else could have been in a better position to tell you all about the rower.
We observed some complaints by the Amazon customers; they complained so much about the resistance not being effective. But the overall feeling was positive because the majority of the users expressed satisfaction.
Pros/Features Overview
The frame is steel made including the gliding rail
It supports up to 220 pounds/100 kg maximum user weight capacity
The seat is well-padded and ergonomically designed to provide decent comfort
The rollers and the sealed bearings are heavy-duty
The handlebar is covered with a rubber foam material that provides a firm grip and prevents blisters in the palm
It is foldable and lightweight, thus storage is made easy
LCD monitor that helps you to track your workout progress, displays time, count, total count, calories burned and SCAN function
It is integrated with an adjustable stabilizer that levels the rower on an uneven floor
Very easy to assemble
The length of the gliding rail is about 36 inches/3 feet which accommodate a user with a height size of 6 feet 3 inches
Elastic cord resistance system with 4 levels
Large pivotal pedals with straps
Very affordable
Cons
The resistance is not challenging and thus professional athletes or serious rowers will not be impressed by it. Good for beginners and the elderly.
May not withstand frequent hard use
Product Dimensions and Specifications
68'' Length
14'' Width
21'' Height
32'' Length (folded)
16'' Width (folded)
42'' Height (folded)
Resistance: Elastic Cord
Levels: 4 Resistance levels
Frame: Steel and foldable
Weight: 42 Pounds/19 kg
Maximum weight: 220 pounds/100 kg
Console: Basic LCD monitor
Large pivoting pedals with straps
Warranty
1 Year on Frame
90 Days on Parts
Shipping, Assembly, and Maintenance
Shipping
The Sunny Health & Fitness SF-RW5606 Elastic Cord Rowing Machine Rower is shipped and delivered in a box with the dimensions of 40 inches long by 22.5 inches wide by 6.5 inches tall.
The shipping cost may vary as each vendor has a different shipping policy; however, some retailers such as Amazon provide free shipping.
Assembly
The assembly of the Sunny Health & Fitness SF-RW5606 Elastic Cord Rowing Machine Rower is completely easy as many users reportedly assembled within 30 minutes.
This is even true because the unit is delivered with most of its major components already assembled. You are only expected to attach the stabilizer bars, the seat's rail, and the seat.
An instruction manual is included which should guide you through the process of assembly and the necessary tools are also included as well.
Maintenance
Any non-water resistant rower does not need any special maintenance except to always keep the gliding rail clean. Make sure that there is no foreign object inside that could obstruct the smooth operation of the gliding motion and ultimately damage the rollers.
Conclusion
The Sunny Health & Fitness SF-RW5606 Elastic Cord Rowing Machine Rower brings the rowing experience into your home at a low cost. It is slightly over and out of proportion to the price but does have its downsides such as the weak resistance system and probably the weight capacity it supports.
If you are looking forward to workout with some level of a challenge then you don't have any business with this rower otherwise it is best for beginners and the elderly.
Sunny Health & Fitness SF-RW5606 Elastic Cord Rowing Machine Rower Review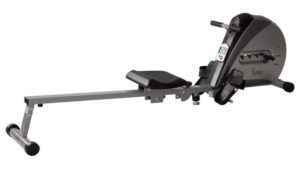 The Sunny Health & Fitness SF-RW5606 Elastic Cord Rowing Machine Rower is an entry-level rowing machine that could catch the interest of anyone on a budget
Product Brand: Sunny Health & Fitness
Product In-Stock: InStock