Marcy has a wide variety of products ranging from rowing machines, upright bikes, recumbent bikes, home gyms, spin bikes, and more. They have proven to be a reputable fitness manufacturing company for half a century and can be trusted.  Their products have impacted the fitness industry positively and the majority of its users are well pleased with the brand's quality and innovation.
The Marcy Club Revolution Bike Cycle Trainer XJ-3220 is yet another model coming from their stables and we intend to review and determine its upsides and downsides.
This is a chain-driven bike that simulates or provides a real outdoor feel to the user.  It is compact and affordable. A great choice for those that need something small and inexpensive.
If you wish to have a peek at the price of the Marcy Club Revolution Bike Cycle Trainer XJ-3220 click right here.
The Frame/Sturdiness
The Marcy Club Revolution Bike Cycle Trainer XJ-3220 is a very sturdy bike that supports up to 300 pounds/136 kg.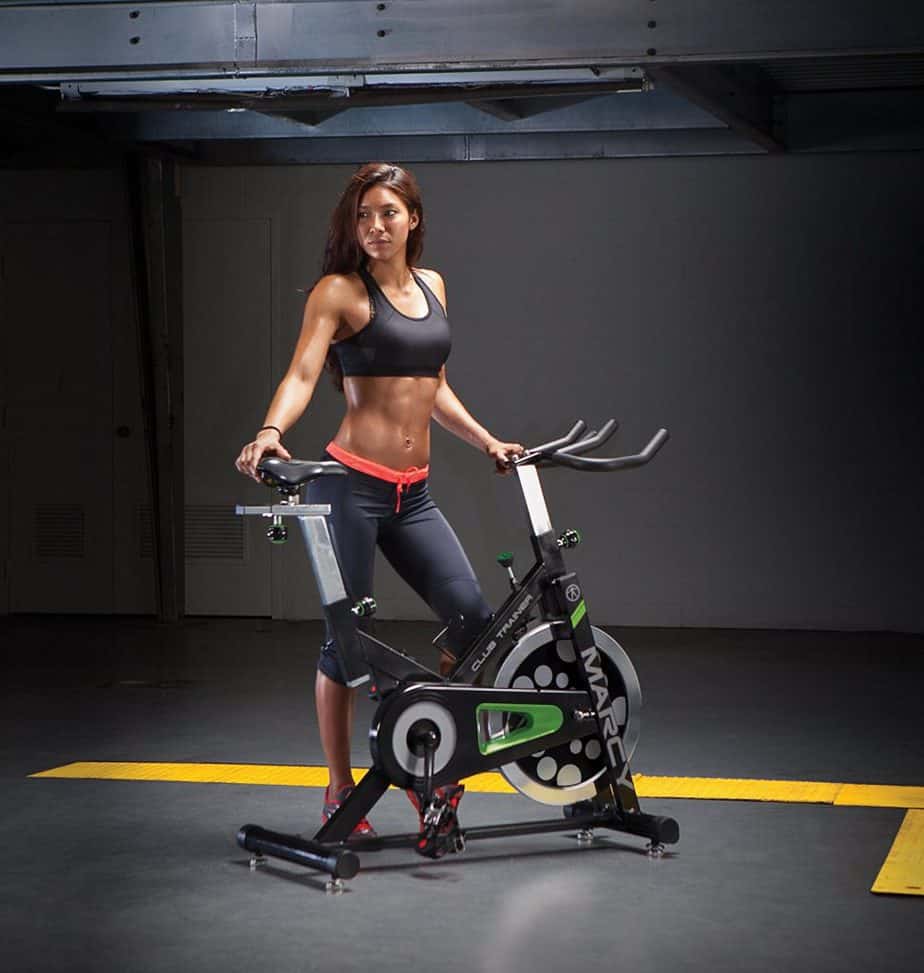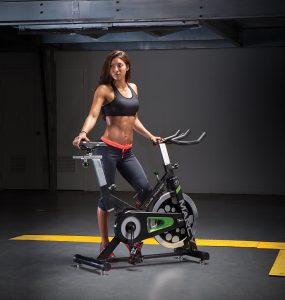 The frame is made of heavy-duty steel with neatly welded joints. It is coated with anti-corrosion and scratch paint that protects the body from rust and scratches.  It has a combination of colors with black as the predominant, while white and green are used for the fancy design that includes the inscription of the name on the mainframe.
It weighs about 83 pounds/38 kg which complements its stability.
Just in case you are worried that the weight might be a problem during the process of moving or relocating the bike; it has transport wheels integrated on the front base so that you can easily move the bike by tilting it toward the transport wheels. This could be moved around by one person and virtually any adult.
It is a compact and yet stable exercise bike because of its overall design, most especially the stabilizer bars that are integrated into it in the rear and front bases with rubber caps on each end. These bars prevent the indoor bike from wobbling; and to further enhance its stability, there are four metallic levelers underneath the bars which could be easily adjusted to level up the bike on an uneven floor.
However, to have the best outstanding experience with this exercise bike, it is recommended that you place it on a rubber mat.
It has overall assembled dimensions of 40 inches long by 20.5 inches wide by 43 inches tall. In other words, the workout area that will be required should be 3 feet 4 inches long by 1 foot 8 inches wide. This is a pretty compact spinning bike that should not be a concern to those who have a space problem, nevertheless, it will take a little bit of space because you need to add clearance of at least 2 feet on each side of the bike and 3 feet at the rear for safe and comfortable workout experience.
The Marcy Club Revolution Indoor Exercise Bike XJ-3220 is undoubtedly a very sturdy and stable bike even though it is very compact and can withstand any vigorous spinning workouts without the occurrence of movement or wobbling.
The Seat, the Handlebar, and the Pedals
Now, always watch out for these elements, the seat, handlebar, and pedals because they are key to a comfortable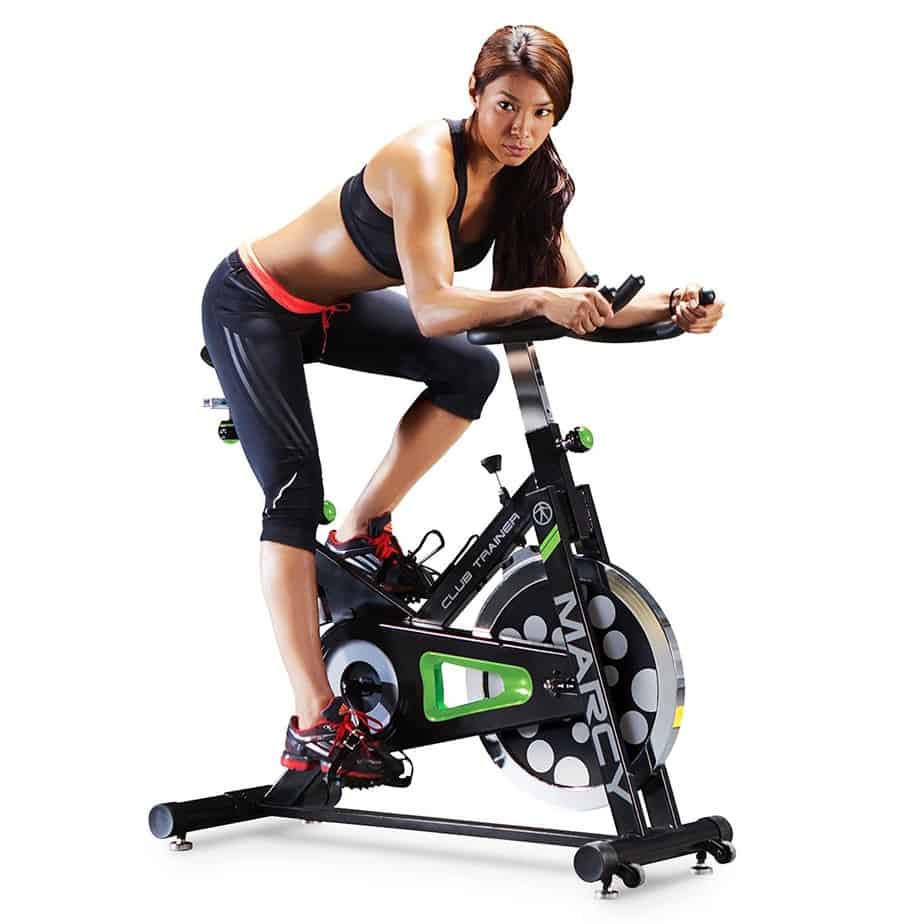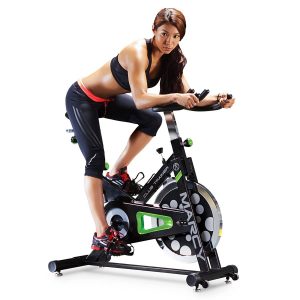 workout and achieving your fitness goals. If these elements are not well ergonomically designed, then chances are you will always have a problem of comfort and remaining focused on achieving your fitness goals because of the distractions they cause.
The seat of the Marcy Club Revolution Exercise Bike XJ-3220's seat is no different from the typical standard outdoor bike. Most spin bikes come with this type of saddle but the question is, is it padded enough to provide comfort to the butt? Well, it is averagely padded and contoured to provide some level of comfort, however, to feel the maximum comfort, a gel seat cover is necessary to be used and it is often sold separately along with the bike just as the rubber mat.
The seat's dimensions are 10 inches long by 6 inches wide; the thickness is not specified, but they are usually 2 to 2.5 inches.
Moreover, the seat also offers the possibility of 4-way adjustments (horizontally and vertically). This makes it possible for more users of different heights to be accommodated as they are likely to find the most suitable position for workouts. In other words, users between 4 feet 10 inches to 6 feet are most likely to be accommodated conveniently. Taller individuals may be accommodated but there could be some restrictions.
There are 6 clear adjustment levels that could easily be remembered even when altered by someone else. Multiple members of the family can easily use the bike in turn without having issues with your adjustment settings.  The seat can be adjusted to a maximum height level of 41 inches and a minimum level of 36 inches.
The handlebar is also adjustable with an ergonomic design that makes it perfect for spin bikes; it has multiple holding positions for great workout postures. It is also well coated with rubber foam material to provide a solid and comfortable grip as it prevents slippage and blisters in the palms.
The handlebar is indeed adjustable, but that is only vertically unlike other bikes that have 4 ways (i.e. vertically and horizontally). This, of course, could limit the chances of getting a very good and comfortable workout position, but most users have no problem with it.
The handlebar just like the seat has a maximum height adjustment of 42 inches from the floor and a minimum adjustment height of 36 inches from the floor. This could give you a lot of leverage in finding a suitable workout position that works well with the type of workout you intend to perform.
Both the handlebar and the seat can easily be adjusted through their respective adjustment knobs.
The Marcy Club Revolution Exercise Bike XJ-3220's pedals are integrated with toe cages and adjustable safety straps that provide security to your feet even when you engage in high intensity and vigorous spinning you won't have fears of slipping your foot or feet.
However, the pedals are not cleats compatible, therefore you will not be able to use spin shoes but you can easily replace them if you wish to since they have the standard thread.
The Q Factor (i.e. the distance from the inner edge of the left pedal to the inner edge of the right pedal) is not officially stated but we were able to get the information from a user who claims it has a Q Factor of over 200 mm which could be up to 8 inches.  If this is the case then you find riding the bike awkward especially if you are used to riding an outdoor bike. This is because your feet placement on the pedals will not feel as natural as possible because the Q Factor is too wide and this might also cause pains in the joints as well.
If you are concerned about the Q Factor of this bike you might check out the Asuna Lancer 7130 Exercise Bike because it has the perfect Q Factor similar to bicycles, although it is more expensive than the Marcy Club Revolution XJ-3220 Exercise Bike.
The Drive System
This bike features a chain drive system that simulates how the outdoor bicycle works. The drive consists of the chain, the crank, and the 40 pounds/18 kg flywheel. These elements work together to provide a quiet, smooth, and consistent operation. The flywheel's weight is very impressive as it provides the momentum that produces the consistent motion the user enjoys.
Being that the bike features a chain drive system; there will be some level of maintenance required such as applying oil on the chain and adjusting it when necessary to keep it in a very good working condition. It can generate some level of noise but not loud enough to irritate you or disturb others and this is usually the case with every bike with a chain drive.
The crank and the pedals are solid enough to support stand-up pedaling and you can also pedal both ways because the drive is bidirectional. However, you will not be able to coast just as you could with an outdoor bicycle. So, it is important to always use the emergency brake to stop the flywheel from spinning each time you wish to stop pedaling to avoid an accident.
The Resistance
The Marcy Club Revolution Cycle Bike Trainer XJ-3220 features a friction resistance system, which means it is a direct contact brake mechanism that consists of a faced-down felt pad that is attached to the mainframe close to the top of the 40 pounds/18 kg flywheel.  Resistance is generated when the tension knob is adjusted and the felt pad comes into contact with the flywheel.
Unlike the Asuna Lancer Cycle 7130 Exercise Bike that has about 16 levels of resistance that are indicated on the lever, the Marcy Club Revolution Cycle Bike Trainer XJ-3220 rather has an infinite resistance adjustment. This means that it does not have any specified resistance levels indicated on the tension knob. You simply adjust the resistance until you feel you have found the level that is suitable for your workout.
The problem with the infinite resistance is that you may not be able to know the level of resistance you used in your previous workout session so that you can keep track of your endurance strength training progress. However, it is a very effective resistance that provides an extremely challenging workout.
To increase or decrease the resistance effect, all you need to do is simply twist the tension knob clockwise to increase and anticlockwise to decrease. The level of resistance depends on the proportion of the twist you apply, and it is suitable for all fitness levels.
Due to the friction contact the felt brake pad makes with the flywheel, it is prone to wear and tear over time; therefore, you will have to replace it at some point in time.
The tension knob also doubles as the emergency brake we mentioned earlier in the review; just push the knob down and the flywheel will come to a halt.
The Console/Monitor
Unfortunately, the Marcy Club Revolution Cycle Bike Trainer XJ-3220 does not come with a console. Some spin bikes come with a console and some don't.
We tried to find out if this bike could use an external monitor but the manufacturer says no monitor can be added to the bike to track your workout progress.
Accessory
The Marcy Club Revolution Cycle Bike Trainer XJ-3220 has only one accessory that comes with it and that is a water bottle holder that is necessary for hydration during workouts. And by the way, the water bottle is not included just in case you don't know.
Storage
The spin bike XJ-3220 is a very compact spinning bike that doesn't take up space. It is 3 feet 4 inches long by 1 foot 8 inches wide and weighs about 83 pounds/38 kg. The bike has a small footprint and it is lightweight.
However, some people might still find it difficult to move or relocate to another room; so for this reason, it has built-in transport wheels on the front base that help in moving it easily to another destination within the apartment.
Approval Rating
The Marcy Club Revolution XJ-3220 has a very impressive approval rating that suggests that it is widely accepted by the majority of its users. Most of the users think that the bike is good and coupled with the fact that it is affordable.
However, some think it is not so great but they are in the minority.
Read Amazon customer reviews for more insight.
Pros/Features Overviews
It has a durable and sturdy overall design that features a steel frame with welded joints
Infinite resistance system that is great for all fitness levels
A very compact bike that doesn't take up space
The seat is 4 way adjustable
The handlebar is adequately coated to provide a firm and comfortable grip and also adjustable
The handlebar feature multiple grips for a variety of workout posture
The operation is smooth and quiet
It possesses a heavy flywheel of 40 pounds/18 kg that produces momentum
The crank and the pedals are solidly made that they support stand-up pedaling and sprint
Features toe cages with adjustable straps that secure your feet
Affordable
Easy to assemble
Cons
It has a wide Q Factor
The seat is not very comfortable but can use a gel seat cover to enhance comfort or replace entirely
It does not include monitor, therefore, you will not be able to track workout progress
The felt brake pad wears out over time, hence will need to be replaced
Product Dimensions and Specifications
40'' Length
21'' Width
43'' Height
Supports up to 300 pounds/136 kg maximum user weight
Weighs 83 pounds/38 kg
Bidirectional pedals with toe cages and adjustable safety straps
Seat: 4-way adjustment
Handlebar: multi-grip, coated, and 2-way adjustment
Friction resistance system
Chain drive system
Water bottle holder
40 pounds/18 kg flywheel
Warranty
2 Years on Frame and Parts
Shipping, Assembly, and Maintenance
Shipping
The shipping cost of the Marcy Club Revolution Cycle Bike Trainer XJ-3220 is determined by the retailer you are purchasing from; nevertheless, some vendors such as Amazon provides free shipping.
Assembly
To completely assemble the XJ-3220 Cycle Bike is very easy because the major components are preassembled. You only have to attach the stabilizer bars, the seat and handlebar posts, the seat and the handlebar to the frame, and of course the water bottle holder as well.
Just make sure that the handlebar and the seat are tightened up very well to avoid any movement.
Maintenance
The Marcy Club Revolution Cycle Bike Trainer XJ-3220 features a chain drive system. For this reason, the chain will need to be lubricated with grease from time to time to keep it in a perfect working condition that could avoid irritating noise, and you may also have to adjust it as well.
Always examine the bike before use for any loose, worn, or broken parts that might need re-tightening, repair, or replacement.
Finally, always keep it clean from dirt and sweat by wiping it with a clean wet cloth.
Conclusion
The Marcy Club Revolution Cycle Bike Trainer XJ-3220 is an affordable bike that provides decent workouts. Great for those that lack space in their room or apartment.
But it entirely depends on what you want or needs on a bike. If you can find them on this bike and do not bother about its downsides then, that is OK.
Marcy Club Revolution Bike Cycle Trainer XJ-3220 Review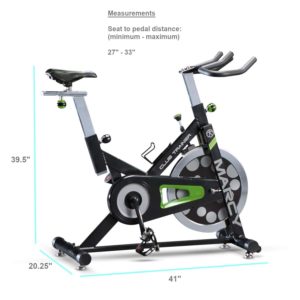 This is a chain-driven bike that simulates or provides the real outdoor feel to the user.  It is compact and affordable. A great choice for
Product Brand: Marcy
Product In-Stock: InStock