The ProForm 6.0 RT Treadmill was first launched in the early year of 2013, and it is an entry-level treadmill that is also affordable. However, some people think that its runway is not large enough to suit taller individuals but there is a good number of great features that could compensate that for $300+. It has got a 2.0 CHP Mach motor that can speed from 0 to 10 mph and a 0 to 10 percent quick inclines control.
The tread belt is about 16 x 50'' which I think could have been better but if you are not a 5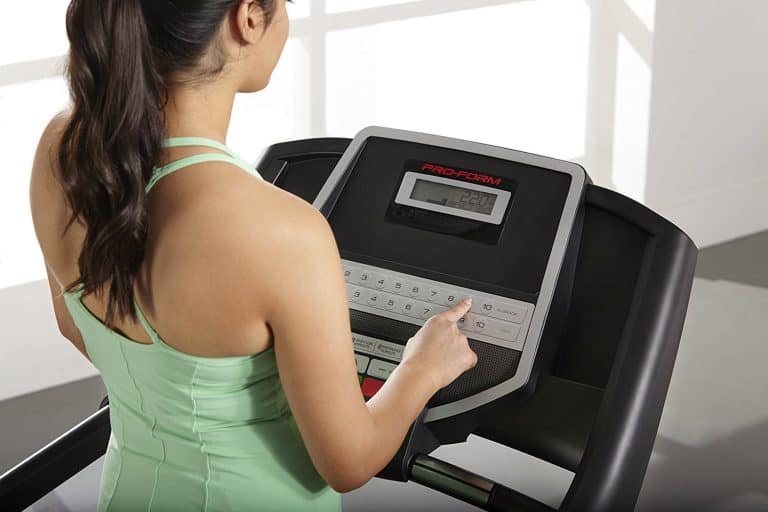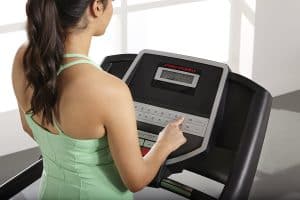 ft 8 to 6 foot then that may not be a problem. The tread soft cushioning is also designed to prevent impact on the joints while working out. Let's look at the features and pros below.
Its 0 CHP Mech motor speeds from 0 to 10 mph, even though it is the strongest motor but that is what is obtainable in this price range. Nevertheless, the motor is quiet and smooth in when in operation and could certainly satisfy a user if walking and jogging are what he has in mind.
The computer console is one that anyone would desire because it is large and displays almost every workout data that is necessary for a user to be motivated. The data display includes speed, incline, distance, time, calories burned and incline.
The EKG Grip Pulse sensors make it possible for your heart rate to be monitored and this enables you to stay within your heart rate zone during a workout.
The running platform is 16'' x 50'' which is not perfect for running, but great for walking and jogging.
It has got 8 built-in workouts that would allow a user to enjoy a variety of workouts and it also allows the user to build a custom workout as well.
It is a space saver because of its compact nature and ability to fold up when not in use and for storage. Therefore, a small apartment will never be a problem when you purchase the ProForm 6.0 RT Treadmill.
It has a compatible music port for iPod which means a user could listen to music while working out. Believe it or not, music is part of workout ingredient, you know what I mean?
A 300 pounds user can use this machine as that is the maximum user weight for this machine.
Warranty
5 years on frame and motor
90 days on parts and labor
Cons
Definitely, it is the runway and the motor! These 2 are the factors that make this machine not to be good for running. Moreover, taller individuals will find it not convenient to work out on.
Conclusion
Most people will find the ProForm 6.0 RT Treadmill useful and perhaps the best choice for them. People with apartment space issue, those that would love to walk and jog will find this unit a tailor-made for them. Also, the price range is something that is going to be affordable for people on a budget.
In a nutshell, if you are on a budget and still want something that could still fit into your apartment, something that could help you achieve that fitness goal, then this might just be for you.