The Schwinn 870 MY17 Treadmill is the treadmill walkers, joggers and runners alike should be rooting for. It has got the features that could bring life and physical health closer to reality than you will ever think. This is, of course, the upgraded version of the Schwinn 870 Treadmill which is still a very good and recommendable machine.
Think about it, if the Schwinn 870 Treadmill is a recommendable treadmill then what would be said about the Schwinn 870 MY17 Treadmill that has some improvements over the former? It will be awesome and the user will not only be able to attain physical health but will enjoy it while doing so.
Let's get this straight, the newer and the older models have similar construction and motor capacity that you probably cannot tell the difference if asked but the newer version is equipped with a console that has more functions than the other.
For instance, the newer version has Bluetooth connectivity that allows a user to sync the machine with a series of online fitness apps to provide better overall progress tracking.
Just so you know, the Schwinn 870 MY17 Treadmill is the 2017 version of the Schwinn 870 Treadmill and it is one of the best treadmills available for home use.
<<<Click right here to purchase the Schwinn 870 MY17 Treadmill at the very best price available online>>>
The Frame
The frame is the core part of a treadmill and therefore should be made to withstand any type of hard use that is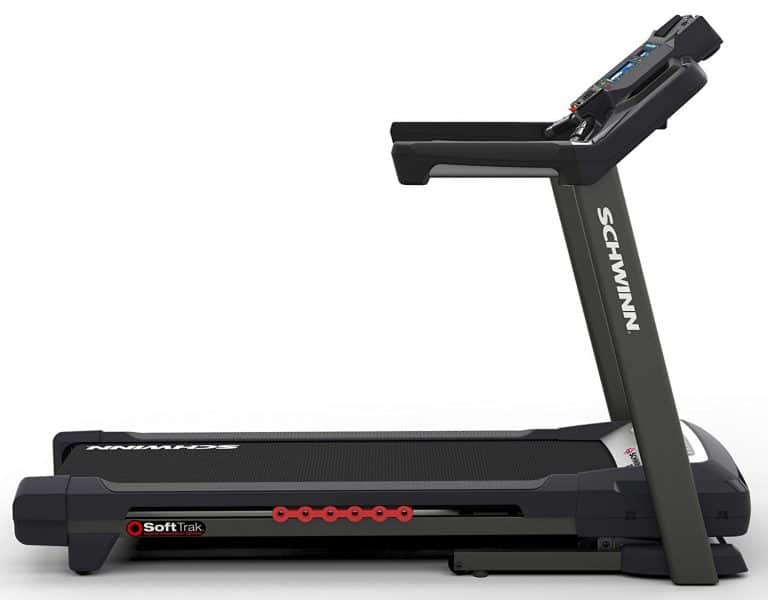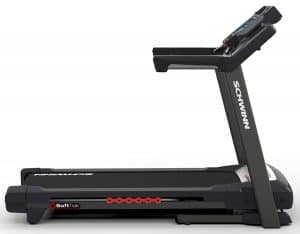 thrown at it.
That being said, the Schwinn 870 MY17 Treadmill's frame is made of heavy-duty steel material and it supports up to 300 pounds maximum user weight capacity. However, it is not sold as the commercial-grade machine hence it is only covered by home use warranty.
It is finished with an extremely durable anti-corrosion powder coating that is resistant to rust and scratch. Nevertheless, this is originally built to be used indoors and as such should be adhered to for safety reasons and to prolong the lifespan of the treadmill. The console and the motor are vulnerable to water or rain and therefore should be avoided by all means.
That being said, it is solid and sturdily built to last longer than some of the treadmills in its category.
Just like expected, the treadmill is a fairly large machine when fully assembled with a footprint of 77 inches long by 35 inches wide. It is also recommended that the treadmill's designated area should have at least 2 feet clearance on each side of the machine for better workout experience and safety.
Its weight also enhances its stability as it weighs about 215 pounds which is approximately 98 kg. This is fairly heavy as well and it gives the user confidence that no wobbling will be experienced while vigorously exercising.  Moreover, it is important to note that the treadmill is also equipped with oversized crossbar tubing at the front base.
The running surface is wide enough to provide room for full stride to users. It has the dimensions of 20 inches wide by 60 inches long deck which is great for even runners and most different sizes of users.
You may well be aware that running on the treadmill or asphalt road seems to affect the joints negatively. For this reason, Schwinn integrated a shock absorber system into this treadmill that will take care of such an impact not to be felt on the joints.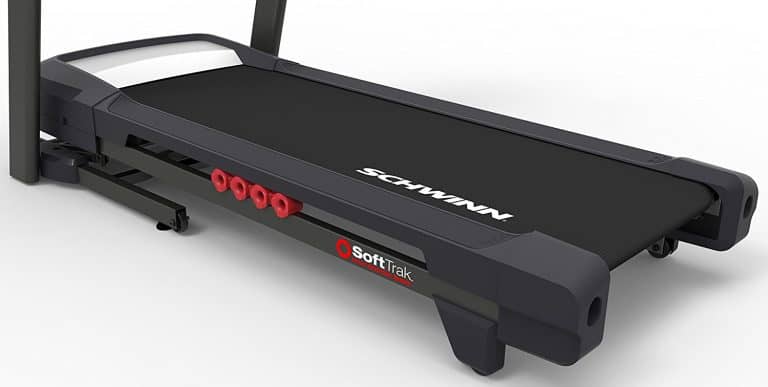 This shock absorber system is called the SoftTrack cushioning system that consists of 6 cells on each side of the running surface. This is believed to reduce the stress on the joints by up to 30% which is a big deal for those that wish to use the treadmill but couldn't because of this problem and of course it is a welcome development to everyone because no one would like to experience the awful pain on the joints.
We mentioned how fairly large the Schwinn 870 MY17 Treadmill is, but do not worry if you are wondering you don't have the storage space because it can be folded when not in use. It has a SoftDrop fold up deck design that consists of the hydraulic cylinder which helps the user to unfold the treadmill safely without the risk of dropping it. Some treadmills have the capability of folding up but do not have a SoftDrop mechanism that could help when unfolding such as the ProForm 705 CST Treadmill.
It does also have transport wheels that could greatly assist in the relocation process.
Interestingly, the Schwinn 870 MY17 Treadmill has 2-ply, 2mm thick running belt driven by two 2.5 inches crowned rollers with sealed bearings that are designed to last forever and which also prolong the belt's lifespan and provide smooth operation as well.
The Motor
This treadmill is equipped with a 3.0 CHP motor that is highly regarded as the least capacity for the runner's treadmill.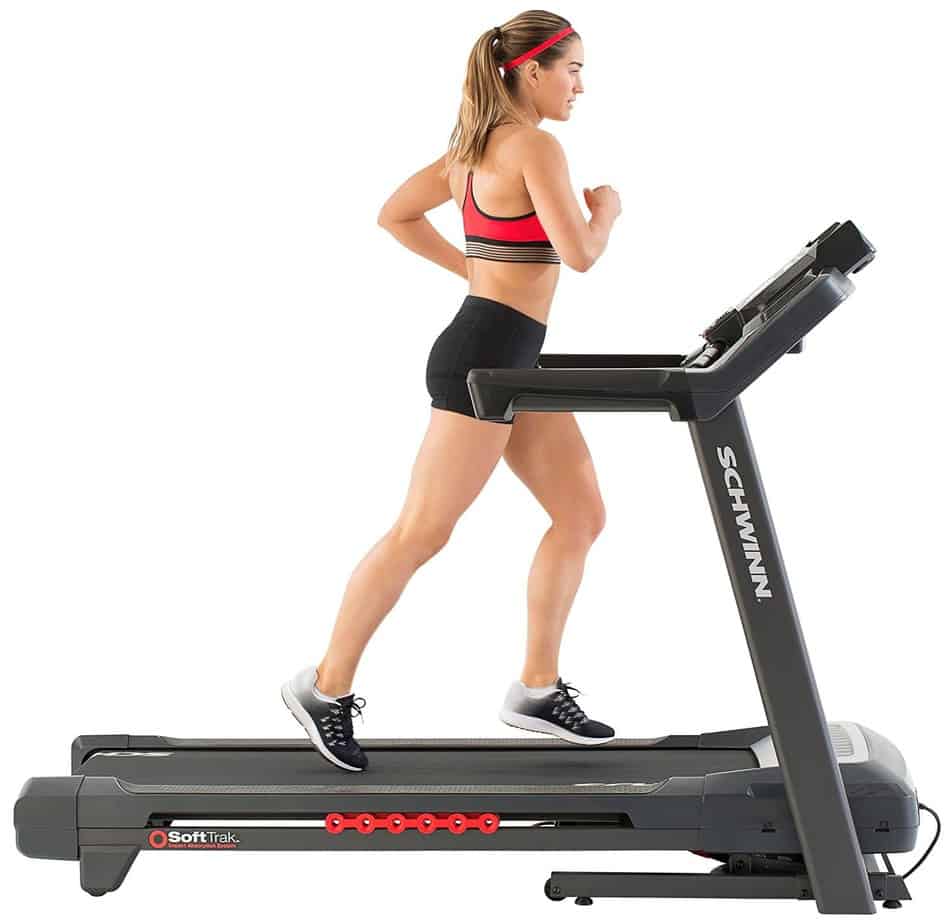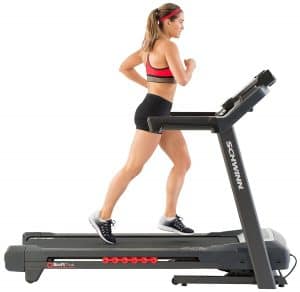 This means a user that wishes to perform any serious running exercise could do so without any worry that the motor may not hold up.
The 3.0 CHP motor is built with quality and designed to withstand any type of high intensity and prolonged workout sessions without breakdown or overheat even at full speed.
The speed range is 0.5 to 12 MPH and the default starting point is 0.5 MPH. An increment of 0.1 MPH or 0.5 MPH is possible. This is a good aspect of this treadmill because it gives the user an ample opportunity to find a suitable speed range for a workout.
The adjustment of the speed could easily be done via the console through which a user can gradually increase/decrease the speed or use the quick speed function key.
The quick speed key can get the machine to operate instantly in speed ranges of 2, 4, 5, 6, 8, 10, and 12 MPH.
Generally, treadmills generate some level of noise when in operation due to the sound of the motor and the user's workout cadence. But some treadmills are noisier than others and the Schwinn 870 MY17 Treadmill falls into the category of those that generate less noise largely because the motor is considerably quiet despite the fact it is a high capacity unit.
Therefore, if a user wishes to watch the favorite TV show while working out would be able to do so.
The Incline
The Schwinn 870 MY17 Treadmill has an impressive incline that provides the possibility of difficult and challenging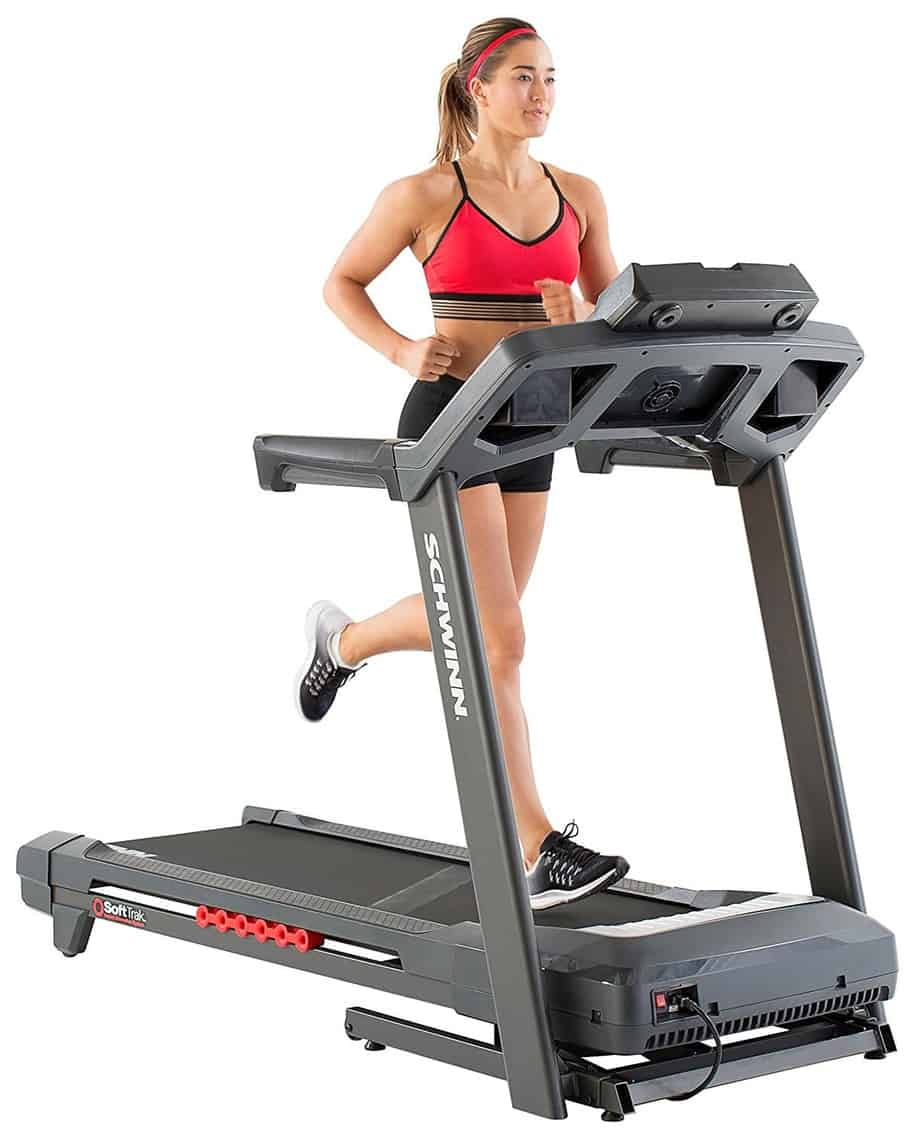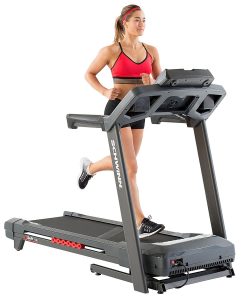 workouts. Its incline level is 0 to 15%.
The incline system is automatic, which means it is been controlled through the console which must be connected to a power source for it to be functional. The incline system is also made up of a small motor and a lift that is designated at the front of the deck.
Now, just like the speed is being adjusted gradually or via quick keys so also the incline can be adjusted as well.
In other words, the incline can gradually be adjusted and there are keys for quick adjustment. There are quick settings of 0, 2, 5, 8, 10, 13, and 15. Moreover, there are some onboard programs automatically assign incline when selected. So, if a user selects any of these programs the incline automatically adjusts the ramp accordingly.
It is important to take note of the ceiling height where this treadmill is going to be assembled and used especially if you are going to be using the incline. The treadmill's deck has a height of 10 inches from the floor without the incline, therefore, when the highest incline of 15% is applied, then at least 20 inches should be added to your height to determine the right ceiling height where the treadmill is going to be used.
The Console
The console is the control unit of the treadmill no doubt and this machine has a lot of onboard functions that are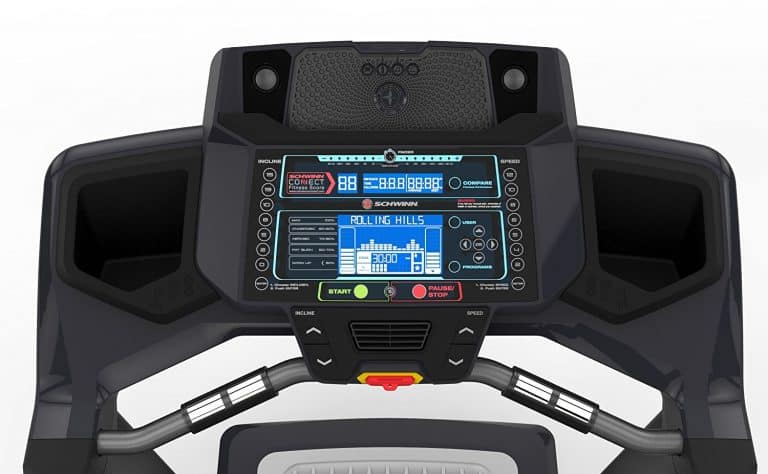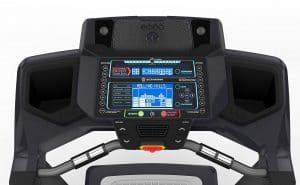 designed and integrated to make the user's workout experience outstanding.
Especially, the Schwinn 870 MY17 is even equipped with extra features than the previous model. The buttons are touch control, unlike the conventional buttons.
It also has Bluetooth connectivity something absent in the previous version as well. With the Bluetooth, a user can sync the machine with numerous workout apps to enable optimal progress tracking. For instance, a laptop or smartphone that has the Schwinn Trainer Fitness App installed can be synced with the treadmill to directly stream the workout data into the user's online account and storing them for future reference.
Nevertheless, a user can manually transfer workout data into an online account using USB flash drive and the same USB port can be used as a charging point for phones as well.
Another highlight of the console is the fact that it has a DualTrack two-blue backlit LCD system that provides high readability even in a poorly lit room.
This is how the two window monitor works; the upper window displays the workout goals and fitness scores while the bottom and the larger window displays workout data such as the time, distance, speed, calories burned, heart rate, and incline.
The speed and distance can be shown in metric or imperial units and the window also shows the segments of the workout.
Just below the monitor are the handlebars that consist of the EKG heart rate sensors that enable heart rate data to be transmitted to the monitor when gripped by the user during workouts. However, the console is telemetry enabled which means a user can choose to use the HR chest strap to monitor the heart rate without having to grip the handlebars with the sensors on them.
Fortunately, this wireless HR chest strap is included in the original package and it is also considered to provide accurate heart rate data.
There are several workout programs available on this treadmill. there are 26 preset workout programs on the console. These programs automatically work with the incline and the speed.  These are the list of the preset programs; 1 Manual, 3 Quick Goals, 6 Train, 5 Weight Control, 4 Heart Health, 3 Interval, and 4 Custom.
The console also provides 4 user profiles that allow 4 different users to store and save their data to provide more accurate calorie reading. Each user will be prompted to enter personal data such as weight, height, a name that is up to 13 characters, gender, and age. So, family members could use the treadmill and accurately track their workout progress.
There are other accessories onboard the console such as the 3-speed cooling fan, MP3 input that is compatible with smartphone or tablet, speaker, media tray for the placement of tablet, and storage tray where water bottle or other items such as keys, earplug or remote can be placed.
Pros/Features Overview
Solidly built with a steel frame
Supports up to 300 pounds maximum user weight capacity
It possesses a powerful 3.0 CHP motor that is quiet in operation
It has got an outstanding and appealing design that could make a user want to work out more often
It is integrated with SoftTrack 6 cell deck cushioning that absorbs part of the impact on the joints
Has automatic incline of 0% to 15%
There are 26 preset workout programs available
USB port/Charging port
Speed range, 0.5 to 12 MPH and increment of 0.1 MPH and 0.5 MPH possible, which allows a user to easily find the suitable speed range for a workout
Bluetooth connectivity enables a user to sync a phone or laptop that is installed with Schwinn App with the treadmill for a direct stream of workout data into the Schwinn account for storage and future reference
It is telemetry enabled and HR chest strap is included
EKG grip heart rate sensors available
Speaker for sound output
MP3 that is also compatible with phones and tablet
3-speed cooling fan
Media tray for tablet placement
Storage trays that could be used for a water bottle and items such as keys, earphones, or remote controller.
Impressive warranty
Not so difficult to assemble
Cons
The sound output from the speaker is not so great
The cooling fan is not so powerful
Product Dimensions and Specifications
77'' Length
35'' Width
58'' Height
Supports up to 300 pounds maximum user weight capacity
Running Surface: 20'' W by 60'' L
Weighs about 215 pounds/ 98 kg
SoftTrack deck cushioning system that consists of 6-cell
Motor: 3.0 CHP
Automatic Incline: 0% to 15%
Speed range: 0 to 12 MPH
HR chest strap included
26 workout programs
Bluetooth connectivity
Warranty
10 Years warranty on Frame
10 Years warranty on Motor
2 Years warranty on Mechanical
2 Years warranty on Electrical
1 Year Warranty on Labor
Shipping, Assembly, and Maintenance
Shipping
The shipping cost of the Schwinn 870 MY17 Treadmill differs because it depends on the shipping policy of the vendor that is selling to you. Although, Amazon provides free shipping and usually delivers within 3 to 4 days of order.
Assembly
This treadmill comes with the major components preassembled which means there are fewer parts to assemble. That being said, it could take up to an hour more or less to completely assemble depending on your dexterity.
An instruction manual is also included to guide you through the process of assembly without a hassle and the required tools are also included.
Maintenance
The maintenance is stated clearly in the user's manual.
Nevertheless, you should regularly examine the machine for loose, broken, damaged, or worn parts. Do not use it if anything wrong is found but try to repair or replace the broken part.
Then weekly, check and make sure that the roller operation is smooth. Wipe the machine to remove dust and dirt.
Lubricate the walking belt with 100% silicone lubricant after 25 hours of use.
Conclusion
The Schwinn 870 MY17 Treadmill is the walker, jogger, and the runner's treadmill because it is equipped with 3.0 CHP motor that could withstand high speed and longer workout sessions without break down or overheat. Moreover, it has a roomy running surface that allows you to exercise your full stride without restriction in most cases regardless of your height.
It is solidly built and designed to be stable considering the crossbar tubing and the weight that ensure that it does not wobble during workouts.
Plus the Bluetooth connectivity and other extra features that make this treadmill the perfect tool for achieving your fitness goals. Not forgetting its overall design that beckons at you to work out even though you aren't ready or willing to work out.
Schwinn 870 MY17 Treadmill Review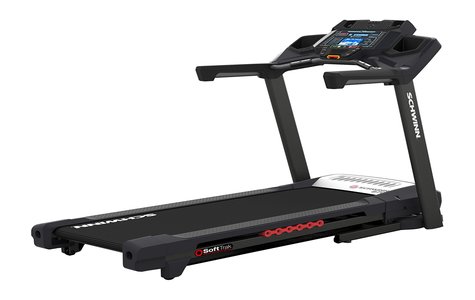 The Schwinn 870 MY17 Treadmill is the treadmill walkers, joggers and runners alike should be rooting for. It has got the features that could bring life and physical health closer to reality than you will ever think. This is, of course, the upgraded version of the Schwinn 870 Treadmill which is still a very good and recommendable machine.
Product Brand: Schwinn
Product In-Stock: InStock