The Finether Indoor Chain Driven Stationary Exercise Bike is one of those spin bikes that users hardly know about even though they are recommendable bikes. The reason has been that the brand name is not as common as other fitness household names such as the Sunny Health & Fitness SF-B1110 Indoor Cycling Bike and the Spinner Sprint Premium Authentic Indoor Cycle-Spin Bike.
It is a new cycling bike that has made it to the market just like the TrbItty Belt Drive Indoor Cycling Bike and it worth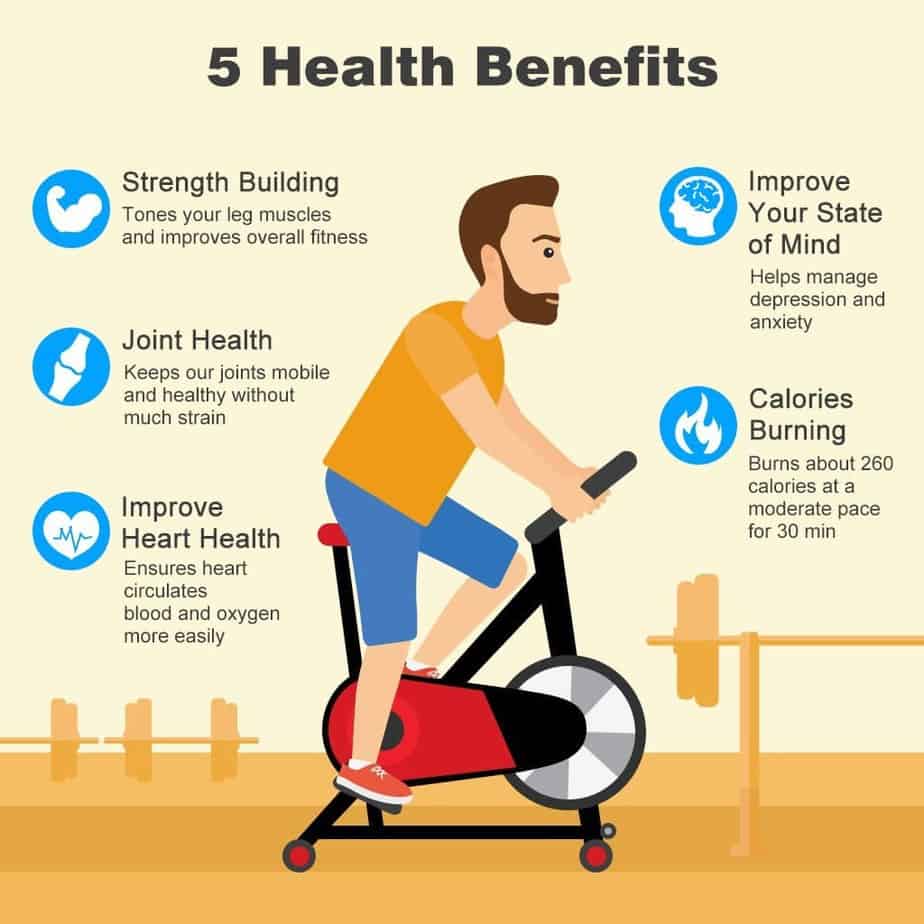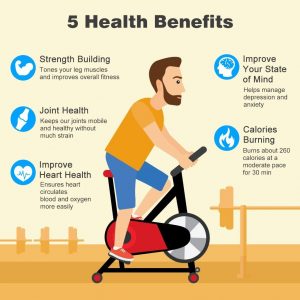 looking up.
The Finether Indoor Chain Driven Stationary Exercise Bike has some very useful features that could help anyone seeking to improve physical health to do just that and it is even affordable as well.
We are going to reveal the good aspects of this cycling bike and also the downside to help you to make a smart purchasing decision.
This bike is not the Keiser Cycling Bike or one of those spin bikes you may have seen and used in your spin class but it is great for home use.
The feedback we are getting about the bike is positive and the users are really happy with their purchase because of the price. Therefore, if you are on a budget and hoping to add a spin bike to your home gym then this might be the bike especially if you like chain drive system otherwise look up the Trbitty Belt Drive Indoor Cycling Bike that has belt drive system and the price range is about the same.
You don't have to worry about the windy or stormy weather anymore, rains, or dangers associated with riding outdoors especially at night. You can ride and workout at whatever time you wish to in the comfort of your home.
<<<Click right here to purchase the Finether Chain Driven Cycling Bike at the best affordable price available>>>
The Frame/Durability/Stability
This bike features a steel frame that is constructed to last and supports up to 265 pounds maximum user weight.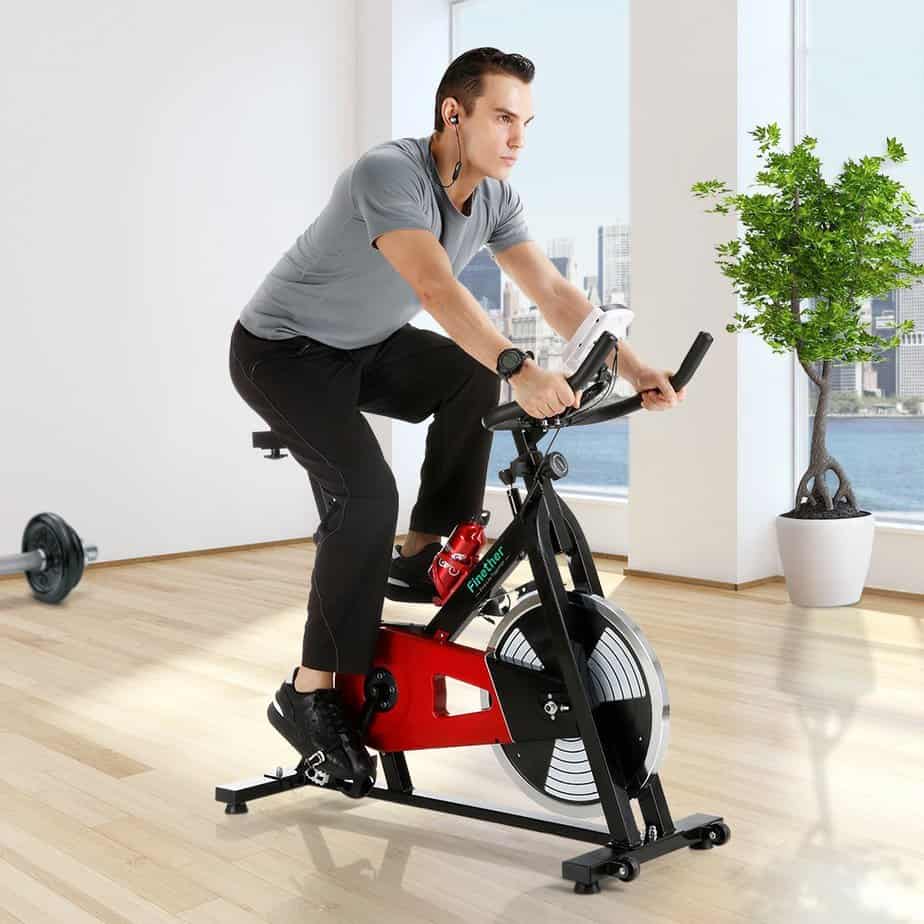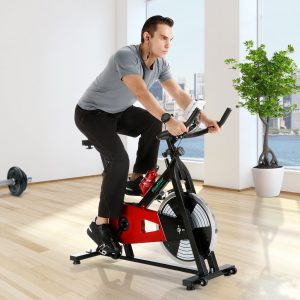 It is finished with black anti-corrosive paint that is meant to prevent rust.
The Finether Indoor Cycling Bike features stabilizer at the rear and front bases which ensure stability during workouts. It has levelers beneath each end of the stabilizers to prevent wobbling on an uneven floor and these also ensure that the machine does not leave any sort of dent on the floor as well.
The 29 pounds heavy-duty flywheel provides the extra smooth, consistent, and quiet cycling experience.
It is a very portable bike that could also appeal to individuals that have space problems or would prefer something compact. The footprint is 40.9 inches long by 18 inches wide (103 cm long by 45.5 cm wide) and weighs about 64 pounds /29 kg which could be considered lightweight.
The Seat and Handlebars
The seat is fully adjustable and designed to provide comfort. It could be adjusted upward/downward and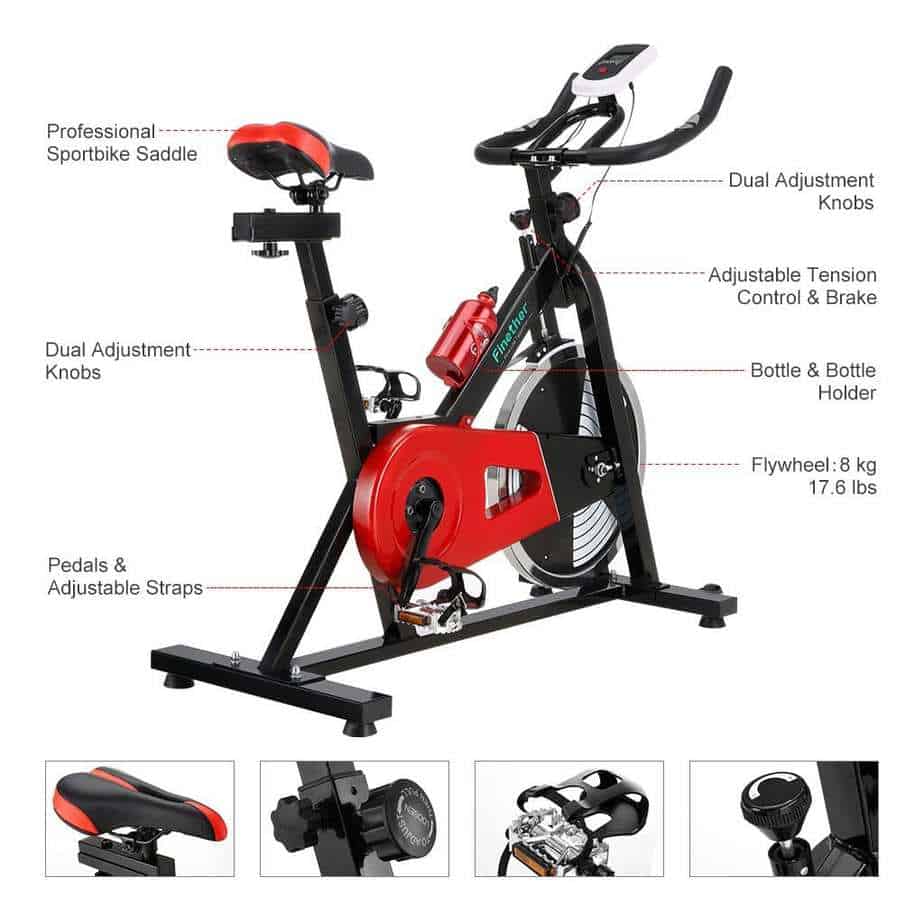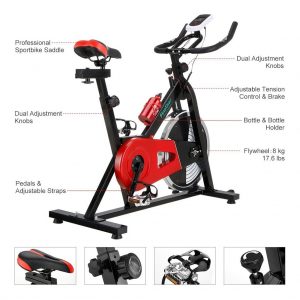 forward/backward which means it can accommodate different users of different sizes.
It has a standard design that is commonly found on outdoor bikes. However, it may require some extra padding to provide that optimum comfort to the butt. Usually, gel seat cover or padded short always does the trick.
Both the seat and the handlebars have dual locking knobs that guarantee their stability during workouts without wobbling.
Although the handlebars can only be adjusted upward/downward, that won't be much of a problem since the seat has a 4-way adjustment and so will complement the handlebars and provide the much needed suitable workout position.
The handlebars are well coated with foam to provide comfort and also prevent blisters on the palms. They feature heart rate sensors that make it possible for a user to monitor and maintain target heart rate during workouts, something that is rarely found on bikes of this price range.
Interestingly, the adjustment of the seat and the handlebars are very easy to execute. All you need to do is to unscrew the knobs and adjust upward/downward to your preferred position(s) and re-tighten again and that's it. It won't take up to a minute to have all the settings done.
The Drive System
The Finether Indoor Chain Driven Stationary Exercise Bike has a chain drive system which is the same drive system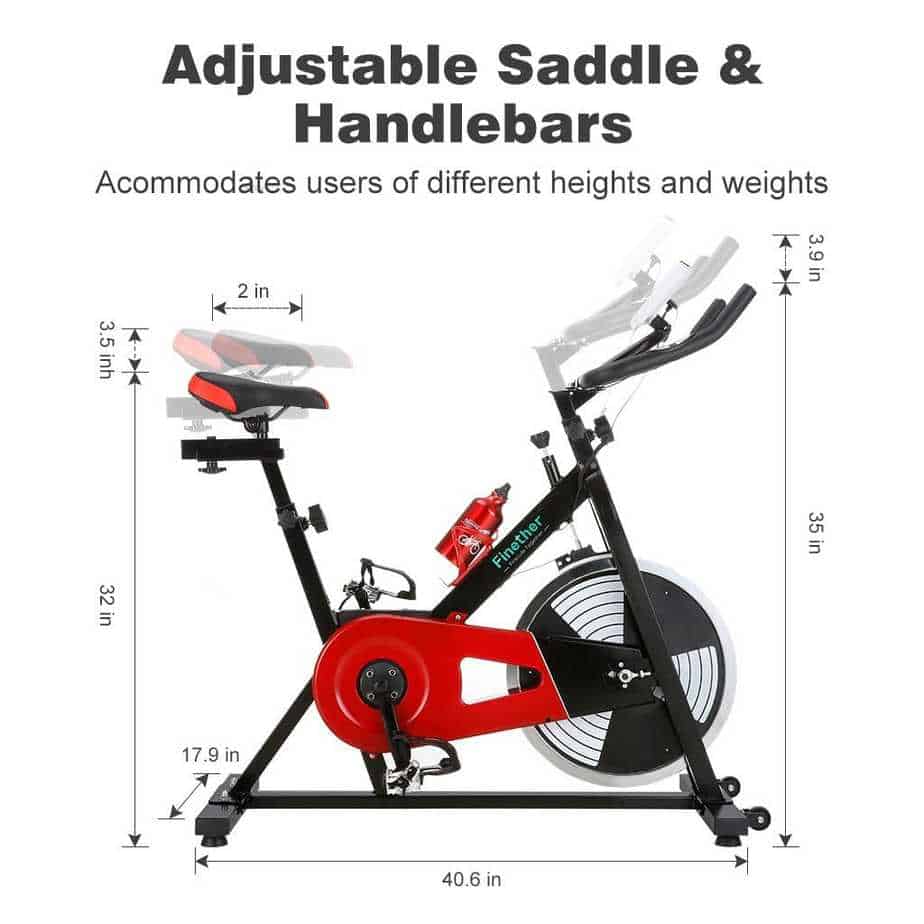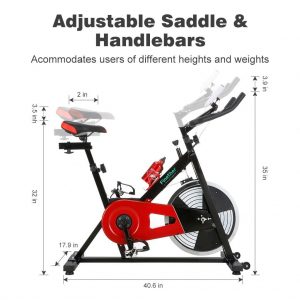 the conventional outdoor bikes use and therefore, the bike simulates and provides the road bike experience.
This type of drive system is noisier than the bikes with a belt drive system and also requires some level of maintenance to keep it running smoothly. However, the noise that emanates from the chain drive is not noisy enough to disturb the family or neighbors as long as it is being maintained adequately.
The bike also possesses a solid crankset that connects with the chain and consequently drives the flywheel to spin.
The pedals are made of aluminum alloy with toe clips and adjustable straps that make the accommodation of different shoe sizes possible and also secure the feet from any slippage during a workout.
 Resistance
This bike has a friction resistance system which means when the felt pad comes in contact with the flywheel resistance is generated.
The felt pad is attached underneath the mainframe tubing facing the flywheel while the tension knob is attached on top of the same mainframe tubing connected to the felt pad. When the tension knob is adjusted clock/anti-clockwise the resistance effect changes.
However, this is a variable resistance system because the resistance levels are not indicated or specified. Unfortunately, a user will not be able to know the resistance level he used in the previous workout session and consequently will not be able to keep track of strength and endurance improvement.
This is usually the case with spin bikes of entry-level but they provide outstanding and challenging resistance though.
The felt pad wears out at some point, maybe after a year or so, and will need to be replaced.
The tension knob is also used to stop the flywheel from spinning whenever the user wishes to stop exercising to prevent accidents/injury. This is because the pedal and the flywheel turn simultaneously and so a user cannot coast because the crankset is fixed.
Console
The Finether Indoor Chain Driven Stationary Exercise Bike comes with a basic console that is yet very useful. This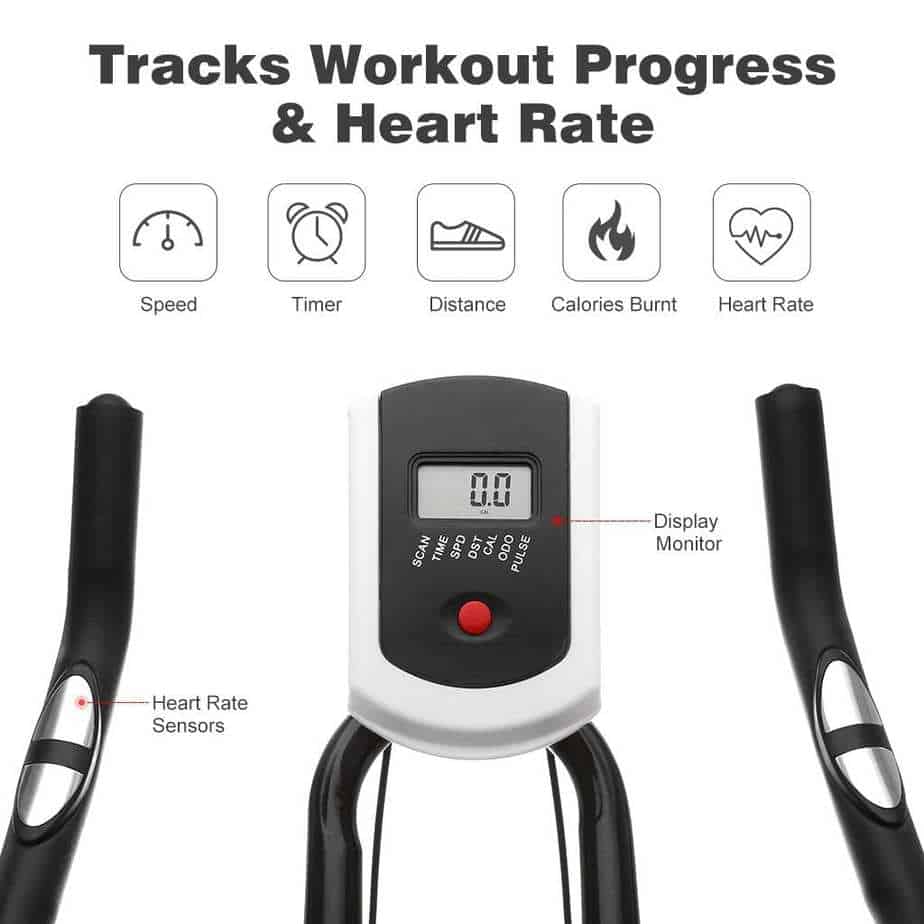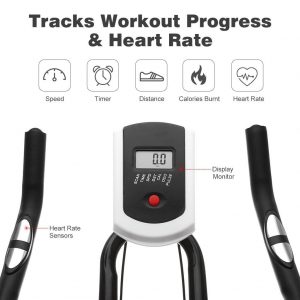 will enable the user to keep track of workout progress because it displays data such as time, calories burned, distance, speed, and heart rate.
It is being powered by 2 AAA batteries that are not included with the package which means you have to purchase them separately.
Just like every other basic console, this has only one button that is being used to set how workout data should be displayed and it has a SCAN function as well.
A user can set the LCD monitor to display certain workout data constantly or have the whole data display one at a time for a few seconds then to another continuously and rotationally.
The monitor has good readability as long as the user is using it in a well-lit room otherwise readability will be poor because it is not a backlit type of monitor.
Storage
The storage of this bike is easy and quick because it is a compact machine with dimensions of 40.6 inches long by 18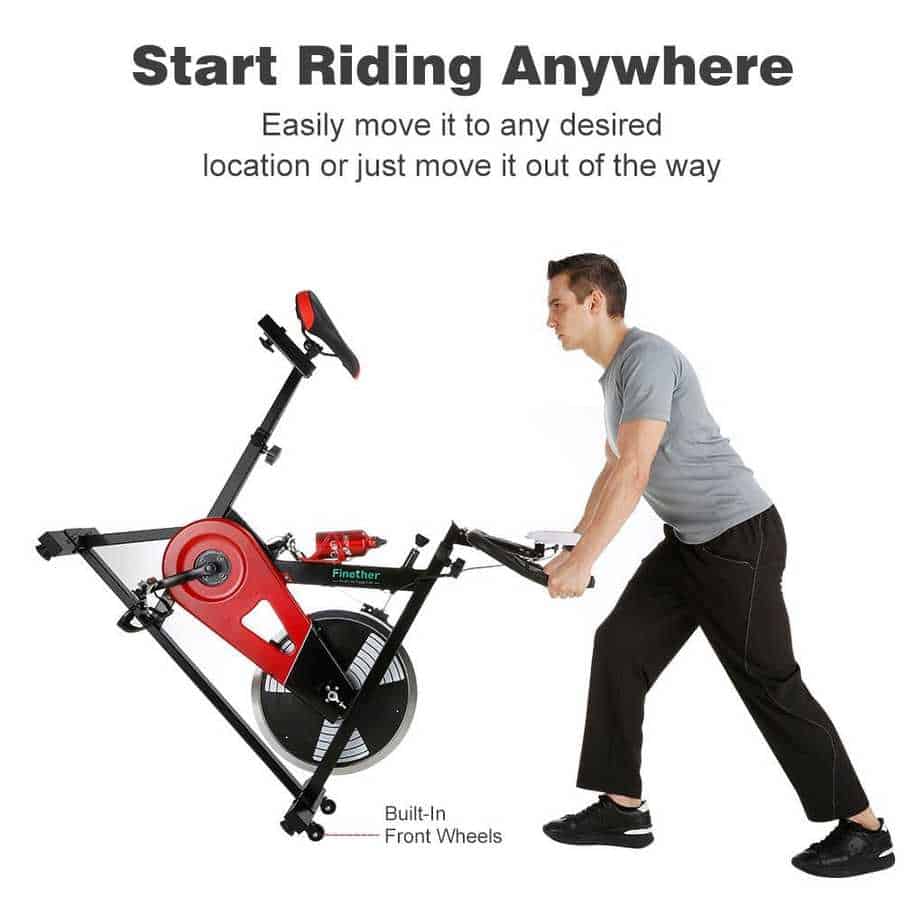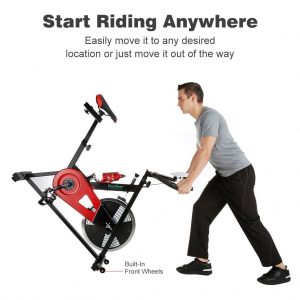 inches wide by 39 inches tall. This unit doesn't take much space and folks with space issues might be able to find a space that can accommodate it conveniently.
It is also a lightweight bike that weighs just 64 pounds approximately 29 kg. It also has transport wheels that can aid in the relocation process. One person can easily move the unit to another location without any assistance from another person, except, if the relocation has to be upstairs then two persons are required to do that.
Accessories
The Finether Indoor Chain Driven Stationary Exercise Bike does not have many accessories because it only features a water bottle holder. This is a very vital element in exercises because you need to stay hydrated at all times, during and after workouts and the water bottle holder helps to keep water handy.
Approval Rating
The Finether Indoor Chain Driven Stationary Exercise Bike has a very impressive approval rating at the time this review was written. Even though it is a new product on the market it has Amazon customer reviews that are positive.
Overall, this is a recommendable bike because its users have a positive view of it.
Nevertheless, this post will always be updated if anything changes.
Pros/Features Overview
It is a solid and sturdy bike
It is affordable
It has 29 pounds heavy-duty flywheel
The saddle is 4 way adjustable as a result can accommodate different sizes of users
The handlebars can be adjusted and also covered with foam to provide solid grip and prevent blisters
It supports up to 265 pounds maximum user weight capacity
It has a chain drive system
It features a friction resistance system that provides challenging workouts.
It is integrated with a basic console that allows a user to keep track of workout progress
Heart rate sensors are embedded in the handlebars thereby allowing a user to stay and maintain the target heart rate zone at all times during exercises.
Water bottle holder
Cons
The seat sucks because it is not well padded and some users have complained about it. However, you can remedy the situation as suggested above by using a gel seat cover or padded short.
The console 2 AAA batteries are not included, but this is not a deal-breaker
Product Dimensions and Specifications
40.6'' Length
18'' Width
39'' Height
The frame is made of steel
Pedals are made of alloy aluminum
Supports up to 265 pounds maximum user weight
Weighs 64 pounds/ 29 kg
Shipping, Assembly, and Maintenance
Shipping
The shipping cost of the Finether Indoor Chain Driven Stationary Exercise Bike depends on the retailer you are buying from, however, Amazon might provide free shipping and usually takes 3 to 4 days to deliver after order.
Assembly
It is very easy to assemble the unit as it comes with the major components preassembled. You are required to only attach the rear and the front base stabilizers, the seat post, and the saddle, handlebars, console, and the water bottle.
It may take about 30 minutes, more or less to completely assemble the bike. It has an instruction manual that is meant to guide you through the process of assembly.
Maintenance
The Finether Indoor Chain Driven Stationary Exercise Bike requires some level of maintenance because it uses a chain drive system. The chain needs to be lubricated periodically and be adjusted so that it can operate smoothly and reduce the noise that emanates from it.
Other than that, you simply do the normal routine of keeping the bike clean from dirt and sweat.
Conclusion
The Finether Indoor Cycling Bike is the right bike for you if you are looking for an entry-level spin bike if you are not sure you have enough space for storage. This bike may not be the top cycling bike in the fitness gyms but will surely help you work out in the comfort of your home as you achieve physical well being.
It has a value-oriented price which makes the users feel satisfied.
We recommend you also look up the Trbitty Belt Drive Cycling Bike.
If you have questions, please do feel free to write to us and we shall be glad to respond accordingly.
[rank_math_rich_snippet]