Treadmills are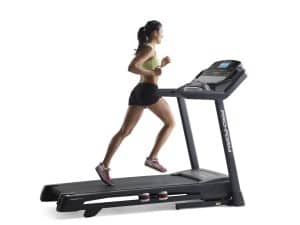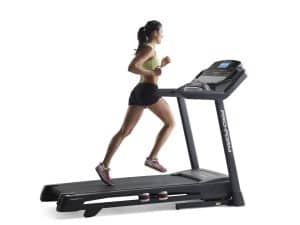 generally good for runners, and so is Proform Power 995i Treadmill. If I may add, it is a piece of essential equipment for everyone that can afford it. This very edition was introduced around 2013 and it has 60" track with incline and Proshox cushioning.
Here is another Proform Elliptical Trainer product that you may want to check out.
Did you know that this machine also has 30 built-in workout apps, iFit workout matrix, and a wireless heart rate monitor? To save space, you can always fold this treadmill whenever you are done with the workout.
And yet another reason why you should buy this machine aside from the health advantage, you will be getting a 3-year warranty on the parts! I think this is awesome and worth buying for a home gym, and it is also below $1000 to purchase.
The quiet experience is also amazing when training with Proform Power 995i Treadmill, thanks to the strong durable motor. An inbuilt cooling fan designed by CoolaAire makes the workout a lot easier.
There is also the 7′ iFit display that has preloaded workout apps; as I mentioned earlier, this machine has about 30 workout apps. And the cool thing about this workout apps is that they are designed to burn calories effectively and quicker. 20 of those apps designed to burn calories.
And amazingly too, you can have total control of the speed, as you would be able to use the quick speed or the gradual keys to regulate the speed from 0-12mph. Plus the possibility of listening to music while exercising with the aid of the port for mp3.
Click right here to have a peek at the price of the ProForm Power 995i Treadmill on Amazon.
Pros
30 workout Programs- It has 30 workout programs designed to help you achieve the physical fitness you so much desire. Each of the programs was designed by a certified personal trainer
iFit Technology– This technology allows you to download extra workout apps and also get fitness advice. You can compete on treadmill races on Facebook, use Google Maps to run any charted route. This is awesome!
Incline– It has a power incline that can tilt the deck up to 15%. And as you may know, this makes your workout effective that you can burn more calories quickly and maintain wonderful muscle tone.
The Motor– The motor in Proform Power 995i Treadmill is one of the best in terms of durability and strength. It can pass for light commercial use, even though it was designed for a home gym. It makes walking, jogging, or running as real as possible and you can get up to 12mph.
Heart Rate Monitor– There are pulse sensors fitted on the handlebars to enable you to know your heart rate and run at the best pace.
Wide Track– It is adorned with a wide track that will give you enough room to do your thing. The track is 60′ L x 20′ W, and anyone can almost run with a full stride on it. The asphalt-like Proshox cushioning makes the impact on your joints to be less (reduces impact by up to 28%) while working out.
Music– You can choose to listen to music with the aid of the audio port that is compatible with an iPod. Therefore you can run the rhymes, lol…
Saves Space– Due to its foldable nature, it can be vertically be folded up for storage after working out. So, it is a good space saver indeed.
Warranty– There is a lifetime warranty on the frame and motor, 3 years on parts, and 1 year of labor.
Click Here To Grab Yours Now At A price>>>
Cons
It is said to be difficult to assemble
The console is simple compared to other same level treadmills.
Conclusion
It is the right call to include the Proform Power 995i Treadmill in your home gym if you wish to walk, jog, or run for improved physical fitness. It is durable and has an awesome warranty that would guarantee you to get the best out of it.
Plus the fact that it has lots of features such as the iFit technology and the 30 workout programs at a reasonable price.
I do hope that the Proform Power 995i Treadmill review has given you some ideas of what you will be getting if you opt for it.
Drop your comment, question or contribution at the comment box below.
ProForm Power 995i Treadmill Review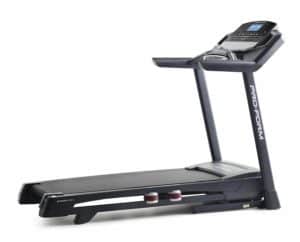 This very edition was introduced around 2013 and it has 60' track with incline and Proshox cushioning. The quiet experience is also amazing
Product Brand: ProForm
Product In-Stock: InStock