Mr. Captain Water Rowing Machine is comparable to other brands of water rowers such as the Gorowingo Water Rower, Mr. Rudolf Water rower, and BATTIFE Water Rower, to name but a few.
It has a customizable Bluetooth monitor that could sync to a FitShow app via a smartphone/tablet device, You can alternatively track and record workout progress online through the use of the app.
The console also features 3 workout modes that include, Manual, Interval Custom, and Target for easy management of fitness goals.
This rower is a low-impact, full-body aerobic machine that targets and tones muscle groups such as the biceps, abdominals, quadriceps, large gluteus maximus, and more. It also supports a higher maximum user weight capacity of 320 lbs./145 kg.
For these reasons, it has an edge over some rowers of the same category.
Click right here to have a peek at Mr. Captain Water Rowing Machine.
The Frame and Construction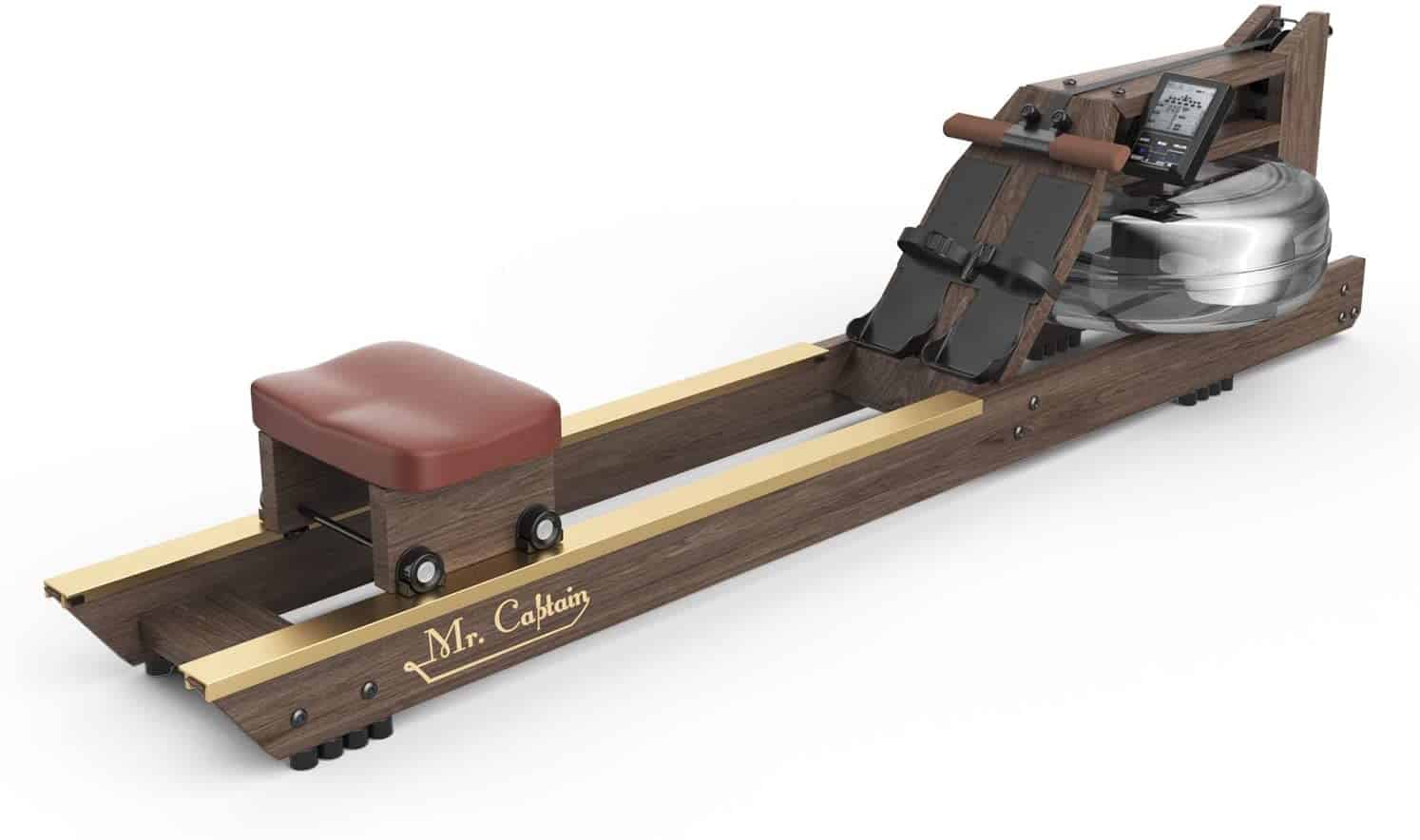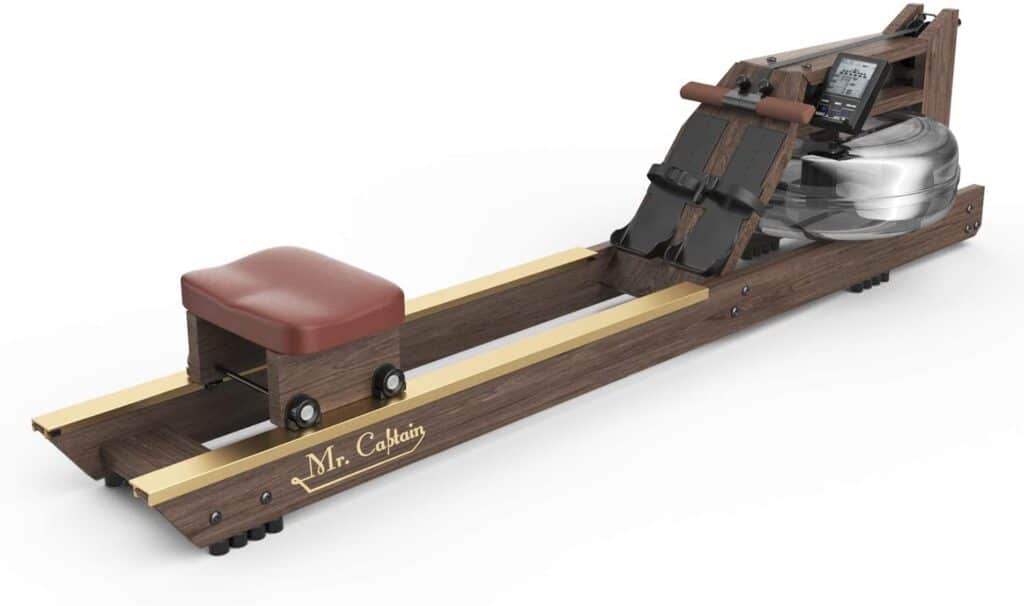 Mr. Captain Water Rowing Machine has a frame that is made of durable waxed and oiled vintage oak wood. Thus, it lasts longer without being defaced or degraded by scratches, insects, or environmental effects.
The base has anti-skid rubber pads that ensure it is well-grounded to prevent it from slipping during workouts.
Its overall assembled dimensions are 84'' long by 22'' wide by 20'' high. In other words, it needs a workout area with perimeters of 7' length by 1'9'' width, plus an additional 1-2′ around it for safe and convenient workout experiences.
However, it requires much less space for storage because it's being stored uprightly. A storage area with perimeters of 22'' x 20'' will suffice.
It can easily be relocated due to the front-mounted transport wheels, and it only weighs about 58.5 lbs./26.5 kg.
The unit is designed for home use, and users that are up to 6'3'' tall or less can exercise with it.
Seat of the Mr. Captain Water Rowing Machine
The rowing machine has a large ergonomic cushioned seat that is contoured to accommodate different users comfortably. It has sealed ball-bearing rollers that glide on the heavy-duty aluminum alloy-covered dual-rail.
Thus, the back and forth gliding motion is smooth and quiet. Users can train as long as they wish without experiencing discomfort, or slippage.
The Handlebar/Drive
The Mr. Captain Water Rowing Machine has a belt drive system that consists of a cushioned handlebar, a durable 1'' nylon belt, and a recoil system. Its operation is smooth and quiet; no periodic lubrication is required, as opposed to a chain drive system (although, a chain drive tends to last longer if maintained properly).
The only notable noise that emanates from this rower is the therapeutic splash sound from the water tank. Consequently, users that may have experienced rowing in the open water will be filled with nostalgia as they work out in the comfort of their homes.
Moreover, your rowing activity doesn't prevent you from listening to music or watching a TV show, and neither does it disturb the family or the neighbors.
Finally, as is the case with other rowing machines, the handlebar does not integrate HR sensors, but you can still view your heart rate data with the use of Bluetooth compatible HR chest strap device (not included).
The Footplates
The rowing machine incorporates 45-degree positioned pedals. They are large with heel guards and adjustable safety straps that ensure comfortable and maximum footing stability.
Therefore, users of different foot sizes and standard gym shoes can be accommodated. They can train and remain focused on achieving their fitness goals without being distracted by a slipping foot.
The Resistance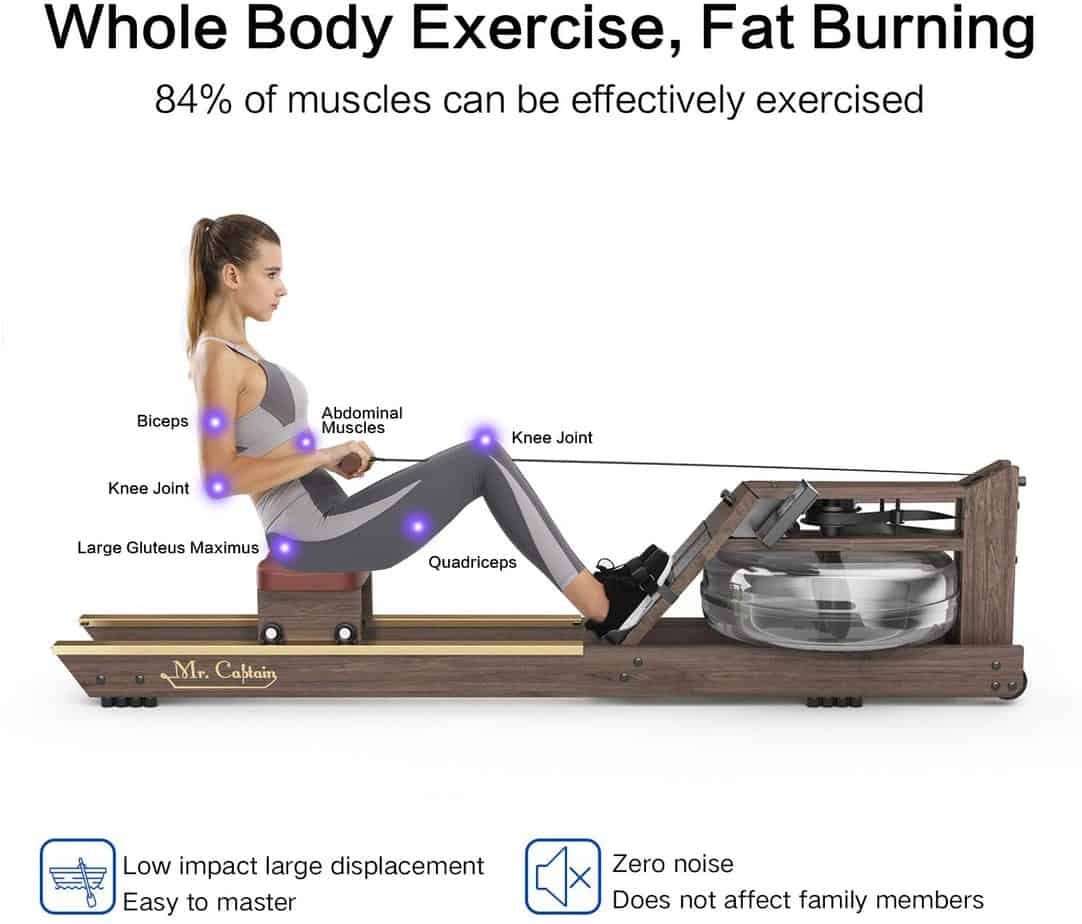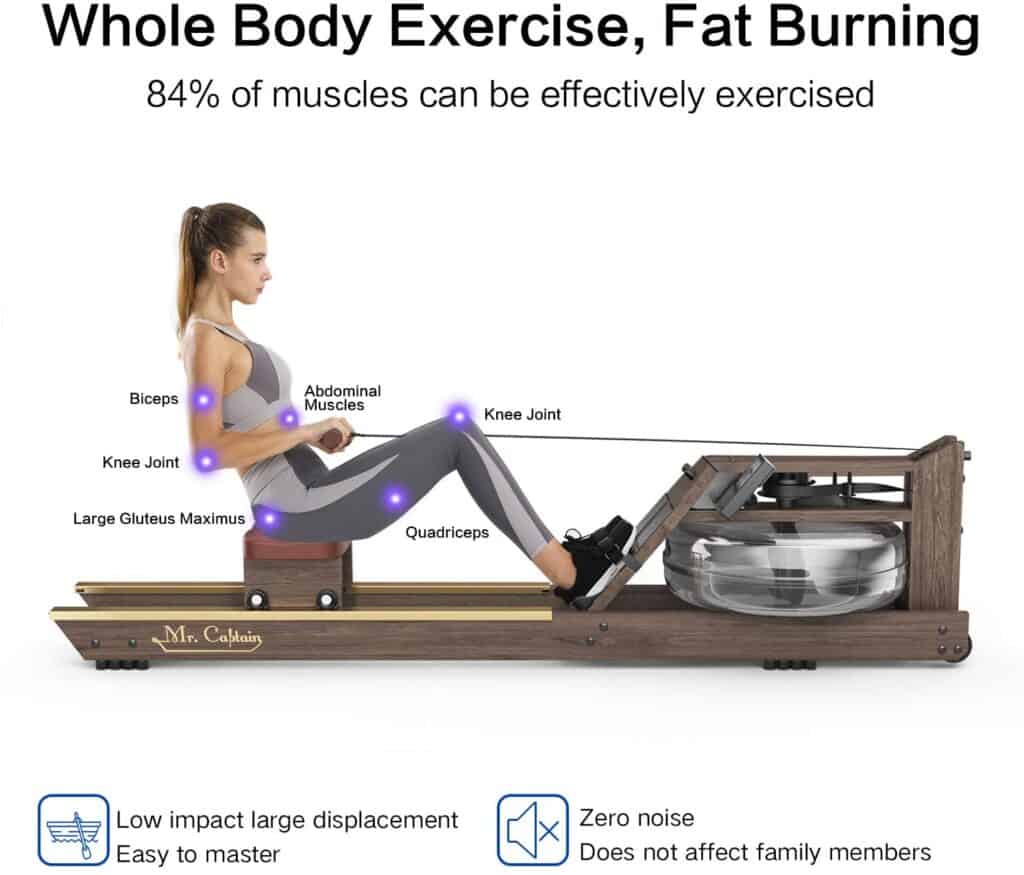 The Mr. Captain Water Rowing Machine has a dynamic water resistance system that consists of a thickened polycarbonate water tank with a flywheel/paddle inside.
Each time the handlebar is pulled, the flywheel swirls the water in the tank either way to create resistance and a splashing sound. In other words, the resistance intensity is determined by the workout tempo.
The faster you work out the more resistance you are prone to feel, and when you slow down, so does the resistance as well.
There is no way to technically control the resistance levels other than to fill the tank with more or less water. Your workout becomes increasingly or decreasingly difficult when there is more or less water in the tank, respectively.
However, it still boils down to your fitness and workout ability, and as a result, it is suitable for everyone, and high-intensity interval training (HIIT) purposes.
The tank can easily be filled or drained of water with the use of the included electric pump.
The Console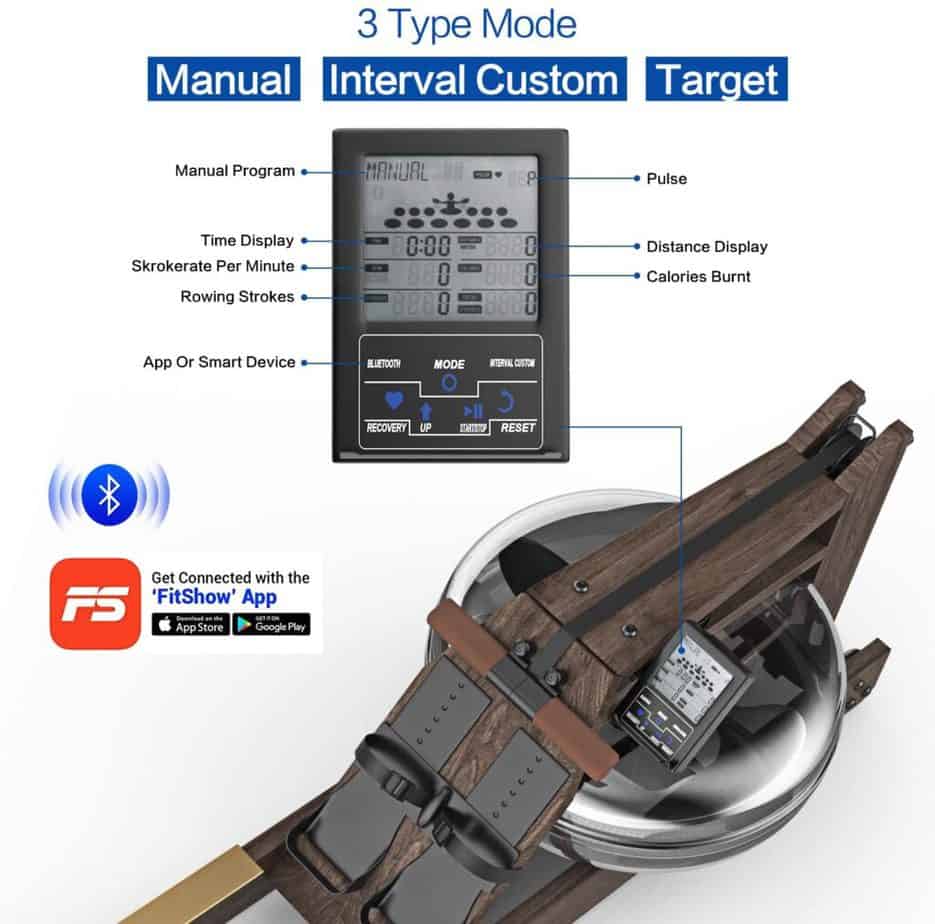 The Mr. Captain Vintage Oak Wood Water Rowing Machine is equipped with a decent console that is Bluetooth enabled. It also features a digital LCD monitor with segmented windows for tracking workout data such as Time, Stroke Per Minute (SPM), Strokes, Calories, Distance, and Pulse.
Its readability is good but could be compromised if viewed in a room that has weak illumination because the monitor is not backlit.
As aforementioned, the console offers 3 Workout Modes; namely, Manual, Interval Custom, and Target.
When the Manual Mode is selected, you be able to row as the monitor tracks your workout progress, while the Interval Custom Mode gives you the opportunity to create a custom interval workout, and the Target Mode enables you to select targets (count-down) for Time, Distance, Calories, and Strokes.
The Bluetooth connectivity syncs the console with the FitShow app that is downloadable via an Android or iOS smartphone. It enables you to track, record, and view the history of your workout progress, and to plan weekly and monthly workout targets as well.
The monitor is powered by AA batteries (included), and it automatically shuts down when there is no workout activity signal for a few minutes to save the batteries' power. It turns back on when activity resumes.
Accessory
Mr. Captain Rowing Machine is delivered with a waterproof cover that is designed to prevent scratches, dirt, and water when it is stored.
The console has a built-in smartphone holder, just in case you wish to connect and use the FitShow app.
Finally, an electric pump is included for filling and siphoning water from the tank.
Storage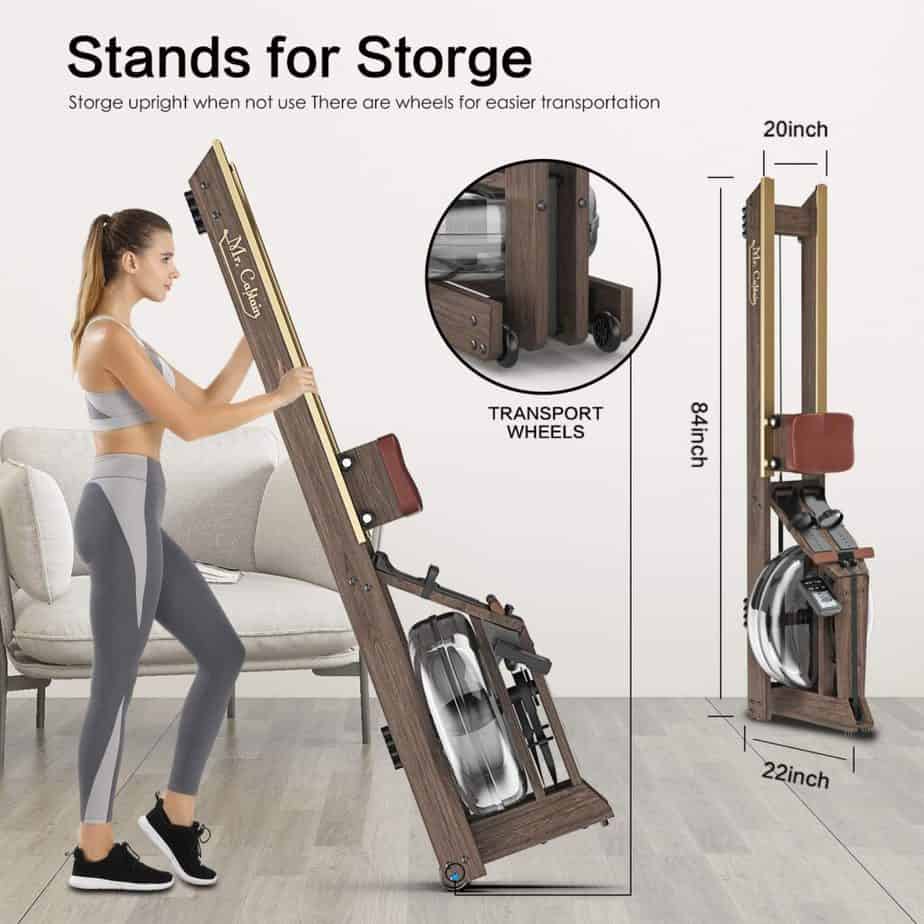 The unit takes up space for workouts, but the reverse is the case when it comes to storage.
Since it is being stored vertically, an area with perimeters of 20'' length by 22'' width and a ceiling height of 8' high will suffice.
It could easily be relocated from one room to another due to the integrated transport wheels and it only weighs 58.5 lbs./ 26.5kg.
Ideal places to store include next to a wall or even in the closet.
The water in the tank is not required to be drained before storage, except if you don't intend using the rowing machine sooner.
Approval Rating
Its approval rating is pretty much positive on Amazon, and independent review sites also suggest it's a recommendable machine.
Pros/Features Overview
Vintage oak wood frame
It has a professional design
Sturdy, and stable
Supports a maximum user weight capacity of 320 lbs./145 kg
The seat is comfortable
Its operation is smooth and quiet
The noise level doesn't violate other people's privacy
Its operation mimics rowing in an open water
The dynamic water-resistance system provides workout intensities that are proportionate to the user's ability
It provides low-impact and full-body cardio workouts for weight loss, muscle toning, and more
Users with 47'' leg length or less can conveniently exercise with the rower
The 45 degrees positioned pedals are large with adjustable safety straps and heel guards; they can securely and comfortably accommodate different foot sizes
The LCD monitor is Bluetooth-enabled and compatible with FitShow app; it tracks workout data such as Time, Stroke Per Minute (SPM), Strokes, Distance, Calories, and Pulse
Monitor's batteries are included
The console features 3 Modes that include Manual, Interval Custom, and Target
The maintenance requirement is low
Assembly is straightforward and easy
A phone holder is included
You can track your heart rate through the use of Bluetooth compatible HR chest strap (not included)
Waterproof cover for the rowing machine is included
An electric pump is included
Cons
The monitor is not backlit
HR chest strap is not included (has to be purchased separately)
No water bottle holder
Warranty
1 Year for the Frame
180 Days for Parts and other Components
Product Dimensions & Specifications
Length: 84''
Width: 22''
Height: 20''
Upright storage dimensions: 20'' x 22''
Shipping dimensions: Not specified
Net weight: 58.5 lbs./26.5 kg
Gross weight: Not specified
Maximum user weight capacity: 320 lbs./145 kg
Applicable heights: legs less than 47''/120 cm
Frame: Vintage waxed and oiled oak wood
Rail: oak wood + heavy-duty aluminum alloy
Seat: Large, cushioned, and contoured
Handlebar: Padded
Pulling cord: 1'' nylon
Pedals: Large with heel guards, and adjustable safety straps
Resistance: Water
Monitor: Bluetooth enabled LCD
FitShow app compatible
Electric siphon pump
Transport wheels: Yes
Phone holder: Yes
Shipping
Mr. Captain Water Rowing Machine is shipped in 2 separate boxes that contain the rails in one and everything else in the other.
Amazon provides free shipping and delivers the product in a couple of days.
Assembly
The unit is not difficult to assemble since the tank and the resistance system is preassembled. You only need to attach the rails, the seat, and other parts to the core unit.
When the instructions in the manual are followed carefully, you will be able to complete the assembly in 30 minutes, more or less.
Maintenance
Always keep the rowing machine clean, especially the rails and the rollers. Do not expose the console to liquid, moisture, or direct sunlight.
Treat the water in the tank periodically with a chlorine pill, and drain the water if you aren't going to use the machine for a long period.
Conclusion
Mr. Captain Water Rowing Machine might be a new brand name to you but it offers quality workouts and a good user experience that could help you to achieve overall physical fitness in the comfort of your home.