The Gorowingo Wooden Water Rower is an indoor full-body workout rowing machine that has a similar wooden design as the Ash Wood Rowing Machine. However, it's clear that they have different wood extraction.
That said, the Gorowingo indoor rowing machine is a modern unit that has attracted favorability from users. Being a water-rower, it provides a real rowing experience just as you could paddle in the water and its resistance is just as difficult.
As a matter of fact, it allows you to row like a pro while you hear the splashing sound of the water in the tank in reminiscence of your past adventure in real water…that is if you have been into one before. But it is all good, even if you haven't you will still appreciate the feeling and the effect the rower imparts to your body.  
It is equipped with a digital LCD monitor that tracks your workout progress by displaying data such as Time, Time/500M, Tempo, Calories, Actual Mileage, and Target Mileage.
Users up to 265 lbs./120 kg in weight could exercise with the rower and it's pretty easy to store away.
The rowing machine has the ability to engage over 80% of the overall body muscle groups such as the arms, shoulders, back, chest, core, and more.
Click right here to have a peek at the price of the Gorowingo Wooden Water Rower on Amazon.
The Frame and Construction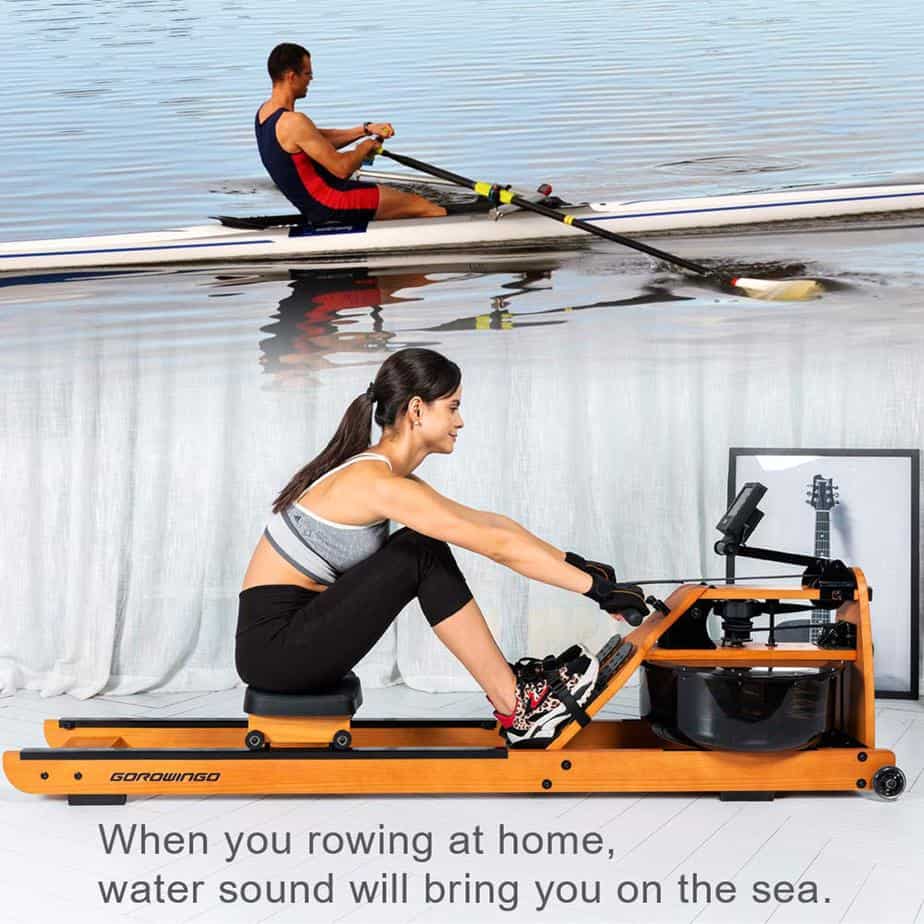 The Gorowingo Wooden Water Rower is designed for home use and its frame is made of a quality Chile Pine Wood that lets you return to nature. It's equipped with ergonomic seat, handlebar, and pedals (these are going to be explained in detail shortly).
The rower's stability comes from the anti-slip rubber paddings underneath it and its overall assembled weight (55 lbs./25 kg) as well. There are transport wheels at the front base for easy relocation process.
You may or may not use a protective rubber mat, it's your choice. Although, it might be a good idea to use one to prevent sweat from spilling on the floor.
It is not a very large rower like the Concept2 Model D and Model E. The overall assembled dimensions are approximately 77'' long by 19'' wide by 19'' high. Differently put, the workout area that should be required for this rower would be 6'5'' in length by 1'.6'' in width. Also, it requires additional extra clearance of at least 1-2′ around it for safety and a convenient workout experience.  
The Gorowingo Wooden Water Rower is not foldable but it can be stored vertically in a storage area of 2.5 sq. Ft.
It will be easy for anyone to get ON and OFF of the rower because the seat-to-floor height is 9.5''. Increasing the height with leg attachments is not possible and besides, it's not recommended because it may impede your safety and comfort during a workout.
The maximum user height the rowing machine accommodates is 6'3''.
The Seat of the Gorowingo Wooden Water Rower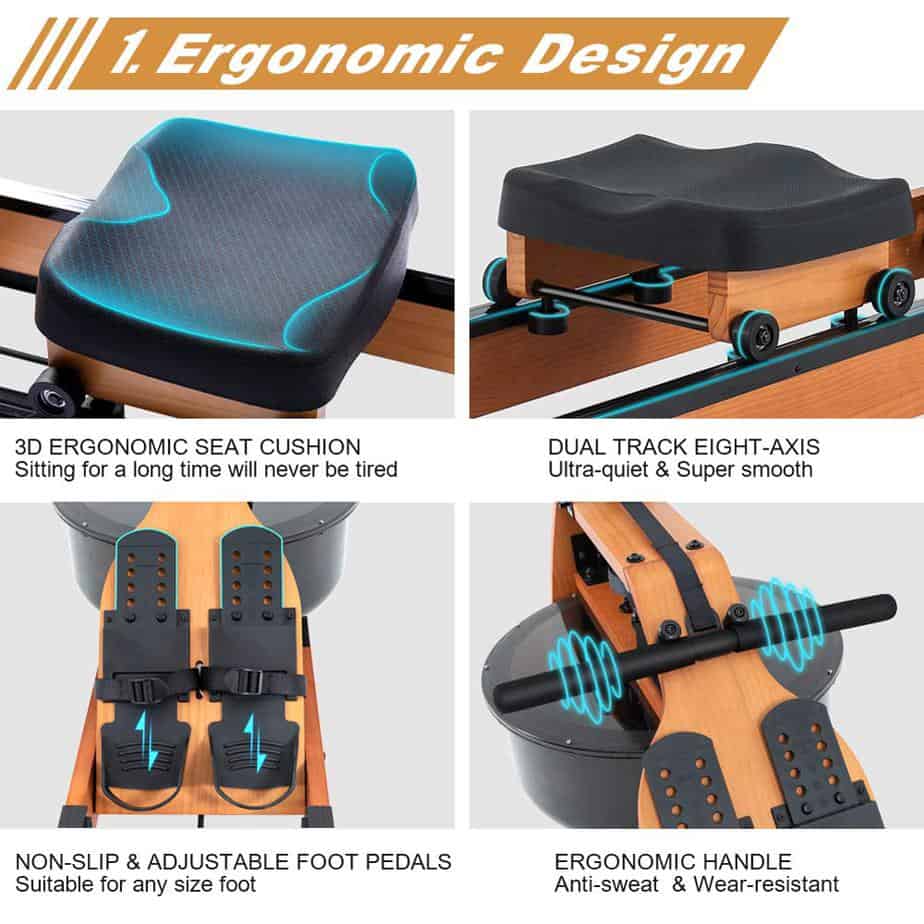 The water rower is incorporated with a 3D ergonomic cushioned seat that is designed to be adaptive to your butt (including the tail vertebrae) and all movements during a workout. This provides a lasting comfort that ultimately enables you to workout longer.
The seat is attached to a dual-track 8-axis motion track that mimics the real water rowing experience. Its motion is unbelievably silky smooth and vibration-free due to the fact that the track is precisely leveled.
Train without slipping off the seat during intense or rigorous rowing.
The Handle of the Gorowingo Wooden Water Rower
The handle of this unit is ergonomically designed to fit and suit everyone. It is coated with a soft rubber material that enables you to work out with comfort and security. No slippage will be experienced or blisters in the palms as a result of prolonged workout sessions.
A double-layer polyethylene fiber-straps are attached to the handle through a pulley and to the water tank. The fiber strap's strength is high and can bear high tensile strength which means your workout is secure because it won't snap during an exercise.  
It is tested and confirmed to withstand 5 million stretches. In other words, it will last for 10 years if you are to exercise daily for an hour.
The Pedals
The Gorowingo Wooden Water Rower has large anti-slip foot pedals with adjustable straps that can accommodate different sizes of feet. These pedals ensure that your feet are secure and comfortable during a rowing routine.
They can easily be adjusted to fit comfortably and could be used with a pair of standard gym shoes.
The Resistance System of the Gorowingo Wooden Water Rower
Just as the name implies, the Gorowingo Rower is integrated with a dynamic water resistance system that provides the feel of rowing out in the water.
It is one of the best resistance systems (besides the air resistance system) to offer proportionate intensity to users. This means no matter your fitness level you can always find a peak resistance intensity that is tailor-made for you. The reason is that the level of resistance intensity depends on how fast or how slow you pull the handle.
The faster you pull the more difficult the resistance becomes and it gets easy when you slow down. This is also the case with air resistance rowers as well.
However, this rower does not only provide that splashing sound that brings the memory of rowing in the water but it's also not noisy as the air rowers can be.
Its noise is so minimal that it won't force you to alter your rowing routine timetable because of a sleeping baby, family, and neighbors or prevent you from watching your favorite TV show or listening to good music.
There are no predefined resistance levels or adjustments as all the resistance activity is controlled by your pulling ability. Although, the resistance intensity generated can be controlled by the amount of water you fill into the tank.
The more water in the tank the harder the resistance will get and vice versa.
The calibrated aviation-grade polycarbonate water tank can be filled to certain levels and there are suggested levels that could be suitable for you on the manual. A siphon pump is included in the package to enable you to fill in water into the tank easily.
You are expected to change the water inside the tank every 3 months.
The Console of the Gorowingo Wooden Water Rower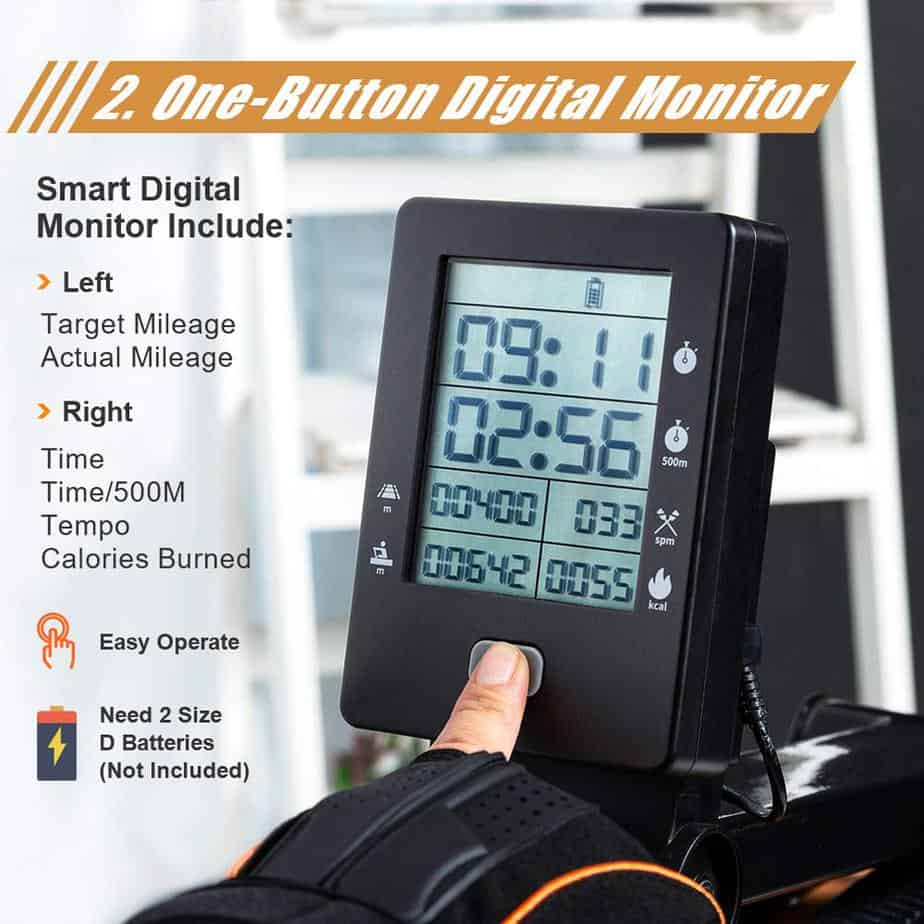 The rower has an average console that features a digital LCD monitor that keeps you abreast of your workout progress. It displays workout stats such as Time, Time/500M, Tempo, Calories, Actual Mileage, and Target Mileage.
These stats are displayed all at once, no need to scan through them one after the other. It is angle-adjustable and it has good readability.
The display is powered by 2 D batteries (not included).
As the monitor keeps you focused and motivated you can always reach your desired fitness goals.
Storage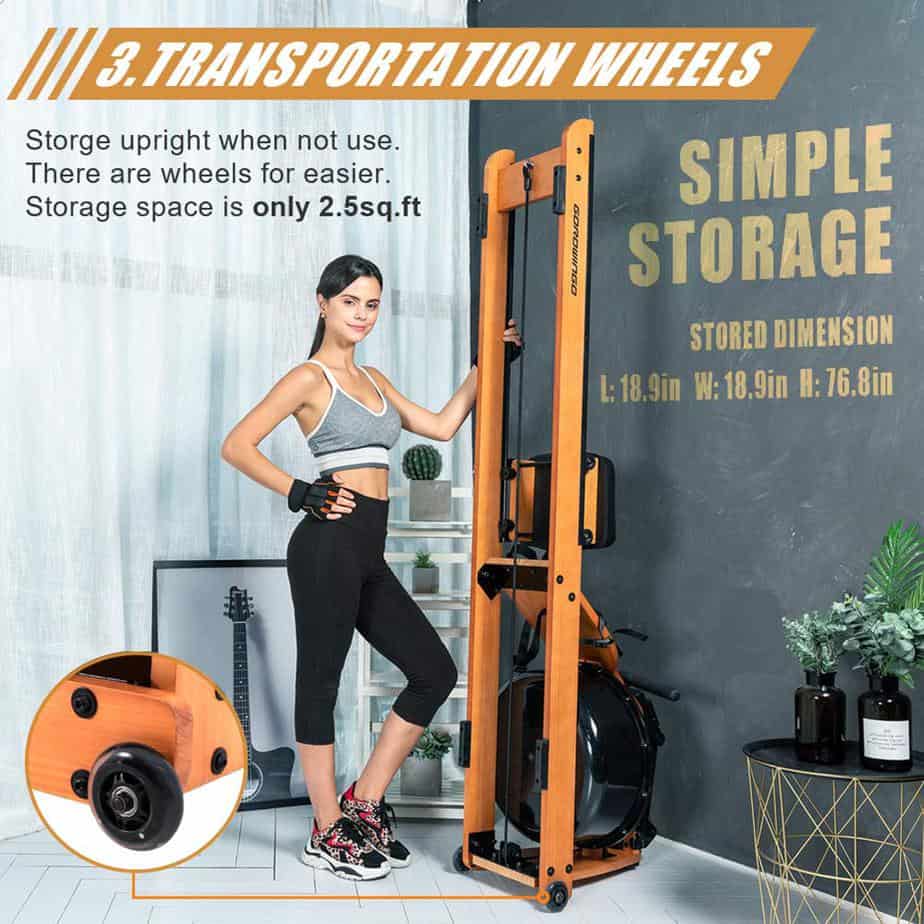 The storage of the Gorowingo Wooden Water Rower is easy and it takes amazingly less space than anyone can anticipate.
There are transport wheels at the front base which facilitate the movement of the rower from one room to another. Raise it up (weighs 55 lbs./25 kg) to a vertical position when it's time for it to be stored away. No need to drain the water in the tank before storing it because there is a stopper that prevents the water from leaking out.
It only requires 2.5 sq. Ft. storage space.
Approval Rating
The Gorowingo Wooden Water Rower may not be your regular brand but it sure has some good reports from actual users on Amazon.
Differently put, its Amazon approval rating is good at the time of this review.
Pros/Features Overview
It's durable and sturdy
Its frame is made of Chile Pine Wood
Supports 265 lbs./120 kg maximum user weight capacity
The operation is smooth and quieter than air rowers
It provides a real water rowing experience in the comfort of your home
There are anti-slip rubber stands underneath that increase stability and make it floor-friendly
The handle, seat, and the pedals are ergonomically designed to provide optimum comfort and safety
The resistance system provides suitable resistance intensity to all users of all fitness levels
It is a low-impact rower that targets over 80% muscle groups in the body, which include the arms, chest, back, shoulder, core, legs, and more
The handle straps can bear high tensile strength
The pedals are large with adjustable straps and can accommodate users of different feet sizes
The angle-adjustable LCD monitor tracks your workout progress with high readability; hence you will remain focused and motivated throughout your workout sessions
Good for weight loss, cardio health and strength improvement for both men and women
Requires very minimal storage space
Transport wheels integrated for an easy relocation process
Low-maintenance
Assembly is easy
Siphon pump included
Instruction manual and tools for assembly included
Cons
Product Dimensions and Specifications
Length 77''
Width 19''
Height 19''
Seat-to-floor height: 9.5''
Shipping dimensions: 77.6'' L x 3'' W x 5.1'' H
Shipping dimensions second box: 30'' L x 24'' W x 22'' H
Shipping weight: 60.8 lbs./27.5 kg
Assembled weight: 55 lbs/25 kg
Maximum user weight capacity: 265 lbs./120 kg
Seat: 3D cushioned
Handle: Ergonomically designed and covered with soft foam
Pedals: Large, anti-slip designed with adjustable safety straps
Resistance: Water
Frame: Chile Pine Wood
Display: angle-adjustable LCD monitor tracks Time, Time/500M, Tempo, Calories, Actual Mileage, and Target Mileage
Siphon pump: Yes
Transport wheels: Yes
Warranty
Shipping
The Gorowingo Wooden Water Rower is shipped out in well packaged 2 different boxes that contain the frame and the water tank. The shipping cost is free if purchased from Amazon.
They will be delivered to you in a couple of days upon purchase.
Assembly
The assembly of this rower is relatively easy as the main components are already pre-assembled.
You can assemble it with the aid of the included owner's manual and the tools. There are clear-illustrated assembly instructions that could walk you through the process without any hassle.
It takes less than an hour to fully assemble it.
Maintenance
The only maintenance required is to make sure that the water in the tank is drained and refilled after 3 months.
Ensure to always keep it clean from dirt and sweat.
Conclusion
The Gorowingo Wooden Water Rower is a recommendable unit that is durable. It provides low-impact full-body workouts that help you to transition to a healthy body.
It also brings the water rowing experience to the comfort of your home.
[rank_math_rich_snippet]