The Redliro Under Desk 2-in-1 Treadmill is designed for home and office use. It possesses similar features as the OppsDecor, but it doesn't have Bluetooth built-in speakers, and handlebars, hence, it is slightly cheaper.
As anticipated, the Redliro Under Desk Treadmill has 2 convertible modes with different speed limits. It has the assembled mode that can be used for walking and jogging exercises between the speed limit of 0.5-7.5 mph, and the under desk mode that could be used for walking while working on a computer between the speed limit of 0.5-4 mph.
It is a versatile unit that allows you to work while you exercise or simply engage in a regular workout at home or in the office. Its noise level is less than 60-70dB, which is safe and environmentally friendly.
Click right here to have a peek at the Redliro Under Desk 2-in-1 Treadmill.
The Frame and Construction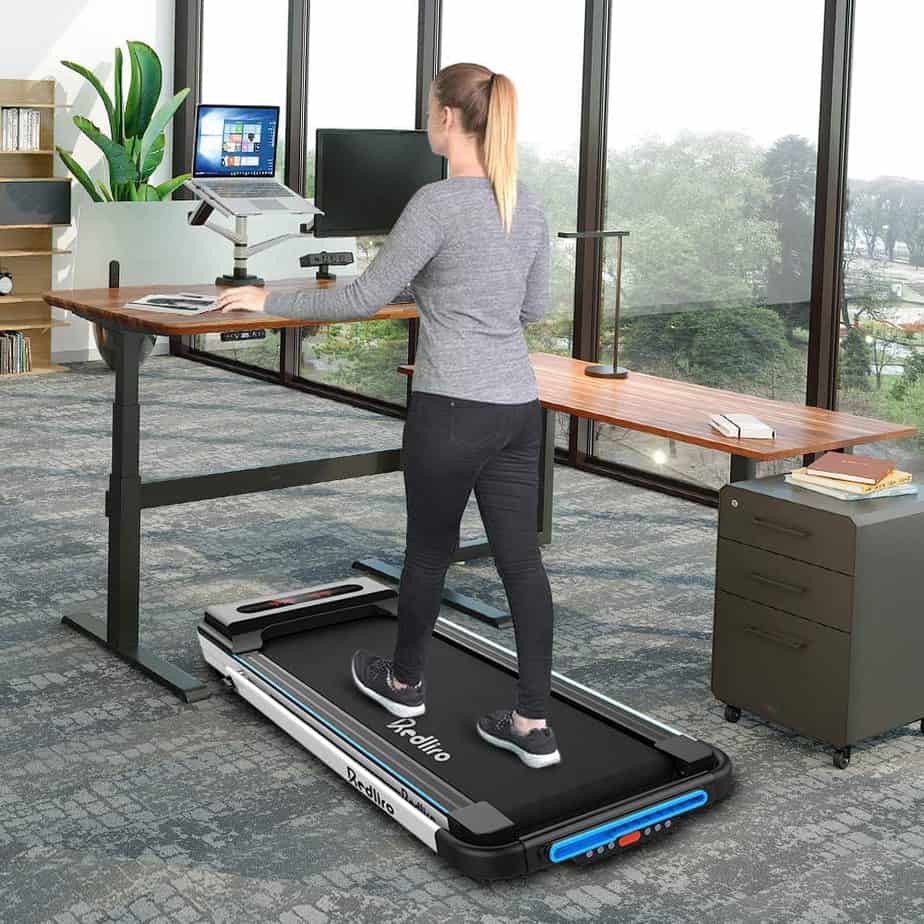 The Redliro Under Desk 2-in-1 Treadmill is a compact preassembled machine that is made of a steel frame. It is not expected to be assembled upon arrival; just unpack and start working out on it.
It supports a maximum user weight capacity of 220 lbs./100 kg.
The unit does well on tile, wooden, and carpeted floors. Its solid base integrates anti-skip rubberized pads that ensure stability. However, since it doesn't have adjustable levelers, it might be lopsided when placed on a surface that is not even, hence, wobbling may occur.
Therefore, the use of a protective rubber mat might come in handy in this instance.
The treadmill is easy to handle and relocate because it has transport wheels and only weighs about 57 lbs./25.8 kg.
Its non-slip tread belt with a 5-layer shock-absorbing system guarantees secure strides and reduced impact to the back, knees, and ankles during exercises.
The running surface dimensions are 41'' long by 14'' wide. Therefore, users as tall as 6' can walk on it without any problem, while those below 6' could walk and even jog as well.
The assembled dimensions are 51.9'' long by 24.8'' wide by 42.1'' high. Therefore, a workout area with perimeters of 4'4'' length by 2'1'' width will be adequate for the treadmill. Although, it is recommended to leave an extra clearance of 2' around it for safety and easy access.
The folded dimensions are 53.7'' long by 24.8'' wide by 5.5'' high. Hence, it can be stored vertically by leaning it against the wall or horizontally under a bed or couch that has 10'' clearance.
The Motor of the Redliro Under Desk 2-in-1 Treadmill
The motor capacity is 2.25 HP, and its operation is smooth and nearly silent. It holds up and supports walking and jogging activities for those that are within the maximum stipulated weight of 220 lbs./100kg.
It is safely designated and concealed at the front base of the treadmill, and for it to be functional it needs to be plugged into a power outlet with a voltage and frequency of 110V, 50-60 Hz.
It provides a speed range of 0.5-7.5 mph when the treadmill is in a fully assembled mode, and while in a folded mode, it provides 0.5-4 mph.
The speed can be adjusted via the buttons on the treadmill or through the use of the included remote controller.
Lastly, users can work out freely without the apprehension that the family or the neighbors might be bothered by their workout activity.
Incline
The treadmill does not have an incline system, and you must not try to artificially induce it because it will affect its stability and overall performance.
The Console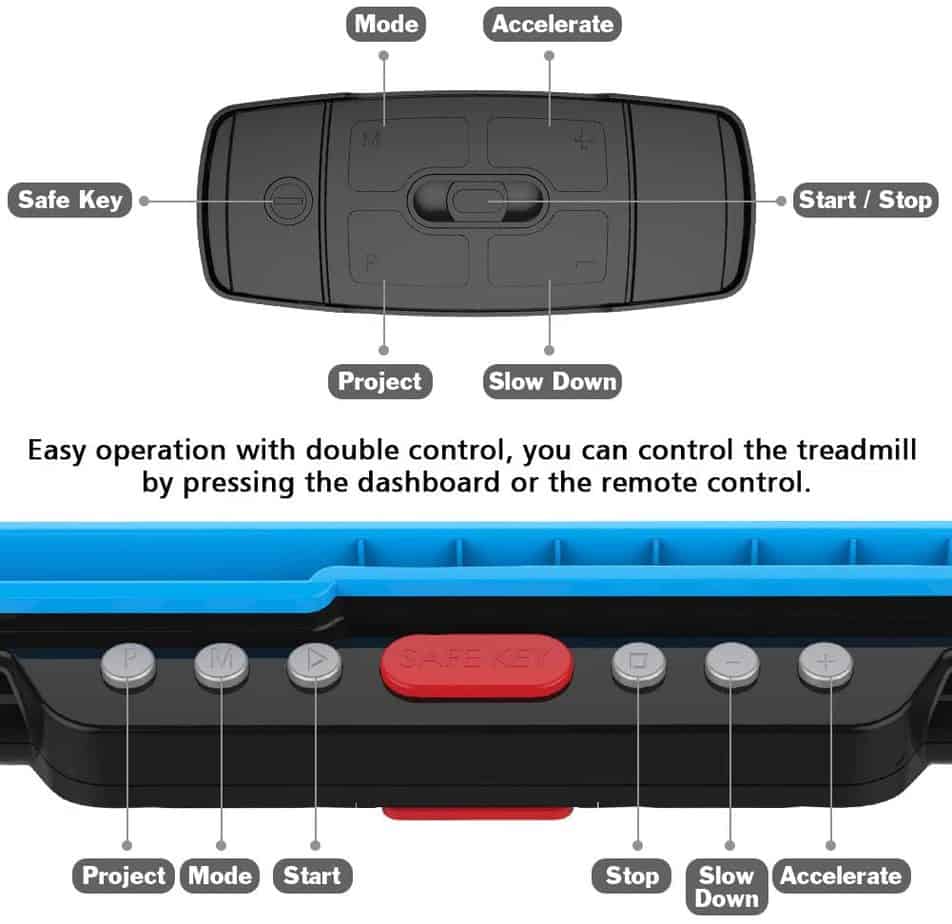 The Redliro Under Desk 2-in-1 Treadmill has a little dashboard that features a Safety key, Speed, Mode, Program, and Start/stop buttons.
The monitor with 5 LED windows is designated down at the front base. It displays workout stats such as Time, Steps, Calories, Speed, and Distance. It has good readability but due to the distance between the user and the display, it may not be entirely convenient to view.
12 workout programs are incorporated for targeting and achieving specific goals.
Since there is no heart rate monitoring function available on the treadmill, you will have to use an external heart rate device if you wish to track and maintain your target heart rate zone.
Unfortunately, there is no pause button, which means, you can't take a step away from the treadmill without stopping the tread belt from rolling; and when you do, the ongoing workout data wipes and resets.
Accessory
The dashboard also includes a tablet holder and an accessory tray for the remote controller. So, you can use a smartphone or tablet device for entertainment while you exercise on the treadmill.
Storage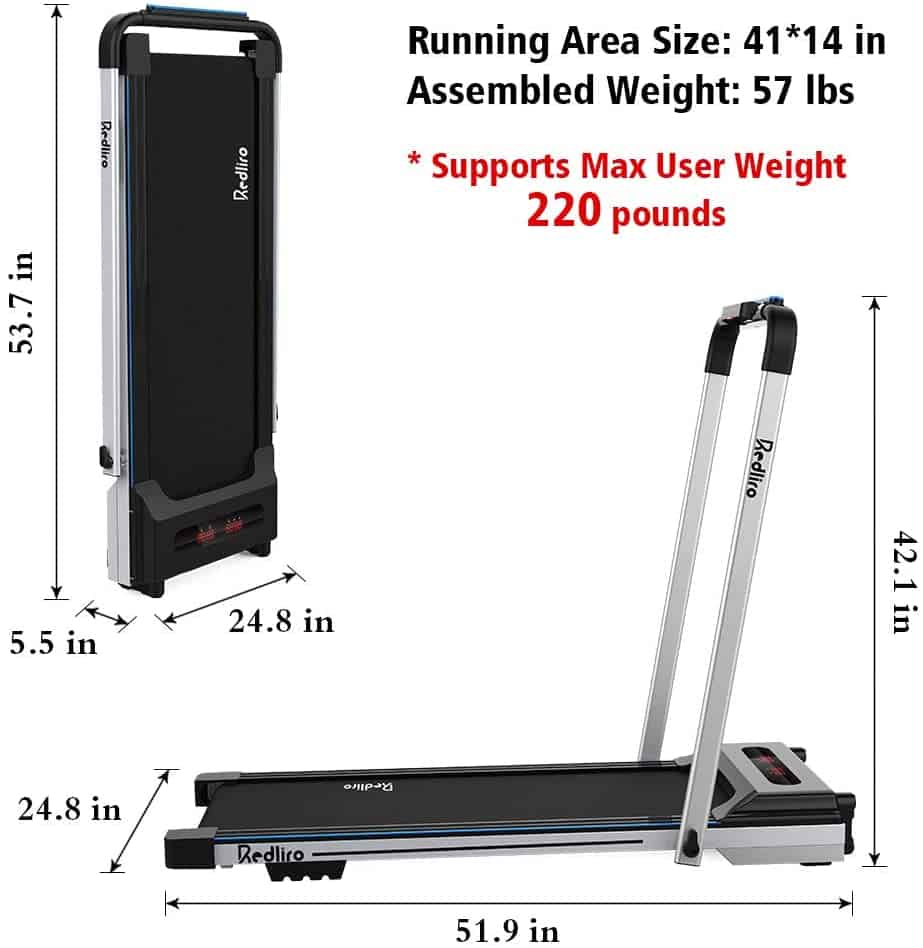 The Redliro Under Desk 2-in-1 Treadmill is a compact and lightweight machine with a space-saving design. When folded, it doesn't require much space for storage because it can be stored uprightly by leaning it against the wall or flatly under a bed or couch with 10'' clearance.
Its folded dimensions are 53.7'' long by 24.8'' wide by 5.5'' high.
Since the treadmill is integrated with transport wheels and only weighs 57 lbs./25.8 kg, moving it from a storage area to a workout area, and vice versa, is a walk in the park.
Pros/Features Overview
It is compact, lightweight, and portable; therefore, it doesn't take much room and can easily be moved
Elegant, affordable, and cost-effective
Supports a maximum user weight capacity of 220 lbs./100 kg
It could be stored vertically or horizontally
It is easy to fold and unfold
LED monitor tracks Time, Steps, Distance, Speed, and Calories
The motor provides smooth and near-silent performance without getting overheat
It is suitable for those that wish to walk and jog
The running surface has a 5-layer cushioning system that protects the joints from excessive stress during workouts
There are 12 workout programs for achieving specific fitness goals
It could be used as a normal regular treadmill or an under-desk machine for working while exercising
Assembly is not required
Tablet holder included for entertainment
Easy to maintain
Cons
No pause button
No heart rate monitoring function
No water bottle holder
No incline system
Warranty
Product Dimensions and Specifications
Length: 51.9''
Width: 24.8''
Height: 42.1''
Folded dimensions: 53.7'' L x 24.8'' W x 5.5'' H
Shipping dimensions: 57.67'' L x 27.36'' W x 6.69'' H
Tread belt dimensions: 41'' L X 14'' W
Net weight: 57 lbs./25.8 kg
Gross weight: 70.5 lbs./32 kg
Motor: 2.25 HP
Speed range: 0.5-7.5 mph (when the masts are up), 0.5-4 mph (when the masts are folded)
Monitor: LED
Frame: Steel
Maximum user weight capacity: 220 lbs./100 kg
Program: 12
Tablet holder: Yes
Water bottle holder: No
Shipping
The Redlira 2-in-1 Under Desk Treadmill is shipped in a well and a neatly packaged box that weighs 70.5 lbs./32 kg with dimensions of 57.67'' long by 27.36'' wide by 6.69'' high.
The shipping cost and delivery is free of charge by Amazon.
Assembly
The treadmill is preassembled. Thus, you can start using it once you have unpacked it.
Maintenance
The unit's tread belt needs to be lubricated periodically, and this keeps it functioning as it is intended to. A 100% silicon-based oil has to be used for this purpose.
Moreover, use and store the treadmill in a dry and cool area, and always keep it clean.
Conclusion
The Redliro Under Desk 2-in-1 Treadmill is handy when it comes to working out at home or in the office. Its 2-mode design fits the job description of providing the opportunity for walking, jogging, or exercising while working on a computer.
Its versatility will be appreciated by those that work a lot behind the desk, be it at home or in a normal office setting.