Just like many other water rowers, Mr. Rudolf WaterRower is designed to offer a real outdoor water rowing experience right in the comfort of your home. It is common knowledge that a user gets a full-body cardiovascular workout when using a rowing machine such as this.
Mr. Rudolf WaterRower is built with a very solid oak wood that supports a maximum user weight capacity of 320 lbs./145 kg. It comes with a display that tracks workout stats such as Time, Speed, Distance, 500M Split, Time, Strokes Per Minute, Calories Per Hour, and Watts.
Yes, it does require a little bit of space for a workout, most rowers do except for some such as the Stamina 1205 Precision Rower.
It accommodates users of different heights and sizes, at least a user with legs less than 120 cm/47.2''.
Its water-resistance system is dynamic and simulates rowing in open water.
Mr. Rudolf WaterRower has some similarities with the Gorowingo Water Rowing machine.
Click right here to have a peek at the Mr. Rudolf Water Rowing Machine.
The Frame and Construction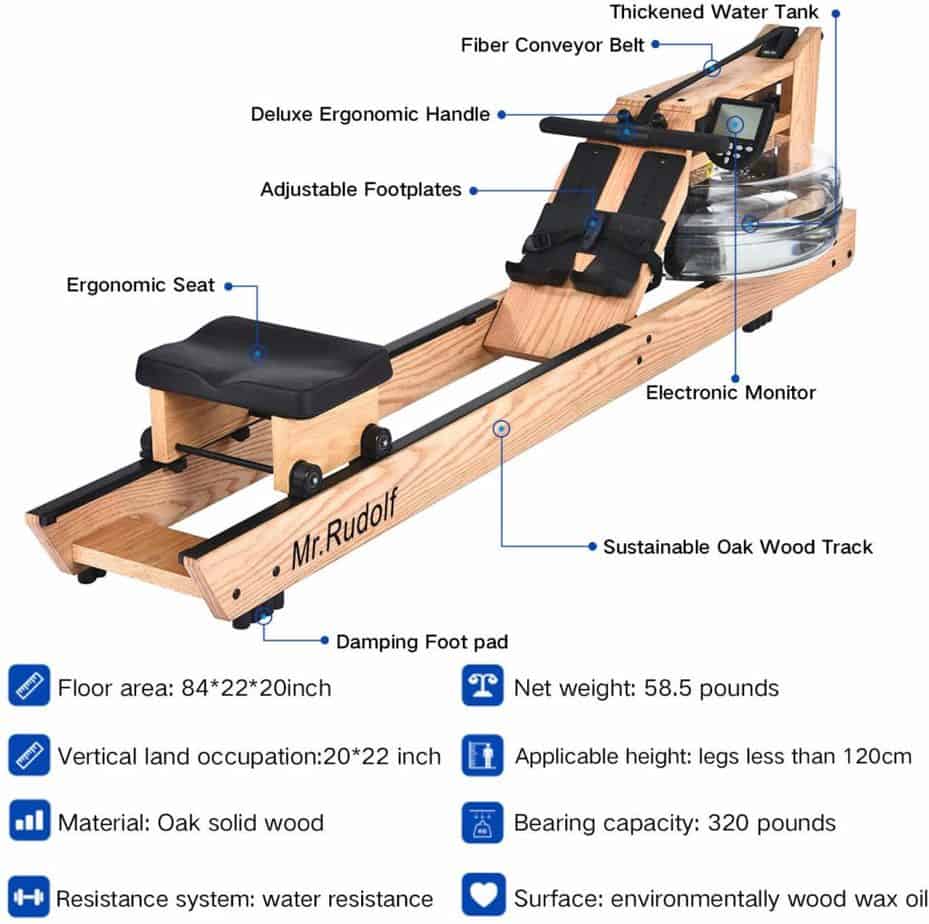 Mr. Rudolf WaterRower's overall construction represents a good indoor rowing machine that provides a full-body cardiovascular workout that impacts about 84% of the body muscles effectively. These muscles include the biceps, abdominal muscles, elbow joints, knee joints, quadriceps, large gluteus maximus, etc.
It also offers low-impact workouts, meaning, joints are not stressed as a result of your exercise.
Its frame (including the seat's base) is made of durable oak wood with a 1'' fiber conveyor belt, plastic footplates, and a see-through thickened plastic water tank.
The rower's base has several damping footpads that prevent slippage even during a vigorous workout and its assembled weight of 58.5 lbs./26.5 kg. further cements its overall stability.
Although, users usually purchase the rower with a protective rubber mat for different reasons which include preventing sweat from spilling all over the floor during a workout session.
The rowing machine's overall dimensions are 82'' long by 22'' wide by 20'' high. Simply put, it will require a workout area with perimeters of 6'7'' length by 1'9'' width, plus additional extra clearance around it for safety and convenience purposes.
However, it won't require much space for storage because it could be stored vertically. Basically, the storage space size is 20" x 22".
There are transport wheels at the front base which facilitate the easy relocation of the rower.
The Seat of the Mr. Rudolf WaterRower
Mr. Rudolf WaterRower is equipped with an ergonomically contoured seat that is attached to a wooden base that sits on the dual rails.
It provides decent comfort that lasts through a consistent 30 minutes workout. Its glide is smooth and stable as well.
Therefore, there won't be the need to use a gel seat cover or swap it.
The Handlebar of the Mr. Rudolf WaterRower
The deluxe ergonomic handlebar is cushioned with a soft rubber foam that provides comfortability for a prolonged and effective workout. As a result, no slippage or blisters will be experienced.
The handlebar is attached to a 1'' nylon strap that runs over a pulley and is connected to the water tank.
The Footplates
Mr Rudolf WaterRower is integrated with large adjustable footplates that have a sizable heel border that further secures the feet from slipping.
These footplates accommodate different foot sizes and could be used with a pair of standard gym shoes.
The Resistance
Mr. Rudolf WaterRower has a water resistance system that is very dynamic in terms of generating different levels of resistance. It is also considered to simulate the outdoor rowing experience due to the splash sound it makes during a workout routine.
The water-resistance system consists of a water tank with built-in paddles, a recoil system, a pulley, a strap, and a handlebar. Together, these elements provide a smooth rowing motion that could make users that have rowed in the open water before to reminisce about their experience.
There are no predefined resistance levels; the resistance is infinite and dynamic. Just as with a real water boat, the resistance gets tougher when you paddle faster and it becomes easy when you slow down.
So, it will suffice to say, the resistance you get is proportionate to how fast or slow you paddle.
Another way to adjust the resistance is to either put more or less water into the water tank. More water tends to generate high resistance while less water generates low to medium level resistance.
There is no water level indicator on the water tank as opposed to some rowers. However, it is recommended to fill in 3-4 gallons of water depending on your fitness level. You may want to start with 3 gallons of water if you are just starting.
The swooshing sound from the water is not very noisy at all. Therefore, your family or the neighbors won't feel disturbed when you exercise with the rower. Also, when you watch a TV show or listen to music, you won't have the need to increase the volume beyond the normal level either.
Mr. Rudolf WaterRower comes with a hand-operated siphon pump that enables you to easily add or reduce water from the tank.
The Console of the Mr. Rudolf WaterRower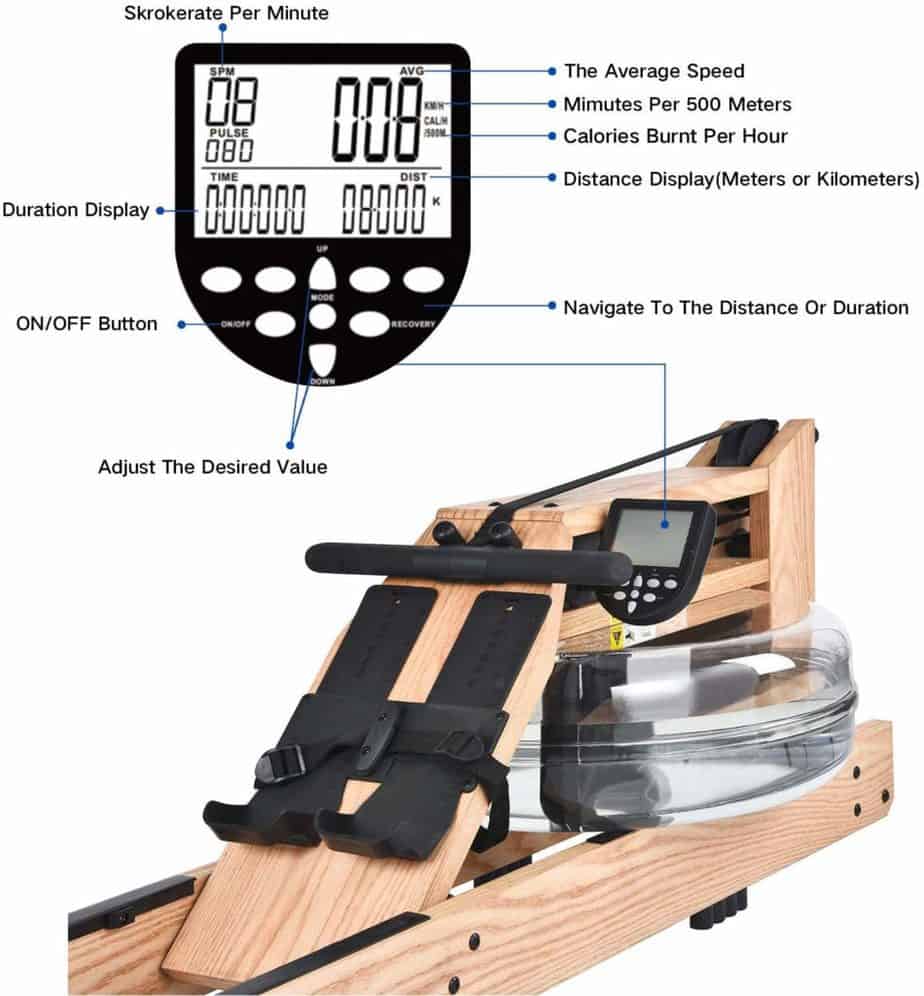 A highly readable LCD monitor is incorporated into the rowing machine to enable you to stay focused and motivated. It displays workout stats such as Time, Distance, 500M Split Time, Strokes Per Minute, Calories Per Hour, and Watts.
The workout values are displayed simultaneously so that you can view them without having to scroll through them.
Of course, the monitor is battery-powered.
Storage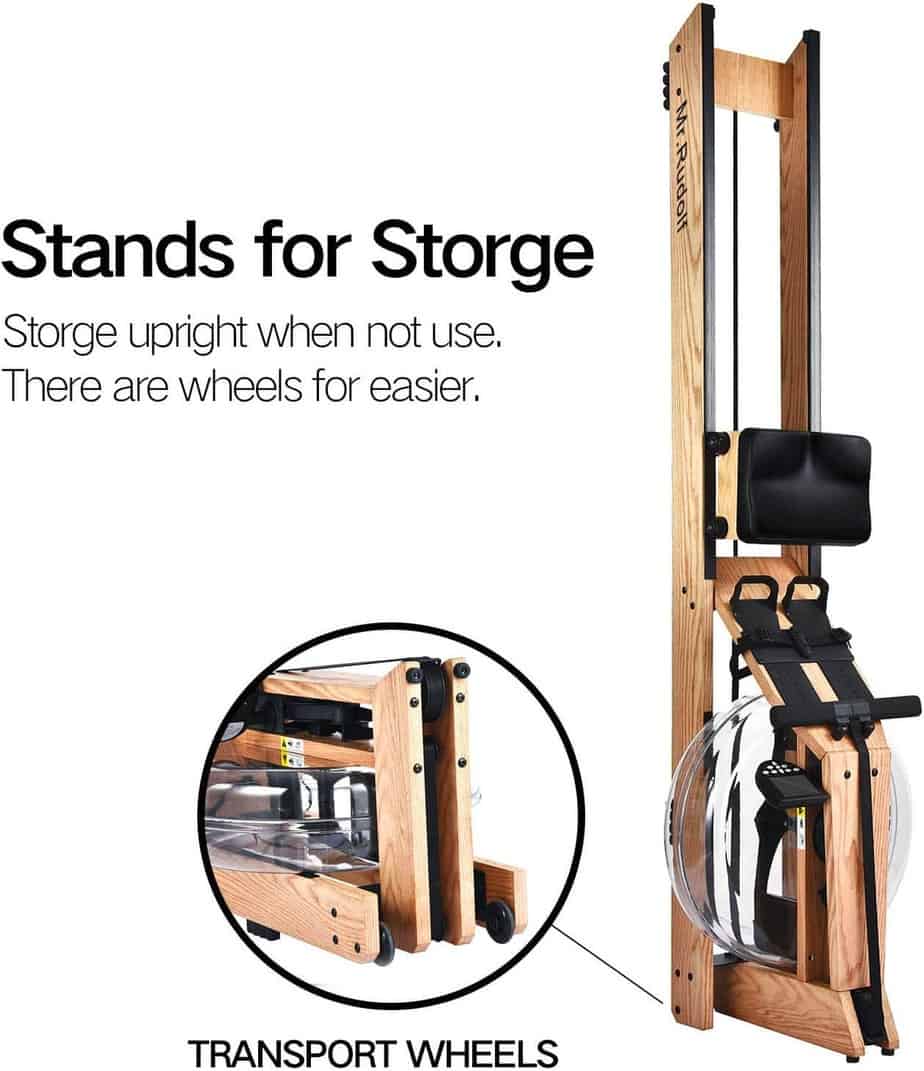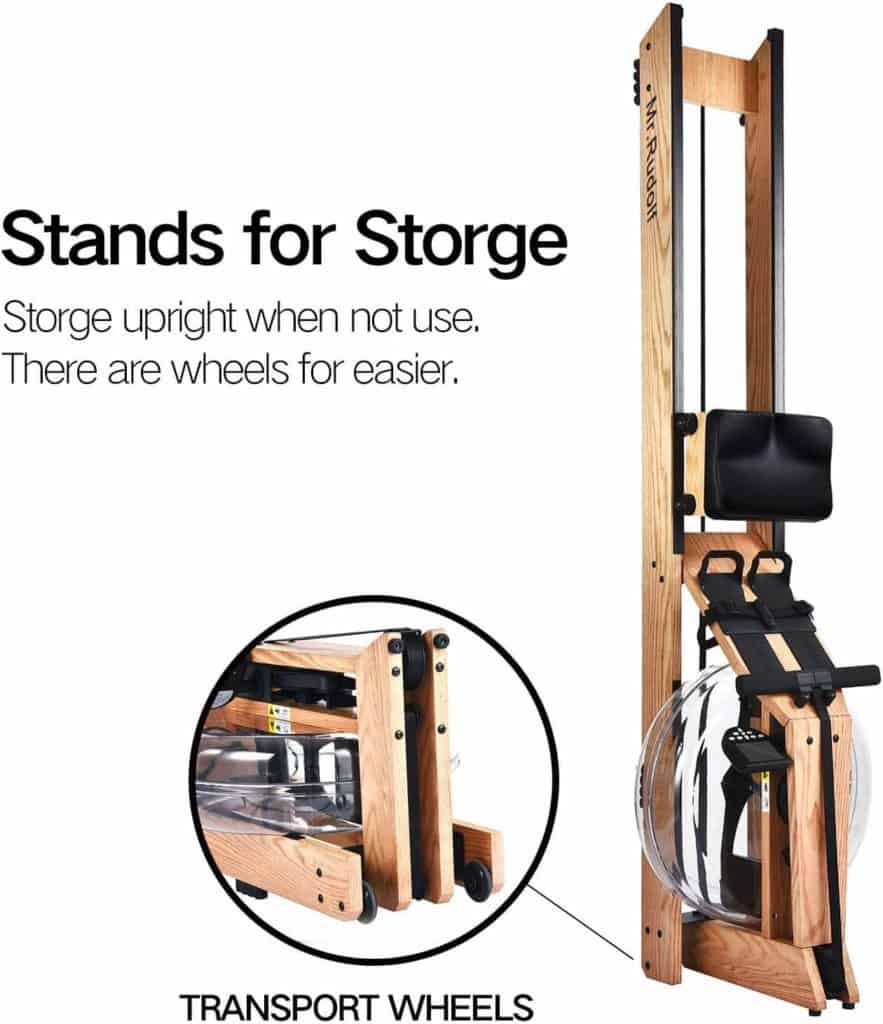 The storage of the Mr. Rudolf WaterRower is easy and doesn't take much space.
It is being stored upright with the front part below and the rear part at the top. No need to remove the water before storage because there is a stopper that prevents leakage.
The storage area only requires perimeters of 20'' x 22''
There are transport wheels at the front base which facilitate the relocation of the rower.
Approval Rating
This rower has a good approval rating on Amazon.
Many users/reviewers on Amazon feel satisfied with the product and are willing to recommend it.
Pros/Features
Durable and stable, made of oak wood
Supports 320 lbs./145 kg maximum user weight capacity
Users of different heights and sizes can be accommodated
The resistance system provides resistance intensities that are suitable for users of different fitness levels
The rower impacts over 80 percent muscles of the body
It provides low-impact cardiovascular workouts that lose weight, improves the cardiovascular health and strength without stressing the joints
The contoured seat offers enduring comfort for prolonged workouts
The rail movement is stable and smooth
Its operation is not noisy as many would have thought and it simulates a real rowing boat
The footplates are large and adjustable, thus, different foot sizes can be accommodated
A manual siphon pump is included
Doesn't take up too much storage space
The LCD monitor tracks your workout progress
Limited maintenance
Assembly is pretty easy
Cons
No heart rate monitoring function
No online connectivity
Product Dimensions and Specifications
Length 82''
Width 22''
Height 20''
Maximum user weight capacity: 320 lbs./145 kg
Net weight: 58.5 lbs./26.5 kg.
Frame: Oakwood
Resistance: Water
Seat: Contoured and cushioned
Handlebar: Ergonomically designed and coated with soft rubber foam
Footplates: Large and adjustable
Monitor: LCD display tracks Time, Distance, 500M Split Time, Strokes Per Minute, Calories Per Hour, and Watts
Manual siphon pump included
Transport wheels: Yes
Warranty
1 Year for Frame
180 days for Parts & Labor
Shipping
Mr. Rudolf WaterRower is shipped out in two different boxes. One contains the frame while the other contains the water tank. Of course, other accessories for assembly are included in them.
If purchased from Amazon, you will get free standard shipping and it gets delivered within a couple of days.
Assembly
The assembly of this rower is pretty much easy. The only seemingly difficult part is getting the 1'' nylon strap attached to the handle and connecting it to the water tank.
That said, you will get it done when you follow the instructions on the owner's manual to the letter.
Assembling time is between 30 minutes to an hour.
Maintenance
Maintenance is not really required except to periodically change the water in the tank.
Other than that, keep the rower clean and dry at all times.
Conclusion
Mr. Rudolf WaterRower is designed for home use. It gets you to lose weight and improve overall physical fitness without the usual aftermath pains that accompany the use of some indoor exercise equipment.
Its price is said to be considerate because there are other water rowers in the same category that cost more.