The FUNMILY 2.25 HP Electric Folding Treadmill is designed for walking and jogging aerobic exercises. It is compact, foldable, lightweight, and portable; hence, it fits in well in small apartments, and can easily be moved.
Its foldability makes it possible for users to store it in most unlikely places such as under the bed/couch, or uprightly against the wall.
Sedentary individuals who work a lot on a computer or behind the desk, at home, or in the office will find the treadmill interesting because of the integrated table stand that can accommodate a laptop, a water cup, and other stuff like a remote controller, etc.
It has a powerful 2.25 horsepower motor that provides a speed range of 0.5 to 7.5 mph, while the lawn textured running surface has a 5-layer cushioning system that reduces the impact that is usually felt on the hips, knees, and ankles during a jogging/running exercise.
Click right here to have a peek at the FUNMILY 2.25 HP Electric Folding Treadmill.
The Frame and Construction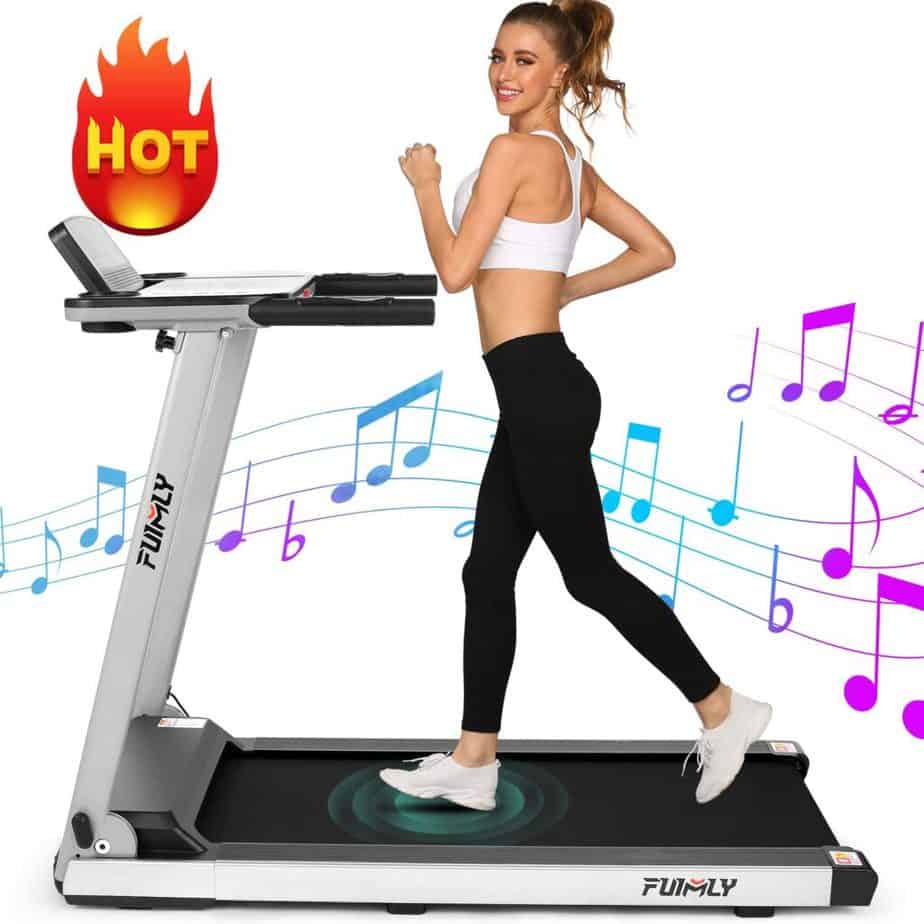 The FUNMILY 2.25 HP Electric Folding Treadmill is made of an anti-rust paint-coated steel frame, and a console, table, and motor covers that are made of solid plastic, hence, it is durable with an appealing outlook.
It supports a maximum user weight capacity of 265 lbs./120 kg.
The treadmill's base features anti-slip rubber pads underneath, as a result, it has enough traction that prevents movements during workouts. However, it is important to place the unit on a floor that is not crooked for improved overall stability since it doesn't have adjustable levelers.
Its assembled dimensions are 49.2'' long by 23.2'' wide by 36'' high. Differently put, the treadmill requires a workout area with perimeters of 4'1'' length by 2' width. That said, it is recommended to consider an additional 2' clearance around it for easy access and a safe workout experience.
When folded, the dimensions become 49.2'' long by 23.2'' wide by 8.2'' high. This simply means that the treadmill is literally flat once it is folded, thus, can be stored under a couch, bed, or vertically against the wall, just as aforementioned.
The running surface dimensions are 40.55'' Long by 16.5'' wide, and it has a self-lubrication system for easy tread belt maintenance.
The relocation of the unit from one room to another is not difficult, since it only weighs 70 lbs./31.7 kg, and has transport wheels as well.
Finally, the machine doesn't have an incline system; and you mustn't try to improvise because its performance and safety could be compromised. In other words, do not attempt to use an object to elevate the front base.
The Motor of the FUNMILY 2.25 HP Electric Folding Treadmill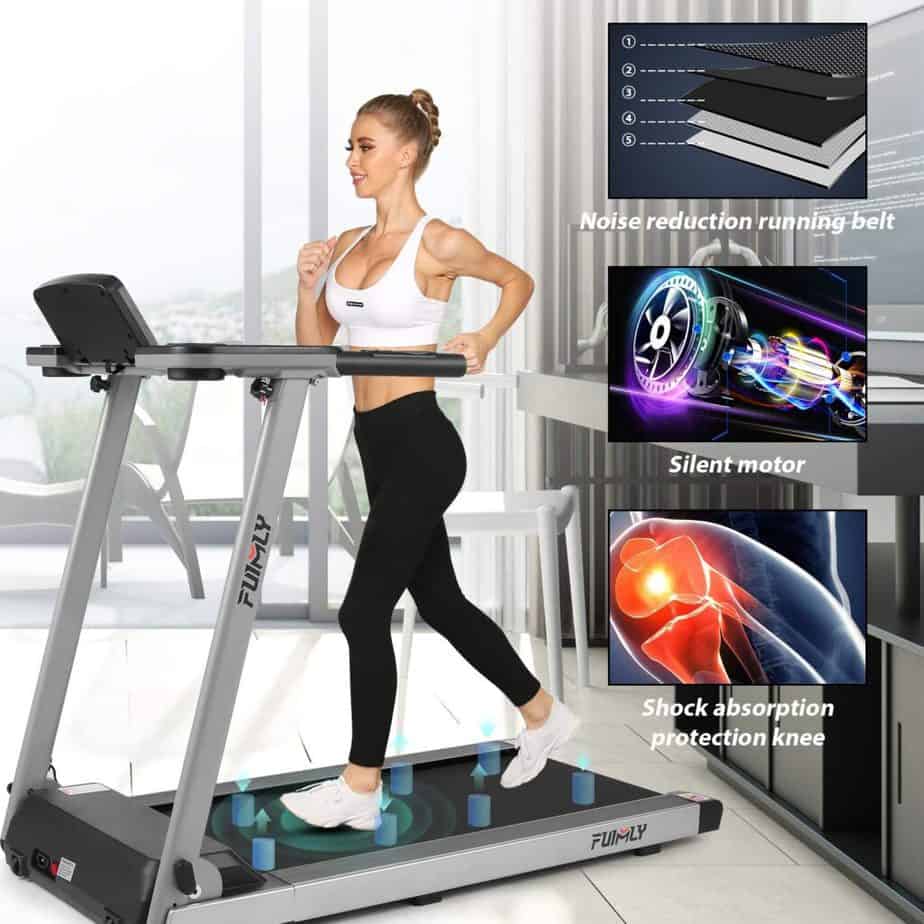 Just as the treadmill's name implies, it incorporates a 2.25 horsepower motor with a flywheel. Thus, its operation is not only smooth, and quiet, but also vibration-free.
This simply means that the user's footfall is noisier than the treadmill's operation. So, exercising with the unit doesn't constitute a nuisance that would rise to disturbing people around you.
The motor is designated at the front base of the treadmill and safely covered with plastic. It is powerful and energy-efficient; it doesn't overheat or break down even when a 265 lbs./120 kg user engages in a prolonged high-speed workout. It works very well on different types of floors. However, if you have concerns that it might overheat when used on a carpeted surface, try using it on a protective rubber mat.
Since the treadmill is motorized and has a US plug, it needs to be connected to a 110V, 50-60Hz, voltage, and frequency rated power outlet for it to be functional.
Lastly, the motor provides a speed range of 0.5-7.5 mph and can be adjusted via the quick buttons on the right handlebar and those on the table stand.
The Console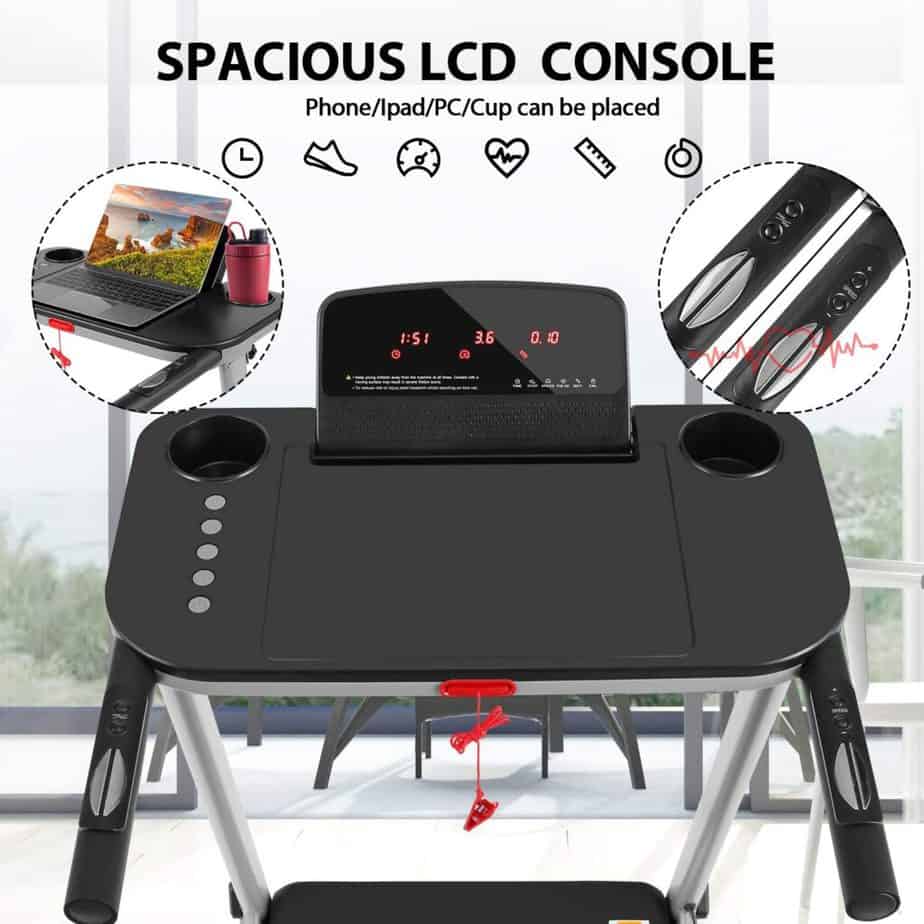 The FUNMILY 2.25 HP Folding Treadmill has a unique console that features an LED monitor and a table stand.
The monitor tracks workout stats such as Time, Step, Pulse, Distance, Speed, and Calories with good clarity that cannot be compromised by a poorly-lit room. The console is not telemetric, but the handlebars integrate HR sensors that can read and transmit the heart rate data when grasped during a workout.
Users that wish to simultaneously workout and work on a laptop can do so due to the unique integrated table stand.
However, since it is not adjustable, some users might have a suitability issue due to their height. So, if you have concerns that this might be the case for you, a 2-in-1 treadmill could be a good alternative because it allows you to use an adjustable standalone desk that could easily be manipulated to provide a suitable height position for working on a computer while working out.
That said, the console has 12 workout programs designed to help you diversify your workouts for achieving specific fitness goals. When any of the programs is selected, the treadmill automatically engages a certain speed level for you.
The Speed (+/-) buttons, the Program button, the Mode button, and the Power button on the left side of the table stand are pretty bold and easy to use, while on the other hand, there are Start/Stop buttons on the left side of the handlebar for quick and easy access for power control.
A safety key is designated at the front edge of the table stand, which (if attached to your outfit) automatically turns off the treadmill in the event you accidentally trip during a workout to prevent an injury.
Accessory
There is a Bluetooth built-in speaker on the console that syncs with a smartphone/tablet device for quality audio output, and a cup holder on one side of the table stand, and an accessory holder on the other side.
So, users can work out and work, while being entertained and staying properly hydrated during a session.
Storage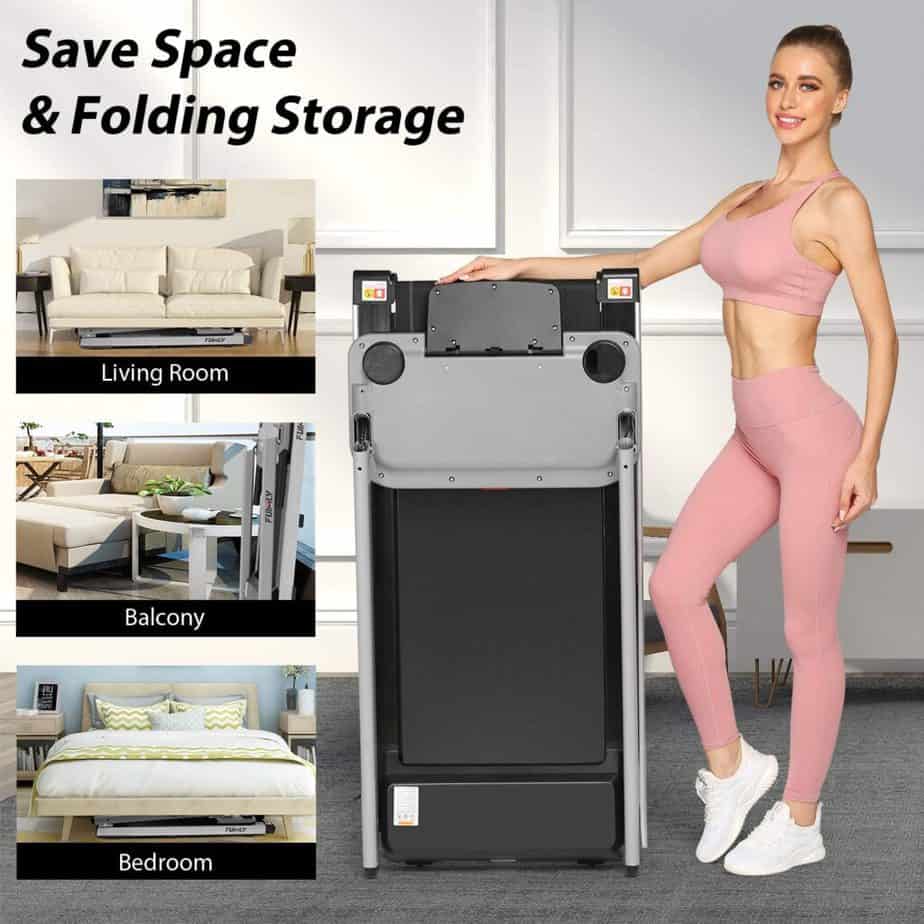 The FUNMILY 2.25 HP Folding Treadmill is one of the most storage-friendly units available. The reason is that it can be flatly folded to fit under the bed/couch or be vertically stored against the wall, requiring very minimal space.
On top of that, it is lightweight and portable, thus, it can easily be moved from one spot to another effortlessly.
Approval Rating
At the time of this review, this treadmill has a positive approval rating on Amazon, with the majority of the users' reviews recommending it.
However, it is up to you to finally decide whether or not to purchase it after reading this review.
Pros/Features
It is sleek and sturdy
Supports a maximum user weight capacity of 265 lbs./120 kg
It is compact, portable, with a space-saving design; doesn't take too much space for workouts and even much less for storage
The performance is smooth, quiet, and vibration-free
The 2.25 horsepower motor is powerful, and heat resistant
The lawn textured deck with a 5-layer cushioning system prevents slippage and reduces the impact that is usually felt on the joints while jogging
The self-lubrication system allows you to easily oil the tread belt for smooth and quiet rolling motion
The treadmill allows you to work while you work out, thanks to the integrated table stand for a laptop
Suitable for walking and jogging exercises
Not difficult to assemble
The maintenance requirement is minimal
Cup holder included for proper hydration
Bluetooth speaker for quality audio output
12 workout programs
The LED monitor tracks workout stats such as Time, Steps, Distance, Speed, Calories, and Pulse with high readability
Cons
The table stand is not adjustable
No incline system
No pause-button
Warranty
Product Dimensions & Specifications
Length: 49.2''
Width: 23.2''
Height: 36''
Folded dimensions: 49.2'' L x 23.2'' W x 8.2'' H
Shipping dimensions: Not specified
Running surface dimensions: 40.55'' L x 16.5'' W
Tread Belt: Textured and 5-layered
Net weight: 70 lbs./31.7 kg
Gross weight: Not specified
Frame: Steel
Maximum user weight capacity: 265 lbs./120 kg
Motor: 2.25 horsepower
Speed range: 0.5-7.5 mph
Monitor: LED
Rated voltage: 110V
Rated Frequency: 50-60Hz
US plug
Easy-self-lubrication system
Laptop table stand included
Cup and accessory holders
Transport wheels included
Program: 12
Shipping
The shipping and the delivery of this product by Amazon attract $20 as a shipping fee. It arrives in a single well-packaged box in a couple of days.
Assembly
The FUNMILY 2.25 HP Electric Folding Treadmill is almost preassembled by the manufacturer. However, there are parts you are required to attach to the main core unit.
You can completely assemble it within 30 minutes, more or less, when you follow the included instruction manual carefully. The tools needed for the assembly are also included in the package.
Maintenance
The manufacturer solves half of the maintenance problem by integrating a self-lubrication system into the treadmill. This allows you to easily lubricate the tread belt without hassles.
Besides that, you need to keep the unit clean at all times and do not expose the console to liquid, moisture, and direct sunlight.
Conclusion
The FUNMILY 2.25 HP Electric Folding Treadmill helps users to navigate from sedentary to an active lifestyle without scaling back their desk work productivity because they will be able to multi-task by walking and working.
Moreover, those that have limited space in their room will be appreciative of it due to its compact and space-saving design.