The BATTIFE Water Rowing Machine is a wooden rower that is sturdily made and designed to provide a taste of what it's like to row on a real water boat.
It has a close design with Mr. Rudolf Rowing machine.
It is made of real red walnut wood and it supports 280 lbs./127 kg maximum user weight capacity. It does require a little bit of space for workouts just as most rowing machines do. However, it could be stored vertically, thereby, significantly reducing the storage space needed.
It supports up to 38'' inseam; this means, it can accommodate users that are up to 6'5''. However, ensure to verify your inseam (the length of the thigh to the ankle) if you are not sure it can accommodate you.
Click right here to have a peek at the BATTIFE Water Rowing Machine on Amazon.
The Frame and Construction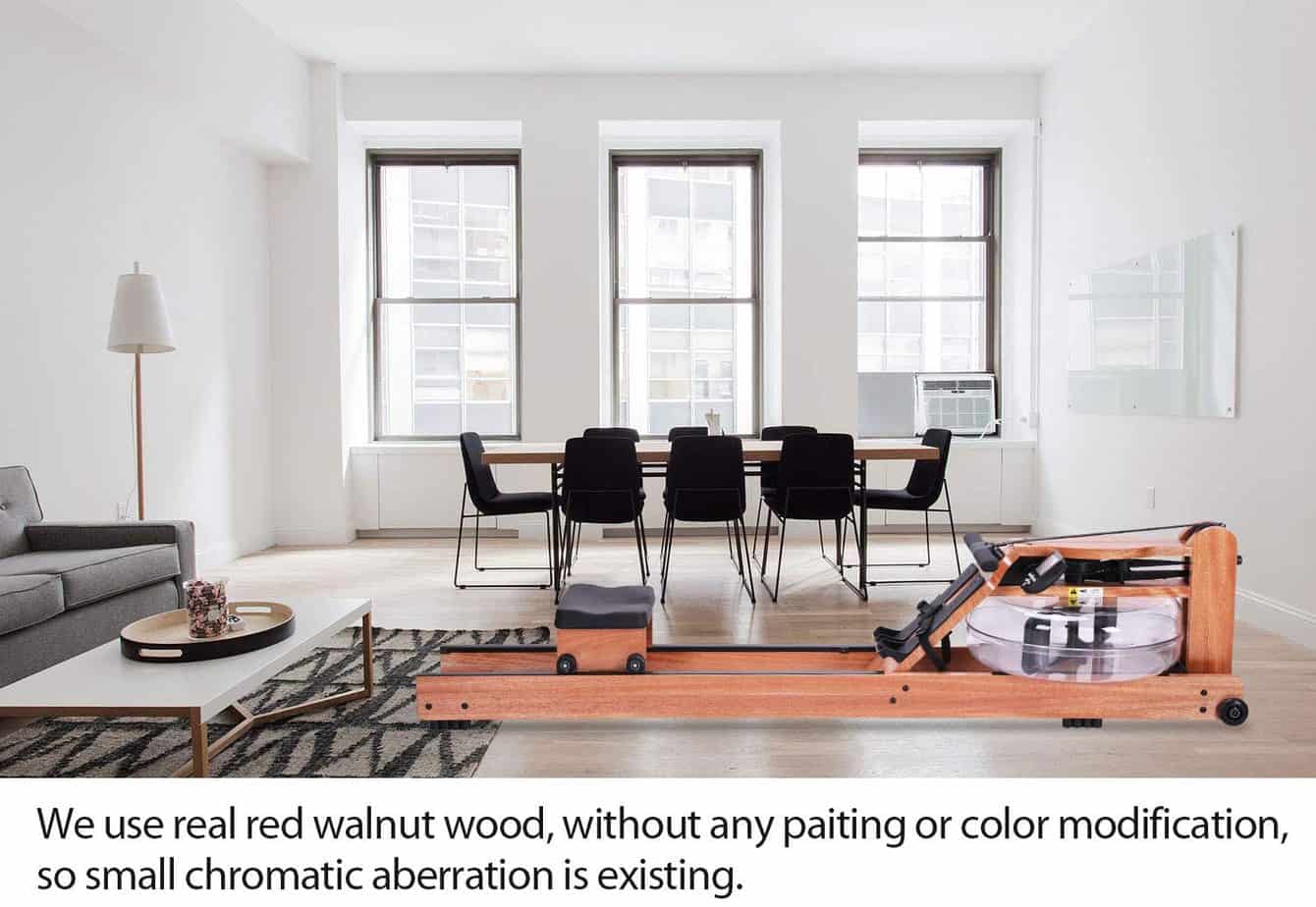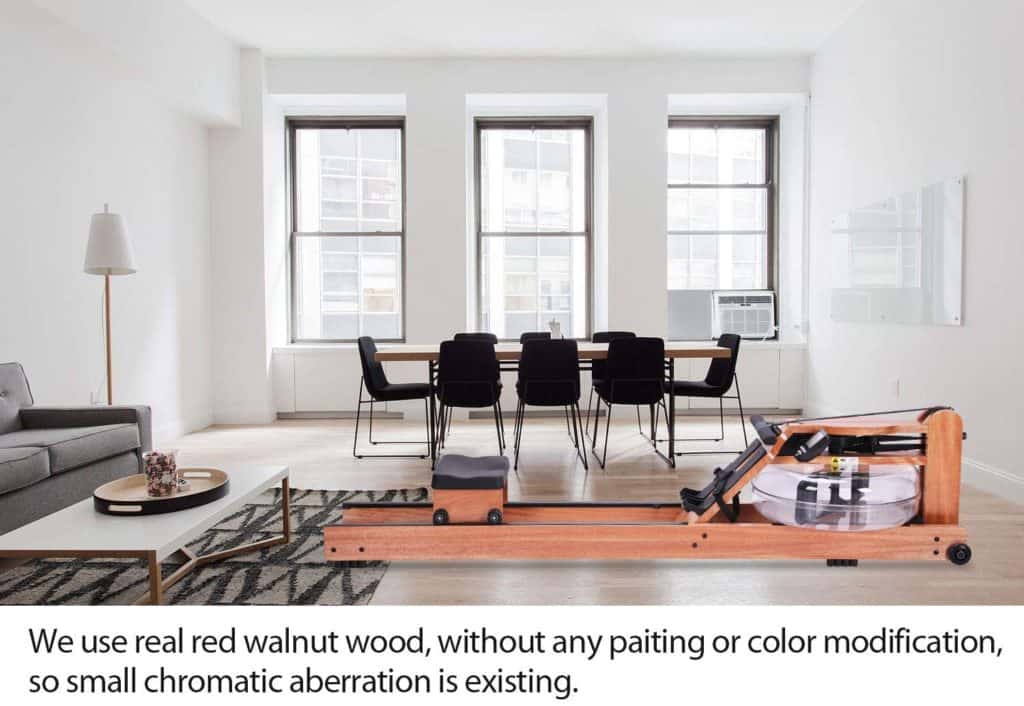 As aforementioned, the BATTIFE Water Rowing Machine is made of durable red walnut wood that is not laminated, painted, or modified. Thus, it is going to last and won't devolve over time.
The rowing machine will fit in your home like furniture.
Its base is padded so that it doesn't leave any dent on your floor even as it ensures stability throughout a workout session. The rower's stability is further enhanced by its overall assembled weight of 62.8 lbs./28.4 kg (without water in the tank).
The assembled dimensions are 84'' long by 22'' wide by 21'' high. Differently put, it requires a workout area with the perimeters of 7' length by 1'9'' width, plus additional clearance of 0.5' at the front/rear and at least 1′ on each side of it for safety and convenience reasons.
The clearance is important especially if it's going to be used in a confined area.
That said, it doesn't require much space for storage because it can be stored vertically. An area with the perimeters of 1'9" x 1'8'' and a ceiling height of at least 7'5'' will suffice for storage.
There are transport wheels at the front base that facilitate the relocation process.
The Seat of the BATTIFE Water Rowing Machine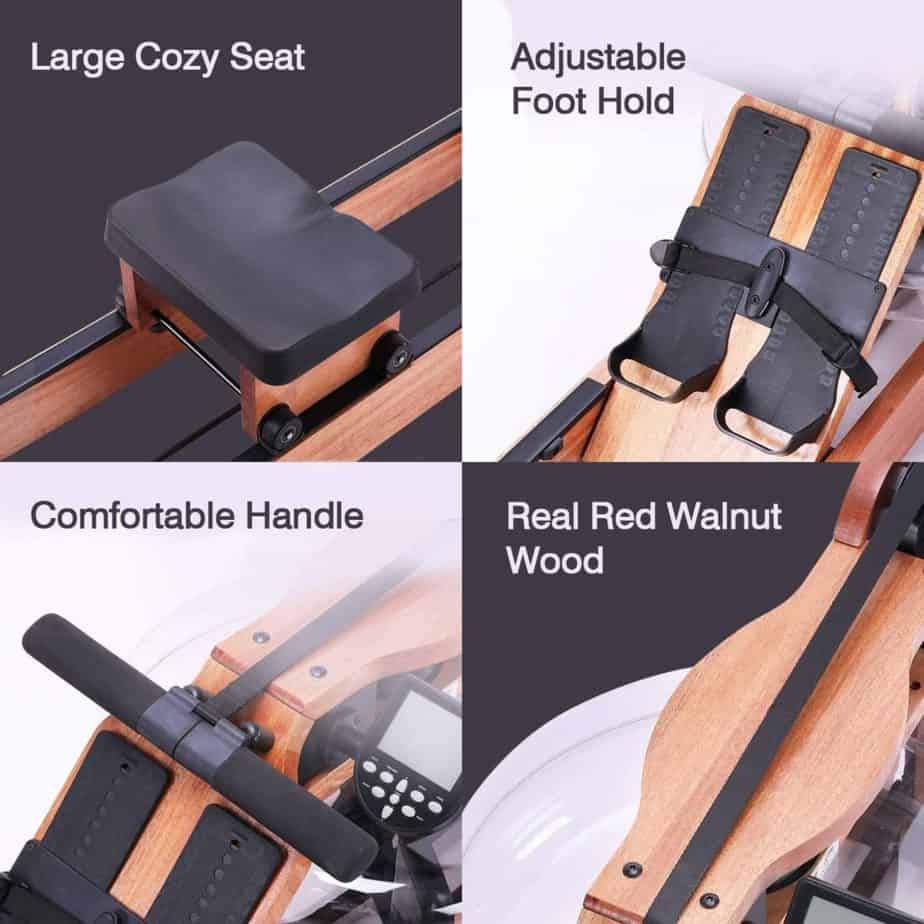 The seat of the BATTIFE Water Rowing Machine is large, contoured, padded, and cozy. It enables you to seat longer comfortably and securely.
It integrates 8 durable rollers and is attached to the dual rails for smooth and near-silent gliding motion.
Unfortunately, the floor-to-seat height is not specified.
The Handlebar
The handlebar is straight and cushioned with anti-slip rubber foam. It provides comfortable and secure grips that prevent slippage and blisters that could occur as a result of prolonged and frequent workouts.
It is attached to a durable 1' nylon strap that doesn't snap no matter how aggressive or frequent your workout is.
The Footplates
The footplates are attached to the footboard and they are large with adjustable safety straps and protective heel guards. This means they have enough safety features that guarantee secure footing stability.
They can also accommodate users of different foot sizes.
The Resistance
The BATTIFE Water Rowing Machine is equipped with a water resistance system that comprises a water tank, pulling nylon cord, handlebar, pulleys, and a recoil system. These mechanisms ensure that the paddle inside the water tank rotates as you exercise on the rower.
When exercising, the splashing sound that comes from the water tank mimics rowing on a real water boat.
The resistance system doesn't have adjustment, it is dynamic and infinite. Although, there are two ways to control the level of resistance you get.
First, you can add more or less water to the tank to experience difficult or less difficult challenging workouts. Secondly, you can work out faster or slower to experience intense or less intense workout difficulty.
In other words, no matter the level of the water in the tank, your workout tempo largely determines the level of workout intensity you feel.
So, regardless of your fitness level, the resistance is suitable for you. It is suitable for everyone and that includes beginners, intermediaries, and advanced athletes.
A siphon pump is included in the package for draining the water out when it is time to do so.
The rowing machine's noise level is not annoying or intrusive, but on the contrary, it makes a soothing sound that is nostalgic. It doesn't prevent you from watching a TV show or listening to music during a workout.
The Console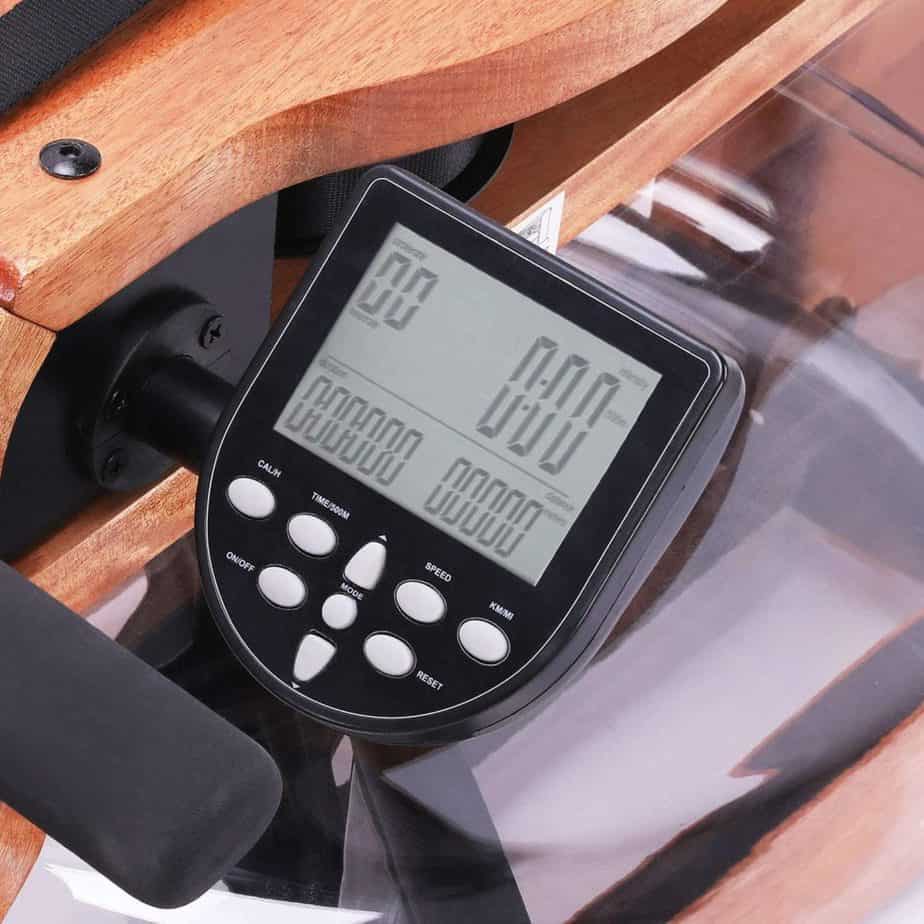 The BATTIFE Rowing Machine comes with a console that features an LCD monitor with segmented display windows that track workout stats such as Time Spent, Strokes Per Minute, Distance Rowed, and Average Calories Burned per hour, and the distance is measured in meters.
Other than that, it doesn't have preset workout programs, no online app connectivity, and it is not telemetry-enabled. If monitoring your heart rate is one of the things you consider important, then you may have to use an external heart rate monitoring device.
The console is battery-powered.
Accessory
There is no accessory available on this rower; even the basic ones such as a water bottle or a tablet holder.
Although, most rowing machines hardly have any of these, therefore, you will have to improvise to stay hydrated.
Storage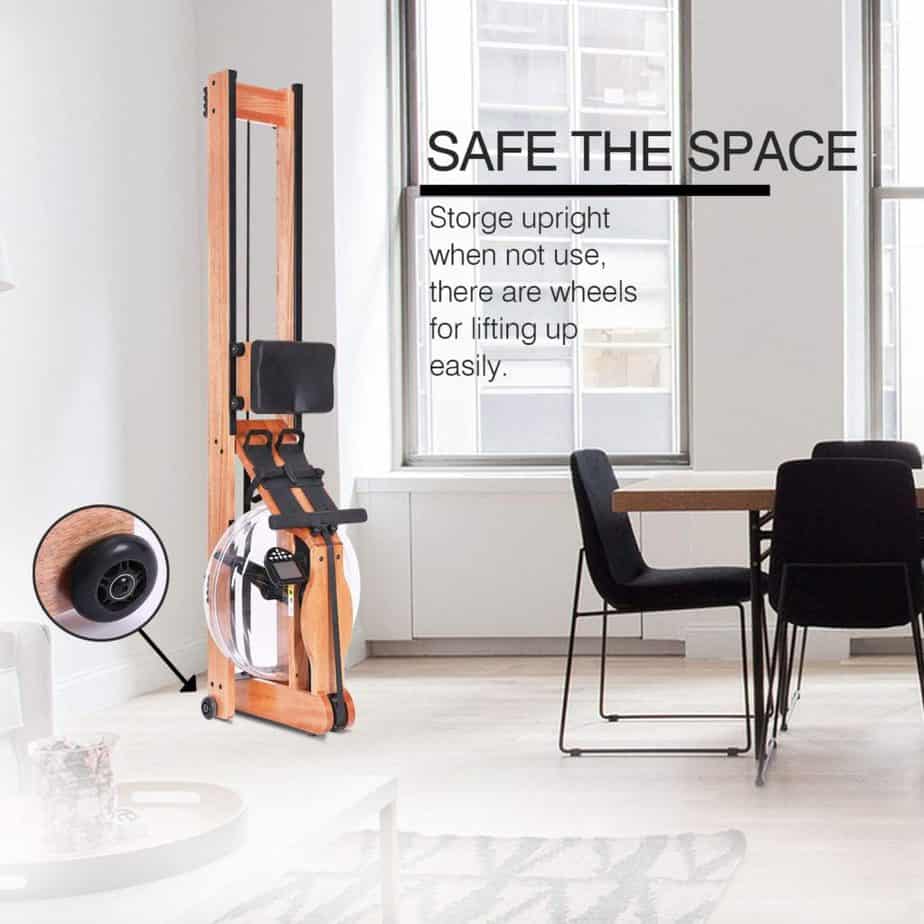 The unit can be stored upright as explained earlier. It takes way less space for storage and it has front-mounted transport wheels that make it easy for it to be rolled away.
It is possible to store it in a corner of the room and you don't have to drain the water out before storage because it doesn't leak.
Pro/Features Overview
Nicely designed and durable
Solid real red walnut wood frame
Supports a maximum user weight capacity of 280 lbs./127 kg
Comfortable, large, padded, and contoured seat
The handlebar is cushioned and long enough to be suitable for everyone including wide-shouldered individuals
The footplates have adjustable safety straps and protective heel guards that ensure stable footing
Its operation mimics rowing on a real water boat and it has a minimal noise level
Its base is floor-friendly and stable
The rower targets over 80% of the body muscle groups and safely elevates the heart rate
It provides low-impact and full-body workouts
The LCD monitor tracks workouts such as Time Spent, Strokes Per Minute, Distance rowed, and Average Calories Burned per hour and distance is measured in meter
Maintenance is minimal
Easy to assemble
A siphon pump is included
It can easily be moved via the integrated transport wheels and can be stood up during storage
Cons
No water bottle holder
No tablet holder
No heart rate monitoring function
No online app connectivity
Warranty
Upgradeable to:
5 Years on the Structural Frame
3 Years on all Components
Product Dimensions and Specifications
Length 84''
Width 22''
Height 21''
Storage dimensions: 21'' L x 22'' W x 84'' H
Net weight (without water): 62.8 lbs./28.4 kg
Gross weight: Box 1 (45.5 lbs./20.6 kg) Box 2 (15.5 lbs./7 kg)
Supports maximum user weight capacity: 280 lbs./127 kg
Resistance: Water
Frame: Real red walnut wood
Water tank: Polycarbonate
Seat: Large, padded, contoured
Beam: Dual-rail
Handlebar: Cushioned
Pulling cord: 1'' Nylon
Footplates: Large with adjustable safety straps and protective heel guards
Monitor: LCD & battery-powered
Siphon pump included
Transport wheels included
Shipping
The BATTIFE Water Rowing Machine is shipped in two boxes that weigh 45.5 lbs./20.6 kg and 15.5 lbs./7 kg.
Amazon provides free shipping and delivers the product in a couple of days.
Assembly
The assembly of this rower is not complicated but it's rather straightforward. When you follow the instructions on the owner's manual you should be able to assemble it in about an hour.
The tools needed for the assembly are also included in the package.
Maintenance
You aren't expected to perform any serious maintenance.
Simply make sure it is kept clean at all times, especially the rails and the rollers to prevent dirt from causing friction on the movement of the seat.
Fill in the tank with distilled water and drain and replace it every 2-3 months. Change the water if the rower is not used in 2 weeks or more.
Best practice requires you to remove water from the tank if you are not going to use the unit for a month or more.
Conclusion
The BATTIFE Water Rowing Machine is for home use and could also be used in the gym. It is a full-body and low-impact cardio machine that burns calories, tones muscle groups, and improves the heart and lungs' health.