The LifePro FlexCycle Exercise Bike is yet another under desk cycle bike similar to the DeskCycle, Sunny Health & Fitness B0418, and a host of others.
Oftentimes, questions such as the following are asked:
Do under desk cycle bikes work?
They do because they are mini-indoor exercise equipment that works just like treadmills or standard stationary cycling bikes. The only difference is, you exercise with the under-desk cycle bike while seated on a couch or before a working desk.
Although, it may not be comparable with other conventional exercise machines in terms of the degree to which you lose weight or improve your overall physical fitness. But it does improve your overall physical wellness as it helps with blood circulation, calories reduction, toning of the body muscle groups, strengthening of the bones, and flexibility.
What are the Best Under-Desk Cycling Bike?
There are a couple of under-desk cycle bikes that are recommendable. These include the aforementioned and maybe the LifePro FlexCycle Exercise Bike that is about to be reviewed.
Others also include FlexiSpot Adjustable Cycling Bike, Ativafit Folding Upright Bike, FitDesk Exercise Bike, and many more.
They come in different shapes, sizes, and prices as well.
That said, the LifePro FlexCycle Exercise Bike is worth looking up. However, in the meantime, if you wish to have a peek at the best price on Amazon, click right here.
The Construction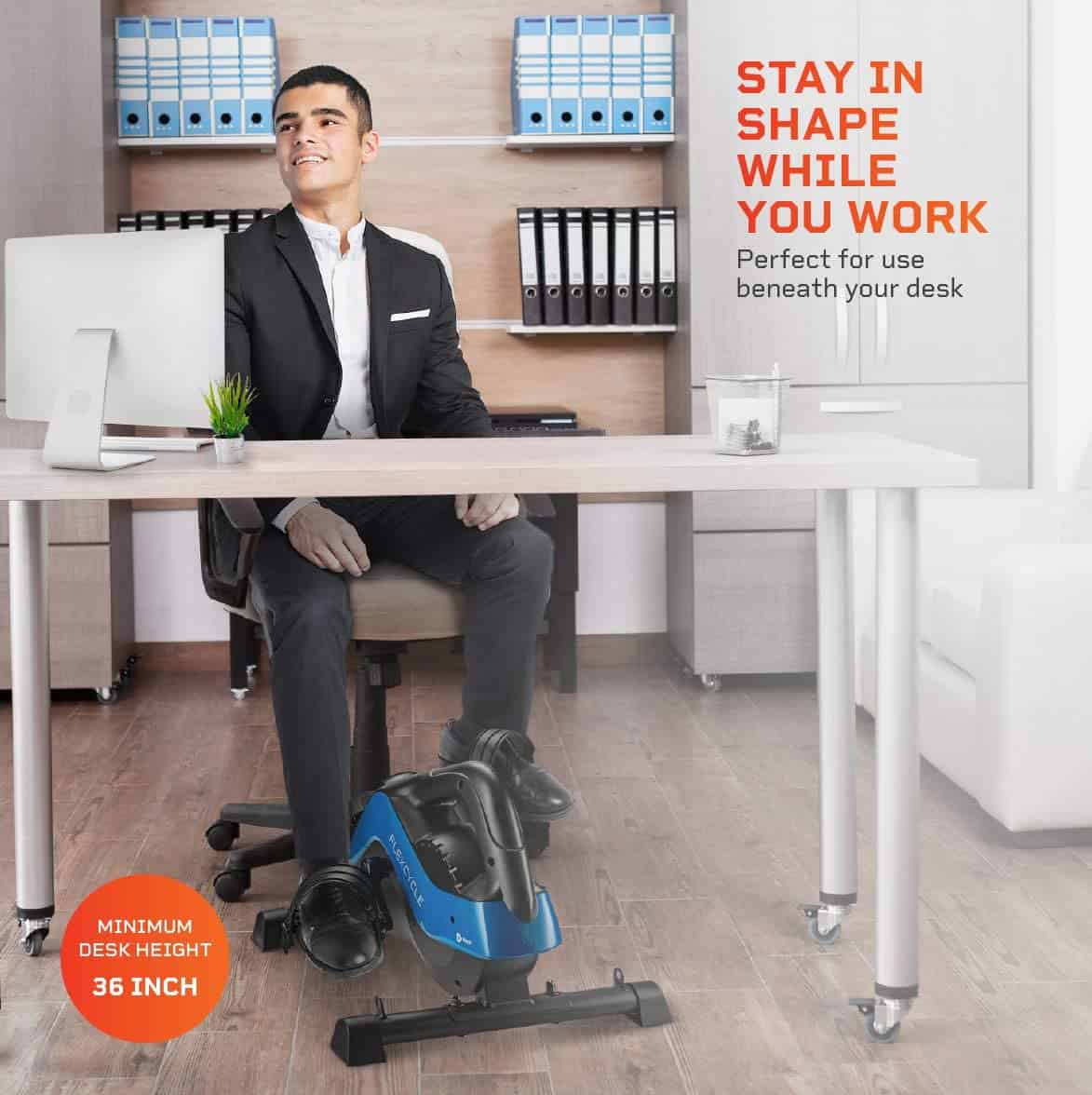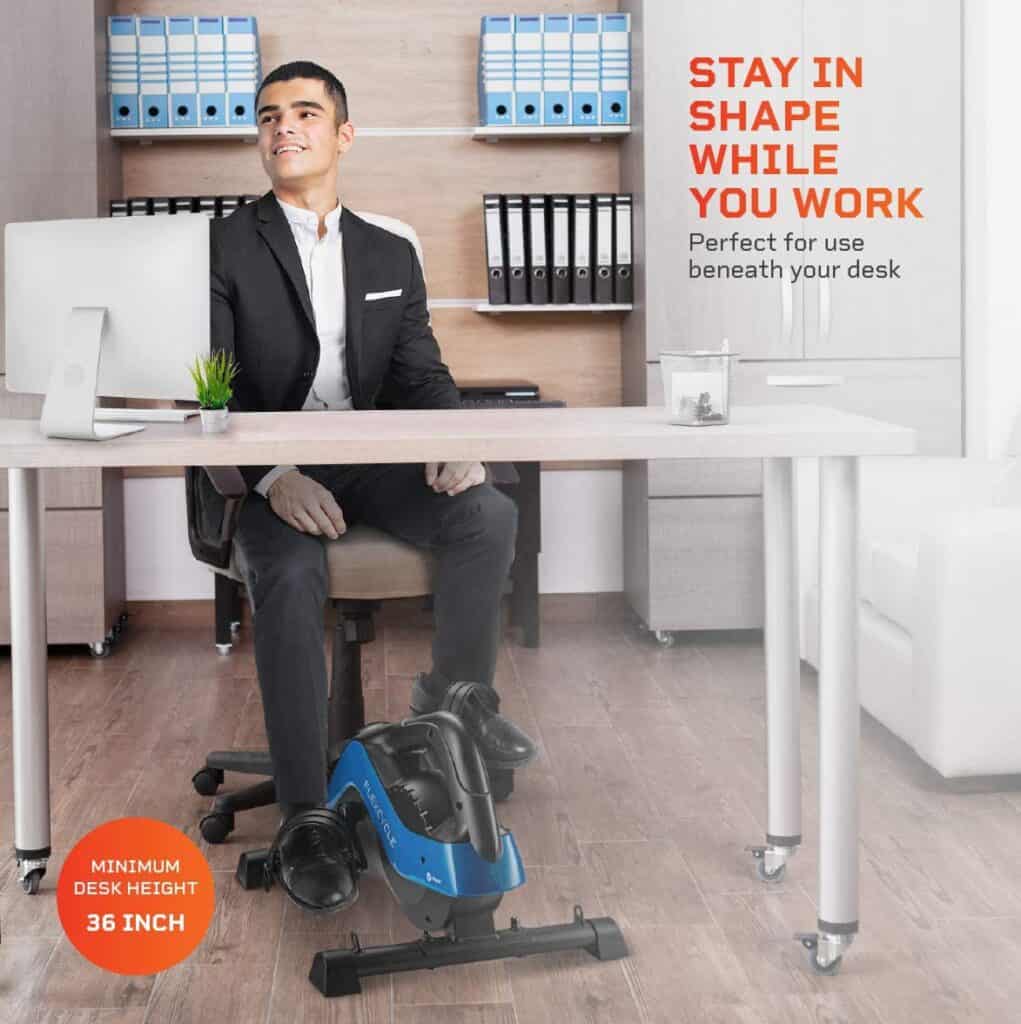 The construction of the LifePro FlexCycle Exercise Bike includes an anti-corrosive steel frame and black and blue colored ABS-made coverings for the resistance/drive system. Although, there are other available colors as well, such as white/black, and grey.
The maximum user weight capacity it supports is 330 lbs./149.68 kg.
It is a mini machine that is inconspicuous with front and rear stabilizers that have a plastic rubber on each end for stability and floor-friendliness. Thus, it doesn't wobble or damage the floor during exercises as long as you have it placed on a leveled surface.
However, users have always bought this product along with a 24'' x 36'' rubber mat to guarantee optimum stability.
Moreover, an optional tether strap is provided for strapping up the unit to the chair so that it doesn't slip during a workout.
There is a handle for lifting and carrying this under-desk exercise cycle bike around the room or apartment easily. After all, it only weighs 18.1 lbs./8.21 kg.
Being a very compact unit, the assembled dimensions are only 20.9'' long by 17.5'' wide by 13.2'' high. This means an area with perimeters of 1'74'' length by 1'45'' width is required and should be used under a desk with a minimum height of 36''/3'.
So, you can conveniently work out while seated on an office chair, sofa, or any other chair you may have.
The Pedals/Handles of LifePro FlexCycle Exercise Bike
Unlike some similar products, the LifePro FlexCycle Exercise Bike comes with arm and leg pedals.
In other words, you can actually detach the leg pedals for the arms pedals whenever you wish to use the machine for upper body workouts, and vice versa.
So, the machine provides full-body and low-impact workouts, so to say.
The plastic-made leg pedals have a metallic core, and they are textured with adjustable safety straps designed to securely keep the feet in place and accommodate different foot sizes.
While the arm pedals are ergonomically designed to offer comfortable and secure grips that allow you to work out the upper body longer without slipping or feeling sore.
The Drive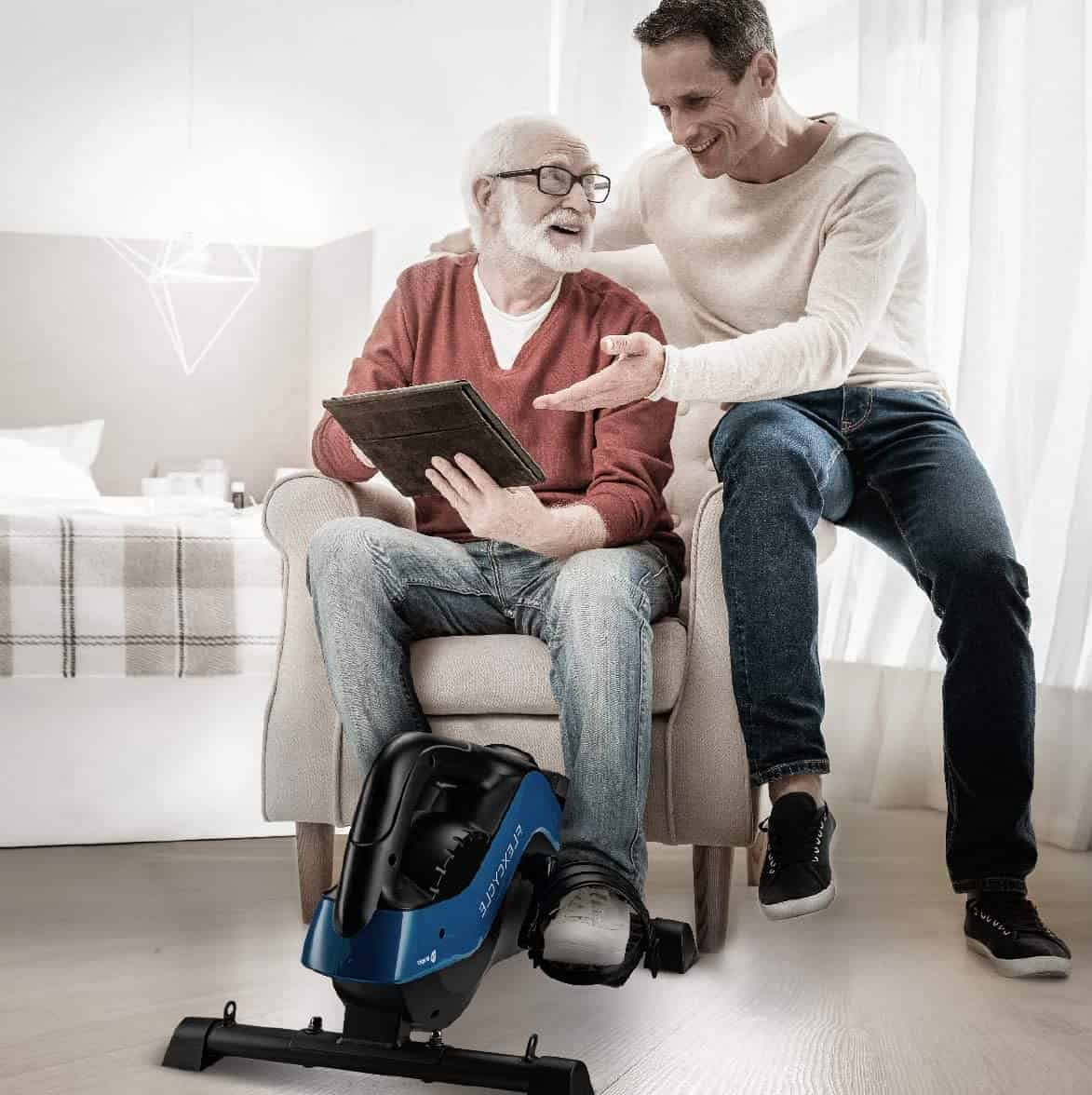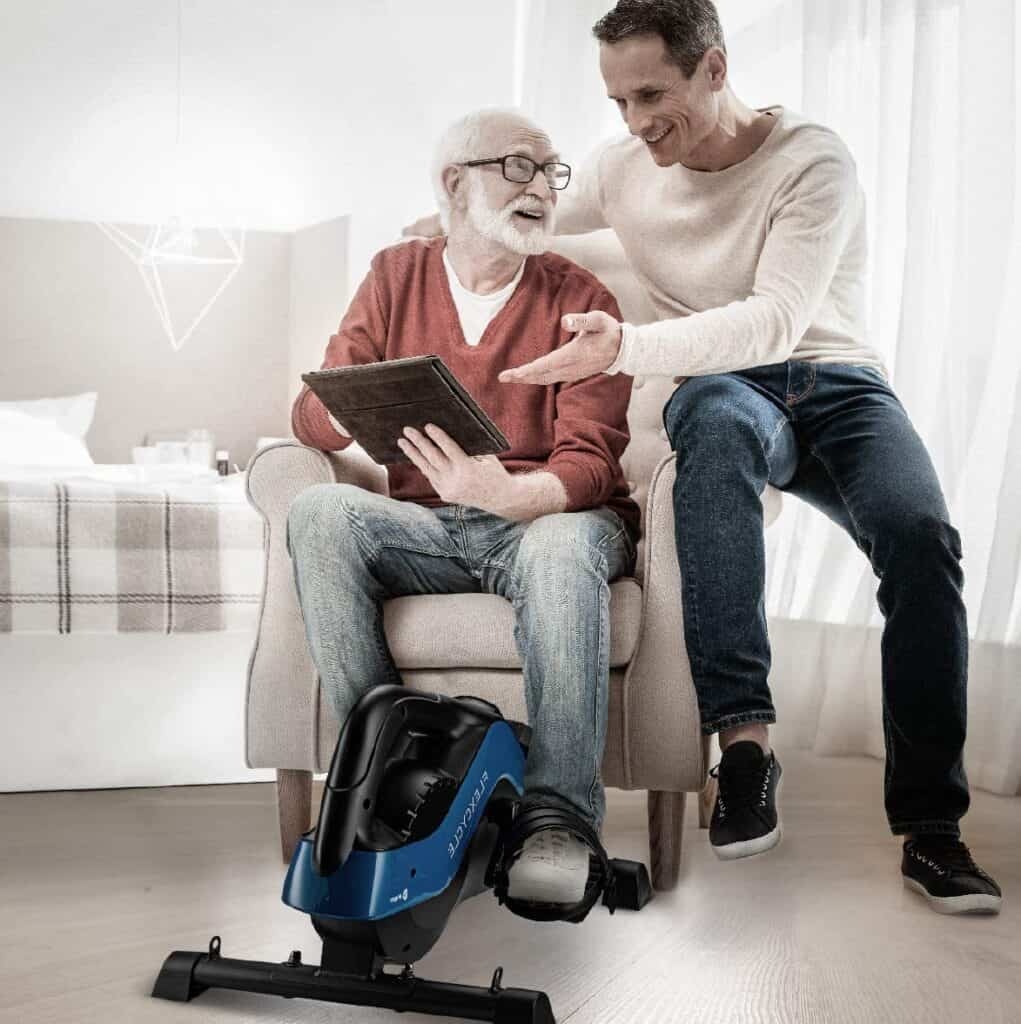 This machine has a belt drive system that comprises a durable belt, and a pulley. It also has a solid crankset and shorter crank arms.
The flywheel is lighter, but it provides a high inertia weighted motion for smooth, quiet, and vibration-free operation. Hence, you can exercise with the unit in any environment, with or without people around, and you will also be able to conveniently work or watch a TV show without any noise distraction.
Moreover, no obligation of having to lubricate or adjust any internal part of the drive system. In other words, it is entirely maintenance-free.
The drive has a fixed transmission, which means you cannot coast on it just as one could on a road bicycle. But on the brighter side, you can pedal in reverse if you so desire to diversify your workouts and tone more muscle groups.
The Resistance
The LifePro Under-Desk Exercise Bike is equipped with a manual magnetic resistance system with 8 adjustable levels.
This uses the integrated metal flywheel and the magnetic brake pad to generate resistance without actual contact or friction.
Differently put, when the tension control knob is adjusted clockwise or counterclockwise, the magnetic brake pad shifts close or farther away from the metallic flywheel, and consequently, the resistance increases or decreases, respectively.
So, no noise is emitted when the resistance is engaged, and no damage is done to any internal part as well, thereby preventing wear and tear.
The 8 resistance levels offer different workout challenges that are decent for seated workouts.
There are also bonus resistance bands that are included in the package for arm strength training. These are elastics that are attached to a D-shaped handle.
They allow you to perform workouts such as curls and many other styles.
The Console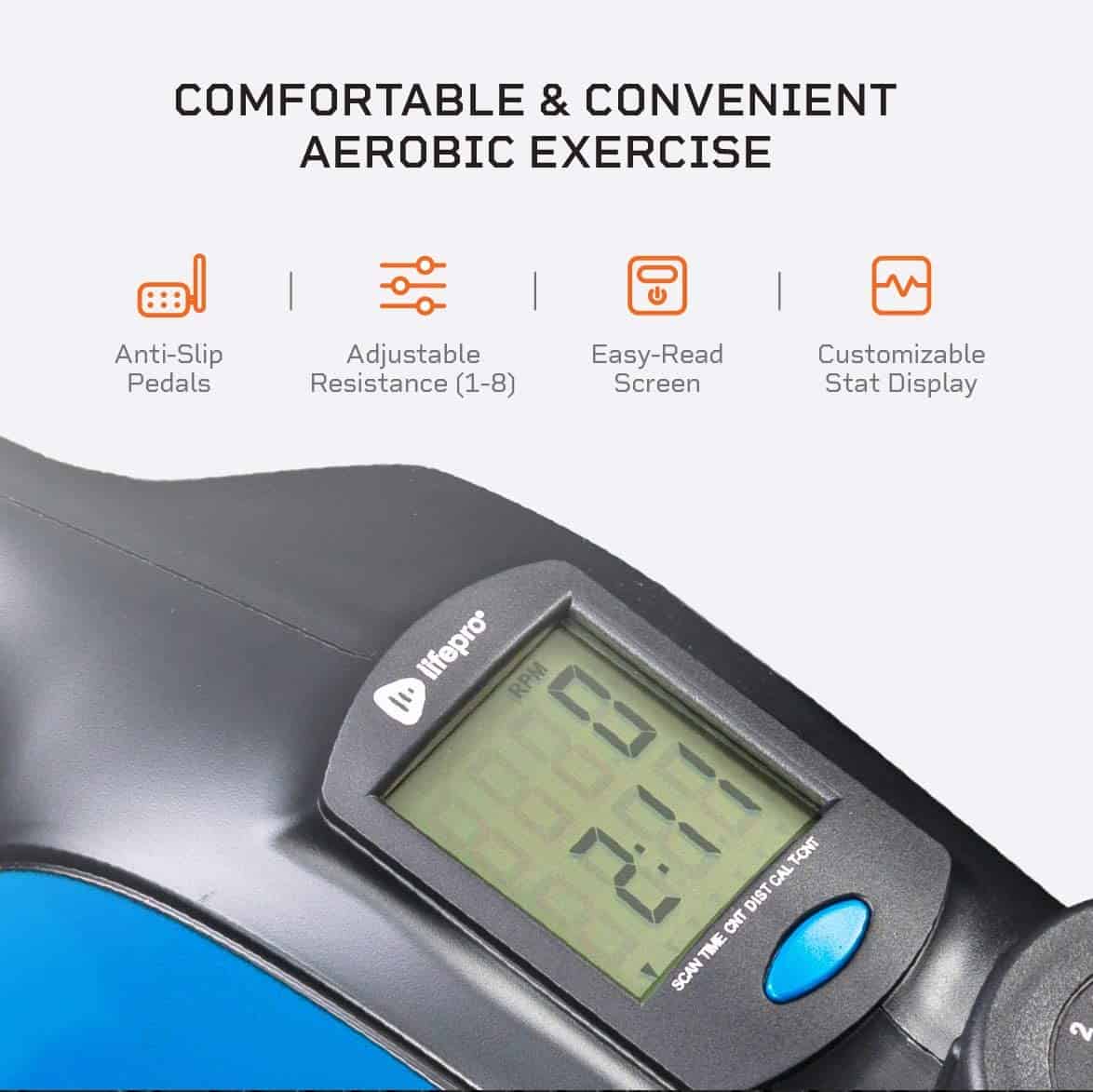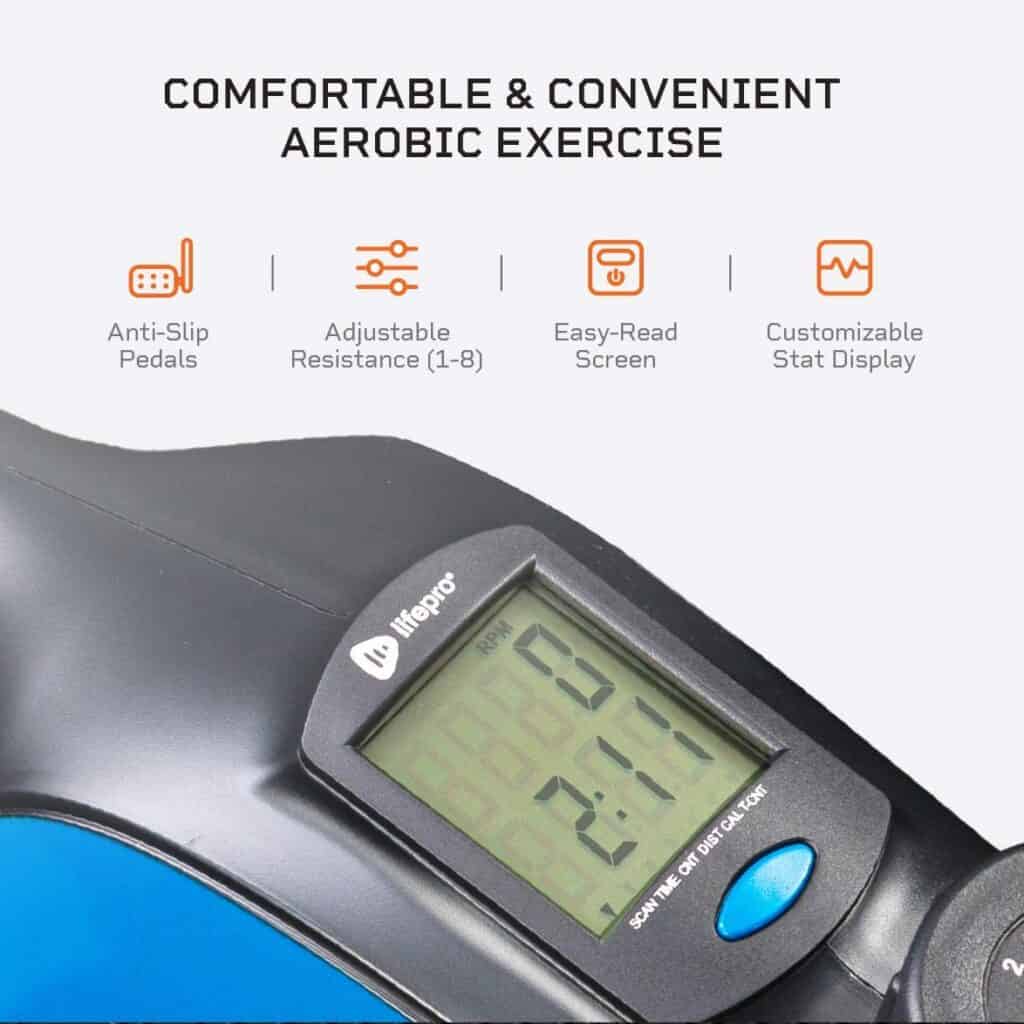 Considering the affordability of the LifePro FlexCycle Exercise Bike, its console is a bit interesting because it is compatible with a third-party app for improved workout progress tracking.
This is done by syncing a smartphone to the unit's built-in Bluetooth via a free downloadable app such as Zwift, which is available for both Android and iOS-based phones. You will be able to view your workout progress, set up workout goals, and relevant stats.
Besides that, there is the traditional basic LCD monitor on the unit which also tracks workout stats such as Time, Distance, RPM, Count, Total Count, and Calories Burned.
These are displayed one at a time after every few seconds by the SCAN function since the monitor can't simultaneously show them. However, you will be able to override the SCAN function and set a static workout value of your choice, instead.
The monitor is easy to read but could be compromised if viewed in a room that is not so bright.
The basic console/monitor does not have advanced functions such as heart rate monitoring, or the ability to toggle the Distance measurement from mph to km/h.
It is powered by 2 AAA batteries (included).
The monitor turns on once you start pedaling or when you pressed the button on the console, and it automatically turns off when the sensor doesn't detect any workout activity for a few minutes to save the batteries' power.
Storage
The LifePro FlexCycle Exercise Bike is handy because it is compact and lightweight with a handle for carrying it around.
It could be stored anywhere in the apartment, such as under a desk or in the corner of the room. You can decide to put it away completely out of sight.
Nevertheless, make sure to store it in a dry, clean, and cool area.
Approval Rating
The approval rating of any product is used as a yardstick to measure the degree of acceptability.
So, in the case of the LifePro FlexCycle Exercise Bike, it has a good approval rating on Amazon as of the time of this review, and this simply shows it is one of the best.
Pros/Features Overview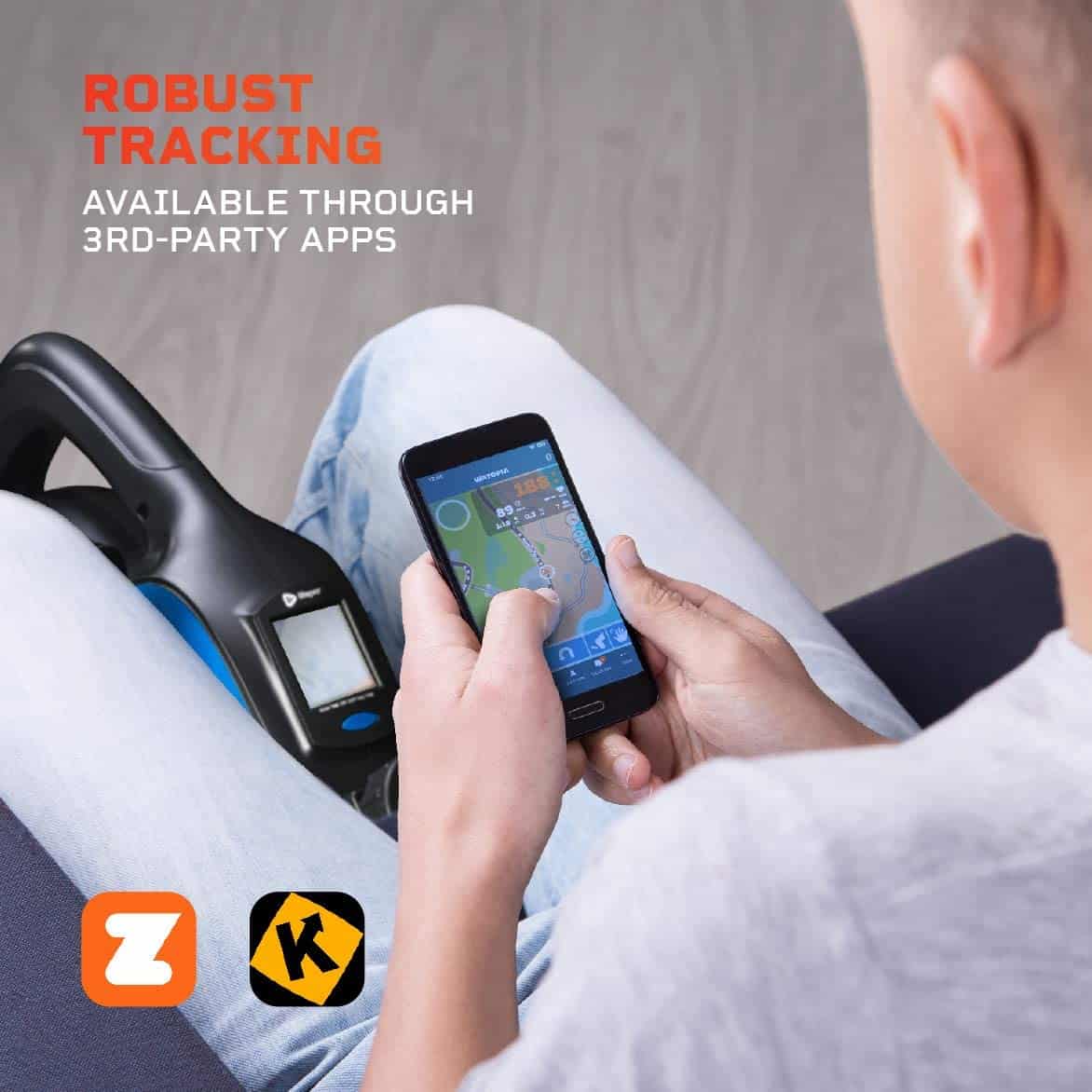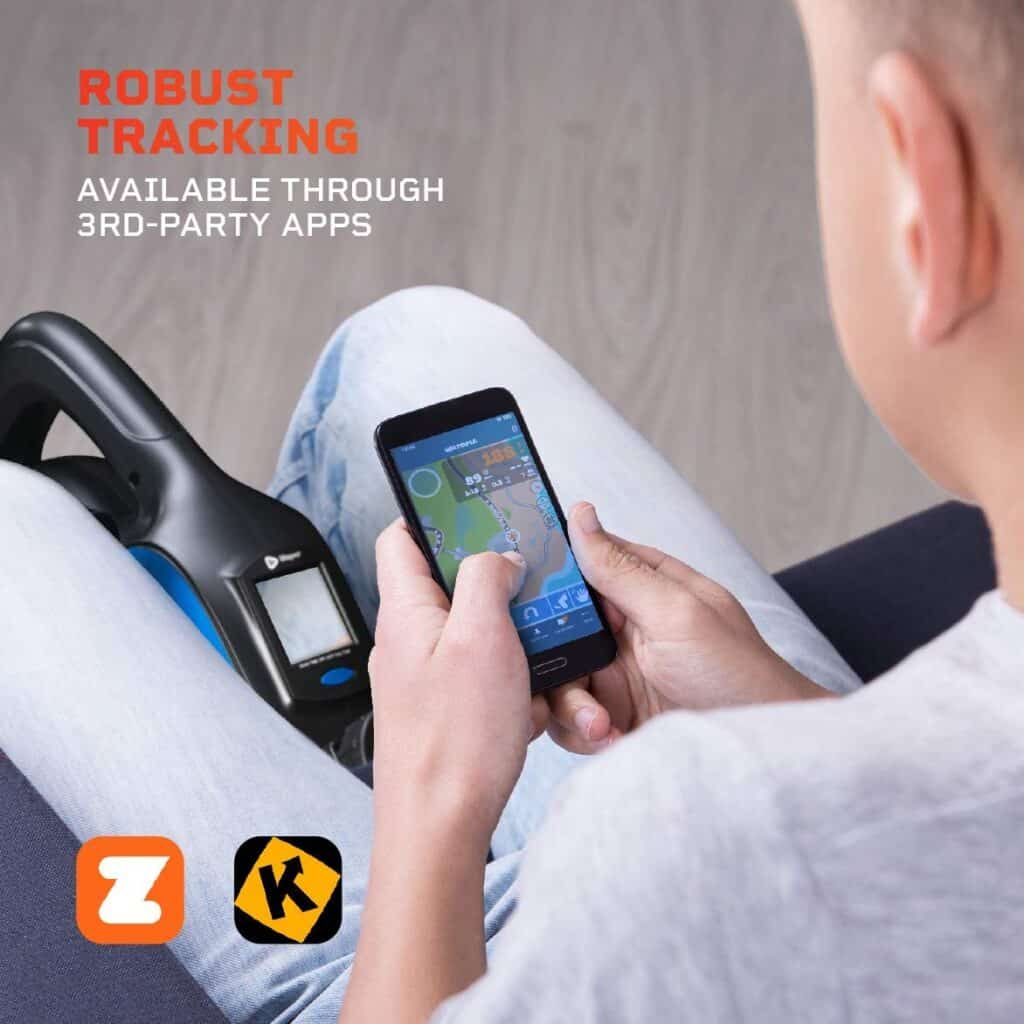 It is affordable
It's stable, sturdy, and handy
It doesn't take up space and can easily be stored away
Supports a maximum user weight capacity of 330 lbs./149.68 kg
The operation is smooth and quiet
It enables users to work out while seated and working on a desk, or sofa
It helps to circulate blood, lose calories, tone muscle groups, and improve flexibility
Suitable for both young and the elderly
The manual magnetic resistance system with 8 adjustable levels offers different workout challenges
Resistance bands with handles included for arm strength training and a tether strap for preventing the unit from slipping
No maintenance is required
Only very minimal assembly is needed
The console is Bluetooth enabled and compatible with 3rd party app such as Zwift for tracking workout progress and setting workout goals via a smartphone
It integrates an LCD monitor that tracks workout stats such as Time, Distance, Count, Total Count, RPM, and Calories Burned
Offers lifetime warranty
Cons
No heart rate monitoring function
The monitor is not backlit
Warranty
Product Dimensions & Specifications
Length: 20.9''
Width: 17.5''
Height: 13.2''
Shipping dimensions: 24.3'' L x 16'' W x 8.7'' H
Net weight: 18.1 lbs./8.21 kg
Gross weight: 23.85 lbs./10.81 kg
Maximum user weight capacity: 330 lbs./149.68 kg
Frame: Steel
Drive: Belt
Resistance: Manual magnetic with 8 adjustable levels
Console: Basic LCD monitor
Bluetooth-enabled & Zwift app compatible
Leg pedals: Yes
Pedals: Textured with adjustable safety straps
Arm resistance bands: Yes
Tether strap: Yes
2 AAA batteries included
Shipping
The LifePro FlexCycle Exercise Bike ships in a box that weighs 23.85 lbs./10.81 kg with dimensions of 24.3'' long by 16'' wide by 8.7'' high.
Assembly
As aforementioned, it has a very minimal assembling that only requires the pedals and the stabilizer bars to be attached to the preinstalled core unit.
After that, pop in the 2 AAA batteries into the console/monitor's compartment.
Also, a user's guide manual and tools needed for this are included in the package.
Maintenance
No maintenance is needed.
Simply keep the unit clean after and before workouts, and make sure to store it in a place that is moisture-free, cool, and clean.
Conclusion
If you are contemplating whether or not to purchase the LifePro FlexCycle Exercise Bike for physical activity while working at home or in the office, then you should have closure by now after reading this review.
This machine is handy; thus, it doesn't take space and is easy to store away. It has a console that is Bluetooth-enabled and workout app compatible.
It also has a monitor that tracks your workout progress and the bonus resistance bands for arms strength training.