The Sunny Health & Fitness SF-B0418 Mini Bike is an affordable, handy, and compact exercise machine that enables you to exercise with a lot of flexibilities.
For instance, you can exercise while seated on the bed, sofa, or behind the office desk. Interestingly, it is a full-body workout exerciser that gets the majority of your body muscle groups toned.
The likes of it are a little bit expensive, such as the Cubii Pro, DeskCycle, and many more. Although these mini exercisers are great in their own way.
However, when you are on a budget, the Sunny Health & Fitness SF-B0418 Mini Bike might just be the way to go.
The SF-B0418 Mini Bike has a digital LCD monitor that tracks Time, Speed, Distance, Odometer, and Calories, while the integrated magnetic resistance system with 8 adjustable levels provides versatile workouts.
You will be able to exercise the upper and the lower body via the pedals that were ergonomically designed to be used for feet and arms pedaling.
Its design is strong enough to support 220 lbs./100 kg maximum user weight capacity.
Click right here to have a peek at the Sunny Health & Fitness SF-B0418 Mini Bike on Amazon.
The Construction of the Sunny Health & Fitness SF-B0418 Mini Bike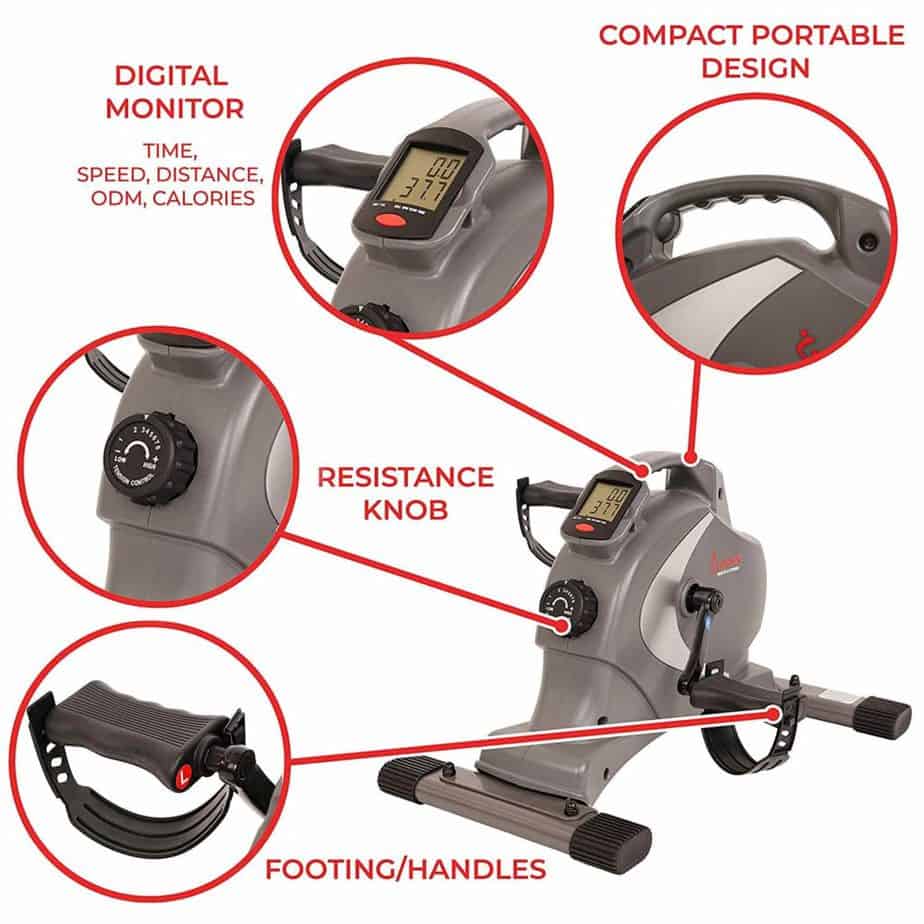 The overall construction of the Sunny Health & Fitness SF-B0418 Mini Bike is such that it makes it almost inconspicuous during usage or storage. It can easily be lifted up by its handle and have it placed in any location of your choice, Afterall it only weighs 21 lbs./10 kg.
Its dimensions are 22'' long by 18'' wide by 15'' high. Basically, a space area with measurements of 1'9'' length by 1'5'' width should accommodate the mini exerciser. This is the reason it could be used anywhere in the room including under and on top of the desk.
There is a steel stabilizer bar (with textured rubber caps on each end) at the front and the rear bases which ensure you don't experience any wobbling or sliding movement during a workout. Moreover, its weight also helps to optimize its stability even though it only weighs so little.
This mini bike can help you achieve fitness results just as you could with a full-fledged exercise machine such as indoor cycling bikes. It can be used while engaged in other activities such as working behind the desk or while watching TV.
However, if you plan using it under the work-desk you must take into account the height of the desk because without enough clearance your knees might be hitting it.
The Pedals/Handles of the Sunny Health & Fitness SF-B0418 Mini Bike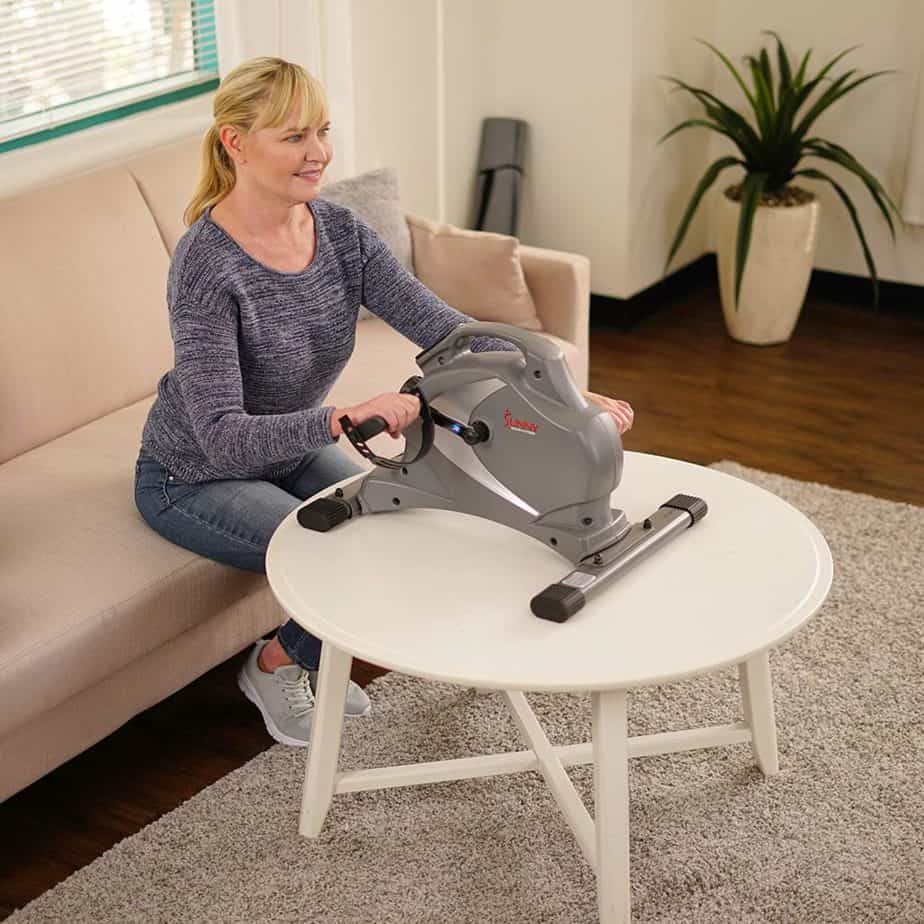 What's so interesting about the pedals is the fact that they are ergonomically designed to be used by both the feet and the hands.
They are anti-slip textured pedals with a metallic core and adjustable safety straps that keep the feet in place and consequently prevent any sort of slippage during a cycling exercise.
When you wish to exercise the upper body, they offer comfortable and secure grips as well.
You can pedal with barefoot or with a pair of standard gym shoes.
The Drive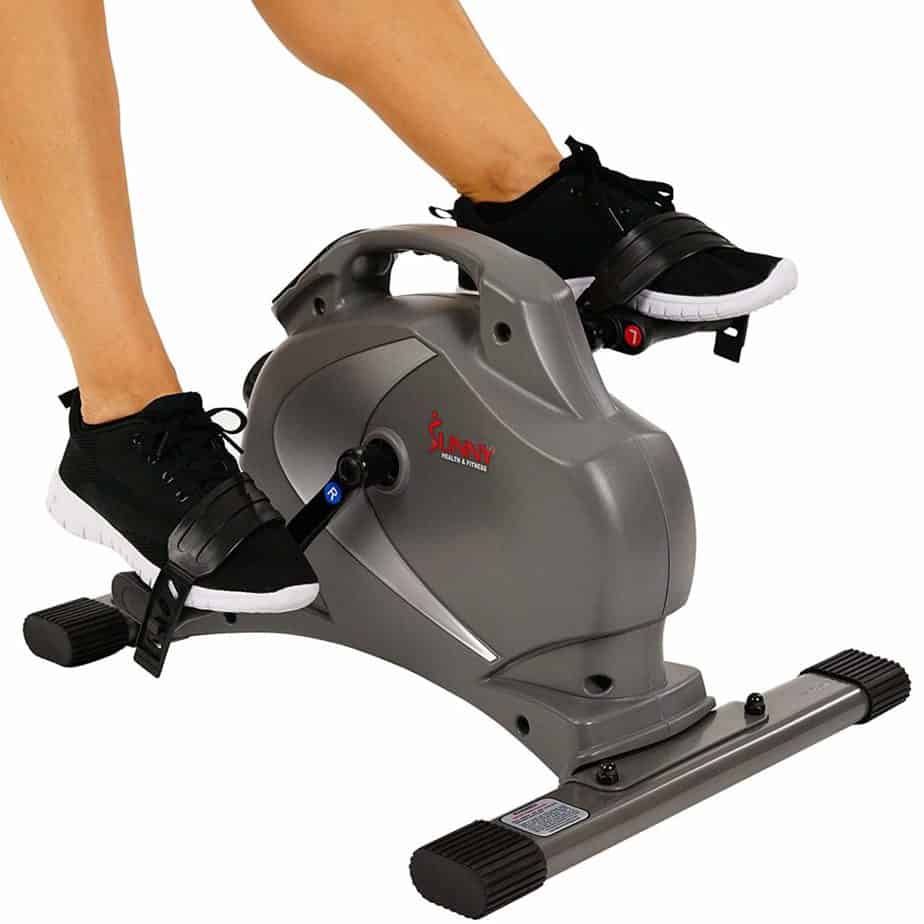 The Sunny Health & Fitness SF-B0418 Mini Bike has a belt drive system. A drive system that provides smooth and quiet operation.
This means when the mini bike is being used you won't be distracted by any unnecessary noise neither would the people around you feel disturbed. You can watch your favorite TV show or listen to music at a normal volume range.
Using the mini bike in an office environment becomes even more viable.
Moreover, it is maintenance-free; no periodic post lubrication or adjustment is required.
Resistance System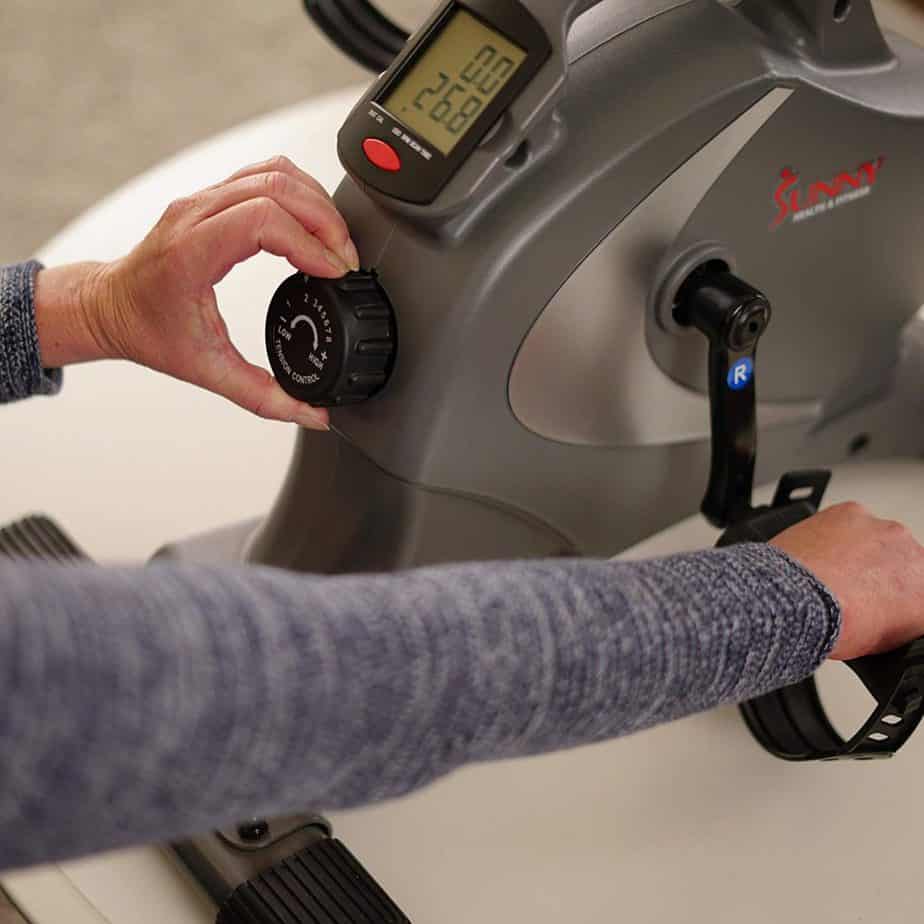 The SF-B0418 Mini Bike features a manual magnetic resistance system with 8 adjustable levels. This comprises and relies on a magnetic brake pad and a small flywheel to generated resistance.
The upside is that it even makes the mini bike a lot more sleek, smooth, and quiet when the resistance is applied.
Unlike the friction resistance system, no part wears out over time of usage because none of the resistance elements come in direct contact when generating resistance.
You can easily adjust the resistance from light to difficult and in-between. The tension knob control distinctly bears the resistance levels – 1, 2, 3, 4, 5, 6, 7, 8 + on it.
To increase the resistance, turn the tension knob clockwise or anticlockwise to decrease it.
The resistance levels provided are decent and are capable of making you break a sweat, lose calories and burn fats.
The Console
Despite how small the Sunny Health & Fitness SF-B0418 Mini Bike is, it still has room for a console that features an LCD digital non-backlit monitor. This monitor tracks your workout progress just as any average indoor cycling bike's monitor does.
It tracks Time, Speed, Distance, Odometer, RPM, and Calories except for the pulse. These, however, keep you inspired and focused.
It has a SCAN function that rotationally displays the workout stats one at a time after every few seconds by default.
You can override the SCAN function in order to constantly display any workout value of your choice, but it resets back to SCAN function when the monitor is turned off.
The relatively large screen displays data that can easily be viewed with clarity even from a distance. But its readability might be diminished if viewed in a room with poor lighting because it's not backlit.
It is powered by 2 AA batteries (included).
The monitor could be turned ON/OFF manually by a push(s) on the MODE button. It can automatically turn ON when you start pedaling and auto shuts down when pedaling stops for 4-5 minutes in order to save the batteries' power.
Storage
One of the Sunny Health & Fitness SF-B0418 Mini Bike's pros is the ability to easily store it away in a small space.
It weighs only 21 lbs./10 kg and has a handle for lifting it up.
You can pretty much store it anywhere you deem fit in a room.
Approval Rating
This Mini Bike has nearly 2 thousand reviews on Amazon at the time of this review and the majority of them are positive.
Thus, the approval rating is impressive.
Pros/Features Overview
Very affordable/inexpensive
It is stable and durable
Supports 220 lbs./100 kg maximum user weight capacity
It's small and requires a very limited space
It provides upper and lower body workouts
Could be used at home while sitting on the sofa, chair, bed, or in the office under the desk while working
Its operation is quiet and smooth
The manual magnetic resistance system provides decent challenging workouts that could tone muscle groups, burn fats, and lose calories
The LCD monitor helps the user to remain focused and motivated as it tracks workout progress
The ergonomically designed anti-slip pedals with adjustable safety straps secure the feet comfortably and enable users to work out the upper body
Maintenance-free
Comes 95% preassembled
Great for those that lack space and those that live a sedentary lifestyle
Cons
It's not for those that wish to see tons of calories burned within a short time period
Warranty
1 Year for Structural Frame
180 Days for Parts/components
Product Dimensions and Specifications
Length 22''
Width 18''
Height 15''
Maximum user weight capacity: 220 lbs./100 kg
Weight: 21 lbs./10 kg
Drive: Belt
Resistance: Manual magnetic with 8 levels
Console/Monitor: Non-backlit LCD monitor tracks Time, Speed, Distance, Odometer, RPM, and Calories
Pedals: Anti-skid with adjustable safety straps
Shipping
The Sunny Health & Fitness SF-B0418 Mini Bike is shipped in a box that weighs 23.9 lbs./11 kg with dimensions of 17'' long by 9'' wide by 16.5'' high.
Amazon ships it out for free and get it delivered within 4-5 days.
Assembly
This mini bike arrives almost preassembled. However, you will be required to attach the front and rear stabilizers, and the pedals to the main unit.
It takes about 10 minutes, more or less to completely assemble.
A wrench is included for the assembly and an instruction manual is also available to guide you through the process.
Maintenance
The SF-B0418 Mini Bike is basically maintenance-free. Meaning no serious maintenance is needed.
Simply keep it clean at all times and avoid contact with liquid.
See to it that the parts are tight and in good order before using it.
Conclusion
Do you work a lot behind the desk? Do you stay at home or in a spot most of the time?
If you do, then the Sunny Health & Fitness SF-B0418 Mini Bike could be a good and healthy companion, because a sedentary lifestyle causes health issues that could have been prevented by exercising the body.
We think that acquiring this unit is a win, win because it doesn't cost much and yet provides the opportunity to do something about your inactivity.  
[rank_math_rich_snippet]