The TELESPORT Indoor Cycling Bike is a friction resistance stationary machine designed for home use.
It is no different from most cycling bikes, however, it comes with a bonus water bottle, and its seat is ventilated and generously cushioned for maximum comfort.
It also has a heavy 40 lbs./18.14 kg perimeter-weighted flywheel that provides an outdoor riding experience.
At the time of this review, this spin bike enjoys positive sentiments from Amazon users.
Click right here to have a peek at the best price of the TELESPORT Indoor Cycling Bike on Amazon.
The Frame and Construction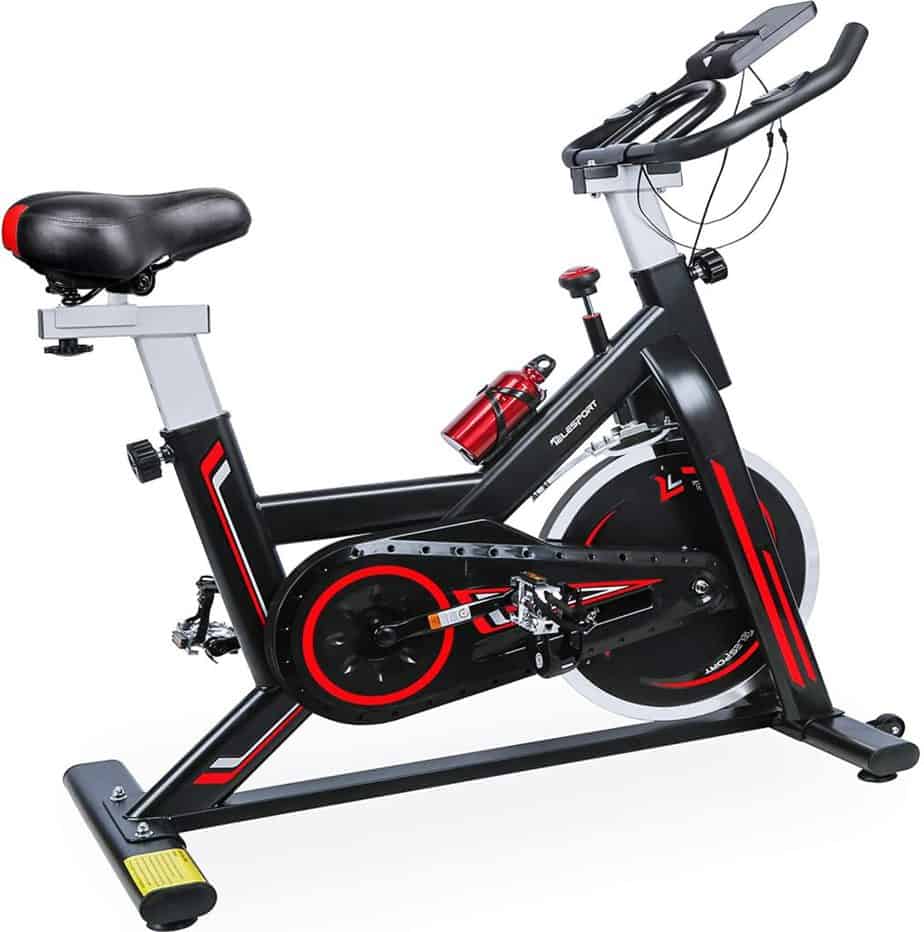 The TELESPORT Indoor Cycling Bike is a solid and sturdy unit that is equipped with a heavy-duty steel frame. It is finished with black, red, and grey anti-corrosion paint for rust prevention purposes.
Despite its appealing outlook, it is capable of supporting up to 350 lbs./158.7 kg maximum user weight.
Moreover, it is appreciated by many, especially those that do not have much space to spare, due to its compact design.
The assembled dimensions are 40.9'' long by 20'' wide by 45.3'' high. Differently put, the unit requires a workout area with perimeters of 3'40'' length by 1'66'' width. But that will not be all because it is recommended that 2' be added around it for safety and convenience reasons.
The base comprises an adjoining steel bar with a horizontal stabilizer (with adjustable levelers) attached on each end. Thus, the bike remains stable on most platforms because you can adjust the base, when necessary, to fit on a surface that is not completely even.
Therefore, no matter your workout style or how aggressive you go, the bike doesn't wobble.
The unit weighs less than 68 lbs./30.84 kg, and there are transport wheels at the front base for an easy relocation process.
The Seat of the TELESPORT Indoor Cycling Bike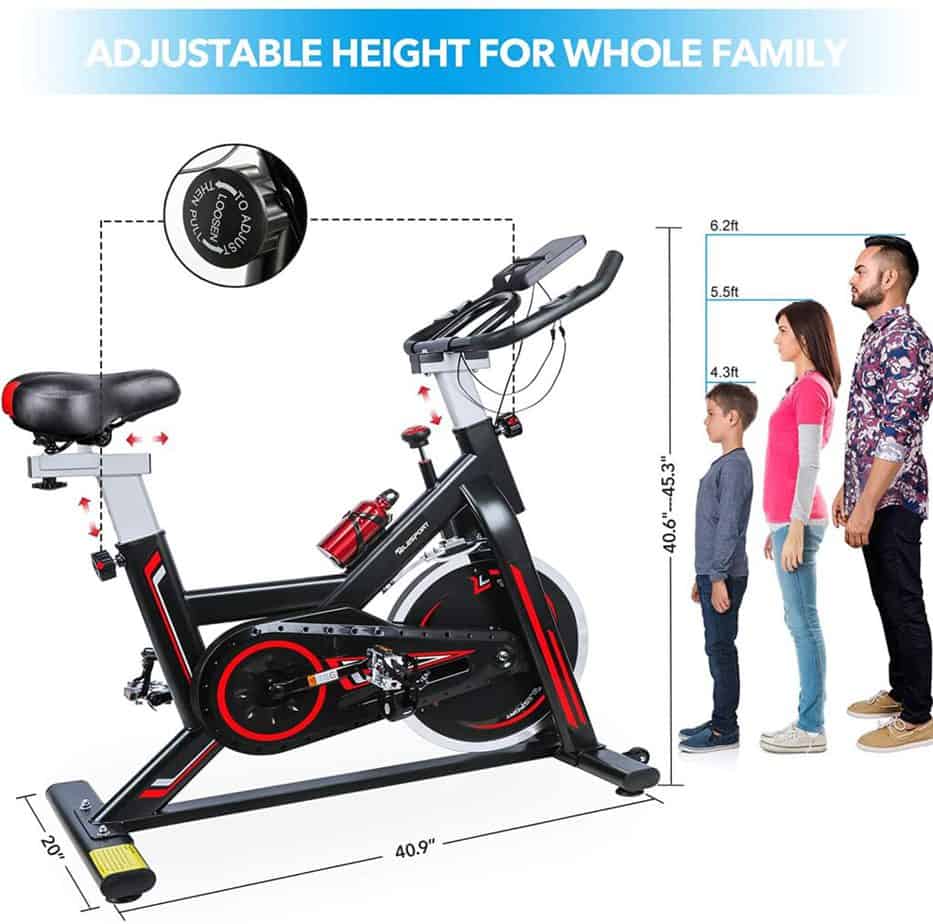 The seat is cushioned, and it has 2 springs underneath and a groove on the surface for air permeability. Thus, it offers comfort that could allow you to sit and cycle for a long time without feeling sore in the butt.
However, if you ever feel the seat is not comfortable enough, the use of a gel seat cover could always be considered. Moreover, since the connection mechanism is standard, you can have it replaced if you so desire because alternatives can be found online or in local bicycle shops.
The seat is 4-way adjustable. This means you can adjust it vertically (upward/downward) between 29.5''-37.5'' and horizontally (fore/aft) between 17''-19'' to suit you better.
The manufacturer indicated that the bike could be ridden by users whose heights are between 4'6''-6'6''. However, we recommend users no taller than 6'2'' if you wish to work out without hindrance.
The Handlebar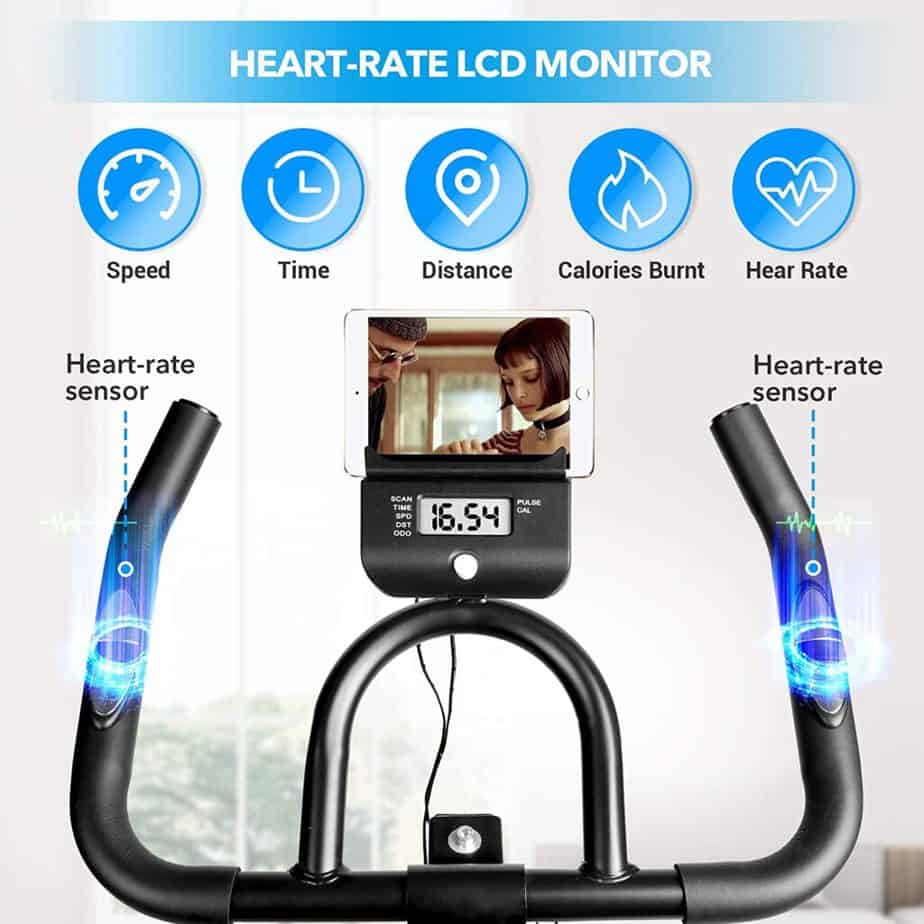 The handlebar of the TELESPORT Indoor Cycling Bike is 2-way adjustable only. You can adjust it upward/downward.
It has multiple handles that are coated with soft rubber foam for secure and comfortable grips. So, you can exercise longer while seated, standing, or leaning forward without feeling sore in your palms or losing your grips.
Metallic heart rate sensors are integrated into the grips for transmitting your pulse rate data during workouts.
The Pedals
The TELESPORT Indoor Cycling Bike's pedals are toe-caged with adjustable safety straps. They are safe and suitable for most foot sizes. Therefore, you can pedal as aggressively as you want without your foot slipping off.
The pedals along with the thick crankset and the crank-arms are solidly made to support the stipulated maximum user weight capacity of 350 lbs./158.7 kg.
That said, they only allow standard gym shoes to be used for workouts. But if you wish to use special spin shoes, you can swap them for SPD type because the thread is standard 9/16''.
The Drive
This is a belt-driven indoor stationary cycling bike. It provides a smooth and quiet operation due to its transmission elements that include a durable belt, a pulley, cranks, and the heavy 40 lbs./18.14 kg high inertia flywheel.
Hence, exercising with the bike in the presence of the family members or where the neighbors live nearby is possible. You can watch a TV show or listen to music without any noise interference from the bike.
The drive system is fixed; therefore, you will be able to pedal in reverse if you wish to do so.
Having said that, you must always apply the emergency brake by pushing down the red tension control knob whenever you want to stop pedaling to avoid an accident that might result in injury, considering that the flywheel is heavy.
The Resistance
As aforementioned, the TELESPORT Indoor Cycling Bike features an infinite adjustable resistance system.
This consists wool felt brake pad that rubs over the top surface of the flywheel to generate resistance, while the tension control knob regulates the contact level.
In other words, the tighter the wool felt pad is on the flywheel the stronger the resistance becomes, and vice versa. So, to increase or decrease the resistance intensity, simply turn the tension control knob clockwise or counterclockwise, respectively.
Needless to say, the resistance system does not have pre-defined resistance levels as in the case of some spin bikes that have a magnetic resistance system.
So, you can only adjust the resistance until you feel you have the right and suitable tension for your workout.
The resistance levels provided are suitable for everyone at any fitness level, including those seeking to experience extreme workout challenges.
It is worth mentioning that you may experience a squealing sound coming from the friction between the felt pad and the flywheel. IF this happens, simply saturate the wool felt brake pad with silicon-based oil and the problem will be gone.
The Console
The console on this cycling bike is basic and has a non-backlit LCD monitor that tracks workout progress by displaying workout data such as Time, Speed, Distance, Calories Burned, and Heart Rate.
The Heart Rate metric is only displayed when the sensors on the handlebar grips are held during a workout.
The monitor's screen is small and can only display workout data one at a time after a few seconds and then switches to another. This continues in a loop unless of course, you choose to override the SCAN function that is responsible for it and instead set a preferred data of your choice to display constantly without changing.
There is a single navigation button available on the console for Mode, Set, and Reset functions. It is very simple to use than you think. Every detail on how to navigate through the functions of the console is explained in the owner's manual.
The bike is manually operated, and even the monitor is battery-powered, no electricity is needed.
Accessory
There is a tablet holder integrated into the console, and the good thing is that it is strategically positioned so that the monitor is not blocked when a device is placed on it.
Therefore, you can monitor your workout progress even as you watch a movie through your tablet or smartphone device.
Also, there is a water bottle holder and a bonus water bottle as well for keeping proper hydration during every workout session. This is necessary for workouts and achieving your fitness goals.
Storage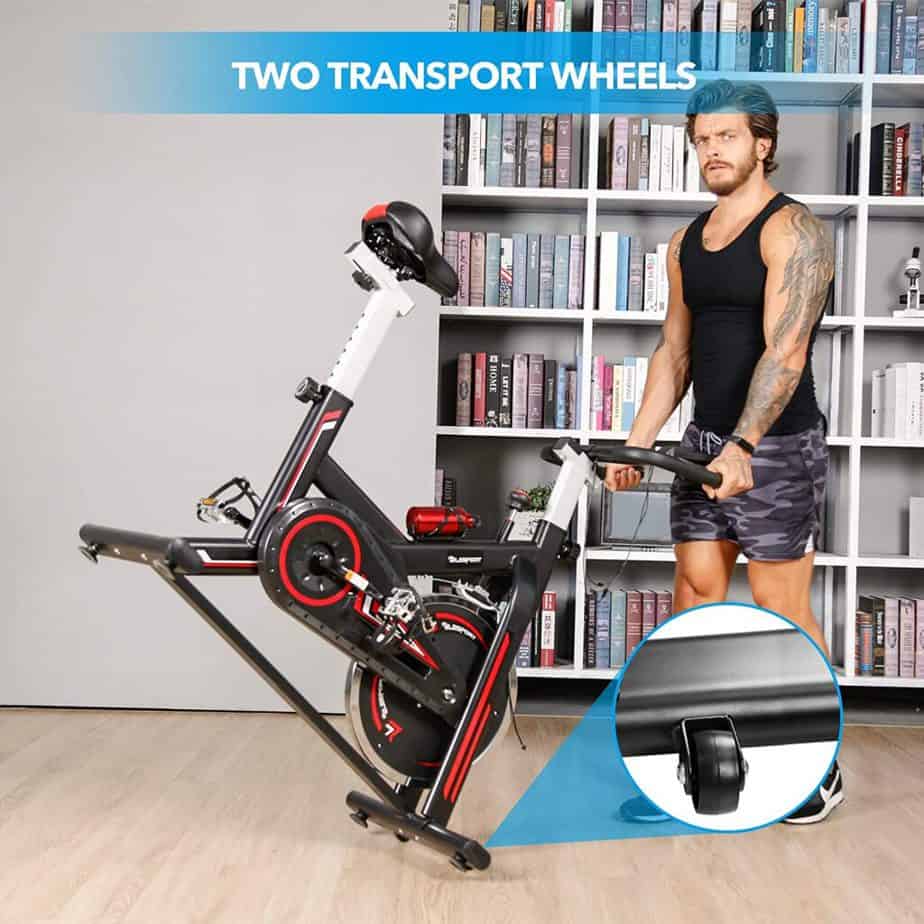 The TELESPORT Indoor Cycling Bike is compact, portable, and lightweight. In other words, it doesn't take up too much space for storage and it is easy to move around the room.
An area with perimeters of 3'40'' length by 1'66'' width should be enough for storage.
To move it, simply tilt it over to the transport wheels and roll it away.
Pros/Features Overview
Solid, sturdy, and durable
It can withstand hard use
It is not expensive
It supports 350 lbs./158.7 kg maximum user weight capacity
Individuals between the heights of 4'6''-6'2'' are supported
Its compact and portable design makes it useable in a small room and easy to move
The friction resistance system with infinite resistance levels provides different workout challenges suitable for beginners, intermediaries, and advanced athlete
The toe caged pedals are safe to use and can accommodate different foot sizes; they can be swapped for SPD pedals if you wish to use special cycling shoes
The handlebars and the seat are adjustable, 2-ways, and 4-ways, respectively
The operation of the bike is smooth and nearly-silent
It possesses an LCD monitor that displays workout stats such as Time, Distance, Speed, Calories Burned, and Heart Rate
The base has adjustable levelers for improving stability on a surface that is not so even
Little maintenance is required
Tablet and water bottle holders are included
A water bottle is provided
Assembly is not difficult
Cons
The monitor is basic and non-backlit
Sometimes, the wool felt pad may need to be lubricated with silicon-based oil to prevent a squealing sound that may occur when the resistance is engaged
The felt brake pad wears out after a period of usage, thus, will require a replacement (although, it doesn't happen all the time)
Warranty
Product Dimensions & Specifications
Length: 40.9''
Width: 20''
Height: 45.3''
Shipping dimensions: 40'' L x 31.5'' W x 9'' H
Net weight: <68 lbs./30.84 kg
Gross weight: 68 lbs./30.84 kg
Maximum user weight: 350 lbs./158.7 kg
Heights supported: 4'6''-6'-2''
Frame: Steel
Flywheel: Perimeter weighted, 40 lbs./18.14 kg
Drive: Belt
Resistance: Friction with infinite adjustable levels
Seat: 4-way adjustable
Handlebar: 2-way adjustable
Pedals: Toe cages with adjustable safety straps
Console/Monitor: Basic nonbacklit LCD
Transport wheels: Yes
Tablet holder: Yes
Water bottle holder and water bottle: Yes
Shipping
This machine is shipped in a neatly packaged box that weighs 68 lbs./30.84 kg with dimensions of 40'' long by 31.5'' wide by 9'' high.
Usually, if purchased from Amazon, it takes a couple of days to get it delivered, and oftentimes free of charge without shipping cost.
Assembly
The assembly is not complicated as you are only required to attach the base, the seat/post, the handlebar/post, the pedals, and the console to the core unit.
Tools and an instruction manual are included in the package to help you expedite the assembly.
Maintenance
Other than wiping the bike clean after every workout, there is not much to be done.
Except to make sure that the parts are in good condition before workouts, and maybe to lubricate the wool felt brake pad if necessary.
Store the unit in a clean, dry, and cool area.
Conclusion
The TELESPORT Indoor Cycling Bike is one of the indoor exercise machines to consider if you are not able to purchase a high-end spin bike such as the Keiser M3.
It at least provides you with the opportunity to engage in cardio workouts that ultimately lose weight, improve heart and lungs' health, and more.