The Joroto XM16 Exercise Bike is almost the same as the Joroto X2 with exception of the fact that the former supports 29''-39'' inseam (supports taller individuals), while the latter supports 27.5''-36.2'' inseam. Moreover, the XM16's monitor provides RPM info, while X2's doesn't.
Aside from that, everything else is basically the same.
That said, the Joroto XM16 Exercise Bike is designed for home use and individuals with lengthy inseam. Its Q-Factor (distance between the left and right pedals) is 175 mm/6.9''. This enables your foot placement on the pedal to feel natural when riding and consequently prevents ankle stress.
Don't go away as we dive deeply into reviewing the XM16.
Meanwhile, click right here to have a peek at the best price of this spin bike on Amazon.
The Frame and Construction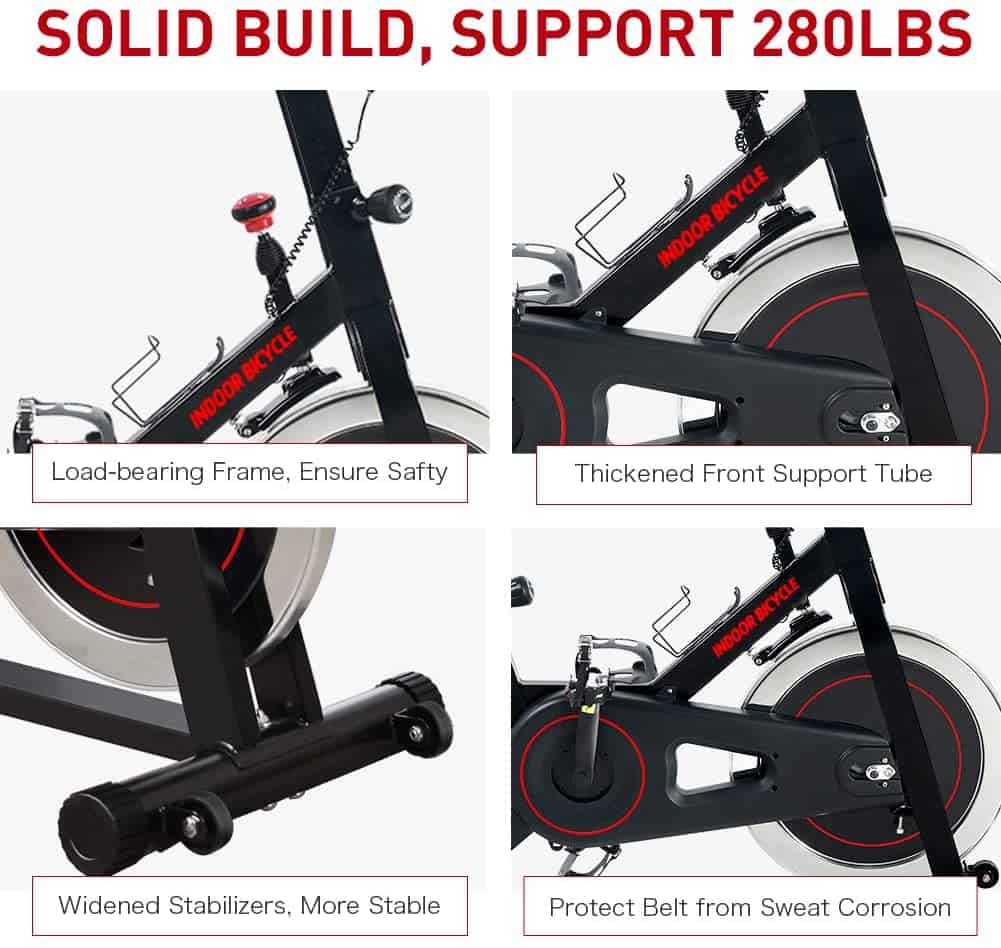 The Joroto XM16 Exercise Bike has a heavy-duty steel frame that is coated with anti-corrosion paint and colored predominantly black with a tint of red and white colors.
It supports 280 lbs./127 kg maximum user weight capacity and suitable for users between the heights of 5'4''-6'5''. However, to ascertain if it is suitable for your height, measure your inner thigh to the ankle to know if it falls between the inseams it supports.
The base has huge rounded steel stabilizers with plastic end-caps that include an adjustable polygonal design for stability.
Overall, the unit's stability is great, but the use of a rubberized protective mat might optimize it.
The dimensions of the bike are 48'' long by 20'' wide by 47'' high. Therefore, a workout area with perimeters of 4' length by 1'66'' width is required. Although, extra clearance of 2' is recommended to be added around it for safety purposes.
The bike is easy to move around the room even though it weighs 79.3 lbs./35.96 kg because there are transport wheels at the front base.
The Seat of the Joroto XM16 Exercise Bike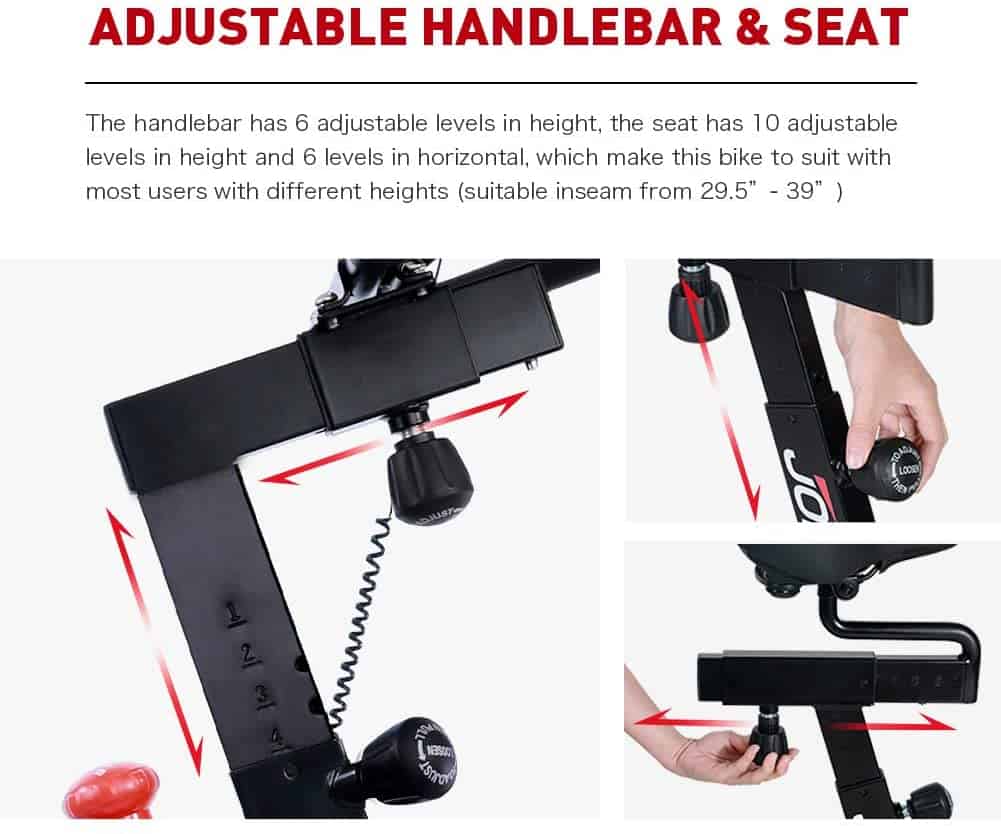 The seat of the Joroto XM16 Exercise Bike is 4-way adjustable with several positions. As a result, users of different heights can find a position for a perfect fit.
Anyone can easily adjust the seat vertically (upward/downward) or horizontally (fore/aft) within seconds because each adjustable level has a clear mark of a numeric number. Therefore, it doesn't take time to adjust or readjust in the event someone alters it.
Users have different views as to how comfortable the seat is. However, it can always be improved by the use of a gel seat cover. Better still, a complete replacement is viable because the connection mechanism is standard that even a road bicycle seat can fit in.
The seat dimensions are 10.6'' long by 8.3'' wide by 4.3'' high/thick.
The Handlebar
The handlebar has a regular design most indoor stationary cycling bikes have. It is ergonomically designed to provide multiple grips for seated, lean-forward, and mountain-climbing ride styles.
The handles are cushioned with soft rubber foam material for secure and comfortable grips that enable users to train longer without experiencing blisters or slippage.
It (handlebar) is 4-way adjustable with several levels, just like the seat. This makes the bike micro-adjustable and highly customizable, as aforementioned.
However, there are no heart rate sensors integrated, and so, it is not possible to track your heart rate data, except the use of an external device is deployed.
The Pedals
The Joroto XM16 Exercise Bike is equipped with toe caged pedals that have adjustable safety straps.
These pedals accommodate most foot sizes, and they secure the feet so that slippage is not experienced.
Moreover, they are strong enough to hold up during a mountain-climb riding style that puts almost the whole body weight on the pedals.
That said, the pedals are not dual-sided, so they are only compatible with standard gym shoes.
Although, it is possible to swap them for SPD pedals if you want.
The Drive
The Joroto XM16 Exercise Bike integrates a belt drive system that consists of a V-poly belt, a pulley, a 3-piece crankset, crank-arms, and the flywheel.
As a result, the operation is smooth and quieter than a chain-driven bike. Therefore, you will be able to train at any time of the day without invading other people's privacy.
Also, you are not obligated to carry out any maintenance that in some cases may require taking the drive covers apart to lubricate or adjust the internal elements.
The drive system has a fixed transmission, which means you can pedal in reverse if you so wish to diversify and tone more muscle groups. Although, because of the heavy flywheel, you will have to apply the emergency brake whenever you intend to abruptly stop pedaling to avoid an injury.
The Resistance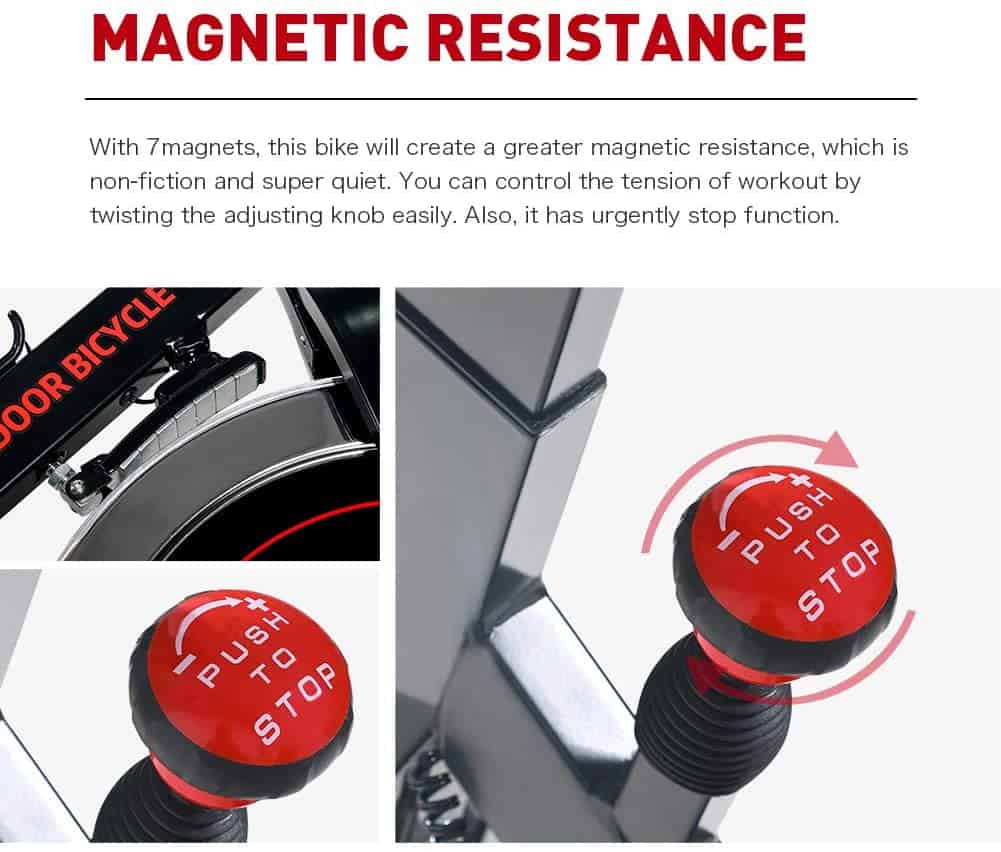 This bike has a manual magnetic resistance system with infinite adjustable levels. The main resistance generating elements include the 7 magnetic pads and the 30 lbs./13.60 kg flywheel.
Resistance is generated once the magnetic pads emit magnetic fields at the top chromed surface of the flywheel, and it does so without noise emission.
Since no friction occurs between the elements, no part needs to be replaced or lubricated either.
You can easily increase or decrease the resistance level by turning the tension knob clockwise or counterclockwise, respectively.
As mentioned above, the resistance levels are not predefined. Instead, they are infinite. So, you will have to turn the tension knob either way until you feel you have the suitable resistance for your workout.
The Console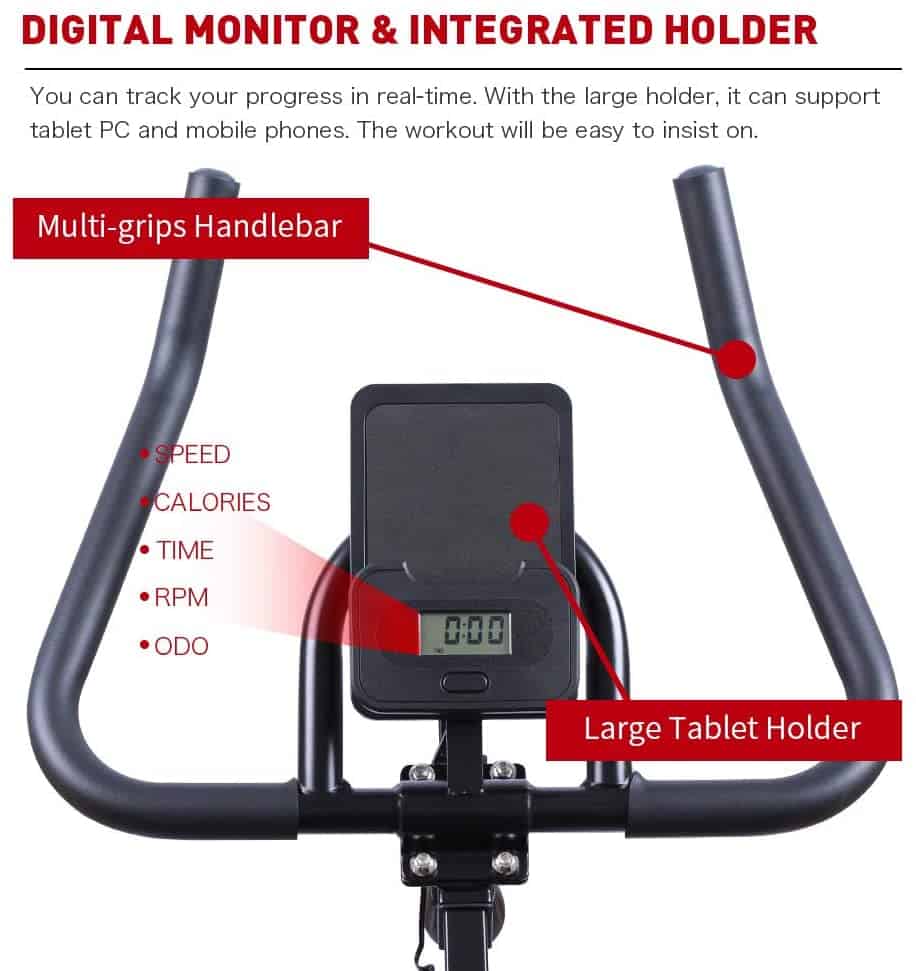 The Joroto XM16 Exercise Bike is equipped with a basic console with an LCD monitor that keeps you motivated by tracking workout stats such as Time, Distance, Speed, RPM, and Calories Burned.
These metrics are displayed one at a time after every few seconds by the SCAN function because they can't be displayed all at once.
Although, you may set a certain workout value of your choice to display constantly instead.
The only button on the console also allows you to scroll through the metrics, set, reset, and enter mode.
The display is easy to read, but since the monitor is not backlit, it could be compromised if viewed in a room that is not well-lit.
This bike does not require electricity because it is manually operable, and the monitor is battery-powered (batteries included).
The monitor shuts down after a few minutes of inactivity on the bike to conserve the power of the batteries, and it automatically turns on when activities return or when the button on the console is pressed.
As aforementioned, the console does not have any additional features other than basic ones.
Accessory
There is a built-in smartphone/tablet holder on the console which is well situated to prevent blockage of the monitor's screen when a device is placed on it.
In other words, you can simultaneously watch a movie via your smartphone and still be able to view your workout progress.
Also, there is a water bottle holder, which is essential for keeping water handy for the maintenance of proper hydration during a workout session.
Storage
The Joroto XM16 Exercise Bike is not foldable, but it is neither large to overwhelm your workout or storage space. An area with perimeters of 4' length by 1'66'' width is enough for storage. Therefore, it could be stored by the wall in a room, under the staircase, or in the garage.
To relocate it is not difficult because even though it weighs about 79.3 lbs./35.96 kg, the integrated transport wheels at the front base help in that regard.
Approval Rating
This bike and the Joroto X2 are often compared by many because they have so much in common. However, taller individuals prefer the XM16 over the other due to the lengthy inseam it supports.
So, the majority of users on Amazon have a favorable view of it. Hence, the good rating as of the time of this review.
Pros/Features Overview
It has a light commercial grade construction even though it is not officially so
It supports 280 lbs./127 kg maximum user weight capacity
The base provides good stability
The belt drive system offers smooth and quiet operation, and it's bidirectional, meaning you can also pedal backward
The manual magnetic resistance system with infinite adjustable levels provides different workout challenges
The seat is cushioned and large for optimum comfort, and it could easily be replaced with another
Pedals are toe cages; thus, they provide secure foot placement that is void of slippage; they too can be replaced for SPD, if you so wish
The handlebar is ergonomically designed and cushioned with multiple grips for different workout positions
Easy to assemble
No serious maintenance is needed
Transport wheels are included for easy relocation process
LCD monitor included for tracking workout stats such as Time, Distance, Speed, RPM, and Calories Burned
It doesn't take up too much space for workout or storage
It possesses a heavy flywheel that makes you feel like riding a road bicycle
A tablet and water bottle holders are incorporated for entertainment and maintenance of proper hydration purposes
Cons
No EKG contact sensors or wireless heart rate capability
The monitor is basic and nonbacklit
Warranty
1 Year for every part that may need replacement
Product Dimensions & Specifications
Length: 48''
Width: 20''
Height: 47''
Shipping dimensions: 45.52'' L x 33.7'' W x 7.8'' H
Net weight: 79.3 lbs./35.96 kg
Gross weight: 95.52 lbs./43.32 kg
Maximum user weight capacity: 280 lbs./127 kg
Inseams supported: 29''-39''
Frame: Steel
Seat dimensions: 10.6'' L x 8.3'' W x 4.3'' H
Q-Factor: 175 mm/6.9''
Drive: Belt
Resistance system: Manual magnetic with infinite adjustable levels
Seat: 4-way adjustable
Handlebar: 4-way adjustable
Pedals: Toe cages with adjustable safety strap
Console/Monitor: Basic with nonbacklit LCD monitor
Transport wheel: Yes
Water bottle holder: Yes
Tablet holder: Yes
Shipping
The Joroto XM16 Exercise Bike arrives in a box that weighs 95.52 lbs./43.32 kg with dimensions of 45.52'' long by 33.7'' wide by 7.8'' high.
The shipping starts upon completing an order, and if all things being equal, it gets delivered in a few days.
Assembly
The assembly of this bike doesn't require you to attach a lot of parts because the majority of it has already being done by the manufacturer.
It only takes less than an hour to fully put the machine together.
There is an instruction manual and tools included in the package for a successful assembly. If you are visually inclined, an assembly video is also available.
Maintenance
The maintenance of the XM16 Indoor Cycling bike involves keeping it clean at the end of each workout session.
Make sure to examine it before using it for workouts to ensure that it's in a good functional state, with no loose or broken parts.
Conclusion
The Joroto XM16 Exercise Bike is sturdy. It is reliable for indoor exercises and especially fits taller individuals because it supports 29''-39'' inseams.
It doesn't require serious maintenance, and its operation is smooth and quiet. The 30 lbs./13.60 kg flywheel mimics riding a road bicycle.