The Ativafit Indoor Upright Folding Magnetic Exercise Bike is tailor-made for those that work at home or in the office. Especially those that spend most of their time in front of a desk and hardly have the time to go to the gym and work out.
Everyone else might also find it very useful and handy for keeping up with physical health.
This bike is an entry-level machine that features innovative retractable stabilizer legs and pedals, and 360-degree transport wheels. This means that the legs and the pedals could be folded for easy storage and the bike moves or could be rolled toward all directions.
Its removable and 4-way adjustable laptop desk could also be used for other purposes such as placing a tablet/phone device for taking calls, and entertainment and a water cup/bottle for hydration.
The Ativafit Upright Bike is sturdily built to support a maximum user weight capacity of 287 pounds/130 kg. It is compact and portable. It's integrated with magnetic resistance and belt drive systems that provide smooth and quiet operation.
There are other related products such as the FitDesk Exercise Bike, FLEXISPOT Desk Bike, and the Exerpeutic 2500 Desk Bike that you may want to check out.
Click right here to have a peek at the price of the Ativafit Indoor Upright Folding Magnetic Exercise Bike on Amazon.
The Frame and Construction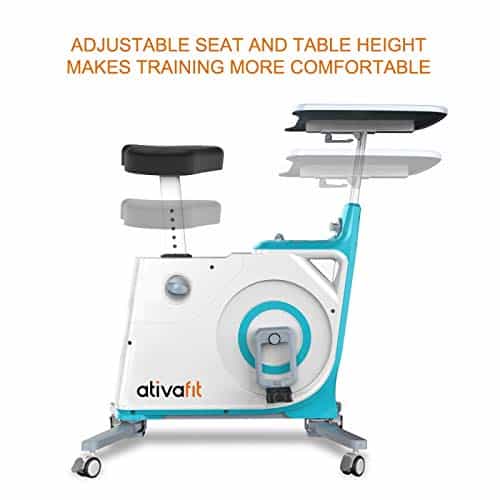 The Ativafit Indoor Upright Folding Magnetic Exercise Bike is in most part made of durable steel which could be seen on the core part of it; I.e., the frame, while the drive/resistance system cover is made of ABS material.
The steel parts are coated with anti-corrosive paint that preserves its quality and consequently maximizes its longevity. The bike also has an appealing outward appearance that could fit most home or office backgrounds.
Speaking of outlook, the bike is available in 3 different colors of black, blue, and white. All 3 are the same in terms of features and price but except the color.
The bike is compact, lightweight, stable, and portable.
Its overall assembled dimensions are 41 inches long by 26 inches wide by 51 inches high. Differently put, a workout area with a perimeter of 3'4'' length by 2'2'' width will be needed. However, it may be wise to consider adding extra clearance of 1-2′ around the bike for safety and convenience reasons, and especially if it's going to be used in a confined area.
The bike features retractable stabilizer bars with 360-degrees transport wheels underneath them. These provide adequate stability during a workout and also ensure that the bike can easily be moved to storage. Moreover, the upright bike only weighs 53 pounds/24 kg but nevertheless boosts its overall stability.
The Ativafit Upright Folding Bike overall construction is awesome but not without one or two downsides. One of such downsides is the fact that some users may struggle to get ON and OFF of the bike especially if they have joint pains.
The Seat
The Ativafit Folding Magnetic Bike is equipped with a large, padded, and ergonomically designed seat. The seat is made of high-quality PU leather and it's 1.6'' thick.
It could be adjusted 2-ways; vertically (upward/downward) in order to accommodate users of different statures. The bike can accommodate Individuals up to 6' tall but they may not be able to fully extend their legs even when the seat is adjusted to its highest level.
Obviously, users between 5'6'' tall and below will enjoy full leg extension.
The seat may not be very comfortable for some individuals but could be enhanced with a gel seat cover if you think it's necessary.
The Desk
The desk is designed to make your WORKFIT more comfortable. It is large enough to contain a laptop and a water bottle or a tablet/phone device.
It cannot be tilted but it can be adjusted 4-ways; I.e., vertically (upward/downward) and horizontally (fore/aft).
The seat and the desk adjustments are pretty easy and would only take seconds to complete.
The Pedals
The pedals on the Ativafit Indoor Upright Folding Magnetic Exercise Bike are anti-skid designed, pretty simple, and foldable.
They are similar to that of a road bike without any safety straps. But it's fine since the bike is primarily designed for working out behind a desk which won't demand a vigorous pedaling that might get either of the foot to slip.
You can work out barefoot or with a pair of standard gym shoes.
The Drive
The drive on the Ativafit Indoor Upright Folding Magnetic Exercise Bike provides smooth and quiet operation, such that does not constitute a nuisance where others are.
Thus, the bike is perfect for home and office use; It can be used without others feeling disturbed.
The drive doesn't require any maintenance and you can pedal in reverse if you wish to.
The Resistance
The bike has a manual magnetic resistance system. This consists of a tension knob, a magnetic brake pad, and a 4.42-pound/2 kg flywheel.
The bike doesn't vibrate when the resistance is engaged.
There are 8 levels of resistance that provide light to medium range workout intensities. In other words, it is suitable for weight loss, improvement of cardiovascular health, endurance, and strength.
The resistance is increased or decreased when the tension knob is turned clockwise or anticlockwise, respectively.
Just as the drive, the resistance system doesn't require any maintenance since the magnetic brake pad and the flywheel don't come in direct contact when generating resistance. Instead, the magnetic brake pad emits a magnetic field around the flywheel to create resistance.
The Console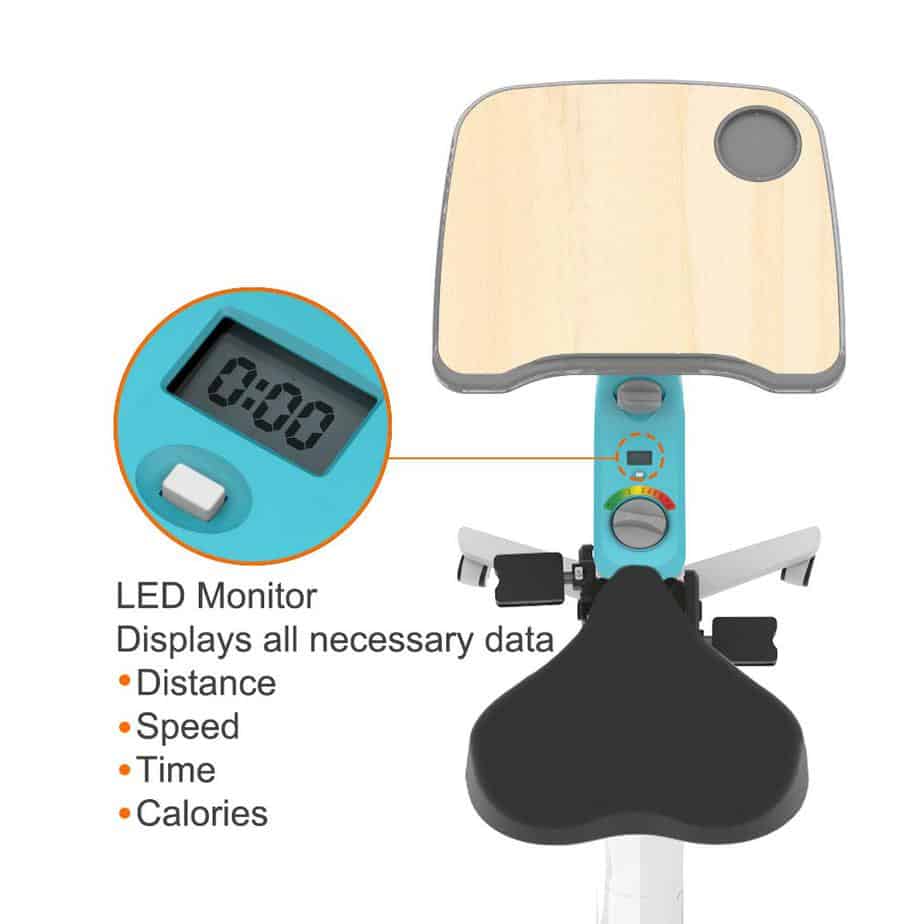 There is a basic non-backlit LCD monitor on the bike designed to track workout stats such as time, speed, distance, and calories burned. The monitor definitely keeps you focused and motivated.
The monitor has a SCAN function that displays the workout stats rotationally one at a time after a few seconds. You can also set a preferred workout value to display constantly instead if you wish to do so.
The bike or the monitor does not require to be plugged into a power outlet in order to be functional because the bike is manually operated and the monitor is powered by batteries.
The monitor shuts down automatically when the bike is idle for a few minutes and it automatically turns ON when activity resumes. It can also be turned ON/OFF manually via the single button on it.
Accessory
The Ativafit Indoor Upright Folding Magnetic Exercise Bike is equipped with a laptop desk that also has a cup holder for keeping water handy for hydration.
You can basically place a laptop, a tablet/smartphone device, a magazine, or a book on the desk. Therefore, your workout will never be filled with boredom as you can always entertain yourself.
Storage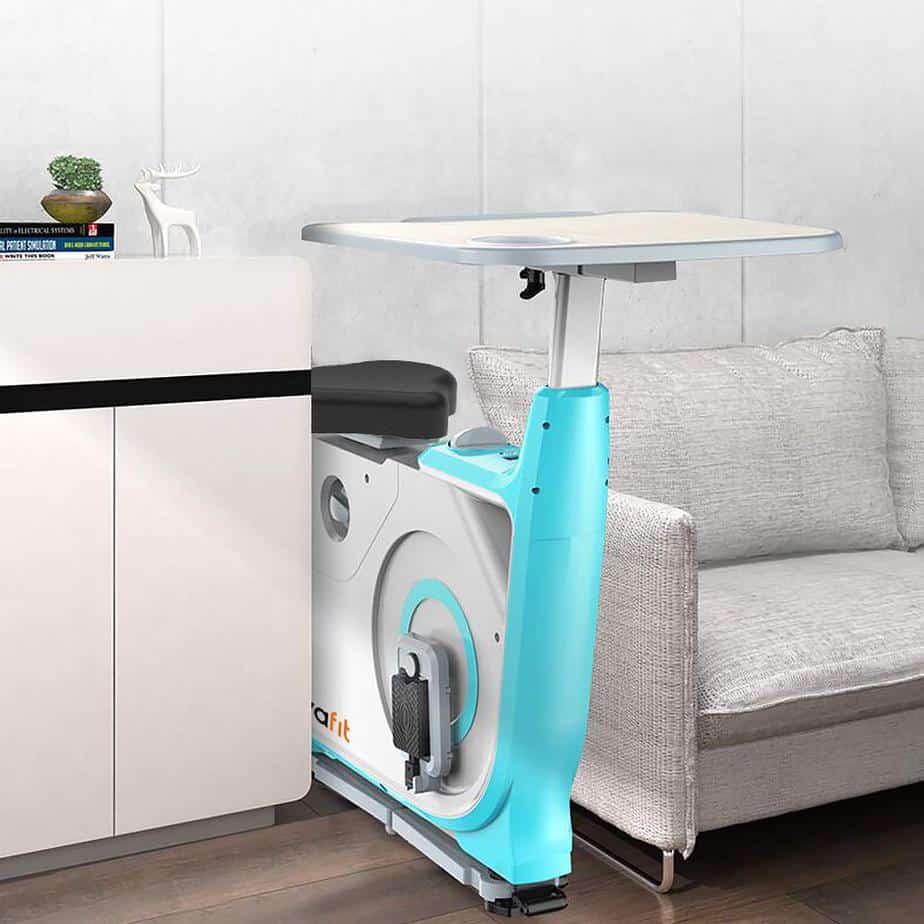 The bike is pretty easy to store away. The reason is that it has retractable stabilizers, pedals, and removable transport wheels.
It is also compact and lightweight. So, as portrayed in the image above, the upright bike could be stored in the most unlikely places.
Approval Rating
The Ativafit Upright Desk Exercise Bike has a very good approval rating on Amazon at the time this review is written. This simply suggests that users have a positive view of the bike and would recommend it.
Pros/Features Overview
Sleek design and available in 3 different colors
It is sturdy, stable, durable, and portable
The stabilizer stands and pedals are retractable, and the transport wheels are removable
The bike could be moved towards any direction, thanks to its 360-degree transport wheels
The LCD monitor tracks time, distance, speed, and calories burned
The seat is adjustable, large, padded and 1.6'' thick
The desk is adjustable and can accommodate a laptop or book/magazine
A water cup holder is included
It supports a maximum user weight capacity of 287 pounds/130 kg
It is possible to pedal in reverse
It's affordable and cost-effective
Pretty easy to assemble
Low maintenance
Magnetic resistance system provides decent workout intensities for weight loss, cardiovascular health improvement, strength, and endurance enhancement
Operation is smooth and whisper-silent
Cons
Users above 5'6'' may not be comfortable using the bike
The LCD monitor is non-backlit and a bit difficult to view due to its position, nevertheless, it has good readability
Getting ON and OFF of the bike might be with a lot of effort for some people
Product Dimensions and Specifications
Length 41''
Width 26''
Height 51''
Shipping dimensions: 29.7'' L x 28.3'' W x 10'' H
Maximum user weight capacity: 287 pounds/130 kg
Weight: 53 pounds/24 kg
Shipping weight: 57.5/26 kg
Seat: 2-way adjustable, large, 1.6'' thick, and covered with a PU leather
Desk: 4-way adjustable
Cup holder: Yes
Resistance: Manual magnetic, 8 levels
Drive: Belt
Pedals: Anti-skid and retractable
Frame: Steel
Display: Non-backlit LCD monitor, tracks time, distance, speed, and calories burned
Flywheel: 4.43 pounds/2 kg
Shipping
The Ativafit Indoor Upright Folding Magnetic Exercise Bike is shipped out in a box. The shipping cost is usually determined by the vendor's shipping policy; however, Amazon offers free shipping and makes delivery within days.
Assembly
Assembling this bike is probably the easiest. It comes almost preassembled; thus, it takes about 10 minutes, more or less to completely assemble.
Maintenance
Due to the type of drive and resistance systems this bike possesses, there is no serious maintenance that is required.
You only need to keep it clean from dirt and sweat before and after use. Also, ensure to examine it for any loose or broken parts before use so that you can avoid an accident or further damage to the bike.
Conclusion
The Ativafit Indoor Upright Folding Magnetic Exercise Bike is an affordable hi-tech-looking bike.
As aforementioned, if you wish to improve your physical health and mental alertness while working behind a desk, then this bike might just be what you need.
[rank_math_rich_snippet]