The FLEXISPOT Desk Bike is yet another exercise bike in form of an upright stationary bike with an adjustable office desk for people that work a lot behind the desk.
This is flexible under desk upright exercise bike because it is detachable and could be used as standalone or together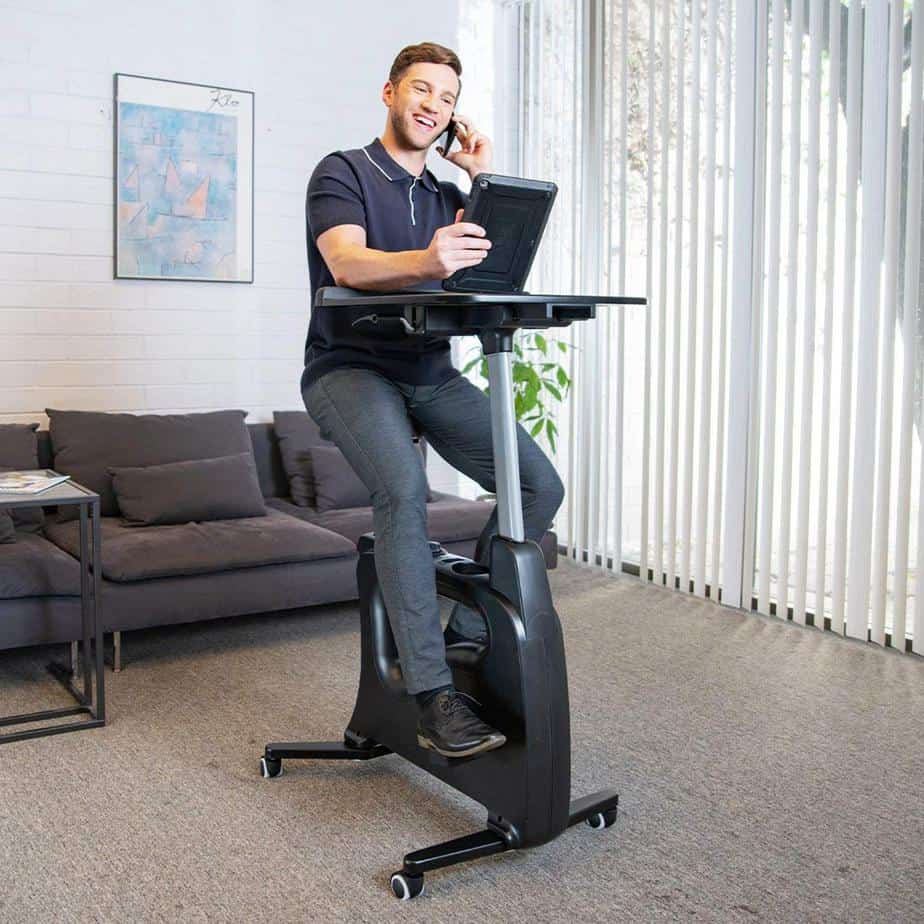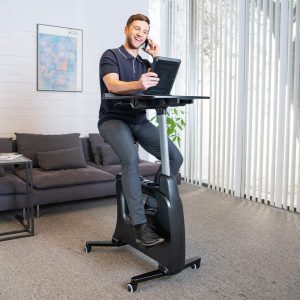 with the desk it comes with. In other words, you could decide to purchase the FLEXISPOT Deskcise Pro Bike without the desk if you have a desk already and this cost a few couples of dollar less.
The FLEXISPOT Desk Bike has a lot in common with upright exercise bikes except that it doesn't have handlebars. It will suffice to say that this has the embodiment of the Body-Solid Endurance B2U, of course except for the absence of the handlebar.
Also, you have the opportunity to choose from a black or white color variant.
It is compact and portable to be suitable for almost any room or apartment and operates with such an amazing silence and smoothness. It is also suitable for hosting meetings, gone are the days when cubicles and boardrooms are the norms. You can easily turn any space into an active environment due to its compatibility and portability.
You may decide to work while you workout or even stand while you work; it is that versatile.
It supports up to 300 pounds/136 kg maximum user weight capacity and accommodates users between the heights of 5 feet 1 inch to 6 feet 2 inches. Tested and certified by TUV SUD.
You may also spice up your workout with a little challenge by engaging the resistance with 8 different levels and make yourself comfortable by utilizing the adjustable seat that could be adjusted from 29.6 inches minimum to 37.2 inches maximum height.
To have a peek at the price of FLEXISPOT Desk Bike otherwise known as the FLEXISPOT Home Office Standing Desk Exercise Bike Height Adjustable Cycle-Deskcise Pro V9/V9U, click here for the complete version with a desk or click here for the version without a desk on Amazon.
The Frame and Construction
The FLEXISPOT Desk Bike is apparently a space-friendly bike that could fit in most rooms and apartments. It is also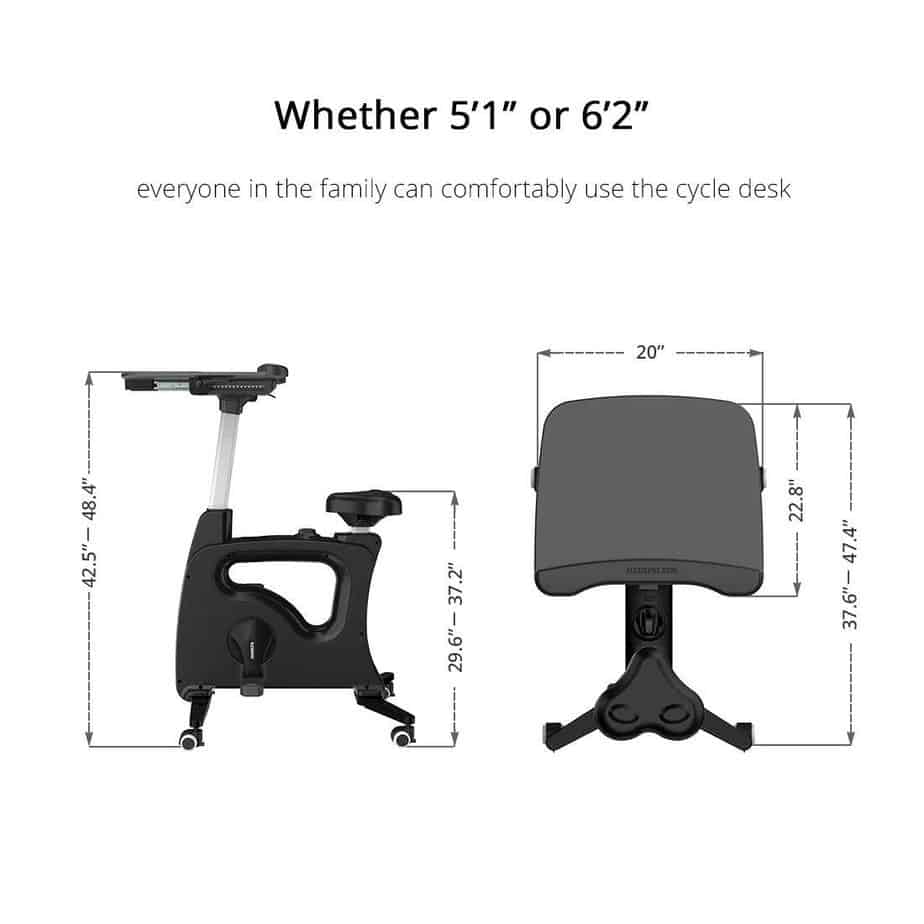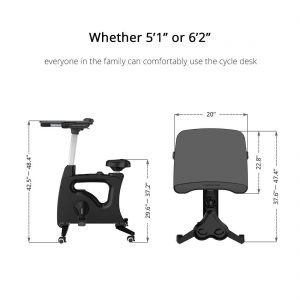 one of the different types of under desk fitness equipment available just as aforementioned.
It is possible to perform a certain type of cardio workout you enjoy behind the desk. For instance, if you like walking, jogging, or running, you could opt for an under desk treadmill instead,  and you also have the option of using other types of under desk equipment such as the under desk exercise bikes, elliptical trainer and so on. Some come with a custom desk and also allow you to purchase without a desk especially if you wish to use an existing desk you own just like the case with FLEXISPOT Desk Bike.
The FLEXISPOT Deskcise Bike has overall assembled dimensions of 37.6 to 47.4 inches long by 22.8 inches wide by 48.2 inches tall. The height size includes the maximum height of the desk therefore, it will be a lot less if you purchased the V9U model, i.e. one without a desk.
So, the work/workout area for the FLEXISPOT Deskcise Bike is 3-4 feet long by 2 feet wide. This is a testament that it is truly a space friendly with great stability.
Speaking of stability, it is integrated with a curved stabilizer bar at the rear base and straight stabilizer bar at the front base which eliminates any sort of unwanted movement and wobbling during use. The Deskcise Pro with a desk weighs about 76 pounds/34.4 kg while the one without a desk weighs about 51 pounds/23 kg, which in either case the weight, boosts the overall stability.
The stabilizer bars also feature transport wheels for portability, and you might wonder if the bike won't roll while being used; no, because when sitting on the bike, the transport wheels lock into place making it difficult for it to roll.
The frame is made of steel shrouded in an ABS plastic and it supports up to 300 pounds/136 kg maximum user weight capacity. Differently put, it is a very sturdy bike that can withstand hard use despite its sleek outlook.
The Seat, the Pedal, and the desk
The seat of the Deskcise Pro is wide and cushioned to provide the comfort needed during a workout. It is also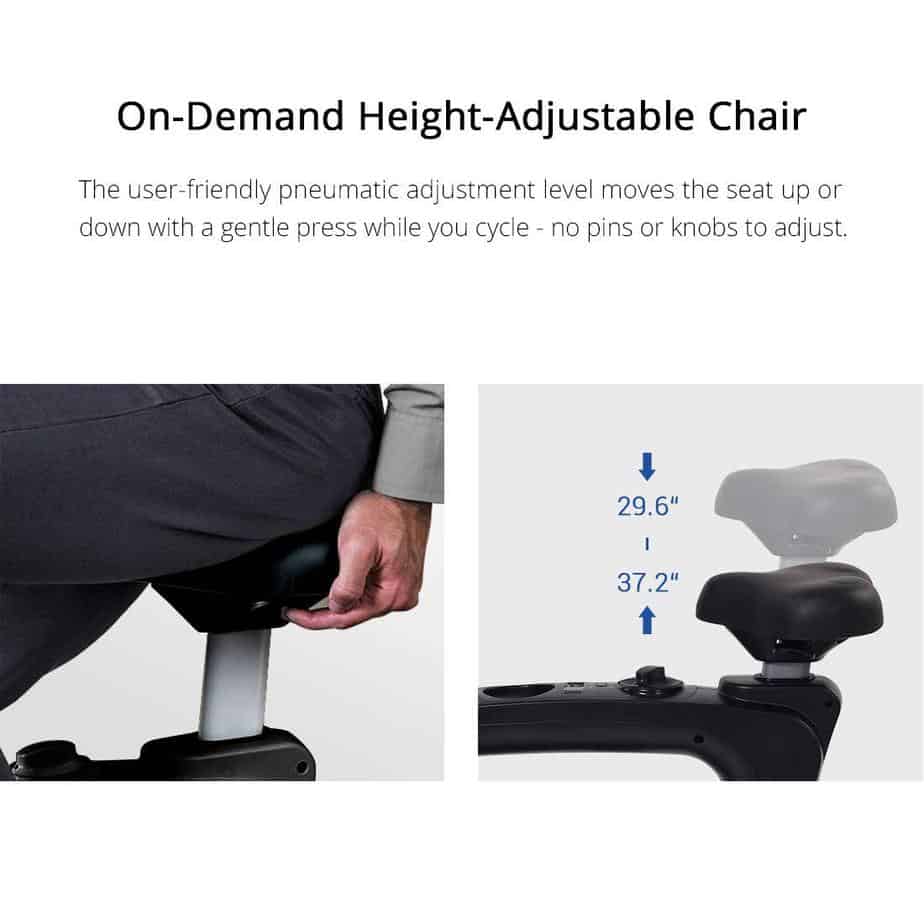 adjustable, i.e. upward/downward, min. 29.6 inches to a max. 37.2.
For this reason, users between the heights of 5 feet 1 inch up to 6 feet 2 inches should be able to find it suitable.  The idea of family members using the bike is very possible and conveniently so.
It is pretty easy to adjust the seat and you could improve the seat's comfortability by using a gel seat cover.
The pedals are without any toe cages or safety straps because the bike is not a regular indoor fitness machine that could be used for high intensity or vigorous workouts, but they are well molded with plastic that is barefoot, shoe and fabric friendly.
The pedals are ribbed designed to secure the feet and eliminate slippage especially when used with the black pedal covers it comes with.
The desk is also super adjustable with dimensions of 20 inches by 22.8 inches, large enough to accommodate a laptop and a mouse but a bigger one, say a 17 inches laptop will leave you with not enough space for a mouse pad.
The desk can accommodate any other item such as a magazine, tablet, etc. You can adjust the desk forward and backward which provides you with the opportunity to find a perfectly comfortable position for your work.
The desk is also a perfect ground for knitting, or even playing games.
The Drive
The FLEXISPOT Deskcise Pro features a belt drive system that provides a smooth and a whisper quiet operation. In other words, it could be used in a family and where neighbors live in close proximity without having the fear of disturbing anyone.
As a matter of fact, due to its quiet operation, it is recommended for meetings, for the replacement of debacle and boardroom.
The FLEXISPOT Deskcise Pro simply turns your space into a quiet active environment, be it at home or at the office.
Just like other good belt-driven bikes, the belt drive system consists of a durable belt, a small perimeter weighted flywheel, a solid crankset, cranks arms, the pedals, and the pulleys. These, together provide that formidable performance anyone would wish for.
You can pedal in reverse and achieve higher muscle group toning and development.
The Resistance
You could also engage in challenging workout while working on your computer, playing games, knitting or doing just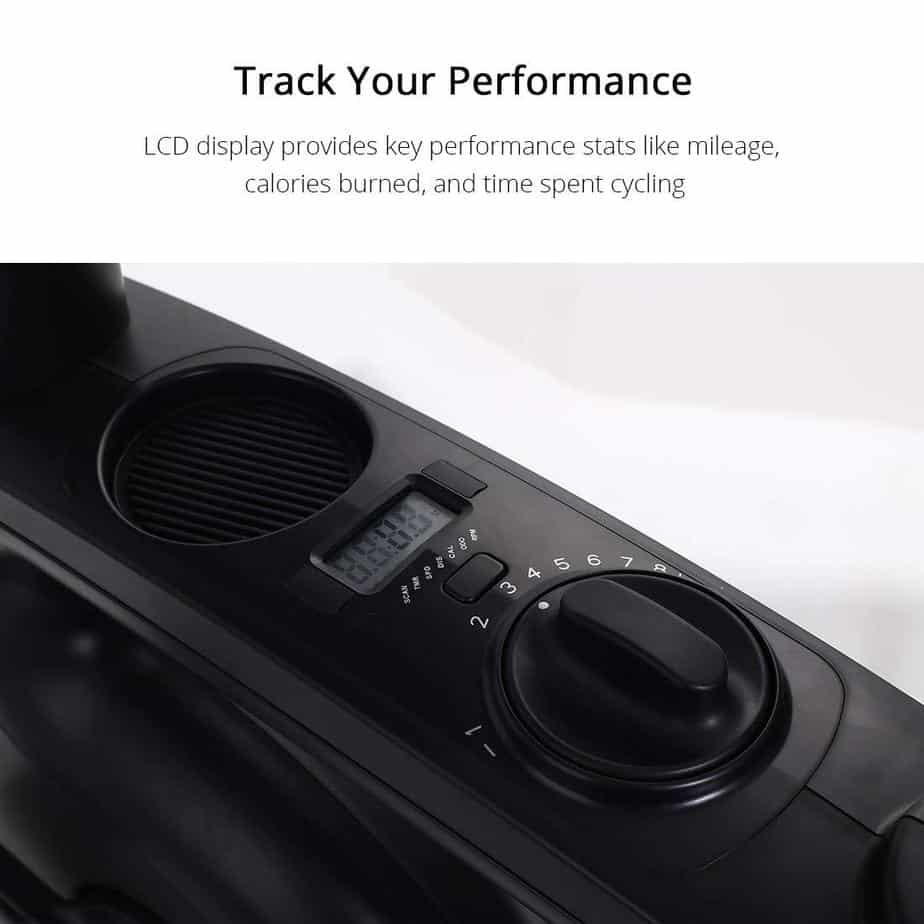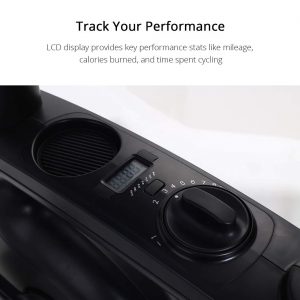 about anything behind the desk.
The FLEXISPOT Deskcise Pro features a magnetic resistance system with 8 levels designed to allow you to experience a variety of workout challenge while working.
You may not be able to use the highest resistance levels without sweating profusely which is not really ideal for working behind a desk; therefore, resistance level 5 or 6 will just be fine for a productive work and workout.
The resistance adjustment dial is designated on top of the bike's main frame along with the LCD screen, the toggle/reset button and the battery cover.
The resistance dial simply allows you to increase or decrease resistance from 1 to 8 levels. The resistance dial bears the -1 and +8 sign signifying the direction of increase and decrease of the resistance.
The resistance system is also maintenance free as the magnetic brake pad and the flywheel do not make any actual contact but generate resistance by the magnetic field provided by the magnetic pad, in other words, no contact, no friction and therefore no wear and tears.
The Console
The FLEXISPOT Deskcise Pro does not have the typical console as you may have already noticed but it has an LCD screen that is on top of the main frame which displays workout data such as time, speed, distance, calories burned, Odometer, RPM, and SCAN function.
The SCAN function makes it possible for the workout values to be displayed one at a time rotationally. But of course, you may use the MODE button to reset it to any value of your desire to display continuously and constantly.
The LCD monitor allows you to keep track of your workout progress and to motivate and help keep you focused on your goals.
Just at the top of the LCD screen a rounded compartment which also serves as a water bottle holder, beneath it is where the batteries that power the monitor are located. It uses 2 AA batteries to power the monitor and they could last for a very long time before a replacement will be required.
This is so because the monitor auto shuts down when the pedals are not being used after 4 minutes and it also comes alive when the pedals are used, or you could press the MODE button once to power ON/OFF the LCD monitor.
The speed, distance, and the Odometer are measured in miles and cannot be changed to a kilometer. However, the other version that is being sold for UK residents is measured in a kilometer.
The LCD monitor has high readability but unfortunately could be diminished when used in an environment that is poorly lit because it is not backlit.
Accessory
The FLEXISPOT Deskcise Pro comes with at least a water bottle holder something that is very important for a comfortable and productive workout because it helps to keep water handy to stay hydrated at all times.
Moreover, the water bottle holder is designated in a strategic position that is within reach of the user.
Storage
The FLEXISPOT Deskcise Pro is a storage-friendly unit that does not take up much space and can easily be rolled over to the spot you intend to store it.
Basically, it requires about 3 to 4 feet long by 2 feet wide storage area. Also, the legs/stabilizer bars are foldable; therefore you could also reduce the width size by folding them up. The length size could take less as well if the desk is adjusted backward so that it will require only 3 feet for the length.
If you are putting away for a long amount of time you can as well remove the desk.
The FLEXISPOT Deskcise Pro has a sleek and adorable outlook that doesn't make it out of place in any settings.
Approval Rating
The approval rating of the FLEXISPOT Deskcise Pro is highly impressive considering the fact that it has not only good approval rating but endorsed by a couple of fitness equipment watchdog bodies such as the TUV SUD that tested and certified it.
On the aspect of the real users, it has about 22 Amazon customer reviews at the time of this review most of which are satisfied with it and would recommend it.
Pros/Features Overview
Sleek outlook
Smooth and quiet during operation
It has impressive performance
The pedals are bidirectional
The seat is adjustable, upward and downward, thus multiple users could use it
The desk is adjustable, forward and backward
The pedals are barefoot, shoes and fabric friendly
It has a space saving design
It is portable with transport wheels
It has LCD monitor that tracks workout progress; speed, distance, time, calories burned, Odometer, RPM, and SCAN function
It has a water bottle holder
It is sturdy enough to support up to 300 pounds/136 kg maximum user weight capacity
Maintenance free
No assembly required
It has a resistance system that provides a variety of workout options
Cons
LCD monitor is not backlit therefore it will be difficult to view in a poorly lit environment
The seat is not very comfortable but could be improved by using a gel seat cover
Product Dimensions and Specifications
37'' Length
23'' Width
47'' Height
Supports 300 pounds/136 kg maximum user weight capacity
Weight: 51 pounds/ without a desk, 76 pounds with desk
Console: LCD monitor tracks time, speed, distance, calories burned, Odometer, RPM
Drive: Belt
Resistance: Manual magnetic resistance with 8 levels
Pedals: Anti-slip designed, no toe cages/SPD clips
Water bottle holder included
Color: Black, White
Models: V9/V9U
Warranty
1 Year on Frame
90 Days on Electronics
Shipping, Assembly, and Maintenance
Shipping
The FLEXISPOT Deskcise Bike is shipped almost completely preassembled and the shipping weight is 88.3 pounds/40 kg.
The shipping cost is determined by the vendor you are purchasing from; however, vendors like Amazon provide free shipping for United States residents and delivers within days of order.
Assembly
Again, just as aforementioned, the FLEXISPOT Deskcise Pro is delivered almost completely assembled. There are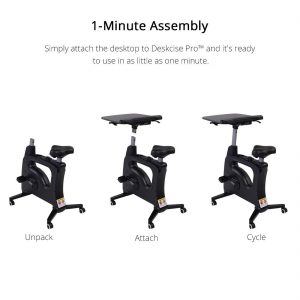 three basic assembling steps to using the bike, which is, unpack and unfold the legs and the pedals, attach the desk and cycle; it is as simple as that.
Although, you shall receive the bike with installation instruction manual included in the package with the required tools, the desktop, M8 bolt,  2x pedal covers and of course the bike base.
It takes only a minute to assemble.
Maintenance
The FLEXISPOT Deskcise Bike is a maintenance free bike that does not require any major maintenance like some other bikes out there, the reason being that its drive and resistance systems are a belt and magnetic respectively, thus no lubrication, adjustment, or replacement is required.
Just make sure to always keep the unit clean from dirt and sweat at all times.
Conclusion
The FLEXISPOT Deskcise Pro is a considerable under desk exercise equipment that could get you active even while behind your desk working on your computer.
It has been tested and verified by many that you could up your productivity by also improving your physical health.
It is affordable and space friendly and can easily blend and fit any environment setting.
FLEXISPOT Desk Bike Review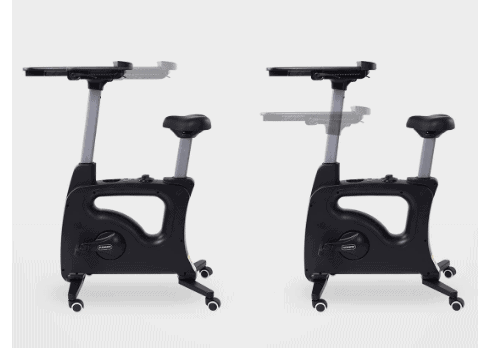 The FLEXISPOT Desk Bike is yet another exercise bike in form of an upright stationary bike with an adjustable office desk for people that work a lot behind the desk.
Product Brand: FlexiSpot
Product In-Stock: InStock