Goplus Recumbent Magnetic Exercise Bike is certainly one of the most affordable recumbent bikes you could get in the market. It is affordable, yet with some decent features that are designed to make your day and fulfill your fitness quest at home.
Speaking of affordability, you may want to check out the Sunny Health and Fitness SF-RB4601 Recumbent Bike and the Universal R20 Recumbent Bike because they might be of interest to you.
Click right here to have a peek at the price and of of the Goplus Recumbent Magnetic Exercise Bike on Amazon.
The Frame
The frame of the Goplus Recumbent Magnetic Exercise Bike is made of durable steel tubing. This makes it capable of supporting up to 300 pounds of maximum user weight. The steel parts of the machine are also coated with corrosion-resistant paint that preserves it from rust.
While the drive coverings are made of ABS material.
The bike is lightweight and only weighs about 51.7 pounds when fully assembled. Therefore, relocation or assembly by one person won't be much of a problem. The rotating rubber caps at the front base serve as transport wheels for the relocation process.
The base features front and rear steel stabilizers that ensure optimum stability. So, no wobbling or tilting movement will be experienced during a vigorous workout. Moreover, the base is also floor-friendly because there is a rubber cap on each end of stabilizer bars.
The recumbent bike is not foldable, but neither is it overly large. Its overall assembled dimensions are 56.3'' L x 16.1'' W x 34.6'' H.
If you must, you can detach the frame from the middle when you are about to store it away to save space. But that may not be necessary as the machine is lightweight and compact.
The Console
Just like many other low-budget recumbent bikes, the console is usually a basic non-backlit type. That being said, it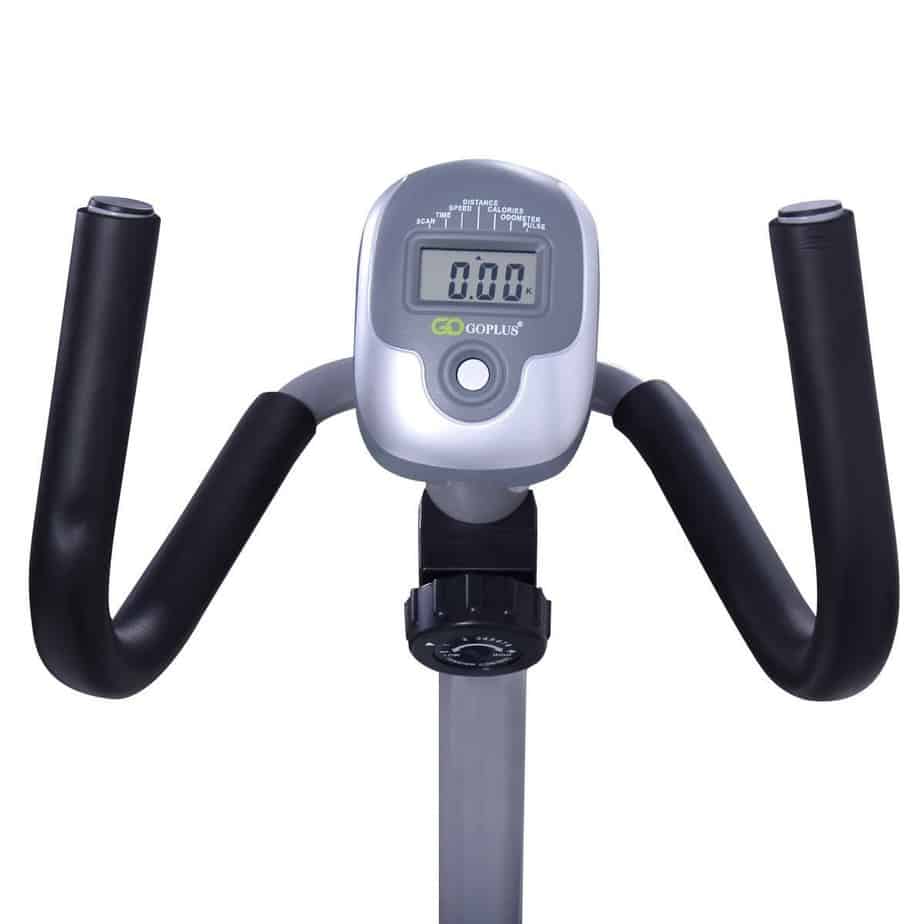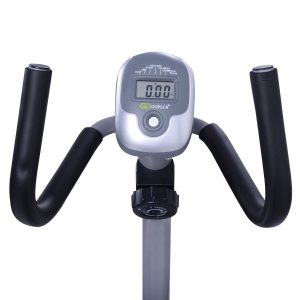 has got functions that could perfectly allow you to achieve your fitness goals and stay motivated as well.
Through the LCD monitor, you will be able to read your heart rate, view your workout data such as time, distance, calories, and speed. However, the heart rate data that is transmitted via the handlebars tend not to be accurate as the chest strap would be.
Unfortunately, the console is not telemetry enabled.
Also, the calorie data may not be entirely accurate as well because there is no option to customize it by adding data such as weight and age that will help in producing more accurate results/data.
The monitor has only one button and very easy to operate just like most of its contemporaries. This button allows you to turn the machine ON, SCAN function ON and OFF, and of course as a reset button.
Whey you toggle the SCAN function OFF that means you wish to set a particular workout metric to display at all times. But when the SCAN function is ON, it will automatically display the entire workout metrics one after the other after a few seconds and you can also reset with the same button as well.
There are two ways to turn the monitor ON, and that is by pressing the button on the monitor or by pedaling and it will automatically turn on. It also automatically turns OFF when the unit is idle for a few minutes to save batteries' power.
It uses two AAA batteries that are usually included in the package when the unit is purchased.
The Drive
This unit has a belt drive system that provides smooth and quiet operation. The advantage of a belt drive system over the chain drive system is the fact that it does not need lubrication or adjustment.
The Resistance
The Goplus Magnetic Exercise Bike has a manual resistance system which typically means that the machine operates without the need to be plugged into a power source.
The resistance system consists of the resistance knob, a small magnetic brake, and a flywheel. You can easily adjust the resistance via the resistance knob that is strategically positioned under the console on the pole.
There are 8 manual resistance levels available that offer a variety of challenging workouts.
Turn the tension knob clockwise to increase the resistance, and counterclockwise to decrease it.
The resistance system's elements don't wear out because there is no friction when resistance is generated. Thus, no maintenance or part replacement is required.
Resistance levels 1, 2, and 3 resistance provide light challenging workout experience, while levels 4, 5, 6, 7 & 8 provide medium to difficult workout intensities.
The weight or the size of the flywheel is unfortunately not specified but we could speculate that it is not that big and does not weigh much since the overall weight of the unit is just about 51.7 pounds. That being said, the flywheel is well constructed and perimeter-weighted for consistent momentum.
It is also equipped with balanced weighted pedals and a crankset with steel arms.
The pedals are anti-skid designed with adjustable safety straps that secure the feet and prevent slippage during workouts. They can accommodate different feet sizes comfortably.
The Seat
The seat of a recumbent bike plays a vital role in making a user comfortable. As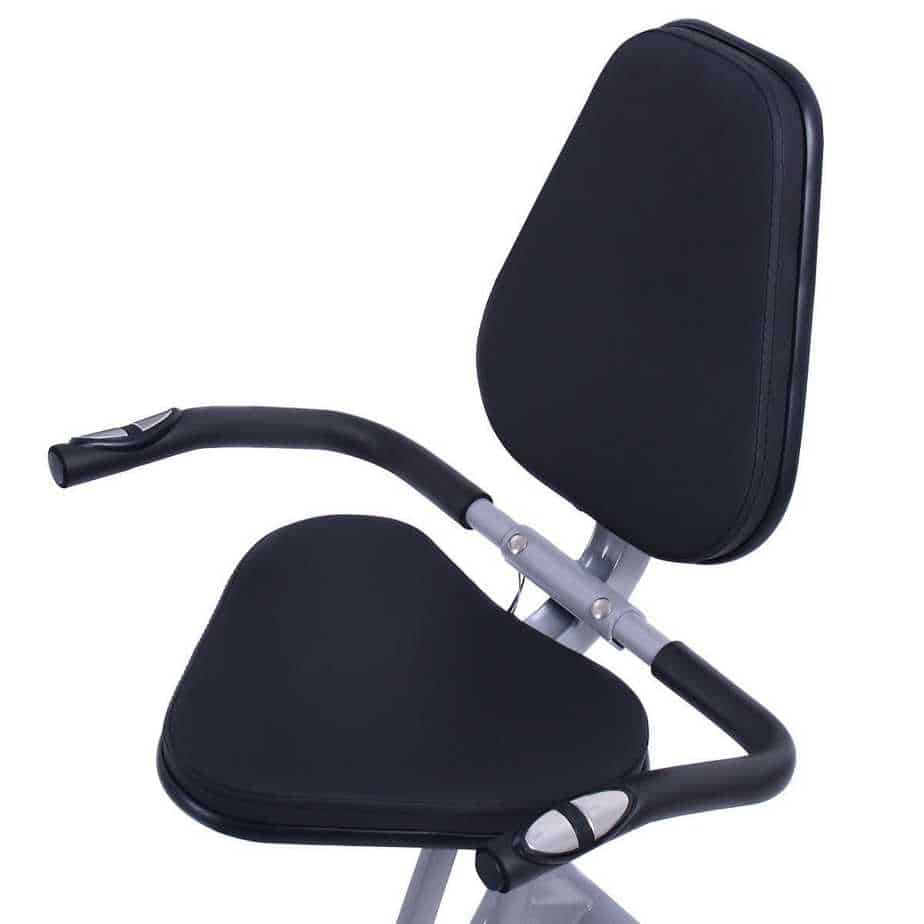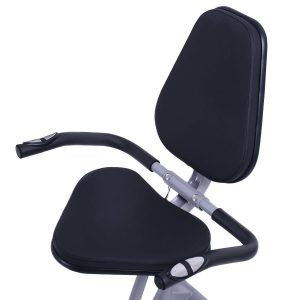 for the seat of this unit, it has what will be considered as a large size with dimensions of 15'' wide by 12'' depth. It is padded with considerable foam including the backrest for maximum comfort.
The seat is also designed with quality material that could make it last for a very long time.
It is not adjustable neither can the backrest be adjusted to recline. The adjustment could only be done from the middle of the frame. This allows users of different heights and sizes (4'6" to 6'0") to be accommodated.
The Handlebars
The Goplus Magnetic Recumbent Bike has front handlebars that are situated within the console mast, and side armrests on the seat. In other words, there are 2 sets of handlebars. They enable you to work out in different positions.
The side armrests located at the seat are integrated with heart rate sensors that are designed to transmit the heart rate data to the monitor when held during a workout. The two sets of handlebars are covered with rubber foam material for secure and comfortable grips.
None of the 2 sets of the handlebar is adjustable.
Pros
The frame is adjustable; therefore can accommodate different sizes of users comfortably, (4'5'' to 6')
The frame is made of steel and coated with anti-corrosion paint that prevents it from rust enhances durability.
It supports up to 300 pounds maximum user weight
It has got a step-thru design that is convenient for everyone
It has two sets of handlebars that is usual for a recumbent bike of its price range
It is super affordable
It is compact and light even as it is stable during an intense workout
It requires no maintenance for its drive system
It operates smoothly and quietly
Has console with useful functions
Has large padded seat and backrest
The side handlebars have a heart rate sensor embedded on them
It has got transport wheels for easy relocation and storage
Has weighted pedals with standard thread plus safety straps
Easy to assemble and handle
Cons
No water bottle holder
The console is basic and has no backlit
Product Specifications
The unit has an adjustable frame
Supports a maximum of 300 pounds user weight
Seat: Not adjustable
Resistance; 8 levels of magnetic resistance
Console function include; heart rate, time, distance, SCAN, odometer
Weighs about 51.7 pounds
Assembled Dimensions are; 56.3'' L x 16.1'' W x 34.6'' H
Shipping, Assembly, and Maintenance
The shipping cost for the Goplus Recumbent Bike usually depends on the retailer you are purchasing from. However, Amazon ships this product for free.
The assembling of this unit has been confirmed to be very basic and easy. It should not take about 30 minutes, more or less to assemble.
It comes with the major components pre-assembled and has a very comprehensive instruction manual that can walk you through the process of assembly. You will need to fix the two frames together, fix the console pole and the console, and connect the base tubes and the pedals.
As for maintenance, it does not need any but to always keep it clean at all times.
Conclusions
This recumbent bike has received a lot of positive reviews from its users via Amazon which is an indication that it is a recommendable machine for home use and especially for folks on a budget. It is not difficult to see why it is popular and we recommend you look it up too if it falls within your budget.
Goplus Recumbent Magnetic Exercise Bike Review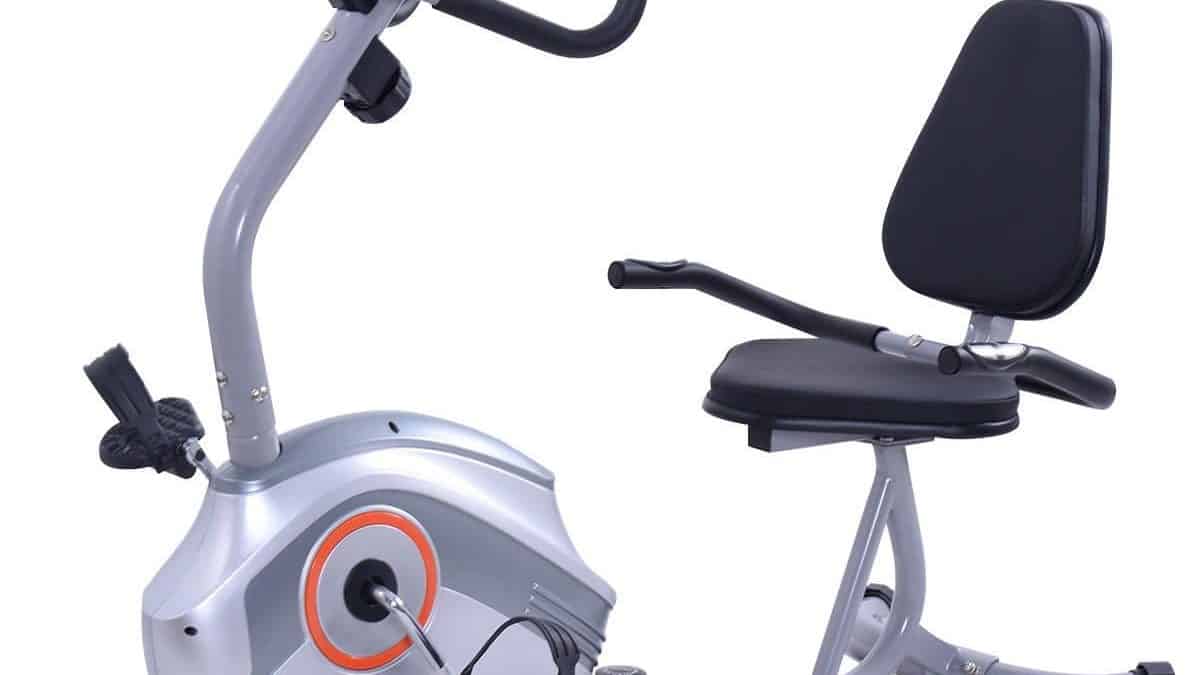 This recumbent bike has received a lot of positive reviews from its users via Amazon which is an indication that it is a recommendable machine for home use
Product Brand: Goplus
Product In-Stock: InStock