The Efitment Magnetic Indoor Cycle Bike is a mid-range cycling bike that offers a lot of features every cycling enthusiast would expect to experience outstanding workouts that could ultimately lead to weight loss, and overall physical fitness. It features 40 pounds flywheel just like the Exerpeutic LX7 Indoor Cycle Trainer but has more adjustability that offers suitability to users of different sizes.
You should be able to keep track of your workout progress including being able to monitor the heart rate that will allow you to maintain your target heart rate zone at all times.
This spin bike has positive users' feedbacks that suggest it is one of the best spin bikes for home use.
Nevertheless, we are going to provide all the information you need in regards to this bike in detail, both the good and the bad side of it so that you can make an informed purchasing decision. Therefore, stick around a little longer or you may go ahead to find out the best price on Amazon right here.
The Frame/Sturdiness
The Efitment Magnetic Indoor Cycle Bike IC031 has an overall design that provides an excellent workout and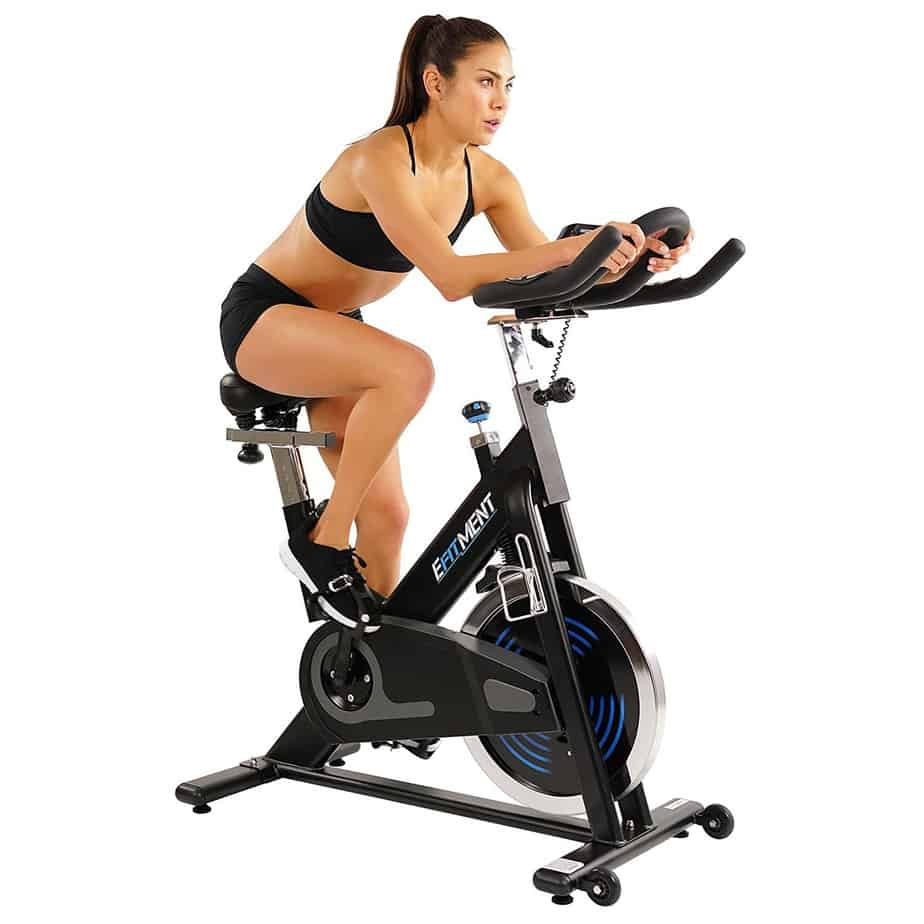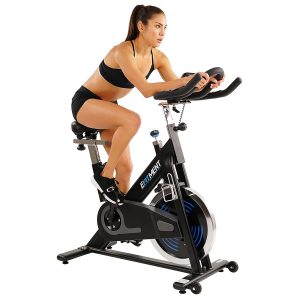 supports up to 275 pounds/125 kg maximum user weight capacity.
It is a solid and sturdy bike that is built out of steel material and weights 104 pounds/47 kg that also enhances its stability.  The steel frame is finished with anti-corrosion and rust double powder coating that prevents rusts and scratches.  There are three colors of paint used on the machine; the mainframe has the prevalent black paint while the flywheel has a blue design on it. The mainframe tubing has the Efitment logo done with white and blue colors which are also prominent.
While on the other hand, the handlebar and the seat posts and the edge of the flywheel have a chrome finish.
The parts of the machine that is made of none steel are the magnetic pad casing and the belt drive covering which do not, in any case, compromise the overall quality of the machine.
This spin bike is relatively a portable unit with a footprint of 50 inches (app. 4 feet) long by 22 inches (app. 2 feet) wide and can conveniently fit in a small room or apartment. However, just like we always recommend, leave at least 2 feet clearance on both sides of the bike and the rear end for safety purpose and comfortable workout experience.
While the height size is 50 inches (4 feet), which means a room with at least 6 feet ceiling height will be fine.
Coupled with the fact that the Efitment Magnetic Indoor Cycle Bike IC031 is a compact unit it is also integrated with transport wheels at the front base which is designed to aid in the relocation process of the machine.
There are two stabilizer bars with adjustable rubber levelers beneath them, one at the front base and the other at the rear base designed to enhance the stability and to level up the machine on an uneven floor.
That being said, it is always recommended to place the unit on a rubber mat to ensure maximum stability during vigorous workouts.
 Seat and Handlebars
The Efitment Magnetic Indoor Cycle Bike comes with an interesting saddle that is unique. It is larger than the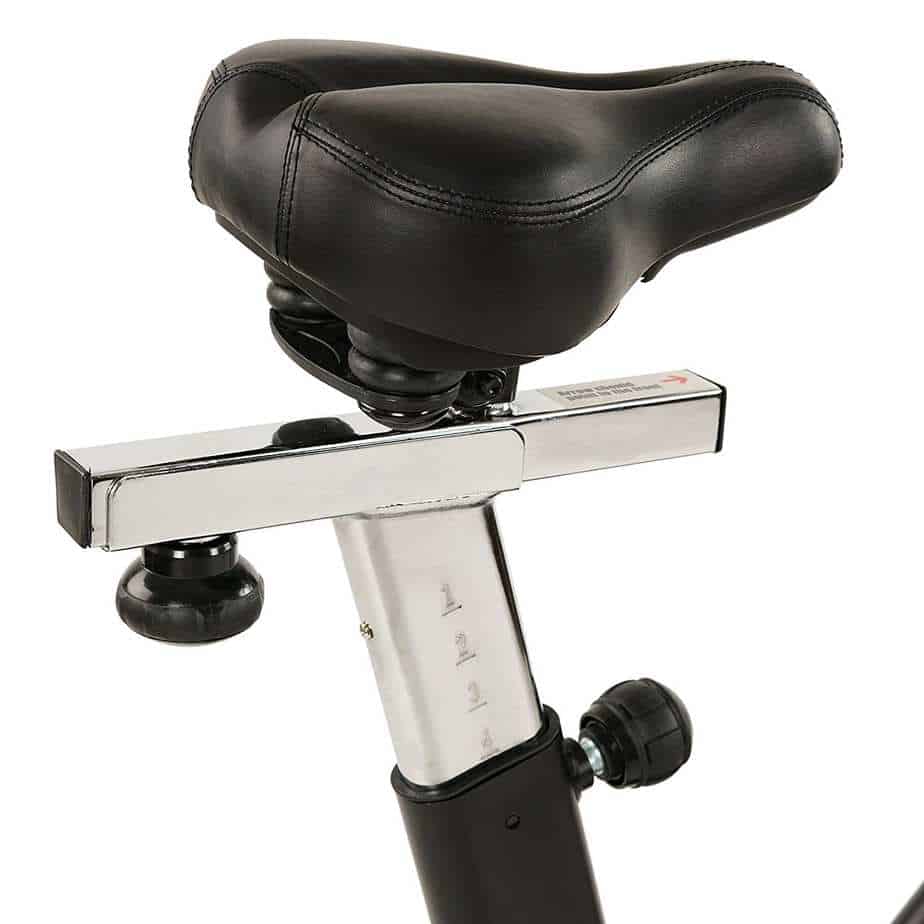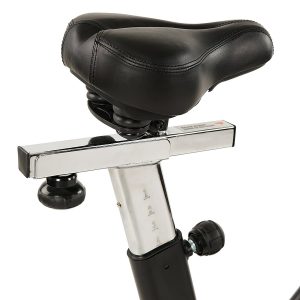 average spin bike's seat, yet not too large but well padded with two springs underneath at the rear end which also improves the overall comfort it provides.
This is a welcome development because one of the common problems that are usually experienced with spin bikes is the seat. Some spin bike's seat is so horribly designed that the users feel as though they are violated after working out with one of such bikes, but this is not the case with the Efitment Magnetic Indoor Cycle Bike.
However, you may always use a padded short or gel seat cover when you think you need the additional comfort though.
Moreover, the seat has 4-way adjustability which goes a long way in accommodating users of different sizes comfortably. You can adjust the seat vertically and horizontally and make adjustments as you see fit.
It is also very easy to adjust which can be done in a minute. This allows multiple users to be able to make use of the unit without having to worry about resetting adjustments or having difficulty doing so, which means members of the family can participate in working out as well at home.
For easy adjustment, the seat's post has 9 distinct adjustments levels that are marked on it with 1 inch between each level.
In addition to this, you should also be able to adjust the seat horizontally by sliding the seat to your preferred point.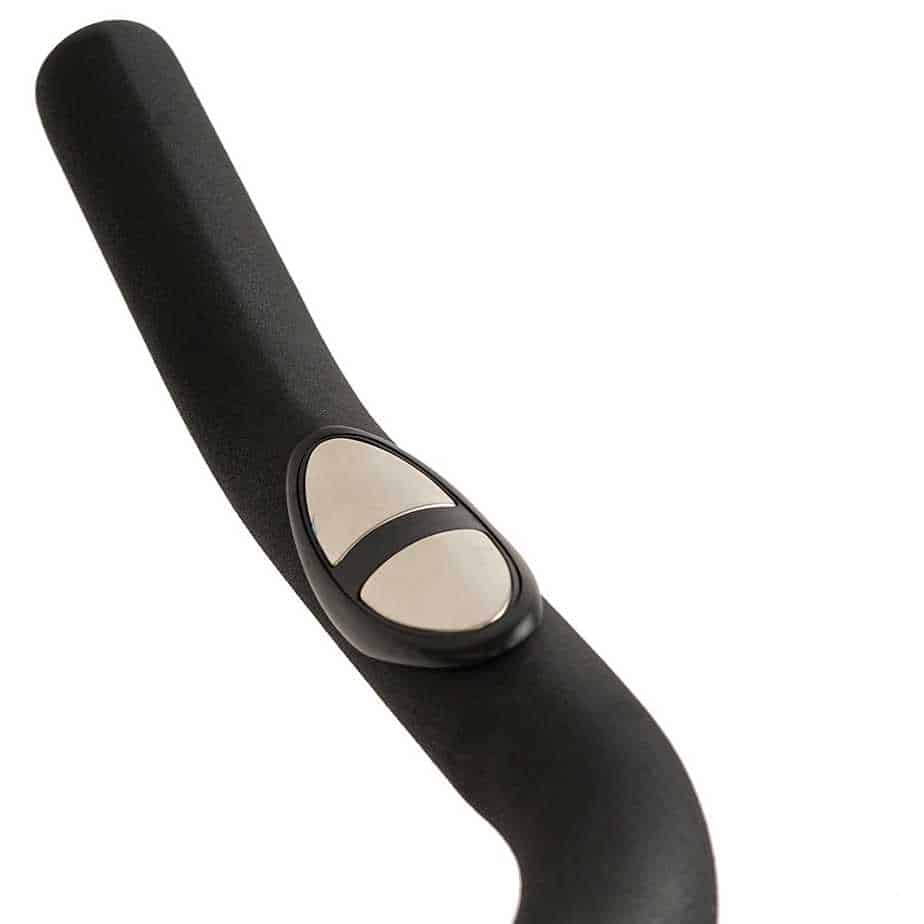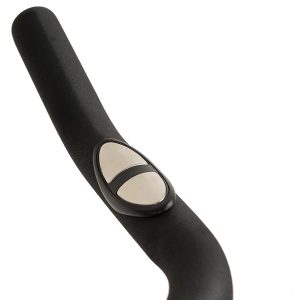 The handlebar also has 4-way adjustability (vertical and horizontal adjustment possible) which is yet another advantage in terms of providing comfort and accommodating users of different heights.  This unit offers flexibility due to the fact you have multiple adjustment options that are geared towards helping you to find the most preferred and suitable workout position.
According to the users' feedback, this machine can conveniently accommodate users between 5 feet to up to 6 feet 4 inches.
The handlebar features a multi-grip design that allows a user to exercise with a variety of workout positions. It is coated with a rubber material that is meant to provide a comfortable grip that prevents slippage and blisters in the palms.
The lateral handlebars are embedded with heart rate sensors that transmit heart rate data to the monitor each time a user holds them during workouts.
The Drive System
The Efitment Magnetic Indoor Cycle Bike features a belt drive system that is characterized by a smooth and quiet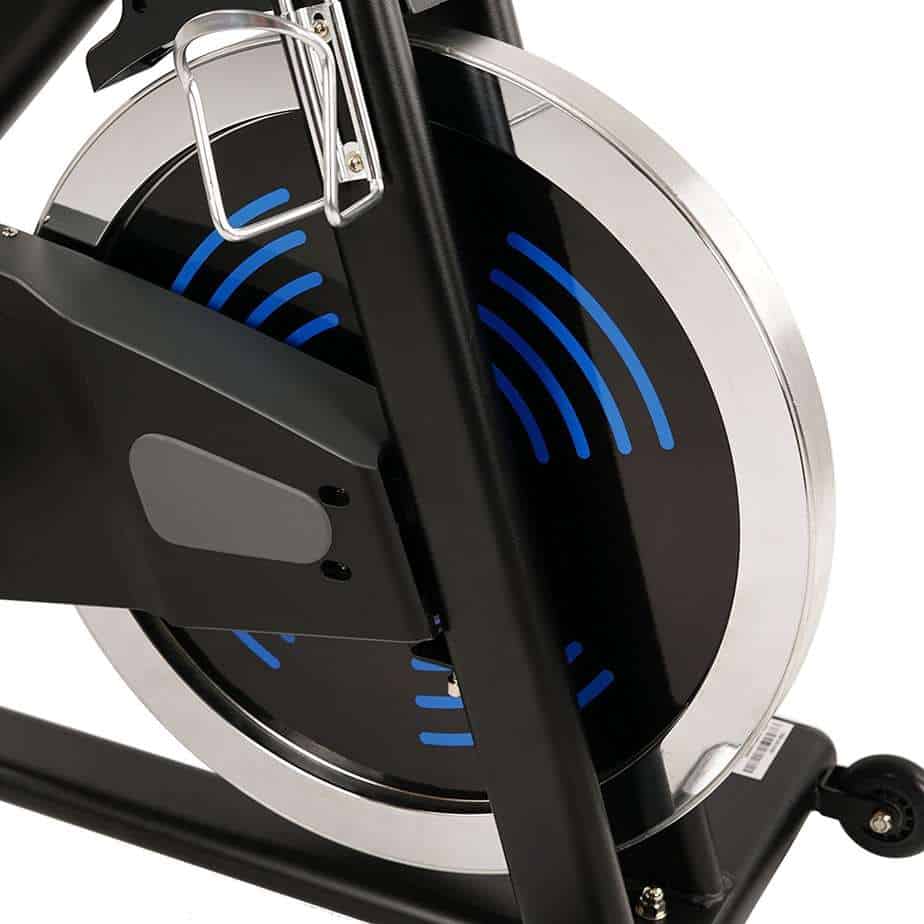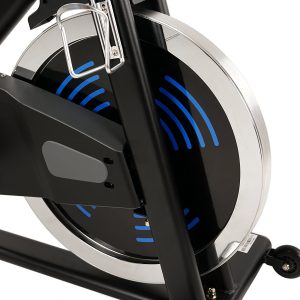 operation. This type of drive system has a couple of advantages over the chain drive because it doesn't require any sort of lubrication neither does it generate any noise during workouts.
This bike is perfected with two durable crank arms that are made of steel so that you can perform spin exercises, which means you can also perform stand up pedaling workouts without fear of giving up on you.
Its impressive 40 pounds flywheel also enhances smooth and consistent motion that provides the required momentum during workouts which in turn reduces the stress that is usually felt in the joints.
The pedaling is bi-directional which means you can pedal in reverse if you so desire. However, you will not be able to coast as you could with a road bike.
The pedals are highly durable and made of metallic alloy and feature toe cages that allow you to exercise with full thrust. Nevertheless, they do not have SPD clips for spin shoes just like the Spinner L3 Bike has, but you may replace them with the pedals that have the SPD clips if it is that important to you.  The pedals can easily be replaced because they have the standard 9/16 inches threads that can be found almost in any local store.
Your feet can be positioned on the pedals most naturally during workouts because the Q-Factor is 146mm which is considerably narrow.
The Resistance
The Efitment Magnetic Indoor Cycle Bike IC031 features a magnetic resistance system that is controlled manually. It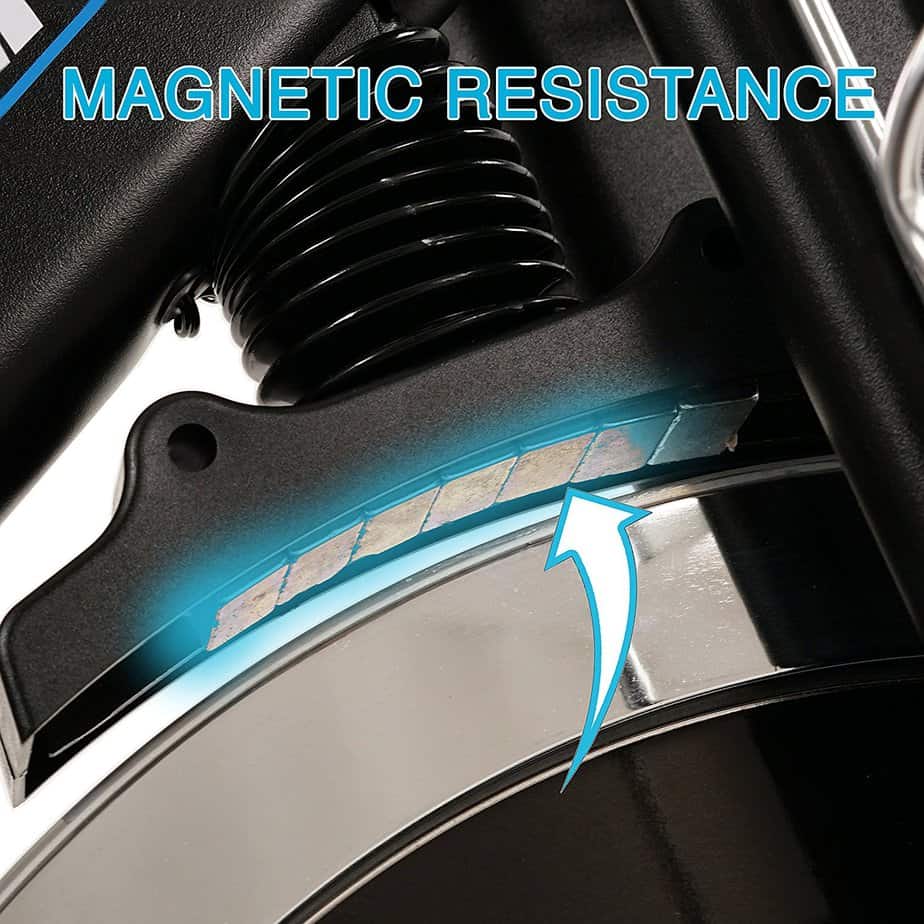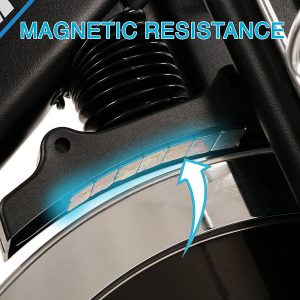 can easily be mistaken for a friction resistance system by merely looking at it but it is not.  It is smoother, quieter, and interestingly frictionless because the magnetic brake pad does not make any contact with the flywheel to generate resistance.
However, the resistance power is slightly less when compared to the friction resistance system but you don't have t worry about replacing the magnetic brake pad as a result of wear and tear that occur in cases of friction resistance system.
This bike's resistance system consists of a tension knob that is attached to the mainframe tubing then connected to the magnetic brake pad that is close to the flywheel. When the tension knob is adjusted clockwise the magnetic brake pad comes closer to the flywheel (without touching it) thus generates resistance.
As the name implies, manual magnetic resistance, which means the resistance does not need power or electricity to function and it is not controlled via the console as well.
The tension knob does not have any resistance levels indicated on it and so you just keep on twisting the tension knob until you find the suitable resistance level you are fine with.
Moreover, the same tension knob doubles as the emergency brake in case you wish to stop working out or stop the bike from spinning. The reason being that the flywheel and the pedals spin simultaneously and so you cannot coast just as aforementioned and therefore it has become imperative to apply emergency brake to stop the flywheel and the pedals from spinning to prevent an accident.
The Console
This unit comes with a digital monitor that allows you to monitor or keep track of your workout progress. You should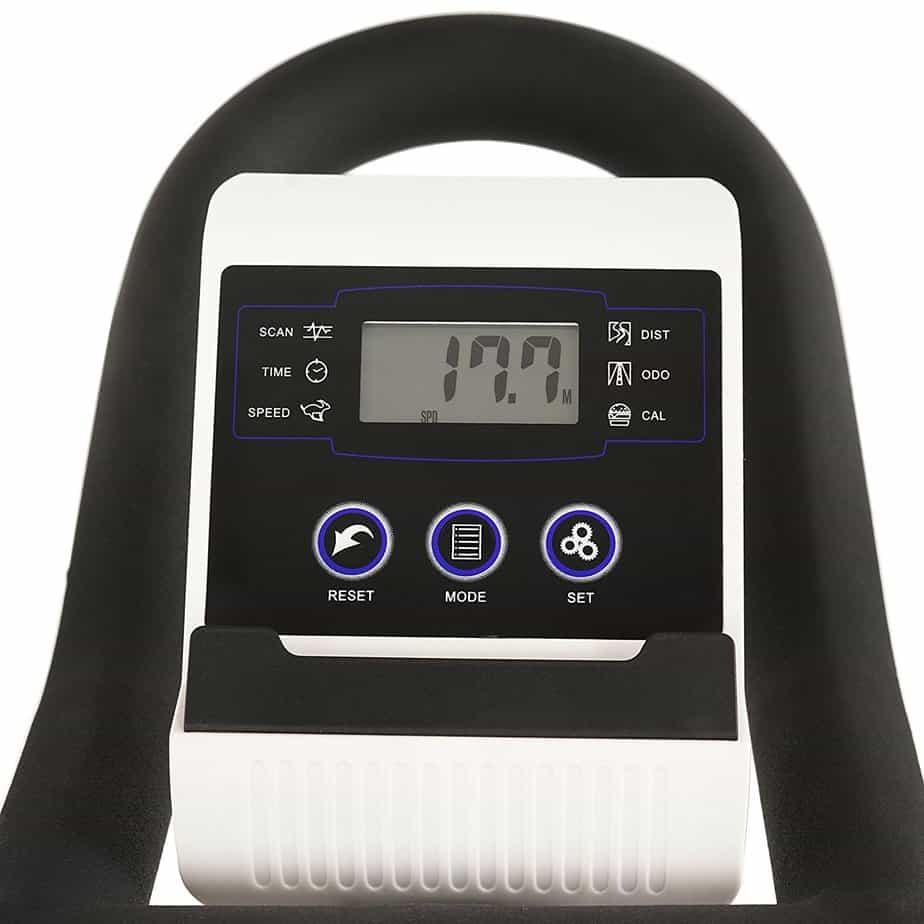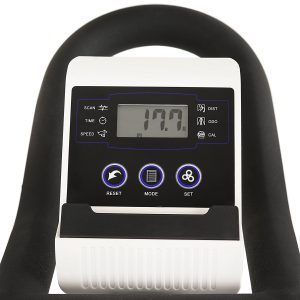 be able to keep track of time, distance, speed, calories burned, and pulse.
The LCD monitor has good readability as long as it is being used in a well-lit room otherwise it will be difficult to observe the metrics because it is not backlit.
It also has a SCAN function that allows you to set how the values will be displayed on the monitor. The values can be displayed one at a time after every 6 seconds rotationally and you may set any particular value you wish to display constantly as well via the MODE button.
The SET button that is the third and the last button on the console is used to set up time, calories, and distance countdown values and you try to attain your goal. Then the RESET button is used to clear every value and setting.
The console is powered by 2 AAA batteries that are also included. To save power, the console goes to sleep after several seconds of inactivity on the bike and comes alive when activity resumes.
Overall, this is not an advanced console but better than what is obtainable in some other spin bikes of the same price range.
Accessory
The Efitment Indoor Cycle Bike has a tablet/phone holder that is designed to hold your device for entertainment purposes during workouts.
It also features a water bottle holder that is necessary for keeping water handy during a workout for hydration purposes.
 Storage
This is a compact and portable spin bike that can conveniently fit into most small rooms or apartments. It doesn't take up space as its dimensions are 50 inches long by 22 inches wide by 50 inches tall.
It weighs about 104 pounds and equipped with transport wheels that assist in the relocation process.
Approval Rating
So far, the Efitment Indoor Cycle Bike is very popular and is loved by almost all its users that cared to give feedback.
Its approval rating on Amazon is very impressive and this indicates that this is a recommendable bike that anyone can consider adding to the home gym because it is one of the best spin bikes for home use.
Pros/Features Overview
Sturdy and solidly constructed supports up to 275 pounds
Has great stability
The seat is well designed and padded than most average spin bike's seat
The seat has a 4-way adjustability
The handlebars have a 4-way adjustability
Has a multi-grip design that offers a variety of workout position options
The operation is smooth, consistent and quiet
Has 40 pounds flywheel that guarantees consistent motion
The pedal is made of metallic alloy and is bi-directional
It has a narrow Q Factor of 146mm that reduces stress on the joints
It has a belt drive system that is extremely quiet and does not require maintenance
It is equipped with a digital monitor that allows you to keep track of your workout progress
Heart rate sensors are embedded in the handlebars which transmit and enable a user to monitor pulse
Manual magnetic resistance system
Water bottle holder
Tablet/phone holder
Easy to assemble
Cons
A device that is placed on the tablet/phone holder will cover the monitor
The monitor is not backlit
The pedals are not integrated with SPD clips for spin shoes
Product Dimensions and Specifications
50'' Length
22'' Width
50'' Height
Supports up to 275 pounds maximum user weight capacity
Weighs 104 pounds
40 pounds flywheel
Seat: 4-way adjustability
Handlebars: 4-way adjustability
Warranty
Shipping, Assembly, and Maintenance
Shipping
The shipping cost of the Efitment Indoor Cycle Magnetic Bike depends on the retailer you are purchasing from; nevertheless, Amazon provides free shipping.
Assembly
The assembling of this unit is pretty easy and quick and will not take more than 30 minutes to have it all set up and ready.
The reason is simple; it comes with the major components pre-assembled and only requires you to assemble parts such as the seat post, the seat, the handlebar post, the handlebars, the console, the rear, and front stabilizer bars, etc.
An instructional manual is also included to help walk you through the process of assembly.
Maintenance
The Efitment Indoor Spin Bike does not require any serious maintenance since it has a belt drive system and a magnetic resistance system. These two elements make this bike to be maintenance free but it is recommended to routinely examine the unit to make sure that no parts are either worn, broken, or loosed, repair, or replace accordingly if there is any need.
Other than that, always keep the bike clean from dirt and sweat at all times.
Conclusion
We do recommend the Efitment Magnetic Indoor Cycle Bike IC031because for several reasons one of which is that we found it to be solidly built and equipped with great features that will enable you to realize your fitness goals.
Again, it has a very good approval rating and popularity.
Efitment Magnetic Indoor Cycle Bike IC031 Review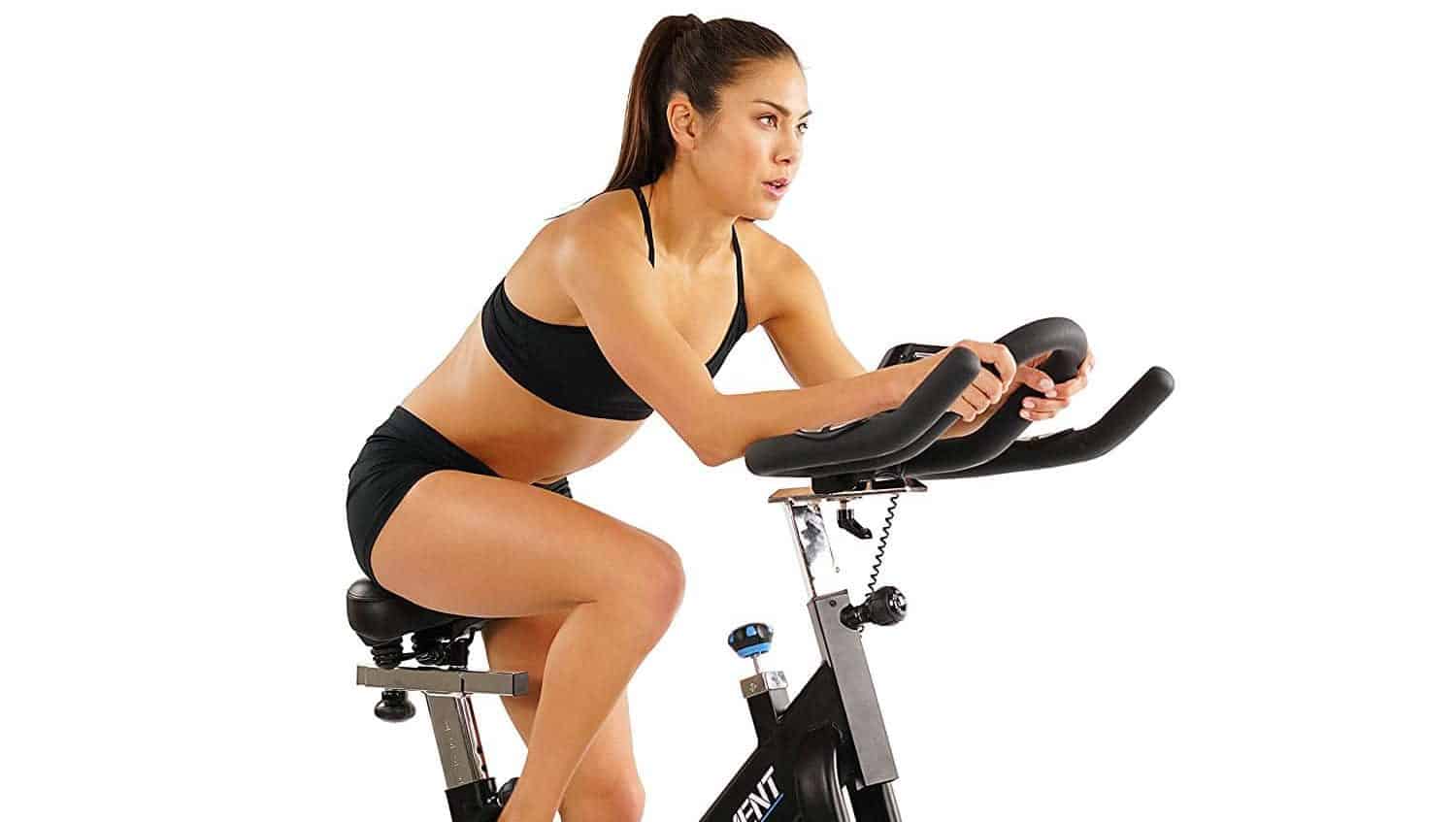 The Efitment Magnetic Indoor Cycle Bike IC031 has an overall design that provides an excellent workout and supports up to 275 pounds/125 kg maximum user weight capacity.
Product Brand: Efitment
Product In-Stock: InStock