The Bayou Fitness Total Trainer DLX-III Home Gym is a bodyweight resistance home gym that is unique in design. If you are already familiar with how the bodyweight resistance system works then you should know that this home gym utilizes a certain percentage of the user's body weight to generate a resistance depending on the recline settings.
This type of home gym is very good for those that wish to perform cardio, tone the muscles, and improve flexibility. It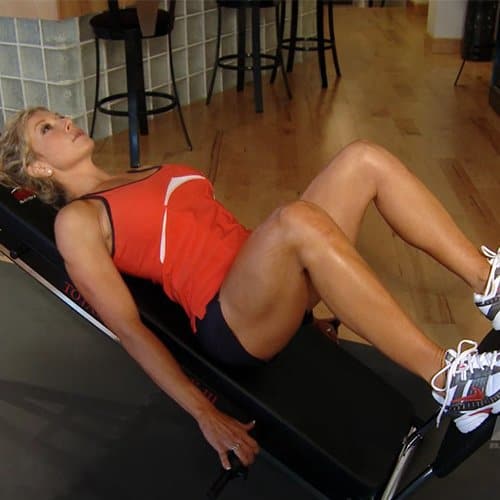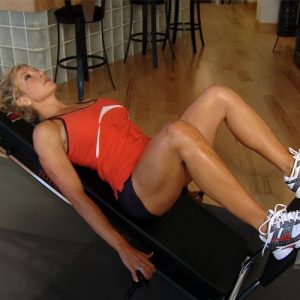 is not good for individuals that wish to perform hardcore strength training because it is not designed for that purpose hence does not have the features to help users achieve that.
When it comes to bodyweight resistance system home gyms this home gym is one outstanding unit that is loved by many users. It is one of the best in its price category if not the BEST and it made it to our best home gyms review as well.
It has 11 levels of recline settings which allow you to use up to 69 percent of your body weight and at least 4 percent.
Here is the interesting aspect of this home gym, the typical bodyweight resistance system home gyms do not have an option for adding weight plates but this one does. It is designed to help users increase their weight resistance.
You could add up to 100 pounds to the power bars or better still use a weighted vest alongside the 100 pounds weight plates.
The power bars accept standard 1-inch weight plate not the Olympic type of weight plate. You can add 50 pounds of weight plate on each side and they will not hit the floor while working out. And the weight plates could also be used to add resistance to your squat exercise too.
We have observed that some users even suggested that the power bars could hold more than 100 pounds weight plates that are recommended by the manufacturer as long as the total weight including your weight does not exceed the 400 pounds maximum user weight capacity.
You can do that if you wish to but remember it is at the owner's risk because the power bar may have been designed to hold up only 100 pounds weight plate; that is 50 pounds on each side and not more than that. But the only way around that is to use the 100 pounds weight plates with a weighted vest to increase the overall resistance.
These are preambles; we shall discuss the other features that the Bayou Fitness Total Trainer DLX-III Home Gym has in detail.
<<<Click right here to purchase the Fitness Total Trainer DLX-III Home Gym at the Lowest Price Available>>>
The Frame and Other Parts
Frame
This home gym is made of steel material and the overall design provides a sturdy and stable workout platform.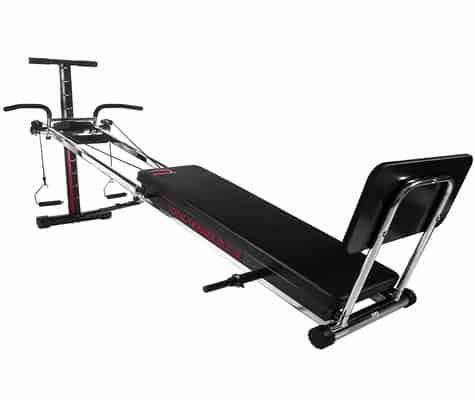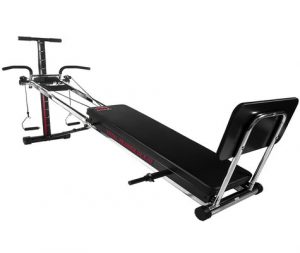 The steel parts of the home gym are finished with black anti-corrosive and scratch-resistant paint, except for the curved bar that holds the footplate and the gliding rails of the board are chrome finish.
It has a maximum user weight capacity of 400 pounds which also includes the weight plates on the power bars if any is going to be used.
It has a foldable design that enables a user to fold it up and reduce its size for storage, while the full dimensions are 94 inches long by 20 inches wide by 48 inches height. The folded dimensions are 14 inches long by 20 inches wide by 50 inches height. It saves a lot of space when folded up.
It is designed to accommodate users of different sizes and users that are up to 6 feet 7 inches tall.
The home gym weighs about 102 pounds which is about 46 kg. It is easy to move or relocate because the bases have caps on them that are capable of rotating thereby serving as the transport wheels.
So, the issue of moving the unit and storage has been solved by these elements of its mobility and foldability.
Gliding Board
The gliding board represents the seat as it does not have one but a gliding board. And being that the design of the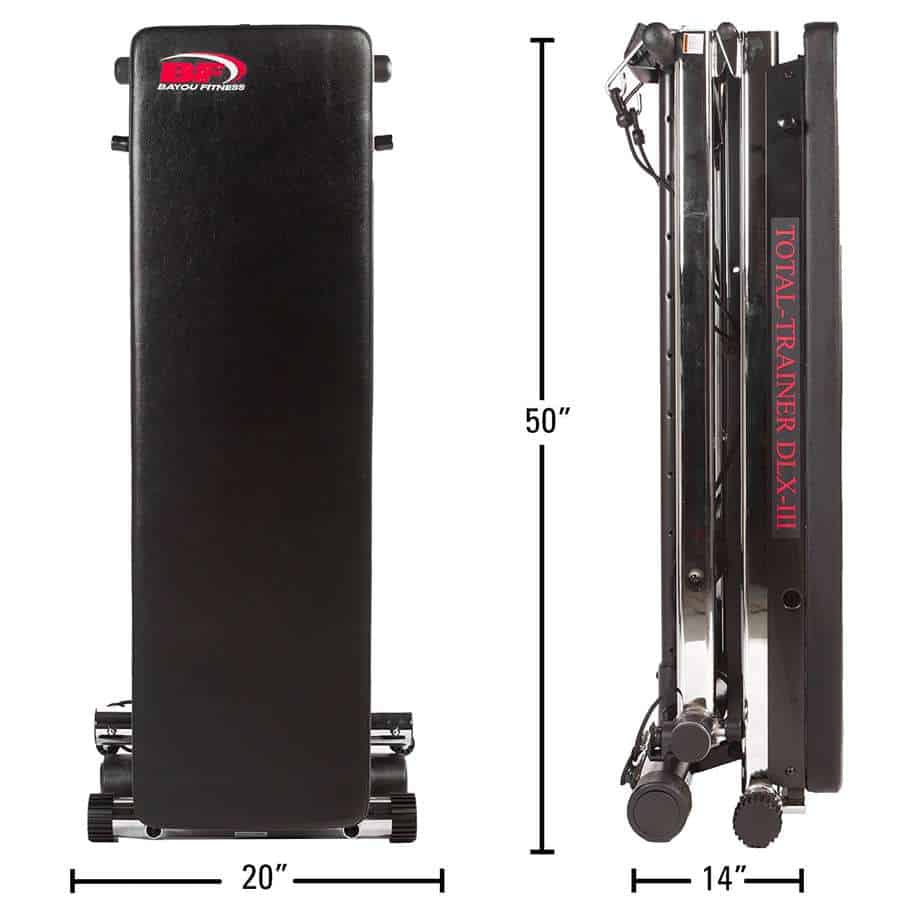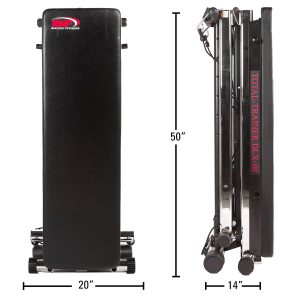 seat which is the gliding board, in this case, determines the level of comfort a user a gets it is important to look at what the gliding board is made of.
Fortunately, this home gym features a well built and designed gliding board that tells it all by merely looking at it. It has the look of quality and comfort and also conveys that in the real sense.
It is large and a bit heavier than what is obtainable in some of the home gyms of the same category. It has a very thick cushioning that features a covering of high and durable heavy-duty vinyl upholstery that could last for many years of hard use.  Furthermore, it looks very professional with the Bayou logo that is embroidered on top of it. It has the dimensions of 14 inches wide by 46 inches long which is enough to provide that comfy feeling during exercises.
At the bottom of the metallic frame are durable heavy-duty wheels with sealed ball bearings that are designed to provide smooth and consistent operation.
Pulleys
Some prospective users were concerned about the quality of the pulleys and were asking if the quality can be compared to that of the Total Gym. Well, the answer is that this home gym features a set of durable pulleys made of nylon.  They are very durable and can withstand any type of hard use for years and many users have asserted this claim as well.
The ball bearings are also industrial grade that can last for years. The pulleys along with other mechanisms provide seamless and biomechanically correct movement that is smooth and unrestricted.
Moreover, it does not take time to detach and attach the pulley system each time you wish to change from one exercise to another. It takes just very minimal seconds to change the pulley for another exercise.
Weight Resistance System
As aforementioned, this home gym features a bodyweight resistance system that relies on your body weight to generate resistance to your exercises. It has 11 levels of recline adjustment that consequently generate the level of resistance you wish to use in a given exercise. It is designed such that you can use minimal of 4 percent of your body weight or maximally 69 percent of your body weight as resistance.
However, Bayou, the manufacturer has integrated an innovative weight plate resistance to this home gym as another way of enabling the user to maximize the resistance level for a more difficult or challenging workout.
There are two power bars designated on each side of the home gym where standard 1-inch weight plates can be inserted to increase the weight level. It is designed to hold 100 pounds of weight plates, which is 50 pounds on each side.
Many users have found this innovation very helpful and they are impressed with it because bodyweight resistance system home gyms hardly provide extreme strength training exercises but this one does to an extent but still cannot be compared to weight stack system home gyms that are designed for that purpose.
Also, a user can benefit from using the weight plates as resistance during the squat exercise as well.
You can increase the resistance by up to 400 pounds by using free weight and body weight.
This home gym supports up to 400 pounds maximum user weight and this means that you mustn't exceed this level. Your body weight and the free weight/weight plates must be under or equivalent to 400 pounds.
If after using the 100 pounds weight plates and you still don't get to 400 pounds weight resistance with your body weights you can still use a weight vest to further increase it if you wish to.
Accessories
The Bayou Fitness Total Trainer DLX-III Home Gym comes with attachments and accessories such as the following: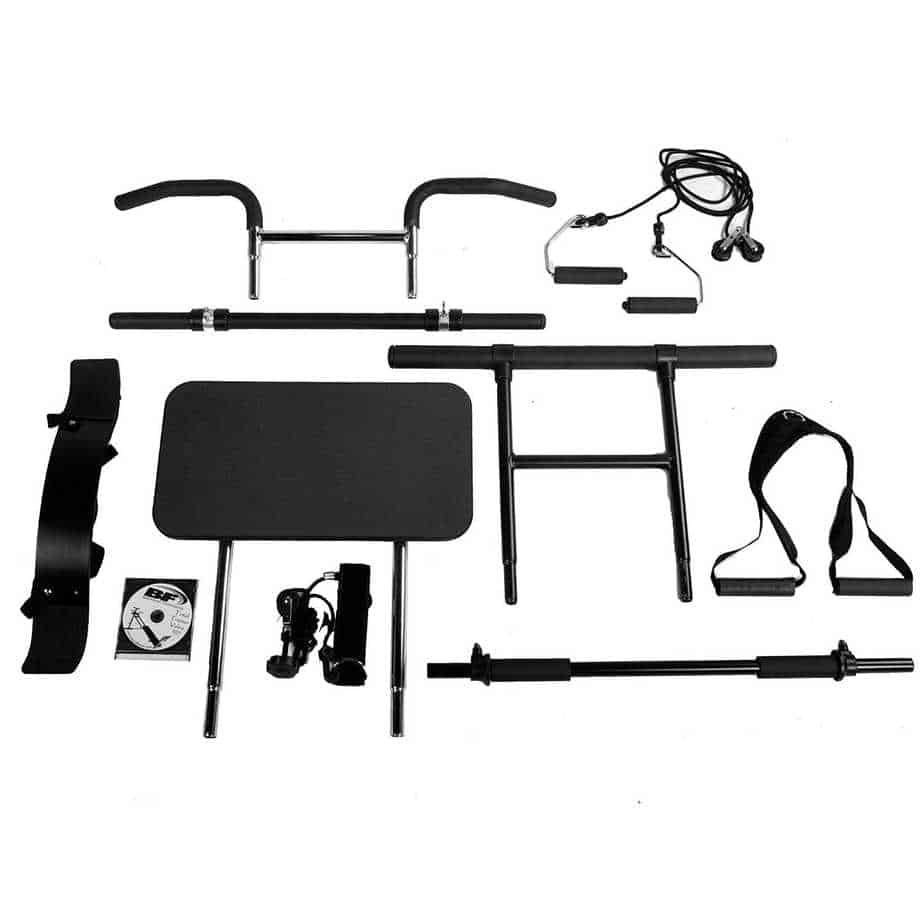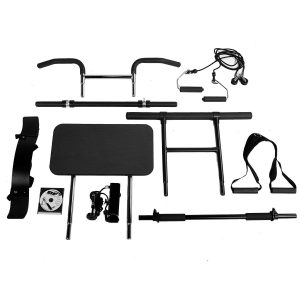 Biceps curl press bar– is used to improve versatility and it is interchangeable with the standard twin handle system
Pro Ab Crunch Straps– this is used to provide more comfort through the shoulders and neck, while it helps in the development of the abdominal muscles
Power Weight Bar– this allows you to increase the weight resistance level by using free weights of up to 100 pounds while performing exercises such as the leg squats, calf raises, and more
Chrome Pull-up/push-up bar– this is an attachment that enables a user to perform exercises such as the pull-ups, chin-ups shoulder press, behind the neck press and push-ups.
Sit-up Cuff Strap
Extra-large, and heavy-duty squat board
Biceps power flex attachment
Pilate toe bar
Chrome independent twin handles
Dual leg cuffs
4 Program cards
Instructional manual and DVD
Approval Rating
The approval rating is an indication of a good product or a bad product. If a given product has a poor approval rating by its users that goes to show that that product is not recommendable but if it is otherwise then it is recommendable.
For this reason, we place a lot of emphasis on the approval rating and the customers' feedback of any product we are reviewing and so should you too because the users are the people that have gotten the first-hand experience of the product and their opinion can surely help you to make a smart decision on whether to buy or not to buy.
That being said, the Bayou Fitness Total Trainer DLX-III Home Gym has an impressive approval rating and a lot of positive feedbacks. And so, this is a very recommendable home gym you can consider purchasing if the features it has suit your personality.
Pros/Features Overview
Has a quality frame that is made of steel and finished with anti carrion and scratch paint
It is a very sturdy home gym
It is foldable and mobile
It comes fully assembled
It has 11 levels of resistance
It has a large glide board of 14 inches wide by 46 inches long
Quality ball bearings
It is integrated with dual side glide board pulleys
It supports up to 400 pounds maximum user weight capacity
It can accommodate up to 6 feet 7 inches tall, individuals
The glide board is well cushioned and covered with vinyl
It comes with extra accessories that will help in exercise variation and comfort such as Pro Ab Crunch Strap, Pilates Toe Bar, Bicep Power Flex, Bicep Curl Press Bar, Power Weight Bar for adding free weights, Chrome pull-up push-up Bar, Sit-up Cuff Strap, Extra Large Heavy Duty Squat Board, Chrome Independent Twin Handles, and a Dual Cuff Assembly
It comes with a training DVD
It is quiet during operation and great for home use
Well over 70 exercises available
Four program cards
Cons
It is not suitable for users that are seeking to perform hardcore strength training
It does not include weight plates in the original package, which means they have to be purchased separately
Product Dimensions and Specifications
94'' Length
20'' Width
48'' Height
14'' Length (folded)
20'' Width (folded)
50'' Height (folded)
Supports up to 400 pounds maximum user weight
Weighs about 102 pounds
Provides over 70 exercises
Shipping, Assembly, and Maintenance
Shipping
This home gym is shipped in a well-packaged box. The shipping cost may vary as this is determined by the retailer you are purchasing from. However, Amazon usually provides free shipping and delivers within 3 to 4 days of order.
Assembly
The Bayou Fitness Total Trainer DLX-III Home Gym is delivered fully assembled. The only thing there for you to do is to attach any of the accessories you wish to use for exercise.
Maintenance
There is no major maintenance required. You only have to be checking from time to time to make sure that all the bolts are in place and well tight. Keep the rails free from any type of dirt to avoid causing damage and finally, wipe off dust or sweat from the home gym at all times.
Conclusion
The Bayou Fitness Total Trainer DLX-III Home Gym is a unique home gym that is designed to help a user realized his fitness goals. It is a bodyweight resistant type of home gym that features a variety of exercises that could ultimately tone your muscles, help you lose weight, and improve flexibility.
We shall tell you what this home gym is not; it is not for building muscle mass or performing extreme strength training exercises that could rip off muscles.
If you are seeking to build muscle mass or engage in hardcore strength training then you might want to consider the Weider Home Gym or the Marcy MWM-990 Home Gym.
If you have any questions please do not hesitate and we shall be glad to respond accordingly.
Bayou Fitness Total Trainer DLX-III Home Gym Review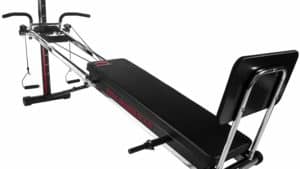 The Bayou Fitness Total Trainer DLX-III Home Gym is a bodyweight resistance home gym that is unique in design. If you are already familiar with how the
Product Brand: Bayou Fitness
Product In-Stock: InStock