The Powerline BSG10X Home Gym is a home gym that individuals with limited space would want to consider. It is a compact unit with a footprint of 70 inches (5 feet 8 inches) long by 42 inches (3 feet 5 inches) wide. The ceiling height of the room where it will be used should be at least 7 feet high to accommodate the height of the home gym since the height is 80 inches (6 feet 6 inches) tall.
Workout area of 6 feet long and 4 feet wide can accommodate it but we think that having enough space and clearance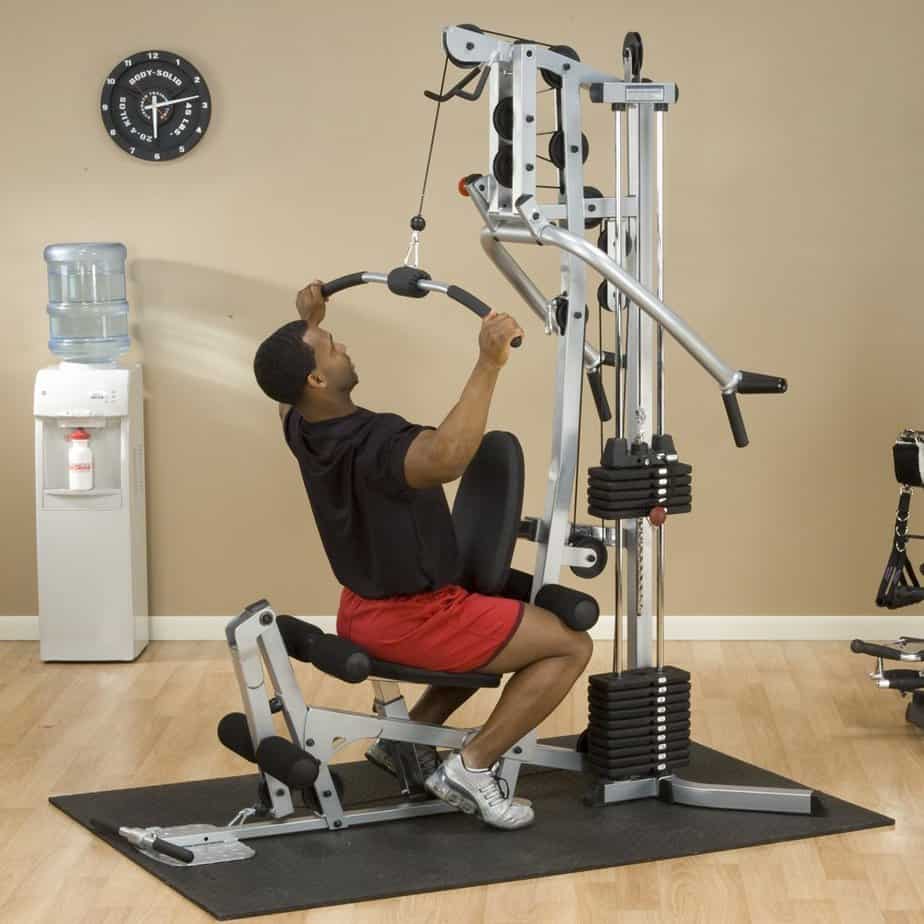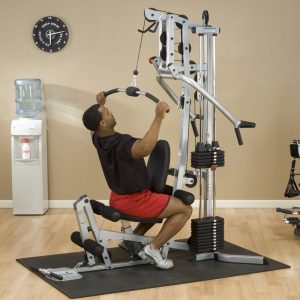 around it will be a good idea.
Aside from it being a compact home gym it also offers solid exercises that will help you realize your fitness goals. It is also easy to assemble given the fact that there are home gyms that could take even days to put together such as the BodyCraft Xpress Pro Home Gym.
The three selling points of the Powerline BSG10X Home Gym can be summed up to be excellent workouts, limited space, and easy and quick assembly.
It has got some other great features such as the traditional press bar that is biomechanically designed to offer smooth and natural moves during workouts. The lat pulldown station also allows full range of motion via unilateral, bilateral, converging or diverging movement.
With this home gym you will be able to exercise and develop the following parts of the body:
Ab,
Biceps
lats
oblique
Shoulders
Traps
Triceps
Pectorals
Total Body
We shall list the possible exercises that could be done with the home gym below. But for now, we shall look at the features in detail.
And just for the record, this home gym made it to our best home gym reviews.
<<<Click right here to purchase the Powerline BSG10X Home Gym at the very best price>>>
The Frame
The Powerline BSG10X Home Gym features 11-gauge mainframe construction that guarantees strength, durability,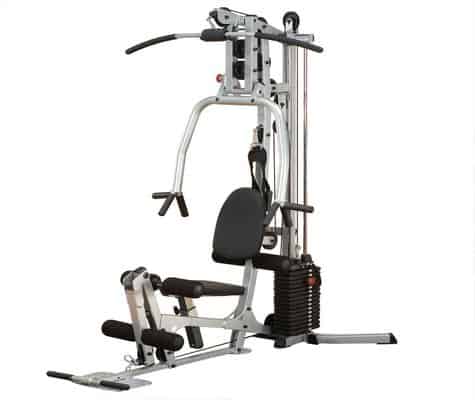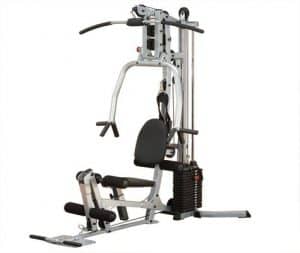 and function. While it is finished with a tough, durable, electrostatically applied powder coat that is anti-corrosion and scratch-resistant.
It also features 2,200 pounds tensile strength that is military spec steel aircraft cables whose swiveling ends provide low maintenance and durability. It has pulleys that are made of fiberglass reinforced nylon that is impact resistant with precision machined steel ball bearings.
This is indeed a stable home gym with multiple seat adjustments that can accommodate users of different sizes and it allows users to perform over 40 different exercises safely and in a biomechanically correct fashion.
The high, mid and low pulleys and 8 positions adjustable press arm and leg developer station are largely responsible for the wide range of exercises that could be performed with this home gym.
The home gym weighs about 344 pounds which is pretty heavy to offer a stable workout platform for home use. Even though the base of the home gym is floor-friendly it is advisable to place it on a rubberized mat to prevent damage to the floor.
This equipment is easy to use without the need to change the cables to perform different exercises.
The Seat and Pulleys
The seat is one of the key elements that provide comfort during a workout in any type of fitness equipment depending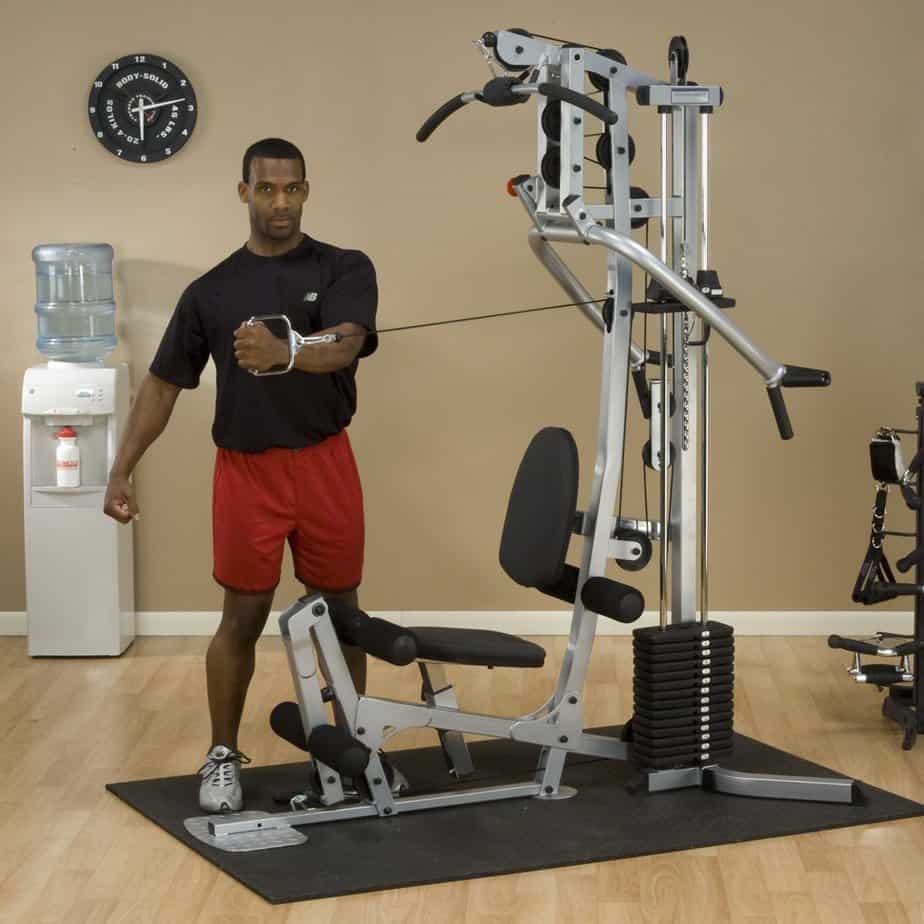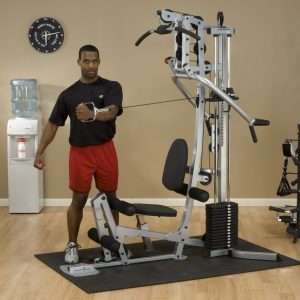 on the design.
So, the seat and the backrest are padded and well-cushioned to offer the anticipated comfort during a workout. The seat also has an adjustable post for quick, and smooth adjustment for proper body positioning and this also means that users of different sizes can be accommodated.
The seat and the backrest are ergonomically designed to offer optimal comfort during exercises.
The Body-Solid Powerline Home Gym features high-quality pulleys that are impact-resistant and made of fiberglass reinforced nylon with precision machined steel ball bearings. This ensures a smooth and consistent movement of the cables and workouts.
Three pulley systems offer full-body workouts and they are the high pulley, mid pulley, and the low pulley and these three help the user to work on the upper body, the midbody which is the abdominals and of course the lower body section.
All these pulley systems are 1:1 ratio including the chest press station.
The Weight Stack
This home gym features a weight stack resistance system that has a standard maximum weight stack of 160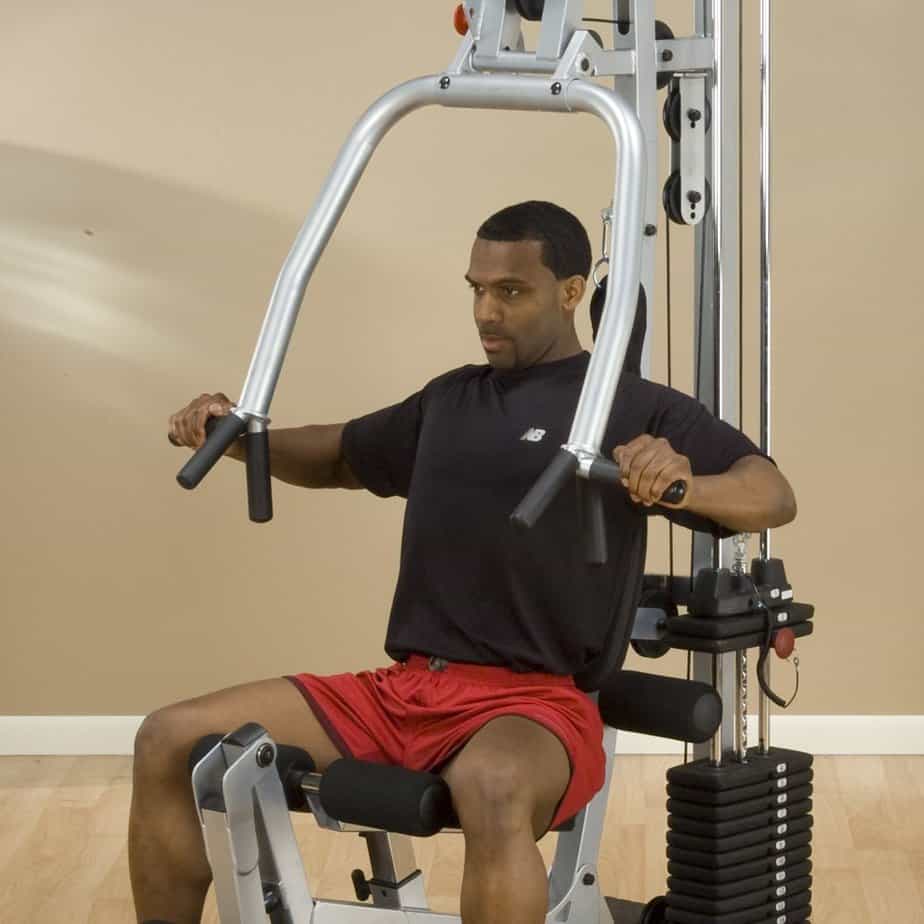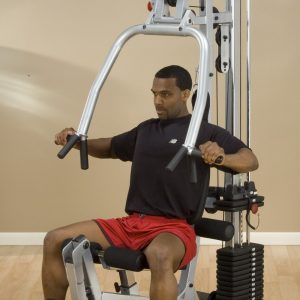 pounds. It comes with 10 pounds of 16 weight plates that are made of steel alloy.
Unfortunately, advanced users may not be impressed by the maximum weight resistance that this home gym offers but beginners and intermediary users will surely appreciate it. Moreover, it is not upgradeable which is seen as a drawback because users that wish to increase the resistance level to surpass the 160 pounds maximum standard weight will not be able to do so.
The weight plates come with stickers of 1, 2, 3, numeric on each of the plates to help the user know how many weight plates are being used.  For instance, if plates 1, 2, 3, 4, 5, 6, 7, 8, 9, 10, are stacked on the home gym that means the home gym has 100 pounds weight resistance.
The adjustment of the weight stack is really simple, just insert a pin on the number of plates you choose to workout with and that will be all.
Workout Stations Available
There are 5 distinct workout stations offered by the Body-Solid Powerline BSG10X Home Gym and these are the chest press station, lat pulldown, and high pulley station, mid pulley station, seated row, and low pulley station, and the leg attachment and low pulley station.
Chest Press Station
This is mainly for the seated press that targets the pectorals and the shoulder muscles
Lat Pulldown and high pulley station
This is great at targeting the back, triceps, and shoulder muscle groups.
Mid Pulley Station
This works on the abdominals and the triceps
Seated Row and Low Pulley Station
The seated row is a resistance exercise that strengthens and develops the lats, traps, and biceps while the low pulley station could also be used to perform the bicep curls that strengthens and develops the biceps of the arms.
Leg Attachment and Low Pulley Station
This workout station enables the user to perform exercises such as the leg extension and standing leg curl. The leg extension strengthens and develops the thigh muscles while the standing leg curl is a resistance exercise that strengthens the hamstrings, butts, and the calves.
Accessories
The Body-Solid Powerline BSG10X comes with certain accessories such as the 48 degrees lat bar, low row bar, and the Ab Crunch harness.
Options
These are the items that might be necessary for you to enjoy and utilize the home gym to the fullest capacity but are not included upon buying the home gym. This means if you need them you have to purchase all of them or any of them separately.
Protective Rubber Mat
We mentioned the importance of this rubber mat earlier in this review. It is designed to be placed underneath the home gym to prevent the floor from being damaged. It is ½ inch thick and has super heavy-duty solid rubber construction that can absorb any sort of impact from any type of fitness equipment.
Adjustable Nylon Stirrup Handle
This is an ergonomically designed adjustable nylon stirrup handle that offers comfort during workouts. It is made from extra heavy-duty nylon and rubber, basically used to pull all cable workouts together.
Premium Ankle Strap
This is meant to be used on the ankle and attached to the low pulley for performing exercises such as the inner and outer thigh, and thigh and glute kickbacks.
This ankle strap is solidly constructed of heavy-duty nylon that will last for many years.
Leg Press Attachment
The leg press attachment helps a user to perform a variety of exercises that target three muscles groups, namely, quadriceps, hamstrings, and the glutes.
And this does not require a separate station because it can be attached to the front of the leg developer with an extra pulley.
Approval Rating
The approval rating of this home gym on Amazon has been positive which means it is a very popular unit.
At the time of this review, it has an approval rating of 4 out of 5 with over 70 customer feedbacks. This indeed shows that most of its users are impressed with the overall performance of the home gym and will recommend it.
You may click right here to see the users' feedback.
Pros/Features Overview
It features 11 gauge mainframe that is solidly built to last long, be functional and durable
It features 160 pounds maximum weight stack
It is space-saving
Easy to use with no need of changing cables
It has 2,200 pounds tension, military spec, steel aircraft cables with swiveling ends that are durable and requires low maintenance
The frame is finished with an electrostatically applied powder coat that is tough and durable
High-quality pulleys that are made of impact-resistant fiberglass reinforced nylon
It features precision machined steel ball bearings
Easy to assemble
5 workout stations available which include Chest press station, lat pulldown station, mid pulley station, leg attachment, and low pulley station, and seated row and low pulley station.
Over 40 exercises are available
Well-cushioned and adjustable seat
Impressive warranty
Comes with accessories such as the 48 degrees lat bar, low row bar, and ab crunch harness
Cons
The weight stack resistance capacity range is average and cannot be upgraded
There are no much lower body exercises available except you opt for the leg press attachment that will allow exercise variation but this comes at a price.
Some of the Exercises Available
Push-ups
Pec fly
Bench press
Incline press
Pullover
Crossover
Upright row
Deltoid Raise
Shoulder press
Wide grip front lat pulldown
Close grip front lat pulldown
Bent over row
Seated row
Shoulder shrug
Ab Crunch
Oblique bend
And more
Product Dimensions and Specifications
70'' Length
42'' Width
80'' Height
Weighs about 344 pounds
Weight stack resistance system
160 pounds maximum weight stack resistance
Over 40 exercises available
Warranty
10 Year on Frame
1 Year on Parts
Shipping, Assembly, and Maintenance
Shipping
The shipping of the Body-Solid Powerline BSG10X Home Gym is determined by the retailer you will be purchasing from; nevertheless, Amazon provides free shipping and delivers within 3 to 4 days.
Assembly
It is stated clearly that assembling this home gym is very quick and easy. This is very true when compared to the task involved when assembling other home gyms.
90 percent of the home gym is preassembled which leaves only 10 percent to be assembled by you. Anyone can assemble it within 30 minutes because it is a simple 9 bolt process.
Moreover, it comes with a detailed instruction manual that can walk you through the assembly process.
Maintenance
This home gym requires little maintenance. Some of the parts such as the linear rods and the guide rods may need lubrication at some point. Other than that you only have to be periodically checking the bolts to see if any of them has loosened and required re-tightening.
Also, make sure to always wipe it clean from dust and sweat at all times.
Conclusion
The Body-Solid Powerline BSG10X is a reasonable home gym at a reasonable price for those that are seeking to acquire a weight stack resistance system home gym.
This home gym is suitable for individuals that do not care about performing extreme strength training because that would require higher weight stack resistance.
If you are still open to looking up other options then you might want to check out our best home gyms review with the price range.
Powerline BSG10X Home Gym Review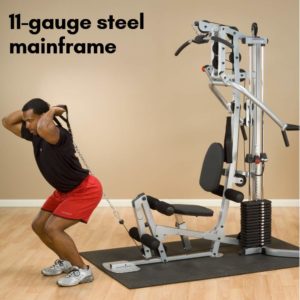 The Powerline BSG10X Home Gym is a home gym that individuals with limited space would want to consider. It is a compact unit with a footprint of 70 inches
Product Brand: PowerLine
Product In-Stock: InStock