The Bowflex Xtreme 2 SE Home Gym is a rod resistance-based home gym that is also upgradable. Something that is not very common with most home gyms, be it weight stack or bodyweight resistance based system. It has the lowest resistance weight option of 5 pounds up to 105 pounds; this means 105 pounds on each side of the handle, and when multiplied by 2 it becomes 210 pounds which is the standard resistance weight.
These resistance rods are made of special composite material and sheathed with protective rubber coating.
This is how the resistance rods are arranged on each side of the arm, 5, 10, 10, 30, and 50 pounds. So you may decide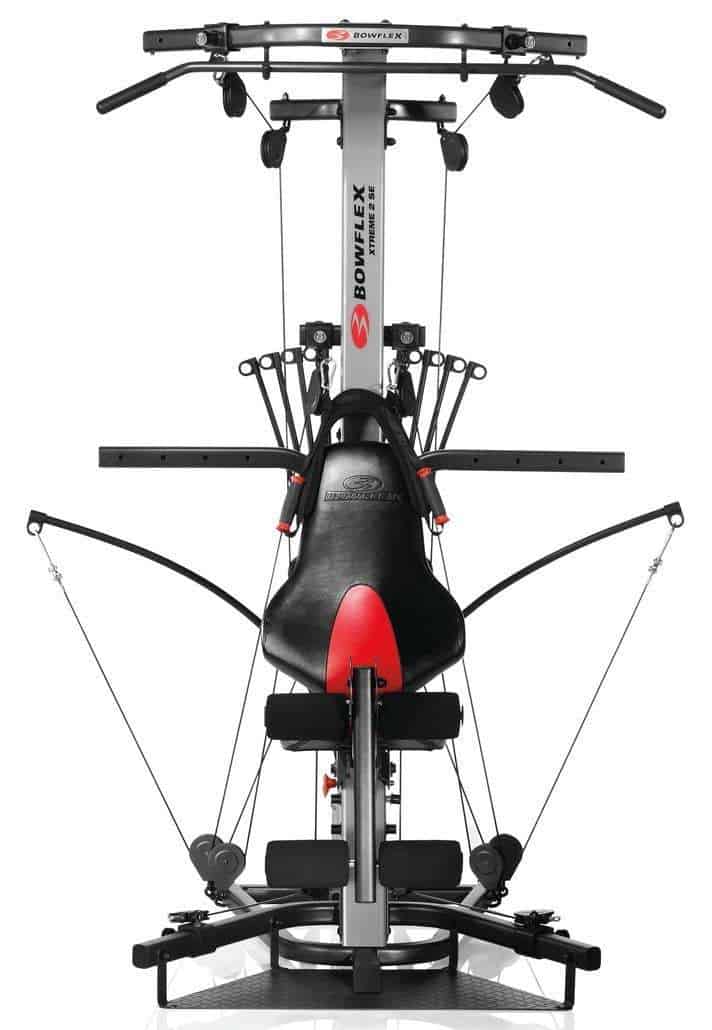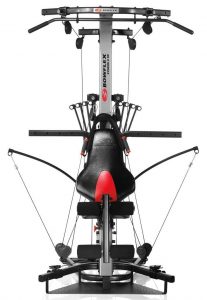 to start your work out with a minimum of 5 pounds or with 10 pounds or even combine the 5 and 10 to get a 15-pound resistance effect depending on your preference and fitness level.  And you might as well go all the way and combine the whole 5 rods that will amount to 105 pounds.
The Bowflex Xtreme 2 SE Home gym offers over 70 exercises for a full-body workout for the chest, shoulder, back, arm, abdominal, and leg. This is a complete and impressive home gym for home use which will certainly fulfill your overall workout needs and this, not a hype but a fact.
It is easy and convenient to use because you don't even need to change the cable pulley system to engage in different exercises. Once it is fully assembled all you need to do is to work out and adjust the resistance level when necessary and which is also pretty easy and quick to do.
And just so you know, this home gym made it to our best home gyms review.
<<<Click right here to purchase the Bowflex Xtreme 2 SE Home Gym at the best price available>>>
Frame and Design
The Bowflex Xtreme 2 SE is a well built and quality home gym that is made to be sturdy. The frame made of steel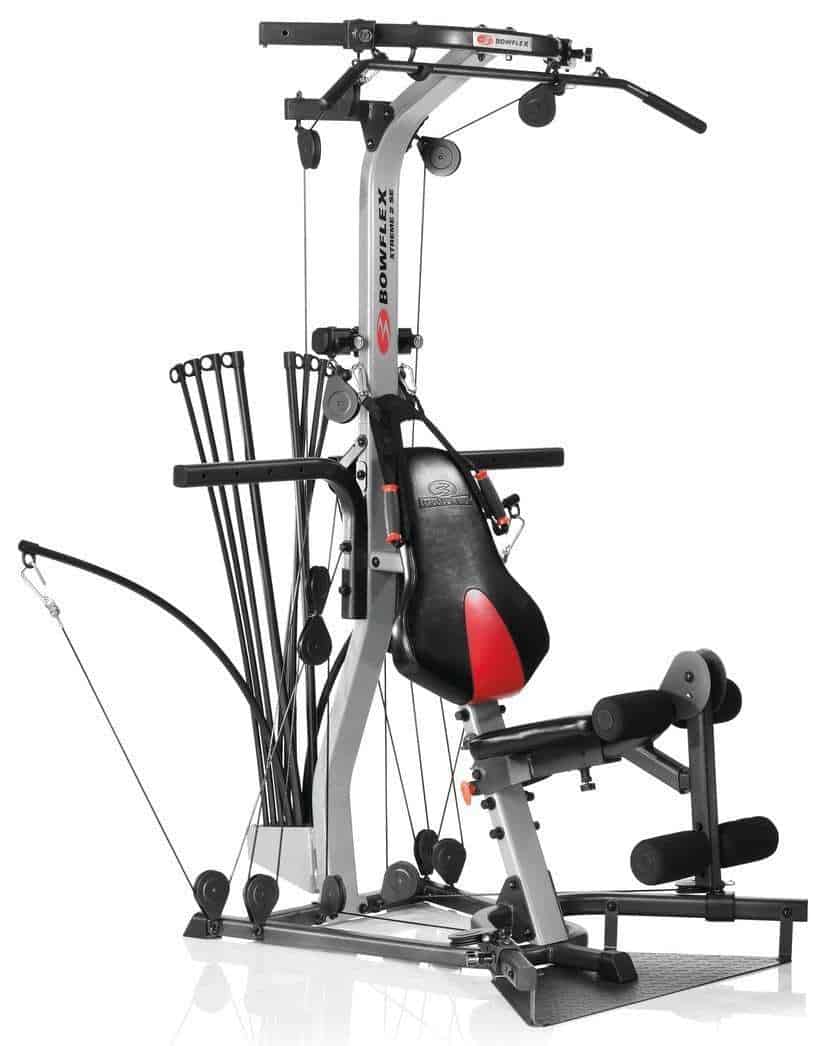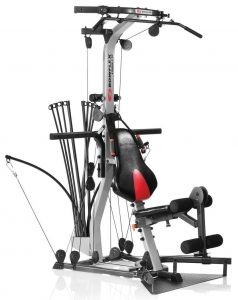 tubing finished with anti-corrosion and scratch resistant paint that would prevent rusts or scratches and thereby preserve its original look. However, this home gym is not outdoor equipment but meant to be used indoors.
This home gym supports maximum users' weight of 300 pounds and capable of accommodating users of different and all sizes.
It will require a bit of workout space of 8 feet by 6 feet 5 inches to fully accommodate the entire unit including other parts such as the resistance rods that are spread to the sides. Otherwise, this is a rather compact machine with a footprint of 53 inches long by 49 inches wide, but with the resistance, rods included its dimensions will be 96 inches long by 78 inches wide. Also, the height of the home gym is 83 inches, which is pretty tall. So, a room with at least 7 feet 5 inches will be required so that the unit can fit and conveniently be used.
It weighs about 184 pounds which is not too heavy when compared to other home gyms that have a stack-weight resistance system such as the Body-Solid Strength Tech EXM2500S or the Powerline BSG10X Home Gym, but enough to improve the stability of the unit though.
It is also equipped with a seat and backrest that is well padded with 2 inches of polyurethane cushioning for optimal comfort and covered with faux leather upholstery. The seat is also adjustable with 6 positions to conveniently accommodate users of all sizes. However, the backrest is non-adjustable.
The seat has a locking pin that secures and fastens the seat bottom bracket to the seat support rail. The purpose of the locking pin is to stabilize the seat for all exercises that requires sitting or leaning on it.
Therefore, it will be wise to always make sure that the seat is secured properly before using or putting weight on it or attaching the power rod to cables attached to the leg extension attachment.
There are only three words to describe the seat and the backrest and that is ''comfortable and durable''.
The home gym is not meant to be moved around as it does not even have any transport wheels available. And to protect your floor from being damaged by the base and the weight of the machine it is advisable to place it on a rubberized mat.
The Pulleys and Cables
The Bowflex Xtreme 2 SE Home Gym has high quality and durable pulleys that are made of nylon material.  It also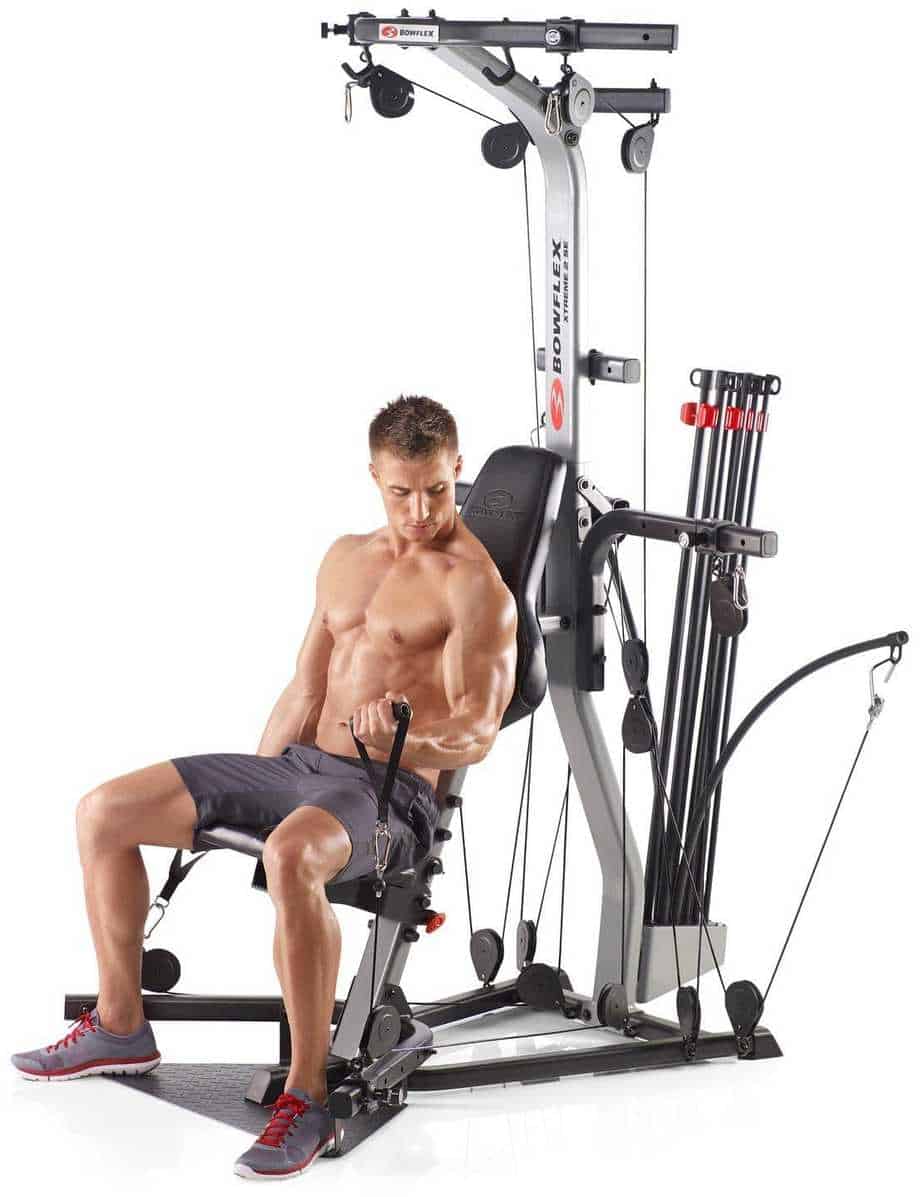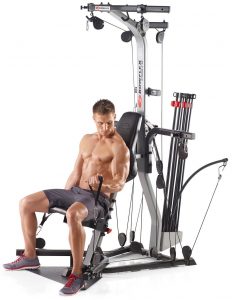 features stainless steel ball bearings that are designed to swivel up to 360 degrees to allow a user to perform workouts without restrictions.
The home gym comes with adjustable ''slider'' pulleys which can be personalized for your body. You can do so by adjusting them to widths that suit your unique physique. These slider pulleys are located on the lat tower (2 positions per side), on the center crossbars (4 positions per side), and the squat pulley frame (4 positions per side).
When performing standard exercises you will have to determine which pulley positions are most suitable and comfortable for you. You can simply adjust the pulleys outward or inward to perform exercises in ''wide'' or ''narrow'' positions.
What the adjustment of the slider pulleys to ''wide or narrow'' positions for exercises do is to improve the possibility of targeting different parts of the same muscle group and increase the positive outcome of each exercise.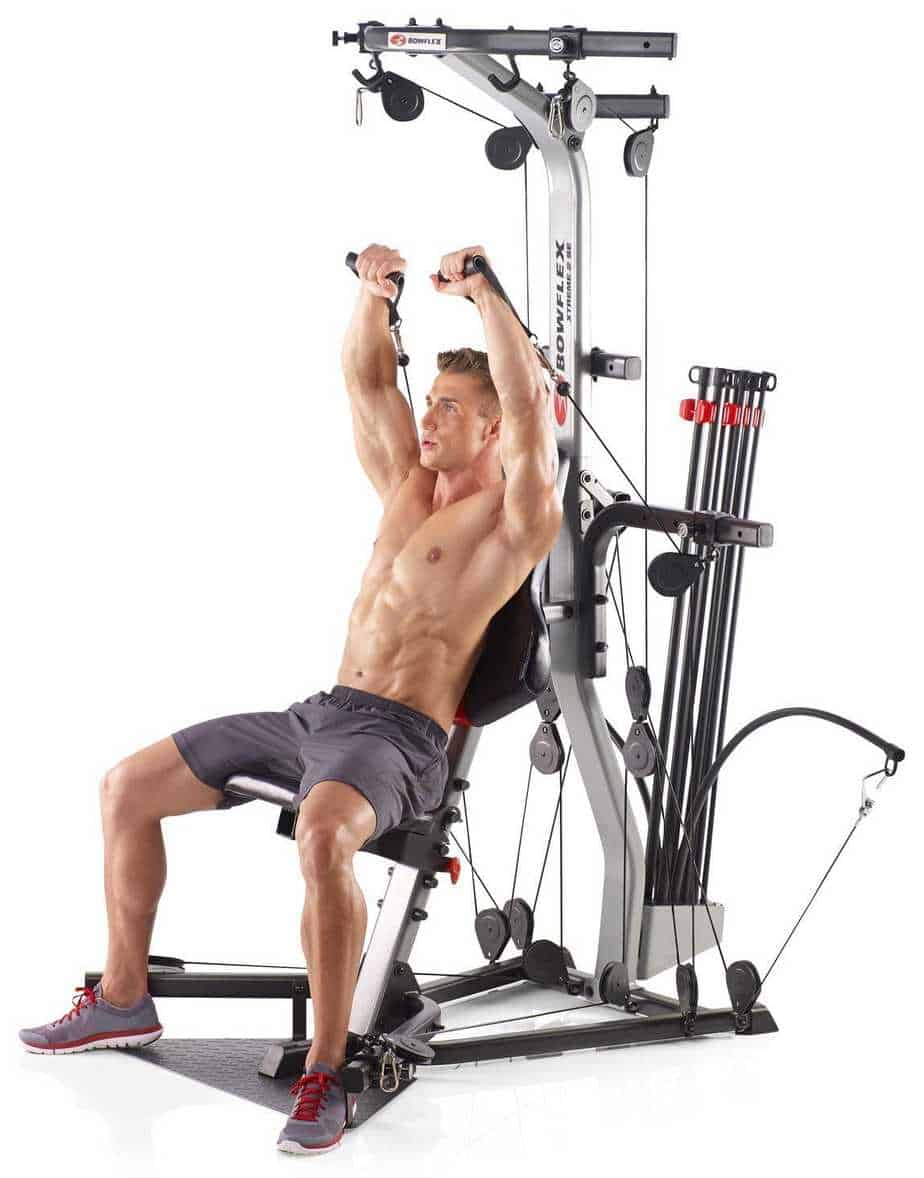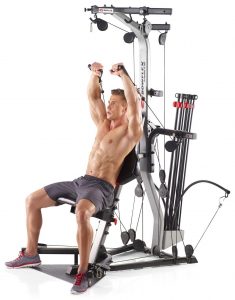 Did we mention that you don't have to change the cable pulley system to perform different exercises? Yes, we did!
This is an impressive edge on the part of the home gym because most home gyms require a change of cable before performing different workout which could momentarily disrupt the exercise momentum and the heart rate level. The Bowflex Xpress has several sets of cables for various types of exercises that do not require a swap of the cable by the user to engage in a different exercise. All that will be required of the user is to work out all the way and perhaps adjust the resistance levels when there is a need.
The cables that come with the unit are made of high-quality steel material that is covered with a very thin rubber coating for smooth operation over the pulleys and have been tested for over 1,000 pounds of resistance.
Workout Stations
There are 3 distinct workout stations available in Bowflex Xtreme 2 SE Home Gym but each of the workout stations is multi-functional and these are the high pulley station, mid pulley station, and the low pulley station.
Pulley Locations
Six different pulley positions are used to perform a full workout routine and these are as follows;
Center Cross Bar
This is a standard position that is used when a user wishes to perform exercises such as the bench press or chest fly.
Lat Tower
This is used for exercises such as the pulldowns and pushdowns
Leg Extension
For leg extension and the active pulleys are on the squat pulley frame
Squat
The squat and the active pulleys are on the squat pulley frame and the center crossbar.
Abdominal Crunch Position
For abdominal crunches and the active pulleys are on the lat tower
Rowing Position
The active pulleys are on the squat pulley frame.
For further information with illustrations, you may download or read the owner's manual right here.
Weight Resistance System
The Bowflex Xtreme 2 SE Home Gym features a power rod resistance system that uses elastic rods to generate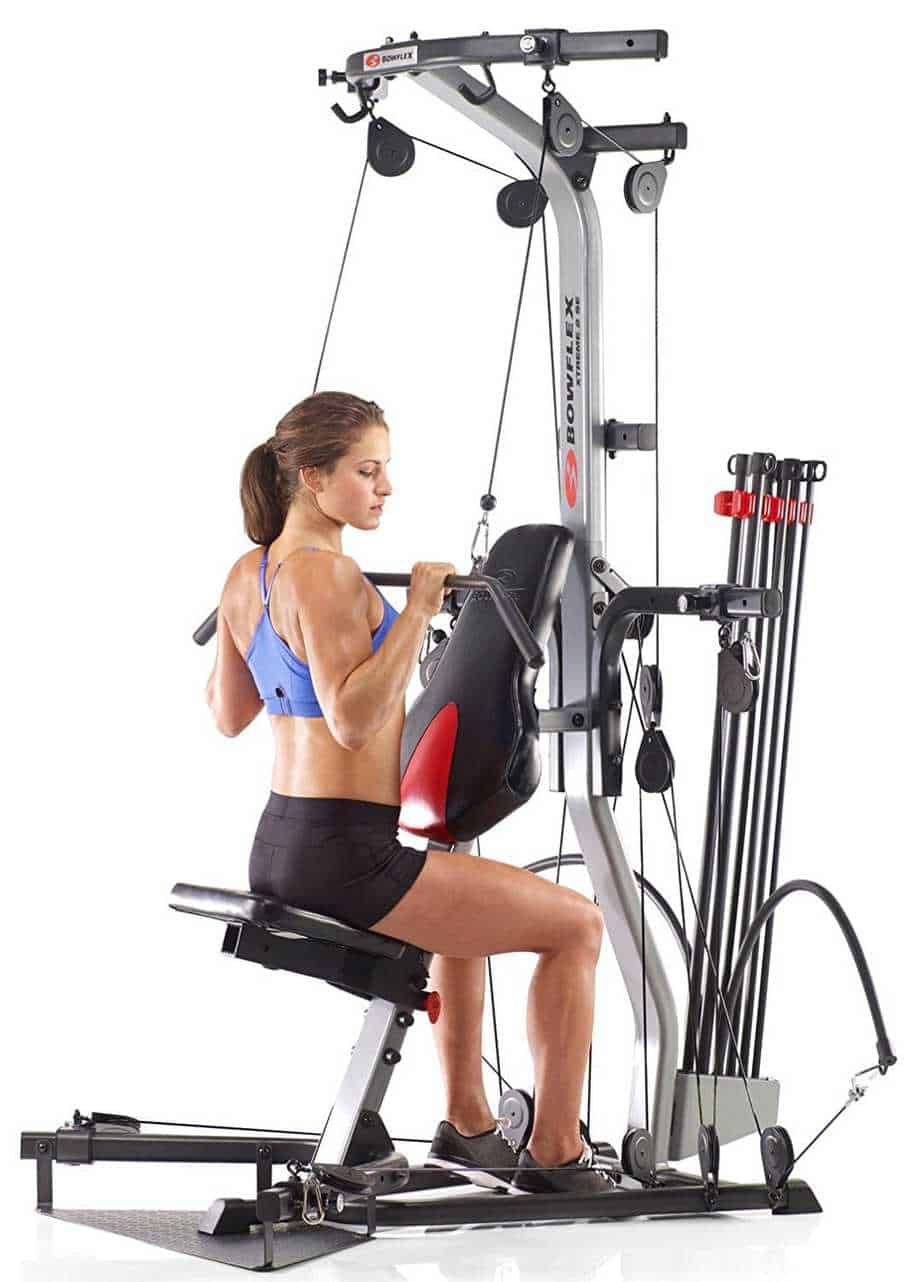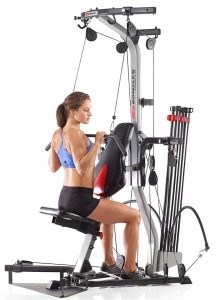 resistance.
You cannot use free weights or dumbbells to increase resistance; it simply doesn't have that option. But fortunately, its resistance is upgradeable.
Just like aforementioned, the resistance rods are made from a special composite material that is sheathed in a protective black rubber coating. And each rod is marked with the weight rating on the rod cap so that a user can simply identify the weight level of each rod and subsequently decide on which ones to use.
The standard weight resistance maximum capacity is 210 pounds while it can be upgraded to 310 or 410 pounds which are optional.
There are 5 resistance rods on each side of the machine meant for each hand. On each side of the resistance, rods are 5 pounds, 10 pounds, 10 pounds, 30 pounds, and 50 pounds rods which if combined will make a total of 105 pounds resistance weight for each hand when multiplied by 2 it gives the standard weight of 210 pounds.
It is easy to either increase or decreases the resistance level. This can easily be done by connecting just a single rod of any capacity of 5, 10, 30, or 50 pounds or you can connect several rods of different resistance levels to give you the preferred resistance level.
For instance, you can connect or hoop up the cable to the closest rods together through the rod cap and then still hook up the next closest rod on the same cable hook.
If you opt for the 310 or 410 resistance upgrade you will receive additional 1 or 2 pairs of 50 pounds rods.
For safety, when hooking up the resistance rods to the cable hooks, do not stand directly over the tops of the rods, instead, stand off to one side when connecting and disconnecting the power rod resistance from the cables to prevent getting hurt in case it snaps.
It is recommended to disconnect the cables from the power rods when you are not using the home gym and also bind the cables and power rods with the rod binding strap. Also, make sure that you remove the binding strap whenever you wish to use them again.
Hand Grips and Straps
The handgrips can be attached to the wrist, ankle, or instep, while the grips are attached to the cables by snapping the cable clip onto the D-ring.
Standard Grip
The standard grip is when you grasp the handle and the cuff together to form a grip without inserting your hand through the cuff portion. This is commonly used in most exercises such as the hammer grip exercises when you need to hold the handgrip vertically for greater wrist support.
Hand Cuff Grip
The handcuff grip is when you slip your hand through the cuff so that the foam pad rests on the back of your hand. Then hold the remainder of the grip that is sitting in your palm. This type of gripping is mainly used for exercises such as the front shoulder raises.
Ankle Cuff Grip
This is meant to fit the ankle and it is adjustable to fit all different sizes of ankles. Simply insert your foot or ankle and tighten the grip by sliding the handle back toward the cuff.
Abdominal Crunch Shoulder Harness
The harness needs to be hooked up on both ends with hooks onto the D-rings and then place the harness on your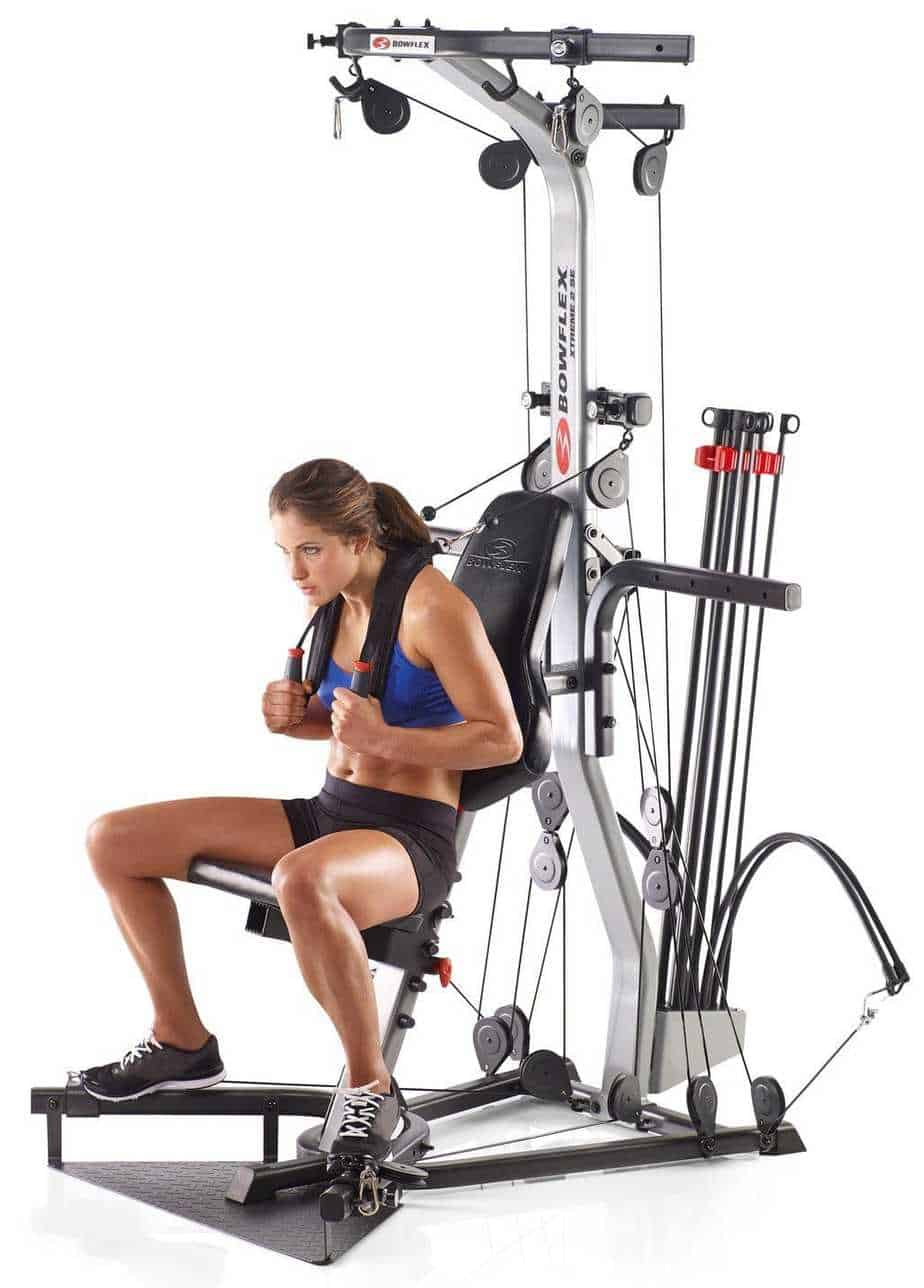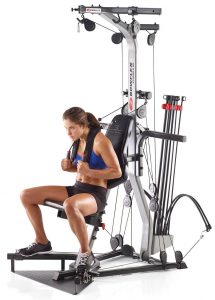 shoulders letting the handles hang over your chest and then grab the two handles.
Arch Cuff Grip
This is designed to fit securely over the arch of your foot. You can do so by simply inserting you're your foot through the cuff until it is around the arch of your instep, then tighten the cuff around your heel to secure the grip.
Approval Rating
The approval rating of the Bowflex Xtreme 2 SE Home Gym is very impressive and with a lot of positive feedback from actual users.
This is an indication that this home gym is recommendable and has the value for the price.
If you wish to purchase any product online, first check out the approval rating and see what the previous users are saying about it that way you will be able to form your own opinion as to whether to buy or not.
You may click right here to read the customers' reviews on Amazon.
Available Exercises
Arm Exercises
Triceps Pushdown w/ Hand Grips
Triceps Hammer Pushdown
Triceps Pushdown w/ Lat Pulldown Bar
Single Arm Pushdown
Triceps Extension
Cross Triceps Extension
Hammer Triceps Extension
"Rope" Pushdowns
Seated Biceps Curl
Standing Biceps Curl
Concentration Biceps curl
Hammer Biceps Curl
Barbell Biceps Curl
Reverse Barbell Biceps Curl
Seated Hammer Biceps Curl
Reverse Curl
Triceps Kickback
Hammer Triceps Kickback
Arm Opposition Push-pull
Upper Body Opposition Push-pull
Wrist Extension
Wrist Curl
Resisted Dip
Shoulder Exercises
Crossover Rear Delt Rows
Crossover High Rear Delt Rows
Reverse Fly
Crossover Reverse Fly
Seated Shoulder Press
Front Shoulder Raise
Shoulder Extension
Shoulder Shrug
Scapular Protraction
Scapular Depression
Lateral Shoulder Raise
Seated Forearm Lateral Shoulder Raise
Shoulder Rotator Cuff (internal)
Shoulder Rotator Cuff (external)
Crossover Seated Rear Delt Rows
Scapular Retraction
Leg Exercises
Leg Extension
Squat
Calf Raise
Single-Leg Calf Raise
Standing Hip Extension (knee bent)
Standing Hip Extension (knee extended)
Standing Hip Abduction
Standing Hip Adduction
Leg Kickback
Hip Flexion
Dead Lift
Stiff Leg Dead Lift
Back Exercises
Standing Low Back Extension
Bent Rear Delt Row
Crossover Bent Rear Delt Row
Seated Wide Lat Pulldowns
Narrow Pulldowns w/ Lat Pulldown Bar
Narrow Pulldowns w/ Hand Grips
Reverse Grip Pulldowns
Crossover Wide Pulldowns
Crossover Narrow Pulldowns
Pulldowns
Stiff Arm Pulldowns
Standing Shoulder Pullover w/ Hand Grips
Crossover Seated Lat Rows
Seated Lat Rows
Reverse Grip Pulldown with Lat Bar
Chest Exercises
Bench Press
Chest Fly
Decline Bench Press
Incline Bench Press
Decline Chest Fly
Incline Chest Fly
Abdominal Exercises
Seated (resisted) Abdominal Crunch
Seated (resisted) Oblique Abdominal Crunch
Trunk Rotation
Pros/Features Overview
A very sturdy and high-quality home gym
The frame is made of steel tubing
The power rods are made of composite material that could make last long
The resistance is upgradeable to 310 or 410 pounds
Has a standard resistance of 210 pounds
It has a very solid, well-padded seat that can be secured for a safe and comfortable workout. It is also adjustable
Has over 70 exercises available
Quiet operation
The pulleys are made of heavy-duty materials with stainless steel ball bearings
No cables require changing when you wish to perform a different exercise
Supports up to 300 pounds maximum user weight capacity
It has multiple grip handles
Assembly is not complicated
Cons
The resistance rods lose elasticity over time, and that means that the resistance will drop below what it suppose to be.
Product Dimensions and Specifications
53'' Length
49'' Width
83'' Height
96'' Length (Workout area)
78'' Width (workout area)
83'' Height (workout area)
Supports up to 300 pounds maximum user weight capacity
Over 70 exercises available
Power Rod Resistance System
210-pound standard resistance
Warranty
1 Year on Frame
Lifetime on Power Rods
60 Days on Parts
Shipping, Assembly, and Maintenance
Shipping
The shipping cost of the Bowflex Xtreme 2 SE Home Gym depends on the retailer you are buying from, however, Amazon usually provides free shipping and delivers in 3 to 4 days. They are well packaged in the box.
Assembly
To assemble this home gym is not difficult, it is pretty straightforward with an instruction manual that will walk you through the assembly process.
It comes with a couple of tools but you will require your tools to completely assemble the unit. Tools such as the adjustable wrenches and screwdrivers will be needed.
Depending on how good you are at working with your hands it will take anywhere from 3 to 5 hours to fully assemble.
Maintenance
Just as aforementioned, you should always unhook the cables off the power rods when you are not using the home gym and strap up the power rods and the cables together with the strap that comes with it.
Also, make sure to remove the strap from the power rods when you are ready for the machine again.
Then, another thing is the normal cleaning of the home gym from dust and sweat at all times.
Conclusion
The Bowflex Xtreme 2 SE Home Gym is one of the best power rod resistance system home gyms that you can rely on to provide full-body workouts.
It has all the necessary features to help you realize your fitness goals.
If you have any questions please feel free to ask and we shall be glad to respond accordingly.
Bowflex Xtreme 2 SE Home Gym Review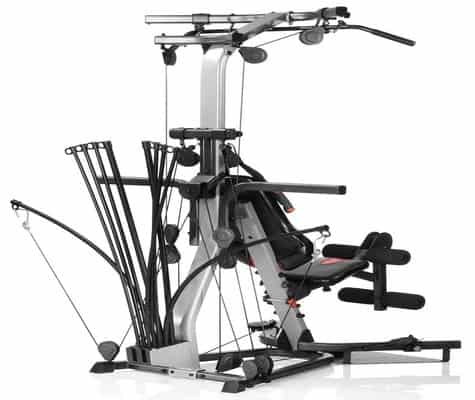 The Bowflex Xtreme 2 SE Home Gym is a rod resistance-based home gym that is also upgradable. Something that is not very common with most home gyms, be it weight stack or bodyweight resistance based system. It has the lowest resistance weight option of 5 pounds up to 105 pounds; this means 105 pounds on each side of the handle, and when multiplied by 2 it becomes 210 pounds which is the standard resistance weight.
Product Brand: Bowflex
Product In-Stock: InStock