Having the Marcy MWM-990 Home Gym is like bringing the entire gym to the convenience of your home. You will experience a total quality workout in the comfort of your room with this super machine called the Marcy MWM-990 Home Gym. This unit is capable of working on your overall body and muscle groups without needing extra equipment. This is basically strength training equipment with over 30 strength training workouts available.
There is a whole lot that you could do with the unit and there is a whole lot the unit could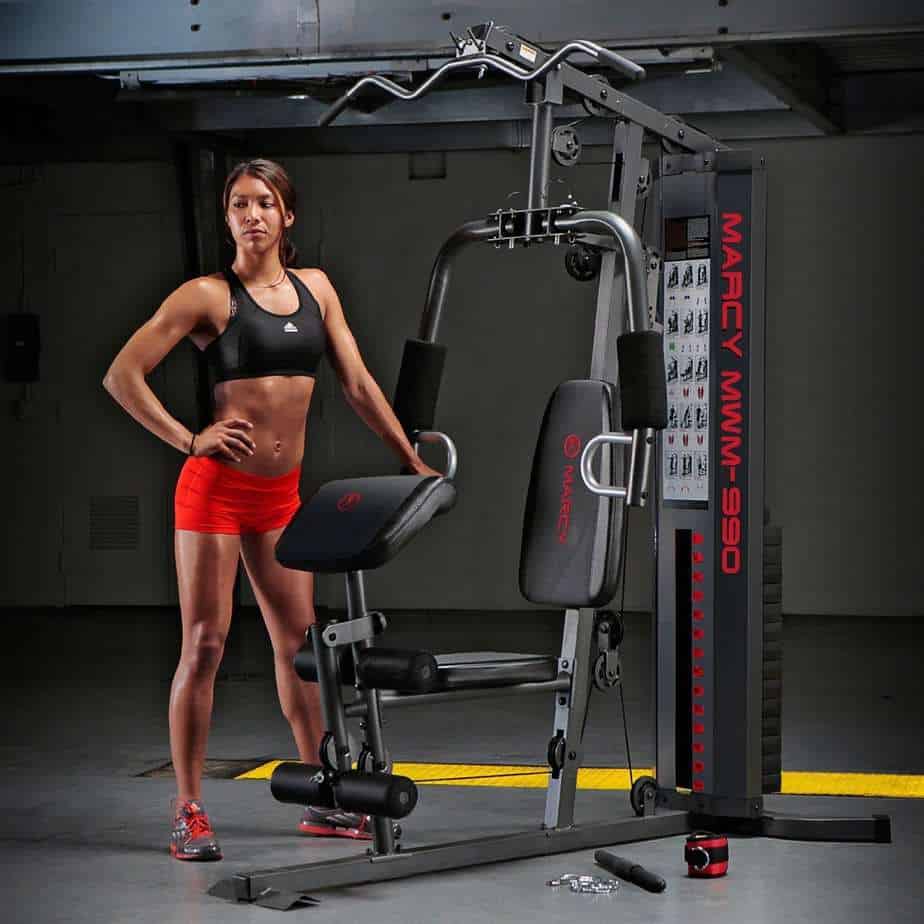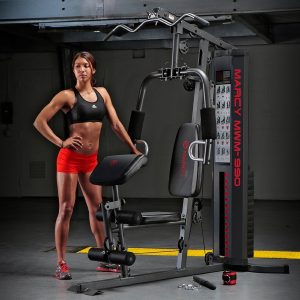 do with your muscles and that is to help you burn calories and gain muscle mass. It has features such as the dual-functioning press arms for pec fly and chest press workouts. You can adjust weight without having to load or unload weight plate because it has got multi-position high and low pulleys and cables that are connected to the 150 pounds adjustable weight stacking which will also allow you to work out conveniently.
Truly, the Marcy Home Gym will work and tone your abs, and triceps with the adjustable preacher curl pad. Gaining muscle mass and burning calories have never been easier with the Marcy MWM-990 Home Gym.
Click right here to have a peek at the price and of of the Marcy MWM-990 Home Gym on Amazon.
Features/Pro Overview
It has got dual functioning, independent motion, chest press, and vertical butterfly
It has got a dual functioning leg developer for leg extension/leg curl workouts basically for working the legs. There are also foam roller pads available that offer comfortable workout possible.
It has got multi-position high and low pulleys that were designed to work on your upper and lower body.
When it is said that this unit is a complete body workout machine it is true because it has also got the overhead lat station that basically offers you the opportunity to work on the back, abs, and triceps with adjustable and removable preacher curl pad which also offers you the opportunity to make isolated bicep exercises possible.
The weight stack enclosure is made of solid steel with 150 pounds selectorized weight stack. This also means you don't have to worry about loading and unloading weight all the time because with the weight stack lock you would be able to use your preferred resistance training safely.
See what other consumers are saying about the Marcy MWM-990 Home Gym (click and scroll down to read Reviews)
Warranty
Product Specifications
68'' Length
36'' Width
79'' Height
Shipping and Assembly
Shipping cost all depends on where you are purchasing from; for instance, Amazon shipping cost is free but that may not be the case with other retailers.
As for assembly of the Marcy MWM-990 Home Gym, it is not complicated or difficult compared to other home gyms. It may take 3 to 4 hours to completely assemble the unit and the instruction manual that accompanies the equipment makes things a lot easier as it will walk you through the process of assembly.
Conclusion
Marcy equipment has become a household name in terms of health and fitness equipment and they have a reputation to protect. The founder, Walter Marcyan believed that everyone should have the opportunity to workout at home hence the establishment of the Marcy Gymnasium Equipment Company back in 1959.
The Marcy MWM-990 Home Gym is a great machine to have at home and the price is also good. However, taller individuals of about 6 feet and above may not find it comfortable exercising with this unit.
Marcy MWM-990 Home Gym Review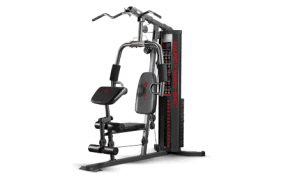 Having the Marcy MWM-990 Home Gym is like bringing the entire gym to the convenience of your home. You will experience a total quality workout
Product Brand: Marcy
Product In-Stock: InStock