A power rack cage could safely be used for strength training such as back squats, front squats, deadlifts, shoulder press, bench press, to name but a few. It could be regarded as the weightlifter's/bodybuilder's workshop.
Every strength trainer that wishes to add a tool that could enable s/he workout comfortably at home may want to consider adding the Sunny Health & Fitness SF-XF9925 Power Rack Cage with Weight Bench on the purchase list.
The reason is that it is safe, durable, and versatilely adjustable to adapt to the user's specifications.
For instance, it has adjustable angle pull-up bars and 18 vertical height settings that allow you to adjust the J-hooks as you see fit.
Moreover, the power rack cage is accompanied by an optional portable and adjustable weight bench for a comfortable and safe strength training experience.
Click right here to have a peek at the best price of this power rack cage with a weight bench.  
The Frame and Construction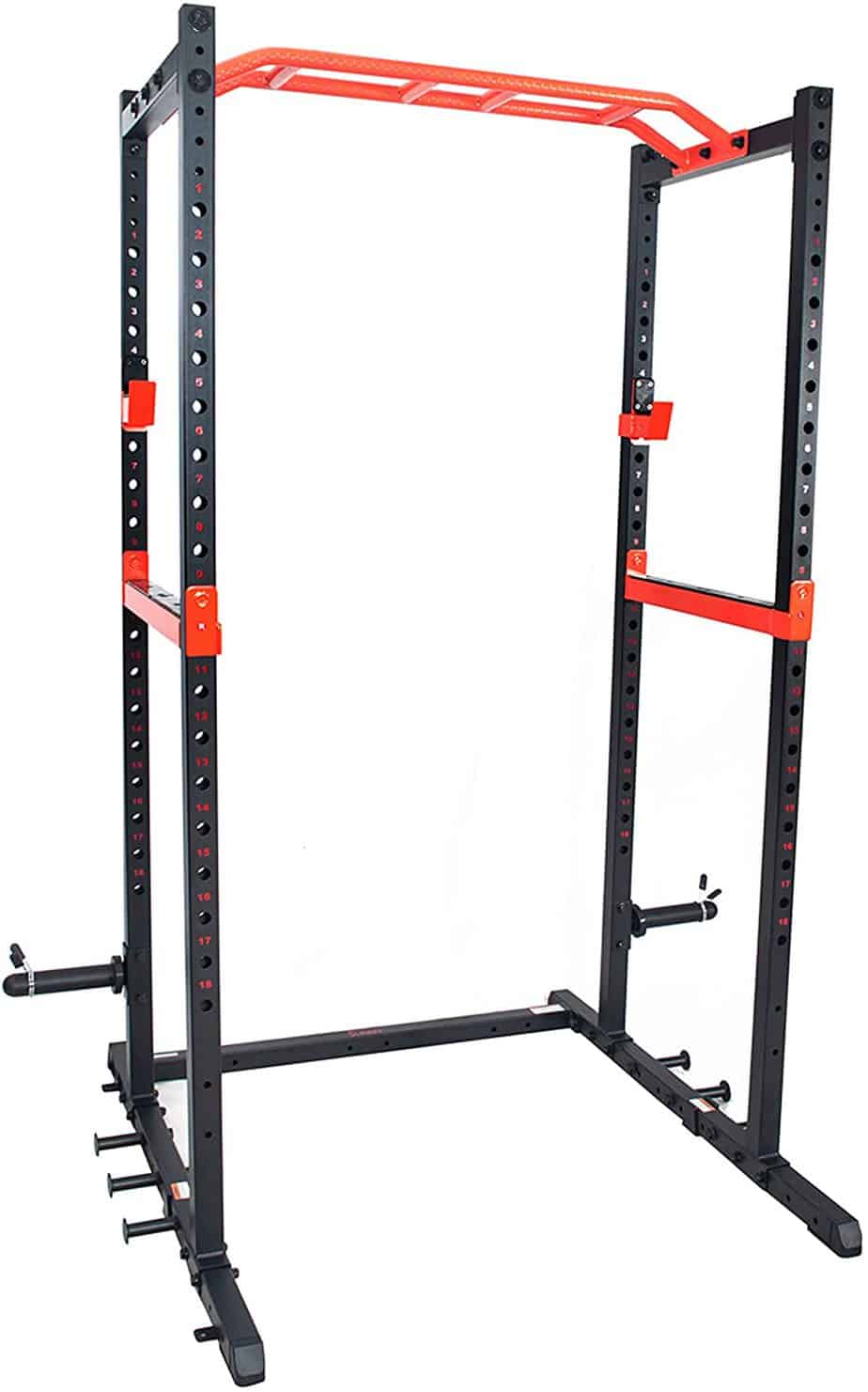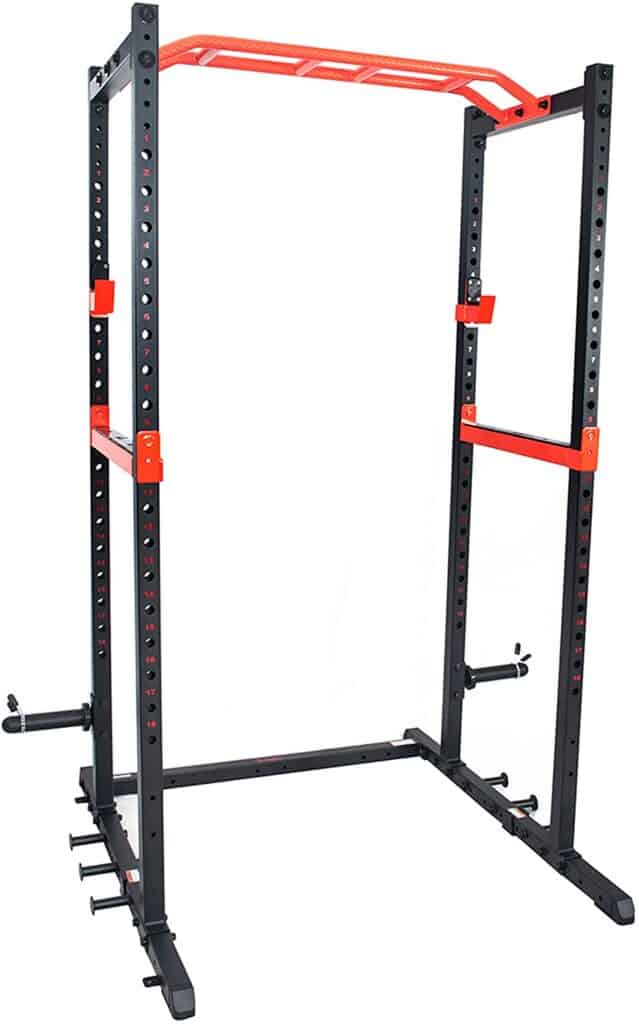 Another power rack that is recommendable is the Powerline PPR200X due to its outstanding solid build. However, it is not as upgradeable and versatile as the SF-XF9925 Power Rack.
The Sunny Health & Fitness SF-XF9925 Power Rack Cage is built with heavy-duty steel. It supports 1000 lbs./453.5 kg maximum weight; in other words, it can carry weight plates of that capacity.
It has a textured pull-up bar that is reversible and can be adjusted between 4 different height settings. Thus, users that are up to 6'4'' tall are supported, and they won't experience slippage during workouts.
There is a spotter bar with safety latches and weight storage bars with safety clips. These provide maximum safety that puts the mind at rest when training.
Furthermore, the cage's stability is well established due to its assembled weight (134.5 lbs./61 kg); and it can be pegged into the floor to ensure it remains unmovable.
The power rack cage doesn't take up space for workouts as the Concept2 Rowing Machine could. However, it might when the weight bench and other add-ons are attached.
The overall assembled dimensions are 50.4'' long by 64.1'' wide by 82.9'' high.
So, a workout area with dimensions of 4'2'' length by 5'4'' width and a ceiling height of at least 7'5'' is going to be required.
Also, there should be extra clearance around it for safety and ease of access.
Finally, it is important to note that this product does not include the Olympic weight plates and the bar. They are to be purchased separately.
The Weight Bench SF-BH6920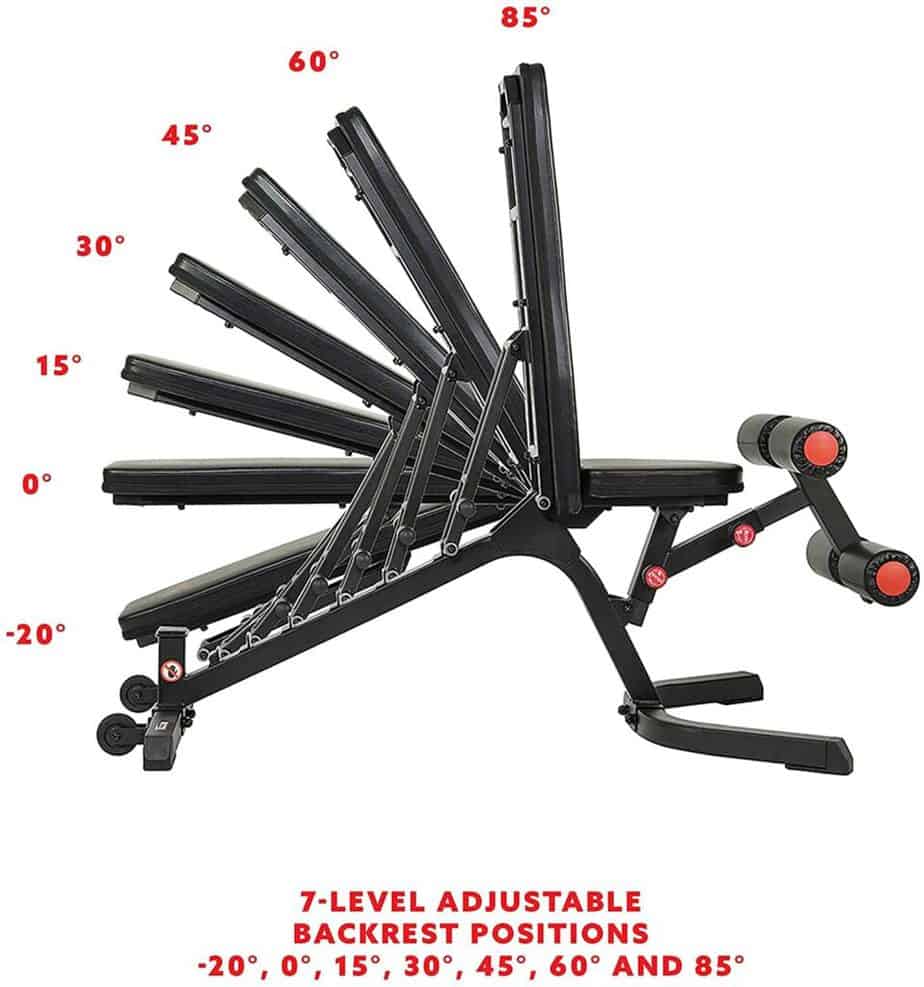 The Sunny Health & Fitness SF-XF9925 Power Rack Cage has a compatible weight bench that is optional. This means you can choose not to include it in your purchase.
However, excluding it might rob you of the ability to fully use the power rack cage.
The weight bench has a solid anti-rust coated frame that could also support 1000 lbs./453.5 kg (between user and weight), and its adjustability is pretty much similar to Bonnlo Weight Bench.
The backrest could be adjusted to 7 different positions (–20, 0, 15, 30, 45, 60, to 85 degrees), while the seat and the foam rollers are 4 levels and 3 levels adjustable, respectively.
Exercising with the bench feels comfortable because the seat, the backrest, and the leg rollers are cushioned generously and are covered with synthetic material for easy cleaning and durability.
The base framework includes a straight steel bar at the rear, a U-shaped steel stabilizer at the front, and foot sponges for unwavering support during workouts.
Transporting the bench from one location to another within a room or apartment is easy due to the transport wheels at the rear base.
The combination of the Sunny Health & Fitness SF-XF9925 Power Rack Cage and the SF-BH6920 Weight Bench enable you to perform the following strength training exercises.
Some Exercises that can be done with Sunny Health & Fitness SF-XF9925 Power Rack Cage with Weight Bench
Bench Press
Chin Ups
Squats
Dips
Shoulder Press
Hanging Abs Raises
Deadlifts
Military Press
Close Grip Bench Press
Bicep Curls
Reverse Curls
Front Squats
Lunges
…and many more
You can do a lot more with this unit if the weight bench and other add-ons such as a landmine attachment are used.
There are 6 resistance band pegs (3 on each side of the power rack cage) that are designed to increase resistance during squats and bench presses.
For safety's sake, ensure that the power rack cage is bolted to the floor when performing squats and bench presses with resistance bands.
Storage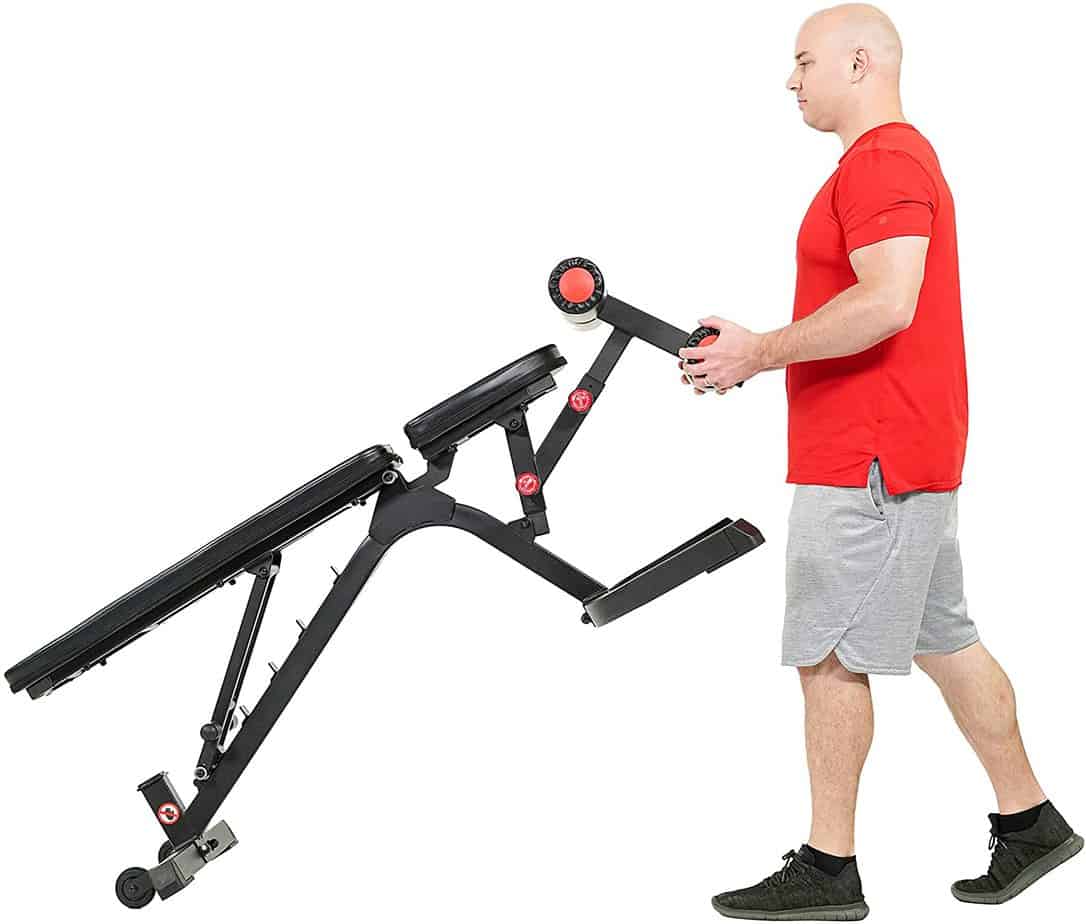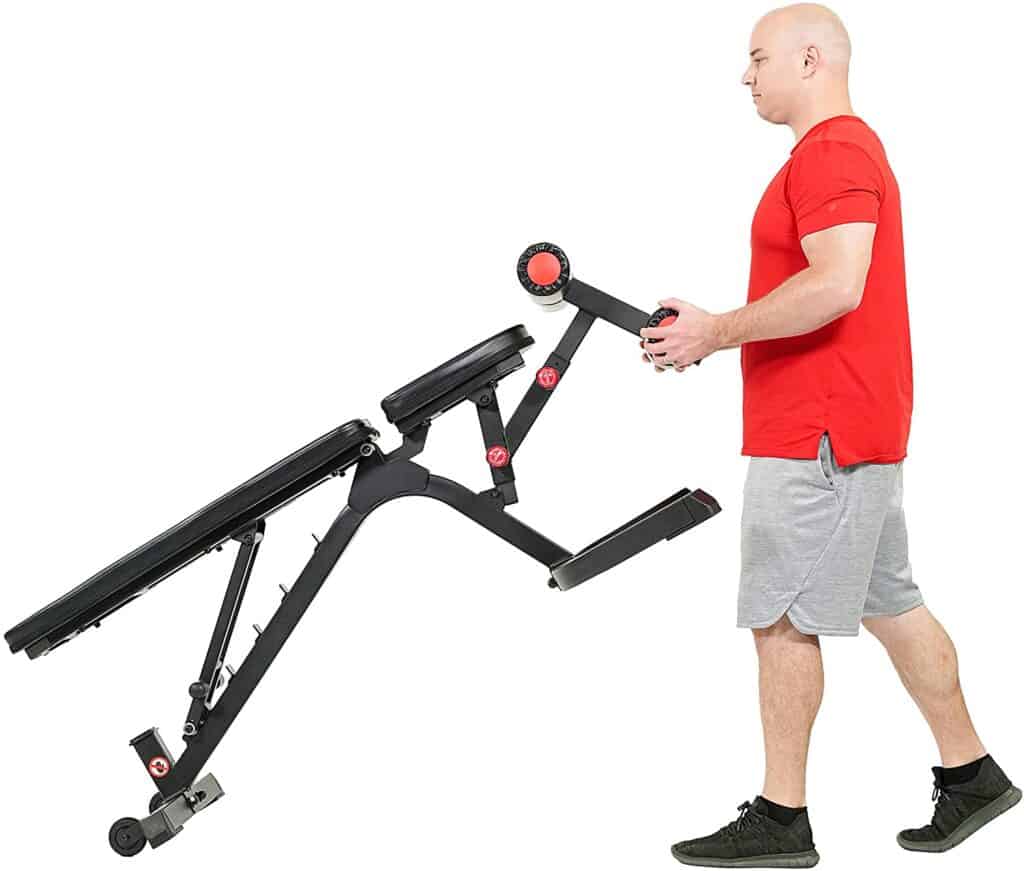 Since the Sunny Health & Fitness SF-XF9925 Power Rack Cage weighs 134.5 lbs./61 kg and has to be screwed to the floor, moving it is not possible.
Differently put, it cannot be moved for storage. Therefore, it has to be installed on a dedicated workout area.
On the other hand, the weight bench is portable with transport wheels, therefore, you can move it for storage if you so wish.
It weighs 67 lbs./30.3 kg.
Pros/Features Overview
Made with a strong and heavy-duty anti-rust steel frame; hence, supports up to 1000 lbs./453.5 kg
There are spotter bars with lock latches for maximum safety when squatting with heavyweights
Strong and reliable J-hooks that are adjustable to 18 different positions, hence, users up to 6'4'' tall are supported
Its stability is awesome because it can be bolted to the floor
There is a weight plate storage bar on each side of the cage
The power rack cage can be upgraded with a landmine, pull-up bar, dip bar, bar holder, U-ring, and lat pulldown attachments for additional exercises and better workout experiences
The weight bench is made of steel, portable, and stable; and also supports up to 1000 lbs./453.5 kg
There is an angled textured pull- up bar that is adjustable and reversible with 4 different positions; it allows users to perform wide and narrow grip pull-ups
3 sets of resistance band pegs are integrated for extra resistance for squats and bench presses
The weight bench backrest has 7 position adjustments that include –20, 0, 15, 30, 45, 60, and 85 degrees
The power rack cage is compatible with Olympic 7' bar and weight plates
The maintenance requirement is low
Assembly is not complicated
Cons
The Olympic bar and weight plates are to be purchased separately
The weight bench does not support leg extension or hamstring curls
Warranty
1 Year for the Frame
180 Days for other Parts and Components
Product Dimensions & Specifications
Length: 50.4''
Width: 64.1''
Height: 82.9''
Shipping dimensions: 89.8'' L x 15.7'' W x 10.2'' H
Net weight: 134.5 lbs./61 kg
Gross weight: 147 lbs./66.6 kg
Frame: Steel
Supports 1000 lbs./453.5 kg maximum weight
Supports up to 6'4'' user height
18 vertical height adjustable J-Hooks
Textured pull-up bar
Spotter bars with safety lock latches
6 Resistance bands pegs
Upgradable with landmine attachment and more
Compatible with 7' Olympic bar, and weight plates
Extra weight plates storage bars
Hardware peg hole diameter is ¾''
Weight Bench
Length: 61''
Width: 29.7''
Height: 50.6''
Shipping dimensions: 44'' L x 27.5'' W x 7'' H
Net weight: 67 lbs./30.3 kg
Gross weight: 74.1 lbs./34.11 kg
Maximum weight capacity: 1000 lbs./453.5 kg
Support 6'+ user height
Frame: steel
Seat & backrest: Adjustable, cushioned, and covered with synthetic material
Foam rollers
Transport wheels included
Shipping
The power rack cage and the weight bench come in different boxes. The latter is a bit heavy, it weighs 147 lbs./66.6 kg with shipping dimensions of 89.8'' long by 15.7'' wide by 10.2'' high, while the bench weighs 74.1 lbs./34.11 kg with shipping package dimensions of 44'' long by 27.5'' wide by 7'' high.
They arrive in a couple of days upon purchase.
Assembly
The assembly of these products is not complicated but it's going to take up to 2 hours or less, depending on your dexterity.
There are a lot of bits and pieces of parts to be assembled. Nevertheless, the packages come with owner's manuals and tools that are meant to enable you successfully put them together.
Maintenance
The products do not require tedious maintenance once assembled.
Just make sure to examine the power rack cage and the weight bench before use to avoid an accident that may be caused by a broken or loosened part.
Conclusion
The Sunny Health & Fitness SF-XF9925 Power Rack Cage with Weight Bench is suitable for anyone that wishes to have a powerhouse at home without breaking a bank.
Moreover, if you have a plan to expand the number of exercises you can perform with a power rack cage, this unit does just that because you can upgrade by integrating add-ons such as landmine attachment and more.