The GOELLIPTICAL V-450T Elliptical Cross Trainer is a rear-driven elliptical trainer and one of the V (Vena) series family that precedes the GOELLIPTICAL V-600X model.
It has several features that are designed to make your workouts comfortable and productive.
Some of these features include the chrome swing 3-level adjustable arms with ergo-club type handlebars and the large textured and adjustable 17" stride pedals.
It has an eddy current magnetic resistance system with 24 adjustable levels for different shades of workout difficulties that are suitable for everyone.
There is also a pre-installed music power audio system and a USB port that enable you to stream music and charge your smartphone or an iPod device.
We shall be revealing more about the GOELLIPTICAL V-450T Elliptical Cross Trainer in due course of this review.
However, click right here to have a peek at the best price.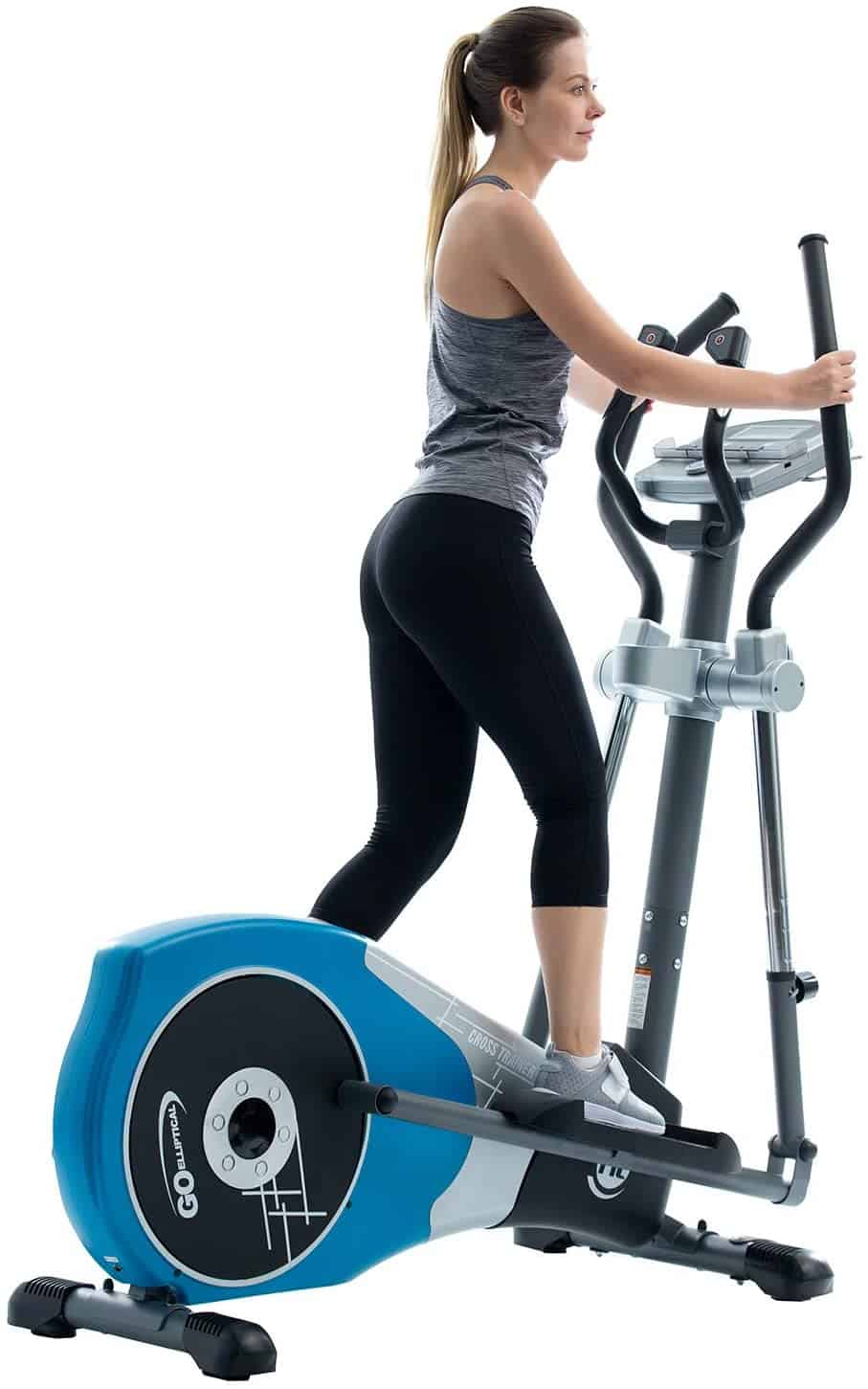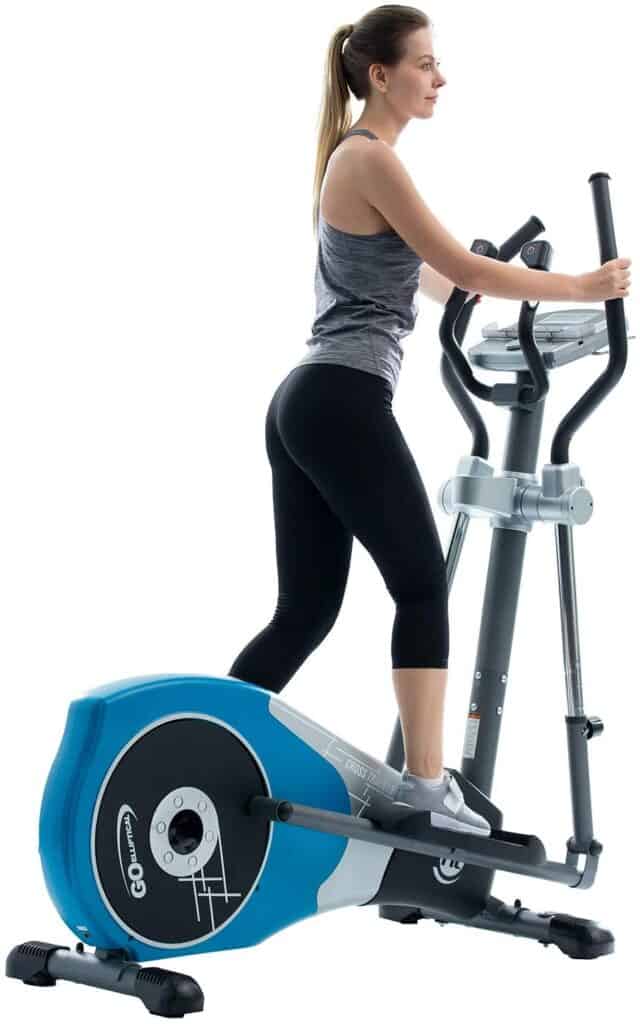 The Frame and Construction
The GOELLIPTICAL V-450T Elliptical Cross Trainer features a solid high-quality tubular welded steel frame that is powder-coated with anti-corrosion paint.
While the drive/resistance system covers and the pedals are made of durable ABS material. Although, the core of the pedals is metallic.
The unit is undeniably elegant and capable of supporting a maximum user weight capacity of 300 lbs./136 kg.
It is not overly large, but it is slightly larger than the V-450 by a few inches. Its assembled dimensions are 59'' long by 28'' wide by 65'' high.
In other words, a workout area with perimeters of 4'92'' length by 2'34'' width is going to be needed. However, an additional 2' clearance is recommended around it for a safe and comfortable workout experience.
Its overall stability is fantastic due to the base framework that features robust front and rear stabilizer bars. Moreover, it weighs 132 lbs./60 kg which further solidifies its stability.
Despite its relatively enormous amount of weight, it can easily be moved from one location to another around the room or apartment via the integrated transport wheels at the front base.
Pedals of the GOELLIPTICAL V-450T Elliptical Cross Trainer
The 22'' by 5.5'' large and textured pedals are adjustable to 8 different positions for a perfect fit. Therefore, they are suitable for different foot sizes.
Their elliptical motion mimics a near walking pattern that provides a low-impact effect that reduces stress on the joints and instead engages different lower muscle groups. As a result, users can work out longer, comfortably, and productively.
Since the stride length is 17'', users up to 6'3'' can work out without stride restriction.
The pedals are 6'' apart, and the step-up height (floor to lowest pedal position height) is estimated to be 6''.
Unfortunately, the highest pedal position is not specified. But a ceiling height higher than your height by 12'' should be fine.
The Handlebars
There are 2 sets of handlebars that are ergonomically designed and covered with rubber foam material for a firm and comfortable grip.
One set is fixed, while the other is moveable (dual-action).
The fixed (static) handlebars are attached to the console mast. They integrate heart rate sensors EKG contact and a special toggle switch on each side for resistance control.
While on the other hand, the dual-action handlebars (ergo-club type handlebars) are connected to the pedals and onto the drive system. Therefore, they are not independent of the pedals because they both move concurrently during a workout.
Finally, the moveable handlebars are adjustable. They can easily be adjusted to 3 different positions depending on your height and preference.
The Drive
The GOELLIPTICAL V-450T Elliptical Cross Trainer is equipped with a belt drive system that consists of a durable J6 Poly belt, cranks, and a high inertia flywheel that offers a 44 lbs./20 kg load and a 1:12.7 speed ratio.
Consequently, the drive system operation is smooth, quiet, and vibration-free. This allows you to train whenever and wherever you want.
Also, as opposed to a chain drive system, you don't have to periodically carry out maintenance such as lubrication or adjustment of any sort.
The drive system offers reverse pedaling since it is bidirectional. Therefore, you can diversify your workout and tone more muscle groups as you pedal backward.
The Resistance System
This elliptical cross trainer has an eddy current magnetic resistance system with 24 adjustable levels. It mainly consists of a magnetic brake pad and a motor servo.
Since it is a motorized resistance system the unit needs to be plugged into a power outlet (adapter included) for it to be functional.
The resistance adjustment can be made via the rotary knob on the console, or through the toggle buttons on the handlebars. It could also automatically adjust if any of the 12 pre-set programs or HRC programs is selected.
The 24 resistance levels offer light to difficult workout challenges that could impress beginners, intermediary users, and even professional athletes.
The Console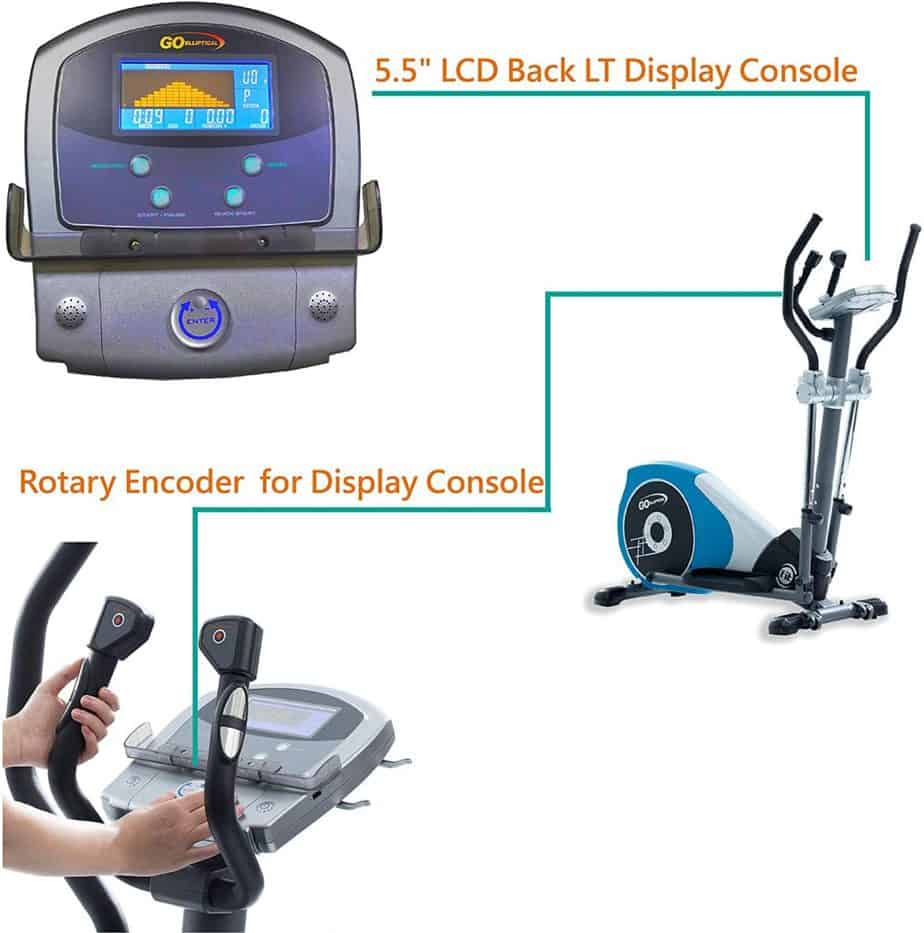 The GOELLIPTICAL V-450T Elliptical Cross Trainer comes with a 5.5'' colorful backlit LCD monitor that clearly tracks workout stats such as Time, Distance, Speed, RPM, Calories, and Heart Rate.
The readability is good and cannot be diminished even when viewed in a poorly-lit environment.
The Speed and Distance metric units can be changed from km/h to mph and km to mile and vice versa.
The console is not telemetric; meaning it cannot connect to a wireless heart rate monitoring device. Therefore, to keep track of your heart rate the contact grips must be held during a workout.
Although, the console is not also compatible with any online app, however, it does have other interesting features that include a heart rate recovery function that calculates and provides the health status of the heart at the end of a workout.
The result is usually between F1 (excellent) to F6 (poor).
Also, 4 user profiles enable 4 different users to save their personal information (such as age, gender, weight, and height) 12 preset programs for weight loss, strength, and endurance improvement.
Each of the 12 preset programs is preassigned with a certain resistance level that will automatically engage when selected, while there is also an HRC program that automatically adjusts the resistance level based on the selected heart rate zone.
You can only adjust the resistance levels manually via the rotary knob on the console or through the toggle switch on the handlebars if the manual mode is selected.
Lastly, there is a custom program that allows you to create your own unique workout program.
Accessory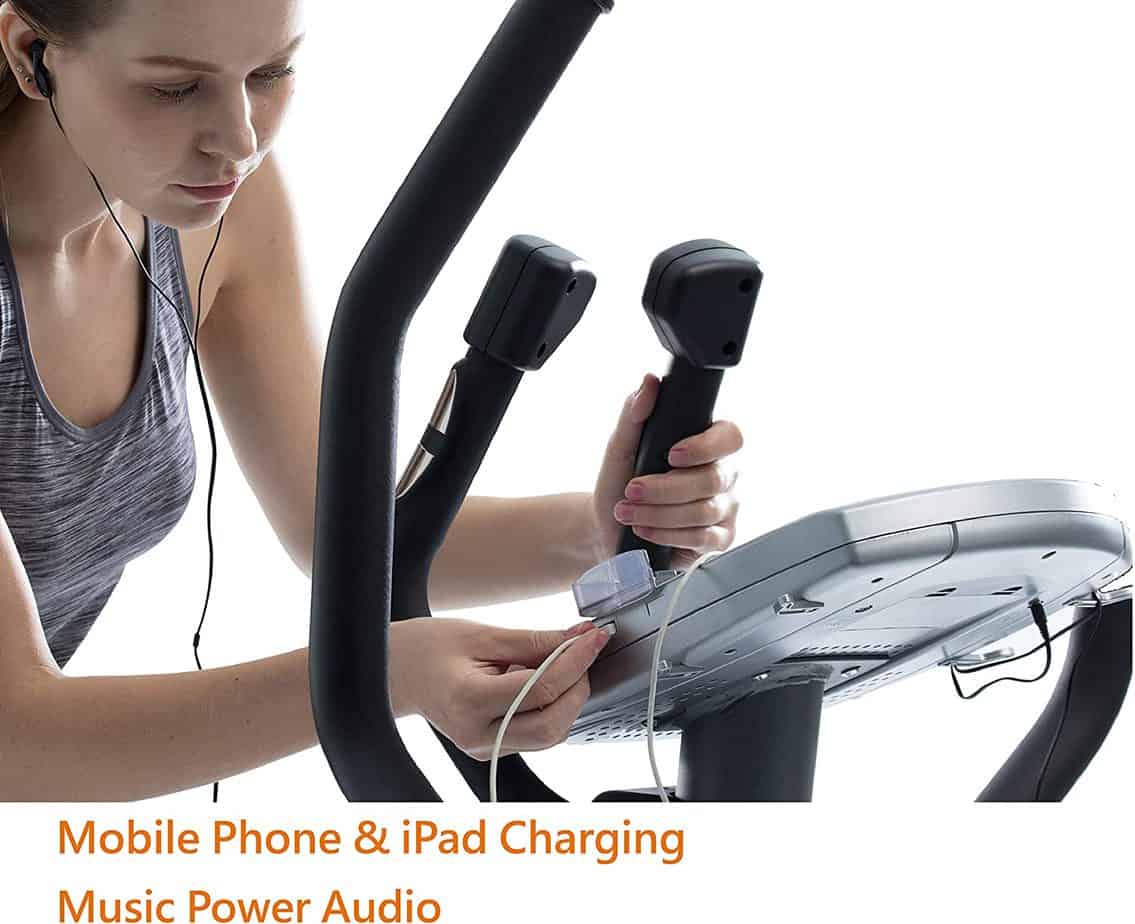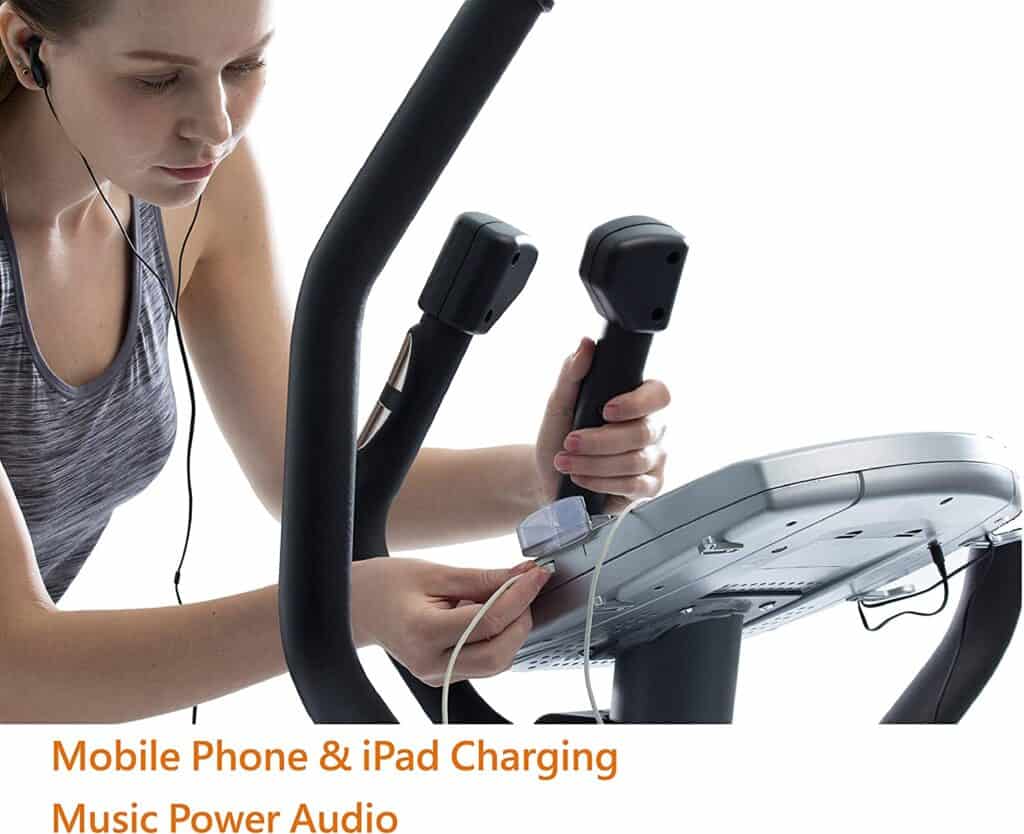 There is a couple of extras available on this elliptical machine. These include a tablet holder, a water bottle holder, a USB port, an auxiliary port, and 2 small speakers.
All these are located on the console, except for the water bottle holder that is attached to the mast below the handlebars and the console.
So, you can keep a tablet device handy for taking calls and streaming music whilst you charge it and water for proper hydration.
Storage
The GOELLIPTICAL V-450T Elliptical Cross Trainer is not foldable, but it won't take up too much space for storage.
A storage area with perimeters of 5'92'' length by 2'34'' width should suffice.
Regardless of its weight (132 lbs./60 kg), it can easily be moved around the room with the help of the integrated transport wheels at the front base.
Pros/Features Overview
It is solidly built with a solid tubular steel frame
It is stable and portable
It supports 300 lbs./136 kg maximum user weight capacity
There are 2 sets of handlebars (static & moveable); both are coated with anti-slip soft rubber foam for comfortable and firm grips
This machine provides low-impact and full-body cardiovascular workouts for weight loss and overall physical improvement
Its operation is smooth, quiet, and vibration-free
The pedals are large, textured, and adjustable; hence, they are accommodative of different foot sizes
17'' stride length
The eddy current resistance system with 24 adjustable levels provides light to difficult workout challenges for users of different fitness levels
12 preset workout programs
4 user profiles for personalized workouts
A recovery function tracks your heart rate health status
HRC program & fitness test
A highly readable backlit LCD monitor that tracks Time, Distance, Calories, Speed, Calories, and Pulse
Speed and Distance units are changeable between mph to km/h and miles to km, and vice versa
Requires minimal maintenance
Not complicated to assemble
Sound system included
USB charging port included
Water bottle holder included
Tablet holder included
Cons
The console is not telemetry-enabled
Not compatible with any online fitness app
The screen of the monitor might be blocked if a tablet device is placed on the holder
Warranty
Lifetime for the Frame
3 Years for the Parts
1 Year for Labor
Product Dimensions & Specifications
Length: 59''
Width: 28''
Height: 65''
Shipping dimensions: 76'' L x 20'' W x 10'' H
Net weight: 132 lbs./60 kg
Gross weight: 141 lbs./64 kg
Maximum user weight capacity: 300 lbs./136 kg
Supported maximum user height: 6'3''
Stride length: 17"
Drive: Belt
Resistance: Eddy Current with 24 adjustable levels
Handlebars: 2 sets (Fixed & Moveable)
Pedals: 22'' x 5.5'' large, textured, and adjustable
Console: Colorful backlit LCD
Frame: Steel
Heart rate monitoring: EKG contact
4 User profiles
12 Preset programs
HRC program & Fitness test
Custom program
Recovery function
Power adapter included
Transport wheels included
Sound system
Tablet and water bottle holders
Transport wheels
Assembly
The GOELLIPTICAL V-450T Elliptical Cross Trainer is not complicated to assemble because the major components are preassembled. Moreover, an instruction that walks you through the process of assembly is included in the package.
It takes up to an hour 30 minutes to completely get it up and running.
If you don't want to get dirty by doing the assembly yourself, you may opt for the expert assembly service which incurs extra cost. This gets someone over to your home to assemble the unit on your behalf without you raising a finger.
Maintenance
No time-consuming maintenance is required, except to always examine the parts to ensure they are in good condition.
You may need to lubricate the pedals and the arms joints if they become squeaky.
Conclusion
The GOELLIPTICAL V-450T Elliptical Cross Trainer is designed for home and gym use.
It is a perfect companion for those that wish to lose weight, improve overall physical fitness, or recover from an injury.
It possesses features that help you to attain your goals. Such features include the eddy current magnetic resistance system with 1-24 adjustable levels, 12 preset programs, recovery function, fitness test, HRC program, and many more.