Just the other day I wrote an article on how to properly do squat, where I also mentioned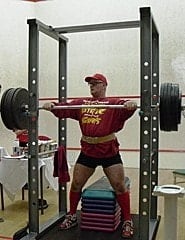 how important and safe it is to have a power rack as one of the equipment to be used when squatting.
I am not trying to overemphasize the importance of a power rack or the role it plays but it is simply a piece of equipment created to make the workout a bit easy and safe. I know you know that that assertion is correct if not you may read how to properly do squat, it will enlighten you.
In as much as we workout to stay fit and build that body, there is also the need to put all safety measures in place to ensure that we achieve the objective of a workout but not to maim ourselves. There are certain things we could do to ensure safety during a workout, one of them is using a good power rack especially when you are using a barbell for squatting or bench pressing. Good gym shoes are also great for your safety because bad shoes could cause injury or not allow you to exercise optimally, as a result, your goal will not be achieved. I hope you are feeling me? Ok, let's move on.
PowerLine PPR200X Power Rack Review couldn't have come at a better time than now. So, we shall look at the PowerLine PPR200X power rack to know the coolest thing about it and the downside as well.
If you are considering adding a power rack to your home gym then PowerLine PPR200X Power Rack might just be the one you need. It is undoubtedly one of the best there is with features you can't just refuse. It is safe to say, ''if you think safety at the gym, think PowerLine PPR200X Power Rack!''.
This power rack is super sturdy that you don't have to worry about weight falling off or worst still falling on somebody and causing serious injury.
It is not all about having just any power rack but a reliable one that you can entrust your safety on, right? If your answer is yes, then PowerLine PPR200X Power Rack might just be an option.
Click right here to have a peek at the price of the PowerLine PPR200X Power Rack on Amazon.
Features/Pros
Convenience is one thing we all want to optimize our workout and this is something you will get when using this power rack because it is spacious enough to give room for side to side movement the dimensions are 44''x82''x46''.
With that kind of space, you can train conveniently with weight. You will be able to squat, bench press (incline or flat), and Shoulder shrugs.
They had safety in mind when designing the PowerLine PPR200X Power Rack because it has two HEAT TEMPERED liftoffs accompanied by two saber-styles SAFETY rods. Its design is such that you can improve on it by getting additional accessories such as barbells and collars that will enable you to do more types of lifts and squats.
When I say it has features/Pros you can't refuse, I didn't just make that up because who will refuse a 10-year warranty for the frame and a one-year warranty on every other part? I guess the manufacturer has shown faith in the product. It is obvious to believe its durability and sturdiness.
PowerLine PPR200X Power Rack

vs the REST
PowerLine PPR200X Power Rack is unarguably better than most power racks out there. Not only it is better, it is equally good for the price. Did you know that the common problem with most power racks is stability? Do you wish to be struggling with the weight each time you want to bale it on the power rack? I guess you said no; then PowerLine PPR200X Power Rack is an option. Nevertheless, let's look at the downside.
Cons
Guess what, there is no serious downside that will put you off because the only problem is that users have complained of the paint coming off which I think is more of a personal problem and inconsequential. Come to think of it, a power rack is not for shows but a workout; can it fulfill that obligation? YES, it can; then I give it a pass mark.
Conclusion
My review is based on facts and personal opinion, you can go ahead to see many of on Amazon by actual users of this product. Understandably, this power rack is the real deal if you are looking for a durable, stable, and convenient power rack.