The Exerpeutic GOLD 500 XLS Foldable Upright Bike, 400 lbs is one of the upright bikes that made it to our list of the best folding bikes. It has a very good approval rating from Amazon customer reviews and no doubt there is something about the bike that appeals to its users and we intend to find out and let you know in this review.
One obvious reason is the fact that this is a modest upright folding bike that can be acquired at a very good price. In other words, it is an entry-level unit that is very affordable and still meets the user's expectations.
Generally, one aspect that users are very pleased with is the quality and sturdiness. One user says he was pleasantly surprised at the sturdy nature of the bike and how stable it is. Well, he should, because it is seen as a cheap upright bike but it officially supports up to 400 pounds/181 kg maximum user weight capacity.  There are very few low budget bikes that support that level of user's weight capacity.
We honestly think that the Exerpeutic GOLD 500 XLS Foldable Upright Bike is simply made to provide decent workouts that could ultimately help you to lose weight, improve physical fitness or overall fitness maintenance.
That said, we are going to look very closely and come up with a comprehensive review of this upright bike, stating the pros and of course the cons as well to help you navigate wisely in your purchasing decision.
If you wish to have a peek at the price of the Exerpeutic GOLD 500 XLS Foldable Upright Bike, 400 lbs click right here.
The Frame/Sturdiness
The Exerpeutic GOLD 500 XLS Foldable Upright Bike's frame is made of high quality, heavy-duty steel. Hundreds of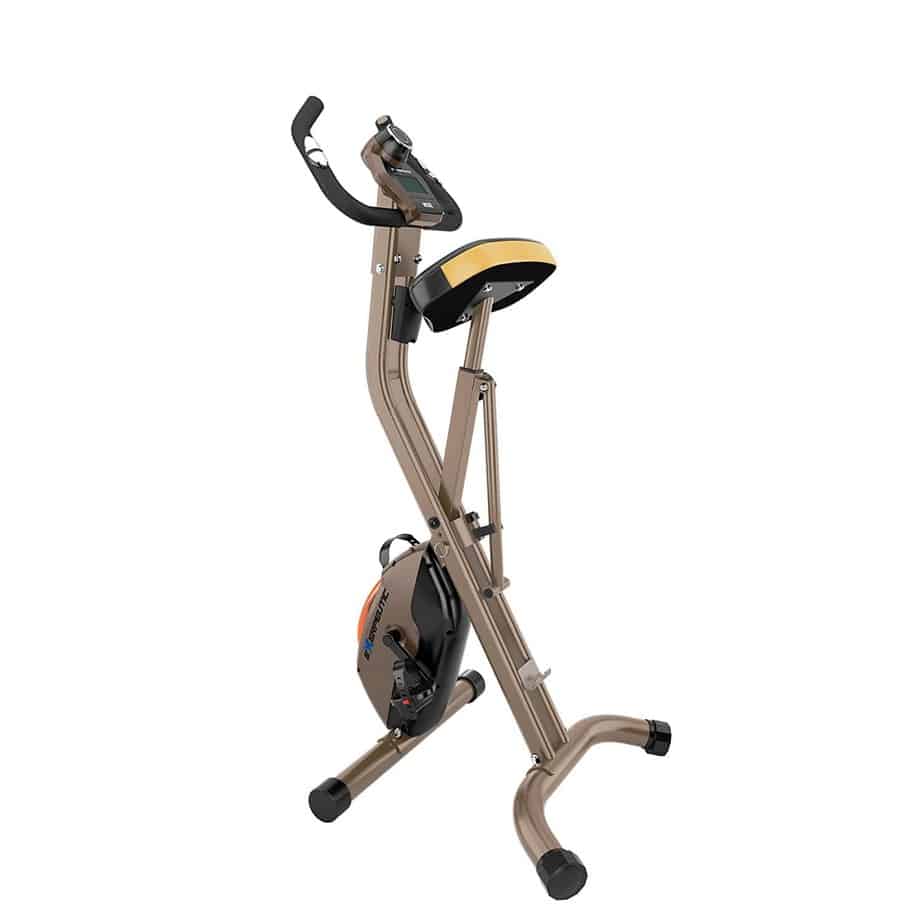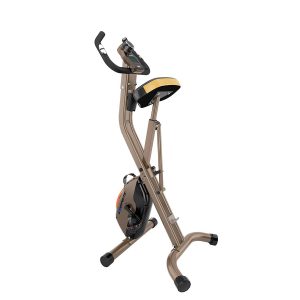 users have agreed to the fact that it adequately supports the official stated maximum user weight capacity of 400 pounds/181 kg and it is not hype.
The Exerpeutic GOLD 500 XLS rarely or have few rivals in its category in terms of quality, sturdiness, and stability.
Speaking of stability, it has an X like shape with a straight stabilizer bar at the front and a curved one at the rear. Both stabilizer bars have rubber caps on each end to protect the floor and prevent slippage. Also, the rubber caps on the front stabilizer bar doubles as transport wheels. It weighs about 51.6 pounds/23 kg which makes it a lightweight upright bike but still significant for stability.
This is a very compact and portable bike that is great for small rooms or apartments because it is foldable, and the fully assembled dimensions are 39 inches long by 26.4 inches wide by 48.4 inches tall. This means a workout area of 3 feet 3 inches long by 2 feet 2 inches wide will be required. However, you will have to consider additional clearance of at least 1 to 2 feet on each side of the bike and the rear end for a safe and comfortable workout experience.
Its design is such that it allows easy mounting and dismounting without any obstruction or restriction.
It is portable because you can simply fold it up and roll it to another location or storage area. The bike even occupies less space during storage because its length size is further reduced when folded. The folded dimensions are 26.4 inches long by 24.8 inches wide by 57.5 inches tall.
The frame is finished with anti-corrosion and scratch paint that prevents the invasion of rusts thus its longevity is preserved.   However, this is an indoor bike meant to be used in-house and not outside because rains and water could damage the console and perhaps the pedaling mechanism.
The idea of placing the upright exercise bike on a rubber mat will certainly consolidate its stability further.
The Seat, Handlebar, and the Pedals
The seat, the handlebar, and the pedals are hardly ignored and are closely inspected or examined by potential buyers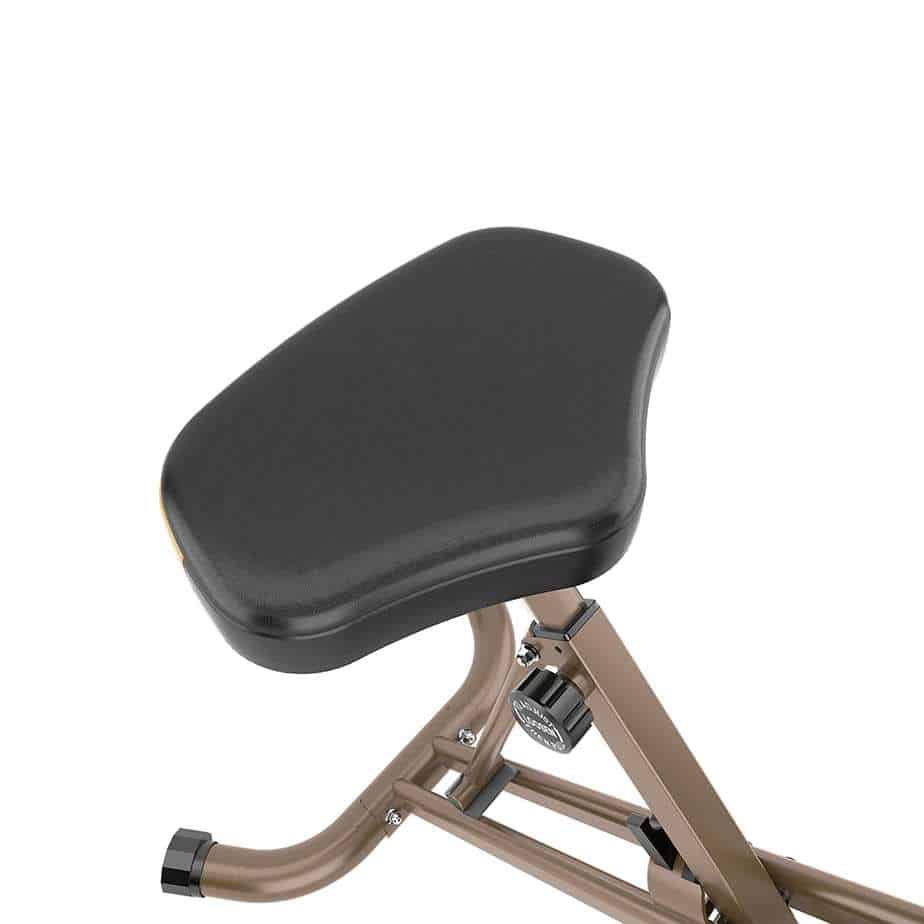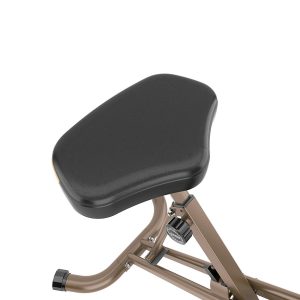 to determine if they are well designed to provide the much-needed comfort during workouts.
This is very true because they are the core elements that either make an indoor bike comfortable or uncomfortable. And so, we are going to find out the status of these elements in the Exerpeutic GOLD 500 XLS Foldable Upright Bike, 400 lbs.
The seat of the Exerpeutic GOLD 500 XLS is fairly large and well padded. The seat is seen as one of the positive sides of the folding bike because it indeed provides comfort to the butt, unlike others that need to be enhanced by using a gel seat cover or a total replacement of the seat with another. (that is if possible).
The design of the seat is simple and flat with dimensions of 14 inches wide by 9 inches long. Just as aforementioned, the seat is generously cushioned with a foam, which coupled with the size provide excellent comfort.
The seat is also adjustable to suit and fit people of different height sizes of 5 feet 1 inch to 6 feet 5 inches.
The seat's adjustability, design, and cushion could have you working out for a longer period because of the comfort and lack of restrictions to the legs.
However, the seat only adjusts 2 ways, that is, upward and downward.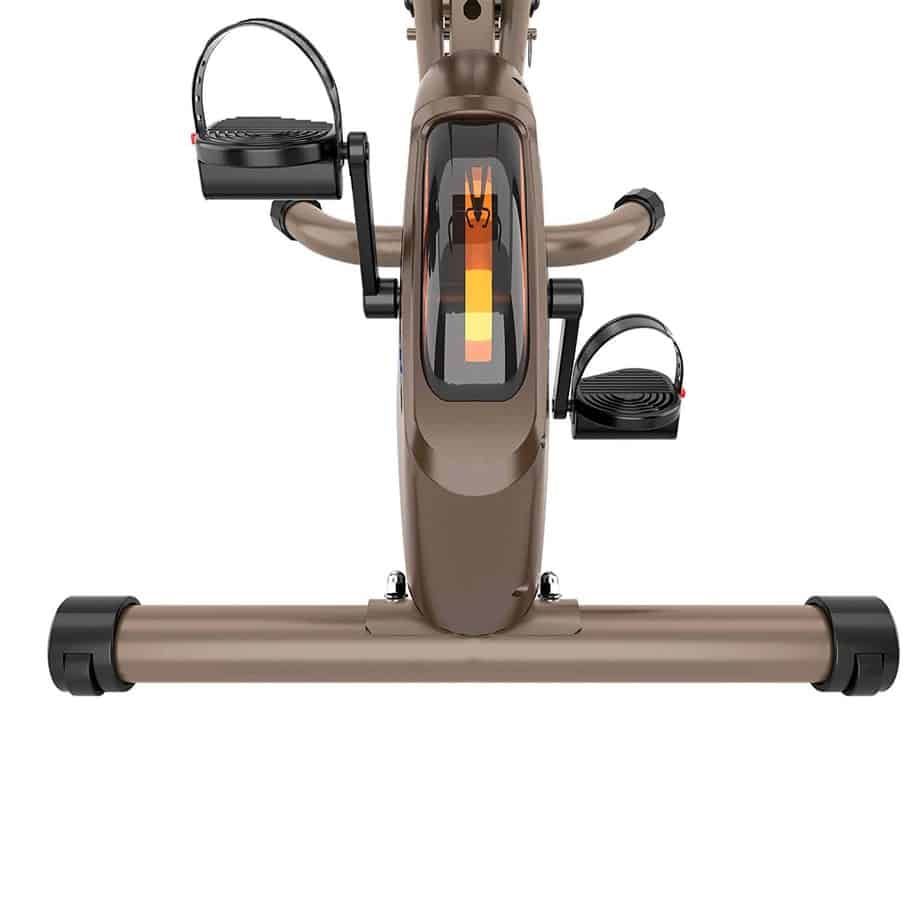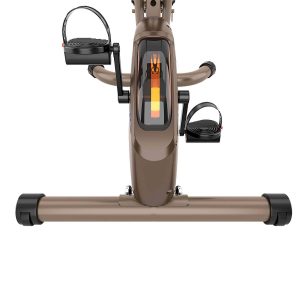 The handlebar is unfortunately not adjustable, but users have not complained about it either.
It is covered with a rubber foam that provides comfort and a firm grip that prevents slippage as a result of sweat in the palms. It also prevents blisters in the palms due to prolonged grip during workouts.
It also features a multi-grip design that allows you to work out in different grip positions. The heart rate sensors are also embedded in the handlebars which are responsible for reading your pulse during workouts.
The Exerpeutic GOLD 500 XLS features a set of machine weighted, self-adjusting large pedals with straps that prevent any sort of foot slippage during exercise. The thread is a standard size which means you can easily find a replacement if need be.
The Drive System
The Exerpeutic GOLD 500 XLS Foldable Upright Bike, 400 lbs features a belt drive system just like the case with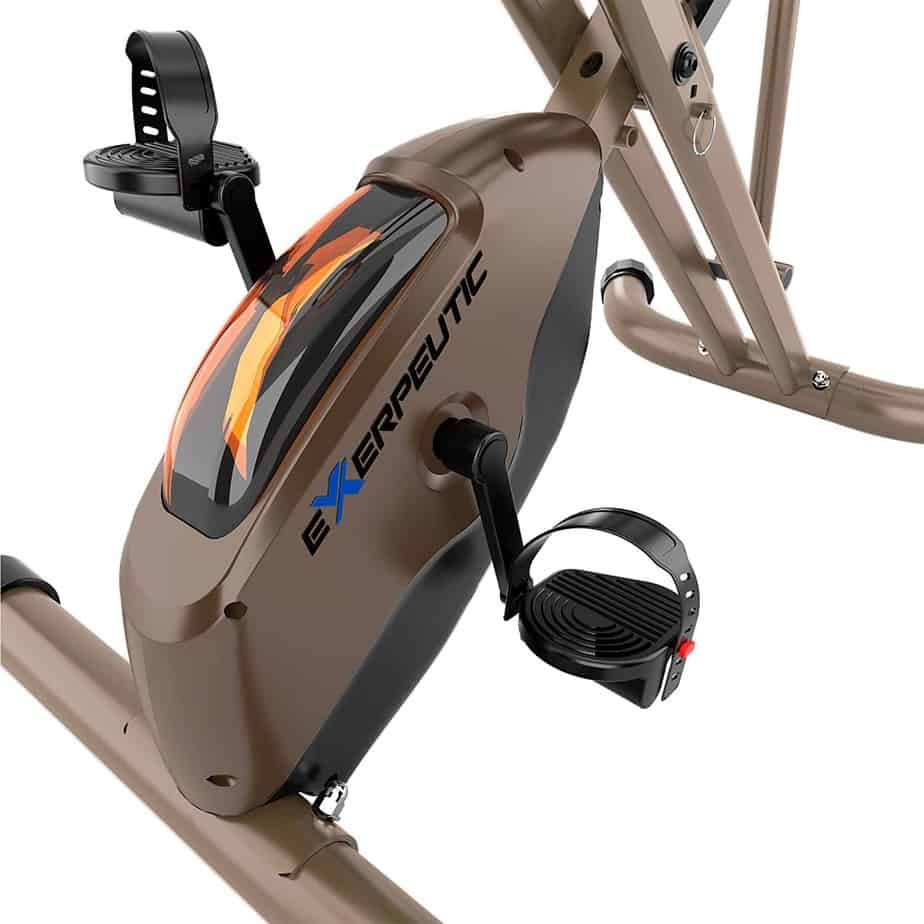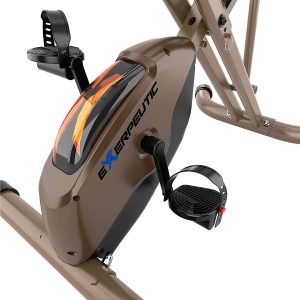 most spin bikes.  This drive system is famously known for its smooth and quiet operation. Thus,
it is then an ideal indoor upright bike for home use because you are not going to bother the family or neighbors with noise while working out.
Looking at the drive mechanism you can easily tell that it has a small flywheel that is encased in plastic covers.
Other elements that make up the drive system aside from the flywheel is a heavy-duty V belt that is immune to stretching out of alignment, this will last longer without the need for replacement or maintenance.
The V belt is the core factor that is responsible for the smooth and quiet operation of this unit.
The drive system also consists of a 3 piece high torque cranking system that compliments the other elements so that the desired smooth and consistent pedaling is achieved. The quality of the crankset is so solid that it could support stand up pedaling but that will be awkward to perform on a folding exercise bike such as the Exerpeutic GOLD 500 XLS Foldable Upright Bike because its design is quite different from that of the cycling/spinning bikes that are usually used for that variety of workout.
For safety reasons, we suggest that you don't even try to perform stand up pedaling because upright bikes are not designed for that and besides we can't also imagine a 400 pounds/181 kg user standing on the pedals while exercising vigorously.
The Resistance System
The Exerpeutic GOLD 500 XLS Foldable Upright Bike, 400 lbs features a manual magnetic resistance system that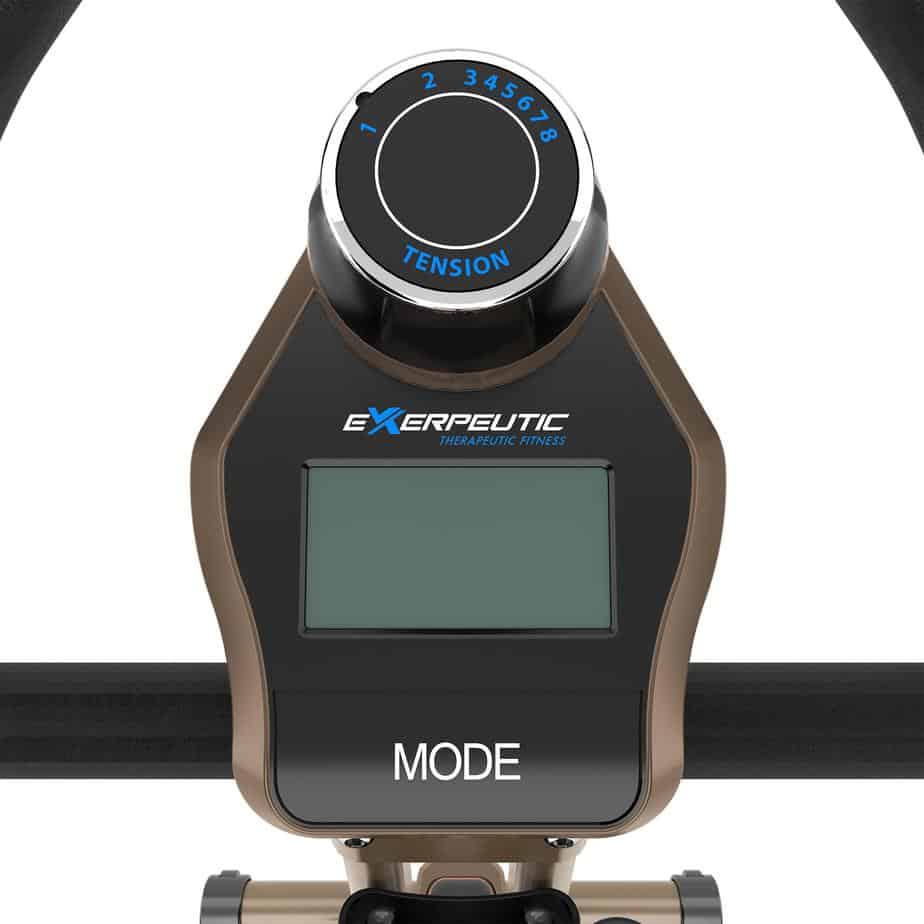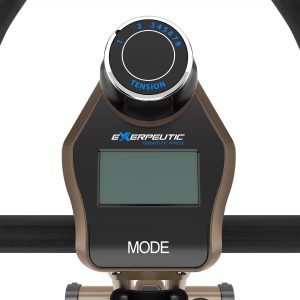 consists of a magnetic brake pad and a small flywheel. The magnetic brake pad is connected to the resistance adjustment knob through a tension wire.
So, when this resistance adjustment knob is twisted clockwise to levels 1 to 8 the resistance changes incrementally but when reversed it decreases the resistance effect.
Technically, the magnetic brake pad gets close to the flywheel when the resistance adjustment knob is turned clockwise thereby generating some level of resistance and when it is turned anticlockwise the magnetic brake pad gets farther away from the flywheel thus reducing the resistance effect.
There are 8 levels of resistance available on the Exerpeutic GOLD 500 XLS Foldable Upright Bike and they are indicated on the tension knob so that you can easily choose the preferred level that is suitable for you.
This also means that you can keep track of your workout progress by comparing the highest resistance level you used in your previous workout session to the subsequent workout session to determine if your strength endurance level is being improved.
The resistance 1 to 8 levels should be able to provide light to medium challenge workouts. The highest level resistance does not provide the difficult workout a strong user would expect. In other words, this is not the bike for people that wish to experience extremely challenging workouts.
The tension knob is easy to turn and use. We also discovered that there are individuals who are concerned if they can turn off the resistance entirely because of a health condition such as a stroke. Well, just as aforementioned, a stroke patient that is undergoing physiotherapy can use the bike and turn the resistance dial all the way down to resistance 1 which will be just fine.
If you have a medical condition and were instructed to use an upright bike we will suggest that you look up the Sunny Health & Fitness SF-B2721 Comfort XL Folding Recumbent Bike because its semi-recumbent design will be of great help for easy recovering.
Overall, its users are impressed by the function of the resistance and the simple and easy design of the tension knob.
The Console
Being that the Exerpeutic GOLD 500 XLS Foldable Upright Bike is a basic and entry-level upright bike one won't be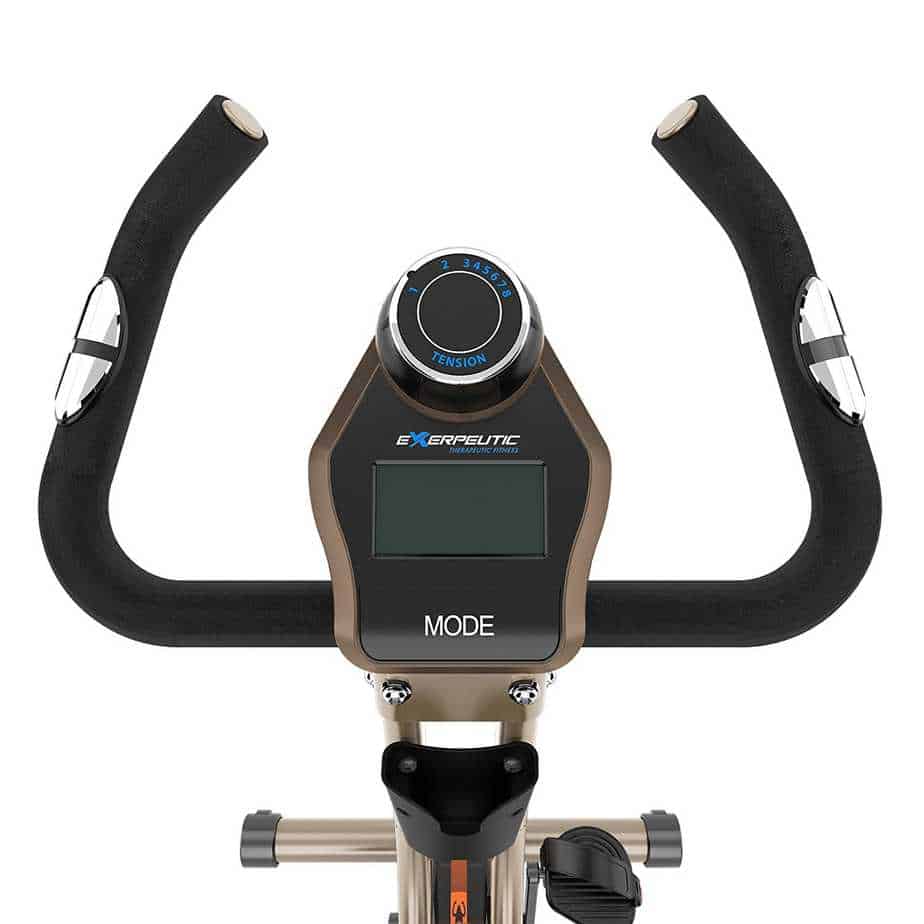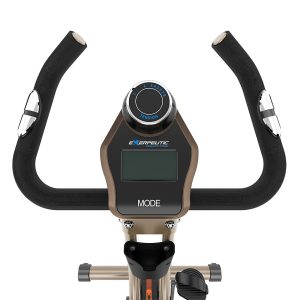 surprised that it comes with a basic console as well.
That's right, the console doesn't have the extra features such as preset programs app but sure provides enough workout data to help you understand your workout progress.
The console has a monitor that tracks time, calories burned, distance, speed, scan, odometer, and pulse. The odometer is valued by many users because it saves the accumulated traveled distance, while you should be able to observe your heart rate in real-time which enables you to maintain your target heart zone at all times.
To be able to view your heart rate on the monitor you have to firmly grip the heart rate sensors on the handlebars so that your pulse rate could be transmitted to the monitor.
The console is situated right in the middle of the handlebars, a position that is great for clear visibility. The display or the numbers are large enough to read without having to strain the eyes. Nevertheless, the clarity and data visibility could be compromised if used in a room that is poorly lit because it is not backlit.
The values are indicated one at a time on the monitor; the only MODE button is used to select the value you wish to view at a given time, or you could use the SCAN function to have the whole value display rotationally after every 4 seconds.
The console will ordinarily keep and accumulate your workout results; therefore if you wish to clear the results and start afresh then you need to press and hold the MODE button down for this to happen.
The ability for the console to retain your workouts result is advantageous because if you wish to get off the bike momentarily and still come back and start-up, where you left off, is possible and if you don't need the data anymore you clear them by just pressing down the MODE button down.
It doesn't keep records of your workouts though if you need them you have to keep them manually for tracking and comparison purposes so that you will know how well you are doing on achieving physical wellness.
The console is powered by 2 AA batteries which are included. It doesn't need to be plugged into a wall socket or any power outlet to function. Just like many consoles out there, it powers down when there is no activity on the bike for a few seconds and it turns on when activity returns.
Accessories
The Exerpeutic GOLD 500 XLS Folding Upright Bike does not have many accessories but does have a phone holder where you could keep your smartphone and listen to good music while you workout. The position of the phone holder is right in front of you, between your legs and can easily be accessed, unlike some bikes that have their phone or tablet holder awkwardly placed.
Storage
The Exerpeutic GOLD 500 XLS Foldable Upright Bike, 400 lbs is storage-friendly for many reasons. First of all, it is a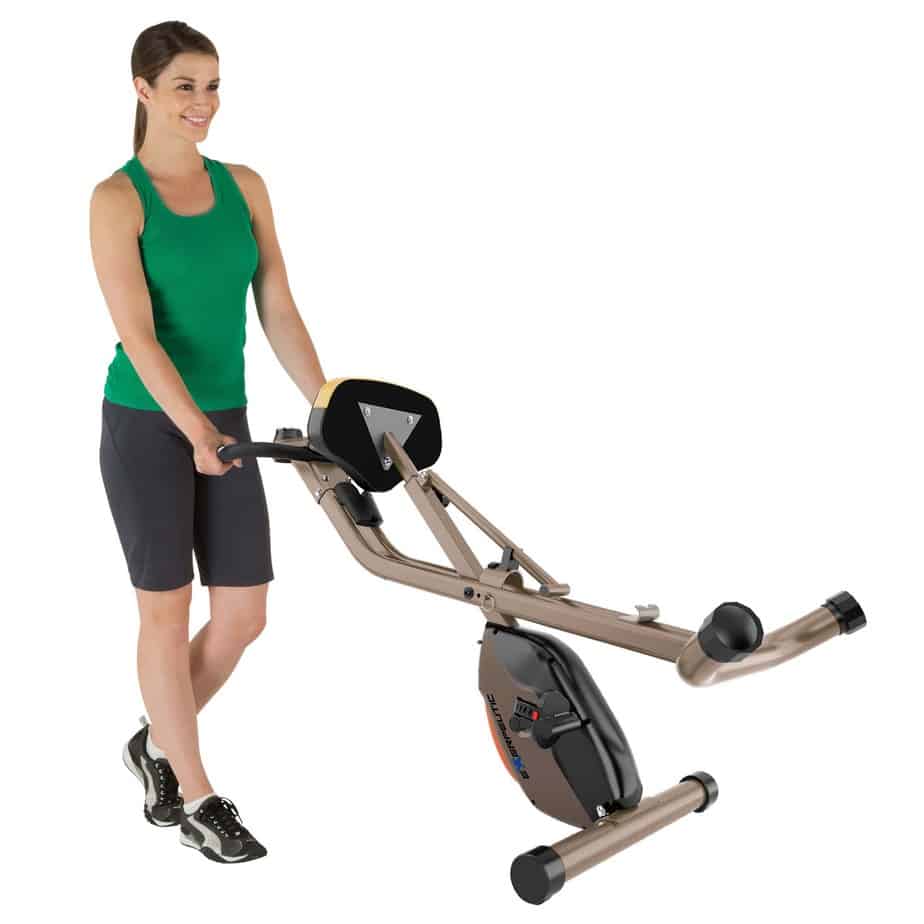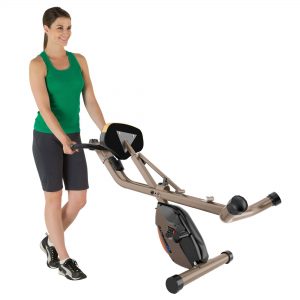 very compact bike with a small footprint, then second of all, it is foldable, which means you can easily fold it up and store it away when you are done using it.
The fully assembled dimensions are 30 inches long by 24.8 inches wide by 57.5 inches tall, while the folded dimensions are 26.4 inches long by 24.8 inches wide by 57.5 inches tall. So, it is space friendly while in use and also storage-friendly.
Moving or relocating it is also a no problem because it is a lightweight unit that weighs about 51.6 pounds/23.4 kg so it cannot overwhelm anyone that is an adult. Besides, it is also integrated with transport wheels at the front stabilizer bar for easy roll away.
Approval Rating
The approval rating is a very important factor in determining if a given product is popular or not.
In the case of the Exerpeutic GOLD 500 XLS Foldable Upright Bike, 400 lbs, it has a very impressive and positive approval rating. The majority of its users have expressed satisfaction and have indicated that they are willing to recommend it to others.
At the time of this review, there are over five hundred Amazon customer reviews available and the overall approval rating is still at 4.3 out 5. This is simply telling you that you won't be disappointed if you decided to purchase the bike.
Pros/Features Overview
Frame solidly and sturdily made
It supports a higher maximum user weight capacity of 400 pounds/181 kg
Integrated with front and rear stabilizer bars for maximum stability
It is very affordable
It has a 3 piece cranking system that is solid with a flywheel that provides smooth, and consistent operation
It features a belt drive system that does not need maintenance and provides quiet operation
The seat is large and well padded for comfort
The seat is adjustable; this makes it possible for the different sizes of individuals between 5 feet 1 inch to 6 feet 5 inches to be accommodated
Can easily mount and dismount from the bike
Large pedals and straps to secure the feet from slippage
The handlebar has a multi-grip design that enables you to work out in different postures
The handlebar is covered with a rubber foam material that provides comfort and firm grip
The unit features a basic console with a monitor that still displays useful workout data such as time, calories burned, odometer, SCAN, distance, speed, and pulse
Manual magnetic resistance system with 8 levels
Foldable design for easy storage with transport wheels for portability
Easy to assemble
Phone holder included
Cons
Even though the metrics displayed by the monitor is clear and large, it could be compromised when used in a poorly lit room because it is not backlit
The console is very basic and cannot record previous workout data for future reference, you have to do so manually
The resistance is not extremely difficult, thus not great for professional athletes or people that wish to engage in challenging workouts.
Product Dimensions and Specifications
39'' Length
26'' Width
48'' Height
26'' Length (folded)
25'' Width (folded)
58'' Height (folded)
Weight: 51.6 pounds/23.4 kg
Supports up to 400 pounds/181 kg maximum user weight capacity
3 piece cranking system
Foldable
Belt drive system
Manual magnetic resistance system with 8 levels
Digital monitor
2-way adjustable seat
Warranty
1 Year on Frame
90 Days on Parts
Shipping, Assembly, and Maintenance
Shipping
The Exerpeutic GOLD 500 XLS Foldable Upright Bike, 400 lbs are shipped delivered in a box that is not so heavy.
While the shipping cost is determined by the retailer you are purchasing from; however, some vendors such as Amazon provide free shipping.
Assembly
The assembly of the Exerpeutic GOLD 500 XLS Folding Upright Bike is very easy as it comes with its major components preassembled.
You only need to attach the handlebar, the console, the front and rear stabilizer bars, the seat, the pedals to the frame, and then connect the tension and the pulse wires accordingly.
It could take an average skilled person not more than 30 minutes to completely put together.
Also, it is accompanied by an instruction manual that could walk you through the process of assembly and tools required are included as well.
Maintenance
The Exerpeutic GOLD 500 XLS Folding Upright Bike features a belt drive and magnetic resistance systems, therefore these elements make it almost maintenance-free.
That being said, you need to always examine the bike for any loose, worn, or broken parts or parts and fix accordingly if there is any before use. Also, wipe the bike regularly and keep it clean from dirt and sweat.
Conclusion
The Exerpeutic GOLD 500 XLS Foldable Upright Bike 400 lbs is a modest and recommendable folding upright bike that is well received by its users.
It will suffice to say that it has a value-oriented price that anyone will be happy to invest without regrets.
However, be sure of the type of workouts you wish to perform and experience; for instance, if you are looking forward to performing extremely difficult workouts then this bike is simply not for you. It is for beginners, intermediaries, and clinical recovery purposes.
We hope that the Exerpeutic GOLD 500 XLS Foldable Upright Bike, 400 lbs Review has been helpful in your quest to find the best and affordable folding upright bike.
[rank_math_rich_snippet]