First of all, the Sunny Health & Fitness ASUNA 8730 Treadmill has some similarities with the ANCHEER 2-in-1 Folding Treadmill. However, it can't be used as an under-desk treadmill.
That said, the ASUNA 8730 Treadmill has a slightly powerful 2.5 peak horsepower motor than the ANCHEER Folding Treadmill and also has a more spacious 49 inches long by 17.7 inches wide running deck.
The smooth and quiet motor provides a speed range of 0.6-8 mph.
Converting this treadmill in and out of storage mode is pretty easy, convenient and takes only a few seconds. Its slim 4.5 inches thick deck allows you to use and store it almost anywhere. For instance, once the masts and the handlebars are collapsed it could be stored under a couch.
Users that weigh up to 220 pounds/99.7 kg can walk, jog, and run on this treadmill. However, it doesn't support an extreme running workout and very tall individuals may not be able to run with full strides.
It is integrated with an LCD LED monitor that tracks time, distance, speed, and calories burned.
This unit is released in 2019, and obviously by Sunny Health & Fitness. It has garnered a lot of positive reviews on Amazon at the time of this write-up.
Click right here to have a peek at the price of the Sunny Health & Fitness ASUNA 8730 Treadmill on Amazon.
The Frame and Construction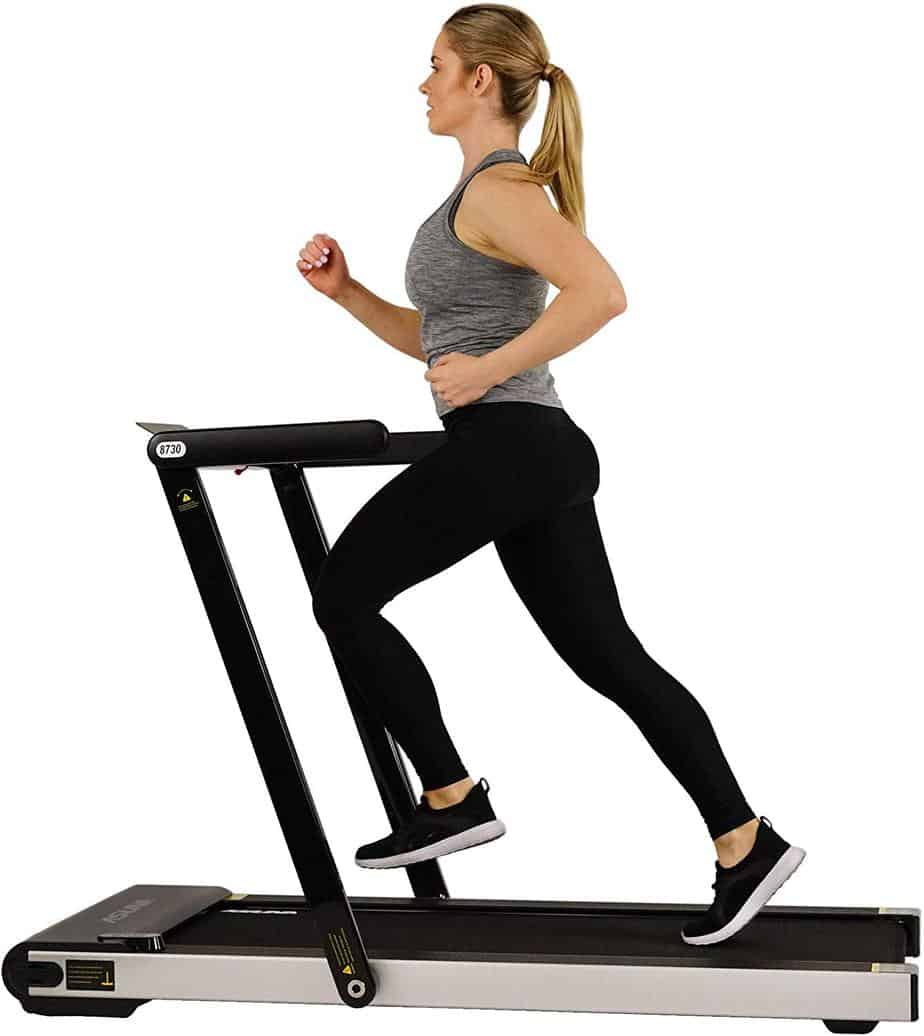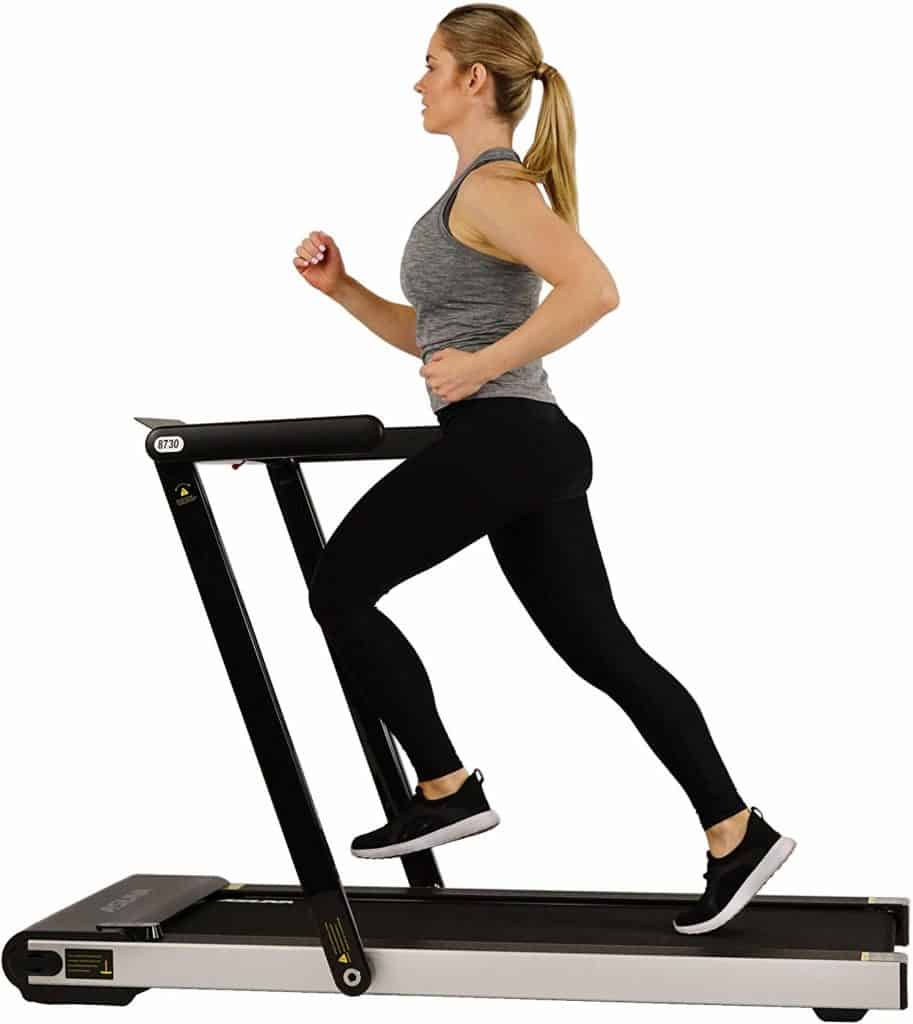 The Sunny Health & Fitness ASUNA 8730 Treadmill is constructed to be foldable and portable. As aforementioned, its foldable design allows a user to fold and store in most unlikely places such as under the bed or the couch.
The frame is made of durable steel that is coated with anti-corrosive paint, while the side deck covers are made of aluminum. Therefore, they are not going to be degraded in quality over the years by rust.
There is a large rubberized ABS plastic guard rail on each side of the running deck upon which users can rest their feet when they wish to stop exercising without turning the treadmill OFF.
The treadmill weighs 108 pounds/48.9 kg when it's in the box, meaning two persons will be required to carry it to the assembly destination. It weighs 95 pounds/43 kg once it's completely assembled and can easily be moved around by one person with the help of the incorporated transport wheels at the front base.
When fully assembled, the treadmill is not extremely large. It has overall assembled dimensions of 59" long by 30.5 inches wide by 40 inches high, and when folded its dimensions become 64" inches long by 30.5 inches wide by 4.5 inches high.
Therefore, the workout area perimeter required for the Sunny Health & Fitness ASUNA 8730 Treadmill would be 5'4" in length by 2'6" in width. Also, additional extra clearance of 3′ at the rear and 2′ on each side of the treadmill become imperative due to easy access and safety reasons.
Shock absorbing elements are integrated into the running surface so that when a user exercises on it the impact usually felt on the joints would be extremely reduced.
The Motor
Sunny Health & Fitness ASUNA 8730 Treadmill is equipped with a powerful 2.5 peak horsepower motor. The motor's capacity is sufficient enough to provide the needed drive that supports walking, jogging, or light running activity of a 220 pounds/99.7 kg user.
Differently put, the motor doesn't overheat or break down during a prolonged workout.
The operation is smooth, quiet, and vibration-free, thanks to the incorporated small flywheel at the front part of the base.
However, when running on the highest speed of 8 mph, your cadence may be heard but not enough to constitute a nuisance or prevent you from watching your favorite TV show or listening to music.
The motor provides a speed range of 0.6-8 mph. The speed can be adjusted gradually or quickly. This means that there are 4 buttons on the console; 2 buttons allow you to increase (+) or decrease (-) the speed gradually by 0.1 mph, while the other 2 buttons allow you to quickly adjust the speed substantially by 2 and 4 mph. Moreover, when any of the gradual speed buttons are pressed and held down, it increases or decreases fast and continuously as long as it is held down.
Of course, the treadmill needs to be plugged into an electrical outlet in order to be operational but doesn't consume a lot of power since the motor is not extremely powerful.
The Incline
The Sunny Health & Fitness ASUNA 8730 Treadmill does not have an incline system and the absence of it is not unusual.
We have observed users suggesting if they could elevate the front part of the treadmill in order to create an incline; no, it is not advisable because it's designed to be kept on a solid even floor or surface.
The Console
The console on the Sunny Health & Fitness ASUNA 8730 Treadmill is pretty small. It has an LCD monitor that features 4 LED displays for distance, time/step, speed, and calories burned.
Therefore, all the workout stats can be viewed simultaneously. However, the time and the step count alternate, with each one displaying for 5 seconds before changing to the other.
Its readability is pretty good; the display can be seen crystal clear even in a dark room.
The console also has 4-speed buttons which were explained earlier in this article and an emergency key that is designed to be clipped on the cloth a user is wearing so that when he/she accidentally trips while exercising the treadmill turns OFF automatically.
Other notable features on the console are the tablet holder, speakers, and 3.5 mm auxiliary port. These elements enable a user to connect and use a tablet device for entertainment purposes during a workout session.
That said, the console is not Bluetooth enabled, not telemetry enabled, has no workout goal setting, and no preset workout programs. There are no EKG heart rate sensors either, meaning no heart rate monitoring function.
So, if you wish to observe the heart rate in order to exercise and maintain your target heart rate zone, then you must consider using an external heart rate monitoring device.
Storage

The storage of the Sunny Health & Fitness ASUNA 8730 Treadmill is hassle-free. Its space-saving design enables the console masts and the handlebars to be collapsed.
The integrated transport wheels facilitate moving it from the workout area to storage.
When folded, its height becomes 4.5". So, it can be stored in unlikely places such as under the bed or even the couch.
Accessory
As aforementioned, the treadmill has a foldable tablet holder that is large enough to securely accommodate a large tablet device. It also has a sound system that consists of speakers and an auxiliary port which enables you to connect a tablet device and listen to music via the built-in speakers.
Pros/Features Overview
Innovatively designed; console masts and handlebars are foldable and can be stored under the bed
Sturdy and durable
The running deck is cushioned with shock absorbing elements that reduce the impact on the joints
It supports a maximum user weight capacity of 220 pounds/99.7 kg
Transport wheels are integrated into it for easy relocation and storage
The LCD monitor has 4 LED displays for time/step, distance, speed, and calories burned
The 2.5 peak horsepower motor is near-silent and smooth during operation
The motor provides a speed range of 0.6-8 mph
Gradual (0.1 mph) and quick (2 and 4 mph) speed selection buttons available
Large and textured side rails for a quick exit from the running deck
Emergency key included
A small flywheel is included to reduce vibration during operation
A foldable tablet holder is included
Built-in speakers are included
A 3.5 mm auxiliary port and the cable are included
98% pre-assembled
Low maintenance
The warranty is great
Cons
No heart rate monitoring function
No water bottle holder
No preset programs
No incline
Warranty
5 Years on Frame
180 Days on Parts
Product Dimensions and Specifications
Length 59"
Width 30.5"
Height 40"
Folded dimensions: 64" L x 30.5" W x 4.5" H
Running deck dimensions: 49" L x 17.7" W
Shipping weight: 108 pounds/48.9 kg
Assembled weight: 95 pounds/43 kg
Maximum user weight capacity: 220 pounds/99.7 kg
Motor: 2.5 Peak horsepower
Speed: 0.6-8 mph
Console: LED monitor displays time/step, distance, speed, and calories burned
Transport wheels included
Built-in speakers: Yes
Auxiliary port and cable: Yes
Tablet holder: Yes
Water bottle holder: No
Shipping
If the Sunny Health & Fitness ASUNA 8730 Treadmill is purchased from Amazon, you will be given free shipping, and delivery is made within days and it's shipped out in a box that weighs 108 pounds/48.9 kg.
Assembly
This treadmill is delivered almost pre-assembled. All you need to do is to get it out of the box, remove the lock key from the console masts and unfold them to an upright position and lock them in. The handlebars are already attached; just pull them in a counterclockwise fashion to have them positioned in place.
Maintenance
The unit requires low maintenance because it's pre-lubricated from the factory. Although, a bottle of lubricant oil comes with it which is expected to be used for future lubrication of the tread belt.
You also need to make sure that the tread belt is always clean at all times to avoid dirt or debris from causing harm to it.
Conclusion
The Sunny Health & Fitness ASUNA 8730 Treadmill has its highs and lows. We think that its downside is being outweighed by its upsides. Therefore, it will suffice to say that it doesn't really have any deal-breaker.
Its slim folding design, convertibility, and flexibility make it one of the best treadmills for home use.
[rank_math_rich_snippet]