The Sunny Health & Fitness ASUNA 7750 Folding Treadmill has a state-of-the-art modern-day design even though it was released at the end of 2017. Its folding design allows the user to store in very small storage space as the console masts, and the handlebars can be collapsed over the deck.
Although, it can be folded until it becomes almost flat but that doesn't mean it can also be used as an under-desk treadmill.
It has ergonomically designed handlebars only a few treadmills can boast of. There are 2 sets actually; the protective handrails and the inverted handlebars that have the EKG sensors, incline, and speed buttons integrated into them.
The integrated 2.5 horsepower motor provides the speed (0.6-8 mph) required for walkers, joggers, and light runners. The running deck space (51'' L x 19'' W) is decent for a treadmill of this category.
The treadmill supports a maximum user weight capacity of 220 pounds/99.7 kg, and it's equipped with a motorized incline system that offers 12 levels. There are 12 programs that include 8 preset workout programs, 1 manual, and 3 user customizable programs that enable the user to diversify the workout experience and ultimately achieve fitness goals.
Click right here to have a peek at the price of the Sunny Health & Fitness ASUNA 7750 Folding Treadmill on Amazon.
The Frame and Construction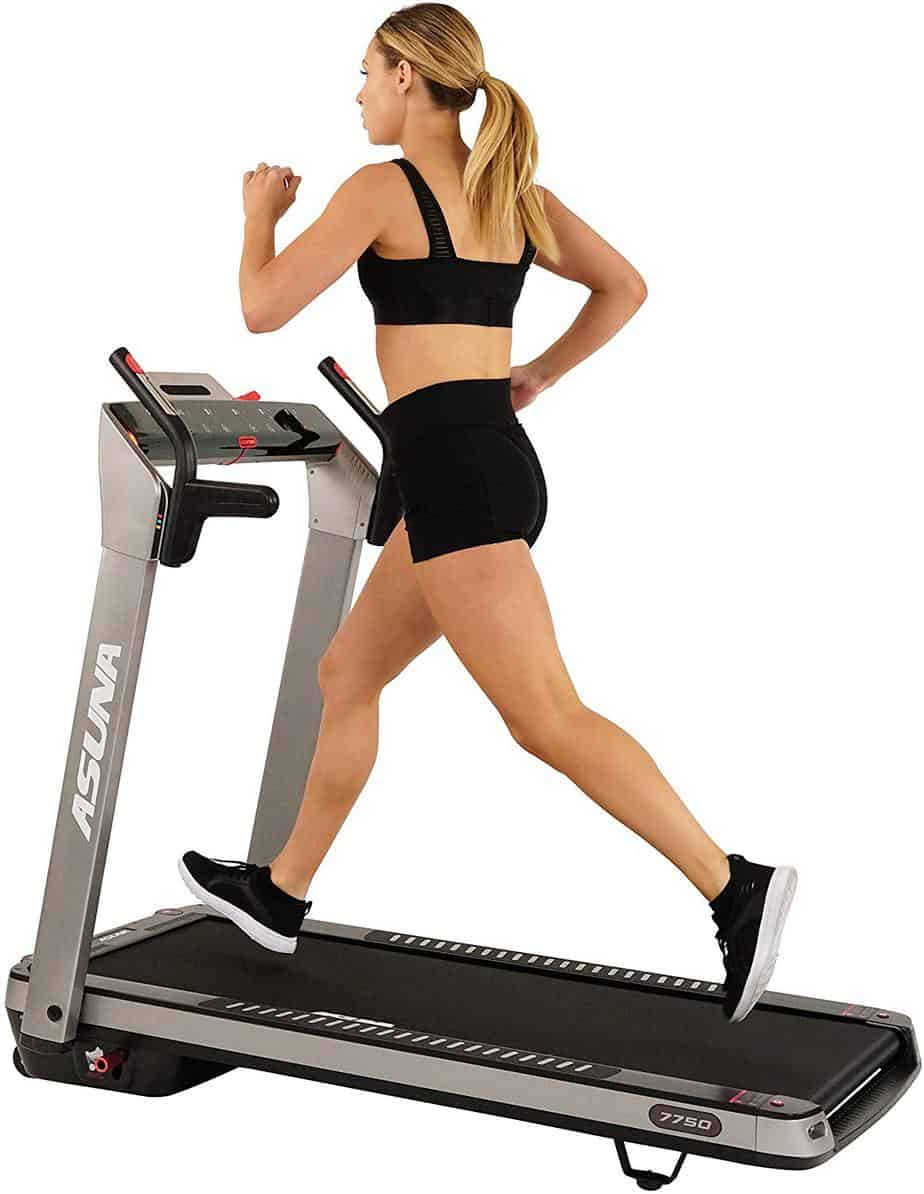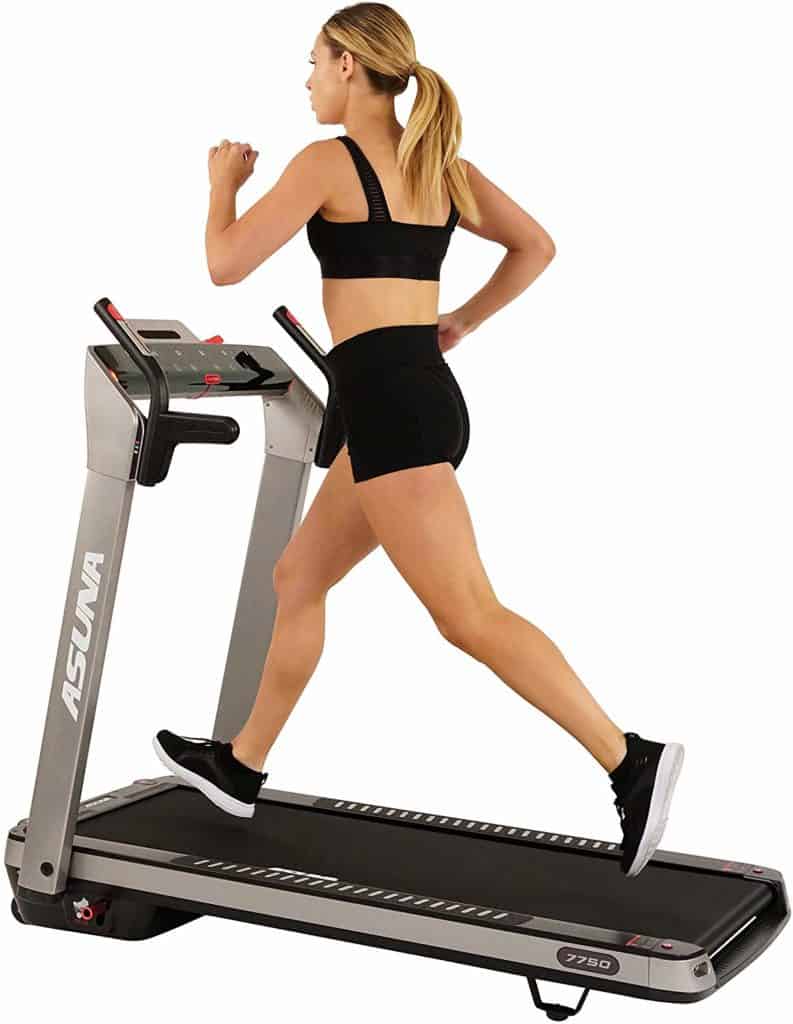 The Sunny Health & Fitness ASUNA 7750 Folding Treadmill is equipped with a rust-resistant coated steel frame. It is not as large as many treadmills out there and it gets even smaller when folded up.
It doesn't have a hydraulic-cylinder folding system as the Sunny Health & Fitness SF-T7873 and the SF-T7909 where the deck has to be raised up to fold. But on the contrary, the console masts along with the console and the handlebars are collapsed over the deck.
The overall assembled dimensions are 57 inches long by 29.5 inches wide by 48 inches high. Basically, a workout area with a perimeter of 4'8'' length by 2'5'' width can accommodate the treadmill. However, additional extra clearance of 2' on each side and 3' at the rear part of the treadmill will be necessary so that the user can easily access and train safely.
The folded dimensions of the treadmill are 12 inches D by 33 inches W by 59 inches high.
Each side of the textured rail deck surface is made of ABS material. Consequently, they provide enough room and stability for the feet each time the user decides to step on them for a break from working out without having to turn OFF the treadmill.
The treadmill has a robust base that features adjustable rubberized stabilizers which guarantee the absence of wobbling during a workout. It weighs 127 pounds/57.6 kg which also grounds and further ensures unwavering stability.
It will require two persons to move it when it's still in the box as it weighs about 140 pounds/63.5 kg. But when it is fully assembled, a person can easily and conveniently move it from one room to another with the help of the integrated transport wheels at the front base.
The running deck design includes 3 shock-absorbing elements that are responsible for reducing the impact that is felt on the joints while jogging or running. Therefore, training on this treadmill is definitely a better experience than doing so outdoors on asphalt or a concrete road.
The Motor
The Sunny Health & Fitness ASUNA 7750 Folding Treadmill has a 2.5 horsepower motor. The same capacity as the one on the MaxKare Treadmill.
The motor is powerful and adequate enough to provide the drive needed for users up to 220 pounds/99.7 kg to perform walking, jogging, and light running exercises. In other words, it won't fail or overheat during a prolonged workout session.
On the other hand, the motor won't generate a high electricity bill as a treadmill with a 3.5-4 horsepower motor could.
It offers a speed range of 0.6-8 mph, which can be adjusted gradually by an increment of 0.1 mph. This enables the user to gradually increase or decrease the speed to a tailor-made pace that is suitable. The gradual adjustment keys are situated on the right side of the inverted handlebar so that a user can make adjustments on the fly.
There are also 2 quick speed buttons (3 mph & 5 mph) on the console that allow the user to quickly make a substantial change of speed.
The motors operation is smooth and almost silent. Thus, it won't be a problem when exercising on the treadmill around the family or the neighbors. Neither does it prevent or interfere while watching the TV or listening to music.
Of course, the cadence could be heard when doing 8 mph but not enough to constitute a nuisance.
The Incline
The ASUNA 7750 Treadmill is equipped with a motorized incline system that could be adjusted to 12 levels that range from 2-5 degrees. Admittedly, it may not be as high as some treadmills offer but it does provide some level of difficulty during a workout.
Since the incline system is motorized, it also means it needs to be plugged into a power source before it can be functional.
The incline also has gradual adjustment keys/buttons on the left side of the inverted handlebar. These allow the user to increase or decrease the incline by 0.4%. While on the console, there are 2 quick adjustment keys for incline. These represent a 3 level and 5 level incline adjustments.
The Console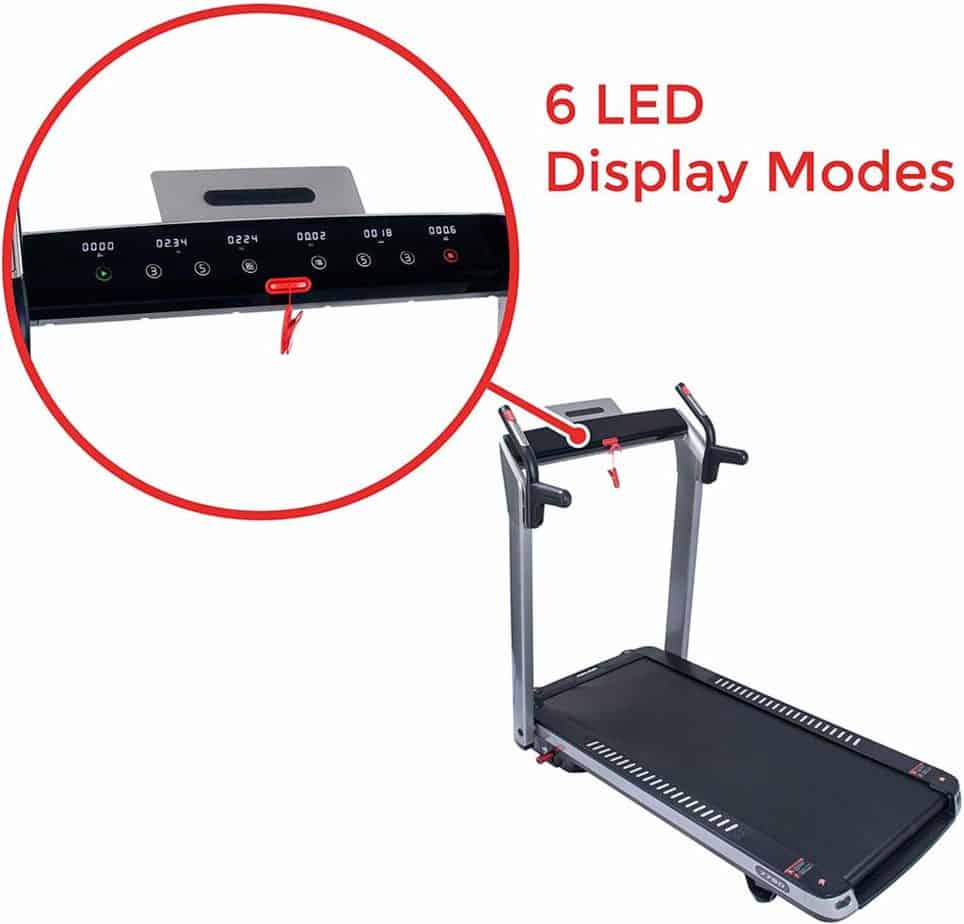 The console on this treadmill features a digital LED screen that includes 6 displays that track the incline, heart rate/calories, time/program, distance/mode, speed, and step count. The displays essentially keep the user up to speed with workout progress info. Thus, the user remains focused and motivated towards achieving weight loss, improving cardiovascular health, and strength goals.
There are other features on the console which include several buttons for Start, Stop, Mode, Incline, and Speed quick adjustment buttons.
As aforementioned, there are 3 and 5 mph quick speed buttons and 3 and 5 levels quick incline buttons. Users have access to 9 preset programs and 3 customizable programs that are designed for specific fitness goals; such as an intense cardio workout for a healthy heart, weight loss, improving endurance, and more.
When any of the preset programs is selected, a certain speed limit and incline level are assigned automatically. The 3 customizable programs allow the user to create their own workout program by entering the desired time, distance, and incline.
The display screens are very crystal clear that they could be viewed even in a poorly lit room.
Other features on the console that are worthy of mentioning are the accessories. These include the 2 built-in speakers (one on each side of the console), the USB and auxiliary port that allow a device to be connected for charging and listening to music via the speakers, and the foldable tablet holder that is well designated above the console and can securely accommodate any tablet device.
The console is not telemetry enabled (not wireless compatible with any heart rate chest strap), however, there are contact sensors on the handlebars that transmit the pulse data to the monitor when held during a workout.
Storage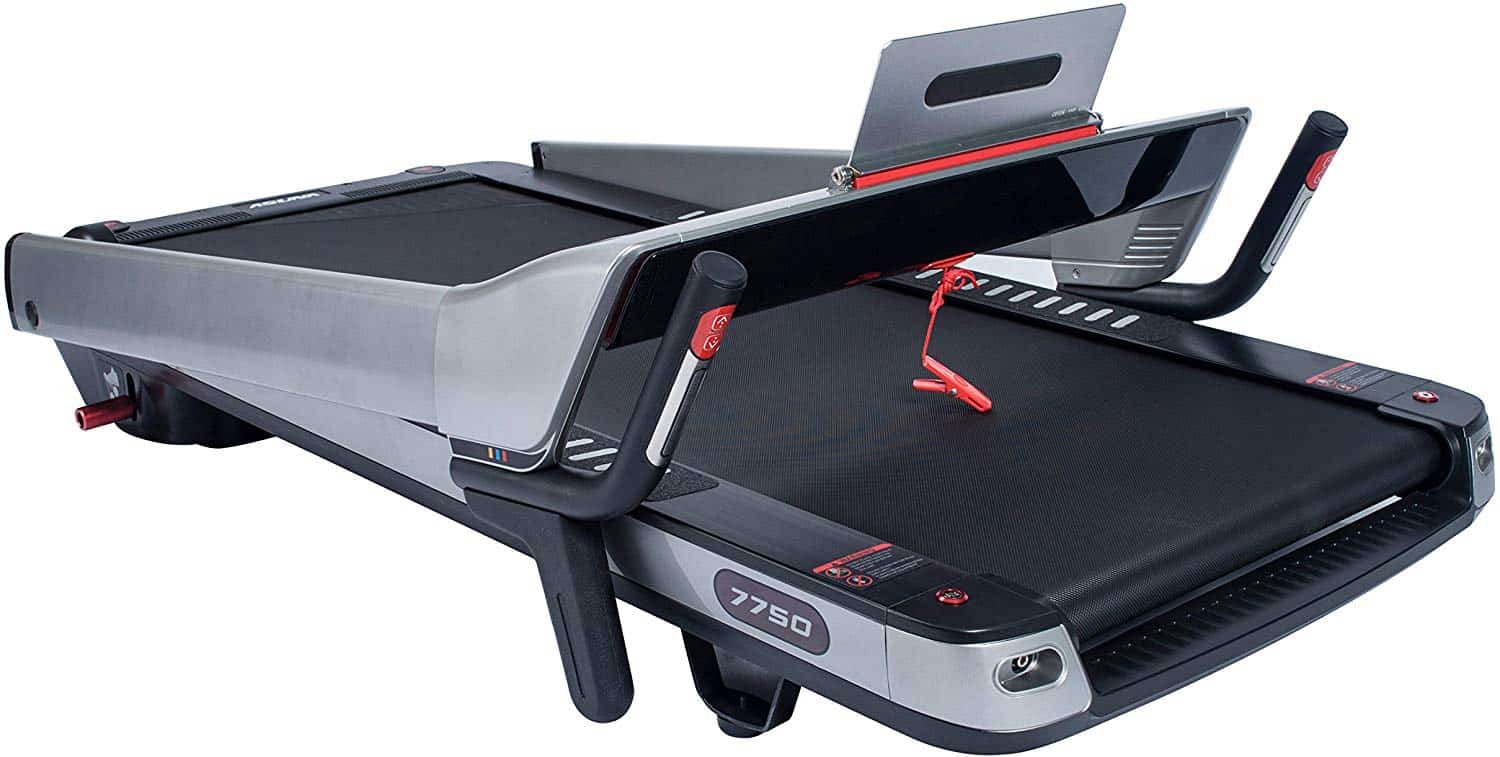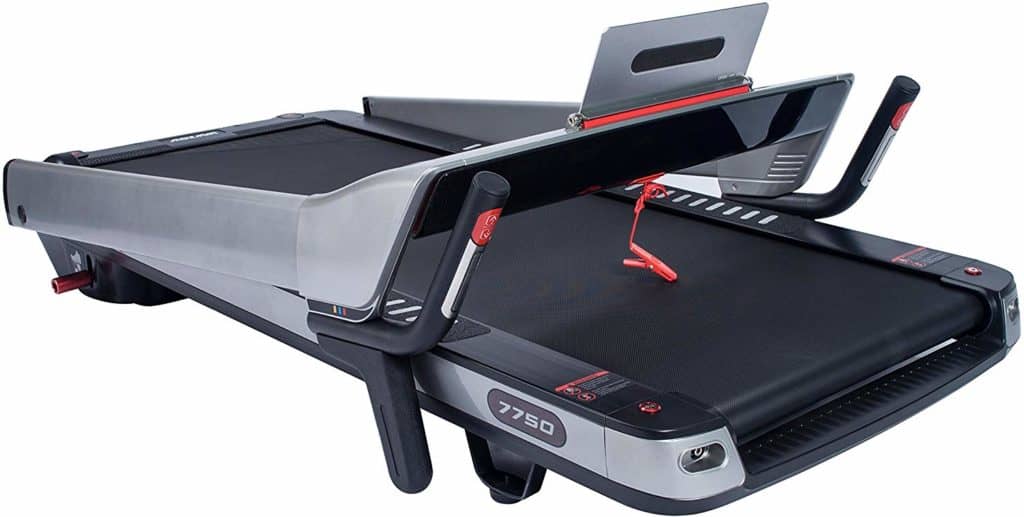 The Sunny Health & Fitness ASUNA 7750 Folding Treadmill's space-saving design offers the possibility of it being stored horizontally or vertically. Although, storing it vertically is ideal because it takes a very minimal ground space.
It is portable and can be moved from one room to another easily through the integrated transport wheels.
Accessory
The ASUNA SpaceFlex 7750 has a couple of accessories that include built-in speakers, UBS and auxiliary port, and a foldable tablet holder.
These accessories are designed to help the user engage in an entertainment activity that could create a necessary distraction that makes working out less boring.
Pros/features Overview
Sturdy and durable
Space-saving design that allows horizontal or vertical storage
Solid adjustable base and weight that enhances stability
Running surface equipped with a shock-absorbing system that reduces the impact on the joints
2.5 horsepower motor provides an adequate drive (0.6-8 mph) for users up to 220 pounds/99.7 kg to perform walking, jogging, and light running exercises
Gradual speed increment by 0.1 mph; this allows a user to find a tailor-made pace for a workout
Gradual incline adjustment by 0.4%
The gradual incline and speed adjustment buttons are designated on the left and the right handlebars respectively
Quick speed and incline adjustments are available
Its operation is smooth and near-silent
Motorized incline up to 12 levels
8 preset, 1 manual and 3 customizable programs
6 LED screen displays track time, incline, distance, step count, pulse, calories, and speed
Contact heart rate
Transport wheels are included
Low maintenance
Easy to assemble
A foldable tablet holder is included
2 built-in speakers. USB charging port, and an auxiliary port for MP3
Cons
Console not telemetry enabled
No online connectivity
No water bottle holder
Warranty
5 Years on Frame
180 Days on Parts
Product Dimensions and Specifications
Length 57''
Width 29.5''
Height 48''
Frame: Steel
Folded: 12'' D X 33'' W x 59'' H
Running deck Dimensions: 51'' L x 19'' W
Weight: 127 pounds/57.6 kg
Shipping weight: 140 pounds/63.5 kg
Maximum user weight capacity: 220 lbs./100 kg
Motor: 2.5 horsepower
Speed: 0.6-8 mph, 0.1 mph gradual increment, 3 and 5 mph quick adjustments
Incline: Automatic, 12 levels (2-5 degrees), 0.4% gradual increment, 3 and 5 levels quick adjustments
Console: 6 LED displays, track time, incline, distance, speed, calories, heart rate, and step count
Programs: 12, (8 preset, 1 manual, and 3 customs)
Heart rate: EKG heart rate sensors
Transport wheels: Yes
Tablet holder: Yes
Built-in speakers
USB charging port and auxiliary MP3 port
Shipping
The Sunny Health & Fitness ASUNA 7750 Folding Treadmill is shipped in a box that weighs 140 pounds/63.5 kg. Amazon usually provides free shipping and make delivery within a couple of days.
Assembly
The unit comes literary fully assembled except for the handlebars you need to attach after unboxing and unfolding it.
An instruction manual is included to show you how to unfold and attach the handlebars safely. Also, the tools needed for the assembly are also included in the package.
Maintenance
The ASUNA 7750 SpaceFlex Treadmill is pre-lubricated. Therefore, there won't be a need to lubricate upon receiving it. However, it will require time to time post-lubrication in order to keep the tread belt running smoothly, hence a bottle of silicone lubricant oil is included in the package.
Secondly, ensure to keep the tread belt clean from dirt and debris so as to avoid any damage.
Conclusion
The Sunny Health & Fitness ASUNA 7750 Folding Treadmill is recommendable indoor workout equipment for home use. Having this at your disposal will help you to lose weight, improve cardiovascular health, endurance, and strength.
It has interesting features such as the sound system and the tablet holder that ensure that your workouts are more fun and less boring.
[rank_math_rich_snippet]