Often times a fitness manufacturing company introduces innovative revolutionary fitness equipment that helps users to conveniently execute physical health-enhancing exercises in the comfort of their homes.
The ANCHEER 2-in-1 Folding Treadmill is one of those that could be used as a normal treadmill and under-desk treadmill as well This means that folks that work a lot behind a desk could get the chance to exercise while they work and also be able to use as a normal standard treadmill.
Its powerful whisper-silent 2.25 HP motor provides a speed range of 1-12 km/h. When using the unit with the handrails on, you will be able to adjust the speed from 1 km/h all the way to 12 km/h. But when the stand and the handrails are off, then the speed operates within the range of under-desk which would be 1-4 km/h.
There is an LED display on the front base that tracks workout progress stats such as time, distance, speed and calories burned all at the same time. A Remote-control is included to enable you to turn the treadmill ON/OFF and to adjust speed as well.
The running surface size is 40 inches long by 16 inches wide and it supports a maximum user weight capacity of 220 pounds/99.7 kg.
The unit is available in silver and blue colors and is very affordable. It needs to be plugged into a power source in order to be functional.
Click right here to have a peek at the price of the ANCHEER 2-in-1 Folding Treadmill on Amazon.
The Frame and Construction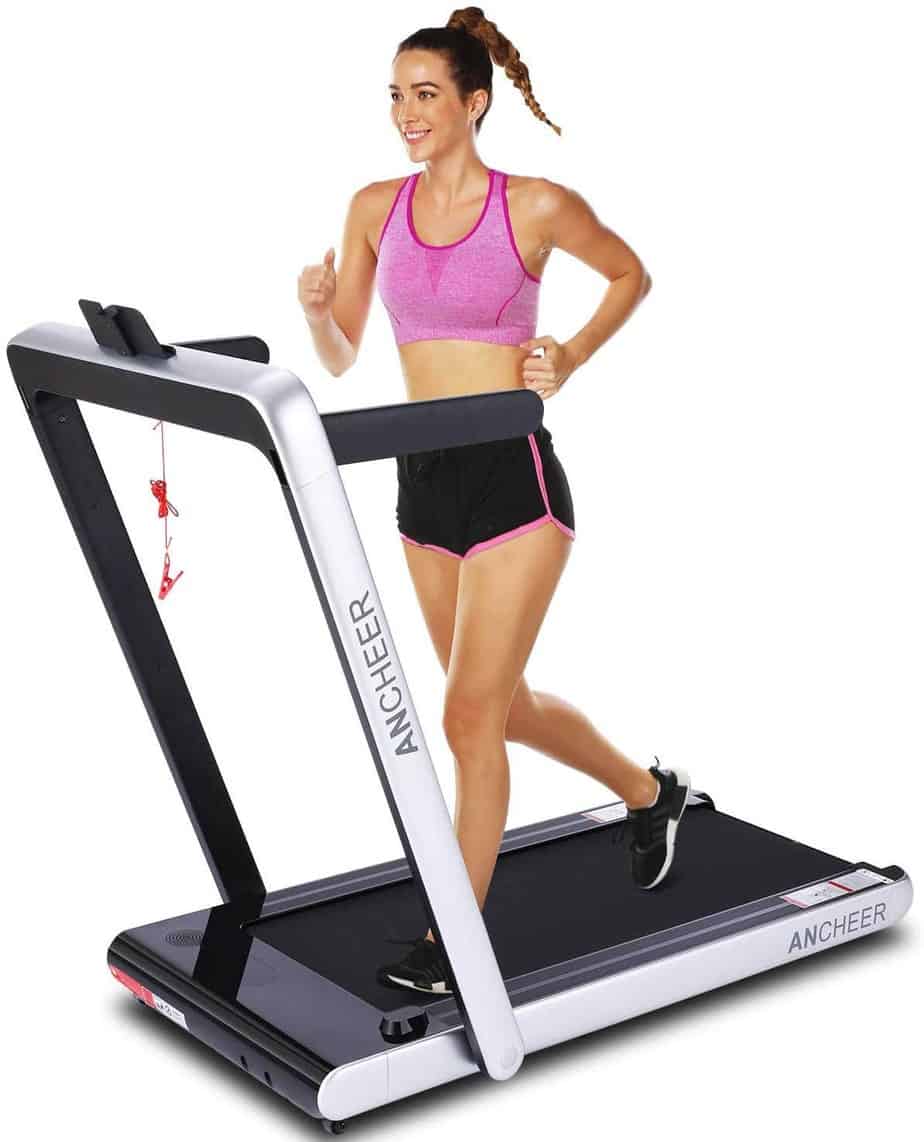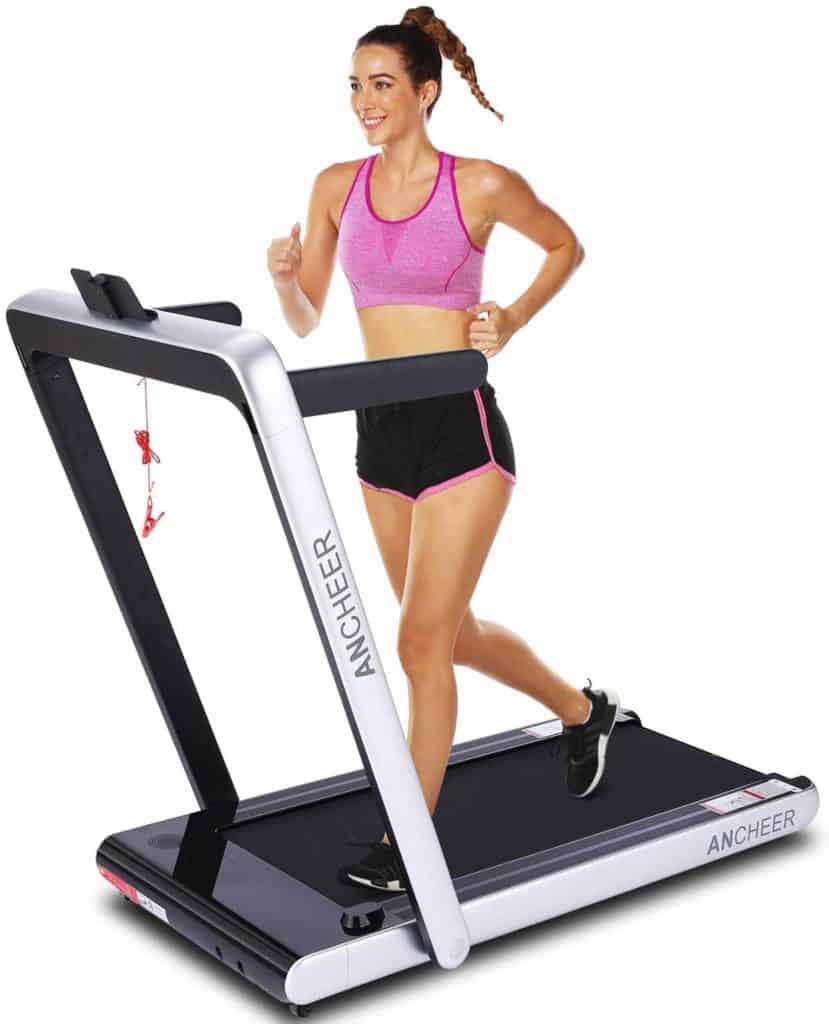 The ANCHEER 2-in-1 Folding Treadmill's frame is made of durable steel that is coated with anti-corrosive paint. The running belt features a 7-layer composition that includes a shock absorber layer that reduces the impact effect on the joints.
The treadmill is pretty compact and has a space-saving design as well. The assembled dimensions are 49 inches long by 27 inches wide by 42 inches high, while the folded dimensions are 52 inches long by 27 inches wide by 5 inches high.
The unit will require a workout area with a perimeter of 4'4'' length by 2'3'' width. Sure, additional extra clearance of at least 2' on each side and 3' at the rear part of the treadmill will be necessary for safety and convenience purpose.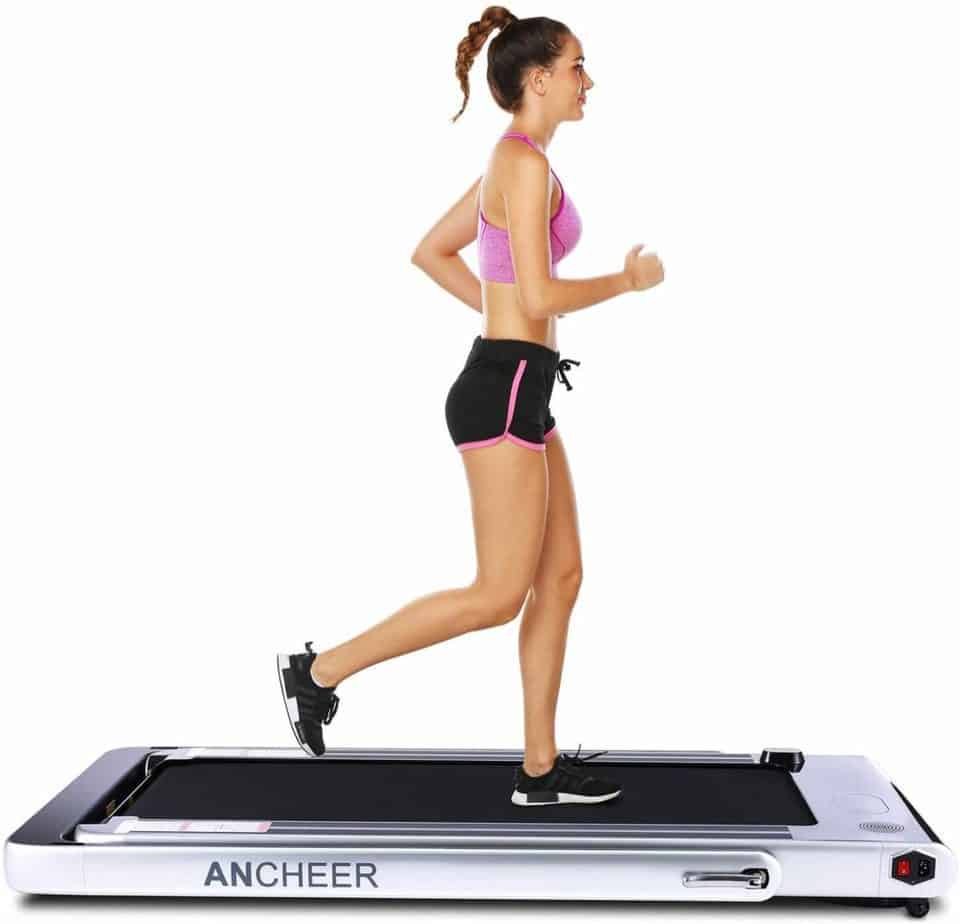 There is a large and stable surface on each side of the tread belt on which you can stand when you are done training. You must avoid standing on the tread belt while it's running to avoid an accident or injury.
The ANCHEER Treadmill is stable and smooth during operation and it weighs about 75 pounds/34 kg. The integrated transport wheels underneath the front base enable the user to easily relocate it from one location to another.
As aforementioned, it has 2 modes that involve under-desk mode (when the stand and the handlebars are collapsed) and normal running mode.
The Motor
The ANCHEER 2-in-1 Folding Treadmill is equipped with a 2.25 horsepower motor that provides up to 12 km/h speed. It provides a 1-12 km/h speed range and its operation is vibration-free and whisper-silent.
The speed could be adjusted by an increment of 1 km/h through the use of the included remote control. The reason for the use of remote control is because this treadmill is unlike the conventional ones that have a monitor up and close to the user; instead, its display is down on the motor compartment.
The remote control has only 3 buttons which include the START/PAUSE button, and 2 more buttons for speed increment and reduction.
When the treadmill has its stands and handrails collapsed, it transforms to an under-desk treadmill and automatically, the speed range becomes 1-4 km/h, otherwise, the speed range is 1-12 km/h.
Incline
The 2-in-1 treadmill doesn't have an incline system which is not surprising considering the fact that it is inexpensive with innovative features.
Some users have suggested keeping it on an inclined surface in order to enjoy the benefit. But this was neither endorsed by the manufacturer.
The Console
This doesn't have a typical console that comes with treadmills. However, it does have an LED display monitor situated on the front base.
The display has high readability and won't be a problem when viewed in a room with poor lighting. This tracks workout progress by displaying stats such as time, distance, speed, and calories burned. These workout stats are displayed simultaneously.
No preset programs or even pulse monitoring function (it's not telemetry enabled and there are no EKG heart rate sensors either). Although, an external heart rate monitoring device could be used if you wish to observe your pulse rate during a workout.
Storage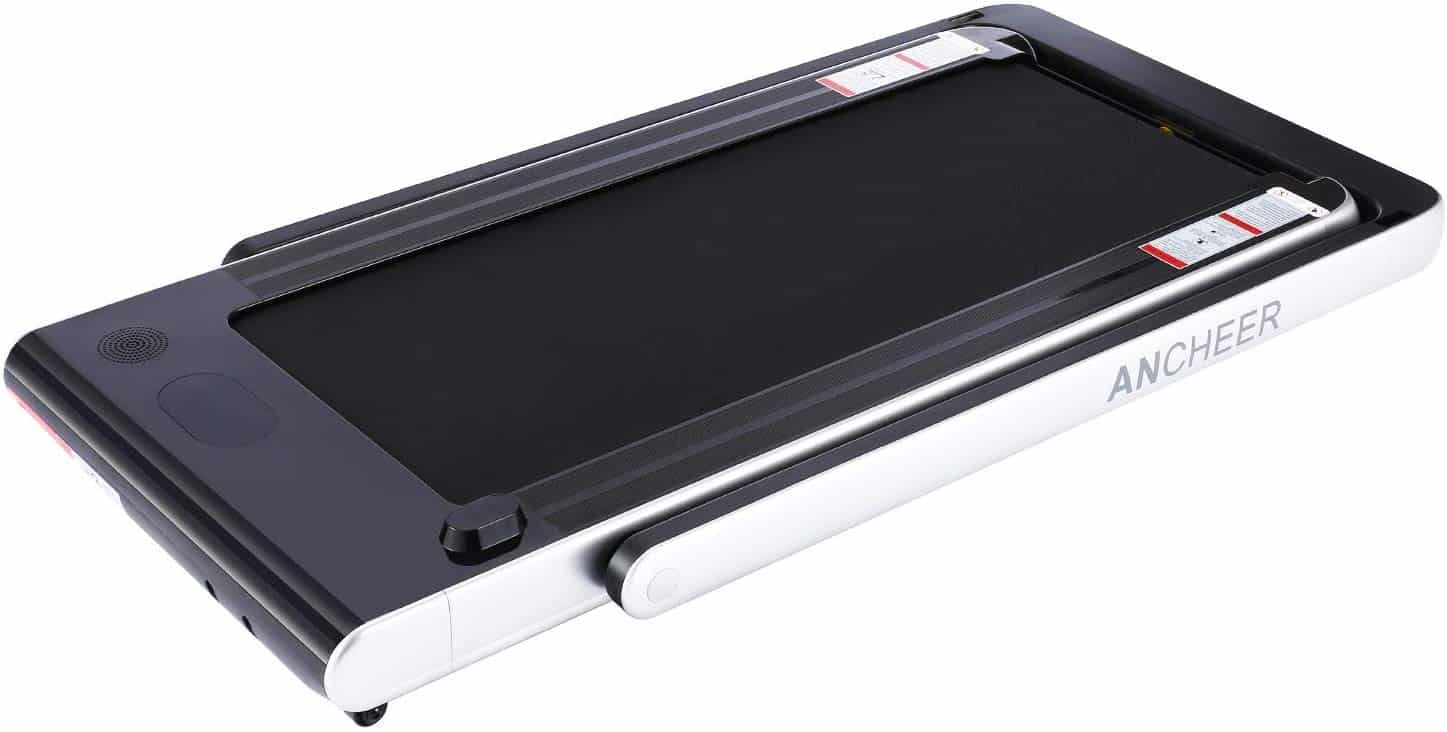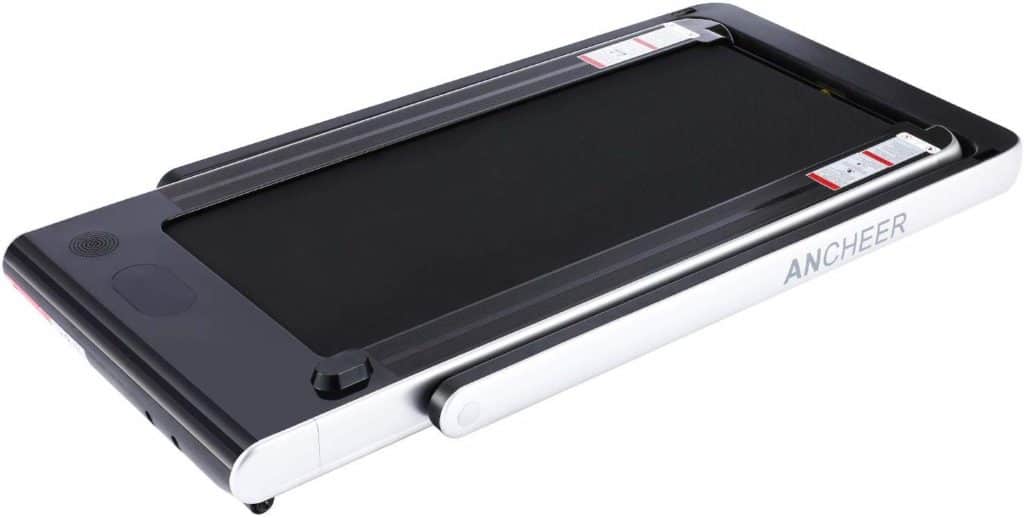 One of the best aspects of having the ANCHEER 2-in-1 Folding Treadmill is that it's pretty easy and convenient to store away. It could be stored horizontally or vertically, whichever way that suits you once the handrails are removed and the stands collapsed.
The integrated transport wheels at the front base facilitate its relocation process.
Accessory
The treadmill has two accessories that are highly relevant toward succeeding in your quest for improved physical fitness.
It has a phone bracket at the top of the stand that accommodates a smartphone device and also has a 360-degree surround Bluetooth speaker on the left side of the front base, next to the monitor.
Therefore, you can listen to music or movie sound output when using your phone via the built-in speaker.
Approval Rating
The ANCHEER 2-in-1 Folding Treadmill approval rating on Amazon is positive. Users have expressed their gratitude and satisfaction for making a decision of adding this treadmill to their home gym. Especially, noting that it's inexpensive and it serves its purpose.
Pros/Features Overview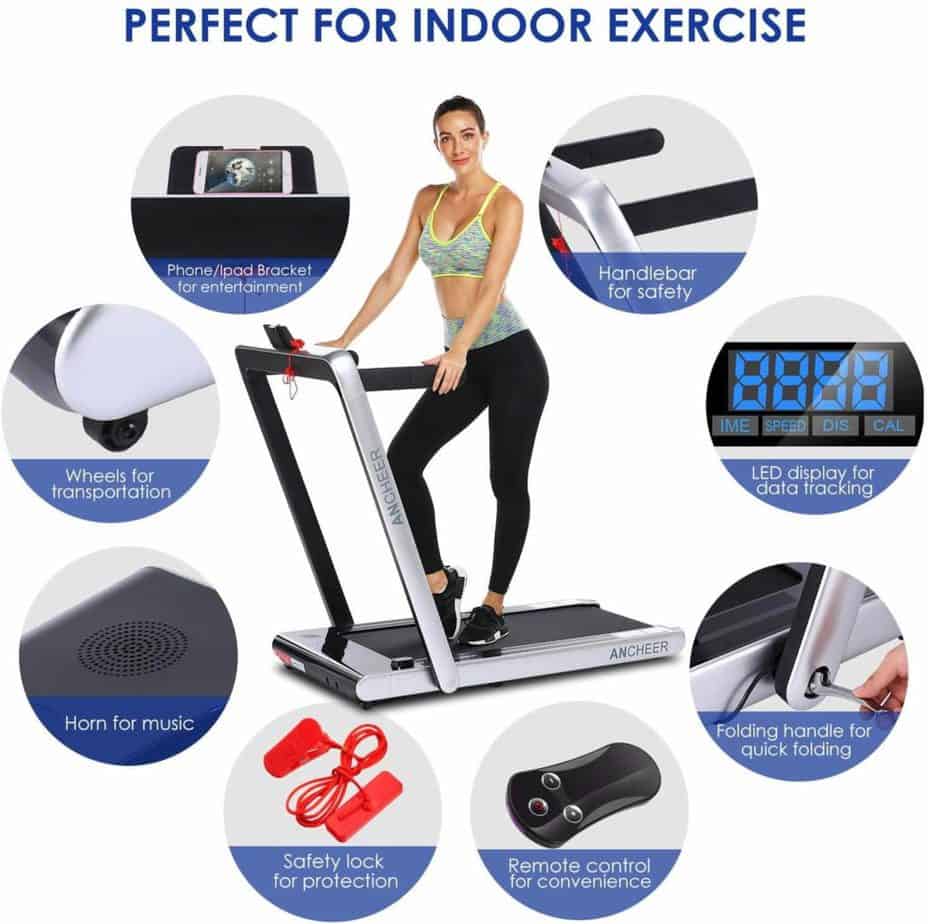 It is sturdy and durable
It is compact and has a space-saving design
The treadmill features a premium running belt that is made of 7 layers; specially designed to reduce the impact on the joints
Possesses a large, safe and stable side platform on each side of the tread belt for standing when you wish to take a break from working out
Integrated with a powerful yet whisper-silent 2.25 HP motor that provides speed range up to 12 km/h
The treadmill is convertible to under-desk and standard running mode; 2-speed programs (1-4 km/h for under-desk and 1-12 km/h when used with the stand and handrails attached)
Transport wheel included for easy storage
LED monitor tracks time, distance, speed, and calories burned simultaneously
It is inexpensive
Bluetooth surround 360-degree speaker
Lubricant oil and adjustment tools are included in the package
Comes almost preassembled
Cons
No heart rate monitoring function
No incline
No water bottle holder
The tread belt is small and may not be suitable for serious runners
Warranty
Product Dimensions and Specifications
Length 49''
Width 27''
Height 42''
Folded/Under-desk dimension: 52'' L x 27'' W x 5'' H
Tread belt: 40'' L x 16'' W
Weight: 75 pounds/34 kg
Maximum user weight capacity: 220 pounds/99.7 kg
Motor: 2.25 Hp
Speed range: 1-12 km/h
Under-desk speed range: 1-4 km/h
Monitor: LED monitor tracks time, distance, speed, and calories burned
Convertible from a standard treadmill to an under-desk
Built-in Bluetooth speaker
Transport wheels: Yes
Phone Bracket: Yes
Water bottle holder No
Shipping
The ANCHEER 2-in-1 Folding Treadmill is shipped out in a single box. It is delivered within days of purchase from Amazon.
Assembly
The unit is delivered 98% preassembled. You only need to unfold the stand and attach the handlebars if you wish to do so. Otherwise, you can use it as an Under-desk treadmill out of the box.
It takes only a few minutes to get it all set and ready for use.
Moreover, an instruction manual and tools accompany the treadmill for an easy assembly process.
Maintenance
The 2-in-1 treadmill doesn't really need any serious maintenance. The running surface is pre-lubricated and it comes with extra lubricant oil and tools for future lubrication and adjustment of the tread belt.
Conclusion
The ANCHEER 2-in-1 Folding Treadmill is indeed a recommendable treadmill for home use. It provides the opportunity and convenience for those that work a lot at home or behind the desk to get their groove back by exercising while they work.
[rank_math_rich_snippet]