The Sunny Health & Fitness Electric Folding Treadmill SF-T7873 is a mid-range unit that is equipped with features that enable users to walk, jog and run. For a treadmill in its category, it has a considerable and sizable running surface that is roomy enough for not-so-tall runners.
In other words, everyone should be able to walk and jog on it conveniently regardless of their height. However, very tall users may not be able to perform a serious running exercise with full stride extension.
It supports a maximum user weight capacity of 285 pounds/129 kg and offers a maximum 15% automatic incline. The powerful 2.5 peak horsepower motor provides a speed range of 0.6-11 mph.
The telemetry-enabled console features a 5-inch backlit LCD monitor that tracks workout progress by displaying stats such as time, distance, speed, calories burned, incline, and pulse.
To ensure that you are comfortable and less bored during a workout, the treadmill is integrated with accessories such as water bottle holders, speakers, 3.5mm auxiliary port, and more.
Click right here to have a peek at the price of the Sunny Health & Fitness Electric Folding Treadmill SF-T7873 on Amazon.
The Frame and Construction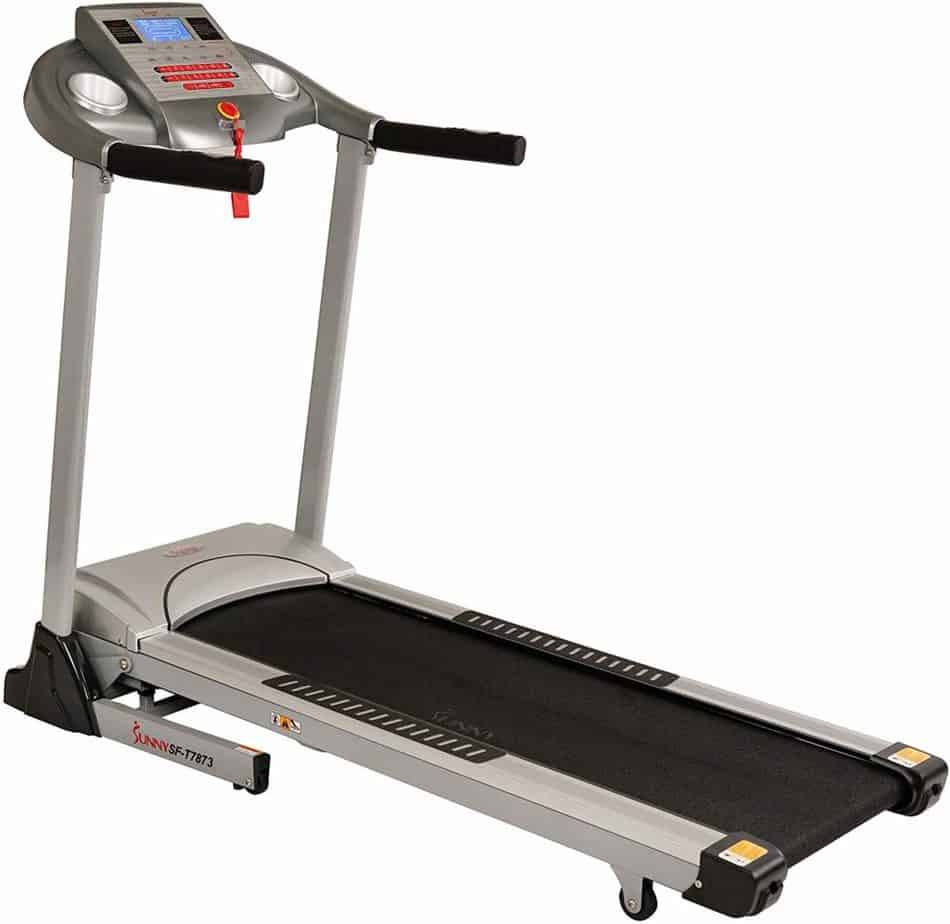 The Sunny Health & Fitness Electric Folding Treadmill SF-T7873 has a robust construction that features a durable steel frame that is coated with rust-resistant paint. It has a space-saving design that allows the user to fold it up for storage when it's not in use.
Its soft drop design that includes a hydraulic cylinder gently drops the deck unassisted when unfolding it. There are transport wheels integrated to facilitate the relocation process without hassle.
The running surface has a cushioning technology that includes a shock-absorbing system that reduces the impact that is usually felt on the joints and in return provides a nice comfortable surface that helps to increase energy for each stride.
The additional safety large and stable textured guard rails allow you to quickly step on them when you are ready to call it quits when running in order to avoid an accident that might cause an injury.
The treadmill is not so large, and its foldable design saves even more space. The overall assembled dimensions are 62 inches long by 38 inches wide by 52 inches high. Differently put, it requires a workout area with a perimeter of 5'2'' length by 3'2'' width. Additional extra clearance of 3' at the rear and 2' on each side of the treadmill might be necessary for easy access and safety.
The unit's length size is reduced to less than half its size when folded (26'' L x 38'' W), thus, it requires less amount of space for storage.
The treadmill has good base framework that ensures maximum stability. Moreover, its overall weight of 125.7 pounds/57 kg grounds and further enhances its stability.
Remember, the unit is foldable and has transport wheels at the front and the rear bases and so, relocating it is pretty easy regardless of its weight.
There are two protective handrails that have the EKG heart rate sensors, incline and speed buttons incorporated into them.
The Sunny Health & Fitness SF-T7873 Treadmill is one of those treadmills that enables you to train like a pro in the comfort of your home.
The Motor
The SF-T7873 Treadmill has a 2.5 peak horsepower motor that provides smooth and quiet performance. The included flywheel ensures that the operation is vibration-free.
The motor provides a speed range of 0.6-11 mph and it can be adjusted gradually via the speed keys on the right handrail by an increment of 0.1 mph or by using the -, 1, 3, 5, 9, + quick speed buttons on the console. The gradual speed adjustments allow you to increase the speed gradually to a tailor-made level suitable for your workout or you can quickly skip to a higher speed level by using the quick speed keys.
The motor capacity supports the speed range and the workout activities; it won't break down or get overheated during a workout.
The treadmill needs to be plugged into a power source in order to be functional.
The Incline
The incline system on the Sunny Health & Fitness Electric Folding Treadmill SF-T7873 allows you to easily and quickly diversify your workout. The incline is automatic and can be adjusted up to 15%.
It has its own separate motor that does the lifting and the lowering of the front deck.
Being automatic means, you can simply increase or decrease the incline by using any of the adjustment options that include the gradual adjustment keys on the left handrail or the quick adjustment option on the console.
The adjustment keys on the handrail enable you to increase or decrease incline by 1% on the fly, while the quick incline keys on the console allow you to adjust by -, 2, 5, 9, 12, +.
The Console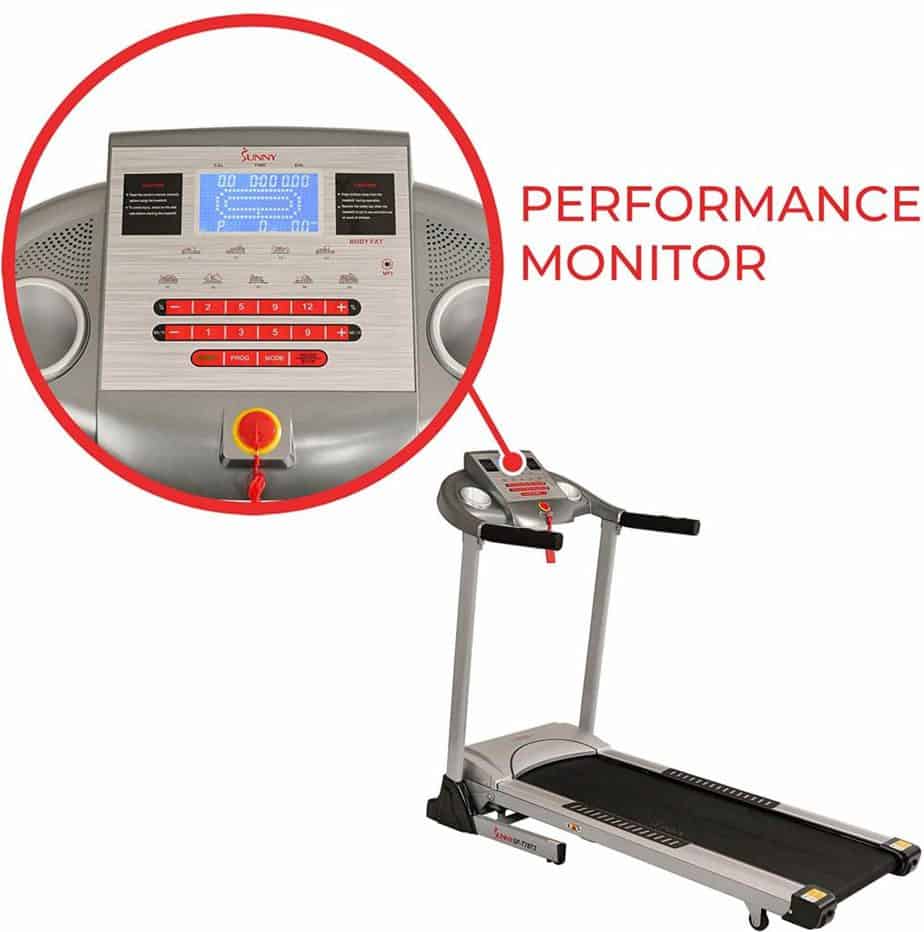 The Sunny Health & Fitness Electric Folding Treadmill SF-T7873 features an advanced console that is telemetry enabled. It is compatible with a 5.3 kHz wireless heart rate chest strap (not included).
The console also has a wide range of other features that include the 5-inch backlit LCD monitor, speed and incline quick keys, emergency key, 9 preset programs, START and PAUSE/STOP buttons, auxiliary/mp3 port, speakers, and water bottle holders.
The monitor display is highly readable even in a poorly lit room. It keeps you motivated and focused by tracking time, speed, distance, calories burned, incline, and heart rate.
The 9 preset workout programs are designed to improve and maintain your physical fitness and to test your fitness level as well. The speed and incline levels are assigned automatically when any of the preset workout programs are selected.
A body fat function is also included. This function calculates the percentage of body fat when personal data such as gender, height, age, and weight are entered. It basically helps you to monitor your workout progress.
Storage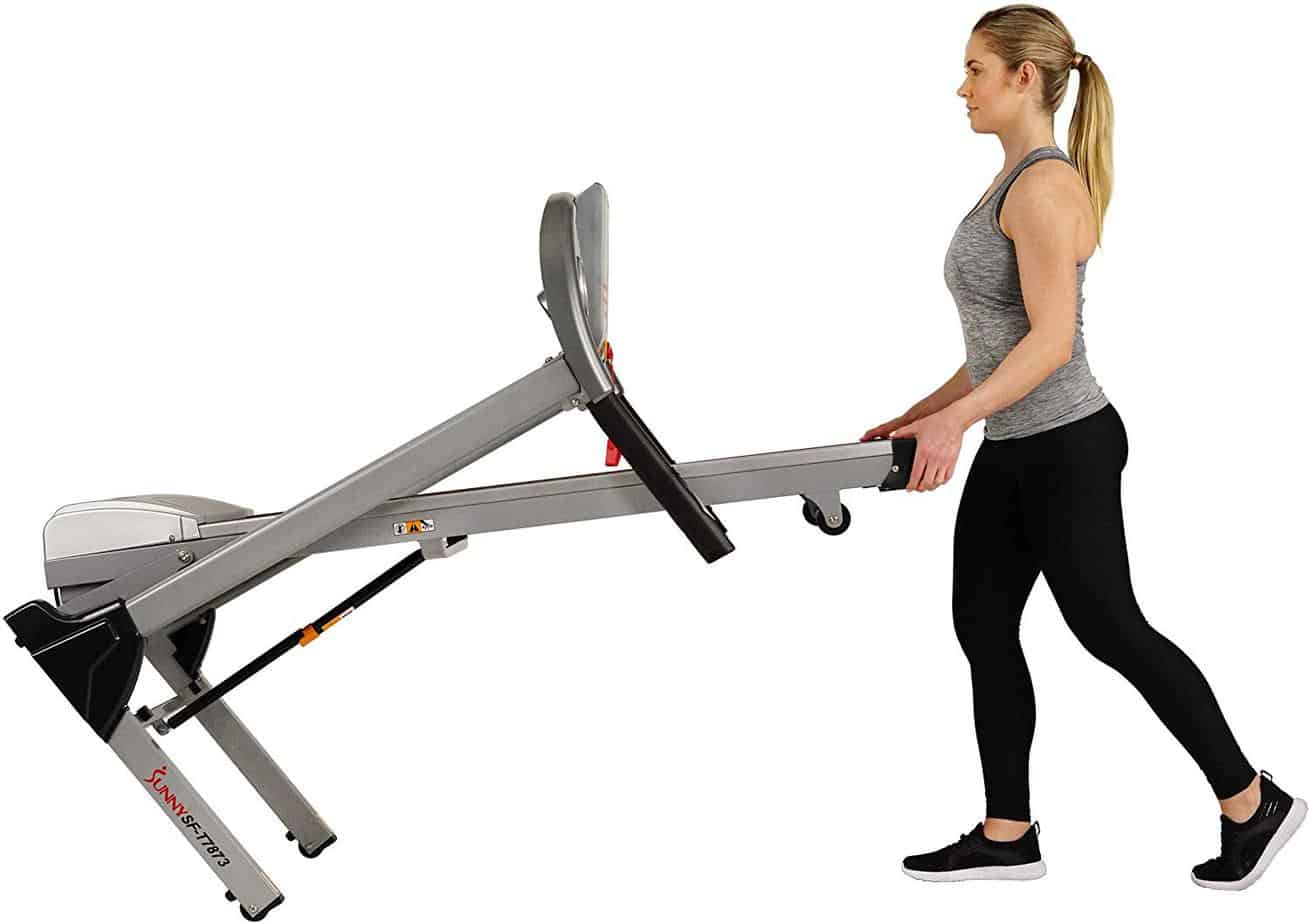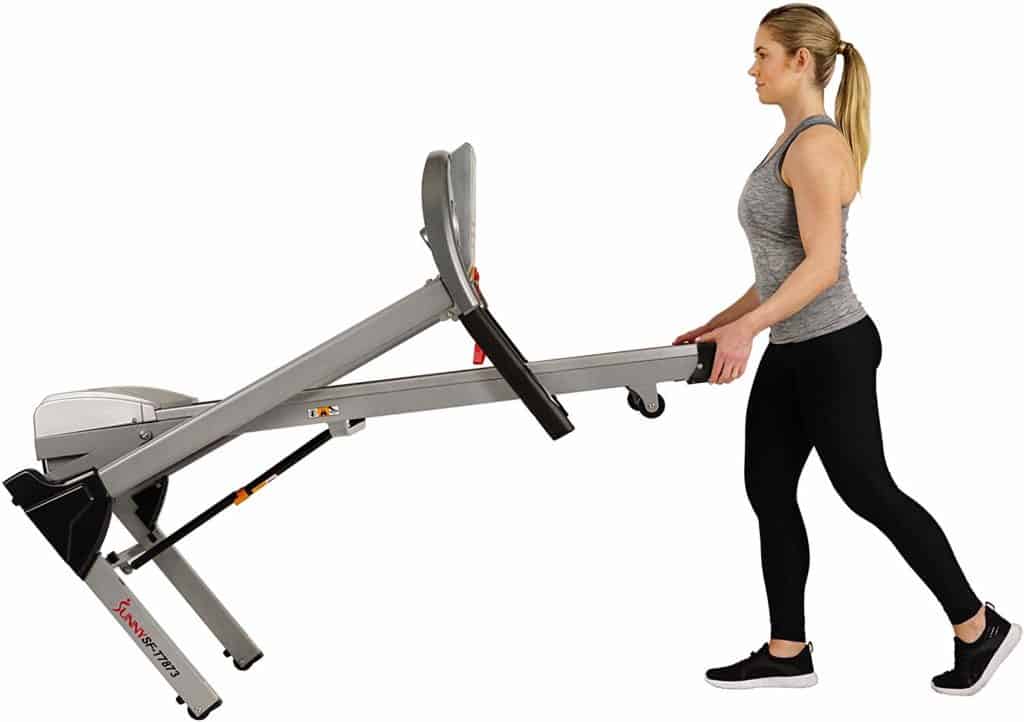 The storage of the Sunny Health & Fitness SF-T7873 Treadmill is easy because it has the elements that guarantee that.
It is foldable and has transport wheels that help in moving it to storage.
Accessory
The treadmill has a number of accessories that include speakers, water bottle holders, and an mp3 port.
You will be able to keep water handy for hydration, and can to connect your phone device to the speakers via the mp3 port to enjoy listening to music while working out.
These accessories essentially allow you to be comfortable and productive.
Since there is no tablet holder, one of the water bottle holders could be used for the placement of an android smartphone but unfortunately, it cannot contain a tablet device.
Pros/Features Overview
Very stable and durable
Supports 285 pounds/129 kg maximum user weight
15% automatic incline
9 preset programs
Goal settings for time, distance, and calories burned
Body fat calculator helps you to track workout progress
Its operation is smooth and whisper-silent
It has a fairly large size running deck
The 2.5 horsepower motor provides speed range of 0.6-11 mph
There are gradual and quick adjustment keys for speed and incline
Low maintenance
Easy to assemble
It's foldable, portable with transport wheels, and easy to store
The running deck has cushioning technology that reduces the impact on the joints
The backlit LCD monitor is highly readable and tracks time, distance, speed, incline, calories burned, and pulse
EKG contact heart rate sensors included
A compatible wireless heart rate chest can be connected
MP3 port for connecting a phone device to the built-in loudspeaker
Water bottle holders included
Cons
Wireless heart rate chest strap device not included
The running deck might be small for very tall users that may wish to run on it
No tablet holder
Warranty
3 Years on Frame
180 Days on Parts
Product Dimensions and Specifications
Length 62''
Width 38''
Height 52''
Folded dimensions: 26.25'' L x 38'' W
Running Deck size: 51'' L x 16'' W
Console: Backlit LCD monitor
Incline: Automatic, 15%
Motor: 2.5 Horsepower
Speed: 0.6-11 mph, gradual increment 0.1 mph
Weight: 125.7 pounds/57 kg
Shipping weight: 147.7 pounds/67 kg
Programs: 9
Body fat calculator
Water bottle holders included
Built-in Speakers
Auxiliary/mp3 port included
Transport wheels: Yes
Shipping
Amazon provides free shipping for the Sunny Health & Fitness Electric Folding Treadmill SF-T7873 and makes delivery within days.
Assembly
The treadmill comes almost preassembled. Most of the parts which include the complicated components are preassembled.
You only need to attach the console masts, the handlebars, and the console.
It doesn't take up to an hour to completely assemble.
Tools and an instruction manual are included in the package to help you correctly assemble the treadmill.
Maintenance
The tread belt needs to be kept clean at all times. It also requires to be lubricated periodically in order to keep it working properly.
Do not expose the console to moisture, water, or sweat, as this may cause it to malfunction.
Conclusion
The Sunny Health & Fitness Electric Folding Treadmill SF-T7873 is decently and fully packaged with features that ensure a productive and comfortable workout experience. A user will be able to lose weight, improve cardiovascular health, endurance, and strength.
This treadmill brings the gym to the comfort of your home.
[rank_math_rich_snippet]