The Rebel Treadmill 1000 is one of those under desk treadmills designed to be used under an existing standing desk for walking and working. This could be used at the home, workplace, or school, but it's primarily designed to be used in the office.
We have seen a lot of positive reviews regarding this treadmill and as well as negative reviews that argued that it is an inferior unit that cannot hold up for a long time. Everyone is entitled to an opinion but a good opinion is one that is backed by rationality and evidence.
We are going to try to be unbiased with our review and we shall consider every genuine resource we have to provide that. We give bad review only to products we sincerely believe deserve it and good review to those that earn it.
Some products could be given thumbs up, not because they are 100% great in terms of quality, ergonomics, and features but because they could get the job done at a very good price. In other words, there is no such thing as perfect because you can't find one but we try to factor many angles in our review to come up with a good verdict.
And by the way, many people have been able to walk and work with under desk treadmill. They have been able to walk while they conveniently type on the computer and have extreme control of the mouse.
Working and walking increase the level of alertness and energy as opposed to some thoughts that it could undermine concentration and strength.
That being said if you wish to preview the price of the Rebel Treadmill 1000 click right here.
The Frame and Construction
The RebelDesk was founded sometime in 2013 by a very intuitive and inventive woman, Kathleen Hale. Her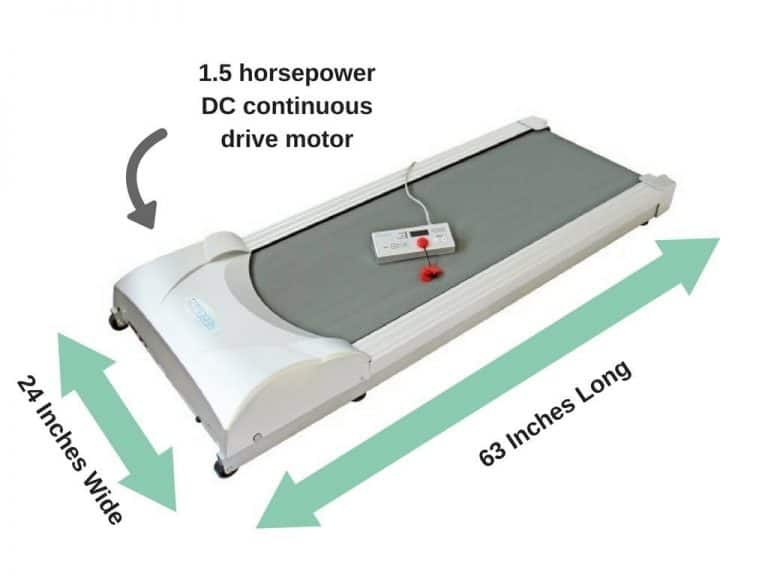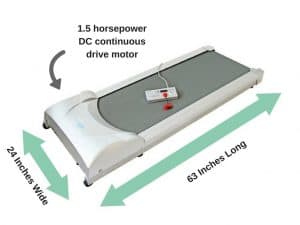 commitment has no doubt helped a lot of people to change their sedentary lifestyle into one that is physically active and still productive at work.
The Rebel Treadmill 1000 is a compact machine that doesn't take up much space. The assembled dimensions are 63 inches long by 24 inches wide and will require a workout area of 5 feet, 3 inches long by 2 feet wide. However, it is recommended to leave a clearance of 2 feet on each side of the treadmill and at least 3 feet at the rear for safe and convenient walking and working.
It weighs about 88 pounds/40 kg, lightweight but also adds to its stability while it features front-mounted transport wheels that help with the relocation process.
The treadmill belt size is 49.6 inches long by 18.1 inches wide and supports up to 250 pounds/113 kg maximum user weight capacity.
It is designed with versatile features so that can fit the needs of every office setting. These features include a smooth and quiet operation that is great for home office or open-concept offices because you don't have to worry about disturbing the family, neighbors, or co-workers. You can make and receive calls without interference from the treadmill's sound.
It is compact enough to fit into a cubicle; walk and work with regular work clothes and shoes without breaking a sweat.
The Rebel Treadmill 1000 also fits any type of standing desk you may already own as long as the desktop is about 4 feet of length from the front of the desk to the back of the treadmill.
The Motor
The unit comes with a 1.5 HP, DC continuous drive motor with a speed range of 0.5 to 2 mph. This is not bad for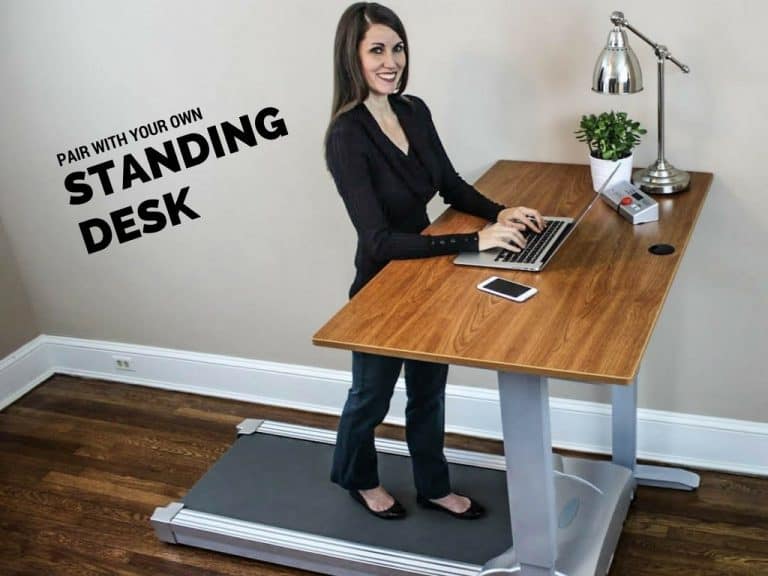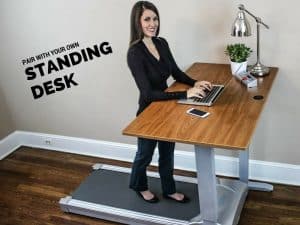 walking exercise because if you wish to walk and be able to work then your maximum speed should not be more than 2 mph except you want to break a sweat which is not kind of cool in the office. The speed can be increased by 0.1 mph from 0.5 mph until it reaches 2.0 mph which is the top speed.
The motor is designed to withstand the demand of walking without overheating or breakdown. Interestingly, the motor is not restricted to certain hours of use in a day by the manufacturer and has 2-year warranty coverage. This means you can use it as long as you wish without violating the warranty eligibility.
The motor is responsible for the unit's quiet operation just as aforementioned.
Incline
The Rebel Treadmill 1000 is without an incline and it is not unusual for lacking this feature. Under-desk treadmills don't usually have it because it puts the body out of neutral position that could result to back and joint pains.
Console
The Treadmill 1000 comes with a portable console with a size of 8 inches wide by 3 inches deep. It has a simple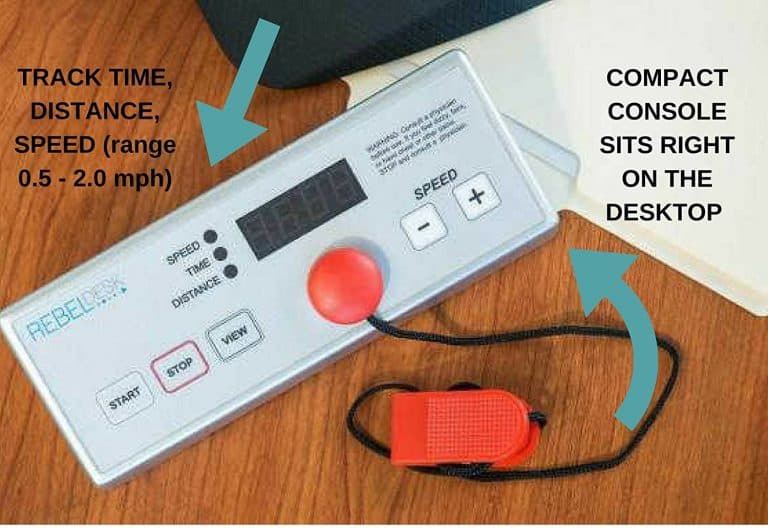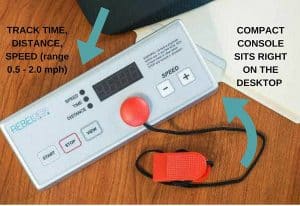 user-friendly interface with buttons such as Start, Stop, View, and Speed (-) (+) with a small window that tracks your progress by displaying speed, time, and, distance.
There is also the emergency stop key with a nylon rope and a clip that you could be clipped on the shirt or short in case of accidental tripping to stop the treadmill. The console is so compact that it won't stand in the way of other equipment on the desk.
The display has high readability as well.
Approval Rating
The Rebel Treadmill 1000 has hundreds of Amazon customer reviews dating back to 2013 and the vast majority of these reviews are positive. The overall approval rating of this unit is very good and shows that it is popular.
We, on the other hand, agree with this because the manufacturer even provides a risk-free investment of money-back guarantee within 30 days, which means you can still return the treadmill if you are not satisfied for any reason.
This goes to show that the manufacturer is confident of its product and the price is not outrageous.
Pros/Features Overview
It has a sleek and stainless steel design
Compact with dimensions of 63 inches long by 24 inches wide thus could fit in a cubicle
Lightweight with front base transport wheels for easy relocation
Could be used with an existing standing desk
5 HP Continuous DC motor
Portable console with high readability indicates speed, time, and distance
Operates smoothly and quietly
Speed range from 0.5 mph to 2.0 mph with speed increment of 0.1 mph
Impressive warranty
Risk-Free Investment, 30-day money-back guarantee
It comes pre-assembled out of the box
Cons
Its top speed could be too low for some individuals even though the 2.0 mph is appropriate for walking and working purposes. It does not offer the opportunity for you to perform some serious walking exercise if you choose to put your desk aside. There are some other treadmills out there such as the LifeSpan TR1200-DT3 Under Desk Treadmill that has up to 4 mph with roomy treadmill belt that could provide a lot more versatility and comfort.
The quality is not top-notch which means it may not last for many years just as the aforementioned treadmill. This is good for those that cannot afford to add a few more dollars to purchase a higher and durable treadmill that even comes with its own designed compatible desk. That being said, users have expressed that they are pleased with the Rebel Treadmill 1000
Product Dimensions and Specifications
63'' Length
24'' Width
Supports up to 250 pounds/113 kg maximum user weight capacity
Weighs 88 pounds/40 kg
Treadmill belt size: 49.6'' L x 18.1'' W
8''X 3'' Console
Warranty
20 Years on Frame
2 Years on Motor
1 Year on Parts
1 Year on Labor
Shipping, Assembly, and Maintenance
Shipping
The shipping cost of the Rebel Treadmill 1000 will vary because of the different shipping policies of the retailers; nevertheless, Amazon provides free shipping.
Assembly
The Rebel Treadmill 1000 does not require any kind of assembly because it is preassembled out of the box. You simply get it out of the box and attach the console and you are ready to walk and work.
Maintenance
The typical maintenance that is associated with under-desk treadmills such as the Rebel Treadmill 1000 is a regular application of silicon under the belt for smooth operation. Then daily, you are expected to clean it with very mild detergent because of dirt.
Make sure you examine the treadmill thoroughly before use for any loosed, broken, or worn part and fix it if there is any.
Verdict
The Rebel Treadmill 1000 is a lightweight treadmill that is specifically designed for individuals on a tight budget. It is not the best there is but something that could provide you with the opportunity to walk and work with your existing standing desk.
Otherwise, there are some recommendable under desk treadmills out there such as the LifeSpan TR1200-DT3 Under Desk Treadmill that has a lot better features such as a roomy treadmill belt, supports up to 350 pounds/159 kg maximum user weight, 2.25 HP that is excellent and quiet during operation, has a maximum speed of 4.0 mph, a well-cushioned running surface that reduces strain to the back and joint, built with solid and high-quality steel that could make it last longer, and much more.
The thing is that the LifeSpan TR1200 is a little bit expensive than the Rebel Treadmill 1000, which we think you may consider if you wish to have a treadmill that could last longer with a better experience.
Rebel Treadmill 1000 Review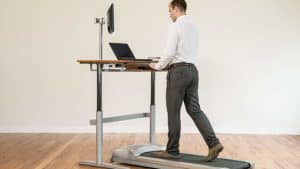 The Rebel Treadmill 1000 is a lightweight treadmill that is designed for individuals on a tight budget. It's not the best there is but does get the job done.
Product Brand: Rebel
Product In-Stock: InStock