Apparently, treadmills are total body workout equipment designed to enable individuals to perform walking, jogging, and running exercises in the comfort of their homes or in the gym. Thus, people don't have to go outdoors where they may be exposed to bad weather, traffic, and bad terrain.
Although, there are treadmills designed for a specific purpose of walking, and jogging, or for serious runners. So, it's important to get your priority right by knowing the treadmill that suits your needs.
For instance, Sole F63 2019 Treadmill, and the 3G Cardio Elite Runner Treadmill are designed for professional running athletes or individuals that wish to engage in a serious sprint because they have a wide tread belt, powerful motor, and a high-speed limit. However, these treadmills are often in a high-end category, hence, they are expensive.
That said, the Sunny Health & Fitness Folding Electric Treadmill SF-T7909 was released in 2019 and it basically allows a user to walk and jog. It supports a maximum user weight capacity of 220 pounds/99.7 kg.
It's incorporated with an automatic incline with 12 levels/12%, 7.5 mph speed range, LED monitor that tracks workout progress, a body fat calculator, Bluetooth speakers, 1.5 HP motor, and more.
Click right here to have a peek at the price of the Sunny Health & Fitness Folding Electric Treadmill SF-T7909 on Amazon.
The Frame and Construction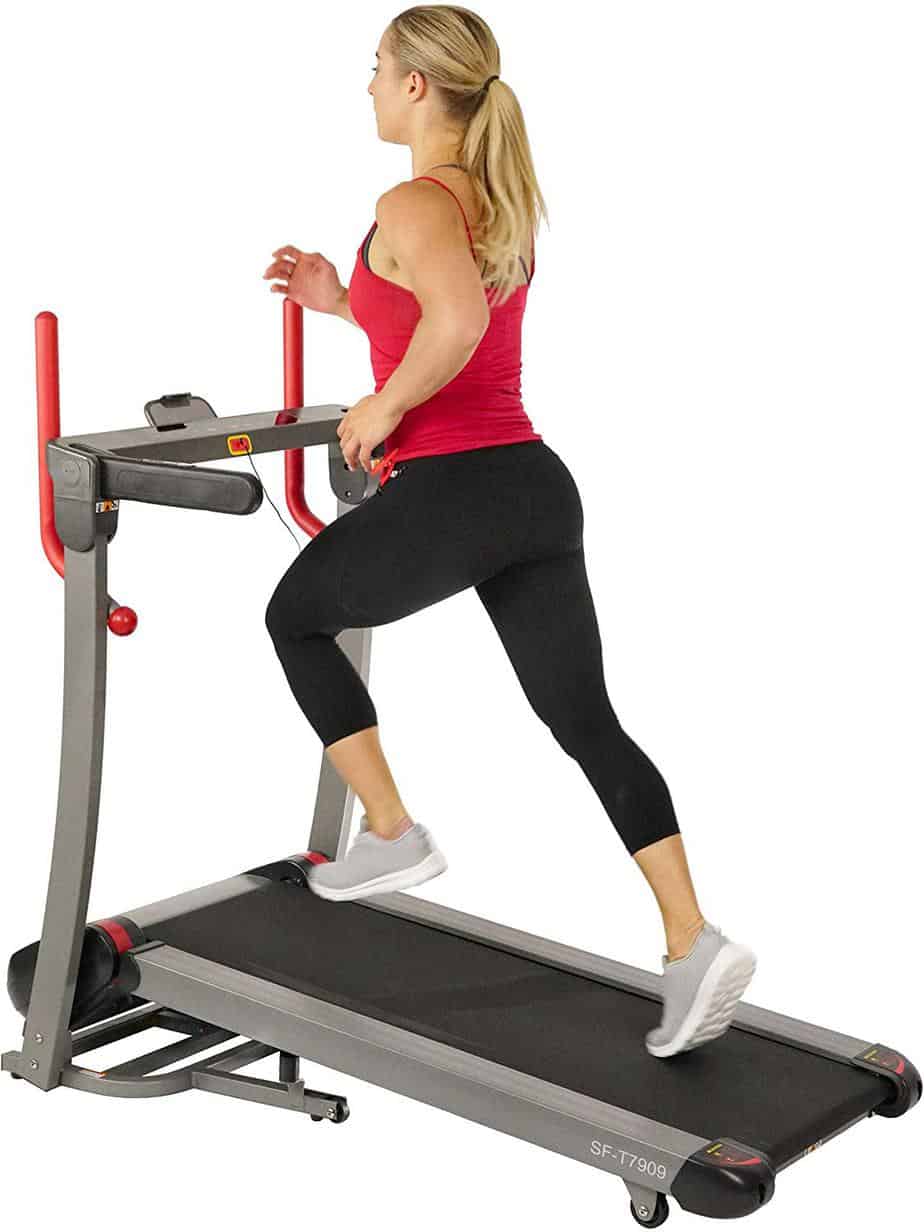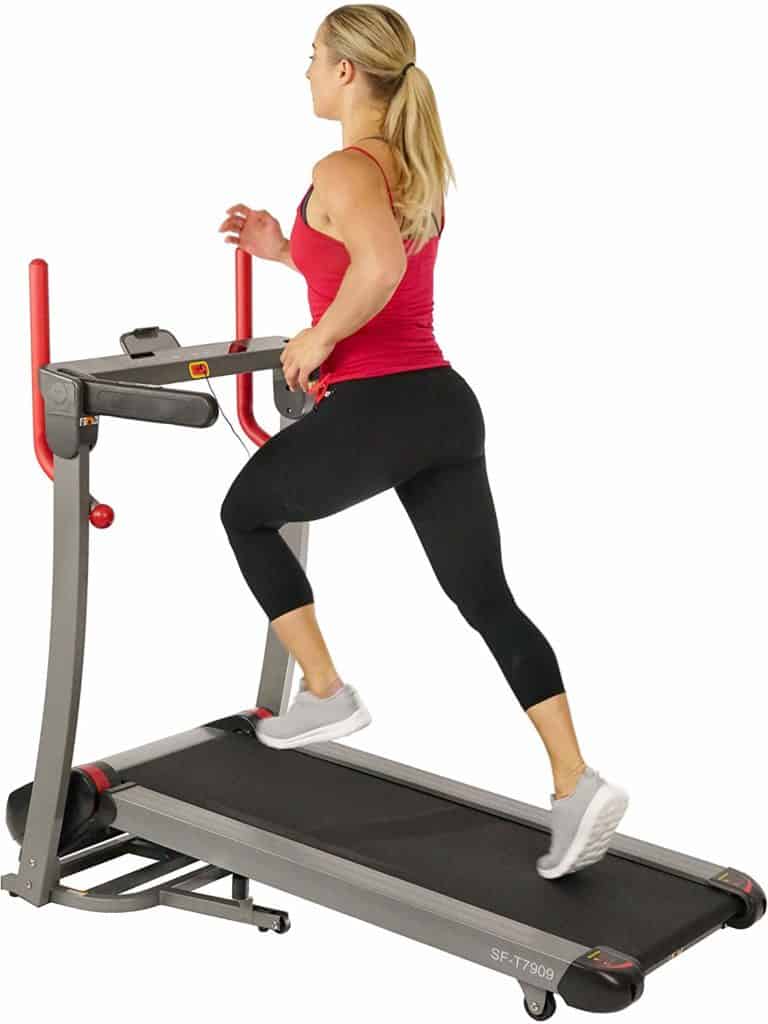 Needless to say that the frame of the Sunny Health & Fitness Folding Electric Treadmill SF-T7909 is made of thick steel and as a result, the treadmill weighs quite a bit. It weighs about 114.6 pounds/52 kg when it's out of the box and fully assembled.
Nevertheless, it won't be difficult to move around even though it may require 2 persons to move it while it's still in the box. The reason is that it has transport wheels at the front and the rear bases which easily facilitate the relocation once it's folded up.
The folding and unfolding process is neither complicated. Simply raise the deck up from the rear to fold it up and lock it in a vertical position. While the unfolding mechanism involves a hydraulic cylinder that gently lowers it to the floor without assistance from the user, which in other words it's referred to as Soft Drop System.
All the steel part of the treadmill is coated with gray anti-corrosive paint, with the exception of the vertical hand grips that are painted red. The anti-rust paint prevents the degradation of the steel parts and ensures that they remain valid for a long time.
The Sunny Health & Fitness Treadmill SF-T7909 requires a little bit of space even though it's compact when considering the size of other treadmills. However, it doesn't take up much space when folded.
The fully assembled dimensions are 61 inches long by 30 inches wide by 51 inches high. Differently put, the workout area that can accommodate the treadmill would be an area with a perimeter of 5'1'' length by 2'5'' width. That said, an additional extra clearance of at least 2-3′ at the rear and 1-2′ on each side of it will be necessary. This is to allow easy access and safety during a workout session.
The treadmill's footprint becomes smaller when folded; the dimensions are 26 inches long by 30 inches wide by 54 inches high.
The deck is shock-absorber equipped. Running on it reduces the impact that is often felt on the joints such as the knees and the ankles. The tread belt size is 48.5'' L by 16.5'' w and it is pre-lubricated and low maintenance.
The treadmill's step-up height is about 8'' when the incline is at 0%.
The Motor
The Sunny Health & Fitness Folding Electric Treadmill SF-T7909 is equipped with a 1.5 HP motor that has the capacity to adequately support walking and jogging and maybe a light running. Its operation is smooth, near-silent, and almost vibration-free. The integrated flywheel boosts belt stability and significantly reduces vibration.
The motor provides a speed range of 0.6 to 7.5 mph. The speed could be adjusted via the console and has a gradual increment of 0.1 which gives you ample speed options to select from. So, you will be able to find the right pace that is suitable for you.
There are 2 sets of gradual speed control buttons. One set is on the console while the other is on the right handlebar which allows you to adjust the speed on the fly.
These are the only speed control buttons available on the treadmill. In other words, there is no way to increase or decrease speed substantially.
The motor needs to be plugged into a power outlet in order to be functional. However, since the motor is not so powerful, it won't consume much of electricity.
Incline
The treadmill has an automatic incline and this is one of its selling points. Not many treadmills in this category are equipped with an automatic incline of up to 12 levels that equates to 12%.
Users will enjoy taking their workout to the next level by adding and increasing the incline while working out.
You can automatically adjust the incline via the console. Moreover, there are also 12 preset workout programs that automatically select and include incline when a certain workout program is selected.
The incline system has a lift and a separate motor that does the ascending and descending movements of the front deck. Obviously, these elements are both in the front compartment of the deck.
The incline could gradually be controlled via the console and the left handlebar, by 1% increment, just as the speed and it doesn't offer quick incline keys as well.
The Console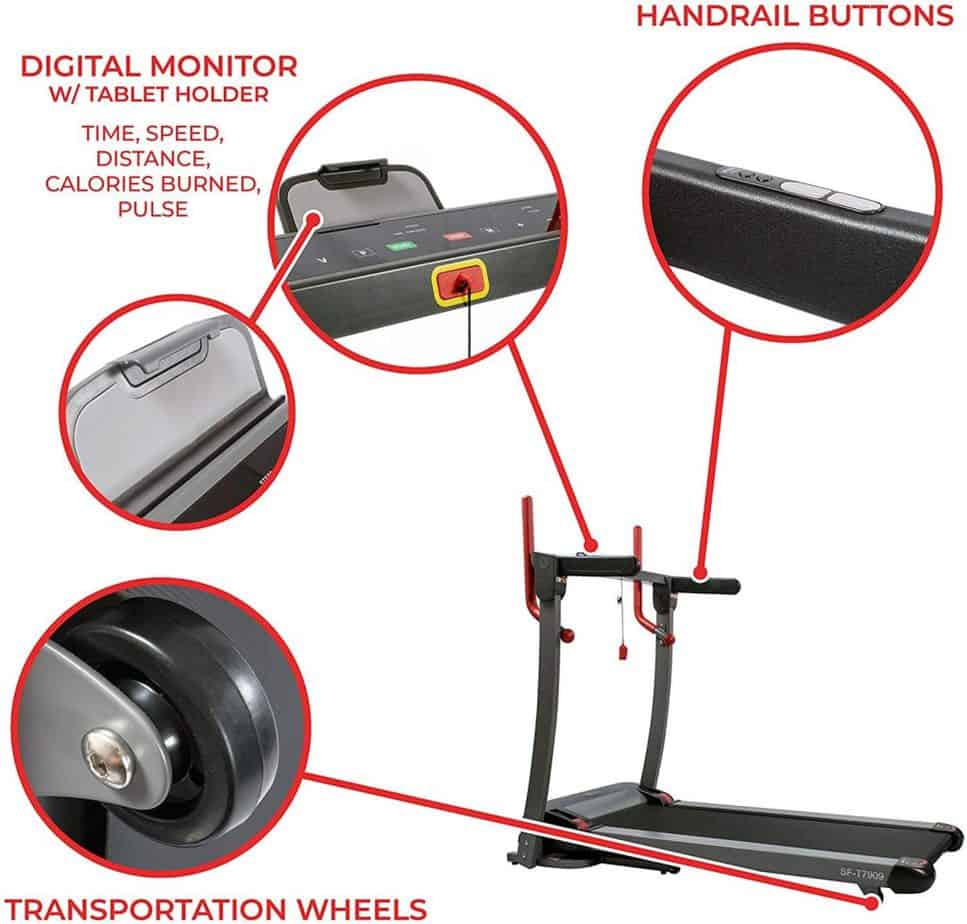 The Sunny Health & Fitness Folding Electric Treadmill SF-T7909 has a console that features an LED digital monitor that could be considered mid-range. The monitor displays workout stats such as time, speed, distance, calories burned, pulse, and incline level. These essentially keep you focused and motivated toward achieving your fitness goals.
A tablet holder and a USB port are included on the console. The holder is for tablet device placement and can accommodate a large tablet or smartphone, while the USB port is for charging the device.
On each side of the console is a Bluetooth speaker that could be connected wirelessly to any smartphone so that when a movie/music is played you may listen through them. The Bluetooth function is only for this purpose just as the USB port is for charging alone.
The console is not telemetry enabled. The heart rate can only be read when the user grips the contact pulse sensors on the handlebars.
Just as aforementioned, there are 12 preset programs that give you the opportunity to set a duration of time each selected program should last. Also, each selected program automatically assigns the speed and incline for the workout.
There is the body fat calculator function available and if selected you will be prompted to enter data such as age, gender, height, and weight. Based on the supplied information, this function will calculate the percentage of your body fat which will, in turn, help you keep track of your fitness progress.
You may also set workout goals for time, distance, and calories burned; the console counts down for any of the goals selected until it reaches zero.
Storage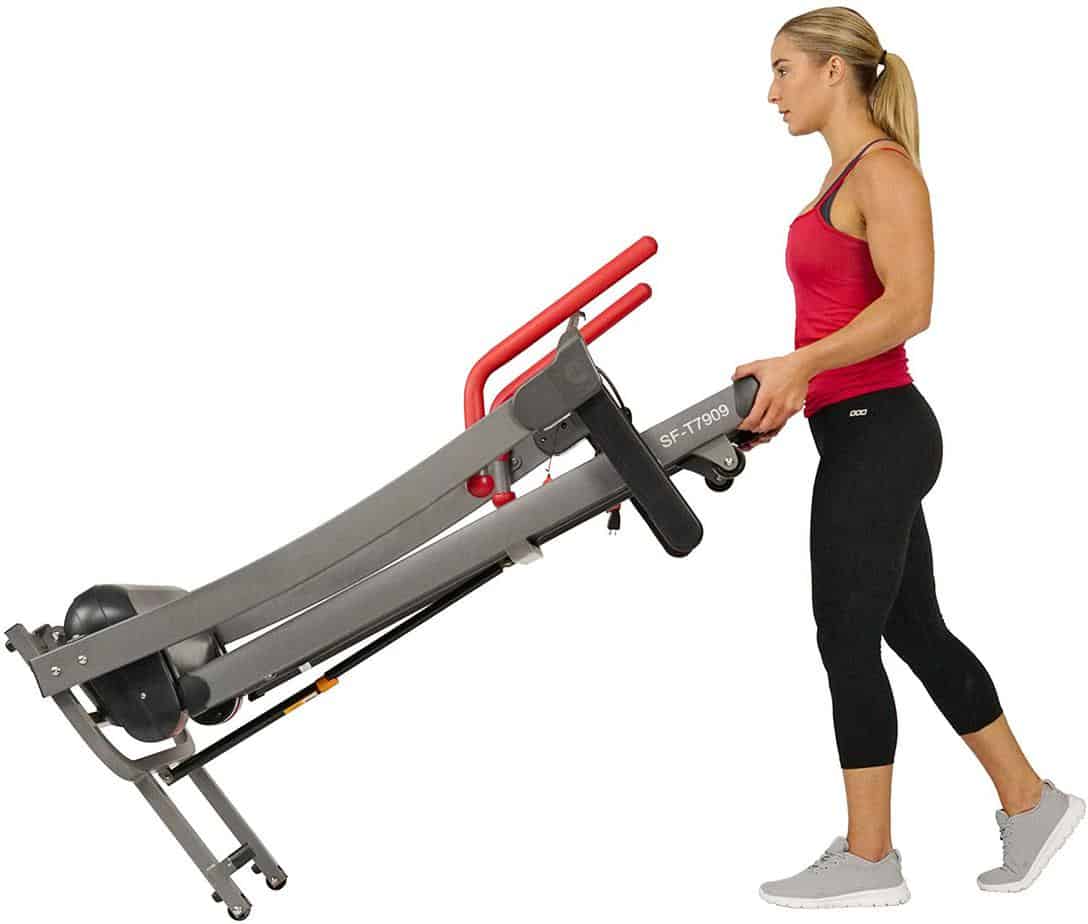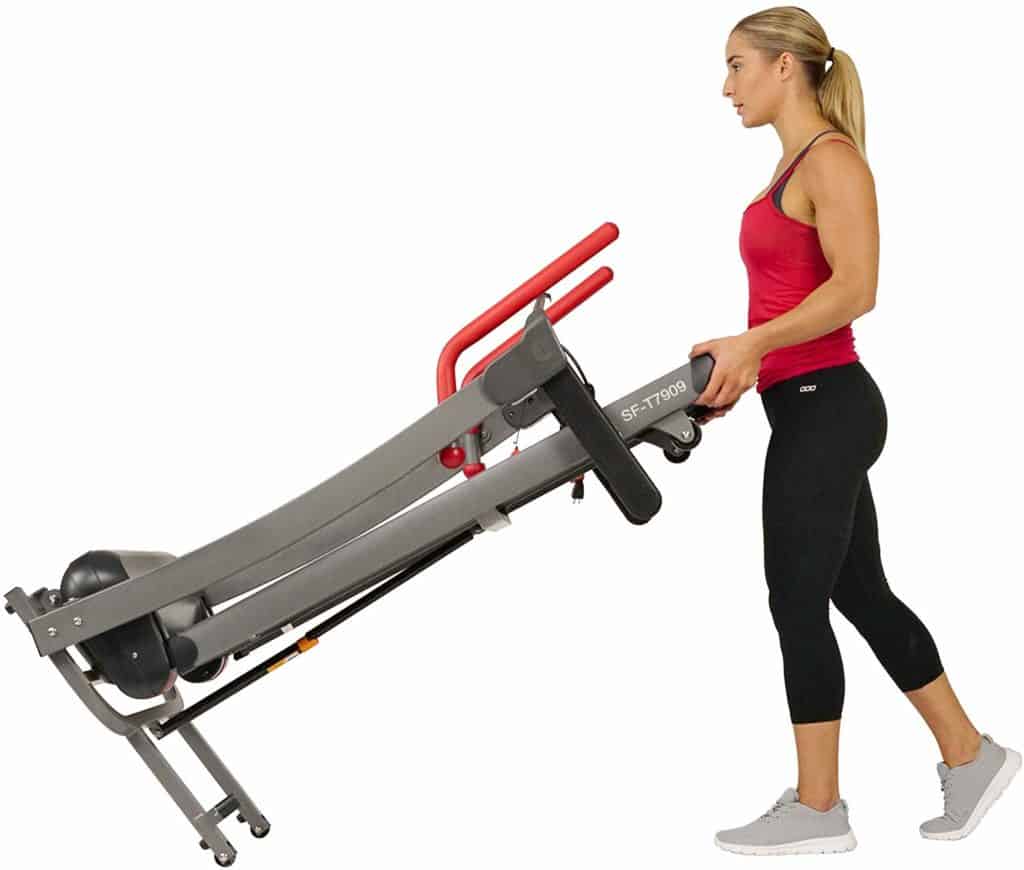 The Sunny Health & Fitness Folding Electric Treadmill SF-T7909 is easy to put away despite the fact it's a little bit heavy.
The treadmill could be folded up vertically and easily be moved to storage through the integrated transport wheels at the front base.
Accessory
The unit has a tablet holder, a USB charging port, and Bluetooth speakers.
Pros/Features Overview
Sturdy and durable steel frame
Supports a maximum user weight capacity of 220 pounds/99.7 kg
The deck is integrated with shock-absorbing elements that reduce the impact on the knees and ankles
Transport wheels are included on the front and rear bases
Its folding design saves storage space
1.5 HP motor provides an adequate drive for walking and jogging exercises
There is a 0.6-7.5 mph speed range
The 0.1-speed increment enables the user to find a perfect speed limit for a workout
The LED display is highly readable even in a poorly-lit room
The monitor tracks time, distance, speed, calories burned, and pulse
Workout goal settings for time, distance, and calories burned available
12 preset workout programs
Body fat calculator
12%/12 levels automatic incline
Contact heart rate sensors included
Bluetooth speakers
USB charging port
Tablet holder included
Low maintenance
Assembly not required; it's delivered fully assembled
Cons
Not for serious or professional runners
No water bottle holder
Warranty
3 Years on Frame
180 Days on Parts
Product Dimensions and Specifications
Length 61''
Width 30''
Height 51''
Folded dimensions: 26'' L x 30'' W x 54'' H
Tread belt: 48.5'' L x 16.5'' W
Weight: 114.5 kg/52 kg
Shipping weight: 132 pounds/59.8 kg
Motor: 1.5 HP
Console: LED monitor displays time, distance, speed, calories burned, and pulse
Programs: 12
Body fat calculator: Yes
Incline: Automatic, 12 levels
Goal setting for time, distance, and calories burned
Speed range: 0.6-7.5 mph
Speed increment: 0.1 mph
Tablet holder: Yes
Water bottled holder: No
Transport wheels: Yes
Bluetooth speakers
USB charging port
Shipping
The Sunny Health & Fitness Folding Electric Treadmill SF-T7909 is shipped out in a single box and Amazon provides free shipping.
Assembly
The treadmill is delivered preassembled. Basically, you only need to unpack and bolt in the console masts and then attach the vertical handlebars if you wish to use them.
The instruction manual that walks you through the assembly process and the tools needed are all included in the package.
It takes less than 20 minutes to completely assemble it. Of course, you might need a hand to move it in upon its arrival.
Maintenance
The running belt is preassembled but you may want to be sure that everything is alright by lubricating it again. Although, the console has a lubrication reminder function that can easily let you know it's due for a re-lubrication.
Keeping the tread belt clean is very important and also checking the unit for any loose or broken part before use.
Conclusion
The Sunny Health & Fitness Folding Electric Treadmill SF-T7909 is a very good treadmill for home use designed typically for walking and jogging exercises. It features 12 preset programs, a 12-level automatic incline, the body fat calculator, and many others that ensure your workout is comfortable and productive.
Sunny Health & Fitness Folding Electric Treadmill SF-T7909 Review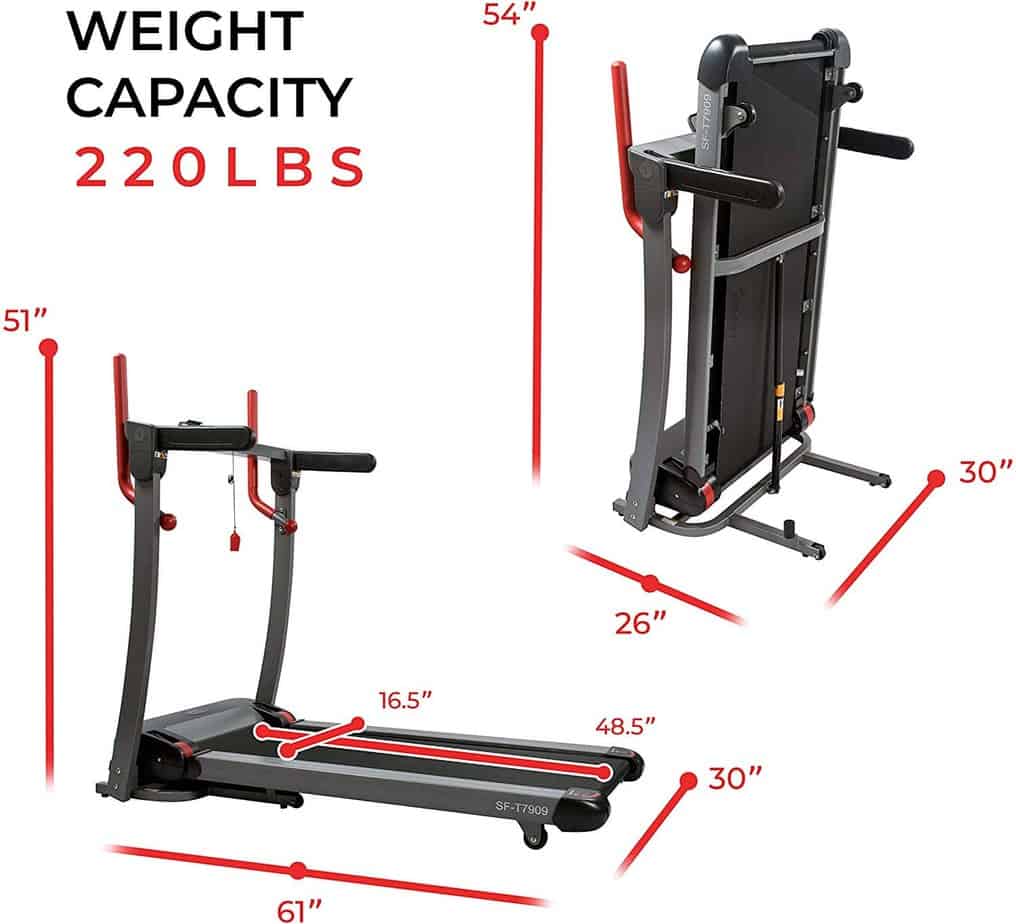 The Sunny Health & Fitness Folding Electric Treadmill SF-T7909 was released in 2019. It is for walking, jogging, and light running workout activities.
Product Brand: Sunny Health & Fitness
Product In-Stock: InStock